If you've had pineapple upside-down cake, you're going to love this Upside Down Pineapple Bundt Cake. Sweet brown sugar and tart, fresh pineapple come together to make one addictive dessert. Finish it off with a pineapple glaze, and you'll have people begging for the recipe.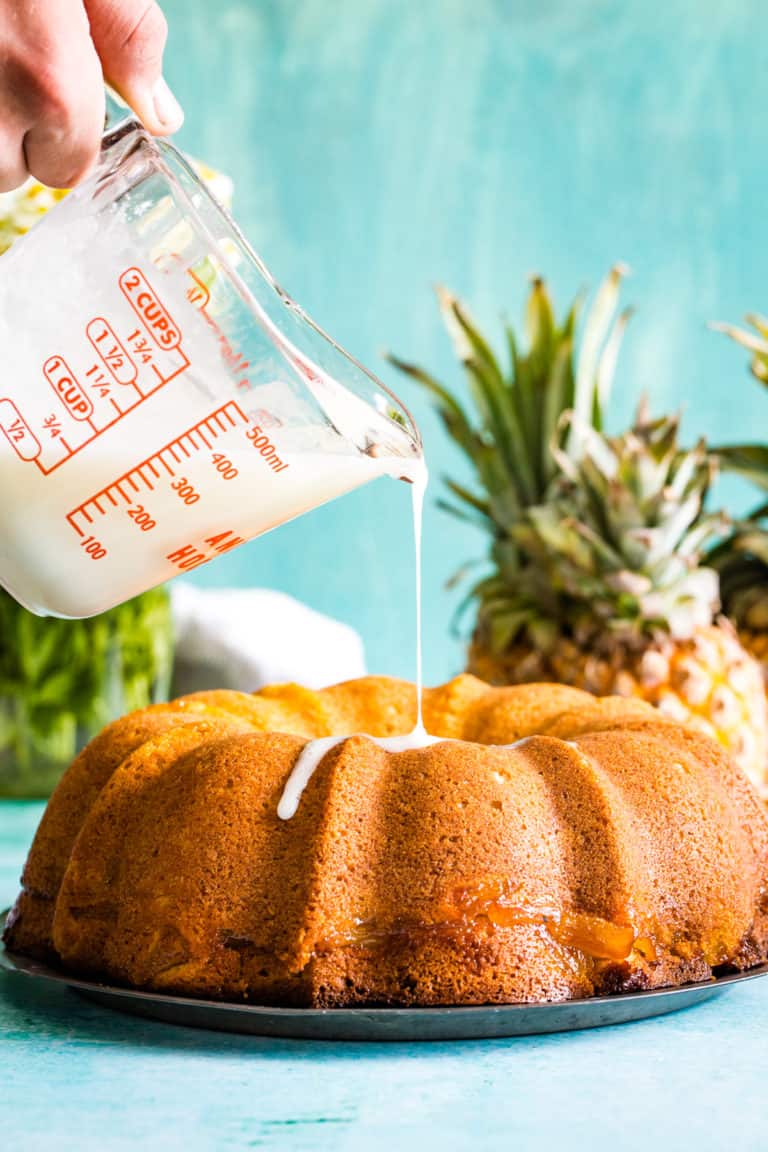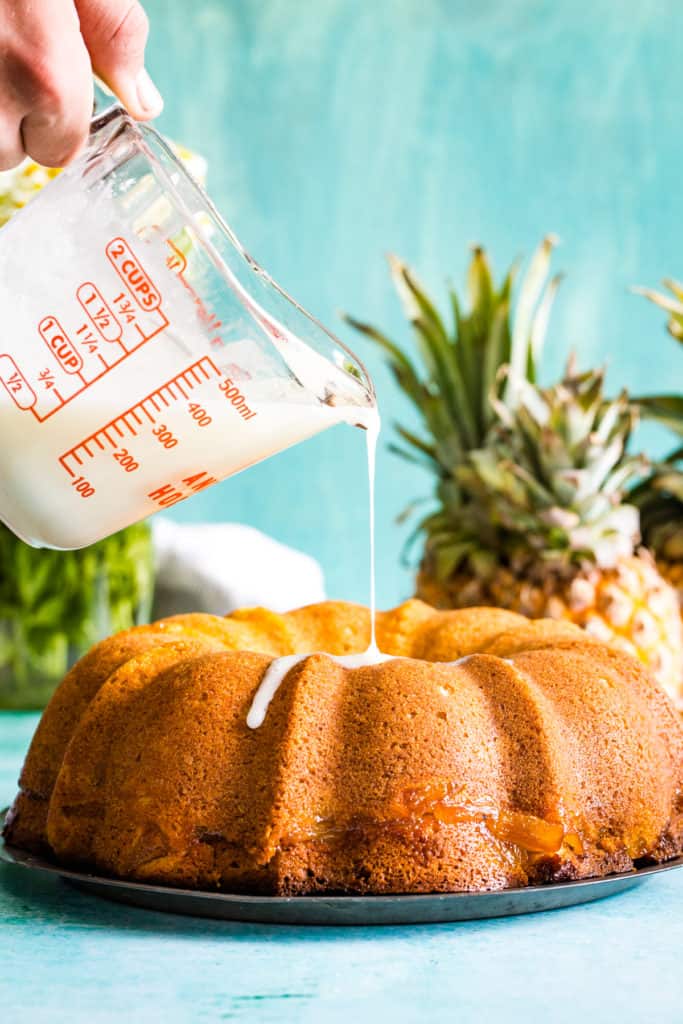 Pineapple upside-down cake used to be a "skillet cake" from way back in the day. When food was cooked over a fire and there were no ovens, recipes were cooked in big pots or skillets – there were few options. Although Dole is often given the credit for this cake favorite due to a contest they held back around 1925, there's plenty of history to suggest otherwise. Dole may have had a hand in making the recipe more famous, but the history of skillet cooking wins out for the origin of the recipe.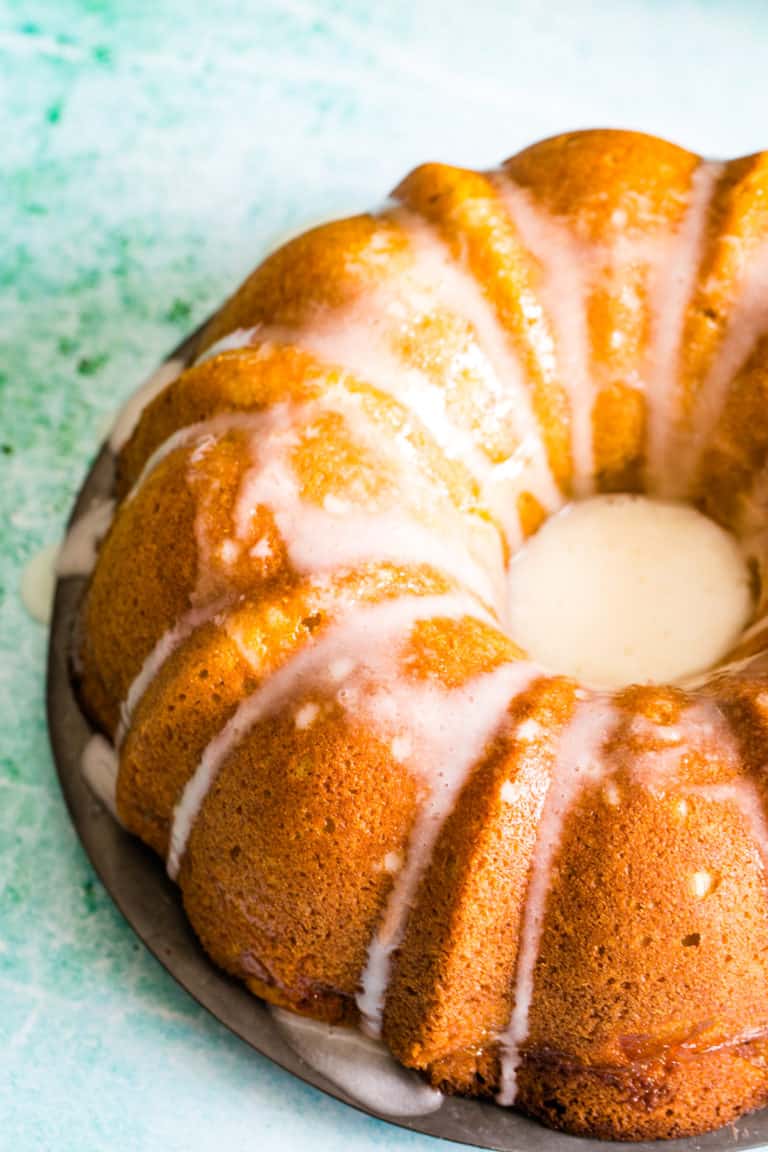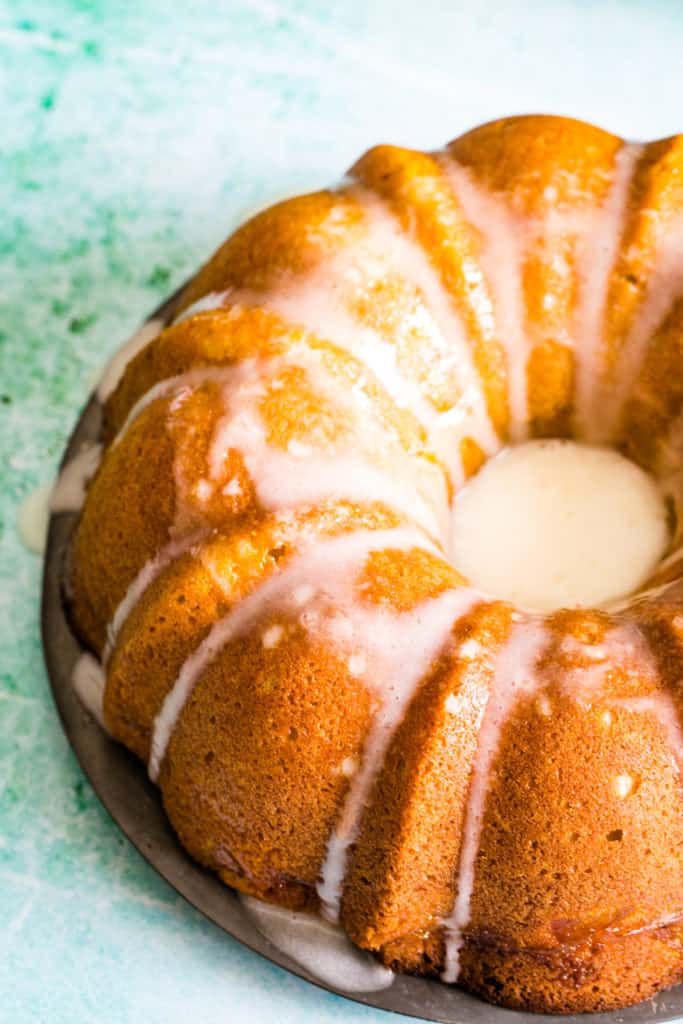 I'm a huge fan of pineapple upside-down cake, but I like to take my favorites and mix them up sometimes. In other words, I enjoy taking classic recipes and tweaking them into a new recipe with some of the same great flavors. For example, Lemon Meringue Pie Bars, Apple Pie Sugar Cookie Bars, and Lemon Brownies. All of these are a new twist on a classic recipe, but all are delicious in their original form as well. I did the same thing with this pineapple upside-down cake in a bundt pan.
How to Make Upside-Down Pineapple Bundt Cake
Prep – Preheat the oven to 350 degrees and grease a 12-cup bundt pan.
Caramelize pineapple – In a saucepan over medium heat, melt the butter before adding in the brown sugar and pineapple. Simmer for about 4 minutes or until pineapple begins to caramelize. Remove from heat and allow to cool completely.
Mix other ingredients – In one bowl, mix together the flour, salt, and baking soda. In another bowl, cream together the butter and sugars before beating in one egg at a time, followed by the vanilla. Gradually add in the flour mixture until it's all incorporated then do the same with the buttermilk.
Bake – Pour half of the batter into the bundt pan, then place all the pineapple mixture in the next layer. Finally, add in the rest of the batter on top.
Bake for 50-55 minutes or until a toothpick comes out clean. Let cool for ten minutes then invert onto cake plate.
Add the glaze – In a small bowl, warm the pineapple juice in the microwave for about 20 seconds or until warmed through. Add in the powdered sugar and mix well. Pour over cake.
Serve and enjoy – Allow the glaze to set up for a few minutes, garnish with a chunk of pineapple if desired, serve, and enjoy!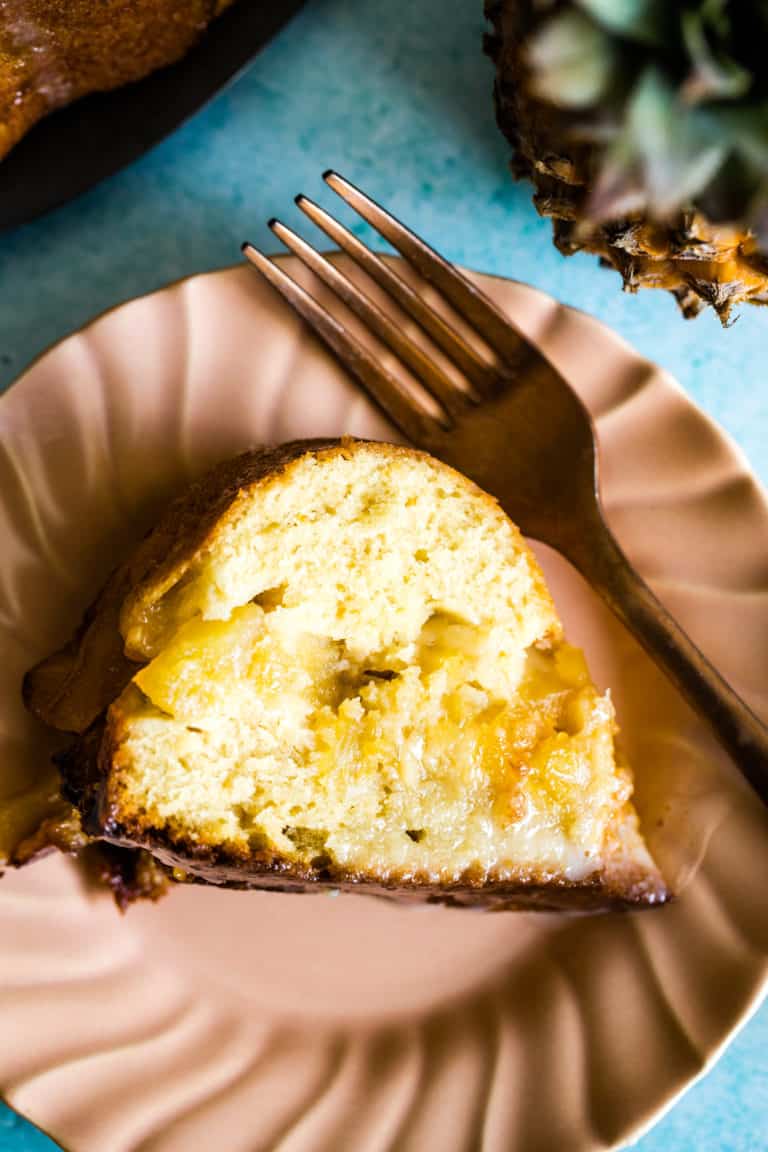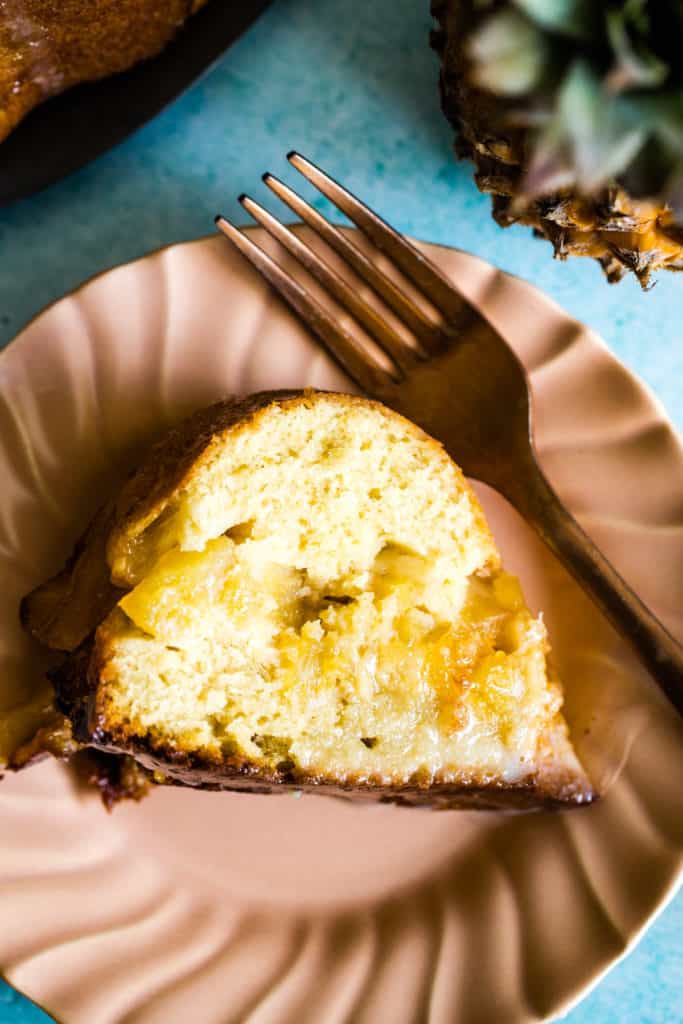 Tips and Variations
Warm the pineapple juice for the glaze – Warming the pineapple juice for the glaze portion of the recipe is important. The warm juice allows the powdered sugar to fully dissolve, resulting in a smoother glaze. If it's not warm, the glaze will be lumpy, tasting and looking under par.
Other pineapple options – You can use any pineapple you prefer. Fresh, frozen, or canned pineapple will do the trick.
Try other fruits – If you're not a fan of pineapple, you can try other fruits in its place such as blackberries, apples, pears, etc. Just be aware that some fruits may need to cook a touch longer in the saucepan.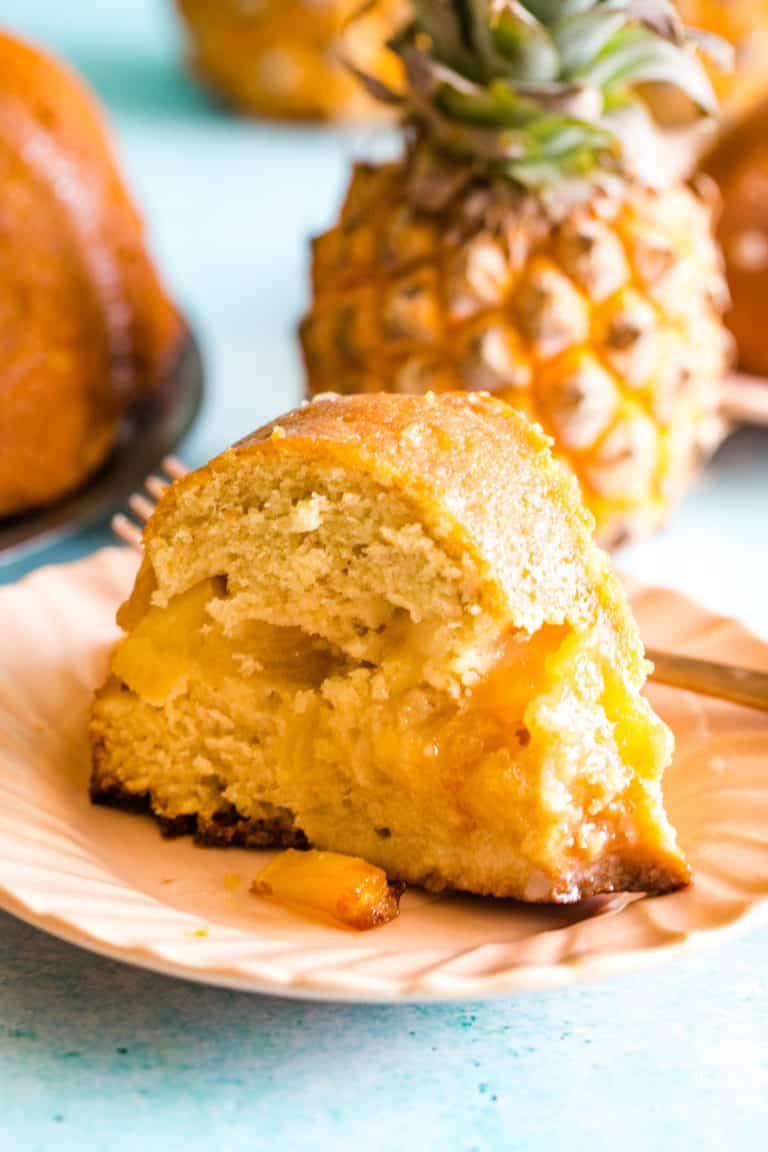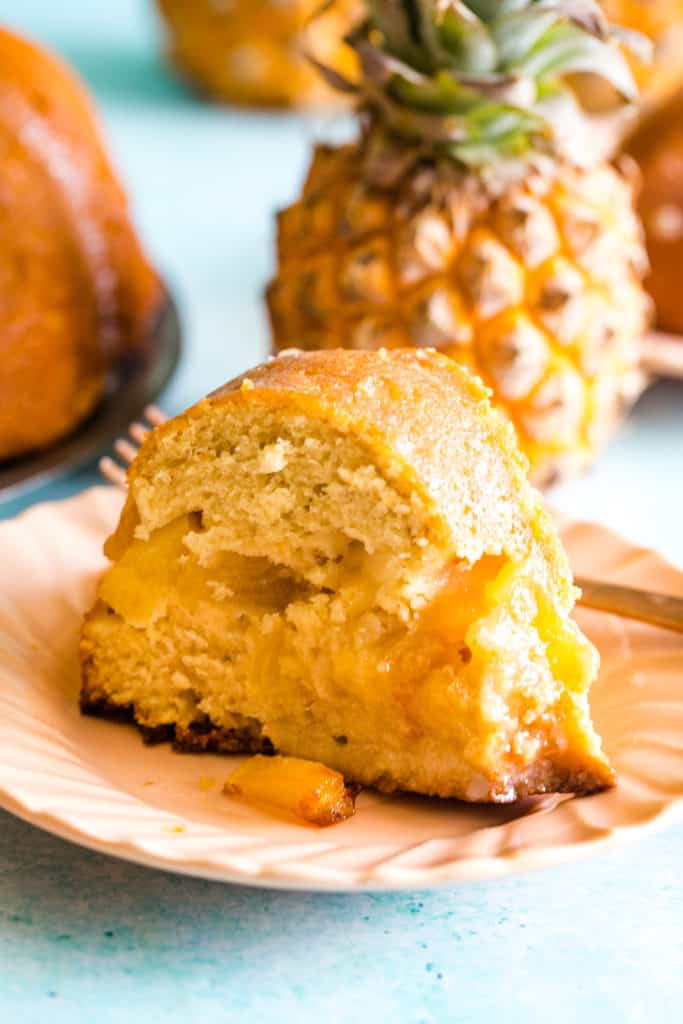 Common Questions About Upside Down Pineapple Bundt Cake
Should You Put a Pineapple Upside Down Cake in the Fridge?
For pineapple upside-down cake and this pineapple bundt cake, both can be stored in the fridge. It's best to warm it up before consuming if stored in the fridge, as the cake becomes not as soft. However, it will keep a bit longer in the fridge and can still be served cold if need be. It comes down to preference.
Please feel free to share your experience with making this Upside Down Pineapple Bundt Cake in the comments below or on social media!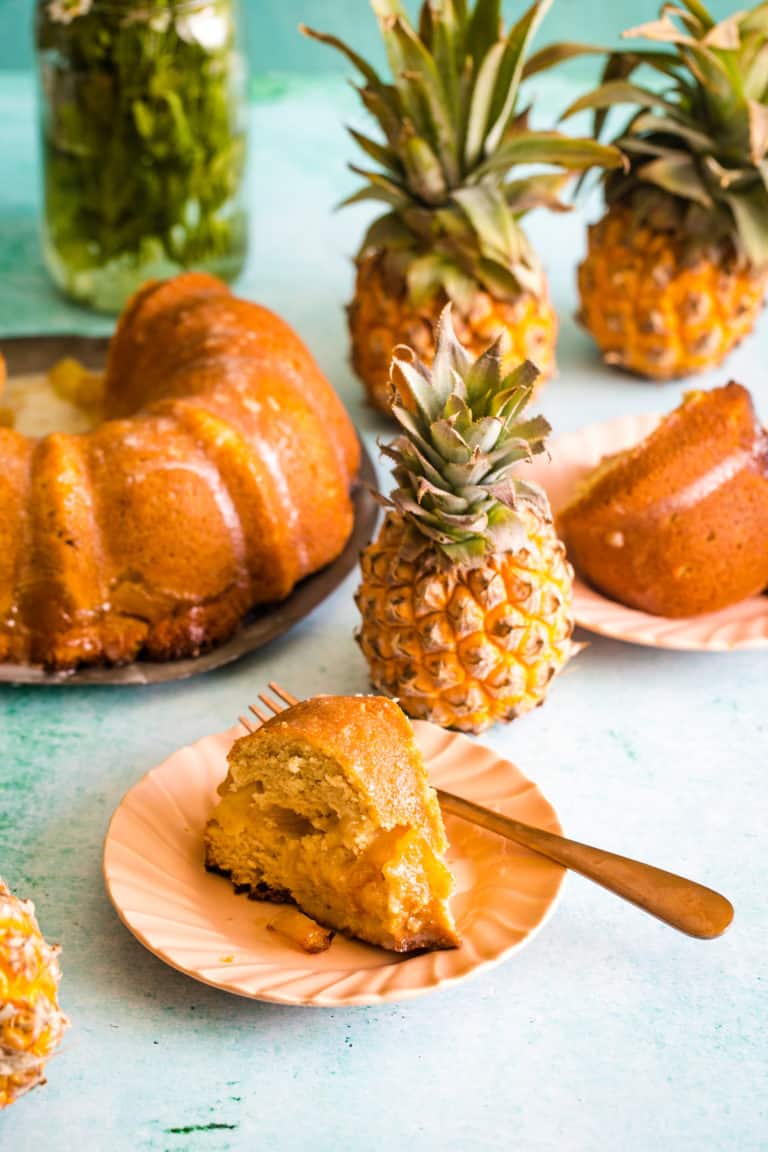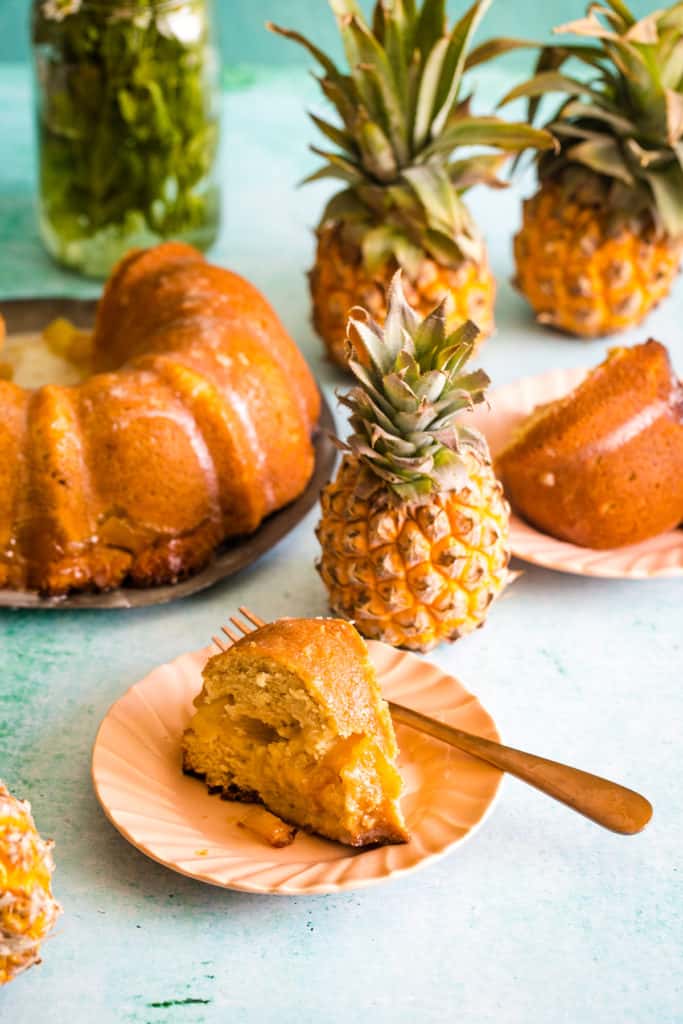 More Pineapple Recipes You're Sure to Love: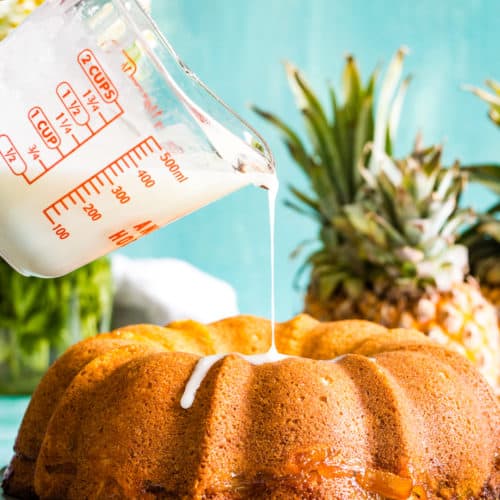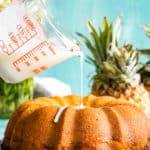 Upside-Down Pineapple Bundt Cake
Keyword:
bundt cake recipe, pineapple upside down bundt
Ingredients
Pineapple
1

tablespoon

unsalted butter

2

cups

pineapple pieces

drained reserving the juice

½

cup

light brown sugar
Brown Sugar Bundt Cake
3

cups

all-purpose flour

½

teaspoon

baking soda

1

teaspoon

salt

1

cup

unsalted butter

room temperature

2

cups

light brown sugar

½

cup

granulated sugar

5

large eggs

1

teaspoon

vanilla extract

1

cup

buttermilk

room temperature

Pineapple Glaze

2

tablespoons

pineapple juice

1

cup

powdered sugar
Instructions
In a small skillet set over medium-high heat, melt butter.

Add pineapple and brown sugar and cook, stirring regularly, until sugar is melted and pineapple is slightly caramelized about 4 minutes. Once done, set aside to cool completely.

Preheat oven to 350 degrees. Generously grease a 12-cup bundt pan with non-stick cooking spray.

In a bowl whisk together flour, baking soda, and salt. Set aside.

In a large bowl (or the bowl of your mixer) cream butter and sugars together. Beat in the eggs, one at a time, then stir in the vanilla. Gradually add the flour mixture to the creamed mixture and mix well. Finally, stir in the buttermilk milk until the batter is smooth.

Spoon half the batter into the bundt pan. Next spoon the pineapple filling into the center of the batter, Finally spread the remainder of the batter on top of the pineapple, covering completely.

Bake bundt for 50- 55 minutes or until the cake is set.

Allow the cake to cool in the bundt pan for 10 minutes and then invert pan onto a serving platter or cake stand.

To make the pineapple glaze, warm pineapple juice in a microwave-safe dish for 15-20 seconds or until warm. Whisk in powdered sugar. Drizzle the glaze onto the warm cake.