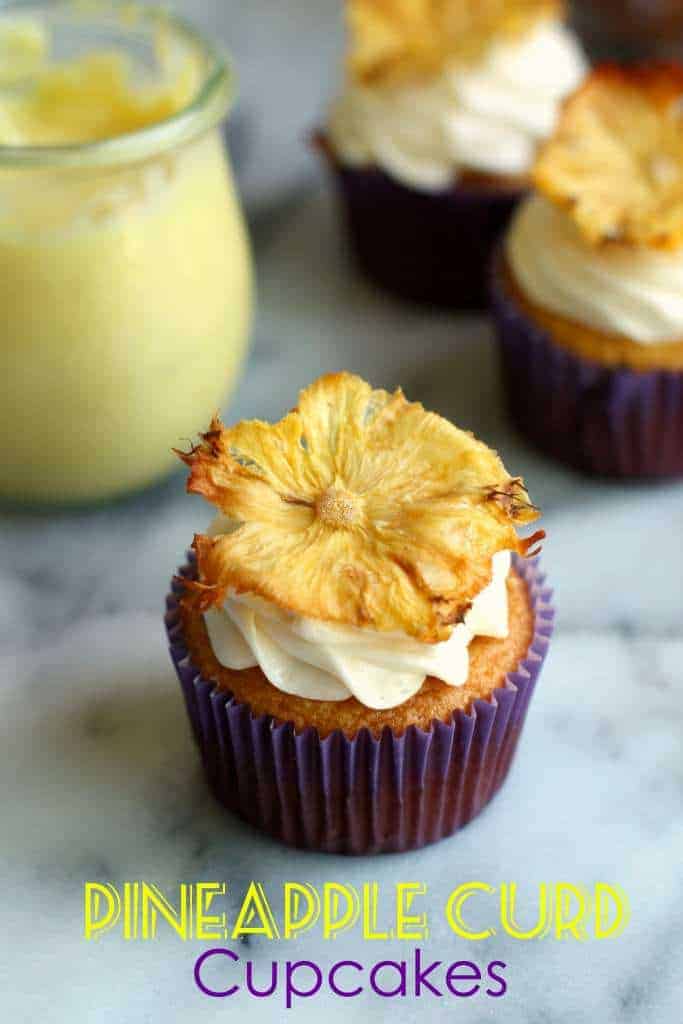 These Pineapple Curd Cupcakes are my attempt to bring sunshine into your homes today, especially if you are in Souther California! We are currently experiencing a MUCH NEEDED massive rain storm. Although this will not eliminate the drought, any little bit helps.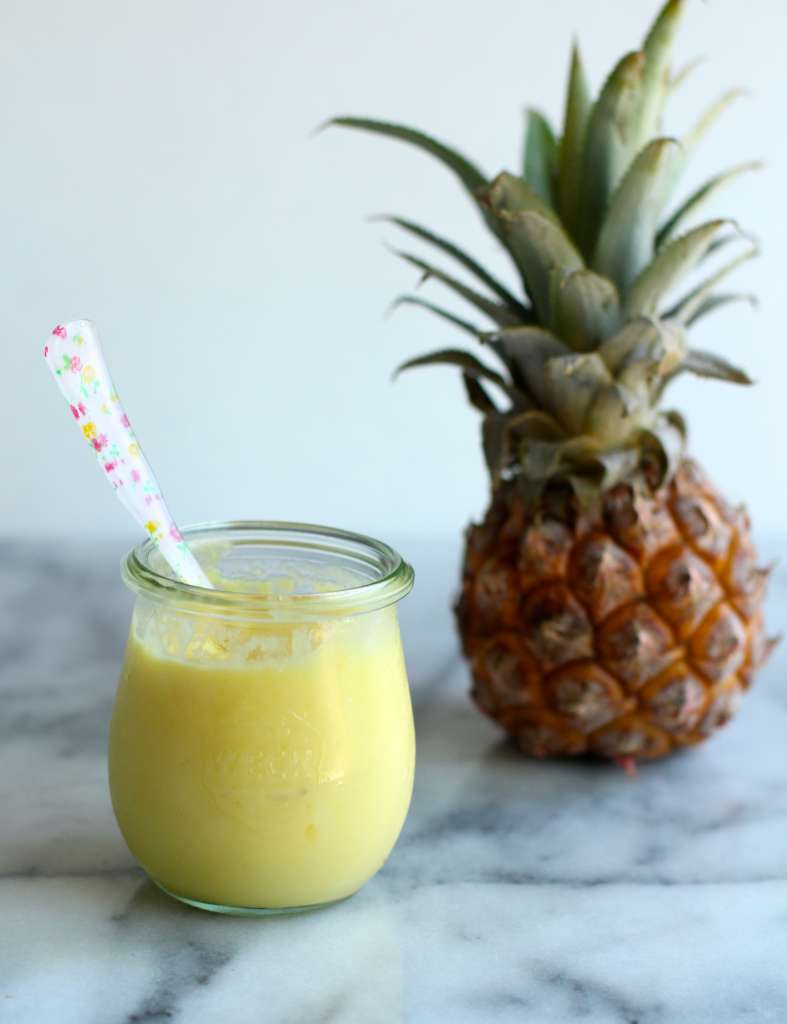 Strangely enough, rain gets people very happy here. During a very heavy downpour yesterday, I caught my husband outside gleefully digging trenches so that the excess water would stream down to all of the fruit trees. Seeing as how just 8 years ago we lived (and he grew up) in a country where it rained more than there was sun and he hated it, his energy made me smile. It made him think of home. I guess a massive 32 year old dancing in the rain is enough to make anyone smile.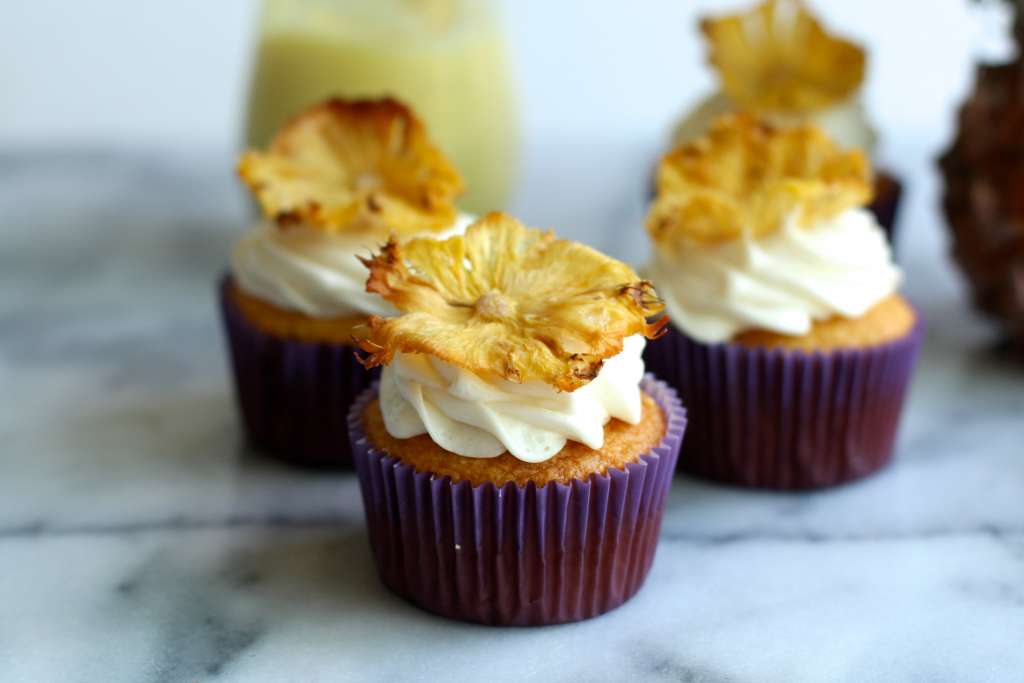 These cupcakes are perfect for pineapple lovers. They are filled with a delicately smooth pineapple curd, then topped with a pineapple buttercream, and finally garnished with a beautifully simple pineapple flower.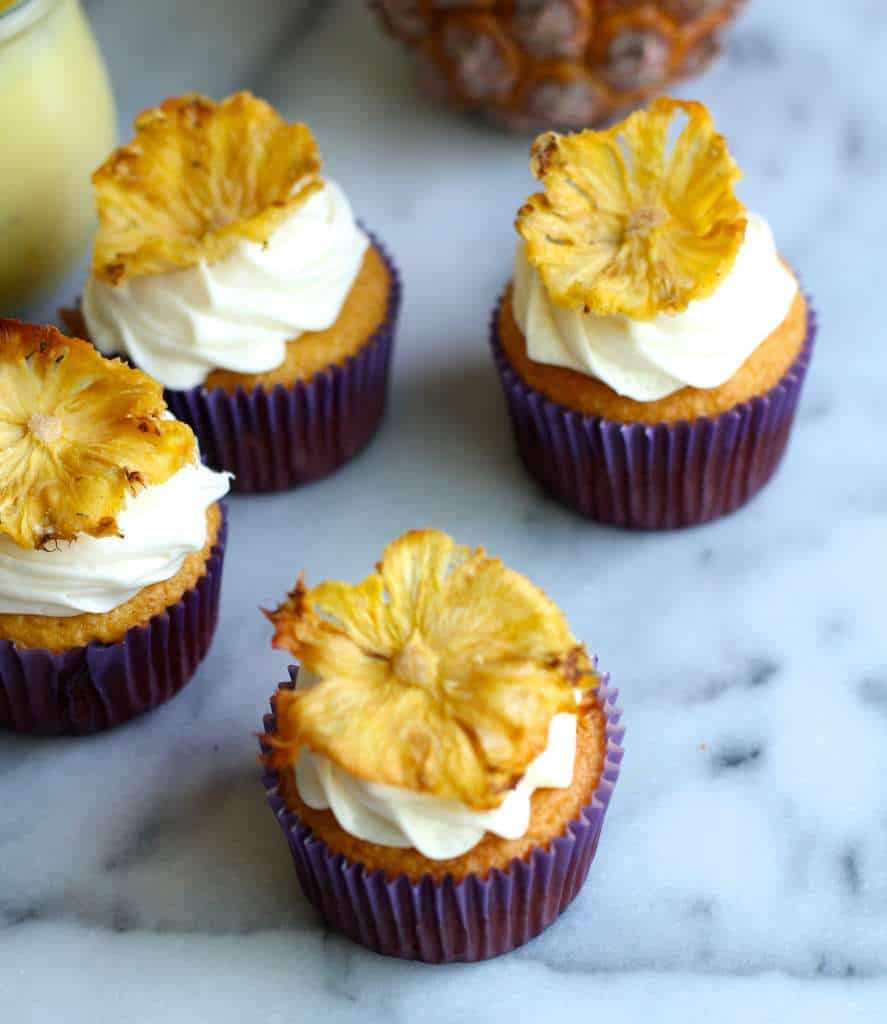 They make up a beautiful dessert and would be perfect for a baby or bridal shower. Also, if you are looking for more delicious recipes, check out TheSeasideBaker's Yummly page! Enjoy!
These triple pineapple cupcakes will become a favorite in your home!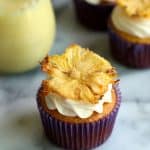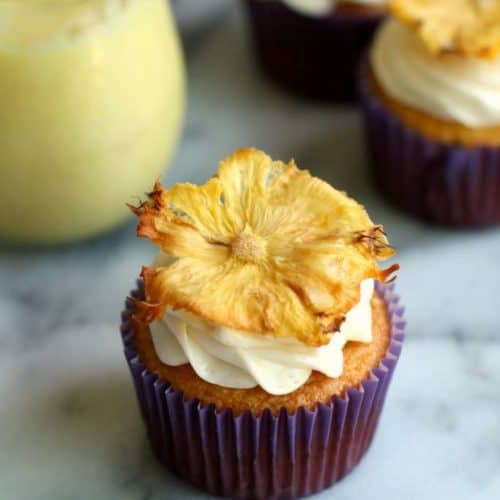 Pineapple Curd Cupcakes
Ingredients
Pineapple Curd
2

cups

pineapple

, pureed (fresh or canned)

1

and ½ cups sugar

2

eggs

¼

cup

butter

2

tablespoons

cornstarch

1

teaspoon

water
Cupcakes
2

sticks butter

(softened)

1 ½

cups

sugar

2

teaspoon

vanilla bean paste or regular vanilla

2

whole eggs

3

egg yolks

2 ½

cups

cake flour

½

teaspoon

baking powder

½

teaspoon

baking soda

1

teaspoon

salt

1

cup

buttermilk

(or 1 cup milk with a splash of white vinegar)

Pineapple Frosting

2

sticks unsalted butter

, softened

5-6

cups

powdered sugar

1

pinch of salt

1

tablespoons

vanilla extract

4

tablespoons

pineapple juice

Pineapple Flowers

1

whole fresh pineapple
Instructions
Pineapple Curd
To make the pineapple curd, combine pineapple puree, and eggs in a small heavy pot on medium low heat and whisk until smooth.

Continue stirring until curd begins to thicken, about 10 minutes.

In a small bowl stir together water and cornstarch.

Add butter and cornstarch mixture to pineapple mixtures, and stir until butter is melted and curd coats the back of the spoon.

Remove from heat and carefully place in a fine mesh strainer to remove clumps.

Place in an airtight container in the fridge for up to 1 week.
Cupcakes
To make the cupcakes, begin by preheating oven to 350 degrees . Line two muffin tins with cupcake liners.

Make sure all your ingredients are room temperature.

In a bowl, combine flour, salt, baking powder and soda and mix.

In your mixer fitted with the paddle attachment, blend butter, sugar and vanilla at medium speed until pale and fluffy.

Add eggs, one at a time, scraping the bowl after each addition.

Reduce speed to low and add a cup of flour followed by ⅓ of the buttermilk.

Repeat this 3 times, until you have incorporated all the flour and buttermilk.

Fill each cupcake liner ⅔ of the way full.

Bake cupcakes for 20 minutes or until a knife is inserted and comes out clean. Cool completely.

For the frosting, beat softened butter, powdered sugar , salt, vanilla, and pineapple juice on medium high speed (start low and work your speed up to avoid a mess) and beat until smooth.

To make the pineapple flowers, preheat oven to 225 degrees.

Slice the top and bottom off of the pineapple and remove the rind.

Remove and discard pineapple "eyes." Using a sharp knife, cut pineapple crosswise into very thin slices. Transfer slices to baking sheets.

Place slices on a parchment paper lined cookie sheet and bake for 30 minutes.

Turn the slices and bake for another 30 minutes, or until the edges begin to brown.

While warm, place dried pineapple slices in muffin tins so that the edges turn upwards. Allow them to cool completely this way.

To assemble to cupcakes insert the base of a large pastry tip into the center of a cupcake about ¼-inch deep, and twist until the cake center twists alongside the tip; pull directly up to remove the center. Repeat with all of the cupcakes.

Spoon in 1 tablespoon of pineapple curd into each cupcake.

Frost cupcakes and top with pineapple flower.