Pineapple Upside Down Sheet Pan Pancakes are quite the mouthful, but a glorious brown sugar pineapple sweetened mouthful. The best part about this recipe is that you make one large batch and bake it!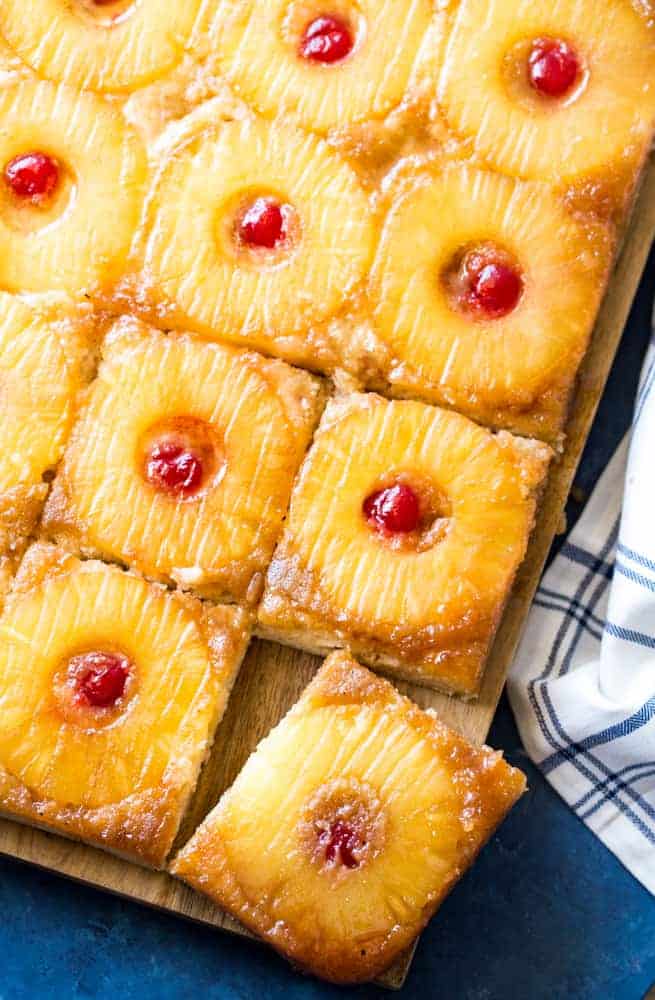 Have you ever gotten up on a Sunday morning with grand visions of a beautiful family breakfast, only to be regretting it after 5 minutes in front of the stove? Whether you are making single pancakes at a time or have multiple pans going at once, it still takes forever. That's why this new trend of Sheet Pan Pancakes are on the rise. Simply make one batter, pour it into a greased pan and bake for 15 minutes. Perfectly fluffy pancakes in no time.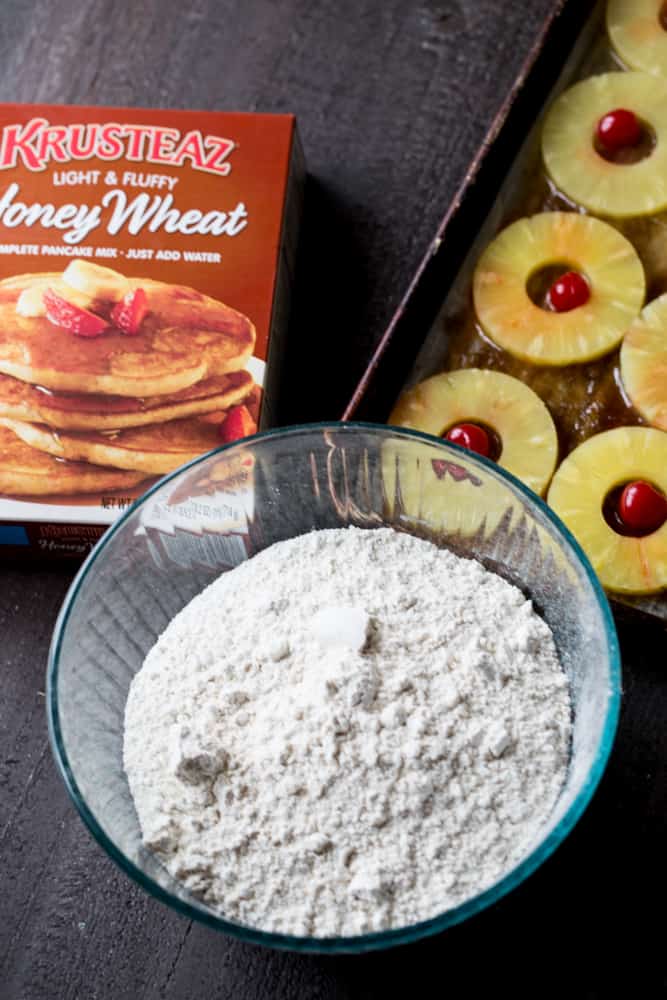 When making something really sweet, I like to add whole wheat to the mixture to cut down on the sweetness. The nutty flour blend from Krusteaz pairs perfectly with pineapple juice and brown sugar. My go-to Krusteaz Honey Wheat Pancake  mix features a blend of soft wheat flours with real honey, so you get a fluffy, golden stack of goodness every time, whether in the frying pan or in the oven sheet pan style!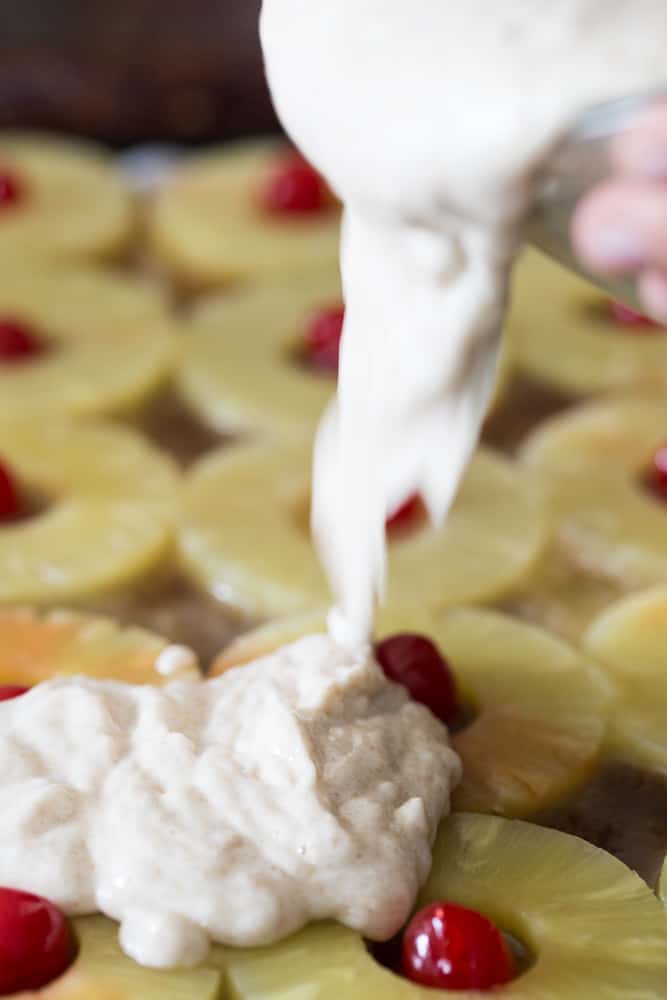 This is a great breakfast to serve a crowd or at a brunch. You can easily feed 12-15 people and the squares are very filling. The golden pineapple slices and marachino cherries add a burst of color to the plate too. Since there was butter and brown sugar cooked into the pineapple sheet pan pancakes, I decided to not serve them with syrup. They were perfectly sweet and moist, so no one complained.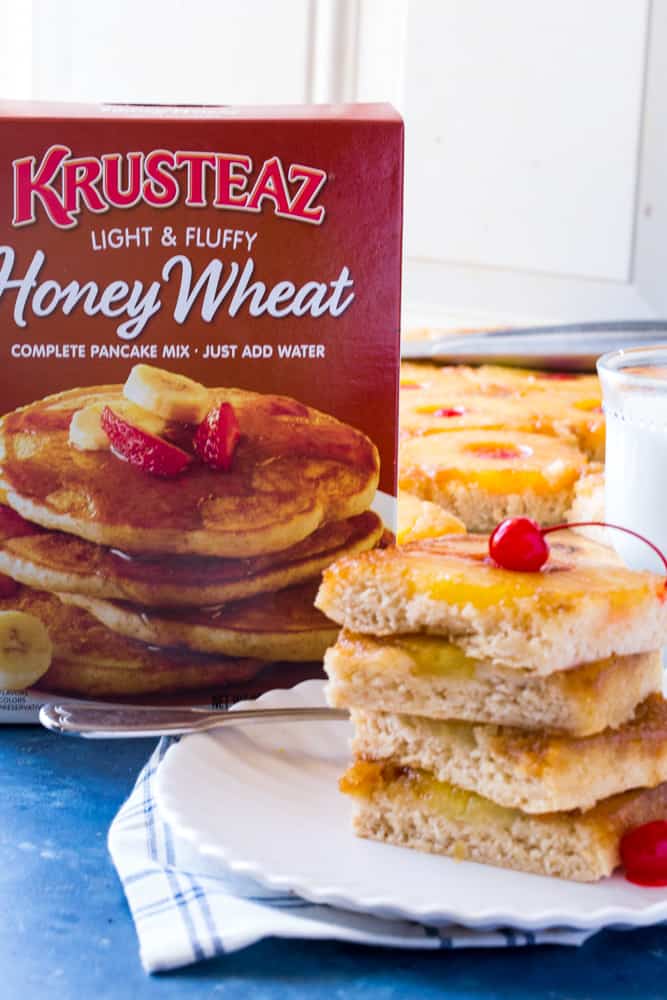 For an easy and delicious breakfast, grab a box of Krusteaz and make your family these Pineapple Upside Down Sheet Pan Pancakes!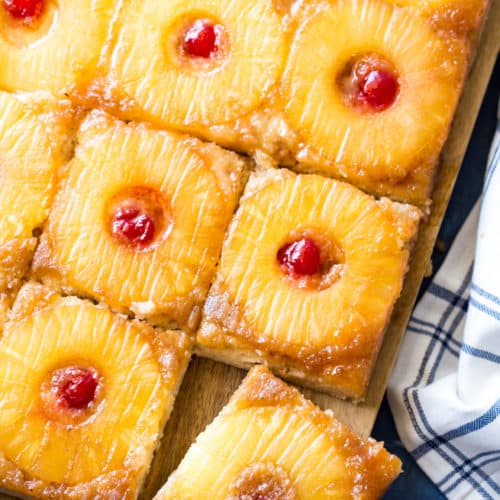 Pineapple Upside Down Sheet Pan Pancakes
Keyword:
pineapple breakfast recipe, sheetpan pancakes recipe
Ingredients
½

cup

unsalted butter

melted

¾

cup

light brown sugar

2, 20

ounce

cans pineapple slices

drained, with juice reserved

Maraschino Cherries

1 ¾

cup

pineapple juice

¾

cup

water

3 ¾

cups

Krusteaz Whole Wheat Pancake Mix
Instructions
Heat oven to 350˚F. Line a 13x9-inch jelly roll pan with parchment paper or foil.

Pour melted butter into the jelly roll pan, then sprinkle with brown sugar.

Arrange pineapple slices over brown sugar. Place a cherry in the center of each pineapple slice.

In large bowl, combine pineapple juice, water and pancake mix and whisk until smooth.

Pour batter over pineapple slices and gently spread until evenly covered.

Bake for 15-17 minutes or until a knife is inserted and comes out clean.

Allow to cool for 10 minutes. Once cooled, position a large cutting board or serving platter over pan. Carefully flip sheet pan pancakes onto board and remove lining.

Cut into squares and serve.