Serve an impressive appetizer at your next shindig by tossing together this Salmon Ceviche. It has hearty chunks of coho salmon, brimming with citrus flavors, with just a touch of spice. Serve it with a side of tortilla chips and watch the faces of your guests light up.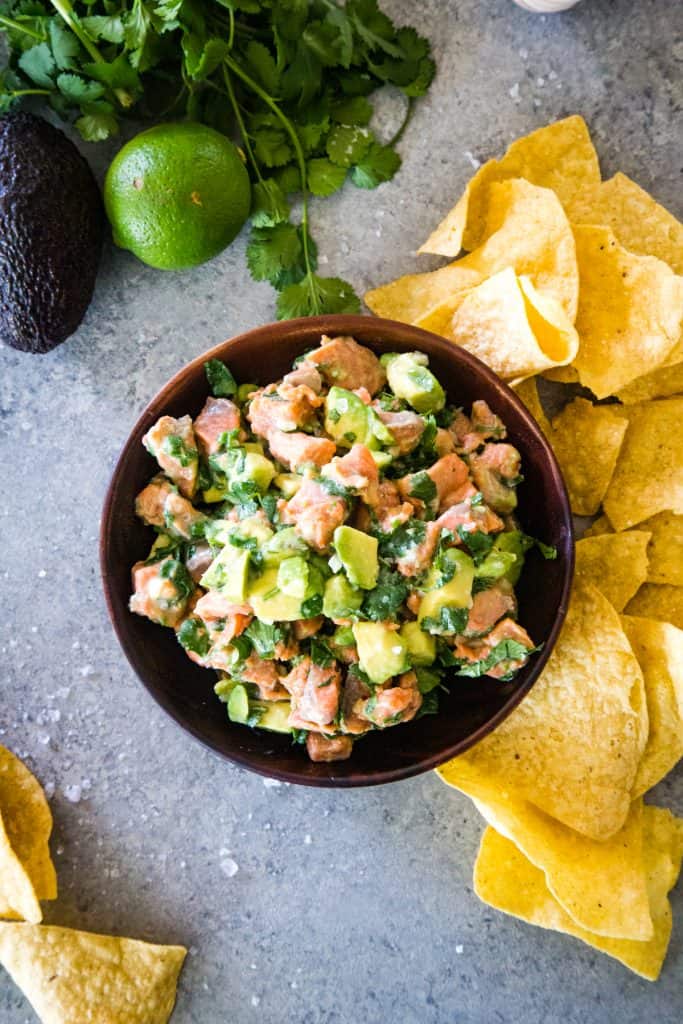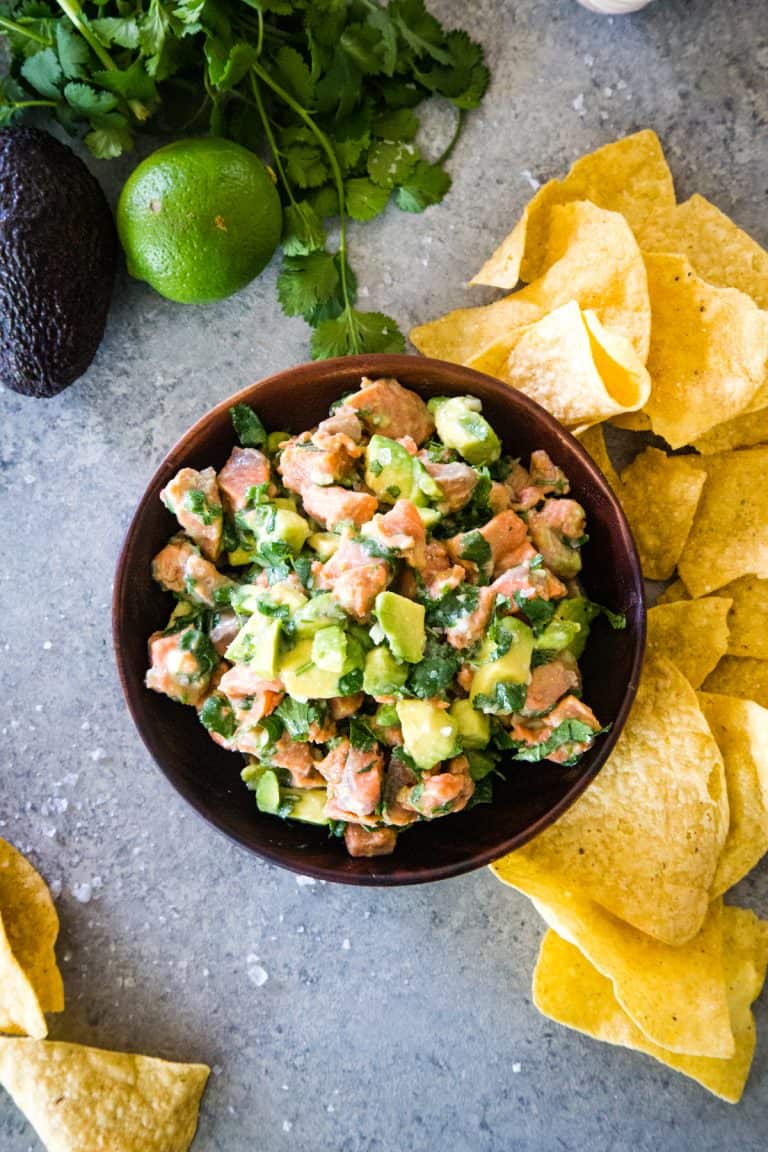 If you take one glance at my recipe list, you'll see just how much I love seafood. I have everything from a classic Shrimp Scampi to a fun Clam Bake (no, not that kind of clam bake).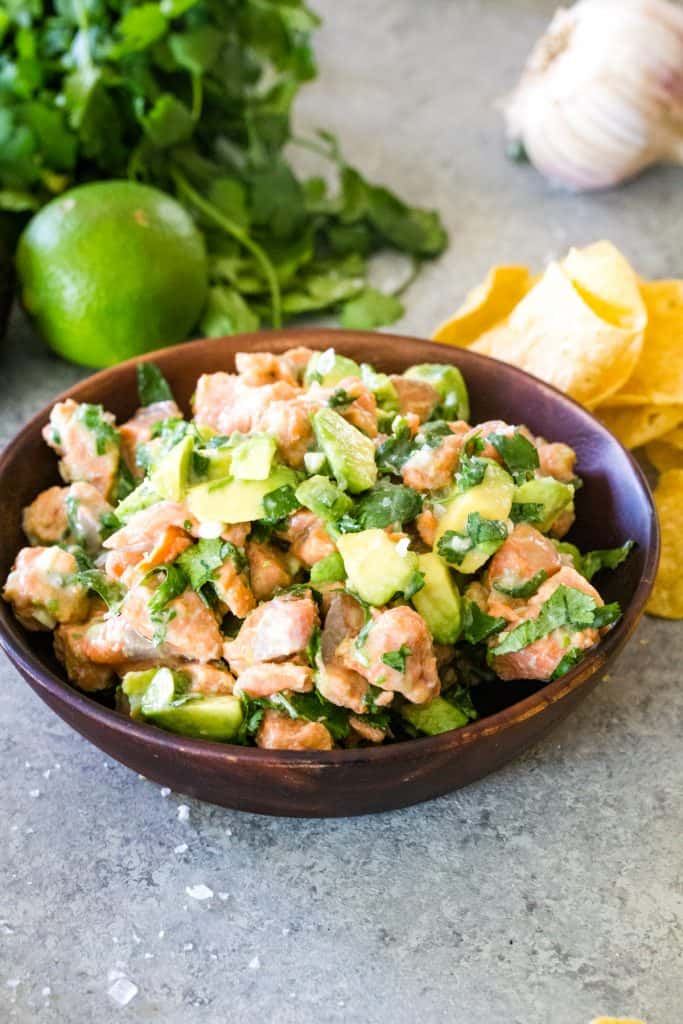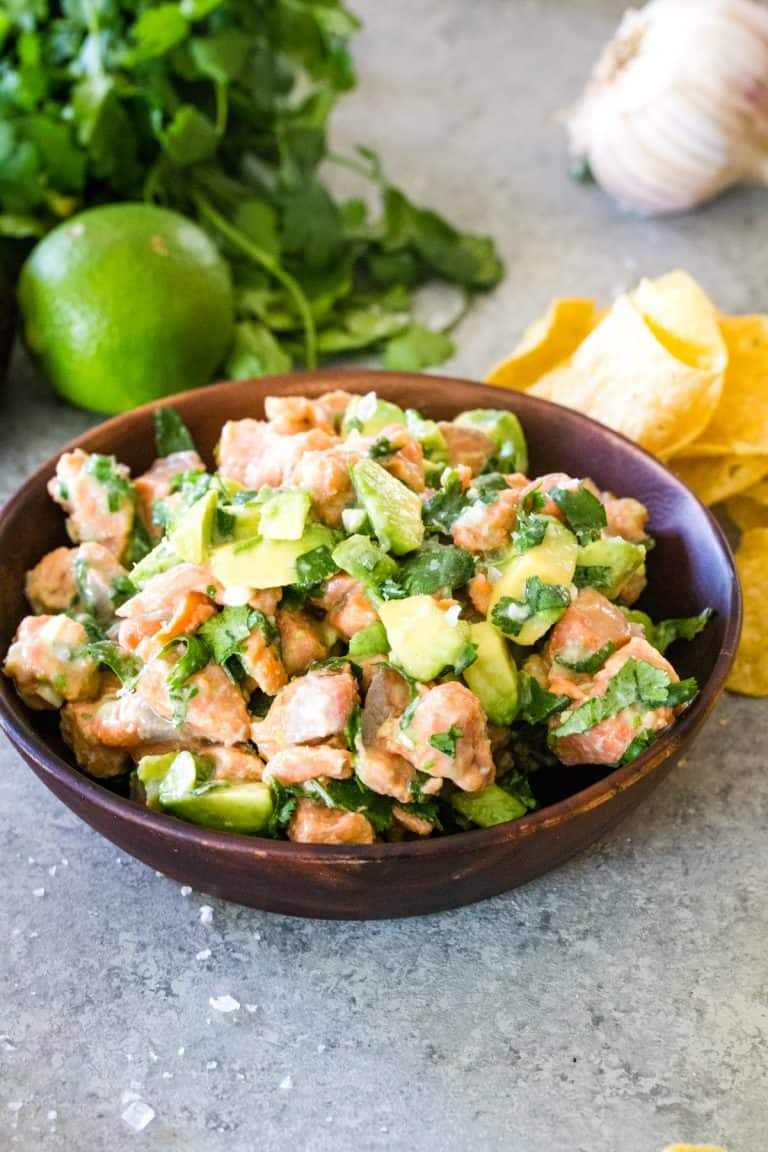 There are so many ways to prepare and serve seafood that it's a popular go-to in my house for dinner and fun get-togethers. Not to mention, it's often a much healthier choice than so many other dinner options we tend to settle for, such as pizza.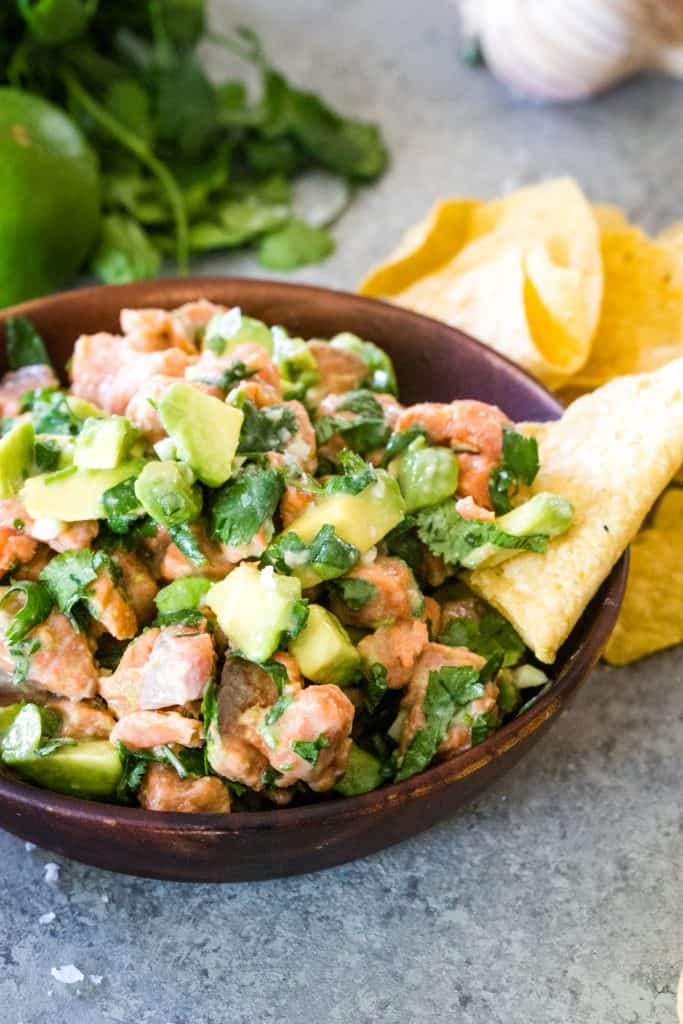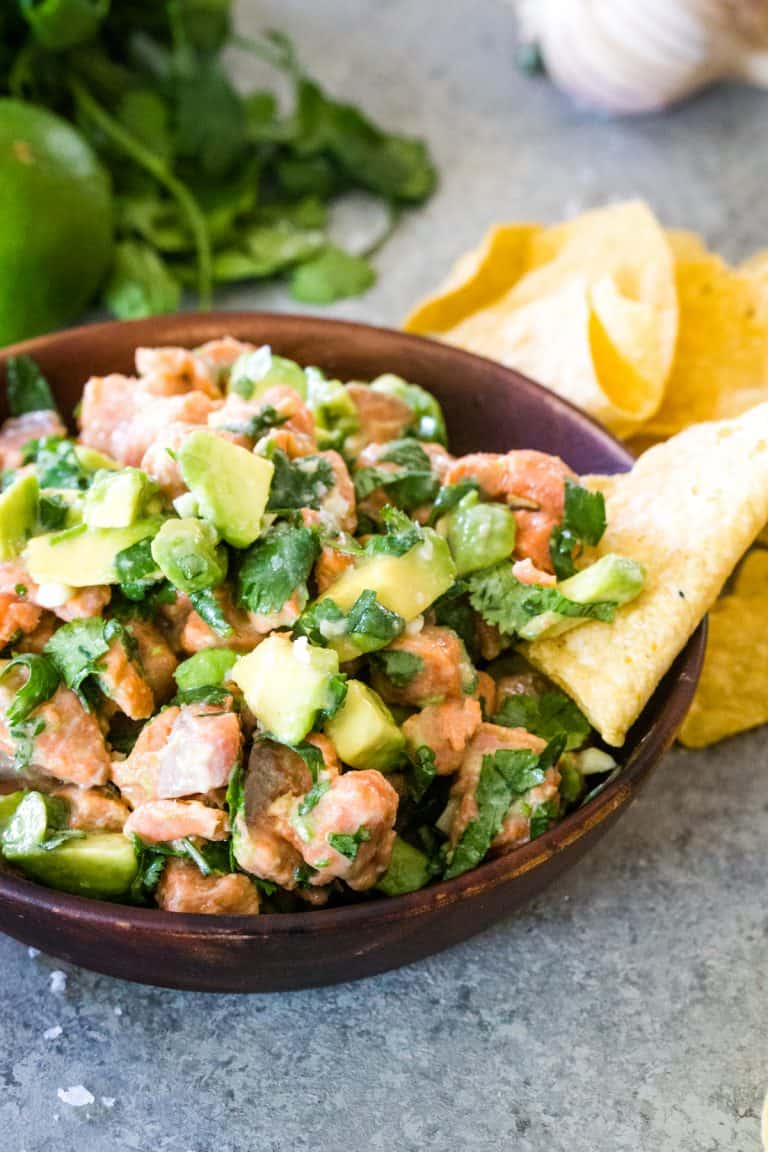 I have to say though, I run into slim choices at the store a lot for seafood and oftentimes just give up and go home without any. Wouldn't it be amazing to get freshly caught Alaskan seafood delivered to your door on a monthly basis? Yeah, I think that's pretty cool too, which is why I started using Sitka Salmon Shares. This is an affiliate link and you can use the code SeasideFish at check out for $25 off!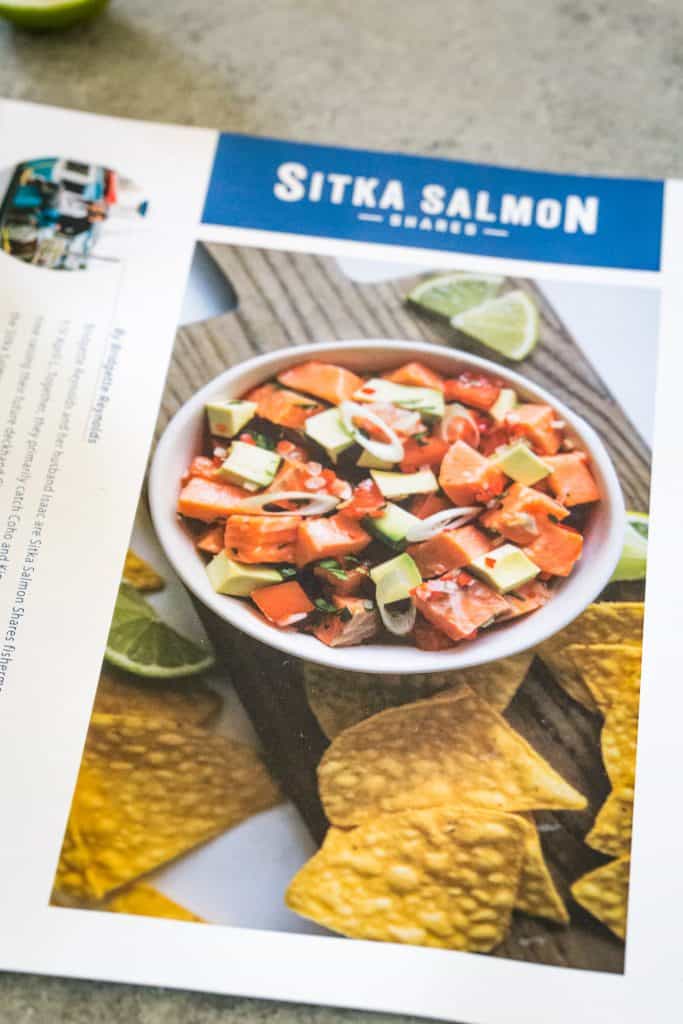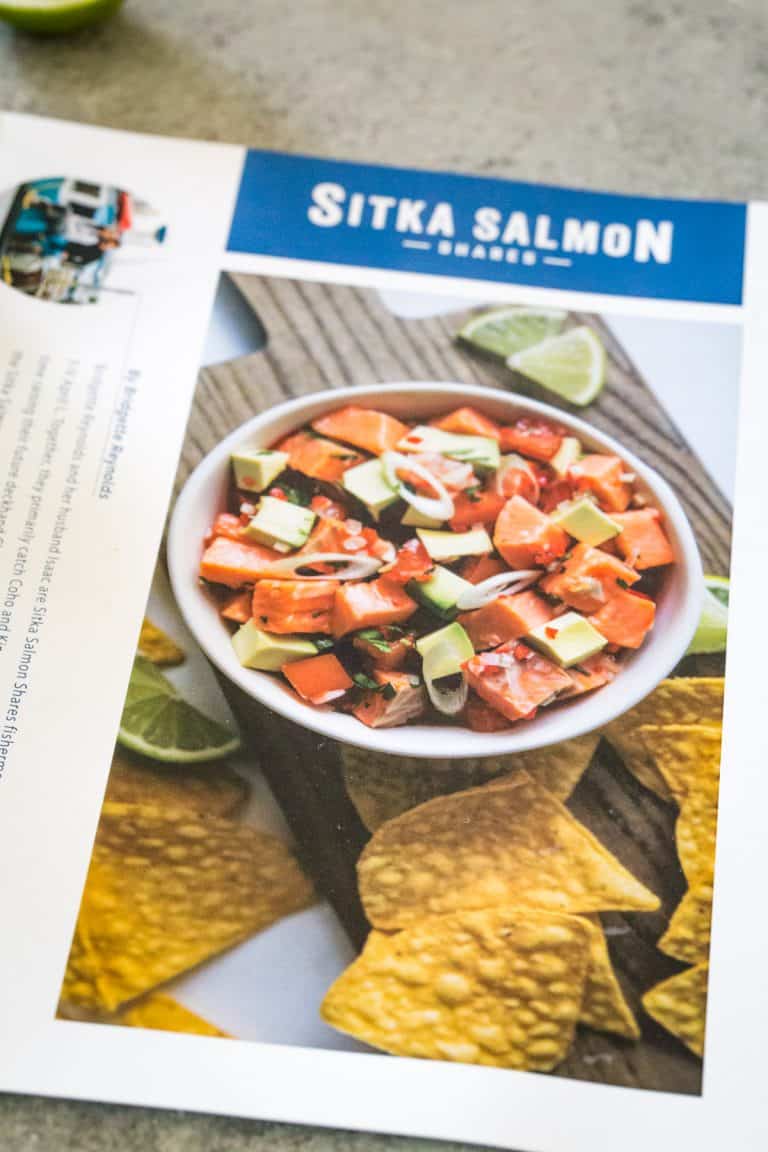 They are a small company that works with 20 family fishermen to bring in a beautiful harvest for seafood lovers. You sign up for your share, indicate what you would like, for how many months out of the fishing season, and it shows up at your door. A delicious and amazing selection. I used some of my coho salmon this month just for this scrumptious salmon ceviche recipe.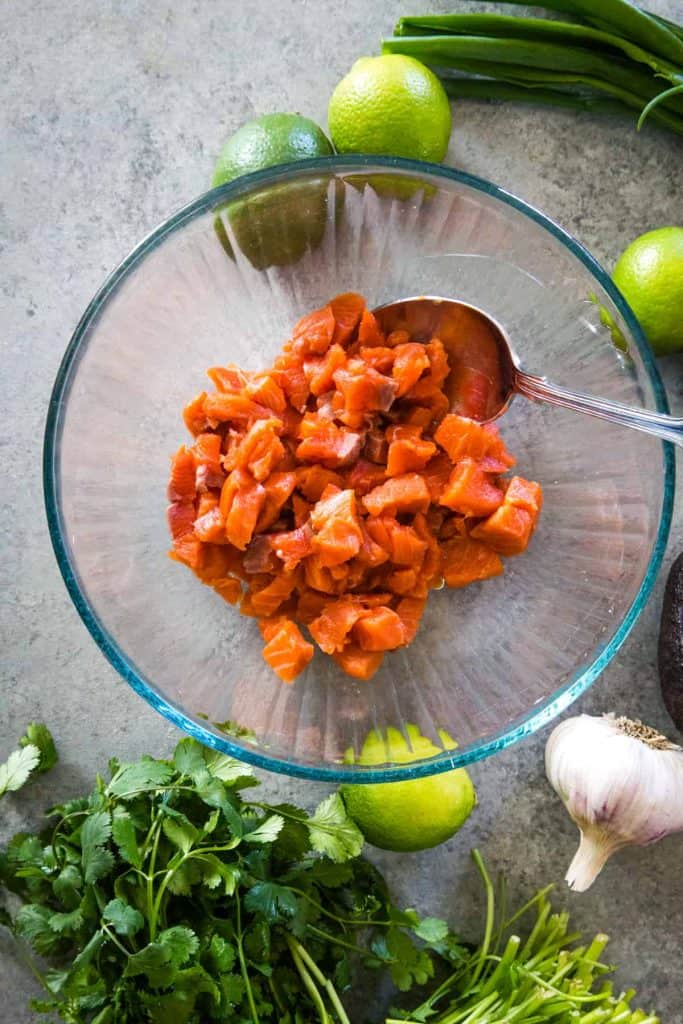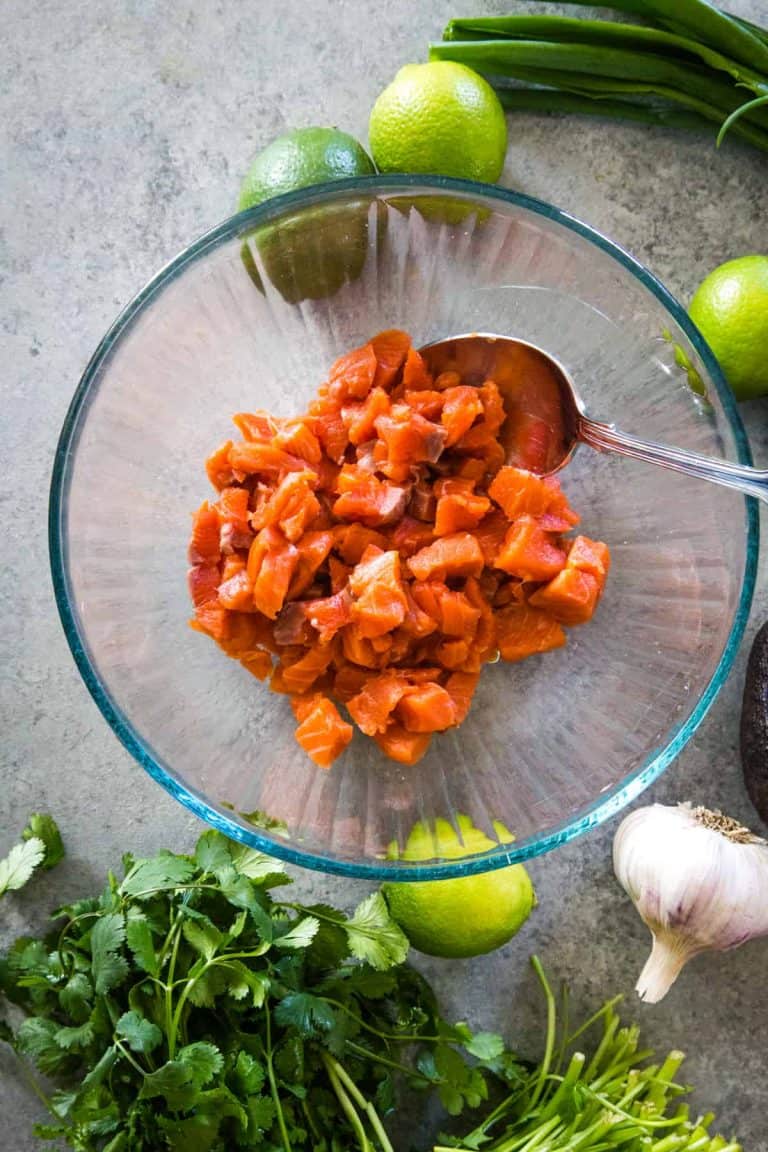 How Do You Make Salmon Ceviche?
Soak - Add the salmon cubes, part of the orange juice and lime juice, to a bowl. Cover and place in the fridge.
Drain - Drain the juices from the salmon.
Serve - Mix the remaining ingredients with the "cooked" salmon, serve with chips, and enjoy!
Tips and Variations
Can I use other salmon for this recipe? - You can definitely use other types of salmon for this recipe if desired. However, coho is the best option in my opinion.
What is coho salmon? - This is a versatile type of salmon. Other popular salmon types are sockeye and king salmon. Coho is caught in Alaska and has a light taste, with a firm flesh that flakes well when cooked.
Can I swap out the limes for ceviche? - Yes, you can definitely swap them out for lemons. However, one or the other needs to be used in order for the recipe to be a success. The acid in their juice is a large part of the recipe.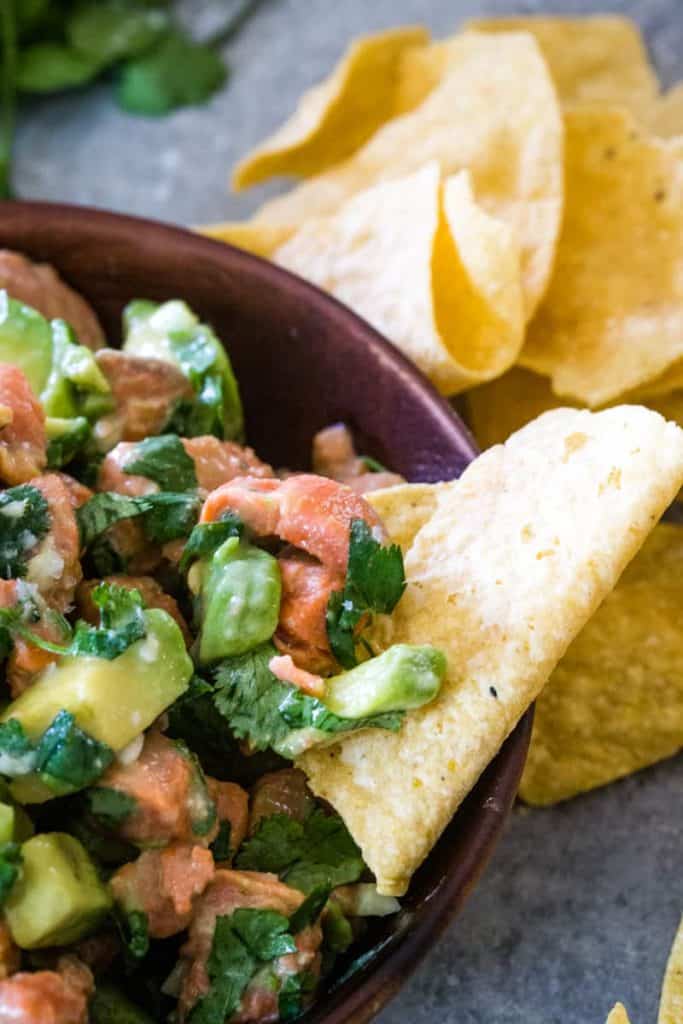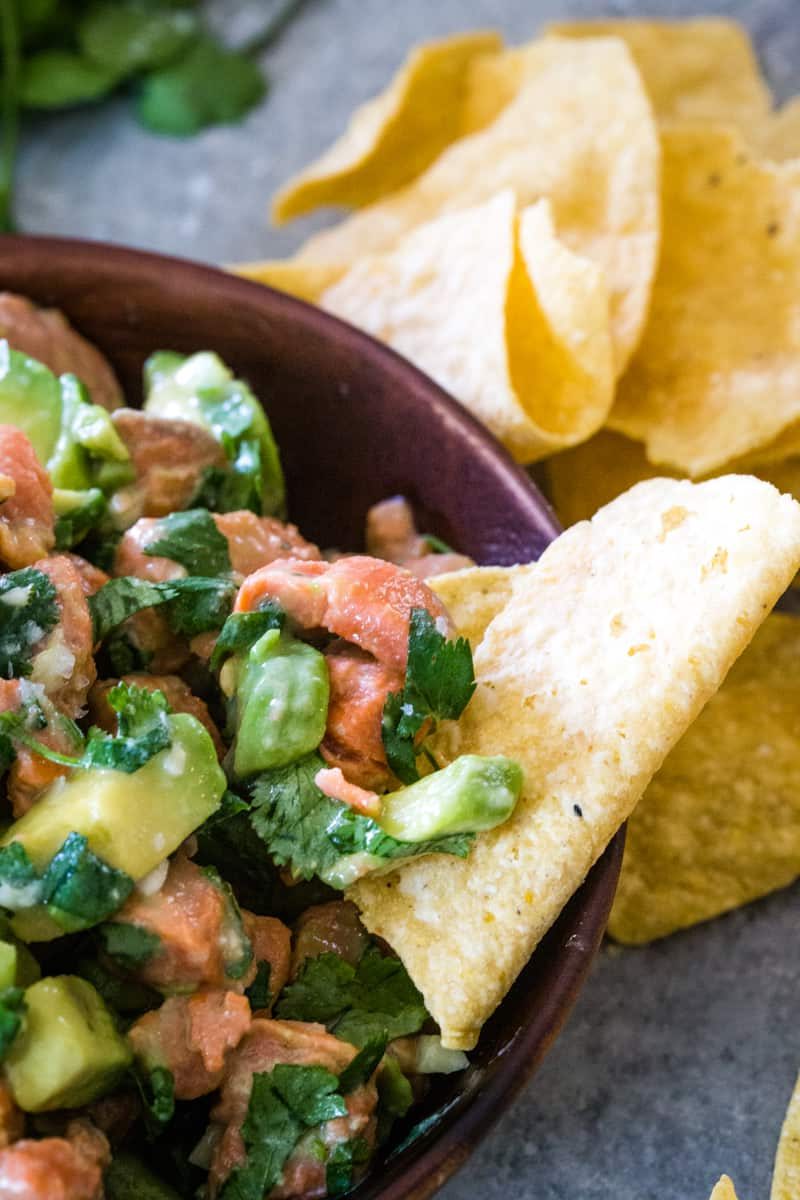 Common Questions About Salmon Ceviche
Is Salmon Ceviche Safe to Eat?
This ceviche recipe, if prepared properly, is more than safe to eat. This entire recipe is based on the juices from the citrus fruit, "cooking" the salmon during preparation. It doesn't take much to cook salmon, so if the process is followed properly, there should be zero worries in consuming this ceviche de salmon.
How Long Does Salmon Ceviche Last in the Fridge?
Although you normally like food to last a little longer, this recipe won't last long, mainly because that's just how fish is. This salmon ceviche recipe will last about two days in the fridge, safely. If you feel it's safe beyond the two days, that's totally up to you. It definitely is a case by case basis with most "fresh by" suggestions, but more times than not, I don't eat it beyond two days. I do not suggest freezing it as the outcome upon reheating is pretty terrible.
Please feel free to share your experience with making this Salmon Ceviche in the comments below or on social media!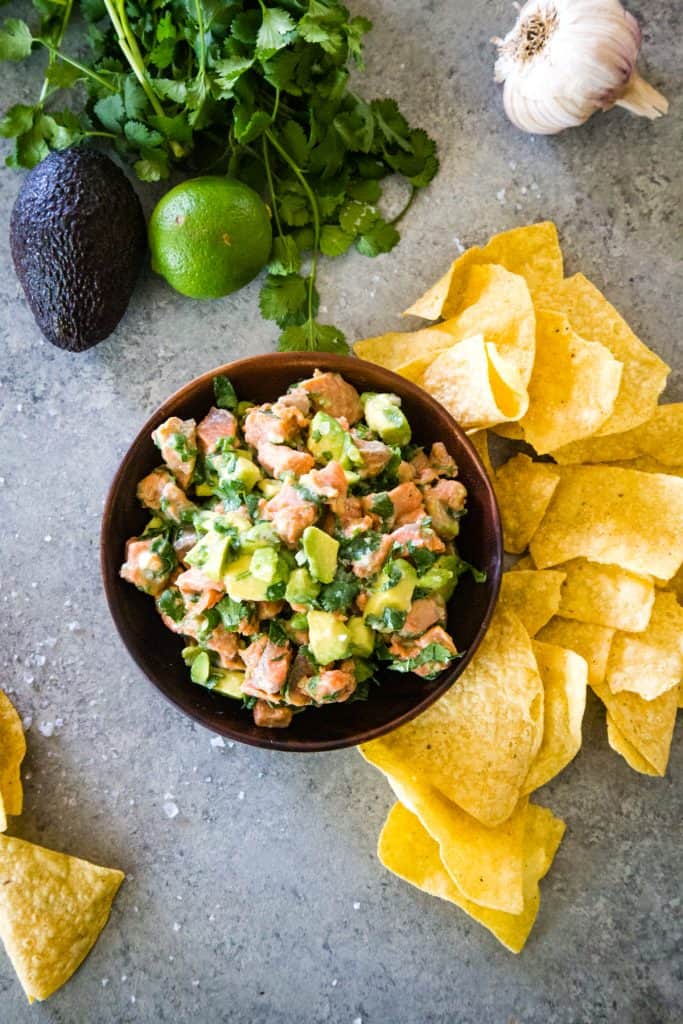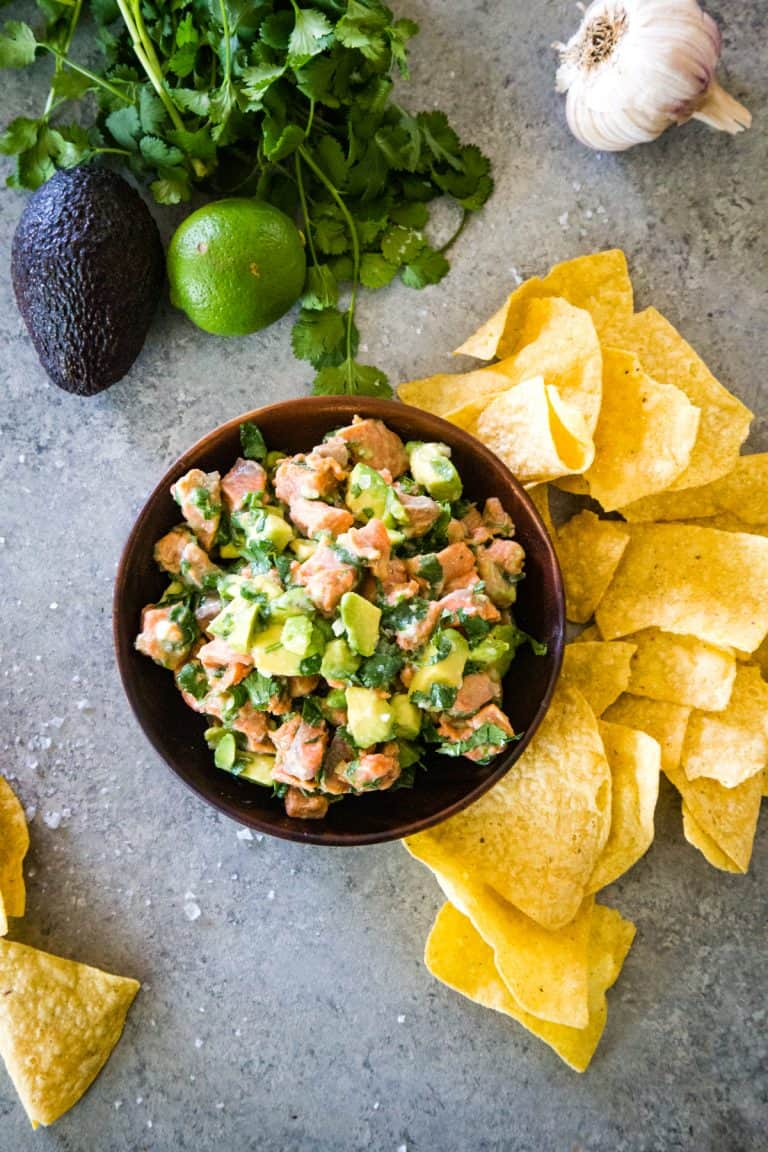 More Salmon Recipes You're Sure to Love: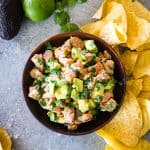 Bridgette's Coho Salmon Ceviche
Toss together this Salmon Ceviche with hearty chunks of coho salmon, brimming with citrus flavors, with just a touch of spice.
Keyword:
salmon ceviche recipe, what to make with salmon
Ingredients
¾

pound

Coho Salmon

skin removed and cut into ½ inch cubes

5

limes

juiced and divided

1

orange

juiced and divided

1

clove

garlic

minced

1

jalapeno or fresno pepper

seeded and minced

1

medium shallot

minced

1 to

mato

diced

1

avocado

diced

½

teaspoon

cumin

2

tablespoon

chopped cilantro

Salt and pepper

to taste

Tortilla chips

for serving
Instructions
In a medium sized shallow bowl, combine Coho Salmon cubes with the juice of half an orange and 3-4 limes. The lime and orange juice should cover the coho. Cover and refrigerate for 30 minutes.

After the coho has "cooked" for 30 minutes, pour out the lime and orange juice from the bowl. Mix in the rest of the ingredients, juice of ½ a lime, 3 tablespoons orange juice (from the other half of the orange), and season with salt and pepper to taste.

Serve as an appetizer with tortilla chips.
Recipe Notes
Bridgette's Pro-Tip- The lime and orange juice "cook" the fish in the refrigerator. 30 minutes will give the fish a medium-rare preparation, but if you prefer your fish more well done with a less delicate texture, marinate it for up to 2 hours. Conversely, if you like it rare, cut the marinate time to 10 minutes.