At first glance, everyone will know what this Carnival Funnel Cake is and squeal. Deliciously crispy on the outside and soft on the inside. Topped with powdered sugar for the perfect level of added sweetness.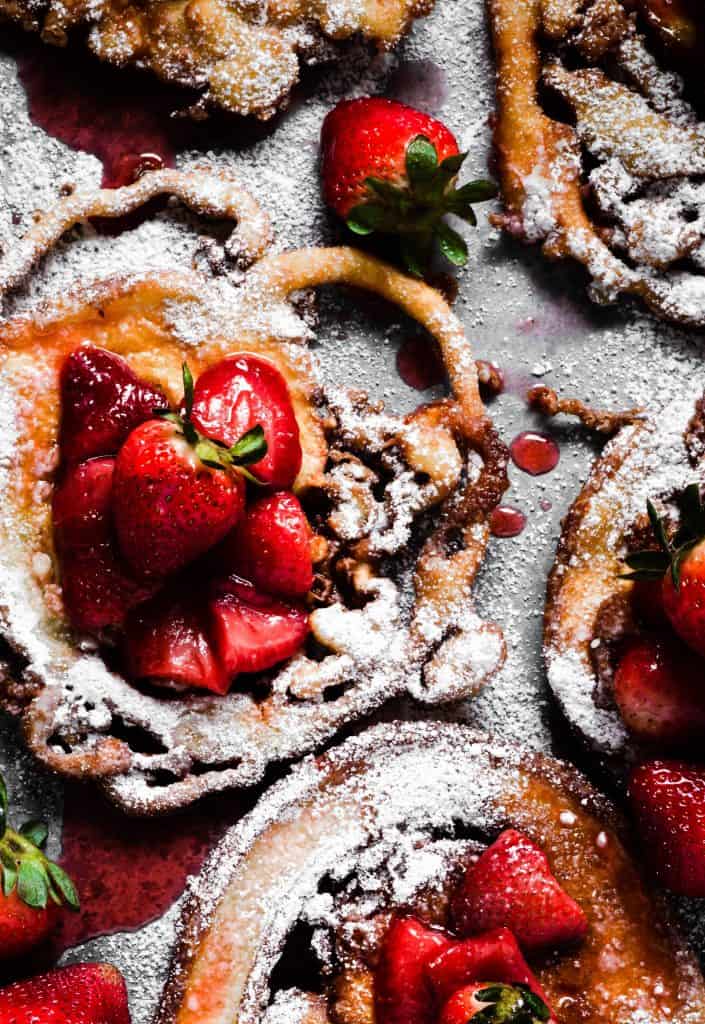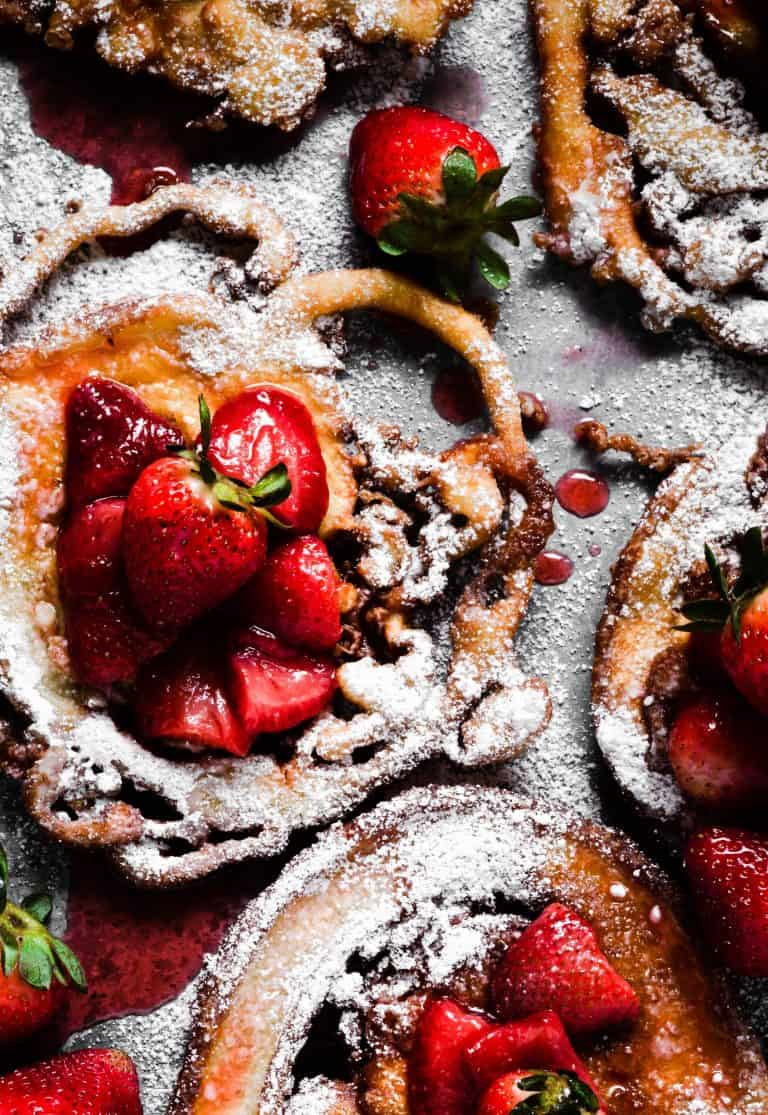 As an adult, I still get giddy over carnival funnel cakes because there's nothing but great memories connected to them. Every fun event growing up included funnel cakes. Walking in and smelling them as a child made me immediately excited for what was to come. As an adult, that smell still does the same thing to me.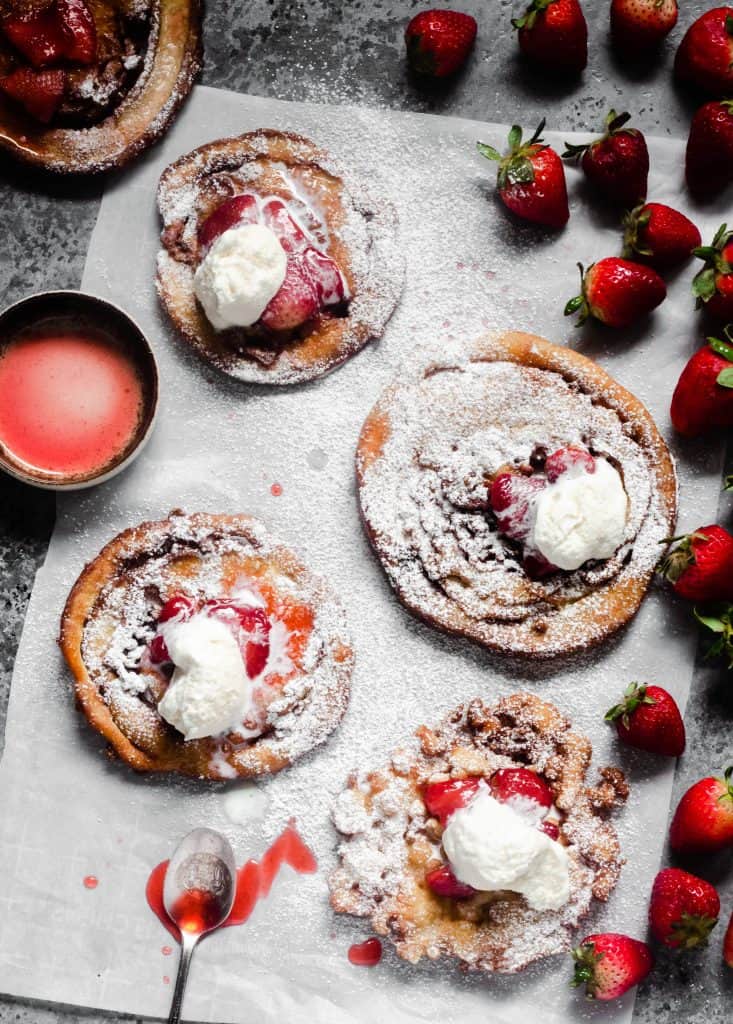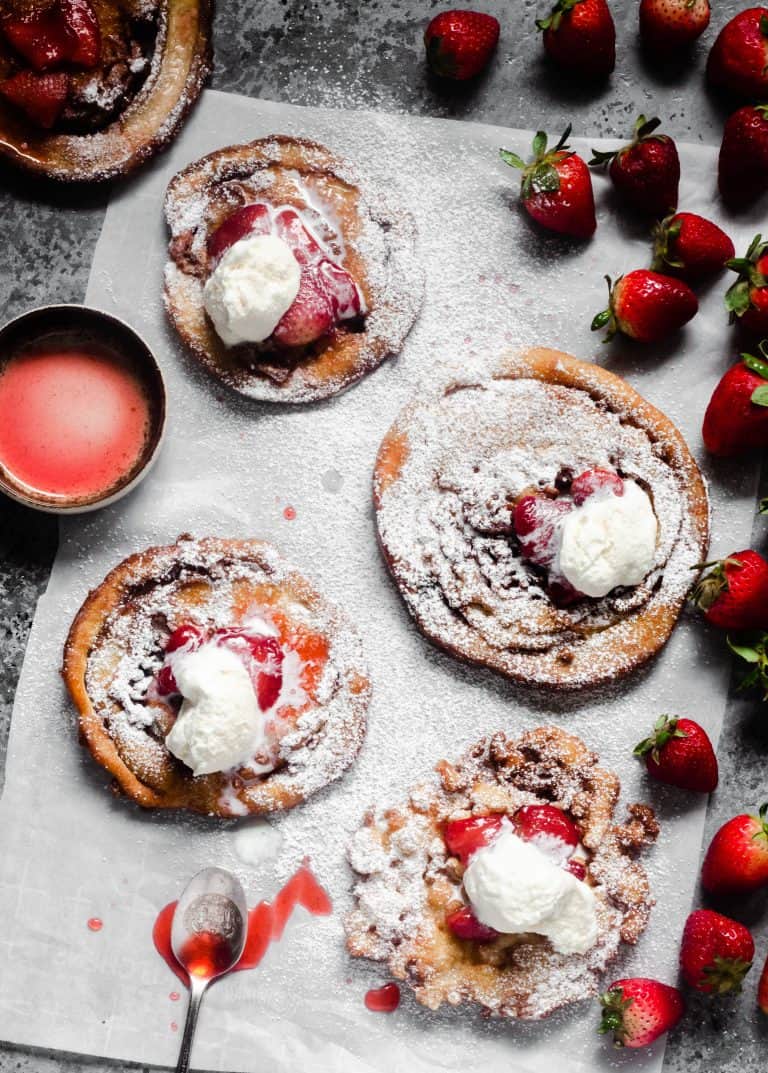 I love filling my house with all the smells that make me happy. Just like baking Apple Fritters, whipping up a big pot of Firecracker Chili, or preparing Sugar Cookies for Christmas decor. All of these, plus more, bring back such fond memories and feelings of peace. Yes, that's how much I love carnival funnel cakes. I would be surprised if you hadn't tried them, but if you haven't, you need to, pronto.
How Do You Make a Funnel Cake from Scratch?
Prep - Heat oil in your skillet.

Process - mix the wet ingredients and sugar in a food processor.
Combine - Mix the dry ingredients in a bowl and slowly pulse in with the wet ingredients.
Fry - Pour the batter in a circular motion. Fry until golden brown on both sides.
Garnish - Top with powdered sugar and strawberries, if desired. Enjoy!
Tips and Variations
Use other toppings - Powdered sugar is the most popular topping used with funnel cakes because it's absolutely perfect. However, you can use other toppings as well. Treat it like you would a cake. Top with chocolate sauce, caramel sauce, sprinkles, crushed candy, crushed cookies, frosting, whipped cream, etc.
Use a funnel pitcher to pour - I used a ziploc bag, but if you had a funnel or even a funnel pitcher, it would make it much easier. If a baggie is all you have, no worries, it still works great.

Storage - Store in a sealed container or bag in the pantry for up to 3 days. Store in the same manner in the fridge for up to 1 week or in the freezer for up to 2 months. Do not put toppings on before storage. Best if eaten immediately after they're cooked, if possible.
Use a deep fryer - If you have a big enough deep fryer, you can use that in place of a skillet. However you decide to fry them, just be sure the oil is deep enough and hot enough.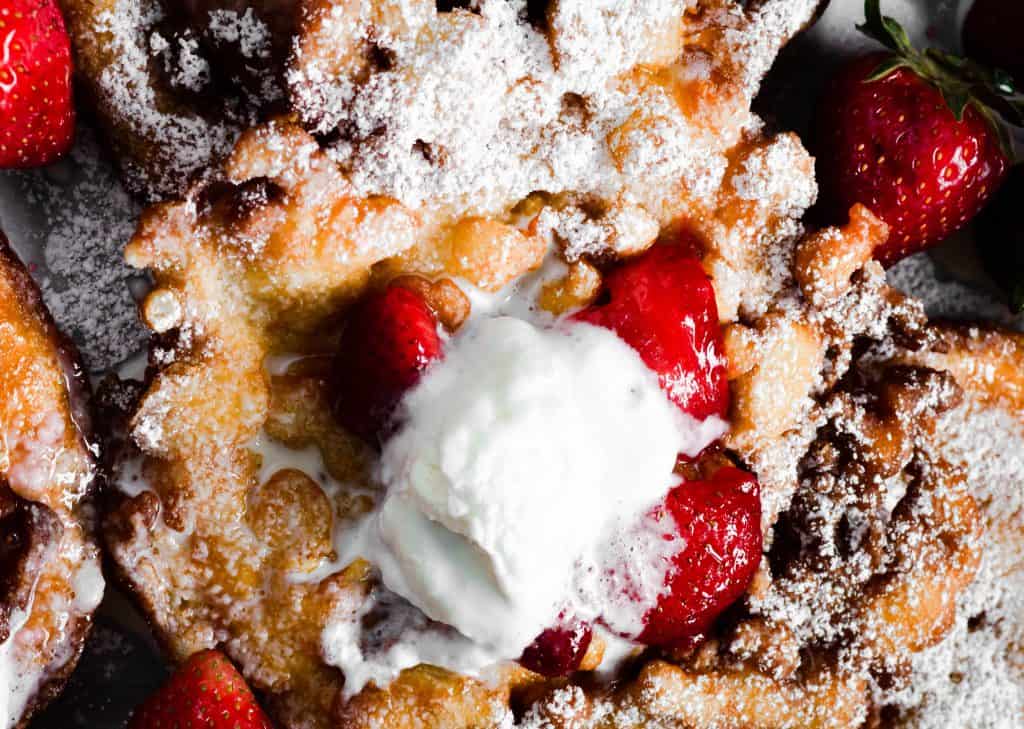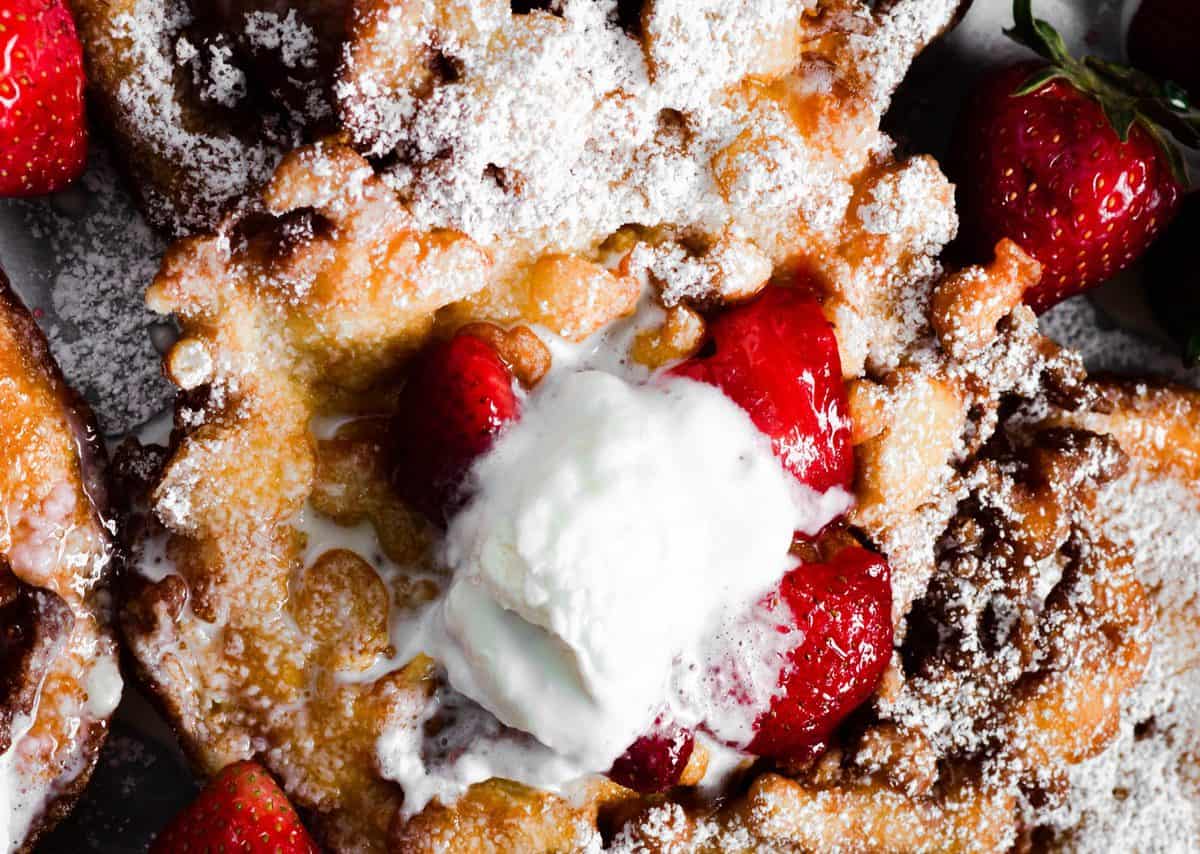 Common Questions About Funnel Cakes
Is Funnel Cake from Pancake Batter?
You can make it from pancake batter if you prefer. However, adding a few ingredients to the pancake is ideal for the best funnel cake you've ever had. Eggs, oil, butter, and sugar are often added to the pancake mix to make it a better option for funnel cakes.
How Do You Pour a Funnel Cake?
It's very important that the oil is hot enough to immediately start cooking the batter once added to the oil. Using a pourable cup, funnel, or a funnel pitcher is the easiest. However, just pouring the batter in a quick, circular motion, straight into the hot oil is usually how funnel cakes are accomplished. Other than having a tool that helps you pour more easily, there's no special way to do it.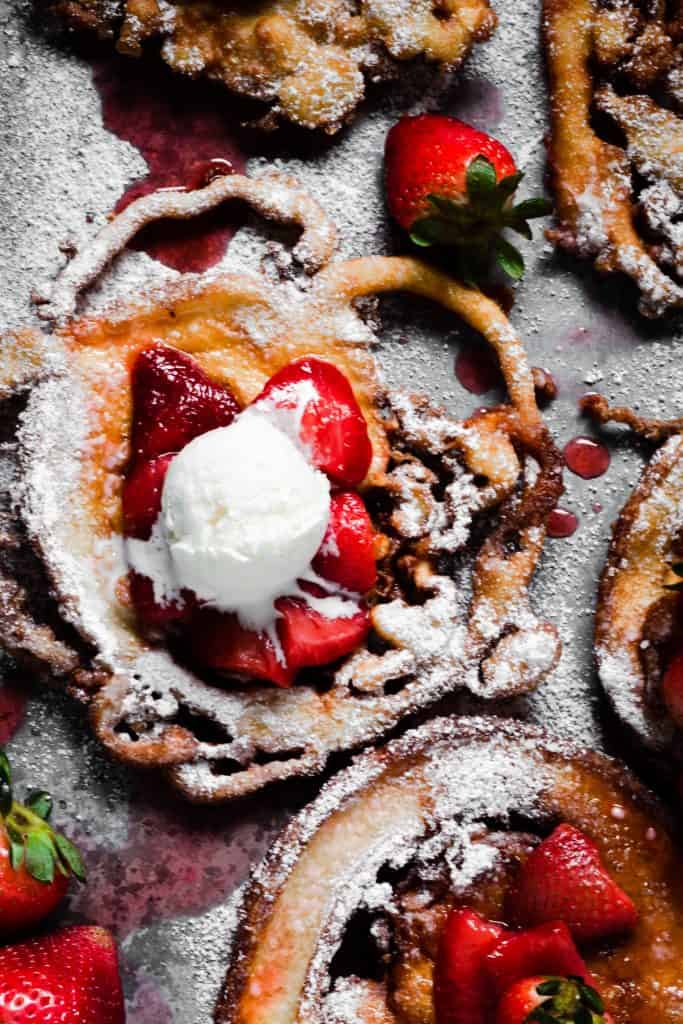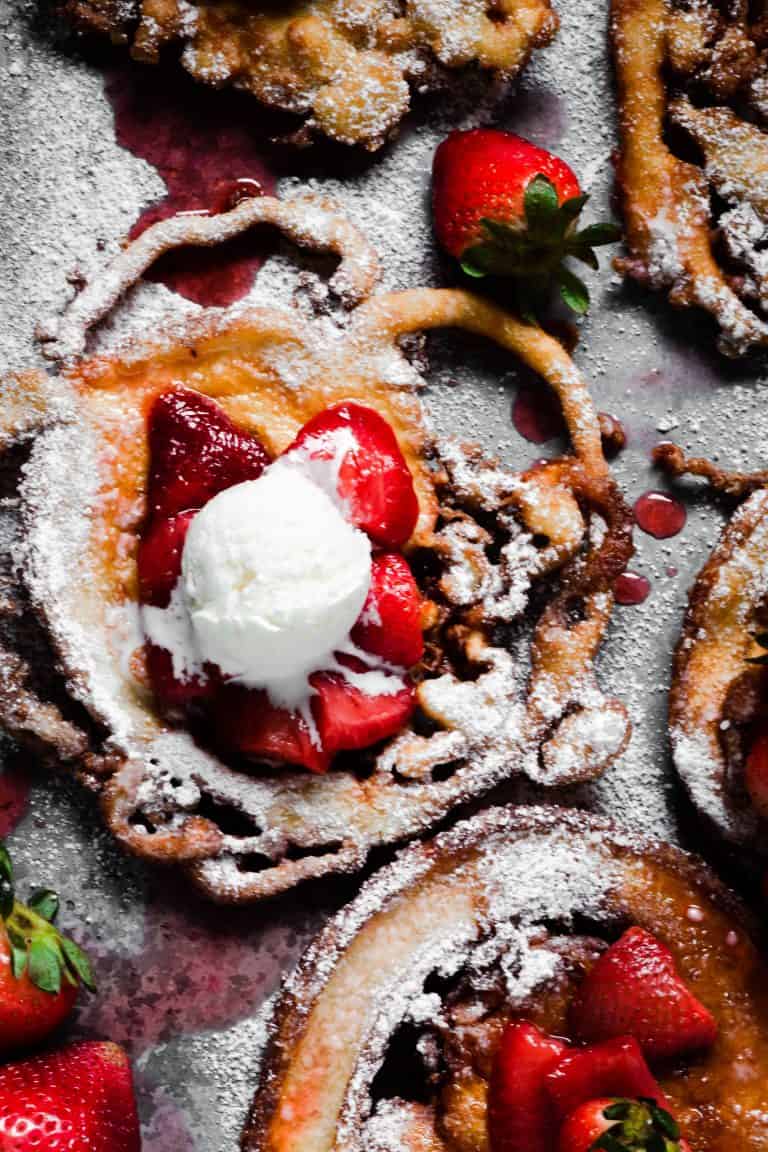 Please feel free to share your experience with making this Carnival Funnel Cake in the comments below or on social media!
More Cake Recipes You're Sure to Love:
Photography by Samara at Samara From Scratch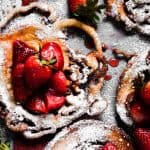 Carnival Funnel Cake
This Carnival Funnel Cake is and squeal. Deliciously crispy on the outside and soft on the inside. Topped with fresh strawberries and cream!
Keyword:
funnel cake recipe, homemade funnel cakes
Ingredients
Homemade Carnival Funnel Cake
2

eggs

1 ½

cups

milk

1

teaspoon

vanilla extract

¼

cup

granulated sugar

2

cups

all-purpose flour

1

teaspoon

baking powder

½

teaspoon

salt

2

cups

vegetable oil

¼

cup

confectioners' sugar
Instructions
***In an eight inch skillet, heat the oil to 360 degrees F.****

In a blender, combine the eggs, vanilla and milk.

Pulse mix a few times.

Add the granulated sugar and pulse again a few times.

Combine the flour, salt, and baking powder in a bowl.

Add flour mix to egg/milk mixture in ½ cup increments, pulsing the blender a few times after each addition.

If you are like me and do not have a funnel, place batter in a ziploc bag.

When the oil is hot, cut the tip of the bag and pour approximately ½ it into the hot oil while making a circular motion.

Carefully, use tongs and wide spatula to turn the cake over when golden brown.

Fry the second side one minute, remove and drain on paper towels.

Sprinkle with sifted confectioners' sugar, and garnish with strawberries and whip cream.