Now you can make these delicious cinnamon studded Apple Fritters Donuts at home! They taste just like the ones you buy at the donut shop, but better since they're homemade!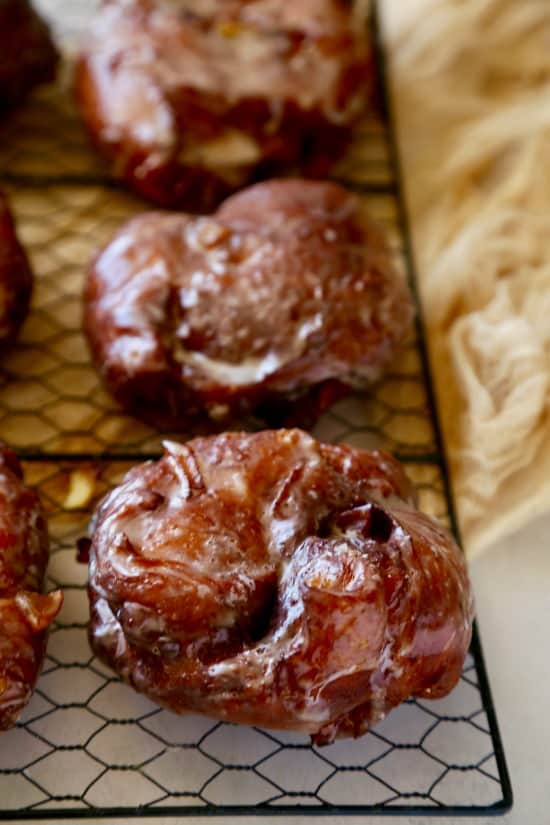 One of my family's favorite things are Donut Shop Apple Fritters. My son has been requesting that I make them for years, but for some reason I have never done it. Why? I don't know. But now that I have, I'm never looking back! The warm cinnamon dough combined with the sweet cooked apples and perfectly fried then topped in a sweet maple glaze is perfection. On a cool Fall day, these are the perfect coffee or warm cider companion.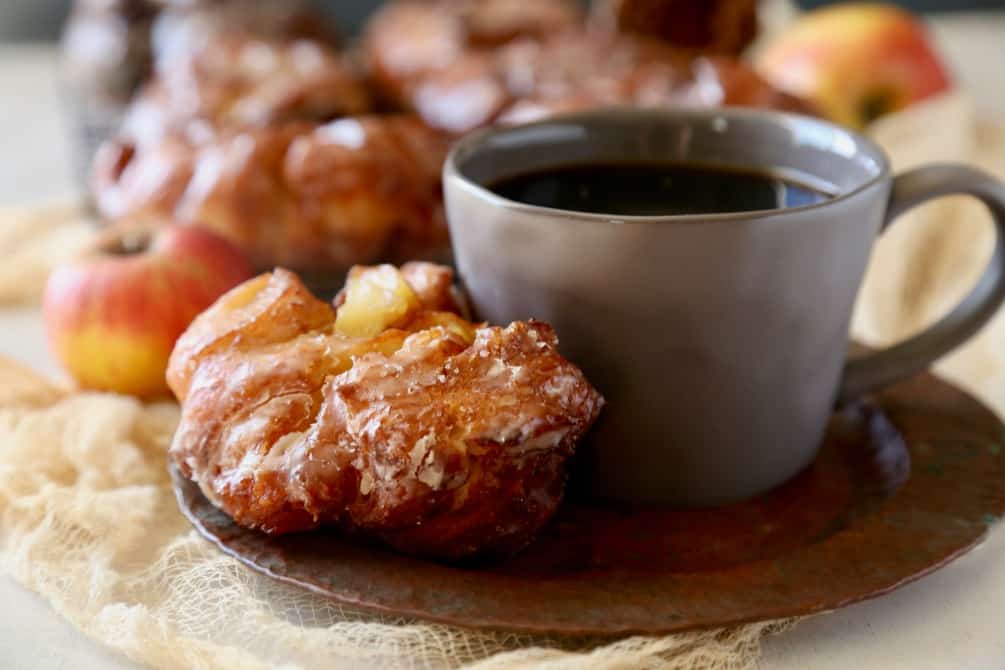 It all starts with a perfect yeast dough. Although time-consuming, there is not much actual prep time, it is more rising time. I made the dough at about 5 am the other day while I was putting together my kid's lunch. Studded with cinnamon, the sweet aromas started here. I let the dough rise for a few hours while I ran my other errands. Later in the morning, I made the apple filling. Sweet-tart apples combined with butter, brown sugar, and cinnamon is pretty much heaven. After cooling, I rolled out the dough and added the apples, cut into their shapes, and let the rest once again before frying. The homemade apple fritters were ready just in time for the kids after school treat.
WHY WE LOVE THIS APPLE FRITTER RECIPE
No trip to the donut store needed! Fresh homemade fritters are probably the best thing since sliced bread. Being able to stay in your jammies and make them at home, make them taste even better! Let me tell you- Krispy Kreme has nothing on these!
Perfect Fall Treat- Did you come home with way too many crisp apples after apple picking? Make a batch of these homemade donuts and a delicious apple pie to use them up!
Freezer friendly- Want to make a batch but know you can't eat them all? Freeze them for later!
Crispy on the outside and soft in the center, this Apple Fritter Donut Recipe is pure bliss!
INGREDIENTS
Warm water

Granulated sugar

Milk

Salt

All-purpose flour

N

utmeg

, optional

Cinnamon

Large eggs

Vegetable Oil for Frying, or any frying oil

Apple Filling-

Butter

Tart fresh apples, peeled and chopped into ½-inch pieces. I like to use granny smith apples.

Brown sugar

Freshly squeezed lemon juice

Cinnamon

Flour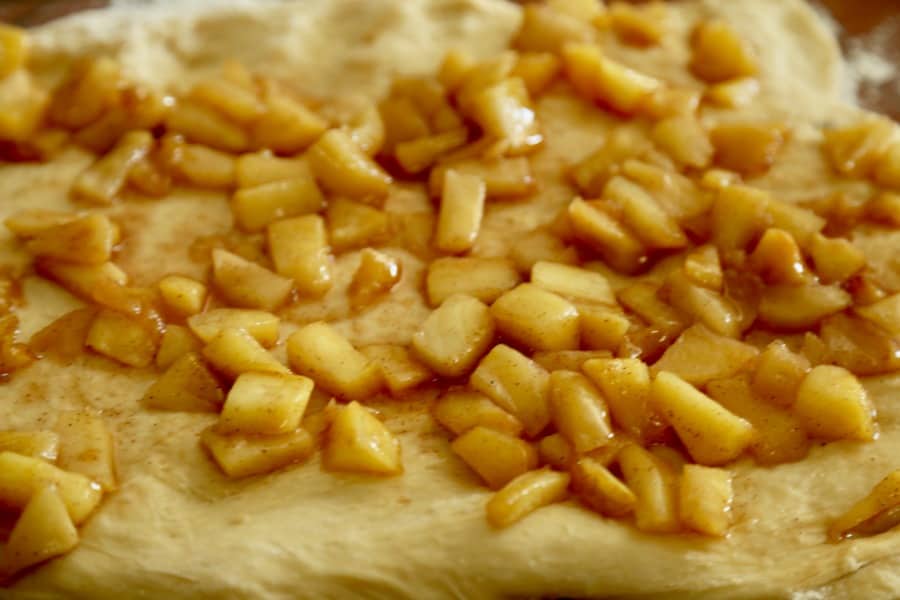 HOW ARE APPLE FRITTERS MADE-
Like I said above, this donut shop apple fritter recipe starts with a yeast dough and some cinnamon fried apples.

Once the dough has risen, you roll it out flat on a lightly floured surface, cover half of it with the apples, then cover with remaining dough. 

Cut it into squares then roll the balls somewhat to encase the filling. Let them have one more quick 20-30 minutes rise while you make your glaze and heat up your oil. 

Heat about 2inches of oil in a large pot or dutch oven to 350 degrees. It is important to get it to the right oil temperature otherwise the apple fritters will either be doughy if not hot enough or burnt if too hot. I recommend using a candy thermometer.

Carefully place 1-2 fritters max into the hot oil using a slotted spoon or

spider strainer

. Cook for 1-2 minutes per side and until they are golden brown. PRO TIP: Check one of the fritters to verify that it is fully cooked by breaking it open (don't worry, the glaze will cover it up). 

Place hot apple fritter donuts on paper towels to soak up excess oil. 

While still hot, carefully dip each apple fritter into the simple glaze and place on a

cooling rack

to cool completely. 

Enjoy warm or at room temperature! 

Watch the video below for visual instructions. 
APPLE FRITTER VARIATIONS-
Apple Spice Blend- Skip the cinnamon and nutmeg and use an apple pie spice.

For more apple taste, use apple juice or apple cinder with the powdered sugar for the glaze.

Use a different fruit all together- I've made these with pears and peaches and they always turn out delicious. Just make sure your fruit is on the crunchier side instead of super soft.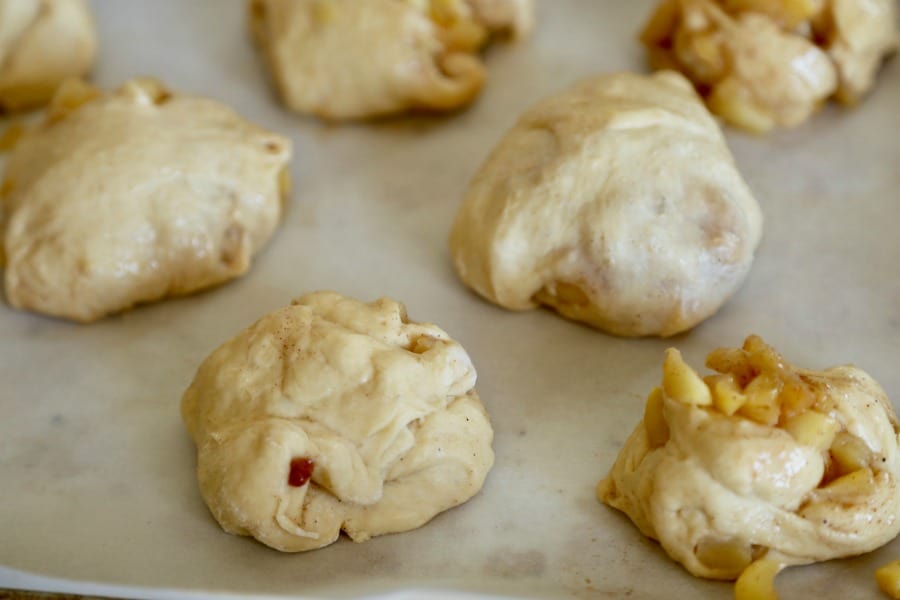 TIME SAVING TIPS-
Use a rapid yeast to reduce the rising time. You can also use refrigerated canned biscuits, or rolled out cinnamon rolls to make the donut dough.

Make the donut dough with the dough hook on your stand mixer.

Use fresh apple chunks tossed with cinnamon and a touch of flour instead of cooking the apples. If you're really short on time, use canned apple pie filling, but try and avoid getting the excess jell into the dough. It will make it a slippery mess.

Try deep frying your apple fritter doughnuts in a deep fryer or even an air fryer.

Toss warm donuts in a cinnamon sugar mix instead of the sweet vanilla glaze.

Use a bench scraper to cut and help fold the smooth dough.

Make small parchment paper squares and allow the apple doughnuts to do their final rise on them. Then, once the oil is hot, place the donut and square in the fryer. The paper can be easily removed once wet from the oil.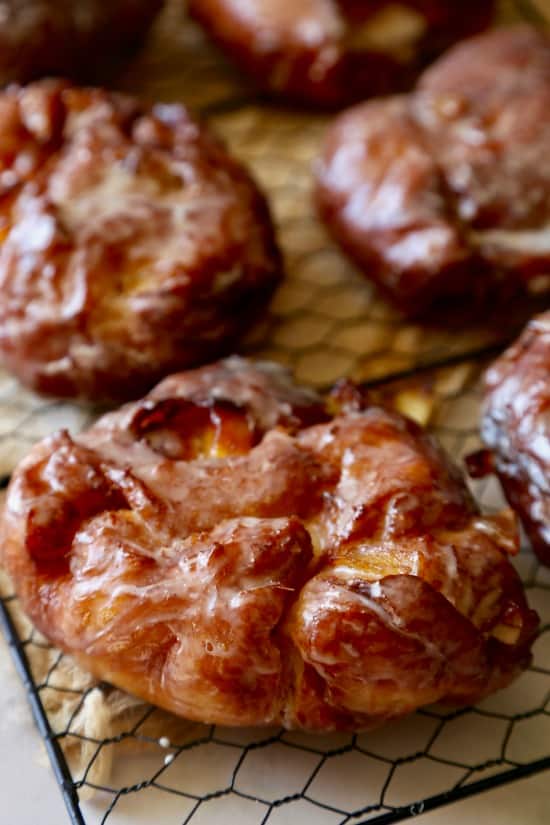 FAQ's
HOW TO GLAZE APPLE FRITTER DONUTS
The one thing that I learned with making these Donut Store Apple Fritters, is that it is best to glaze them when they are hot. Odd I know, but if you wait until they are cool, you will end up with a sticky mess. Glazing them while hot, produces a dry crispy glaze, just like the donut store!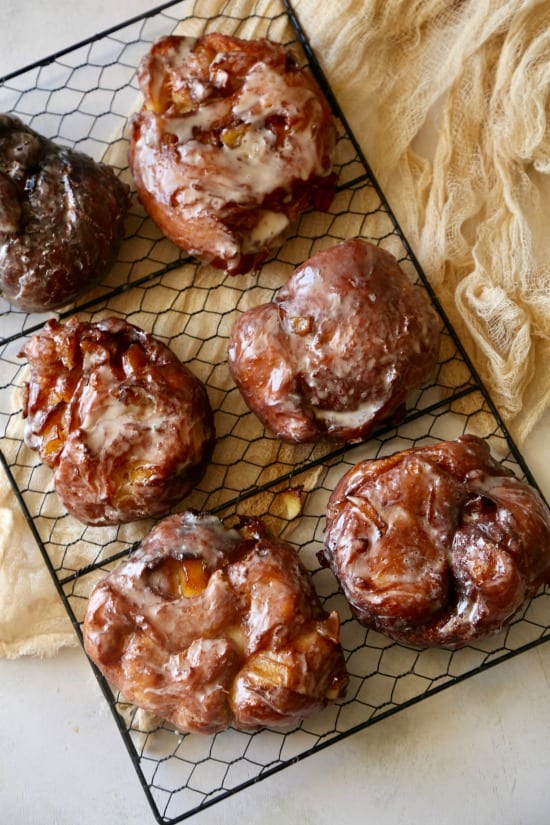 CAN YOU FREEZE APPLE FRITTER DONUTS?
The answer is YES! These are best enjoyed the day of, however, they do freeze beautifully. Simply wait until they are cool, then wrap individually in plastic wrap or parchment paper and store in an airtight container. When ready to enjoy again, let them thaw for 15-20 minutes, then microwave the apple fritters for 30-45 seconds.
So make a few extra, freeze them, and enjoy them on a cold winter day! Enjoy! Scroll down below the recipe for more of our favorite apple recipes.
MORE DELICIOUS APPLE DESSERTS-
If you're looking for more delicious apple recipes like these Apple Fritter Donuts, check out our Apple Cider Donuts, Caramel Apple Cheesecake Bars, Apple Cake, or our Apple Buttermilk Custard Pie to name a few. But, we are quite fond of apples so there are so many more apple recipes to check out on TheSeasideBaker. Just type apples into the search bar to see! Enjoy!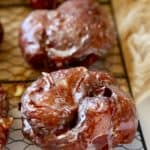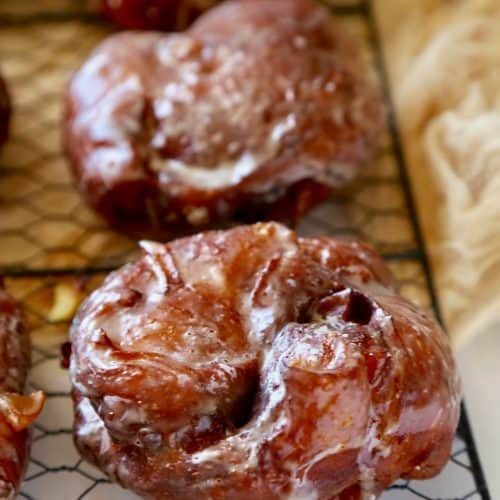 Apple Fritter Donuts
A perfect yeast dough is swirled with cinnamon apples and fried to perfection then dipped in a glaze resulting in Apple Fritter bliss!
Ingredients
Fritter Dough-
½

cup

warm water

1 ½

tablespoons

active dry yeast

1

tablespoon

granulated sugar

¾

cup

milk

¼

cup

granulated sugar

1

teaspoon

salt

4

cups

all-purpose flour

½

teaspoon

nutmeg

1

teaspoon

cinnamon

2

large

eggs

Vegetable Oil for Frying
Apple Filling-
2

teaspoons

butter

2

medium tart apples

peeled and chopped into ½-inch pieces

¼

cup

brown sugar

1

teaspoon

freshly squeezed lemon juice

1

Tablespoon

cinnamon

1

Tablespoon

flour
Glaze-
2

cups

powdered sugar

¼

cup

pure maple syrup

2

teaspoons

pure vanilla extract

1

tablespoon

warm water

plus more as needed
Instructions
To make the dough-
In a small bowl, combine warm water, yeast, and sugar. Allow to sit until yeast begins to "bloom".

While yeast is blooming, melt shortening and milk in a small saucepan over low heat until bubbles appear on the surface.

Remove from heat and transfer into a large bowl.

Add salt and sugar and mix until sugar has dissolved.

Add 1 cup of flour, cinnamon, nutmeg, and eggs to the milk mixture and beat until combined.

Beat in yeast mixture and remaining 3 cups of flour until combined.

Replace your whisk attachment with the kneading hook, or place dough on a well-floured surface, and knead until smooth and no longer sticking to bowl or hands.

Once dough is smooth, place in a large greased bowl, cover and let rest until dough has doubled in size.
To make the apple filling-
In a small frying pan, melt butter over medium heat.

Add apples, lemon juice, sugar, and spices and cook while stirring frequently, until apples are soft- about 4 minutes.

Remove from heat and stir in flour. Bring mixture to room temperature.
Assembly-
On a lightly floured surface, roll the dough out to a ½-inch thickness.

Spread the apple mixture onto half of the dough, then fold the other half over the apples.

Cut 2 inch wide strips.

With floured hands smash the dough and apple together and tuck in any apples that stray, and press each fritter into a flat round.

Coat 2 rimmed baking sheets with flour. Transfer the uncooked apple fritters to the baking sheets.

Cover and let rise for 30 minutes.
To make the glaze-
Whisk together powdered sugar, vanilla, and maple syrup in a large bowl.

Start with 1 tablespoon warm, and add more if needed.

Whisk until glaze is smooth and the consistency of a semi thick glaze.
Make the fritters-
Fill a large, heavy-bottomed pot with at least 2 inches of vegetable oil.

Heat over medium-high heat until a deep-frying thermometer registers 350°F. Using a spatula, carefully and gently lower 1 fritter into the oil.

Fry dough for 1 to 2 minutes per side, turning a few times, until the fritters are light golden brown and cooked through.

Remove with a slotted spoon, drain on a wire rack over a paper towel, and let cool for one minute before glazing.

Dip the top of the warm fritter into glaze, letting the excess drain back into bowl.

Place on wire rack to dry.

Continue with remaining dough making sure that between batches, the oil temperature returns to 350°F and any floating pieces of dough or apples are removed.

Enjoy the same day or freeze in an airtight container, layered with wax paper between fritters for up to 30 days. Defrost and microwave 30 seconds before enjoying.
Recipe Video