Take your dessert game to the next level with this Raspberry Amaretto Tiramisu. It boasts layers of amaretto soaked ladyfingers and a decadent vanilla mascarpone filling. The entire dessert is infused with a raspberry amaretto sauce and topped off with fresh raspberries.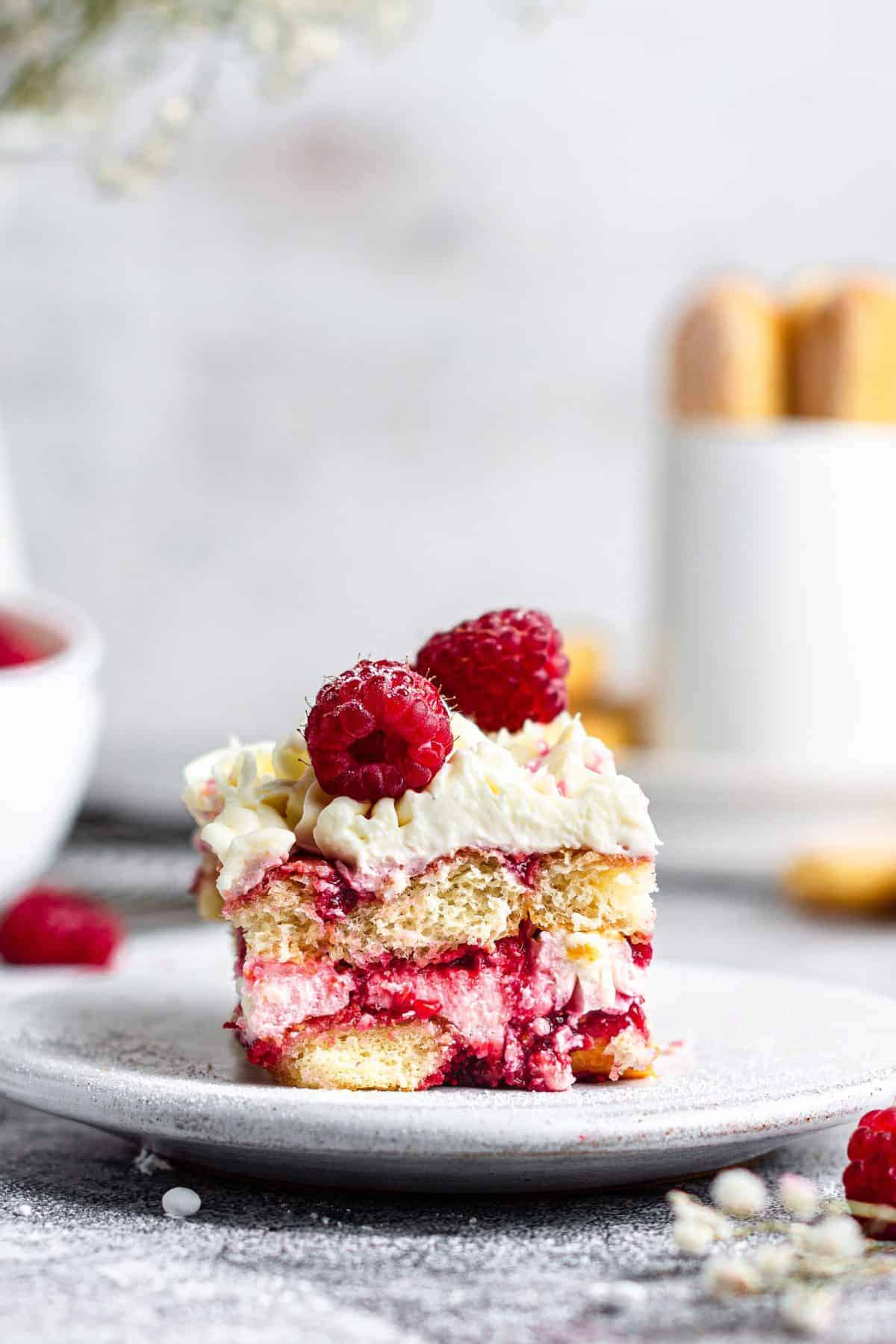 Stop making those boxed desserts and take the time to make this raspberry amaretto tiramisu. It's seriously to-die-for and I feel like fainting just talking about it. Such rich flavors and an unforgettable taste with every bite.
If you have the time and are obsessed with tiramisu (like me, I definitely am) then add in trying this raspberry lemon tiramisu, strawberry french toast tiramisu, or cherry almond tiramisu. They're all amazing versions of this classic Italian dessert. You won't be disappointed.
Warning, you might faint with your first bite...it's that good.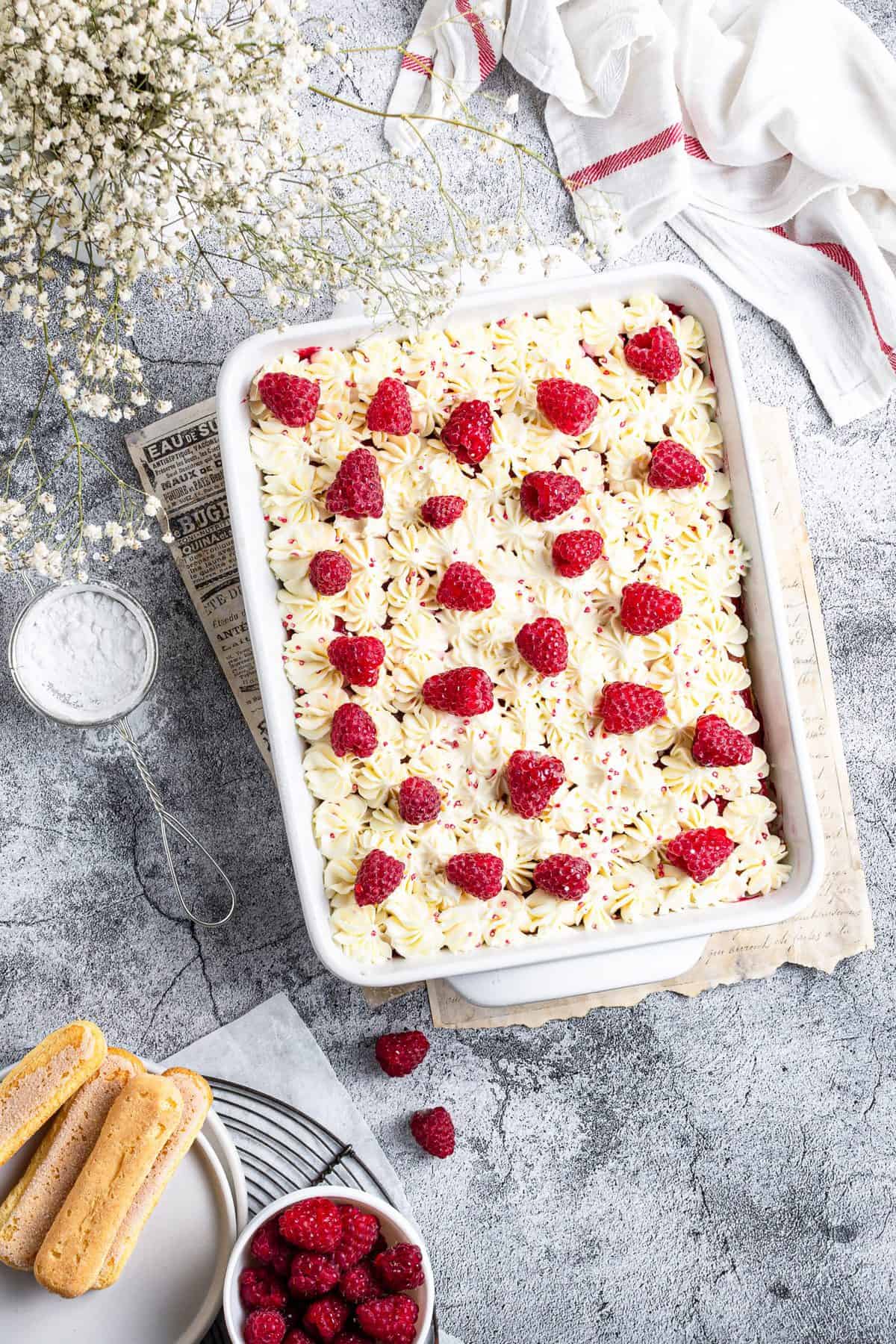 Why We Love This Raspberry Amaretto Tiramisu
It's quick and easy to make, and of course it's a no bake dessert!
It's gorgeous and looks like something you would be served at a high end restaurant.
The combination of raspberries and amaretto are a match made in heaven!
Ingredients/Shopping List
Mascarpone Cheese
Heavy Whipping Cream
Powdered Sugar
Vanilla Extract
Amaretto
Lady Finger Biscuits
Raspberries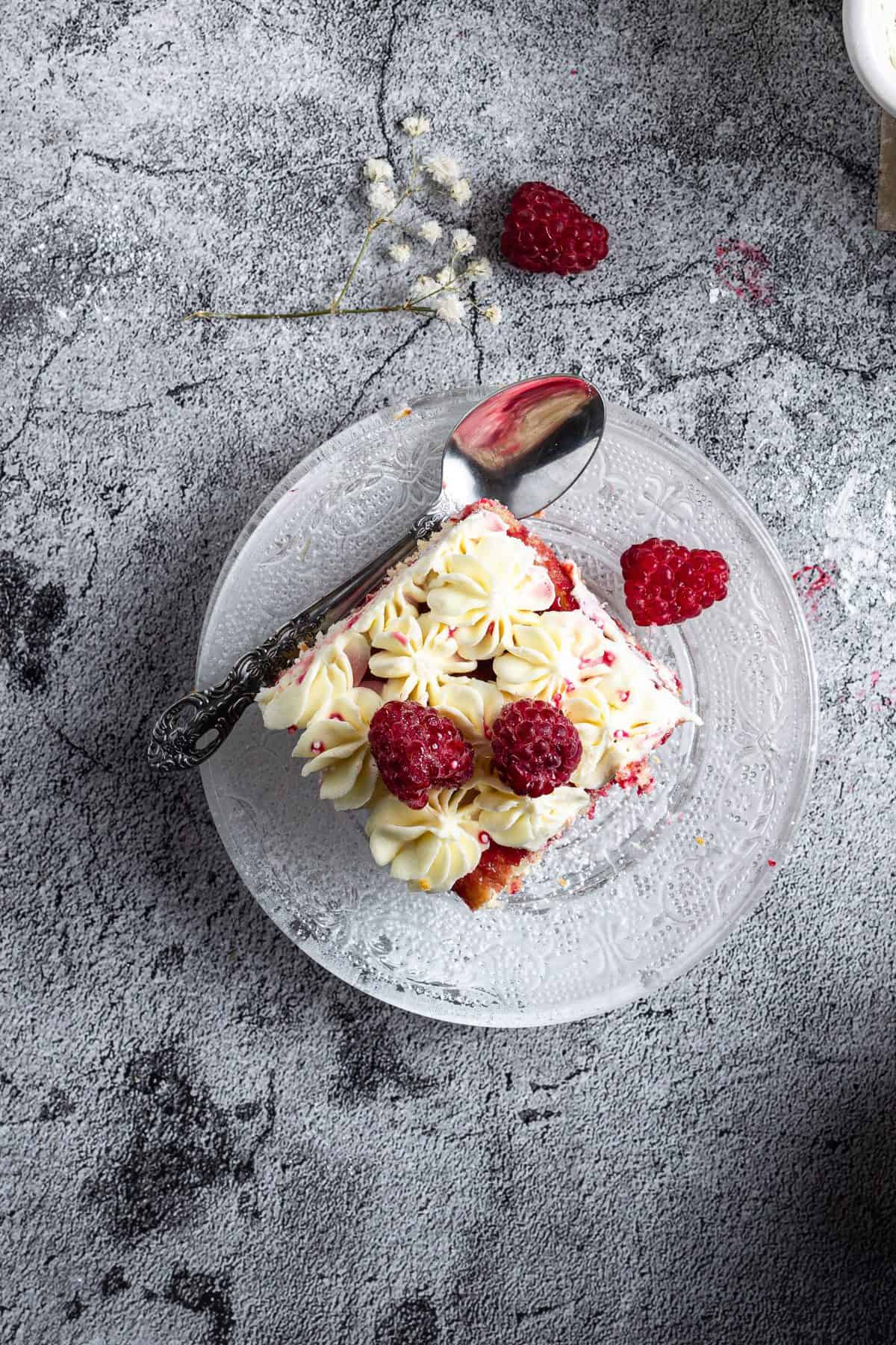 Tools Needed To Make a Homemade Tiramisu
Sauce Pan
Electric Mixer
Fine Mesh Strainer
Measuring Cups
9x13 inch Baking Dish
How Do You Make Tiramisu from Scratch?
Make the sauce

- Add all the ingredients for the sauce to a small saucepan and simmer for 7-10 minutes.

Make the filling

- In a large bowl, beat the cream and powdered sugar until stiff peaks form. Add the mascarpone and beat a little longer.

Make the layers

- Dip the ladyfingers in the amaretto and line the entire bottom of a cake pan with them. Spread half the raspberry sauce over the cookies, followed by half of the filling. Repeat, starting with the cookies.

Chill

- Top with fresh raspberries, cover, and chill overnight. Serve and enjoy!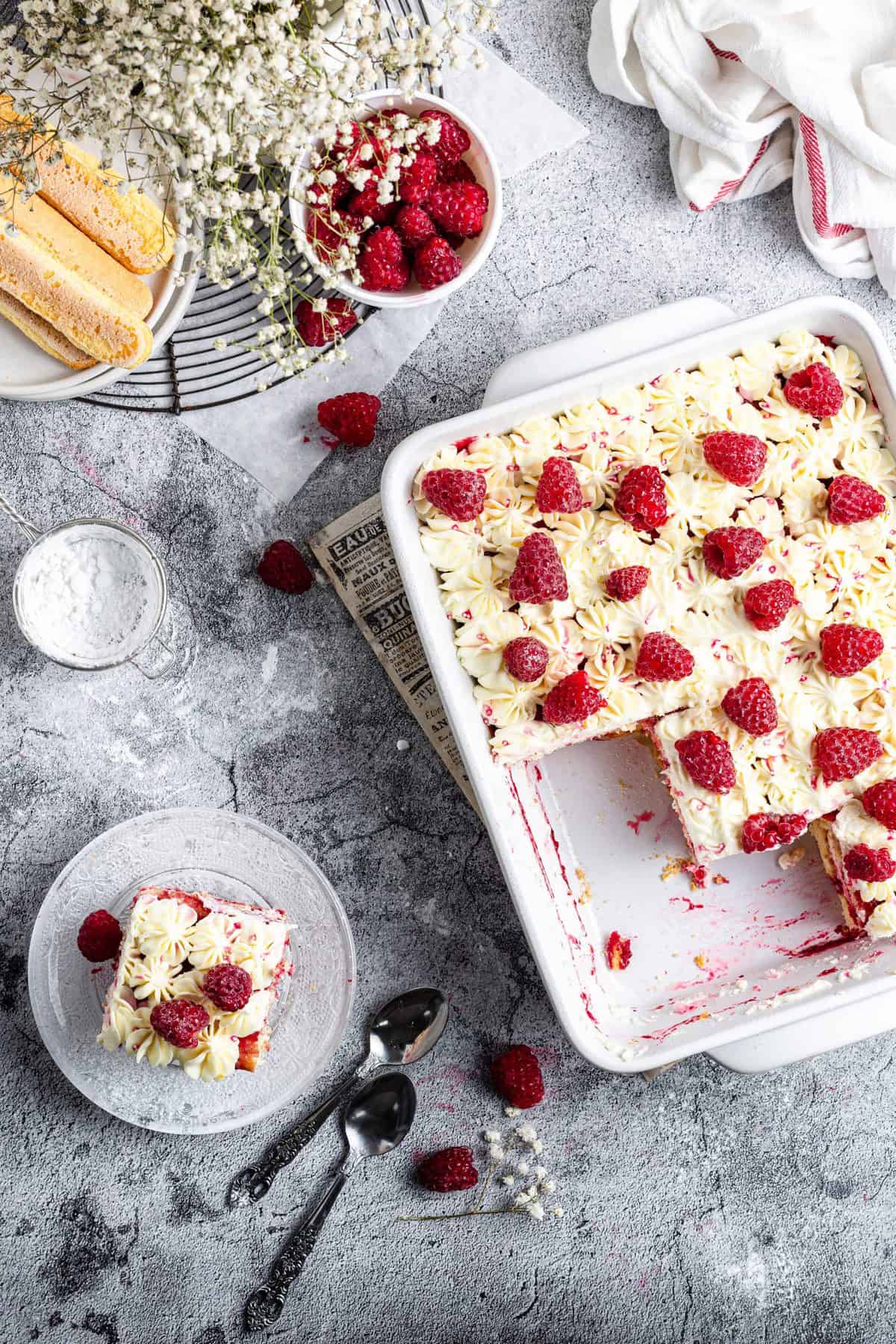 Tips and Variations
Remove the seeds

- If you prefer no raspberry seeds in your tiramisu, you can strain the strawberry sauce after it's finished cooking. You'll need a fine-mesh strainer for this.

Toppings

- I normally use dusting sugar over the top of my raspberry tiramisu before serving. You can also use fresh berries or even sprinkle it with crushed dried raspberries!

Don't over soak

- Your ladyfingers just need to be dipped, not soak. The centers should be most dry so they can retain their shape, support the rest of the dessert, and not collapse.

Raspberry amaretto sauce substitute

- If you want to make this an even quicker dessert, you can just use 1 cup of store-bought raspberry jam in place of the raspberry sauce. I find it a little too sweet, but this is a personal preference, that's all.

Amaretto substitutes

- Some great options other than amaretto are orange liqueur, marsala wine, limoncello, or even lemonade. If you decide to switch, be sure to swap out the amaretto in the sauce for water. If you are looking to make an alcohol free version, you can use a small amount of almond extract in the sauce to get the same flavors.

Whip slowly

- For a thicker and more stable whipped cream, start by whipping the cream slowly and working your way up to higher speed.

Lady Finger Substitutes- I have a homemade Lady Finger Recipe here on the blog however i

f you can't find lady fingers and don't want to make them on your own, you can also use slices of pound cake. It's untraditional, but still delicious.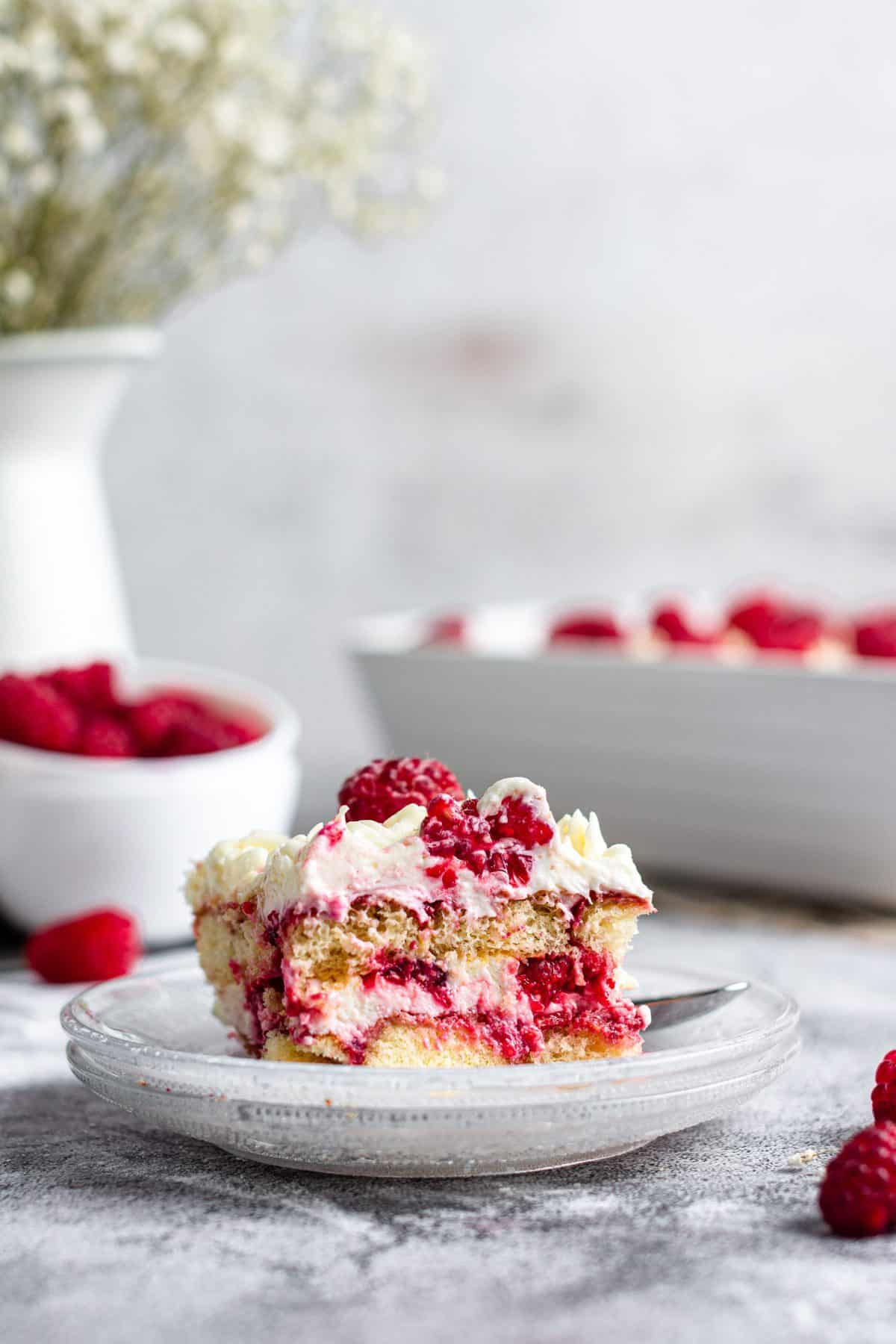 Common Questions About Raspberry Amaretto Tiramisu
Why is Tiramisu So Bad?
First off, yes this is a legitimate question according to google. Crazy right!? Well, if you're talking about health, any dessert can be bad if you eat it too often. However, having a piece of tiramisu to indulge isn't a danger to your health. Everything in moderation is what my mother always said. This is a rich dessert and isn't "bad" but something to be indulged on occasion. Try this dessert and you will reconsider this question! Promise!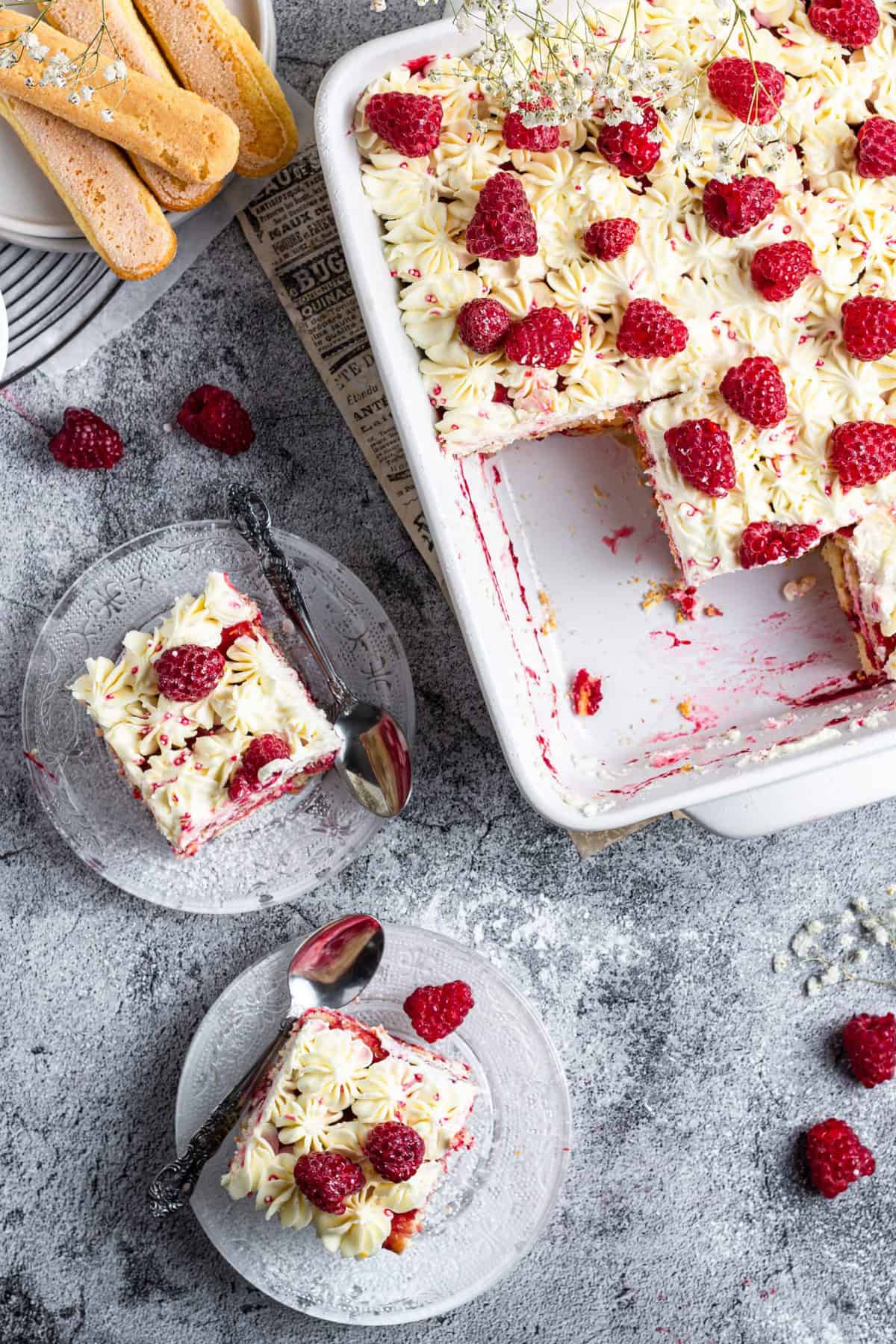 Is There Real Alcohol in Tiramisu?
The traditional version of tiramisu uses real alcohol. However, most modern versions don't use alcohol. This means that many modern tiramisu recipes are safe for pregnant women, minors/children, etc. If you aren't the one making the tiramisu, it's always important to ask the baker just in case.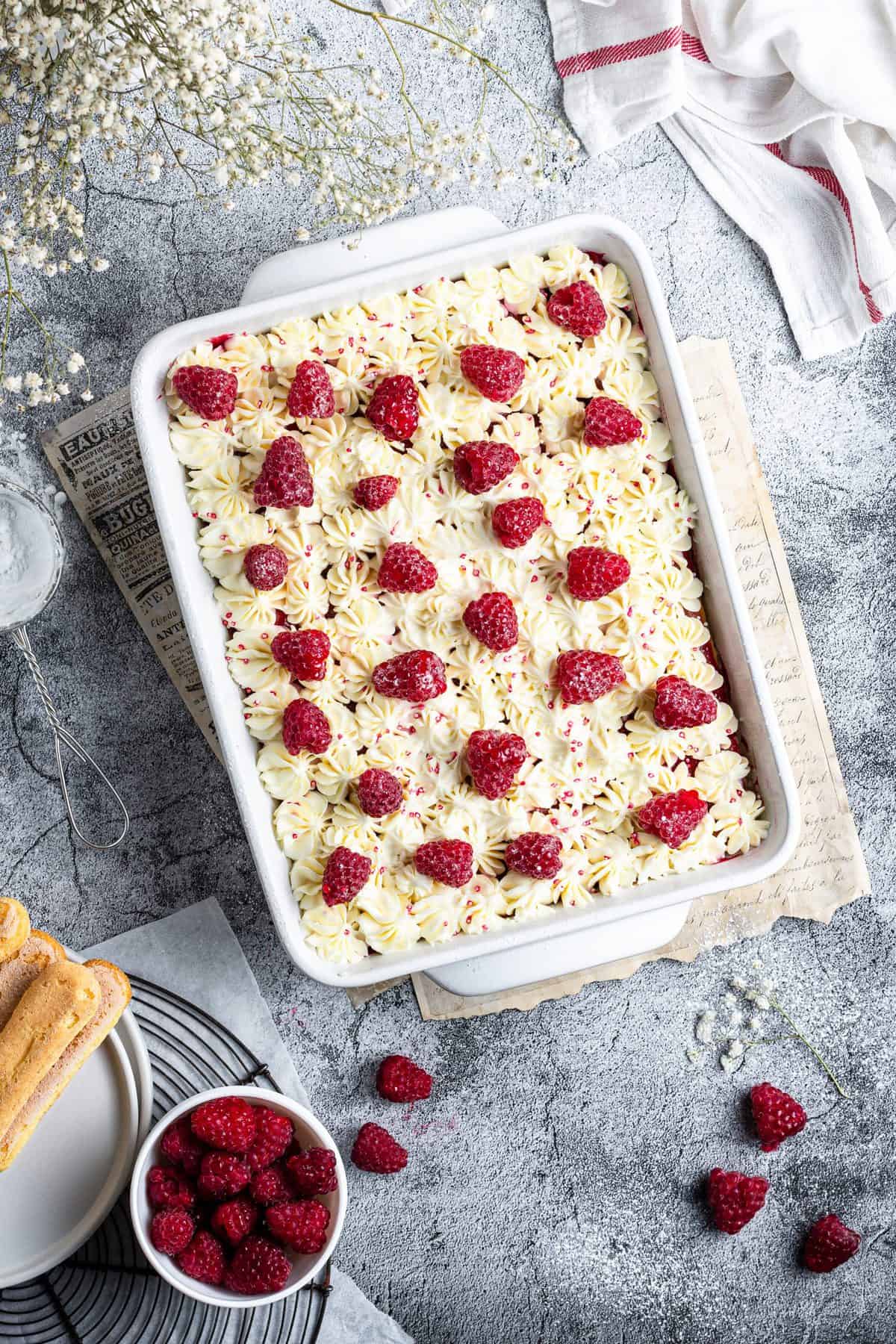 Please feel free to share your experience with making this Raspberry Amaretto Tiramisu in the comments below or on social media!
More Raspberry Recipes You're Sure to Love: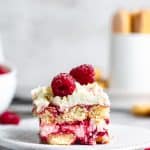 Raspberry Amaretto Tiramisu
The classic among Italian desserts is presented in a summery look. You will love the layers of amaretto soaked ladyfinger, delicious homemade raspberry amaretto sauce, and vanilla mascarpone filling and all topped with fresh raspberries!
Keyword:
fruit tiramisu recipe, no bake elegant dessert, raspberry almond dessert
Ingredients
2

cups

mascarpone cheese

softened, but still cold (16 oz container, 450 grams)

1

cup

heavy cream

cold (250 grams)

½

cup

powdered sugar

60 grams

2

teaspoons

vanilla extract

⅓

cup

Amaretto

80 ml

28-32

ladyfinger biscuits *How many ladyfingers you need depends on the size of the ladyfingers

3

cups

fresh raspberries

approx 300 grams
Raspberry Sauce
3

cups

fresh or frozen raspberries

approx 300 grams

¼

cup

granulated sugar

50 grams *or more if the berries are tart

2

Tablespoons

Amaretto
Instructions
For the sauce, add all the ingredients into a small saucepan and cook on medium-low until berries fall apart and sauce thickens about 7-10 minutes. If you want to remove the seeds, strain the sauce with a fine-mesh strainer, pushing with a spoon until only the seed are left. Let it cool completely.

Add heavy cream and powdered sugar into a large mixing bowl, and using an electric mixer, mix until soft peaks form.

Add mascarpone and continue to whip until it creates a soft, spreadable mixture with medium peaks.

Pour amaretto into a shallow dish and working one at a time, quickly dip each ladyfinger into the amaretto.

Layer half of ladyfingers (amaretto dipped side on top) on the bottom of a 9x13 inch baking dish until you've got an even layer, breaking the ladyfingers in half as needed to fill in any obvious gaps. Spread half of the sauce over the ladyfingers, add half of the mascarpone filling over the sauce and smooth out with an offset spatula. Sprinkle half of the fresh raspberries. Then continue dipping and arranging the second layer of ladyfingers, sauce, and mascarpone filling. For the top filling, you can just spread it with an offset spatula, or use a piping bag with a star nozzle attached. Sprinkle the rest of the raspberries

Once complete, cover with Saran Wrap and refrigerate for several hours, but overnight is best.

When ready to serve, dust with icing sugar.
Recipe Notes
Tips:
Don't drench your ladyfingers. You want the centers to be dry so the tiramisu retains some structure and doesn't collapse.
Whip the heavy cream slowly starting at low for few minutes and moving to high afterward. This will yield a thicker whipped cream which helps the tiramisu retain its structure.
If you're not into Amaretto, you can substitute it with orange liqueur (such as Grand Marnier), Marsala wine, or even Limoncello or lemonade for a lemon raspberry flavor. If not using Amaretto, omit it in the sauce and use 2 tablespoon water instead.
Instead of homemade sauce, you can use 1 cup of store-bought raspberry jam (but I find it overly sweet).