Raspberry Chocolate Mousse Cups feature an easy-to-make chocolate mousse, fresh raspberries, a small layer of brownie, and lots of gold dust!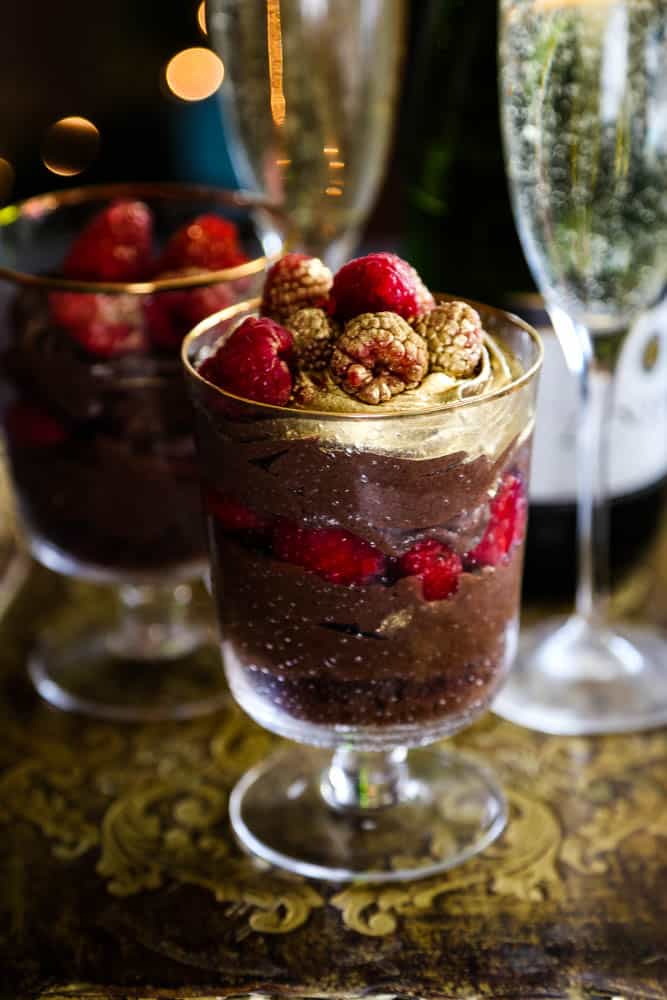 It's no secret that I love to create beautiful desserts.
Actually, not just beautiful desserts... gorgeous desserts. (If you're unaware of my open secret, take a peek at my Pear Spice Cake with Salted Caramel or my Red Velvet Halloween Cake for starters.)
Although it might sound like I'm patting myself on the back for creating such visually appealing desserts, I don't do it for myself. Although I'm proud of what I've created, I love to see the reaction from others when they lay eyes on a stunning dessert that is theirs to eat! It brings me so much joy to see their eyes widen with excitement. (And trust me, they're pretty joyous too when they dig in!)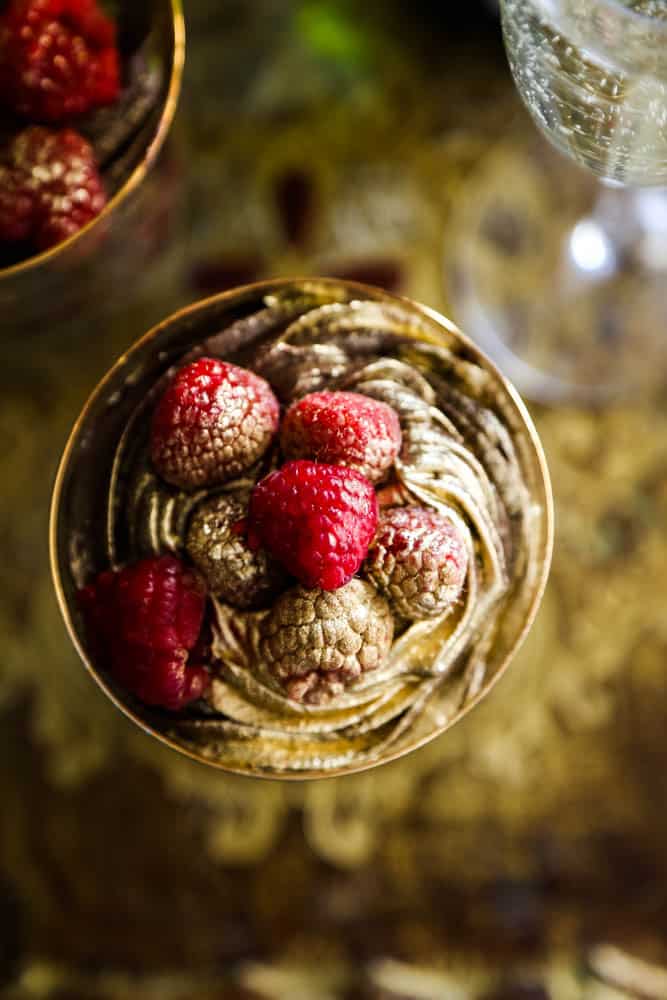 The great thing about gorgeous desserts is they don't have to be complicated. Sometimes I create desserts with quite a few steps because I love the process, but it's not necessary to follow 25 steps to create a dessert with a definite "wow" factor.
Take these Raspberry Chocolate Mousse Cups. I think it's pretty obvious that they're gorgeous, but complicated? Not at all.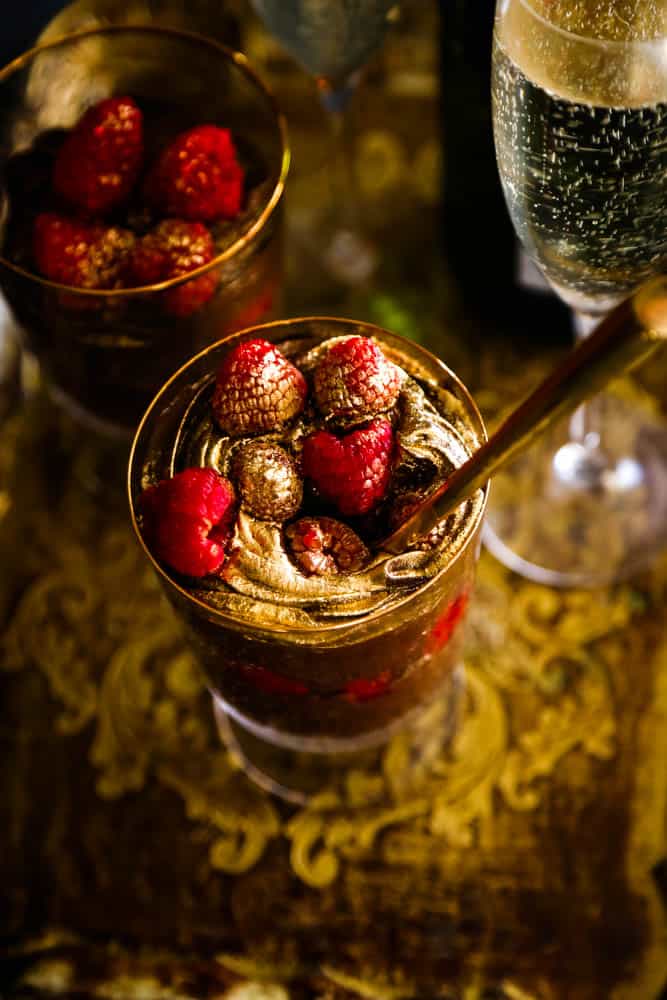 In fact, Raspberry Chocolate Mousse Cups come together pretty easily with layers of easy-to-make chocolate mousse, fresh raspberries (hence the "raspberry chocolate mousse" name), a small layer of brownie, and a hefty sprinkle of gold dust.
Yes, gold dust! Edible gold dust is what takes these Raspberry Chocolate Mousse Cups from "yummy" to "wow." Sometimes it's the simple addition of something like gold dust that really elevates a dessert to a whole new level.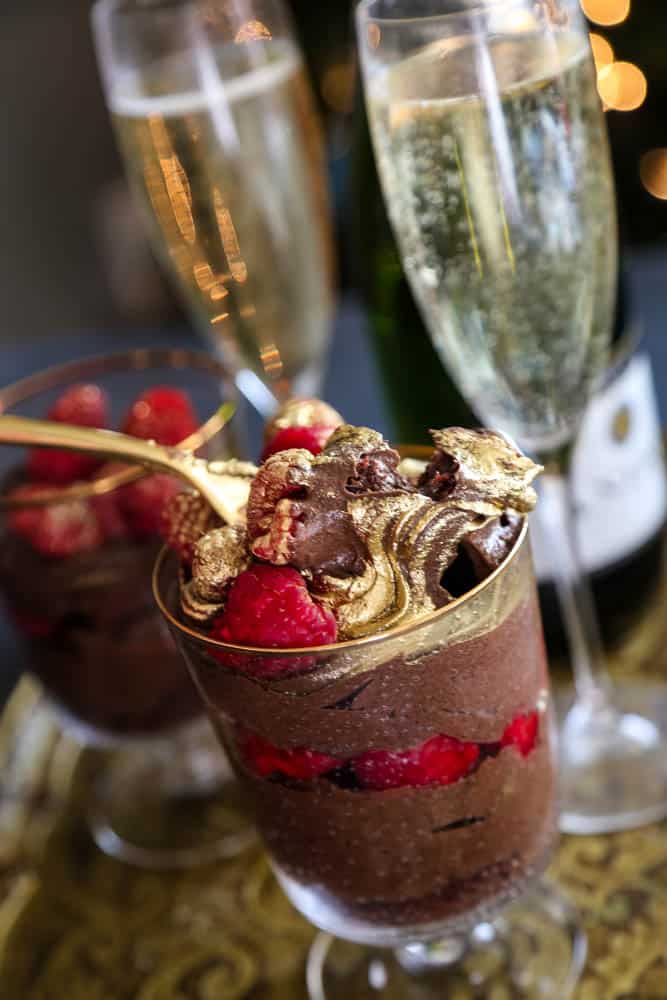 Gold dust is pretty inexpensive and not too hard to find (you can find it online, or you can go to a store like Michaels or Hobby Lobby) and it adds so much sparkle and glamor. I love baking with it!
The next time you need to impress your guests (or even yourself), try these Raspberry Chocolate Mousse Cups. They'll be a huge hit!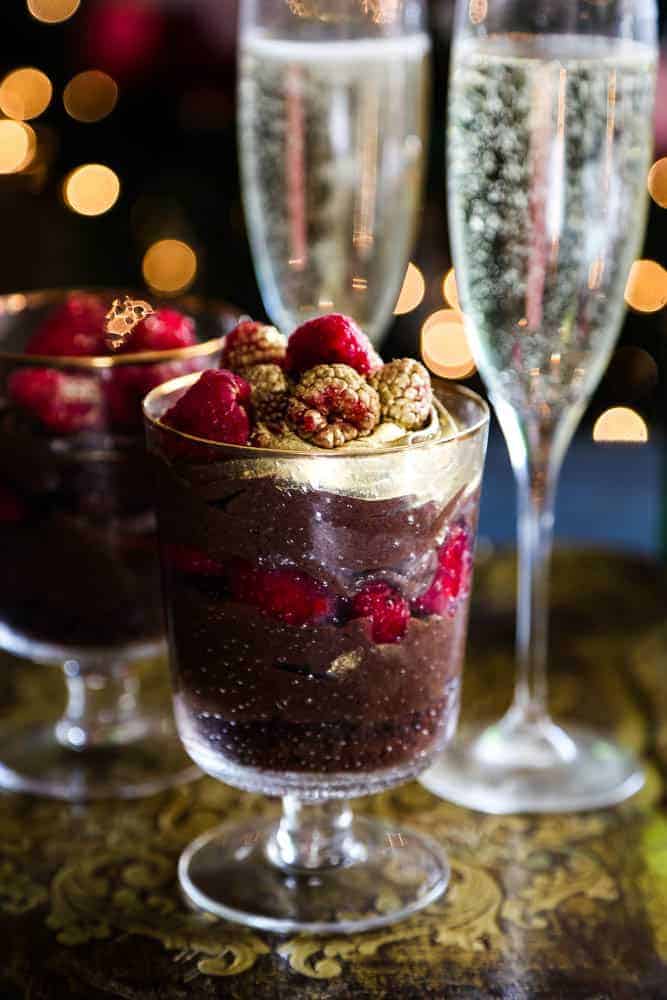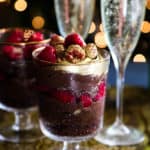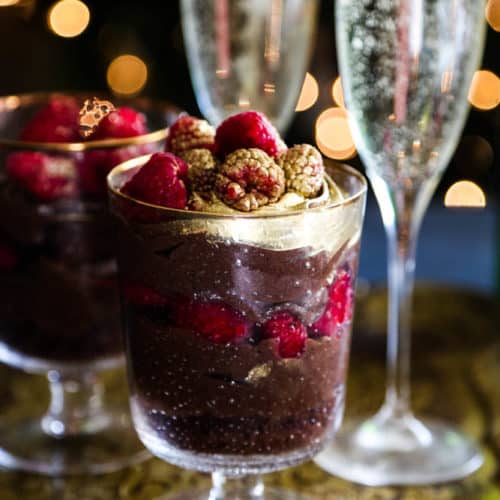 Raspberry Chocolate Mousse Cups
A decadent dessert that is as delicious as it is beautiful.
Keyword:
chocolate mousse recipe, NYE dessert
Ingredients
1

box brownie mix

prepared as directed on the box

2

eggs

¼

cups

granulated sugar

2 ½

cups

cold heavy whipping cream

divided

8

oz

dark chocolate

coarsely chopped

1

cup

fresh raspberries

Edible gold luster powder
Instructions
Make brownie mix as directed on box, or make a homemade brownie in a 9x13 inch pan. Cool completely.

In a medium sized saucepan set over medium low heat, heat 1 cup of heavy cream until hot, but not boiling. Once hot, remove from heat and add chocolate. Let sit for 5 minutes then stir until smooth.

In a separate bowl, whisk or beat eggs and granulated sugar until pale and you can no longer feel the sugar granules.

Gradually add ¼ cup of the heated cream at a time to the egg mixture, stirring constantly, until ½ of the cream has been added.

Pour egg/ cream mixture back into the pan with remaining cream, stirring constantly.

Return pan to low heat and cook mixture for 5 minutes or until it begins to thicken, stirring constantly.

Once it has thickened slightly, remove from heat and transfer to a large bowl. Cover and refrigerate for at least 2 hours or overnight.

When mixture is cold, beat remaining heavy cream until stiff peaks form.

Fold half of the chocolate custard picture into the whipped cream.

Fold in remaining chocolate mixture until combined.

Cut brownies into rounds the size of your serving glass.

Place first round at the bottom of glass, then spoon about ¼ cup of mousse over brownie.

Top with a couple of raspberries and repeat layers until glass is full.

Refrigerate for 1 hour.

Just before serving, sprinkle glasses with edible gold luster powder and garnish with fresh raspberries.