If you're looking for the perfect fall dessert, this Pumpkin Tiramisu with Molasses Cookie Crumb is a great go-to. Easier than it looks, and bursting with a delicious pumpkin and coffee flavor combination. Add in the molasses cookies and you'll be swooning.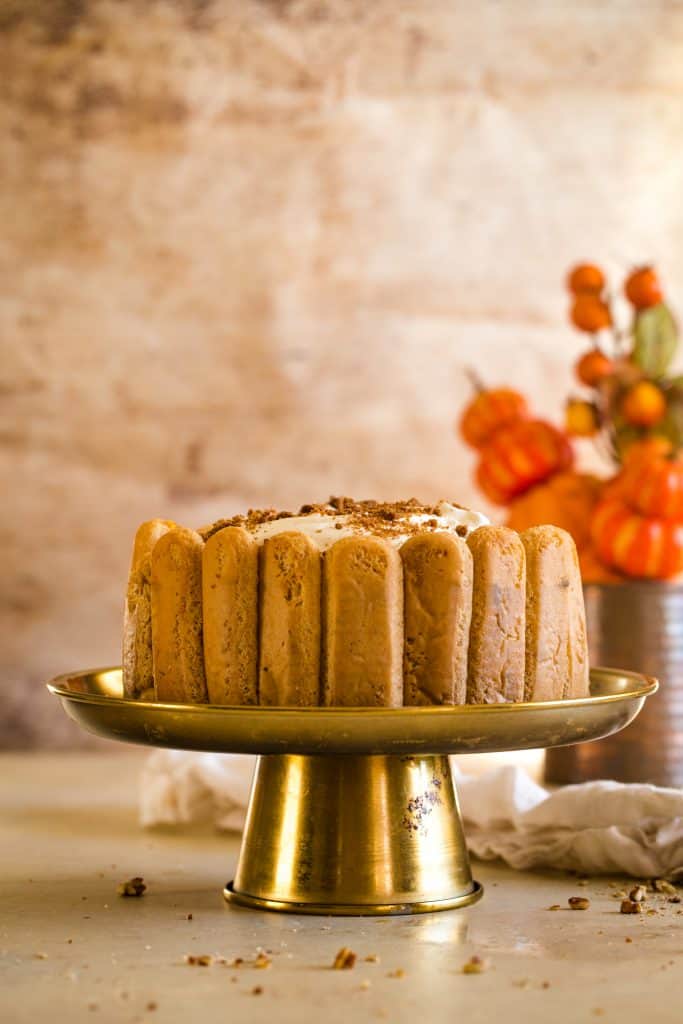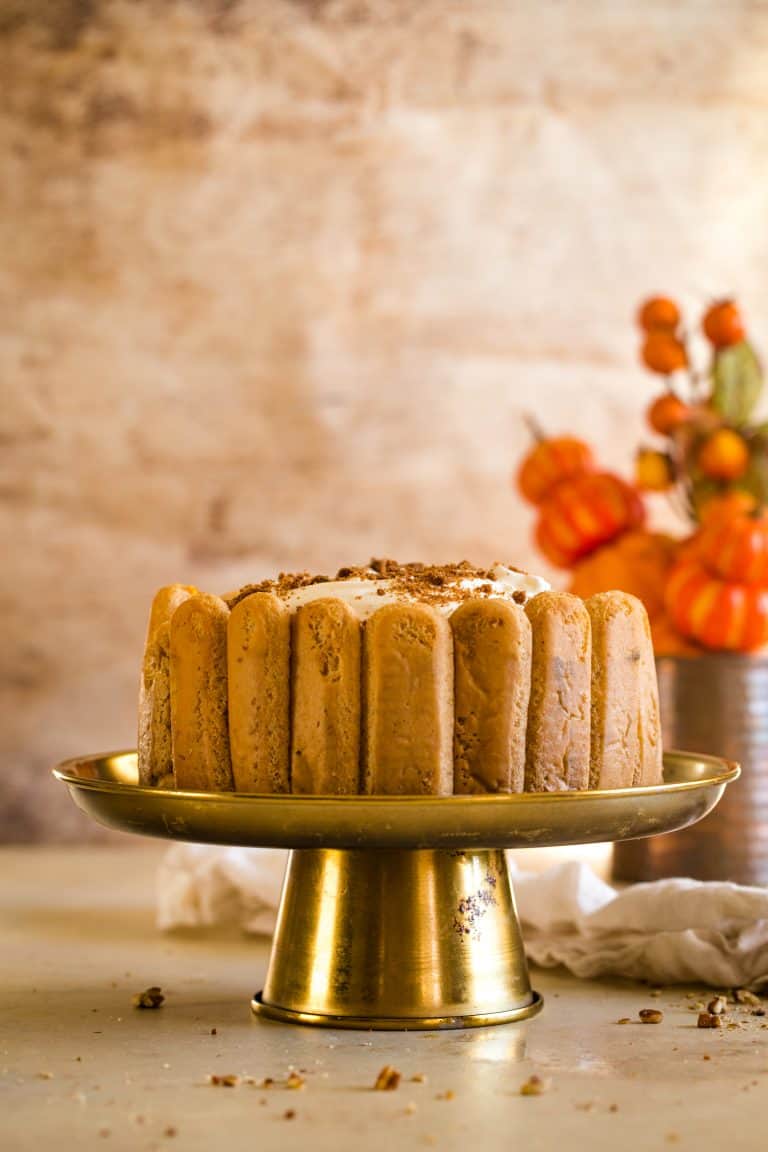 Back in the day, hardly anyone had heard of tiramisu. I remember always excitedly telling people they needed to try it. These days, it's a super popular dessert that the majority of people rave over. I am one of those people. The texture and flavors will whisk you straight to Europe, and possibly make you start speaking with an accent.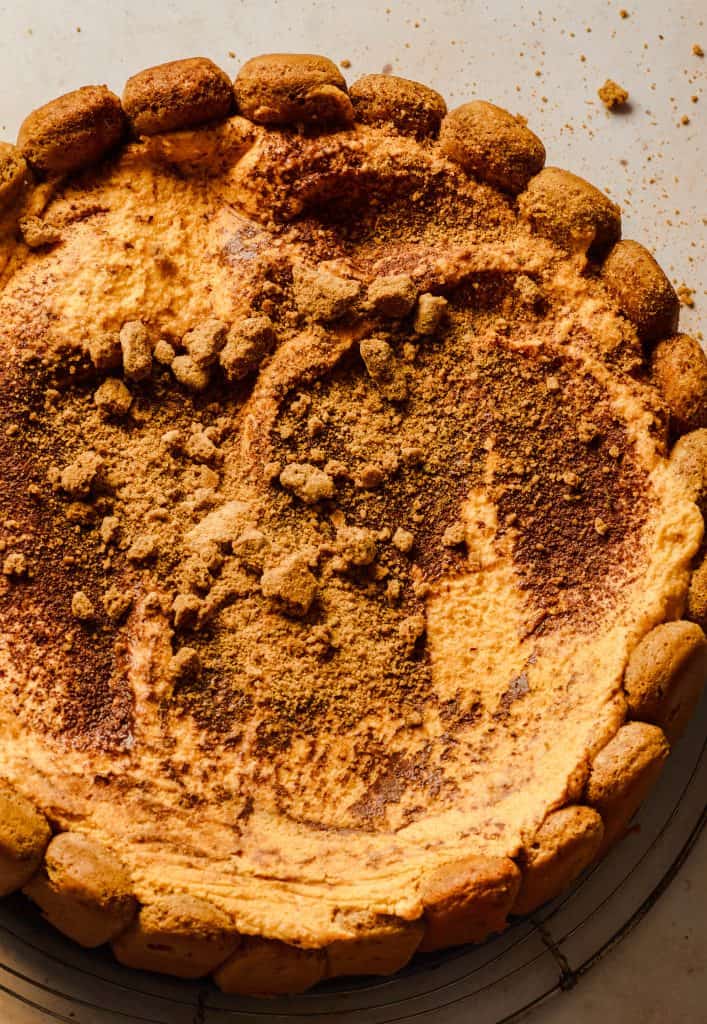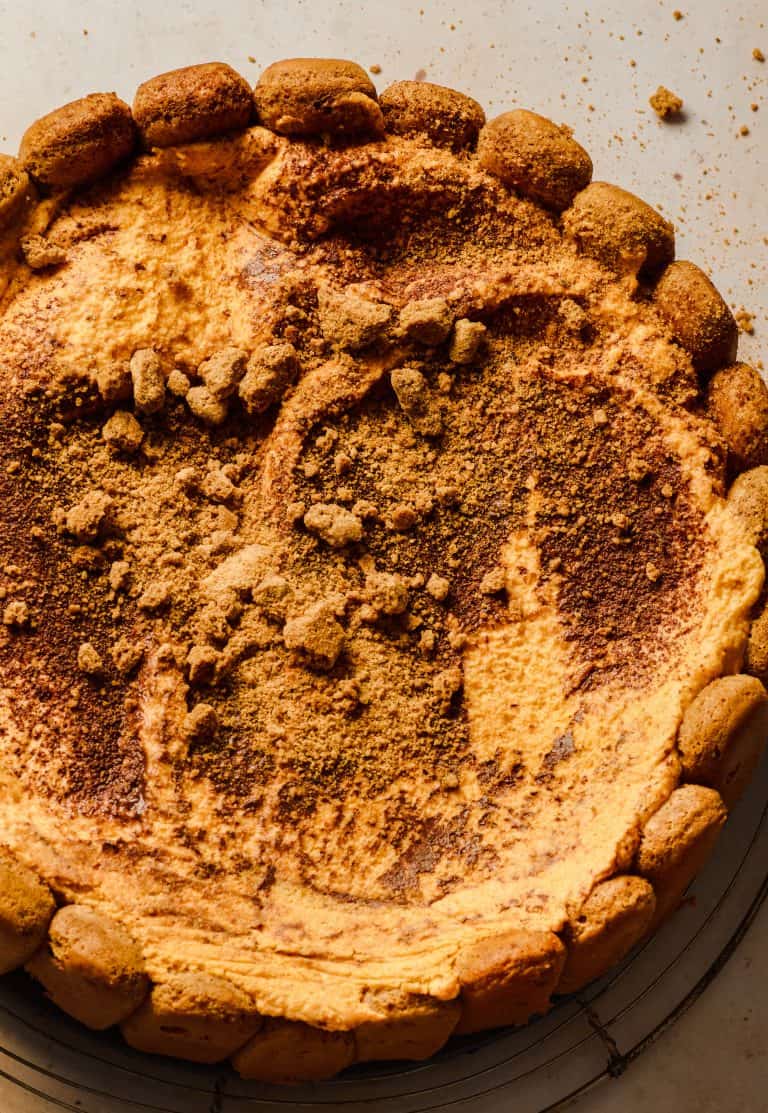 Ok, maybe not that drastic, but you get the picture, right? I loved it so much that I decided to combine my love of fall with one of my favorite desserts on the planet. That's why it includes pumpkin and molasses cookies. You can never get too much of that fall flavor, right?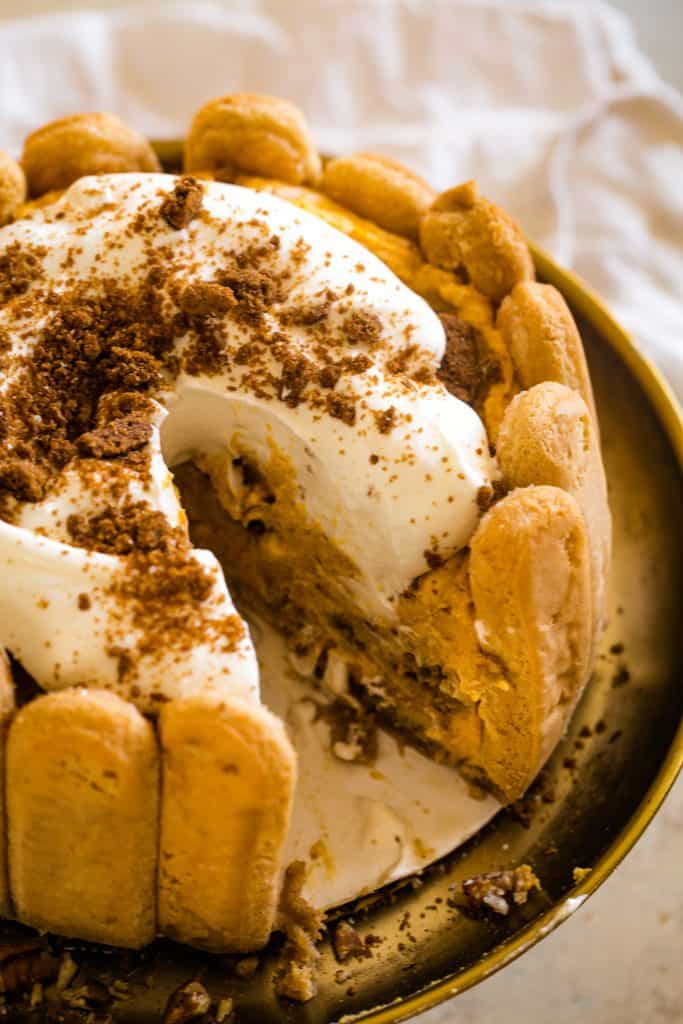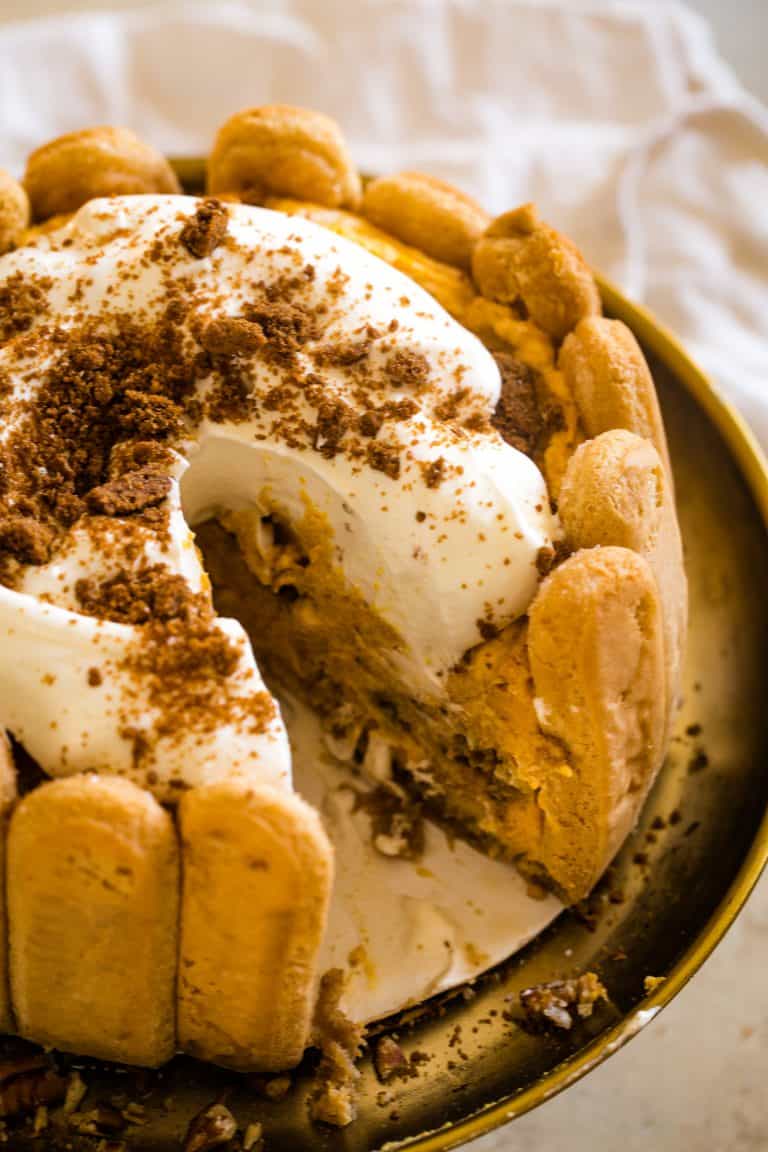 If you are in love with this pumpkin tiramisu with molasses cookie crumb, you really should try my Strawberry French Toast Tiramisu, Cherry Almond Tiramisu, or Raspberry Lemon Tiramisu.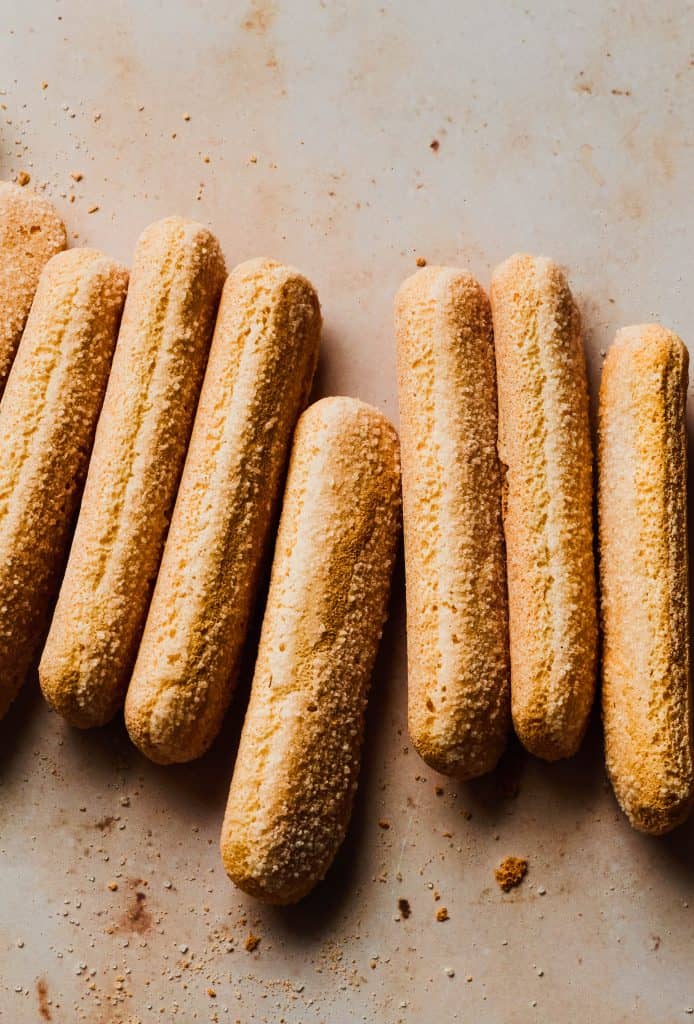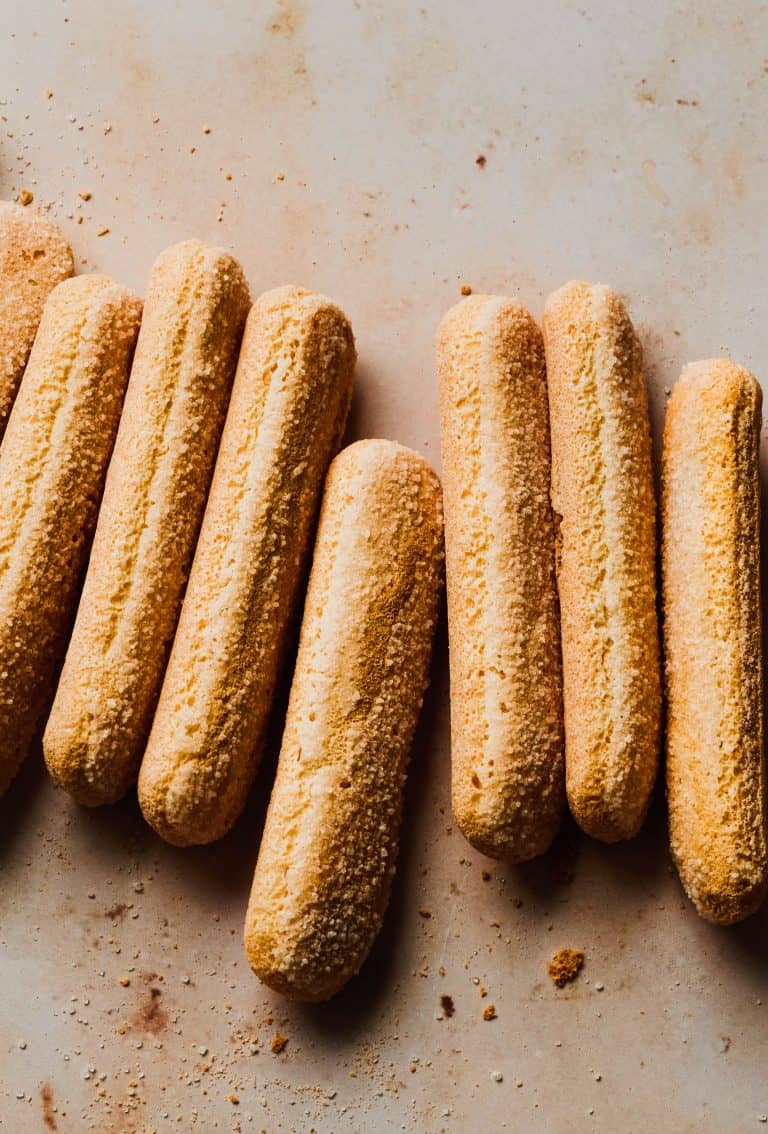 How Do You Make Pumpkin Tiramisu from Scratch?
Prep - Spray non-stick cooking spray on a springform pan. Chop the cookies into medium chunks.
Make the whipped cream - Whip the cream and sugar together until stiff peaks form. Set aside.
Make the filling - Beat together the mascarpone, pumpkin, and spice. Fold in the whipped cream.

Add the ladyfingers - Coat the ladyfingers in coffee and line the bottom and outside of the prepared pan.
Assemble - Place half the filling. Spread even. Top with half the chopped cookies. Add a layer of soaked ladyfingers. Add the rest of the filling and top with remaining cookies.
Chill - Place in the fridge, wrapped, for one hour.
Serve - Garnish, serve, and enjoy!
Tips and Variations
Use store-bought whipped cream - If you want to save a couple minutes of time on this tiramisu recipe, you can use store-bought whipped cream instead. This will nix the heavy cream and sugar.

Garnish ideas - I usually dust the top of the pumpkin tiramisu recipe with powdered sugar or cocoa powder before serving. However, you don't have to top it at all, if desired.

Storage - This should be stored, covered, in the fridge. It will last up to 5 days.

Where can I buy ladyfingers? - Most grocery stores carry these cookies. It used to be harder to find them, but they're popular enough that they're pretty easy to locate these days.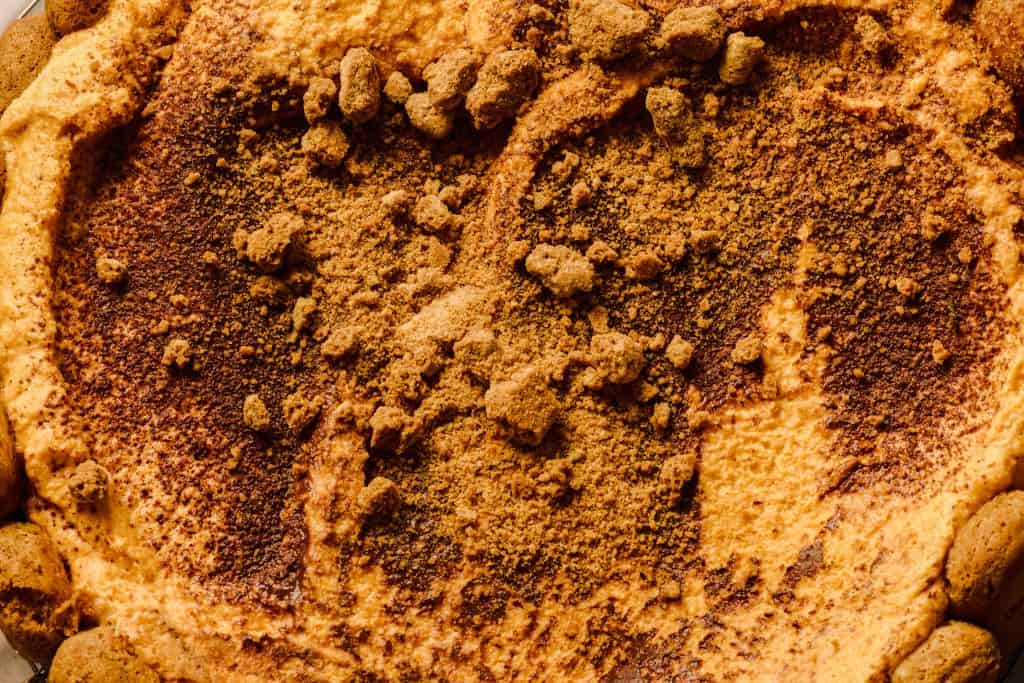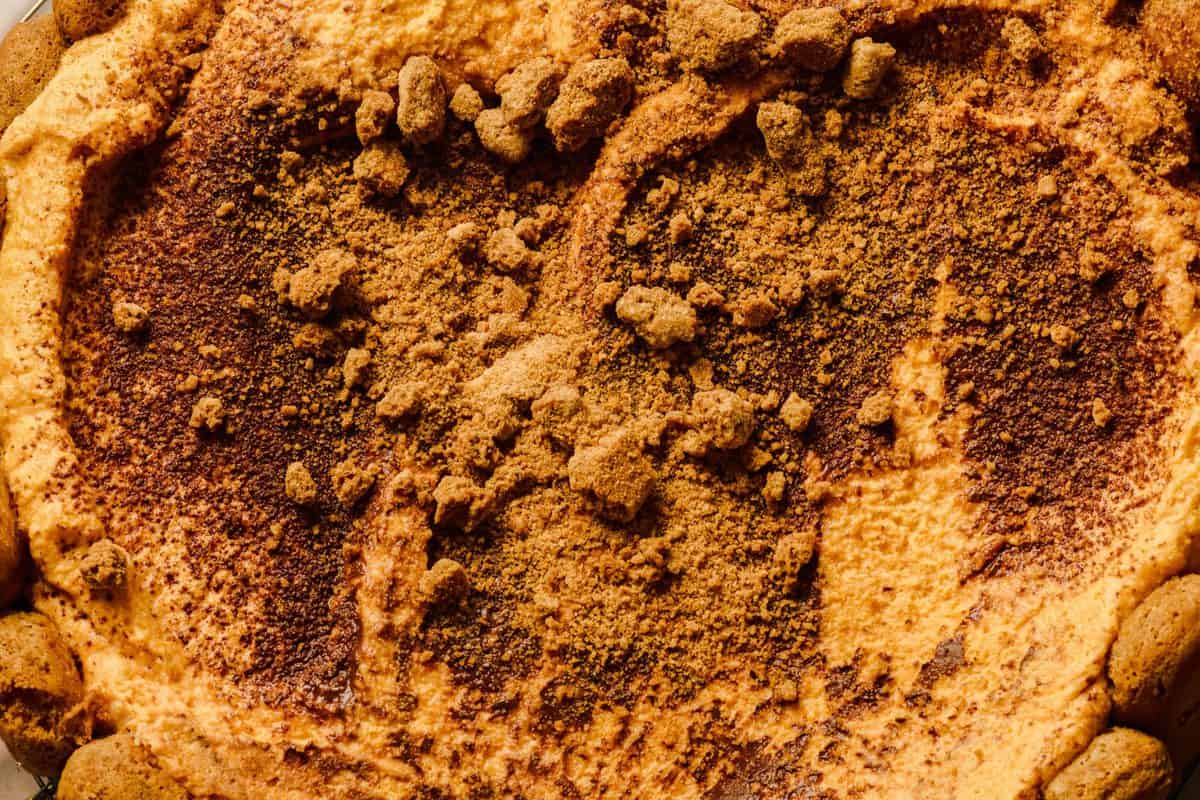 Common Questions About Pumpkin Tiramisu
Is There Real Alcohol in Tiramisu?
The classic, or traditional, version of tiramisu contains marsala wine and rum. However, many modern versions don't always use both alcohols, if they use any at all. As you notice, this version of tiramisu doesn't utilize alcohol, and I promise it tastes just as good.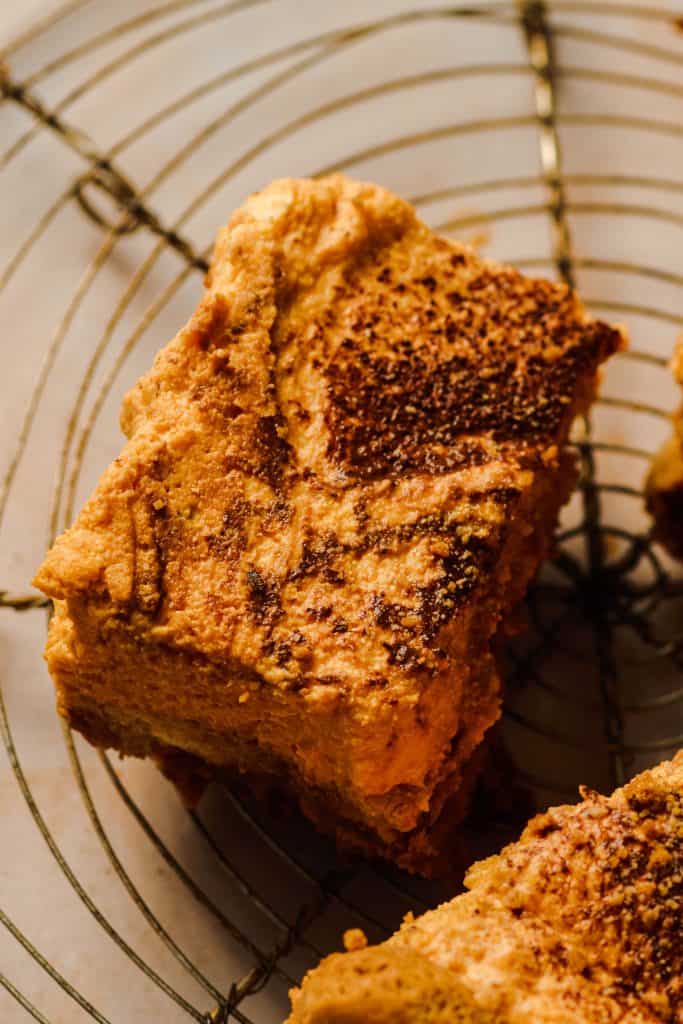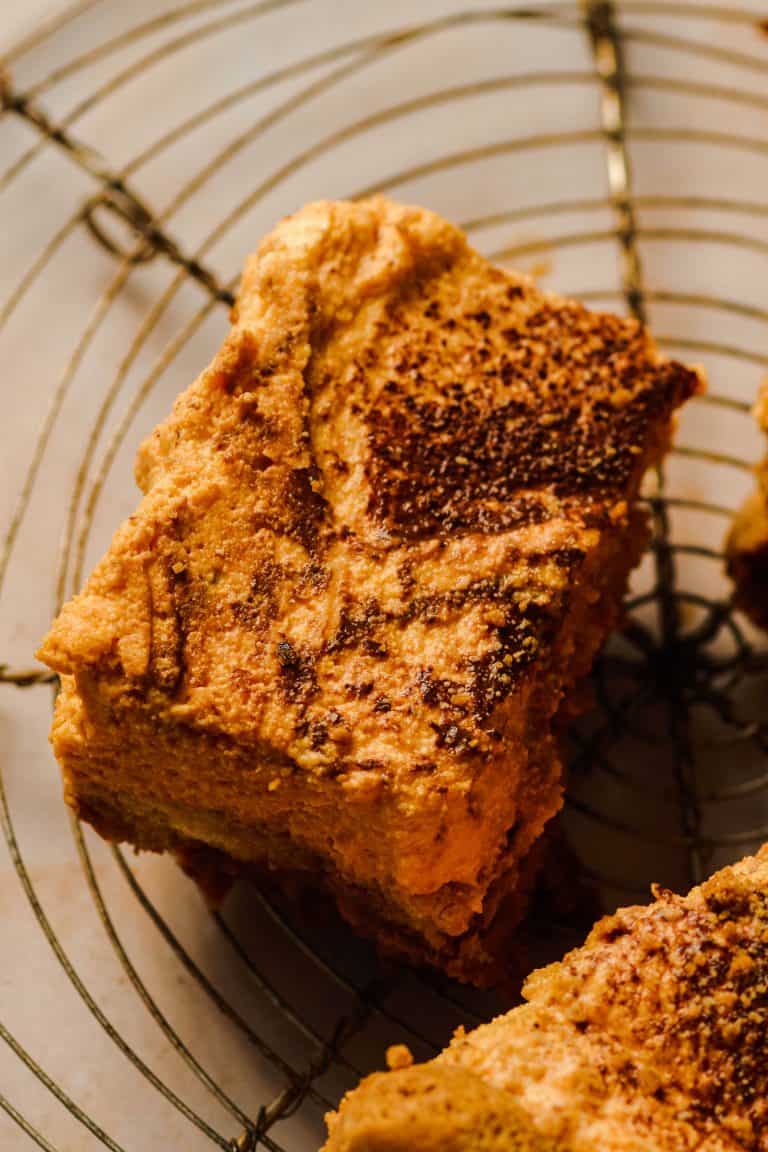 Is it OK to Eat Tiramisu with Raw Eggs?
Anytime you consume raw eggs of any kind, it can be a risk for salmonella. In a classic tiramisu, there is usually raw egg yolks. However, the marsala wine that's added to the filling helps to reduce the risk of salmonella. Further, you can always use eggs that have been pasteurized in the shell. However, for this recipe (and many other modern versions) there are no raw eggs, so you don't have to worry.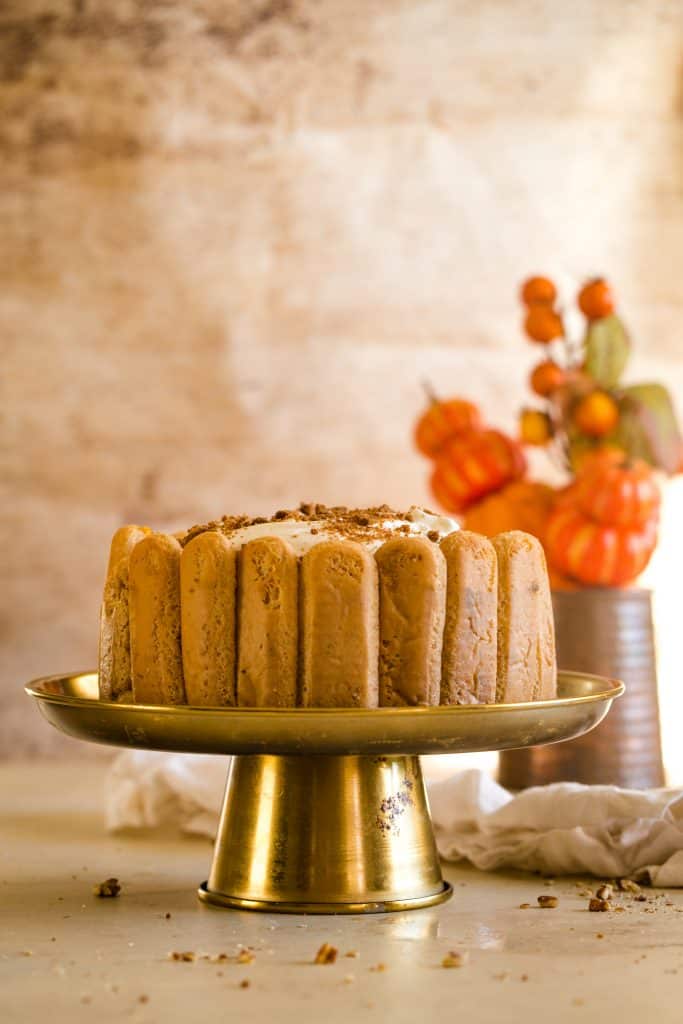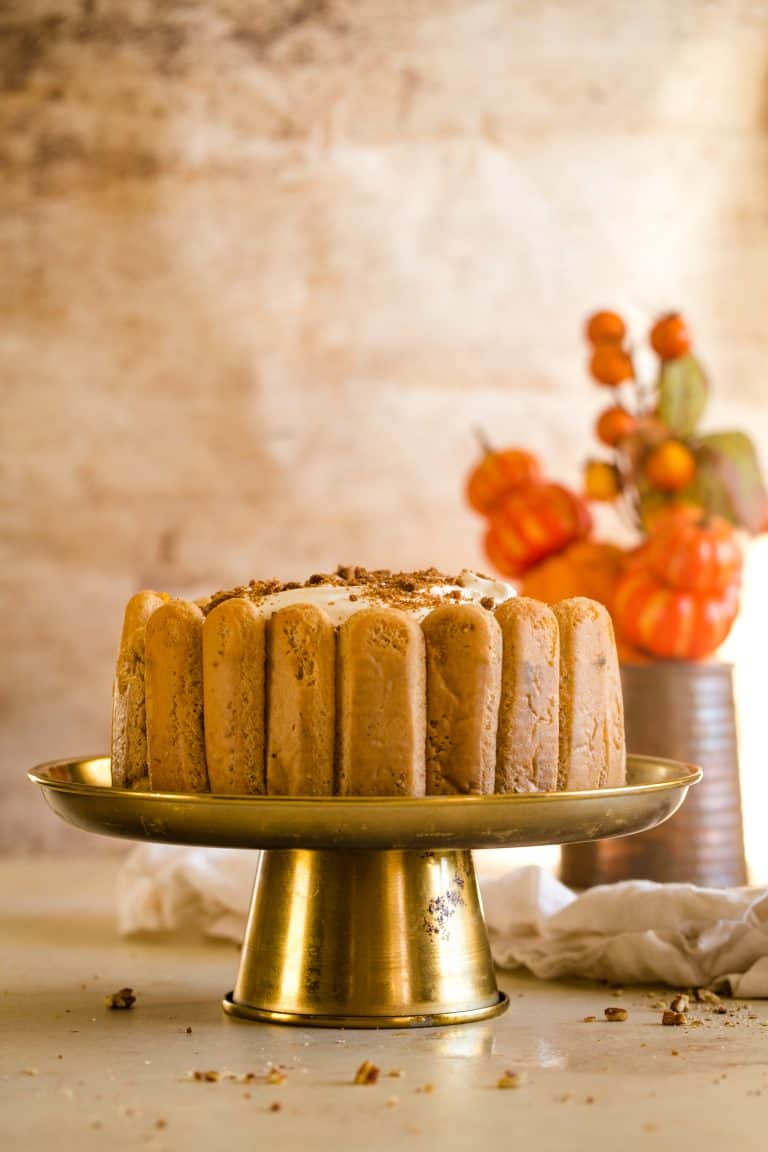 Please feel free to share your experience with making this Pumpkin Tiramisu with Molasses Cookie Crumb in the comments below or on social media!
More Pumpkin Recipes You're Sure to Love:
Some of the photos above were photographed by Samarafromscratch.com.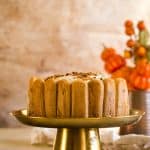 Molasses Cookie Pumpkin Tiramisu
This Pumpkin Tiramisu with Molasses Cookie Crumb is a great go-to dessert. Easier than it looks, and bursting with a delicious pumpkin and coffee flavor combination. Add in the molasses cookies and you'll be swooning. 
Keyword:
pumpkin no bake recipes, pumpkin tiramisu recipe
Ingredients
2 ½

cups

whipping cream

divided

¼

cup

granulated sugar

8

ounces

mascarpone cheese

at room temperature

1 15

ounce

can pumpkin

1

teaspoon

pumpkin pie spice

2

cups

brewed coffee

2

packages lady fingers

10

molasses cookies

Powdered sugar or cocoa powder
Instructions
Lightly spray a 9 inch springform pan with nonstick cooking spray.

In a clean bowl, beat 2 cups cold whipping cream and sugar until stiff peaks form.

Place whipped cream mixture in a separate bowl.

Beat together mascarpone cheese, pumpkin, and spices until smooth.

Add whipped cream to mascarpone mixture and gently fold until combined.

Chop Molasses cookies into medium sized chunks; set aside.

Quickly submerge each lady finger into the coffee then place along the side and bottom of the spring form pan.

Add half of the filling to the pan and gently spread.

Sprinkle with ½ of the chopped molasses cookies.

Add another layer of coffee dipped lady fingers on top of the molasses cookie layer followed by the rest of the mascarpone filling.

Finish with sprinkling the remaining chopped molasses cookies to the top.

Cover tiramisu with plastic wrap and refrigerate for at least 1 hour but preferably 24 hours.

Right before serving, whip remaining ½ cup of heavy whipping cream and 1 teaspoon sugar until stiff peaks form.

When ready to serve, remove the ring around the springform, top with whipped cream (if desired) and sprinkle with powdered sugar or cocoa powder.
Recipe Notes
Recipe slightly adapted from Foodie Crush