This creamy and easy to make almond paste made from almond flour is the perfect addition to your favorite danishes, cookies, and tarts! Typically used in Italian pastries, almond paste will bring a rich almond flavor to your treats without adding too much sweetness. Make this recipe to elevate your holiday collection!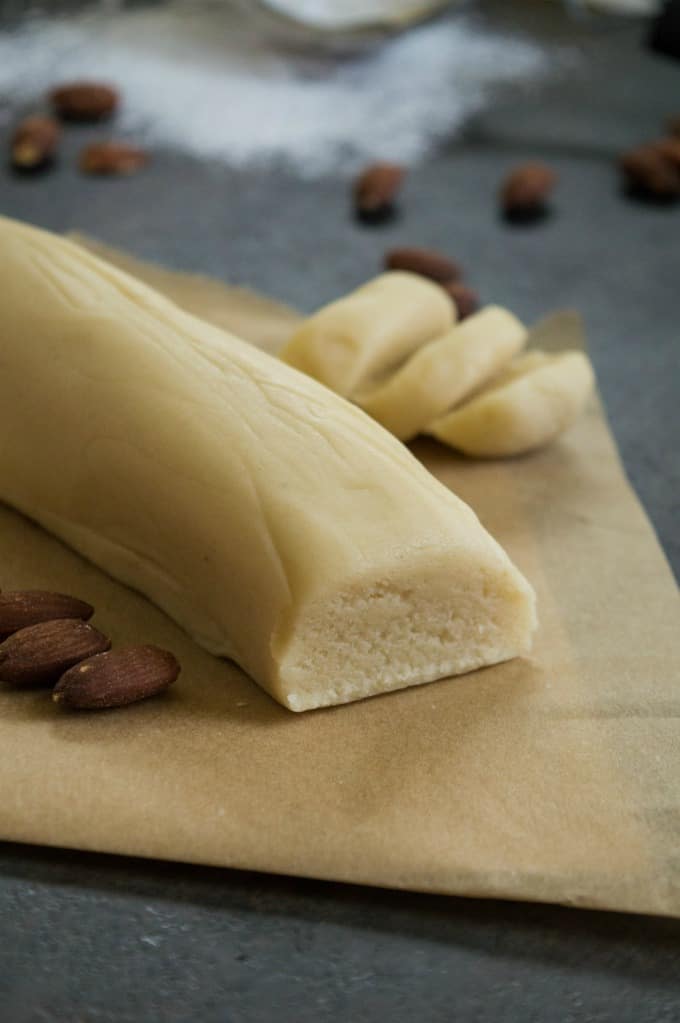 Homemade Almond Paste with Almond Flour-ready in under 5 minutes and perfect for your cookie and danish recipes!
Newly updated photos, this post has proven to be my #1 post during the holidays, and for good reason, this almond paste tastes amazing! Making homemade Almond Paste is more cost-efficient and easier than searching for and buying your paste at the store, and quite honestly, it tastes better. Plus, who doesn't want the bragging rights of saying they made the most amazingly sweet almond paste at home! It is the easiest most cost-efficient way! This post includes affiliate links to my favorite products used to make the almond paste.
Almond paste is a sweet filling that is used in many Italian pastry and Italian Almond Cookies recipes. It adds a deliciously rich, and creamy almond flavor to your baked goods that makes them stand out among the rest! The only problem with store-bought almond paste is that it's usually considered more of a specialty item. It can be hard to find in the grocery store, especially around the holidays, and when you do find it, it's a costly ingredient that many end up passing by.
Luckily with this recipe, you don't have to forgo the almond paste in the other recipe you're working on. With a few simple ingredients, you'll be ready to go! Best of all, it uses almond flour which is more affordable and lends itself beautifully to this recipe!
Have you been avoiding a cookie recipe like this Italian Rainbow Cookies recipe because of the exorbitant cost for of a can of almond paste? Well, look no further. For about the same cost of one can, you can make about 3-4 batches of homemade almond paste, in about ⅛ of the time it would take you to get into the car and buy some at your local grocery store (if they even have it that is).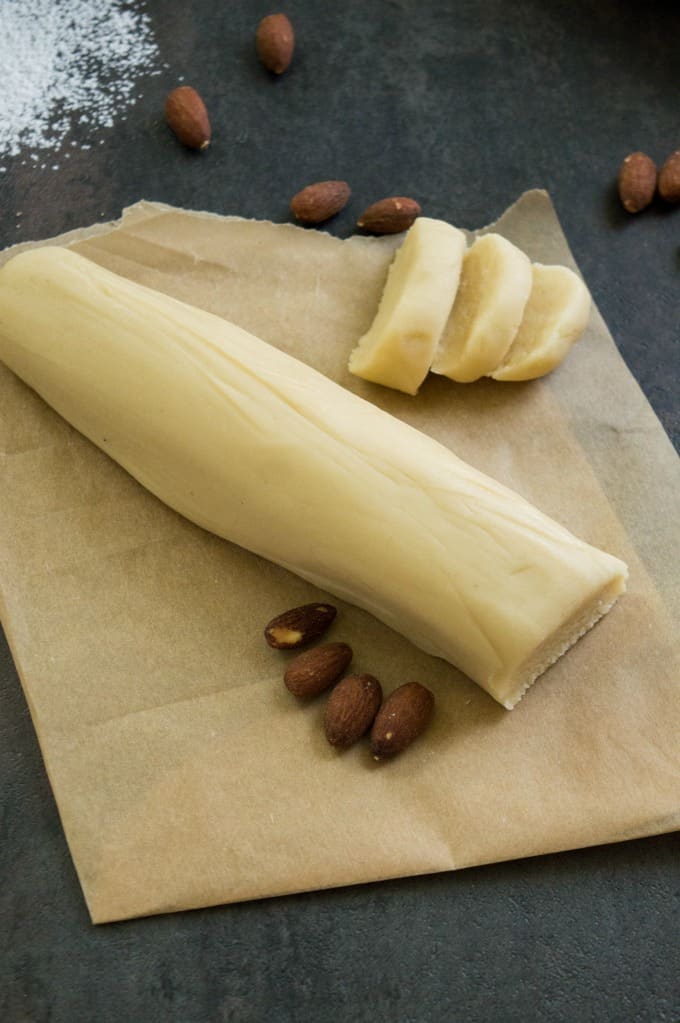 WHY YOU'LL LOVE THIS ALMOND PASTE RECIPE WITH ALMOND FLOUR
This is a much cheaper option than buying a can of almond paste, and you don't have to worry about your grocery store not selling it when you need it. There is nothing worse than the last-minute run to the grocery store for all of the holiday treats, just to find that they are all out of what you need.
The recipe makes about 12 ounces of almond paste, and most recipes call for much smaller amounts. You'll be able to make many delicious pastries with this one batch! The paste stays fresh for about three weeks, so you don't have to use the whole thing all at once.
It's incredibly easy to make! It only takes about five minutes and is not complicated at all. A lot of recipes that are cheaper to make yourself seem to take up a lot of your time, or they have complicated steps and look daunting. This is a quick and easy one!
Sweet flavor! This homemade delicious paste adds such a delicate flavor to baked goods!
EQUIPMENT NEEDED TO MAKE SWEET ALMOND PASTE
Food processor
Saran Wrap for storage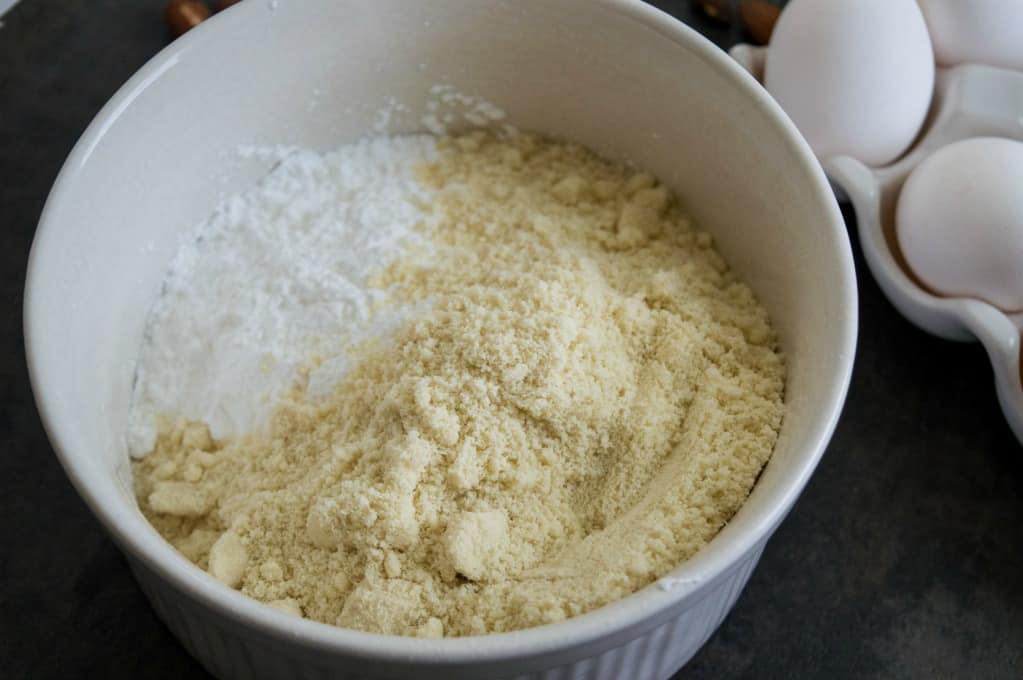 INGREDIENTS FOR YOUR HOMEMADE ALMOND PASTE RECIPE
1 ½ cups Almond Flour- any almond flour will work, but I love the texture of Blue Diamond or Bob's Red Mill fine Almond flour.
1 ½ cups powdered sugar, aka confectioner's sugar
1-2 teaspoons almond extract
1 raw egg whites, slightly beaten
Pinch of salt
HOW TO MAKE HOMEMADE ALMOND PASTE EASY RECIPE
Note- While you are welcome to use real almonds, almond flour is the easiest way to go in my opinion. It literally took me about 5 minutes to make almost 12 ounces of almond paste. The can that you buy at the grocery store is typically around 10 ounces. Wrapped tightly in saran wrap, or in a jar or Tupperware, the paste will stay fresh for about 3 weeks. With just a few simple steps, you'll never buy canned almond paste again!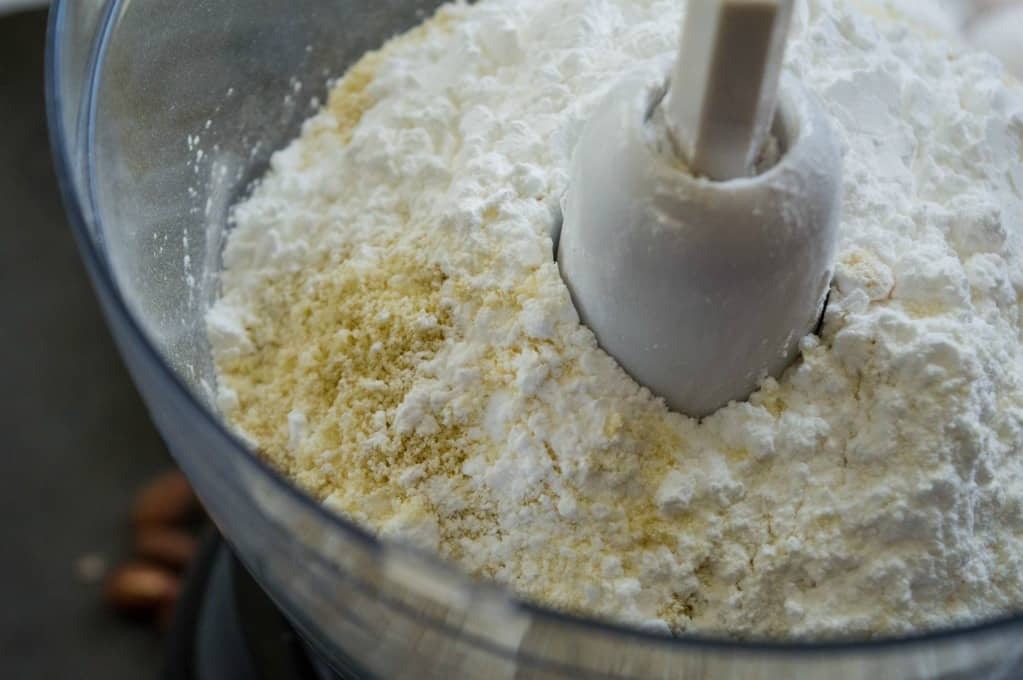 First, place the almond flour (or meal), powdered sugar, and salt in the bowl of a large food processor and pulse for a couple of seconds to break up the clumps.
Then, add the almond extract and large egg white. As I add a teaspoon almond extract, I taste it to see if it has the flavor I want. You may want to use more if you prefer a stronger almond flavor (I typically use 2 teaspoons).
Pulse again in the food processor until a dough ball forms and the dough no longer sticks to the sides of your bowl.
And that's it my friends! Your own homemade almond paste ready for all of your incredible different recipes! Shape the dough, wrap tightly in saran wrap, and store in the fridge. Enjoy!
WHAT YOU CAN MAKE WITH YOUR SWEET ALMOND PASTE
I'll link some of my favorite recipes using almond paste below! There are so many things that you can do with almond paste.
The paste is often found in cookies and tarts. They are also delicious in croissants, danishes, and other pastries. Feel free to add the almond paste to your favorite baked goods where you feel it would boost the flavors of your recipe!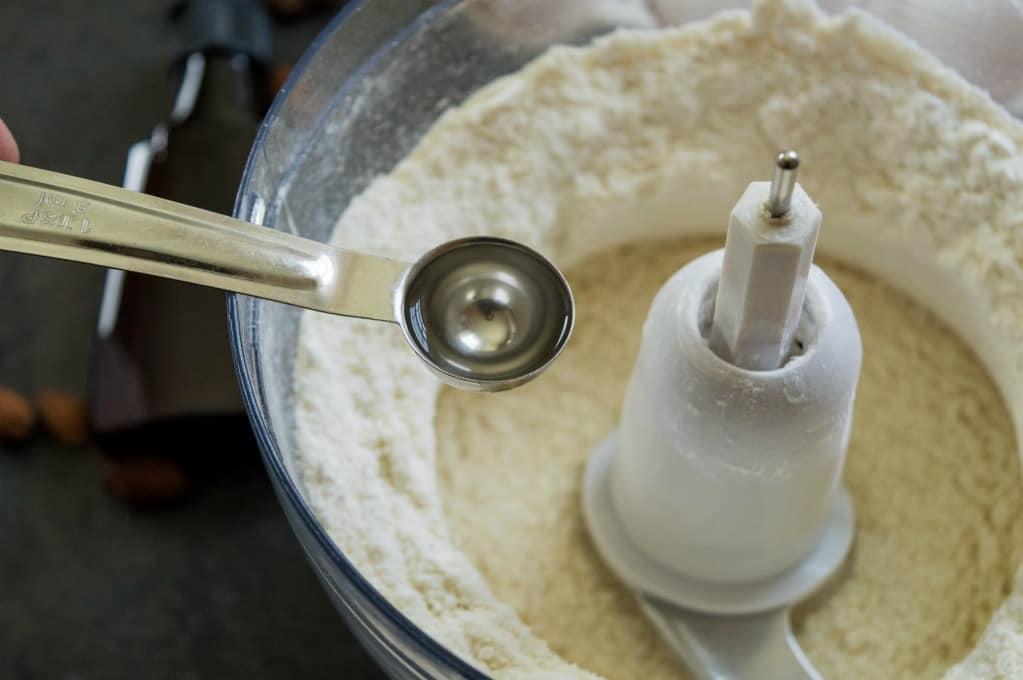 POPULAR SUBSTITUTIONS & ADDITIONS
There are some recipes for almond paste that use different sweeteners, such as honey or simple syrups, but I find that this method is easiest.
If you'd like to experiment with flavors, you could add some extra spices or flavors that would go along with what you will be using your almond paste for, such as cinnamon or vanilla extract.
You may use almond meal instead of almond flour. The only difference with almond meal vs almond flour is that the meal still has the skin on. This will not change the flavor of the almond paste, but will change the color slightly.
HOW TO STORE HOMEMADE ALMOND PASTE
You'll want to wrap your almond paste tightly in saran wrap for the best outcome. If you're out of plastic wrap, you can store it in a jar or an airtight container. If wrapped tightly in saran wrap, or in a jar or Tupperware, the paste will stay fresh for about 3 weeks in the refrigerator! Because this homemade version does not have preservatives (corn syrup) like the canned version and contains egg whites. it must be refrigerated. Simply bring it to room temperature before using.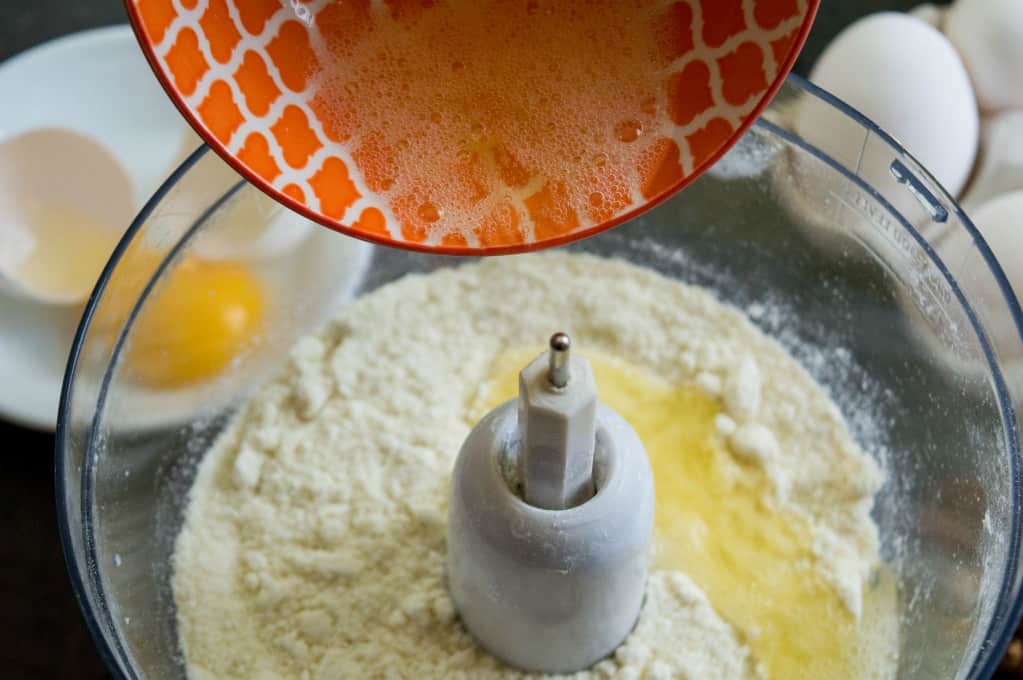 HOMEMADE ALMOND PASTE FAQS
IS ALMOND PASTE THE SAME THING AS MARZIPAN?
No, it's not. Almond paste is more coarse and easier to spread. It's used for baking. Marzipan is meant to be a confection eaten on its own. Because of this, it is much sweeter, and has a larger amount of sugar, and not as soft and spreadable. It is not recommended to use these interchangeably. I will be developing a recipe for homemade marzipan soon, so stay tuned!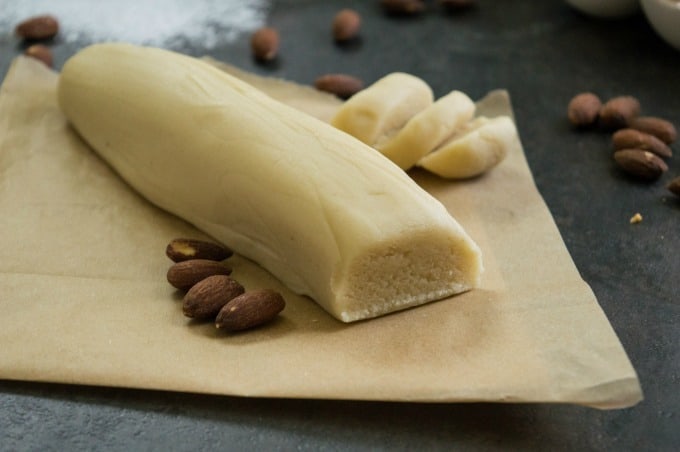 HOW TO MAKE ALMOND FLOUR AT HOME?
Making homemade almond flour is almost as easy as making this easy almond paste recipe! Simply place a cup or two of whole almonds or blanched almonds in a food processor and pulse for 5-10 second increments until you have a fine meal. If it becomes like a butter, you've pulsed too much.
WHAT IS ALMOND PASTE USED FOR?
Almond paste is often used in pastries, desserts, and cookies. It gives your food that delicious rich flavor of almonds without adding too much sugar. I love using it to make this Raspberry Danish, these cookies, or Sunday morning almond croissants with puff pastry! It is a key ingredient in many recipes from the middle east, and rightfully so because it's so delicious!
CAN I MAKE THIS HOMEMADE PASTE BY HAND IF I DON'T HAVE A FOOD PROCESSOR?
Yes, you can! The texture won't be as smooth, and it will take you longer to get the dough formed. Just work with your dough and try to get it as even as possible (spend a few extra minutes in that kneading stage), and understand that your paste may not be as picturesque as a paste made in the food processor. I would suggest working in your ingredients with a fork, then kneading with clean hands.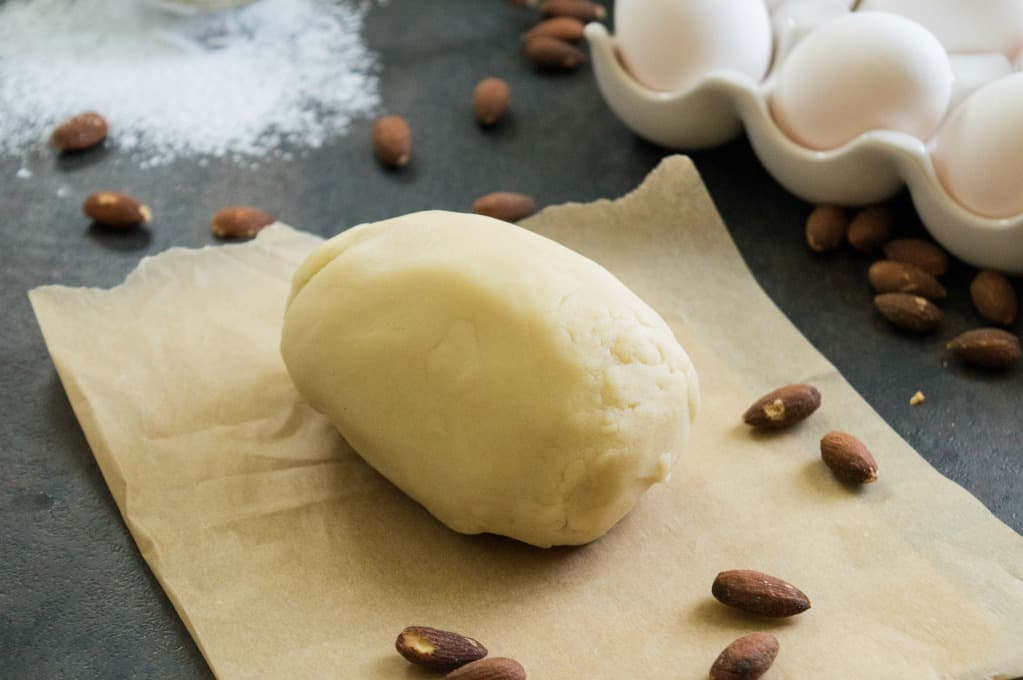 HOW DO I USE REAL ALMONDS IF I DON'T HAVE ANY ALMOND FLOUR?
If you don't have almond flour, you'll want to put your almonds in the food processor until they are a fine powder. It will take around five minutes. Watch carefully while the almonds are in the food processor because if they are mixed too much, they will start getting oily and turning into almond butter.
Recipes Using Almond Paste That You'll Love
DON'T FORGET TO COME BACK AND LET ME KNOW HOW YOUR HOMEMADE ALMOND PASTE FROM ALMOND FLOUR TURNED OUT!
Recipes Using Almond Paste That You'll Love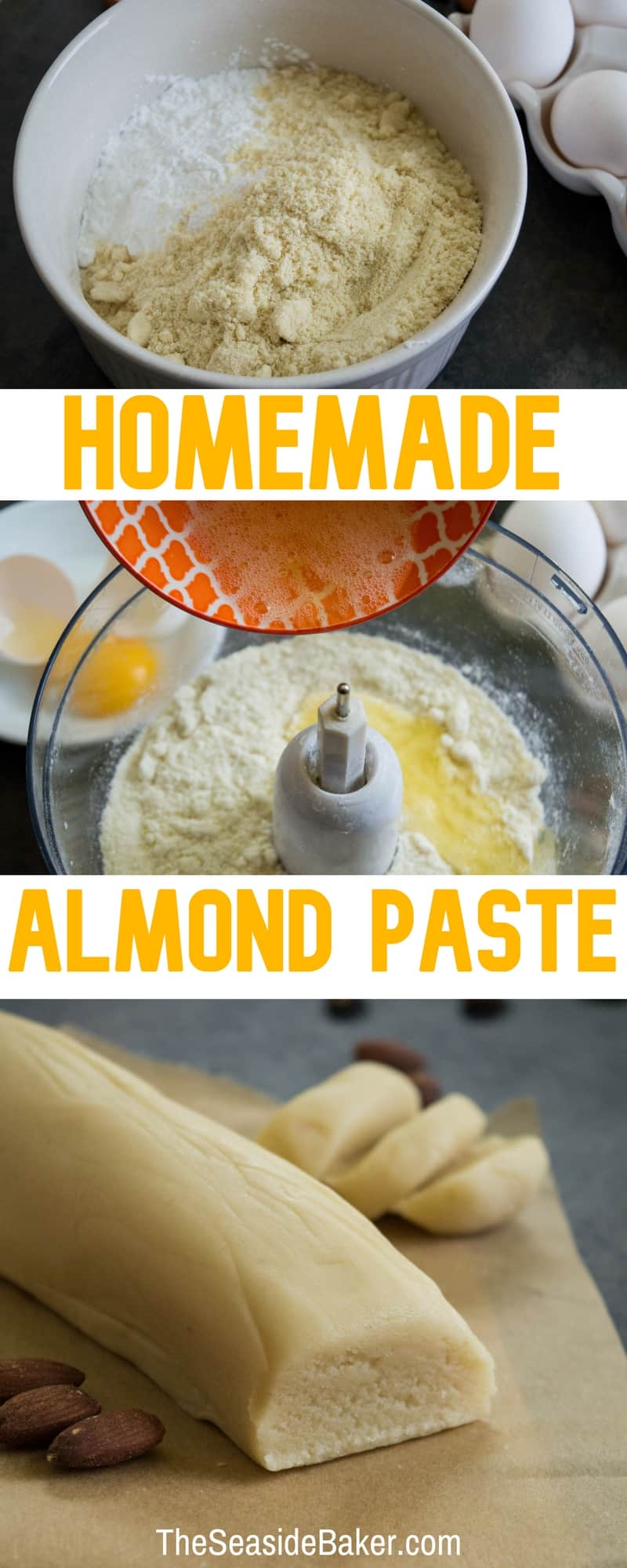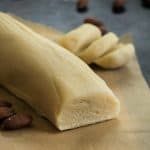 Homemade Almond Paste
Homemade almond paste with almond flour, ready in under 5 minutes and perfect for your cookie and danish recipes!
Keyword:
homemade almond paste recipe, how to make almond paste
Instructions
Using a food processor, pulse the almond flour, powdered sugar, and salt a few times to break up any clumps.

Add 1 teaspoon of almond extract and pulse to combine.

Test at this point to see if it has enough almond flavoring. I really like almond so I added 2 teaspoons.

Add egg white and to your food processor on for 2 minutes.

At this point, the mixture should be smooth and formed a ball.

If dough is still sticky add 1 tablespoon more of almond flour.

Wrap tightly and store in refrigerator.
Recipe Video
This post contains affiliate links. Thank you for supporting TheSeasideBaker!