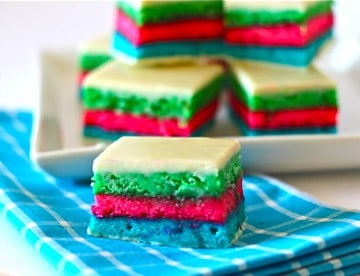 Traditionally, these cookies are the colors of the Italian flag: red, white and green, and coated on top and bottom with luscious chocolate ganache. Well, I am a mother of 3 and rarely get a night out, therefore I live vicariously through my food. While making these, I had the music blaring, and a nice cold local brewed beer. My original intention was to color these in light pastel Easter colors, but instead went a bit overboard and turned them into psychedelic cookies, perfect to be served at a raging party. Again, I live vicariously through food.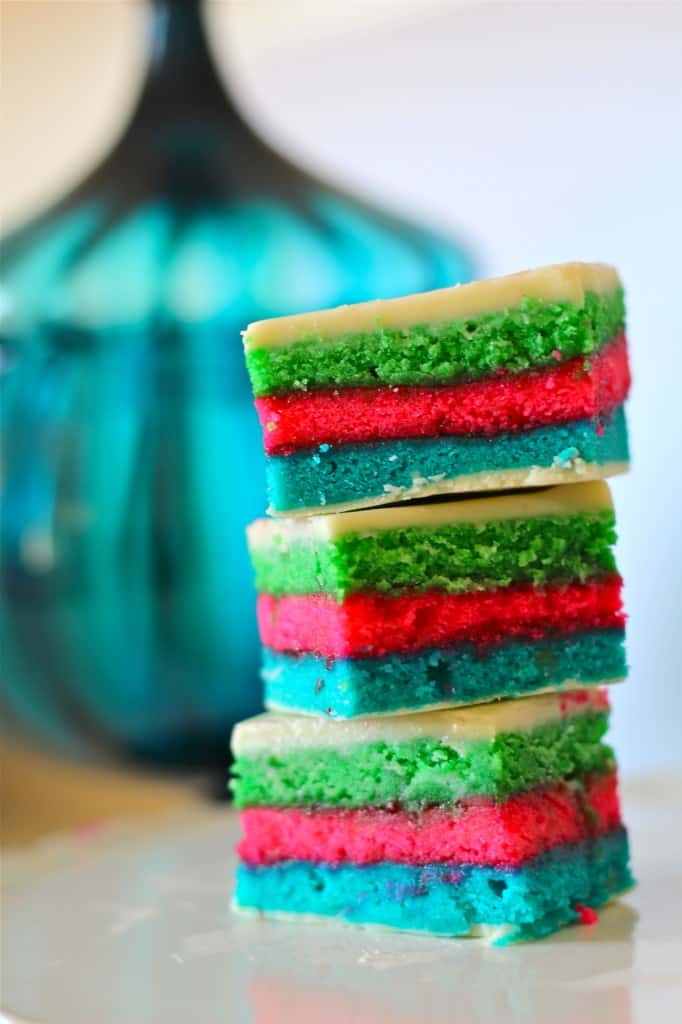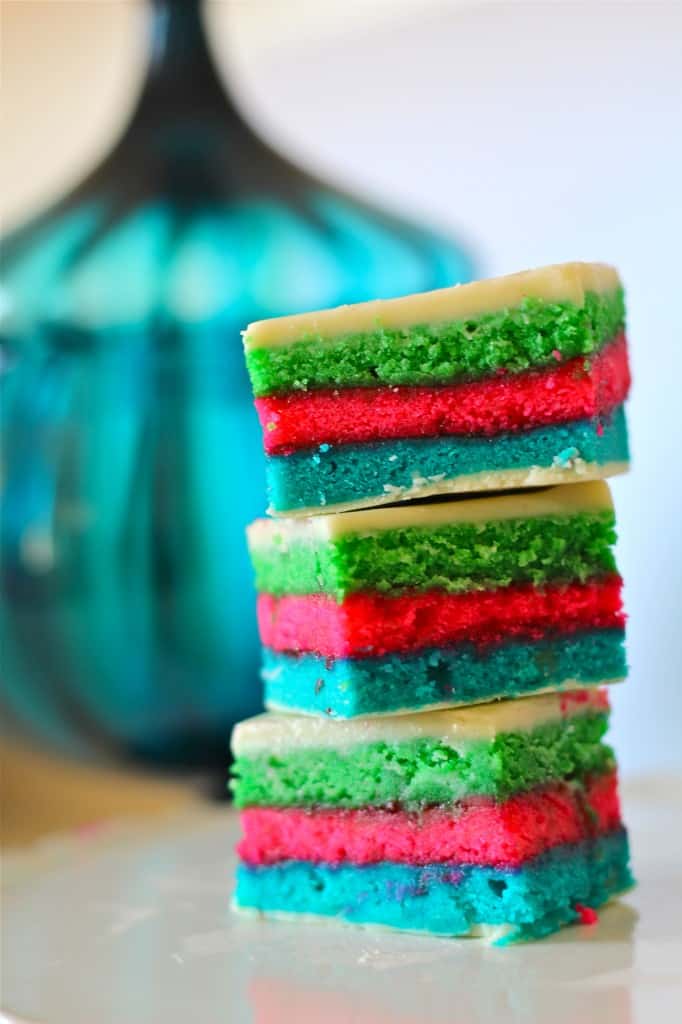 I am not quite sure why these are called cookies because they have more of a cake-like, petit four consistency. The addition of almond paste in the cakes results in a very moist, but dense layer. Normally the jam used in between the cake layers is apricot, but I decided to be a rebel (and yet again...vicarious) and use raspberry jam. The almond raspberry combination was further enhanced with the addition of smooth white chocolate ganache on the top and bottom. This recipe makes about 5 dozen very rich but delicious cookies (mini cakes)
Recipe slightly adapted from Gourmet, December 2005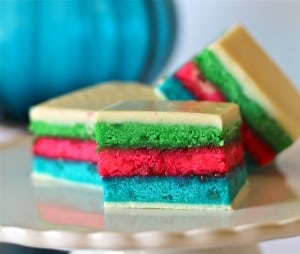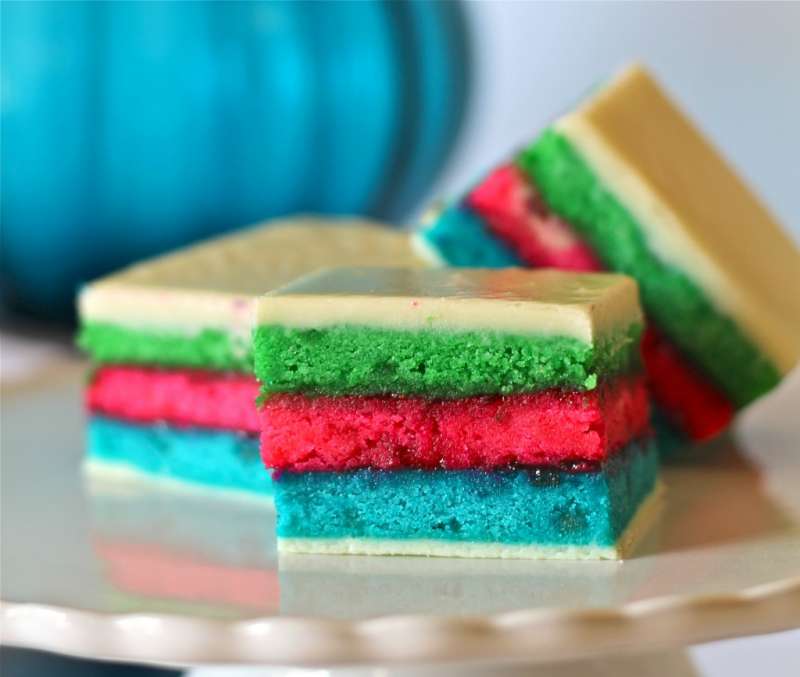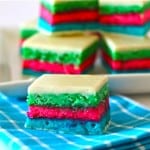 Psychedelic 7 Layer Italian Cookies
Ingredients
Psychedelic 7 Layer Italian Cookies
4

large eggs

, separated

1

cup

sugar

1

(8-oz) can almond paste

2 ½

sticks

(1 ¼ cups) unsalted butter, softened

1

teaspoon

almond extract

2

cups

all-purpose flour

½

teaspoon

salt

3

different gel food coloring

(measure with the tip of a knife)

1

(12-oz) jar raspberry preserves, heated and strained

10

oz

fine-quality white chocolate

, chopped

2

tablespoon

cream

4

tablespoon

butter
Instructions
Psychedelic 7 Layer Italian Cookies
Put oven rack in middle position and preheat oven to 350°F.

Butter a 13- by 9-inch baking pan and line bottom with wax paper, leaving a 2-inch overhang on 2 ends, then butter paper.

Beat whites in mixer fitted with whisk attachment at medium-high speed until they just hold stiff peaks.

Add ¼ cup sugar a little at a time, beating at high speed until whites hold stiff, slightly glossy peaks. Transfer to another bowl.

Switch to paddle attachment, then beat together almond paste and remaining ¾ cup sugar until well blended, about 3 minutes.

Add butter and beat until pale and fluffy, about 3 minutes.

Add yolks and almond extract and beat until combined well, about 2 minutes.

Reduce speed to low, then add flour and salt and mix until just combined.

Fold half of egg white mixture into almond mixture to lighten, then fold in remaining whites gently but thoroughly.

Divide batter among 3 bowls. Stir food coloring into each bowl. Pour 1st colored batter into prepared pan and spread evenly with offset spatula (layer will be about ¼ inch thick).

Bake each layer 8 to 10 minutes, until just set. (It is important to undercook.)

Transfer to a rack to cool.

When all layers are cool, invert 1 layer onto a wax-paper-lined large baking sheet. Discard paper from layer and spread with half of preserves. Invert next on top of 1st layer, discarding paper. Spread with remaining preserves. Invert final layer on top of previous layer and discard wax paper.

Cover with plastic wrap and weight with a large baking pan. Chill at least 8 hours.

Remove weight and plastic wrap. Bring layers to room temperature. Melt chocolate, butter and cream in a double boiler or a metal bowl set over a saucepan of barely simmering water, stirring until smooth. Remove from heat. Keep chocolate over water.

Trim edges of assembled layers with a long serrated knife.

Quickly spread half of chocolate in a thin layer on top of cake.

Chill, uncovered, until chocolate is firm, about 15 minutes.

Cover with another sheet of wax paper and place another baking sheet on top, then invert cake onto sheet and remove paper.

Quickly spread with remaining chocolate. Chill until firm, about 30 minutes.

Cut lengthwise into 4 strips. Cut strips crosswise into ¾-inch-wide cookies.