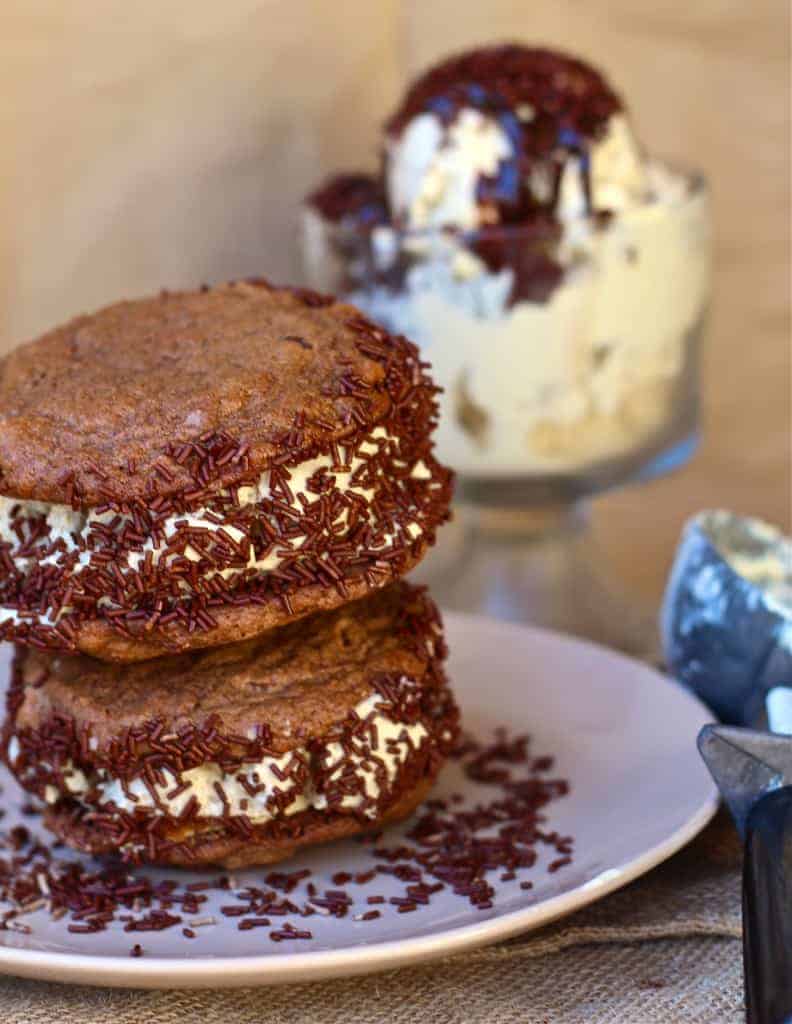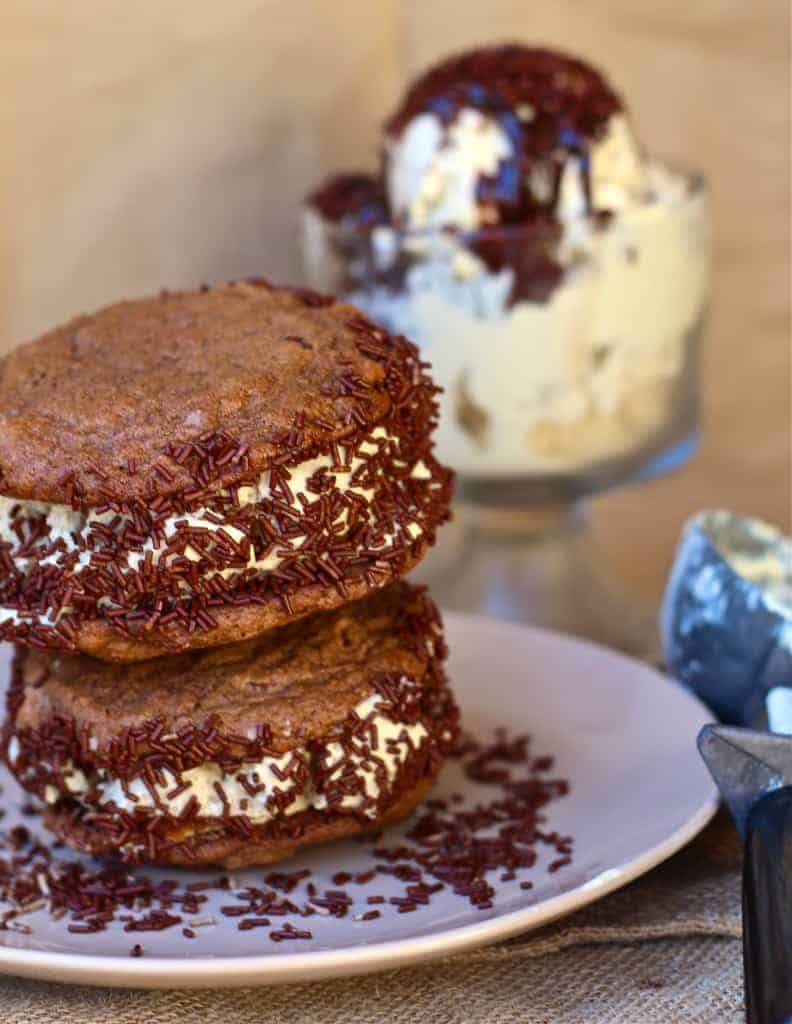 Today has been one of those days that you just can't wait to get over with. I pulled a very late nighter last night studying for my International Security and Conflict Resolution in the Nuclear Age class . I was abruptly awakened by my obnoxious alarm this morning at 5 am, so that I could continue studying. I think this is where my bad day started.  I was out of coffee, and had to cram 4 decades worth of Nuclear Proliferation type readings. I mean seriously people...how many damn treaties do our governments need to sign that all practically lead to the same thing...no more nukes!!! Do you feel my pain yet??? Wrong way to start a morning. Then I spilled my freshly bought cup of coffee in the car, was stuck in traffic, was late to class, forgot my text-book, and so on and so on. You get the picture.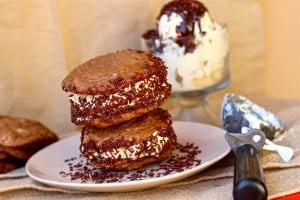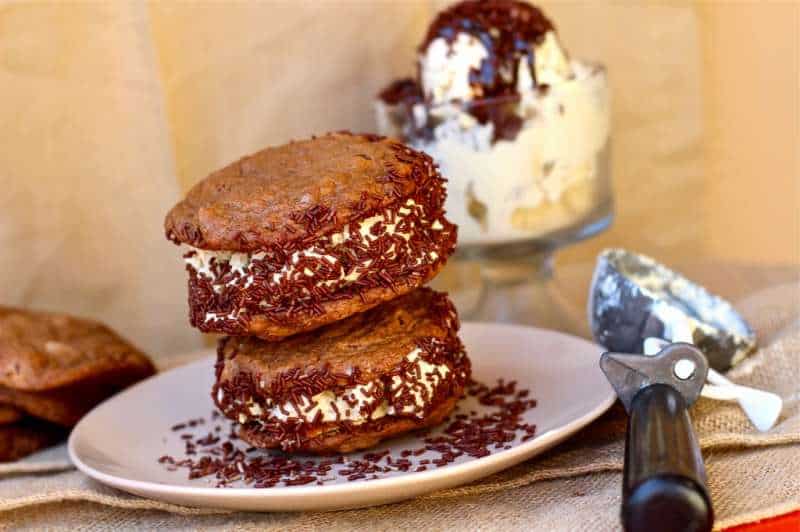 So I am home now, finally. Thankfully, I had one of these in my freezer. And it has coffee in it! Coffee, chocolate, and a nice cold Sam Adams Summer Brew will make anyone's day go from bad to good. So I thank all of you, my readers, because if it was not for you (or this blog) I would not have made these decadent  chocolate cookie coffee ice cream sandwiches, which has enlightened my day.
I got the double chocolate cookie recipe from the ever faithful Martha Stewart site here: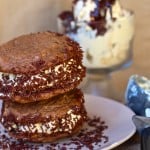 Double Chocolate Chip Cookie and Coffee Ice Cream Sandwiches
Ingredients
Double Chocolate Chip Cookies
1

cup

all-purpose flour

½

cup

unsweetened Dutch-process cocoa powder

½

teaspoon

baking soda

½

teaspoon

salt

8

ounces

good-quality milk chocolate

, 4 ounces coarsely chopped, 4 ounces cut into ¼-inch chunks

1

stick

(8 tablespoons) unsalted butter

1 ½

cups

sugar

2

large eggs

1

teaspoon

pure vanilla extract
Coffee Ice Cream
1 ½

cups

heavy cream

1 ½

cups

milk

5

egg yolks

¾

cup

sugar

½

cup

the very strong coffee

¼

whole coffee beans
Instructions
Double Chocolate Chip Cookies
1 cup all-purpose flour

½ cup unsweetened Dutch-process cocoa powder

½ teaspoon baking soda

½ teaspoon salt

8 ounces good-quality milk chocolate, 4 ounces coarsely chopped, 4 ounces cut into ¼-inch chunks

1 stick (8 tablespoons) unsalted butter

1 ½ cups sugar

2 large eggs

1 teaspoon pure vanilla extract

Preheat oven to 325 degrees.

Whisk together flour, cocoa powder, baking soda, and salt in a medium bowl and set aside.

In a microwave safe bowl, melt the butter and chocolate on high for 1 minute.

Stir, and microwave again in increments of 15 seconds until melted.

Transfer chocolate mixture to the bowl of an electric mixer fitted with the paddle attachment. Add sugar, eggs, and vanilla; mix on medium speed until combined.

Reduce speed to low; gradually mix in flour mixture. Fold in chocolate chunks.

Scoop batter using a 1 ½-inch ice cream scoop; place 2 inches apart on parchment-lined baking sheets.

Bake until cookies are flat and surfaces begin to crack, about 15 minutes.

Transfer on parchment to wire racks. Let cool 5 minutes.

Cookies can be stored in an airtight container at room temperature for up to 3 days.
Coffee Ice Cream
In a medium sized sauce pan heat milk, cream, and whole coffee beans, until near boiling (do not let it boil or it will burn). Remove from heat and allow to cool.

Once cooled, strain the cream mixture and discard the coffee beans.

In a separate bowl, whisk together egg yolks and sugar until pale.

Add 1 cup of the cream mixture to the egg mixture, beating rapidly (to avoid cooking the eggs). Add the rest of the cream mixture and coffee to the egg mixture and beat until combined.

Return the custard to the pan and cook on medium until it has thickened and coats the back of the spoon.

Cover and chill the custard overnight or until cold. Once cooled, place the custard in your ice cream maker and churn for 20-30 minutes.

Assemble the sandwiches and freeze for an hour before eating.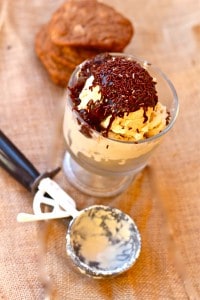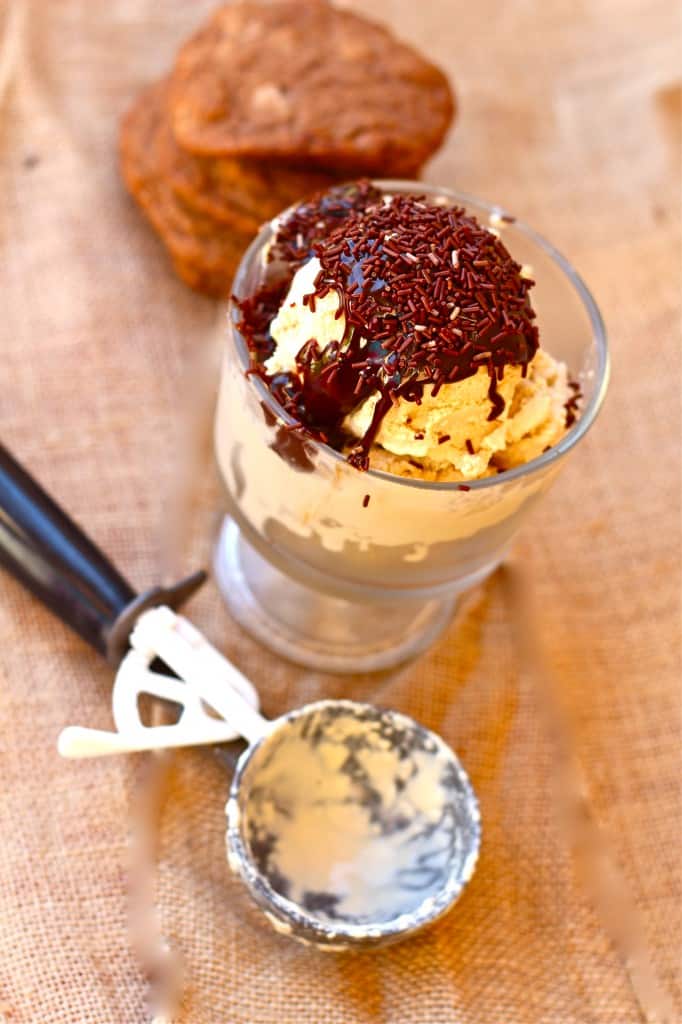 Now I will sit back, finish my beer, and enjoy the quite for the next 15 minutes before my husband and kids come and, and my motherly duties commence.