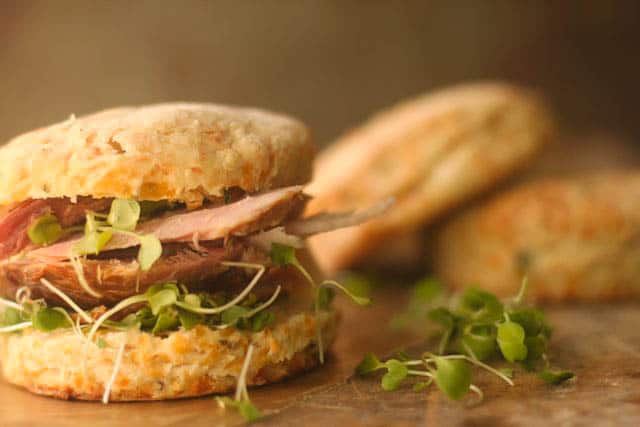 I am proud to report that Easter was a success! If you remember from this post, I was really nervous about cooking for 45 people. I had never cooked an entire meal, with so many different elements, for so many people. Not just any people...people with extremely high expectations.
Well, I had to serve them Tums with their coffee and roll them out of the house when they were ready to leave. They ate, and they ate again, which I take as a very good sign.
Since I had never served that many people, I had no idea how much everyone would eat. I made WAAAAAAY too much food. We ended up with enough leftovers to actually have another party. But need not worry, we will be eating leftovers for the next week...maybe more.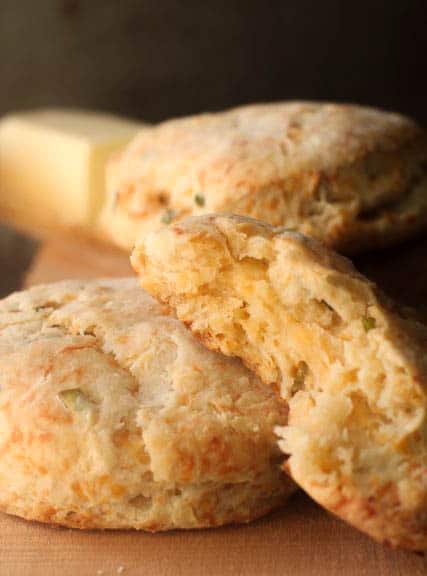 We ended up with a ham from a pig that probably weighed over 300 pounds. The ham was delicious, but eating it for a full week with potatoes au gratin can get old.    I needed to revamp the meal. The ham was so juicy and tasty that ordinary bread would not do it justice, and the only thing that would, would be a tender, flaky biscuit. Honestly, three days into ham leftovers, these biscuits actually outshine the ham!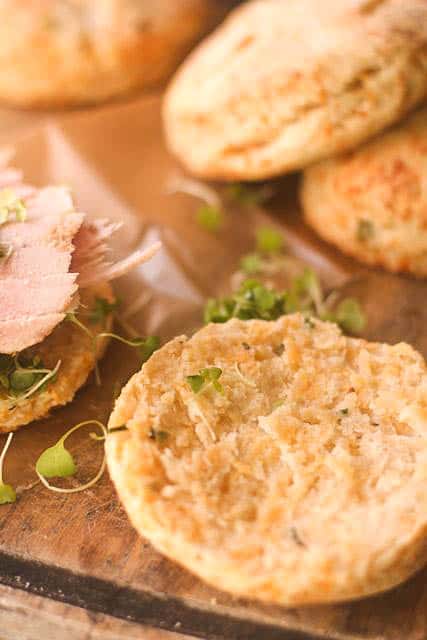 I used a few of my favorite ingredients that I was sure would result in a perfect biscuit. The first was Plugra Butter. I don't know what it is about this stuff but it always results in a perfect flaky, yet moist crust or dough.
The next thing I used was Wholesome Sweetener's Raw organic honey. We love this stuff. Not sure if it is because it is raw, but it is not as sweet as regular honey, which I like. It is perfect for these kind of biscuits because it add just the right amount of sweetness to the dough without being overpowering.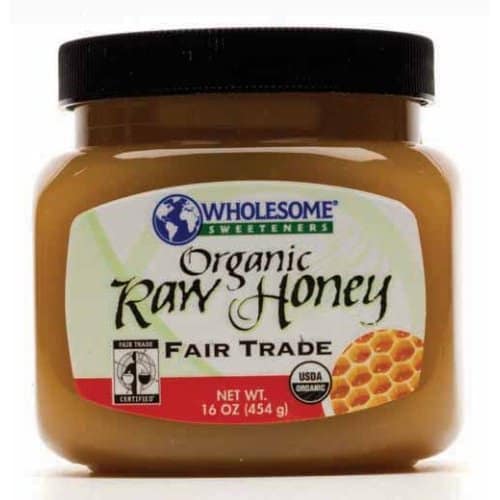 The chives and cheddar add a savory homey feel to the biscuit and the buttermilk adds a pleasant tang. These moist, flaky biscuits are perfect for sandwiches accompany soups, or just about anything. They're super easy to make too! From ingredients to final product, it to me about 30 minutes in all! This recipe makes about 10 large biscuits.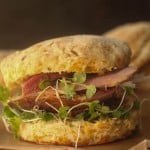 Chive Cheddar Honey Biscuits
Ingredients
Chive Cheddar Honey Buttermilk biscuits adapted from Williams-Sonoma Catalog
4

cups

all-purpose flour

2

Tbs

. baking powder

1

teaspoon

. salt

1

teaspoon

. freshly ground pepper

16

Tbs

.

(2 sticks) cold unsalted butter, cut into small pieces

2

cups

shredded cheddar cheese

⅓

cup

chopped fresh chives

2

cups

buttermilk

2

Tbs

. Wholesome Sweetener's Raw Organic Honey
Instructions
Chive Cheddar Honey Buttermilk biscuits adapted from Williams-Sonoma Catalog
Preheat your oven to 400 degrees f.

Line a cookie sheet with parchment paper.

In a bowl combine flour, baking powder, salt and pepper and mix.

Cut butter into 8 slices per stick and add to flour mixture.

With a pastry cutter, or in my case very clean hands, cut or squish (Yes, I did just use that term in reference to cooking lol) butter into flour until small clumps form.

Mix in cheese and chives. With a wooden spoons, gently stir in buttermilk and honey.

Once all the liquid has mixed with the flour, gently knead the dough about 4 times.

Do not over knead, you will be breaking down the gluten results in a biscuit rock.

On a lightly floured surface, gently flatten dough out 2 inch thick circle.

Using a large round cookie cutter, cut out circles and place on cookie sheet.

Repeat until you have no dough left.

Bake at 400 degrees for 20 minutes.