These Chipotle Salmon Burgers with Lemon Chive Mayo will completely change the way you prepare burgers. Bursting with flavor, you'll never hit up a fast-food restaurant for a burger again. Delicious salmon, spicy chipotle peppers, panko, and spices come together to make this the perfect dinner recipe.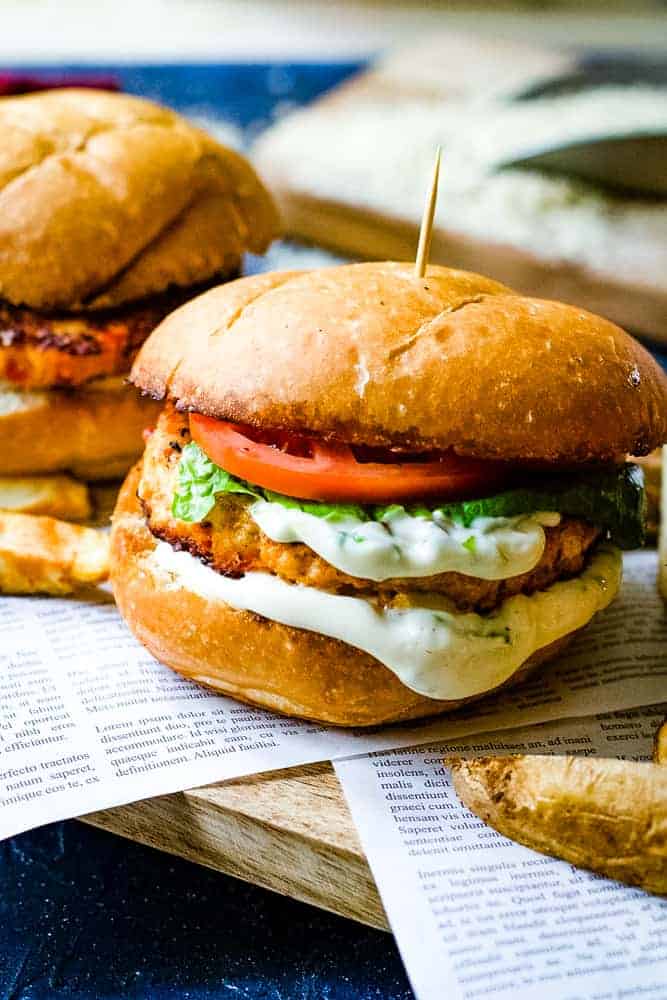 For some reason, people don't really think about making burgers with meat other than beef. Of course, it's been done a lot across the internet. However, the average person doesn't plan for dinner thinking about anything other than your average meal. This usually means going for something they're familiar with, which is beef burgers. This salmon patties recipe is just as easy as any beef burger, and could easily become your family's favorite go-to choice.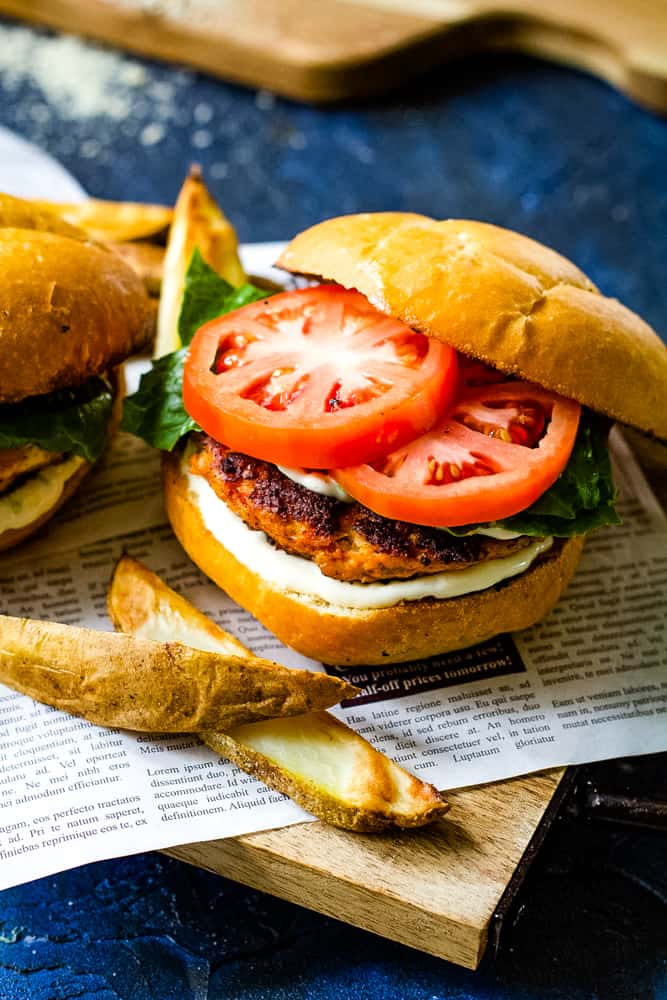 One of my favorite aspects about this fish burger recipe, is that it's far better for my family than beef is. Not that there's anything wrong with beef or red meat, but I definitely like giving my family a lighter meat more often than red meat. These Chipotle Salmon Burgers with Lemon Chive Mayo is an easy way to do that. Plus, they're so easy that I can make them during the week without being in the kitchen for hours.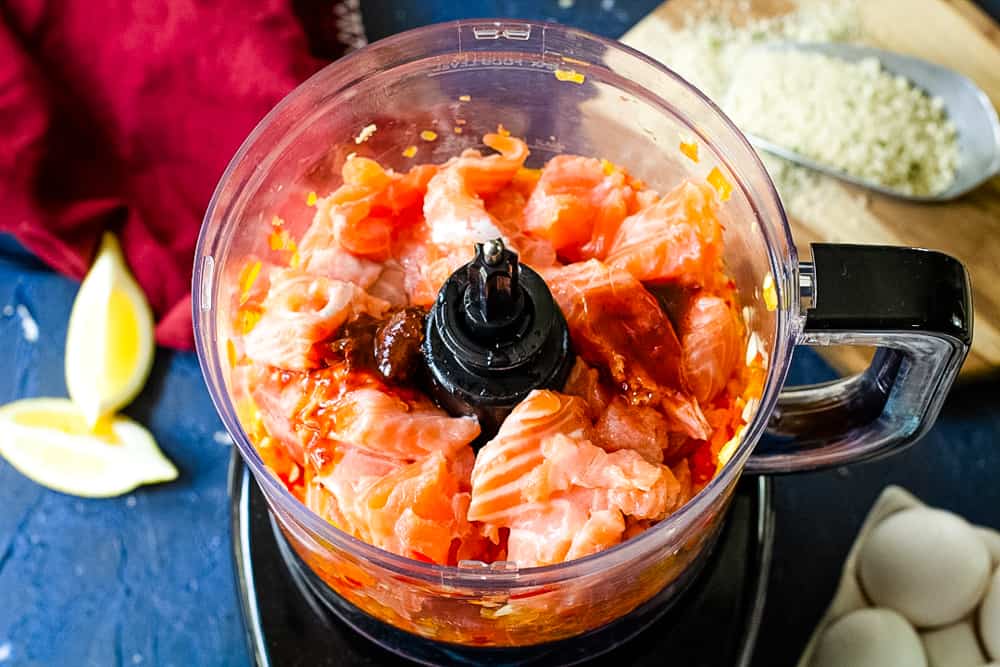 How to Make Chipotle Salmon Burgers
Make the patties - In a food processor, dice the peppers and onion before adding the salmon, salt, and lemon juice. Pulse a couple of times to combine, without over mixing. Stir in the egg and panko crumbs.
Form patties - Take the salmon mixture and form 8-10 patties in total and refrigerate for at least 20 minutes, but up to 24 hours.
Cook - Coat a heated skillet with cooking spray and cook each patty for 5 minutes on each side. Be sure the heat is only set to medium.
Make the lemon-chive mayo - Mix all the ingredients for the lemon-chive mayo in a medium-sized bowl and spread it evenly on 8 buns. If you want a bit extra spice, add a teaspoon of the chipotle adobo sauce from the can!
Assemble and serve - Assemble the burgers by placing the patties on the coated buns with lettuce tomato, serve, and enjoy!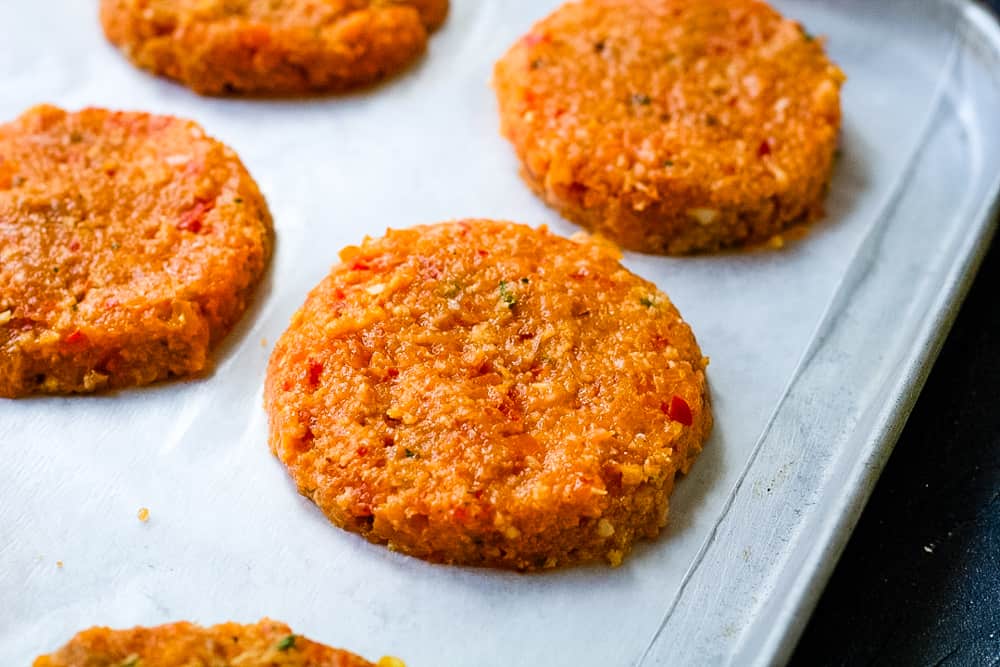 Tips and Variations
Skip the mayo - If you don't like the lemon-chive mayo, you definitely don't have to include it. Although it adds a great flavor addition to the fish burger recipe, it's not a mandatory addition. Try adding just normal mayo, boom sauce, sriracha, tartar sauce, etc. instead.
Make it milder - You can always use a different style pepper if the chipotle pepper in adobo sauce addition makes it too spicy for you. You can also remove the chipotle altogether if you prefer.
Don't overmix - If you overmix the ingredients, they can get soggy and make it difficult to form patties. Well, you can form the patties, it will just be quite messy to work with.
Thicken the patties - If your patties seem too thin and gooey, you can add some more panko to the mixture to thicken it up.
Bake them in an oven -These are also wonderful baked. Simply place on a lined baking sheet and bake at 375 degrees for about 20 minutes.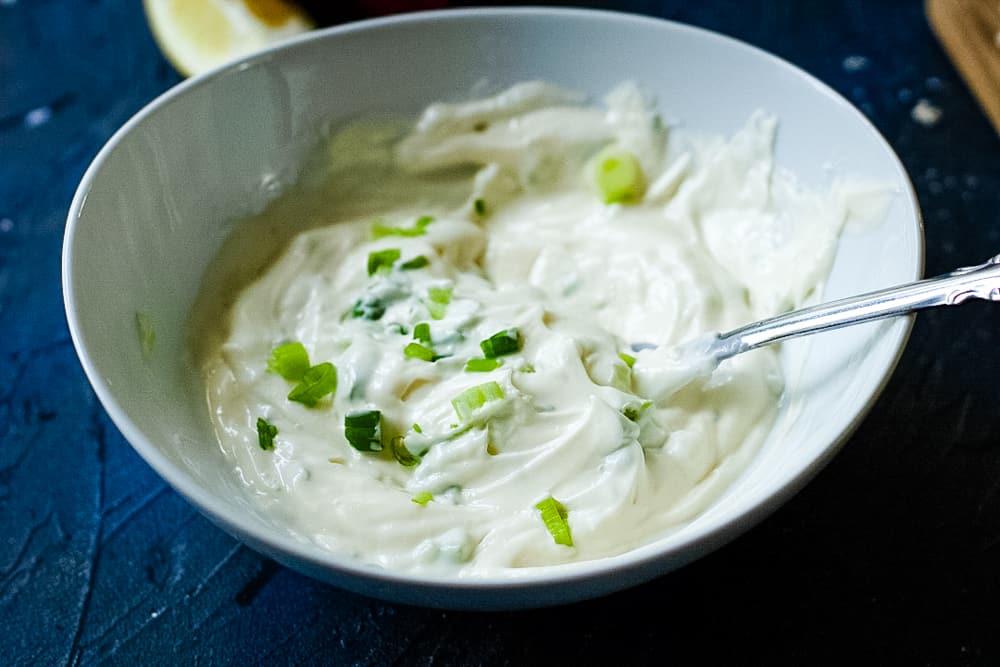 Common Questions About Chipotle Salmon Patties
What Toppings Go On a Salmon Burger?
You can treat your salmon patties recipe just like you would any other burger. I always like topping them with lettuce and tomato. However, you can also top them with bacon, cheese, other sauces such as ketchup, and you can add pickles. You can add whatever you usually prefer on a burger, although a salmon burger will have a different taste than a normal burger. This will change up how the toppings taste as well. Avocado would be a great addition as well!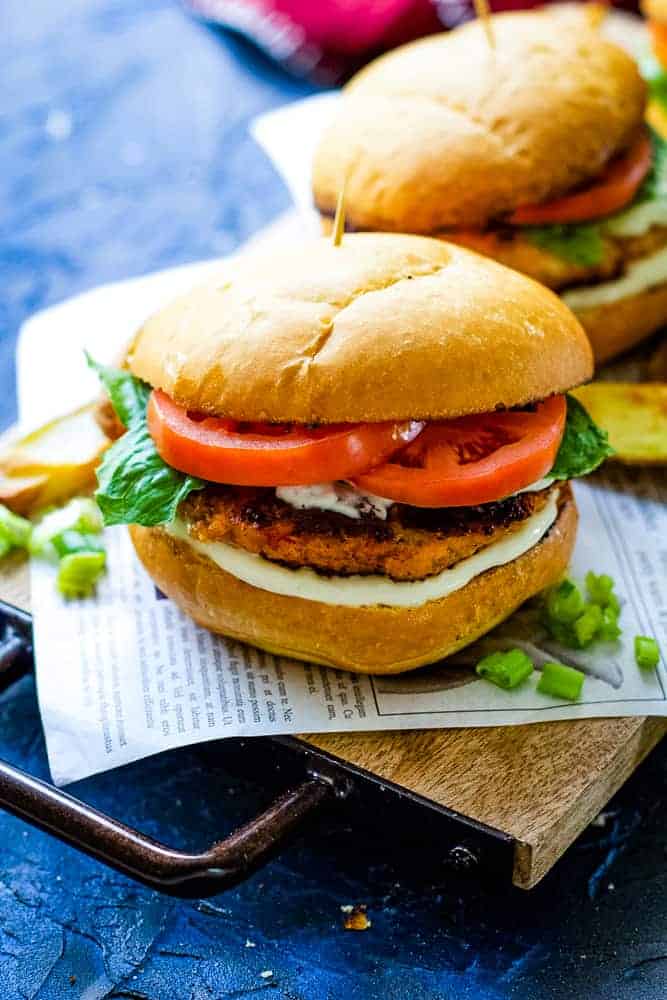 Can you freeze salmon burgers?
I always make a double batch of these salmon burgers so that I can freeze some for another day.
To freeze before cooking place the formed patties on a parchment or foil (lightly sprayed with non-stick) lined baking sheet and freeze for 1 hour. Once frozen, stack patties with a parchment square in between each layer and place in an airtight bag or container. These will stay fresh for up to 2 months! Simply thaw for 1 hour before frying.
Give your family a new dinner to get excited over and give these Chipotle Salmon Burgers with Lemon Chive Mayo a try!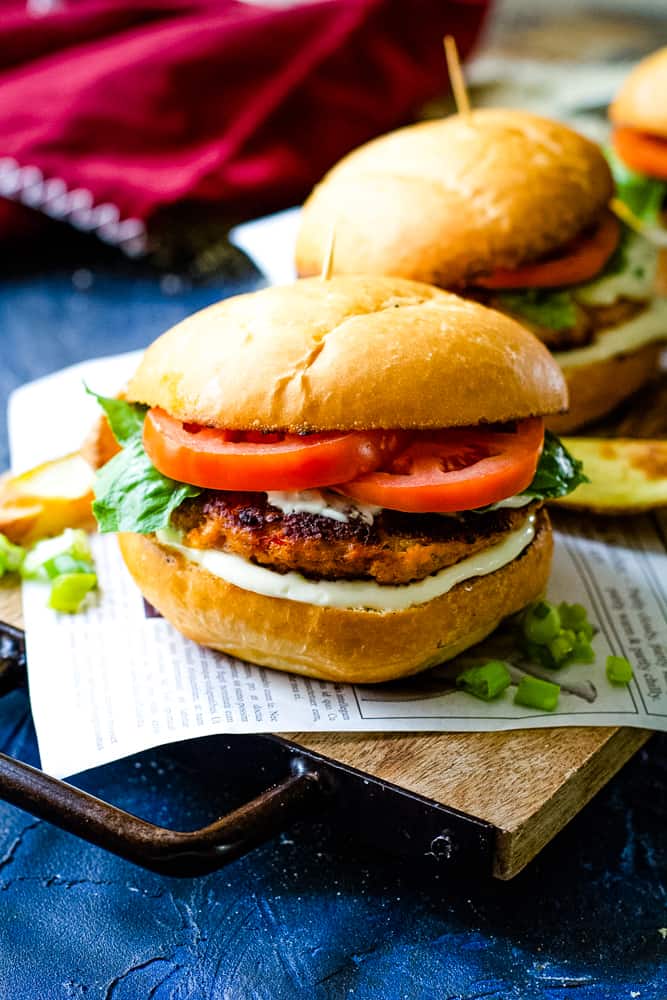 Other Burger Recipes You'll Love: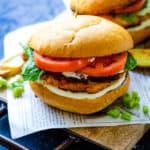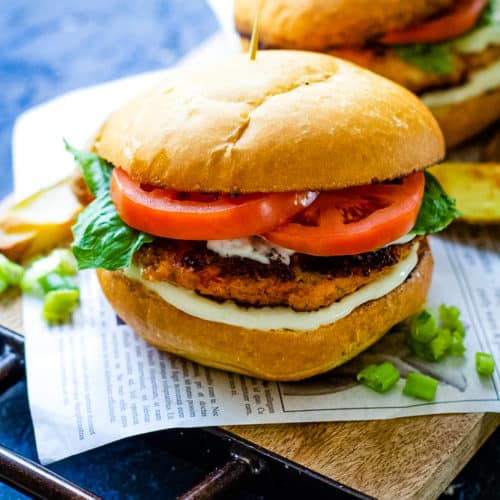 Chipotle Salmon Burgers with Lemon Chive Mayo
Delicious salmon, spicy chipotle peppers, panko, and spices come together to make this the perfect dinner recipe.
Keyword:
salmon burger recipe, salmon patties
Ingredients
Chipotle Salmon Burger adapted from Paula Deen
1

cup

bell peppers

(any combination of colors), finely diced

2

cloves

garlic

minced

¼

of a chipotle pepper (in adobo sauce)

add more if you like it spicy

2

pounds

salmon fillets

skinned and finely chopped

¾

cup

panko crumbs

½

teaspoon

salt

1

large egg

lightly beaten

1

tablespoon

fresh lemon juice
Lemon Chive Mayo
1

cup

mayonnaise

1

tablespoon

chives

finely chopped

1

tablespoon

freshly squeezed lemon juice

pinch of salt
Instructions
In a food processor fitted with the blade attachment, pulse peppers, garlic, and chipotle until finely diced. Add salmon, salt and lemon juice and pulse a few times until combined.

Remove blade and mix in panko crumbs and egg.

Form 8- 10 patties and refrigerate for 20 minutes.

In a heated skillet (set on medium high) lightly coat with cooking spray.

Cook patties for approximatly 5 minutes on each side.

To make the lemon chive mayo, combine mayonnaise, lemon juice, salt and chopped chives in a small bowl.

Spread toasted buns with some lemon chive mayo and add patties, lettuce and tomato.

Toast buns, if desired. To serve- spread buns with lemon chive mayo, add a pattie, and garnish with a sliced tomato and lettuce. Enjoy!
Recipe Video