In-N-Out Style Burger Bar complete with Animal Style Sauce recipe will be the best party you host all year long! Show guests how to stack the perfect burger!

Update- Reposting this post as we just added a fun new video!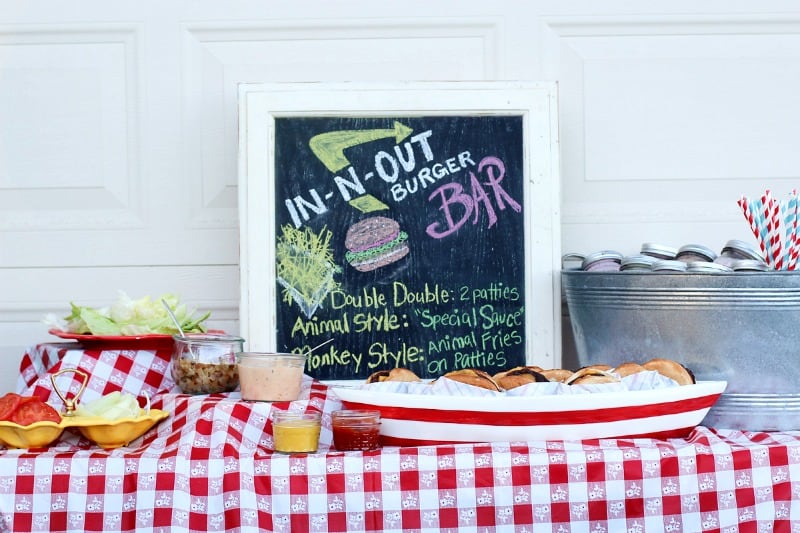 Well, this post was supposed to go up a few days before the 4th of July. But, we all know how that goes!!! I thought I would share it with y'all anyway, since summer weekend grilling parties are still happening!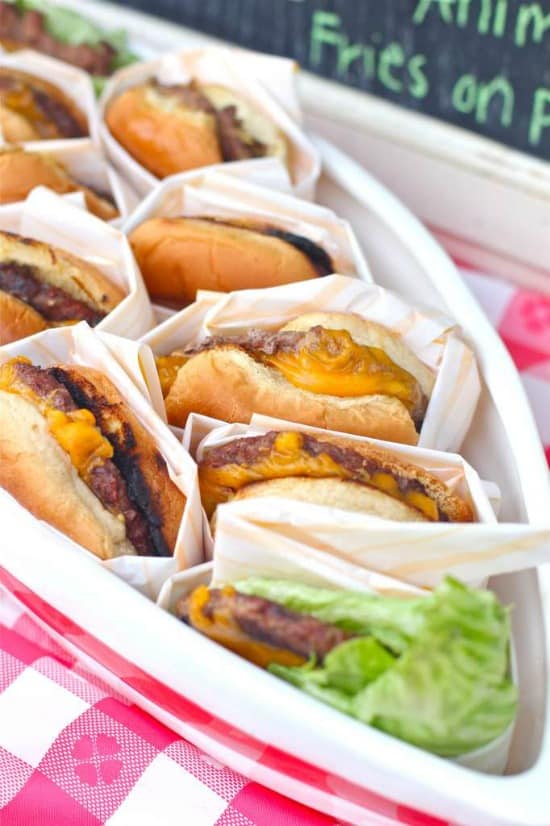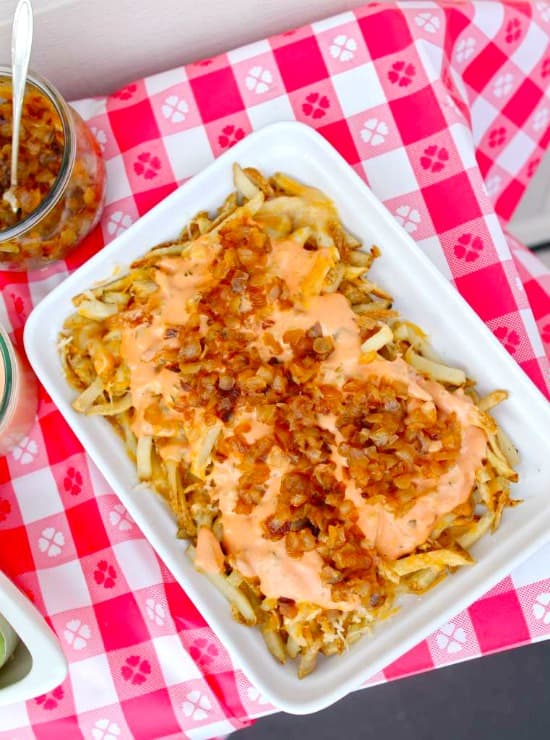 My husband and I are thinking about moving out-of-state. The sunshine tax here in California is getting to be too much, especially when the sun can't even get through this damn marine layer!!!
However, moving out-of-state would mean no more In-N-Out or fresh Mexican food! So please excuse me while I test out recipes to guarantee I have mastered them while I am still local and can cross reference the flavors.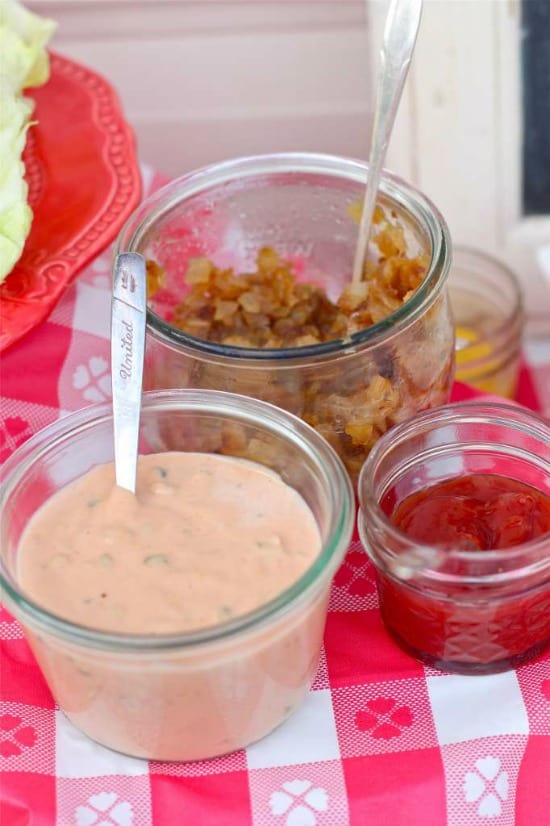 So, first up, Animal Style Spread. I thought it would be fun to put together a whole In-N-Out Style burger bar at a bbq, complete with vanilla, chocolate and strawberry milkshakes. Everyone loved it!
As you can see, I added a menu with different styles. I had a small condiment area with ketchup, mustard, mayo, "secret sauce" and grilled onions in which guests could make their burgers however they pleased.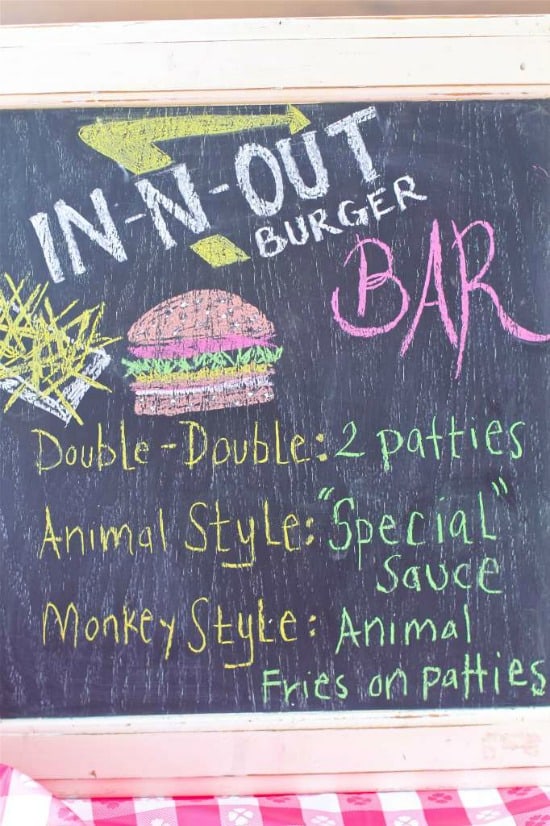 Or, they could go a bit more crazy and do "Monkey Style" which is a traditional cheese burger with the standard ketchup, mayo and mustard, but topped with a spoonful of animal style fries. This one was of course my favorite!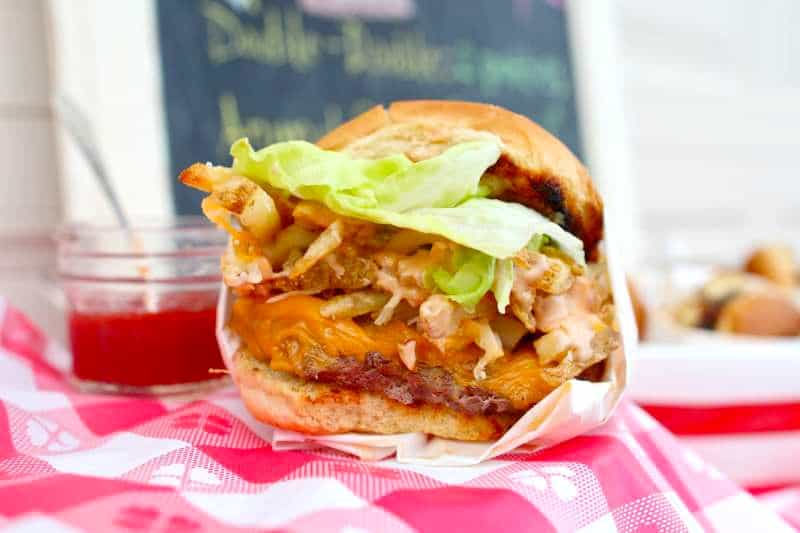 If you're looking to make your summer BBQ over the top and fun, try this burger bar out!!! Anyone who has ever been to In-N-Out will love it!!!
I have provided the recipes for Animal Style Sauce, Animal Style Fires, and Grilled Onions.
Thank you to the amazing Emily for helping me set this up and photograph it! I can't wait to formally introduce her, as she is going to become a gluten-free contributor on the blog!!!!
I've updated this post to include a recipe video, but please note, the ingredient amounts were halved as it was not for a "party post".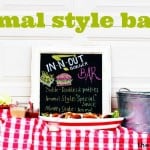 In-N-Out Style Burger Bar
Ingredients
Grilled Onions
6

large onions diced

1

tablespoon

brown sugar

2

tablespoon

olive oil
Animal Style Spread
1

cup

mayonnaise

⅔

cup

ketchup

3

tablespoon

Dill pickle relish

½

teaspoon

salt

½

teaspoon

freshly ground pepper

1

teaspoon

sugar

1

teaspoon

apple cider vinegar
Animal Style Fries
1

large package frozen french fries

1

cup

shredded cheddar cheese

1

cup

Animal Style Spread

Grilled onions
Instructions
Grilled Onions
Heat oil in a heavy skillet

Add onions and brown sugar

Cook on low until caramelized, stirring occasionally (about 40 minutes on my electric stove)
Animal Style Sauce
Combine mayonnaise, ketchup, relish, salt, pepper, sugar and vinegar in a bowl and mix to combine.

Refrigerate for at least 30 minutes before serving.
Animale Style Fries
Prepare fries as directed on package

Once done, place fries in an oven safe serving dish and sprinkle cheese on top.

Broil fries for about 3 minutes (just long enough to melt cheese)

Remove from oven and spread 1 cup of Animal Style Spread

Sprinkle on grilled onions
Recipe Notes
Add the Animal Style Sauce and Fries to your cheeseburgers. Trust me, you will not regret it!