These Rhubarb Oat Bars are perfect for serving up all summer long. Featuring a classic strawberry rhubarb filling, the addition of oats to the crust gives these bars a delightful cobbler taste and crunch. And since these rhubarb oat bars are perfectly portable, you can pack them on picnics, bring to potlucks, and easily serve up at all your backyard barbecues. This post contains affiliate links.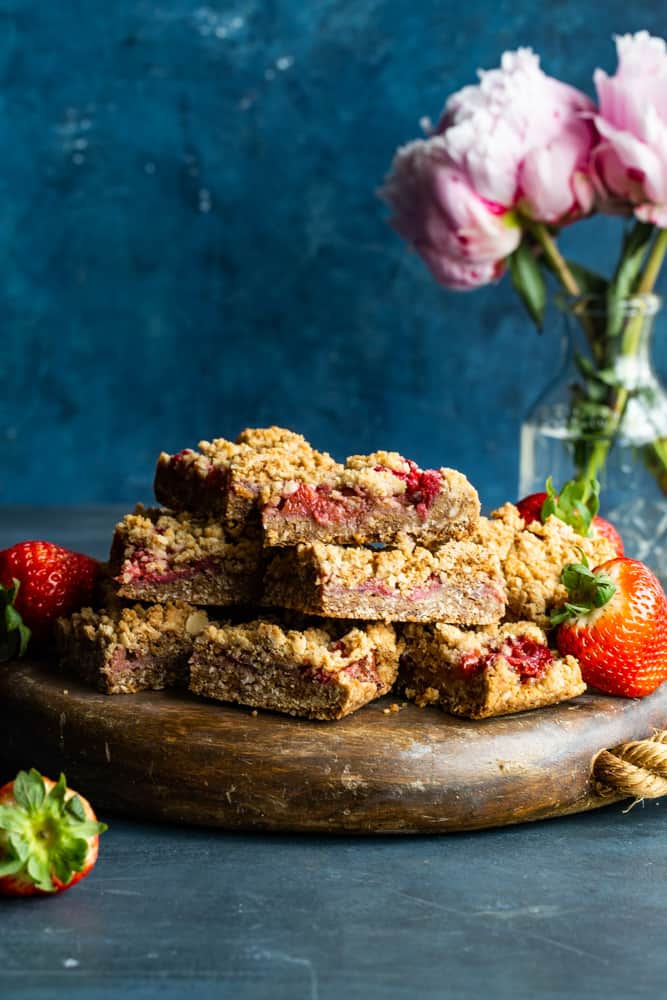 I recently picked about 20 pounds of rhubarb from our garden, and there is still about 20 pounds left. Every year around this time we make about 6 batches of strawberry rhubarb jam. This year, even after the 6 batches, I still have about 10 pounds of picked rhubarb left. Luckily, this is no problem at all in our house.
Living on the west coast (seems to be more of a southern fruit), I had never heard of rhubarb before I met my husband. Rhubarb cake is a staple dessert in Switzerland in the spring and summer. When I first tried it, I was not sure if I liked it. Rhubarb is very tart and must be combined with some sort of sugar, in my opinion. Anyway, needless to say, the cake grew on me (and my hips), and I fell in love with the fruit stalk.
I needed to make a portable dessert for a bonfire this weekend, so instead of cake, I decided to make these strawberry rhubarb oat bars. Since I brought around 50 bars and within a hour all of them were gone, I'd say they were a hit.

What is Rhubarb
Rhubarb is a hearty fruit with a tangy sour taste with a consistency similar to celery.
Here's a fun rhubarb fact. Most people consider rhubarb to be a vegetable. However in the United States, a New York court decided in 1947 that since it was used in the United States as a fruit, it was to be counted as a fruit for the purposes of regulations and duties. A side effect was a reduction on imported rhubarb tariffs, as tariffs were higher for vegetables than fruits.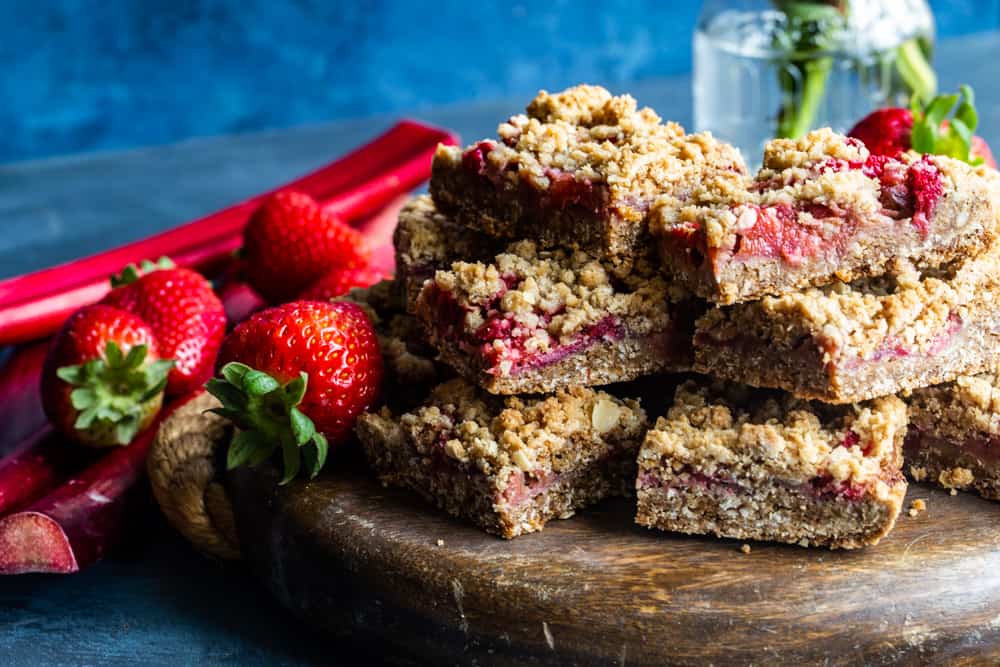 How To Shop For Rhubarb
When shopping for rhubarb, look for thick, firm and smooth stalks. Rhubarb is best known for its red stalks, but varieties can actually range from pink to light green. You can find even more information and tips for shopping for rhubarb here.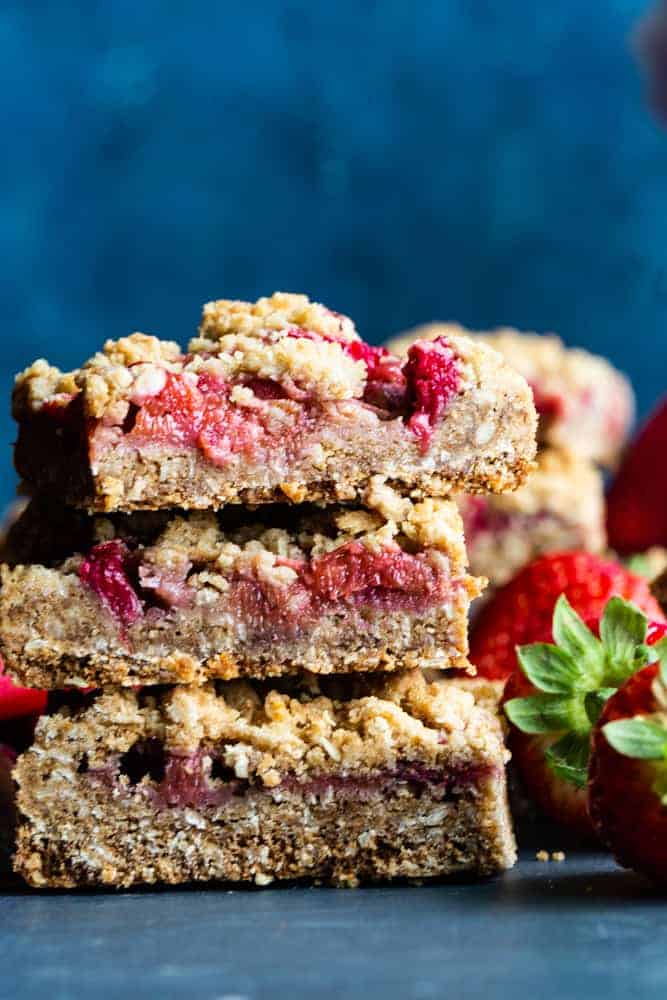 Tips for Making Rhubarb Oat Bars
You can make the strawberry rhubarb filling ahead of time and store in the fridge until needed.
This recipe calls for a 13x9 baking pan. But if you want thicker bars, use a square pan instead.
To avoid having your bars fall apart, make sure they are completely cooled before cutting.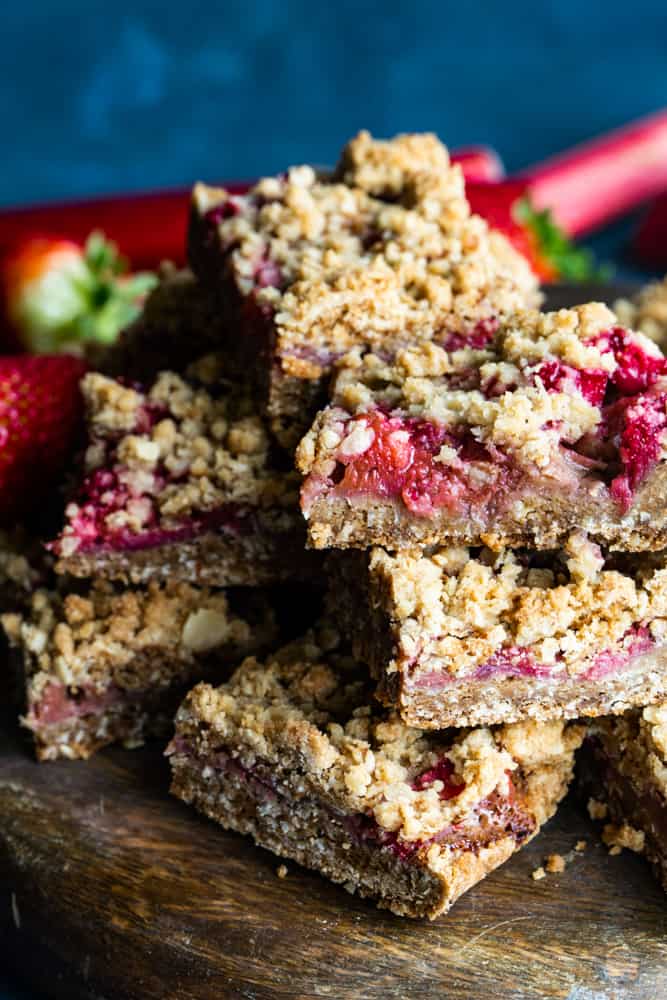 More Delicious Rhubarb Recipes
Looking for more ways to cook with rhubarb? Try this Lattice Strawberry Rhubarb Pie, these Rhubarb Strawberry Turnovers, and my Strawberry Rhubarb Ice Cream Shortcakes. Also, this recipe for a Rhubarb Ginger Cocktail will be a hit with the 21 and older crowd!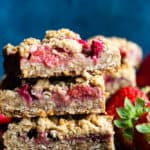 Rhubarb Oat Bars
Ingredients
Filling
1 ½

cups

fresh or frozen unsweetened rhubarb

, cut into 1-inch pieces

1 ½

cups

sliced fresh strawberries

1

tablespoon

lemon juice

½

cup

sugar

2

tablespoons

cornstarch
Crust
1 ½

cups

all-purpose flour

1 ½

cups

uncooked quick-cooking oats

1

cup

firmly packed brown sugar

¾

cup

butter

, softened

½

teaspoon

baking soda

¼

teaspoon

salt
Instructions
The recipe is from Land o Lakes.
Filling
Combine rhubarb, strawberries and lemon juice in 2-quart saucepan.

Cover; cook over medium heat, stirring occasionally, until fruit is tender (8 to 12 minutes).

Combine ½ cup sugar and cornstarch in small bowl. Stir into fruit mixture.

Continue cooking, stirring constantly, until mixture comes to a boil (about 1 minute).

Continue boiling until thickened (1 minute).

Remove from heat. Set aside.
Crust
Heat oven to 350°F.

Combine all crust ingredients in large bowl.

Beat at low speed, scraping bowl often, until mixture resembles coarse crumbs. Reserve 1 ½ cups crumb mixture.

Press remaining crumb mixture onto bottom of greased 13x9-inch baking pan.

Spread filling over crust.

Sprinkle with reserved crumb mixture.

Bake for 30 to 35 minutes or until golden brown. Cool completely.