Craving a sweet treat? Try these Rhubarb and Strawberry Turnovers! They're stuffed with a sweetened rhubarb-strawberry mixture and baked to golden brown perfection.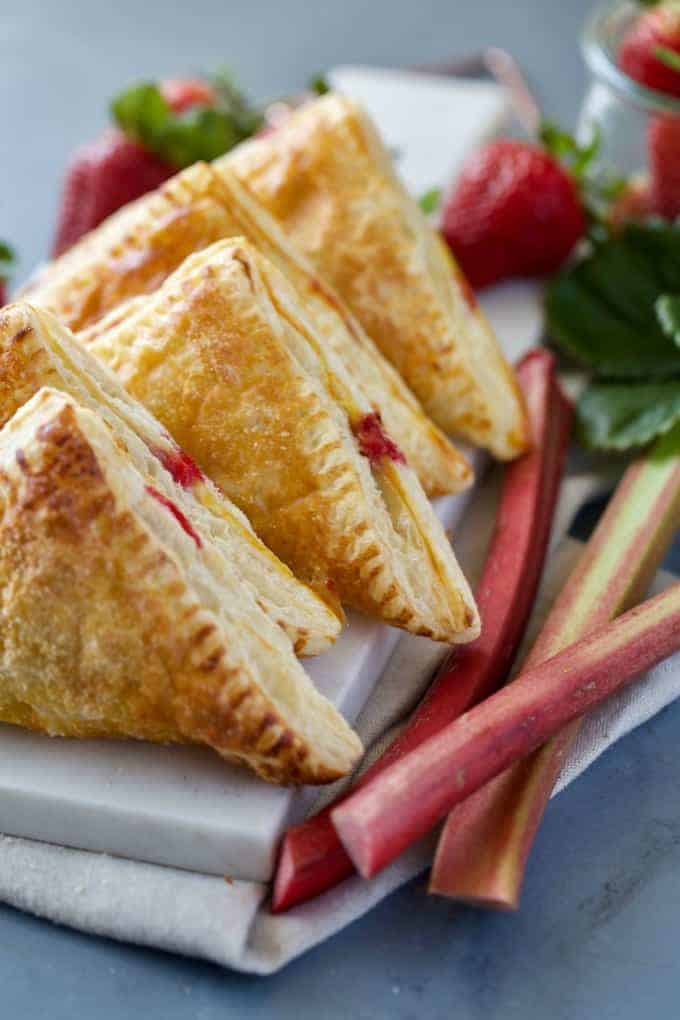 Isn't it amazing how the flavors of rhubarb and strawberry complement each other so well? I would have loved to have been the person who first said, "Yes! Let's combine strawberries and rhubarb!" and then went on to receive all the accolades for such a genius food combination.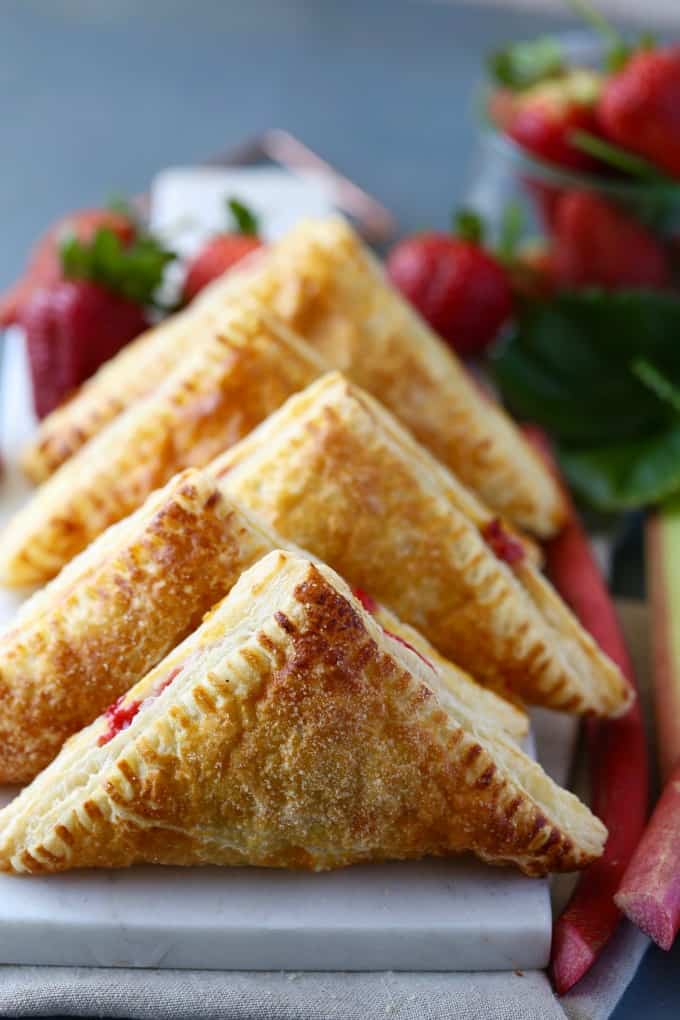 I'm not sure exactly what it is about the rhubarb-strawberry combo that's so perfect (and trust me, I've spent time pondering it... usually while biting into a slice of strawberry-rhubarb pie), but it just works.
I think it has something to do with how the natural sweetness of strawberries brings forward the flavor of rhubarb while muting its natural tartness. A little added sugar (in the case of these Rhubarb and Strawberry Turnovers, ¼ cup) definitely helps the combination out.
I have to admit that rhubarb is on my mind a lot lately because I have a glut of rhubarb at the moment. I tried to grow rhubarb for 4 years without much luck, but my rhubarb plant finally took 2 years ago and now I have all the rhubarb. (Hundreds of stalks! That's not an exaggeration.) I'm always looking for new rhubarb recipes, and I can certainly say that these Rhubarb and Strawberry Turnovers don't disappoint.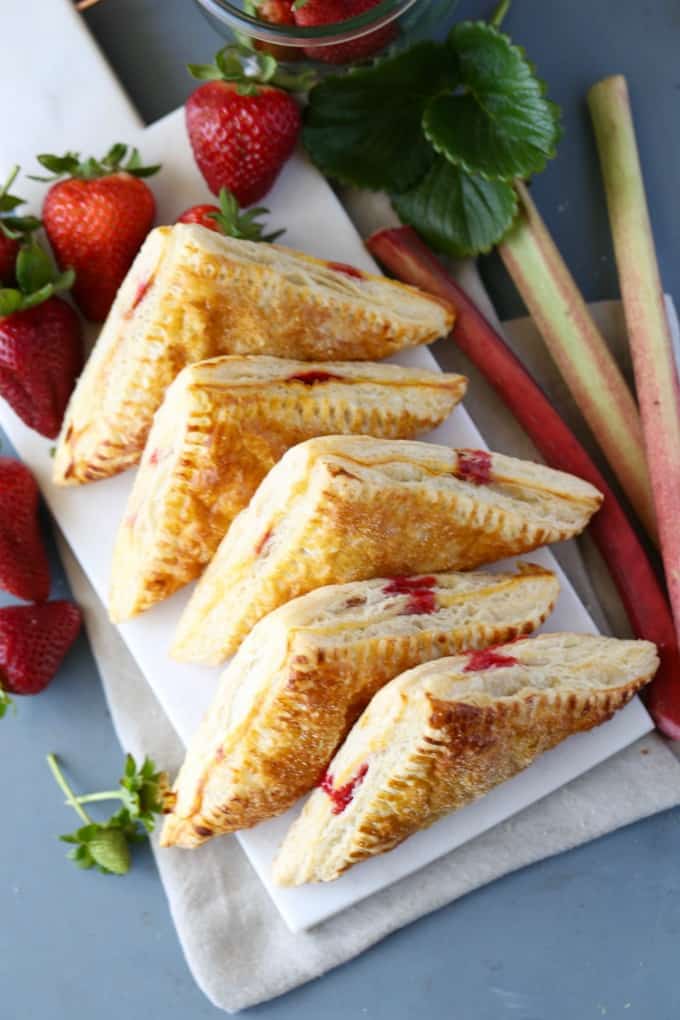 Fun fact about rhubarb: rhubarb is technically a vegetable, but was legally declared a fruit in 1947 in the U.S. by a New York court judge. The reason? It's primarily eaten as a dessert; thus, it's a fruit.
I actually consider Rhubarb and Strawberry Turnovers more of a sweet breakfast or brunch food, but they are certainly perfect for dessert, too. If you find yourself with a glut of rhubarb or just want an amazing breakfast, brunch, or dessert, give this Rhubarb and Strawberry Turnovers recipe a try!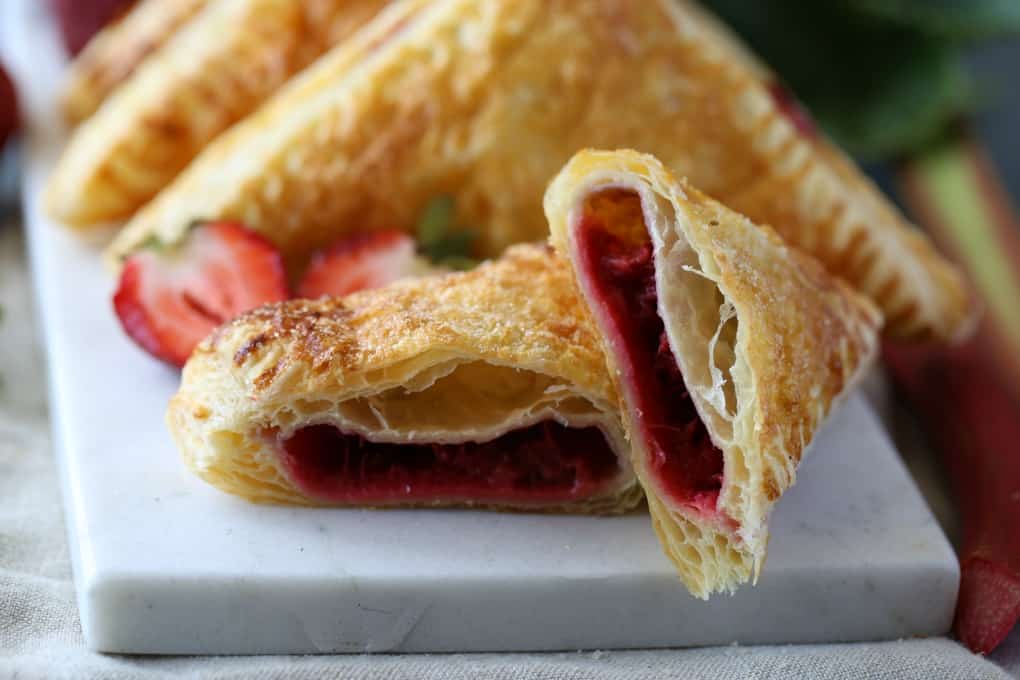 Love Rhubarb and Strawberry Turnovers? Try These Other Rhubarb and Strawberry Recipes
Love the rhubarb-strawberry flavor combo? Me too! Try these recipes next: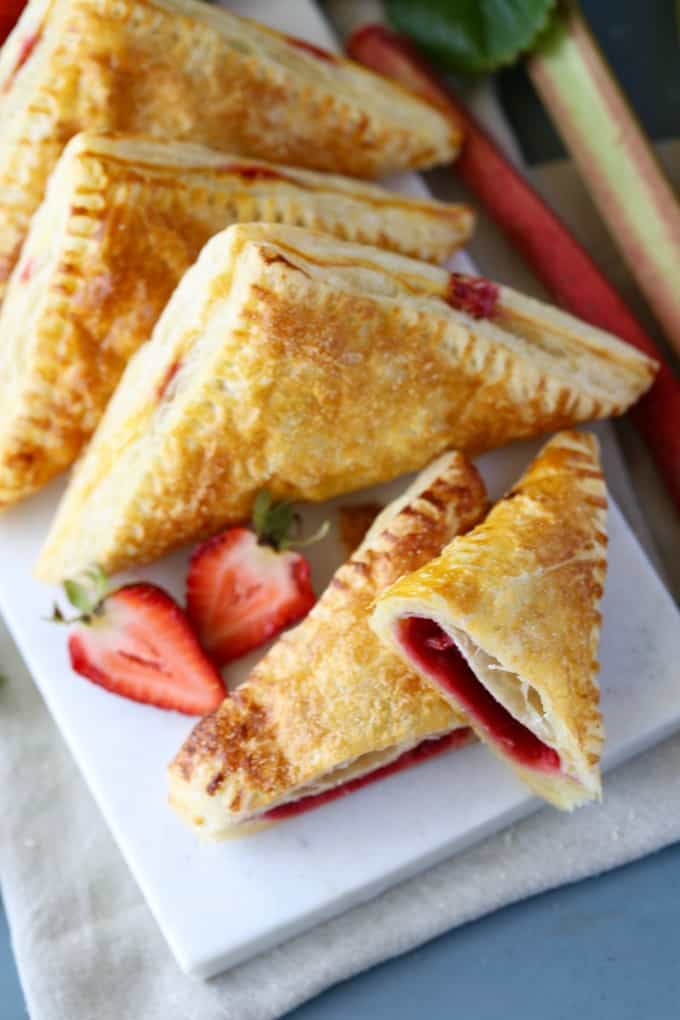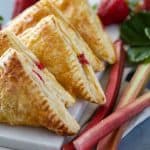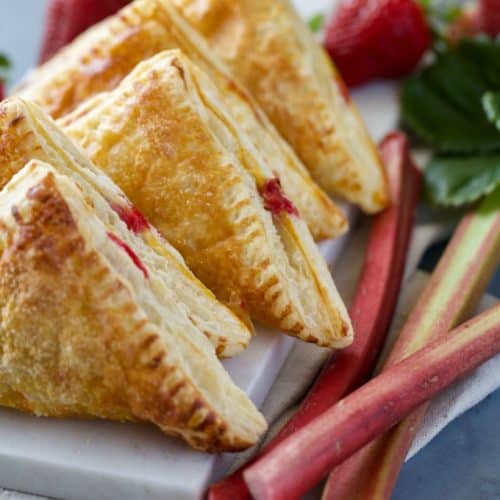 Rhubarb and Strawberry Turnovers
These turnovers are full of fresh rhubarb and strawberry flavor!
Ingredients
½

cup

diced rhubarb

½

cup

diced strawberries

¼

cup

sugar

½

tablespoon

lemon juice

1

package

17.3 ounces 2 sheets puff pastry sheets, thawed

1

egg yolk

1

teaspoon

water

1

tablespoon

sugar
Instructions
In a small pan combine rhubarb, strawberries, sugar, and lemon juice over medium low heat.

Cover and cook fruit for about 8-10 minutes, stirring occasionally. Remove from heat and cool to room temp.

Preheat oven to 400 degrees. Line 2 large baking sheets with parchment paper or foil that is lightly sprayed with non-stick cooking spray.

Whisk egg yolk and water together; set aside.

Unfold puff pastry sheets, then trim each sheet into a square.

Cut each large square into 4 even smaller squares.

Spoon strawberry rhubarb mixture onto the center of each squares.

Baste the edges of the puff pastry squares with egg wash.

Fold the puff pastry diagonally over the mixture and seal by pressing the edges with a fork.

Place turnovers on a baking sheet, leaving about 1 inch between them.

Baste entire triangle with egg wash, then sprinkle with sugar.

Bake for 20 minutes or until turnovers are puffed and golden.

Serve warm or at room temperature.