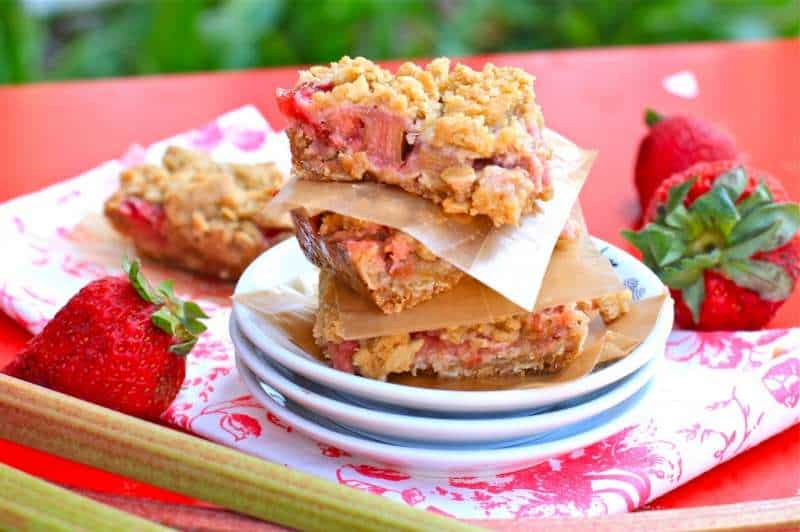 As I said in my previous post, I recently picked about 20 pounds of rhubarb from our garden, and there is still about 20 pounds left. Every year around this time we make about 6 batches of strawberry rhubarb jam. This year, even after the 6 batches, I still had about 10 pounds of picked rhubarb left, which is no problem at all in our house.
Living on the west coast (seems to be more of a southern fruit), I had never heard of rhubarb before I met my husband. Rhubarb cake is a staple dessert in Switzerland in the spring and summer. When I first tried it, I was not sure if I liked it. Rhubarb is very tart and must be combined with some sort of sugar, in my opinion.Anyway, needless to say, the cake grew on me (and my hips), and I fell in love with the fruit stalk.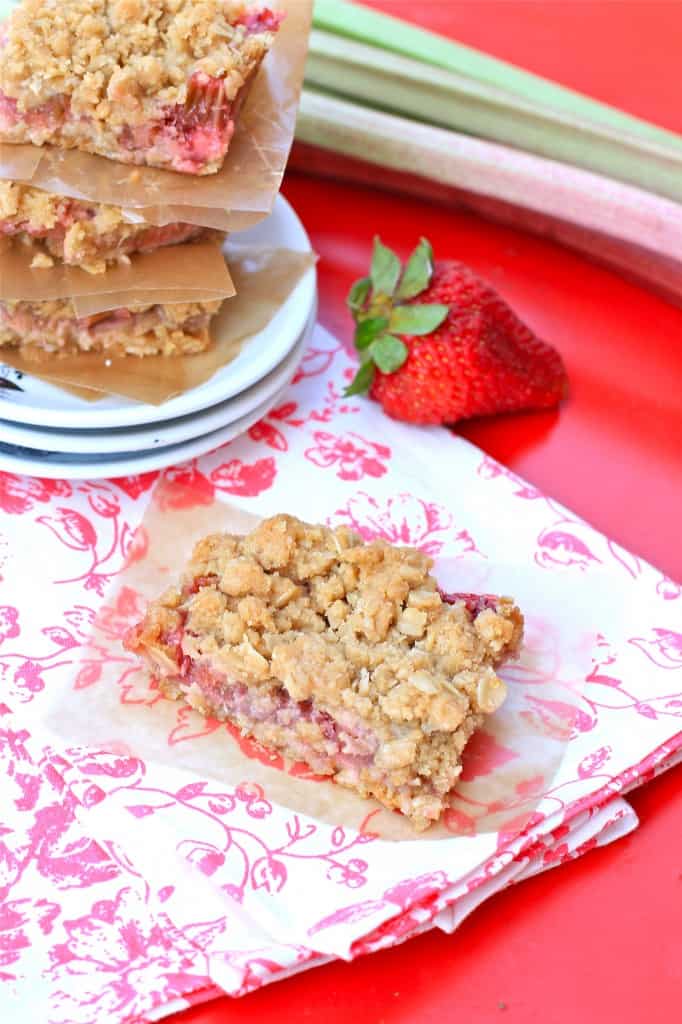 Funny Fact: According to Wikipedia, Rhubarb is usually considered to be a vegetable; however, in the United States, a New York court decided in 1947 that since it was used in the United States as a fruit, it was to be counted as a fruit for the purposes of regulations and duties. A side effect was a reduction on imported rhubarb tariffs, as tariffs were higher for vegetables than fruits.
I needed to make a portable dessert for a bonfire this weekend, so I decided to make these strawberry rhubarb oat bars. I brought around 50 bars and within a hour all of them were gone, and received rave reviews.  They oat addition to the crust gave it a cobbler taste a crunch.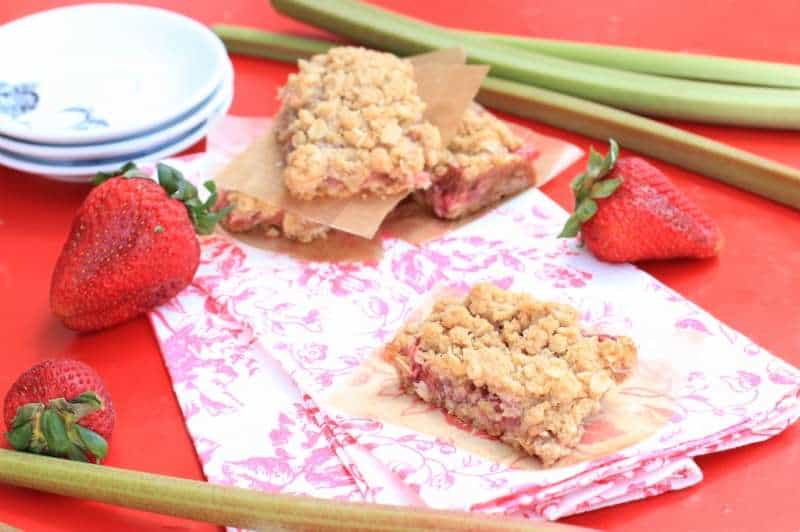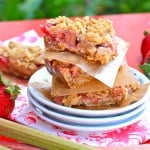 Rhubarb Galore
Ingredients
Filling
1 1/2

cups

fresh or frozen unsweetened rhubarb

, cut into 1-inch pieces

1 1/2

cups

sliced fresh strawberries

1

tablespoon

lemon juice

1/2

cup

sugar

2

tablespoons

cornstarch
Crust
1 1/2

cups

all-purpose flour

1 1/2

cups

uncooked quick-cooking oats

1

cup

firmly packed brown sugar

3/4

cup

butter

, softened

1/2

teaspoon

baking soda

1/4

teaspoon

salt
Instructions
The recipe is from Land o Lakes.
Filling
Combine rhubarb, strawberries and lemon juice in 2-quart saucepan.

Cover; cook over medium heat, stirring occasionally, until fruit is tender (8 to 12 minutes).

Combine 1/2 cup sugar and cornstarch in small bowl. Stir into fruit mixture.

Continue cooking, stirring constantly, until mixture comes to a boil (about 1 minute).

Continue boiling until thickened (1 minute).

Remove from heat. Set aside.
Crust
Heat oven to 350°F.

Combine all crust ingredients in large bowl.

Beat at low speed, scraping bowl often, until mixture resembles coarse crumbs. Reserve 1 1/2 cups crumb mixture.

Press remaining crumb mixture onto bottom of greased 13x9-inch baking pan.

Spread filling over crust.

Sprinkle with reserved crumb mixture.

Bake for 30 to 35 minutes or until golden brown. Cool completely.