This Classic Eggnog Recipe is sure to get you in the holiday spirit! Eggnog is a traditional drink dating back hundreds of years and is truly synonymous with the holiday season.
If you haven't had the chance to try homemade Eggnog, you are seriously missing out. It is so much tastier than the store-bought variety. And I remember being surprised at how few ingredients are needed to whip up a batch. All it takes is combining eggs, milk, cream and sugar with a little vanilla and nutmeg and you have a glass full of delicious, tastes-like-the-holidays merriment.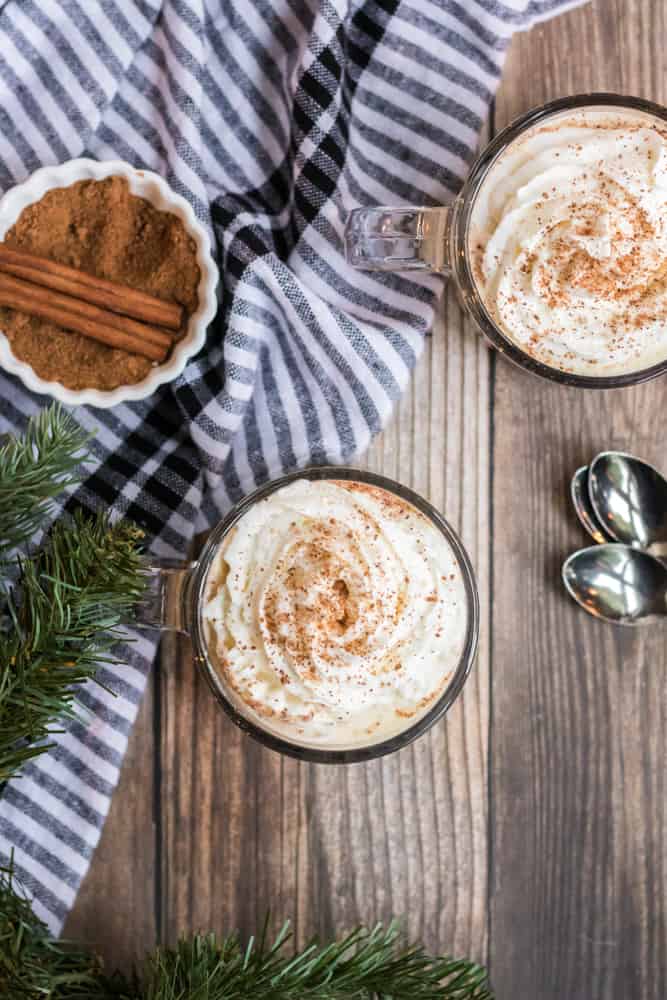 Should Eggnog Be Served Hot or Cold?
When it comes to eggnog, the most common question is whether to serve eggnog hot or cold. Most people have a strong preference and will insist that one way or the other is correct. However, the truth is that eggnog can be enjoyed both hot or cold. There are many recipes for serving eggnog warm, like a mulled cider or wine. And just as many that call for the eggnog to be thoroughly chilled and then poured over ice. Whether you are serving it hot or cold, the one key ingredient is freshly grated nutmeg.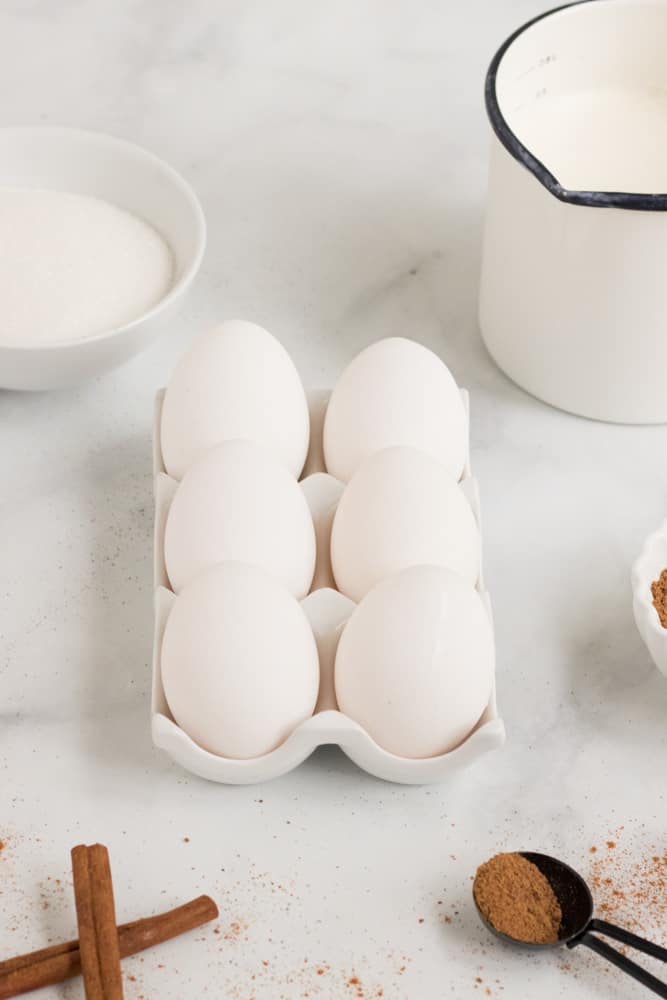 How to Bake with Eggnog
While my family certainly enjoys eggnog as a festive beverage (we fall into the chilled eggnog camp), I also love using it as an ingredient for holiday baking and cooking. Infusing that classic eggnog flavor into all sorts of delicious baked goods gives them a such a great seasonal flair. Simply replace the "milk" in any recipe and voila- an eggnog infused recipe!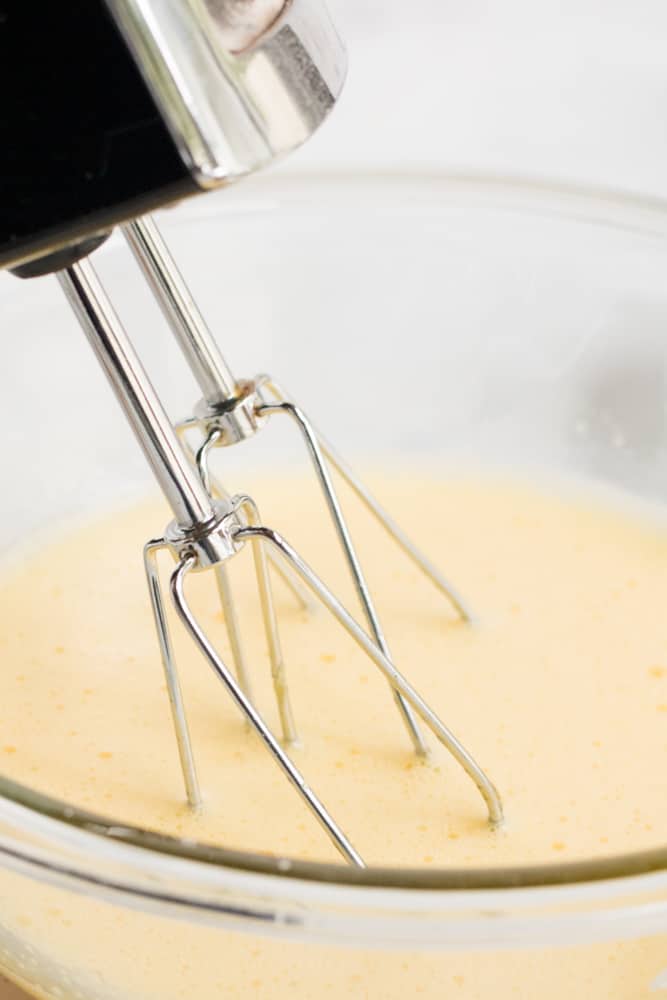 And yes, I've created eggnog versions of pretty much everything. We're talking Eggnog Crumb Cake, Eggnog Cake with Cheesecake Filling, Winter Eggnog Cupcakes and this year's stunning addition: Eggnog Layer Cake. The kids adore my Eggnog Waffles recipe, and my husband's personal favorite is this decadent adults-only Boozy Eggnog Shake. Why not try adding some of this homemade eggnog to your favorite recipe?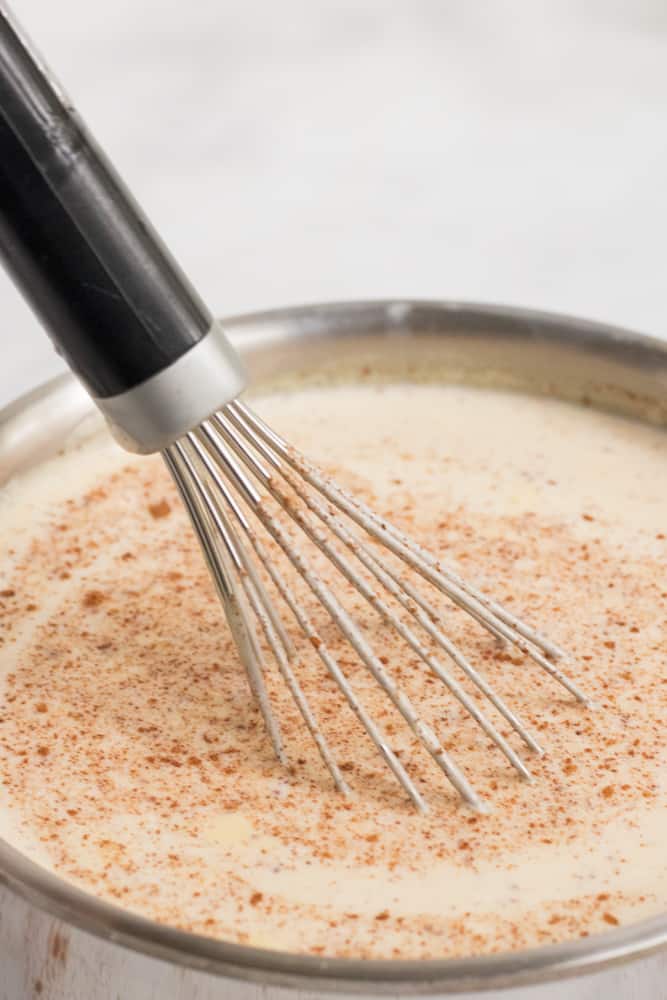 Classic Eggnog Recipe Tips and Tricks
Straining will ensure there are no lumps in your eggnog. But as long as you are whisking constantly and keep everything on low heat, there should not be a need to strain.

I highly recommend using a whisk rather than a spoon to prevent lumps.

If you can't wait overnight to serve, chill the mixture as long as you possibly can. It will thicken as it cools. The longer you can wait, the better!

To enjoy this classic eggnog "spiked" you can add your favorite rum or bourbon.

I have made this version several times and find that fresh eggnog (while it tastes SO much better) doesn't last as long. I would consume this within 2-3 days max.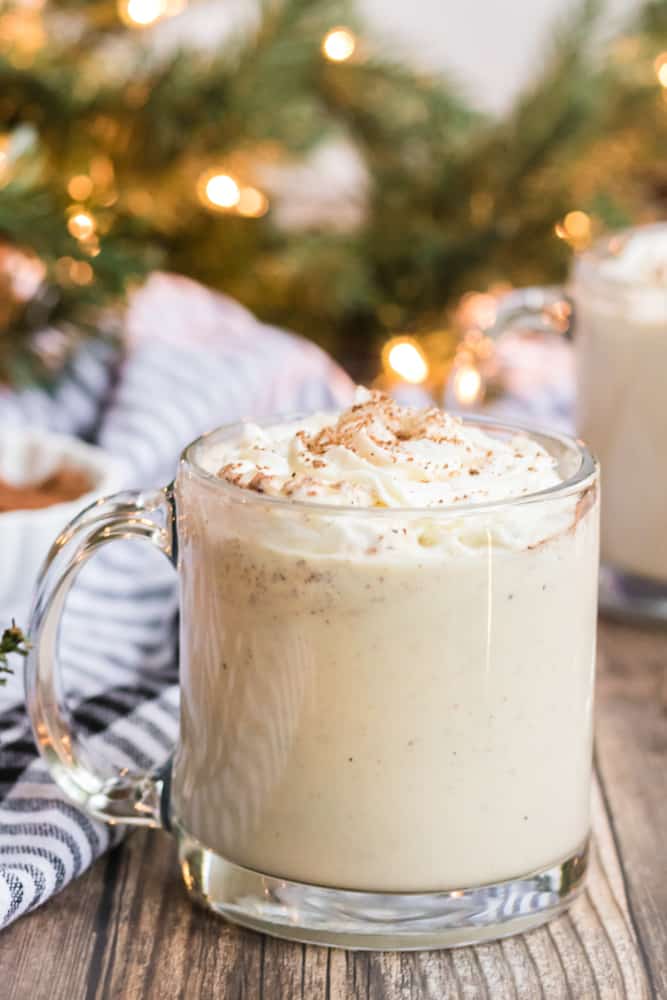 More Holiday Recipes
Looking for more great tasting holiday recipes? Try my Gingerbread Village Layer Cake, Cranberry Christmas Cake, and this recipe for Cranberry Baked Brie.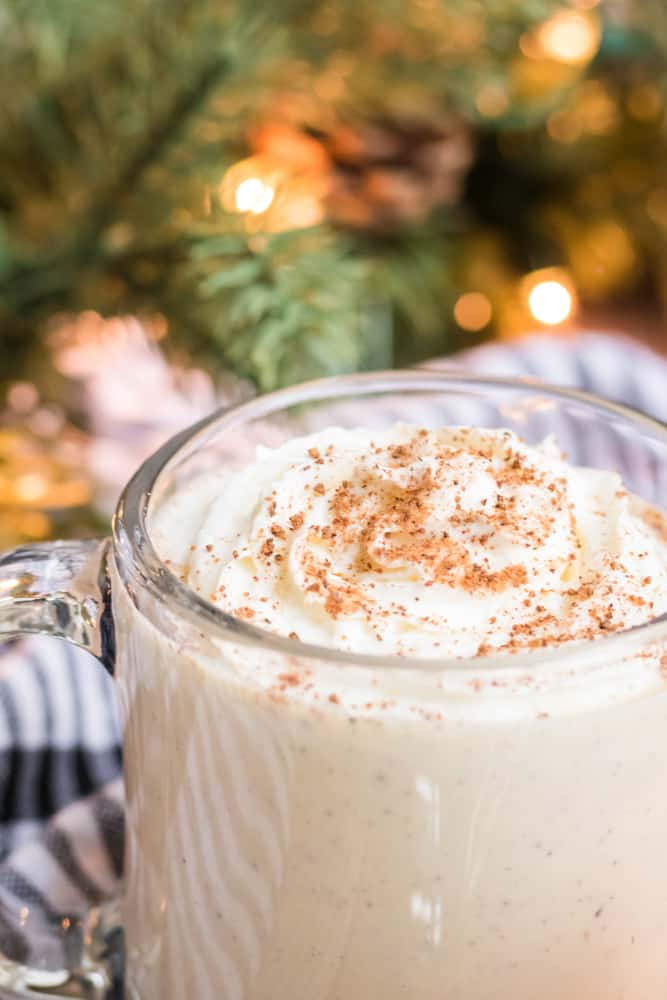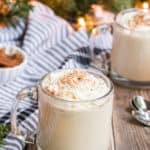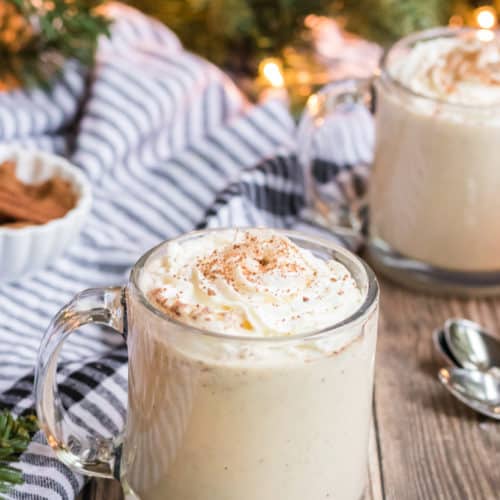 Classic Eggnog
This simple recipe for homemade classic eggnog is so delicious, you will never buy it again!
Keyword:
eggnog recipe, eggnog with rum recipe
Ingredients
3

cups

whole milk

1

Tablespoon

vanilla extract

1

teaspoon

nutmeg

3

eggs

3

egg yolks

½

cup

sugar

1 16

oz

container heavy cream

2

cups

light rum

optional

Whipped Cream

cinnamon, nutmeg, for garnish
Instructions
In a small saucepan over medium-low heat, whisk together the milk and vanilla until the mixture begins to simmer. Remove from heat.

In a separate large bowl, use an electric mixer to beat together the eggs, yolks, sugar, and salt for 5 minutes. The mixture will thicken and become slightly frothy.

Slowly pour the egg mixture into the saucepan with the vanilla and milk, whisking constantly to incorporate.

Return pan to medium-low heat and whisk constantly for about 5 minutes, or until temperature reaches 165 degrees.

Remove from heat and pour in the heavy cream. Stir until well combined. If desired, you can pour the mixture through a strainer to ensure there are no lumps.

If making the beverage alcoholic, stir in rum now.

Refrigerate at least 3 hours or overnight before serving.
Recipe Video
Recipe Notes
This post may contain affiliate links that help us provide more free recipes!