This gingerbread house cake is almost too pretty to eat! Learn how to create a Gingerbread Village Layer Cake consisting of coconut cake, iced gingerbread cookies, and a gingerbread house.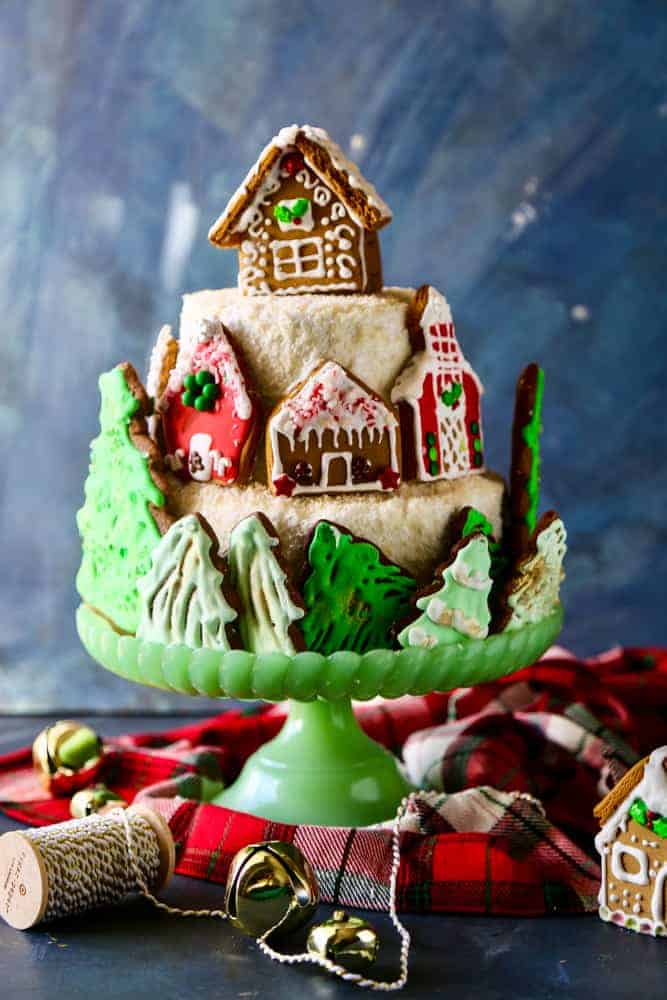 I love all things gingerbread – the lovely smell, the delicious taste, the warm color – and I'm pretty sure it's not the holiday season without gingerbread.
If it's not the holiday season without gingerbread, then this gingerbread house cake is the holiday season through-and-through. It's a moist, flavorful gingerbread cake decorated with gingerbread cookies and topped with a gingerbread house.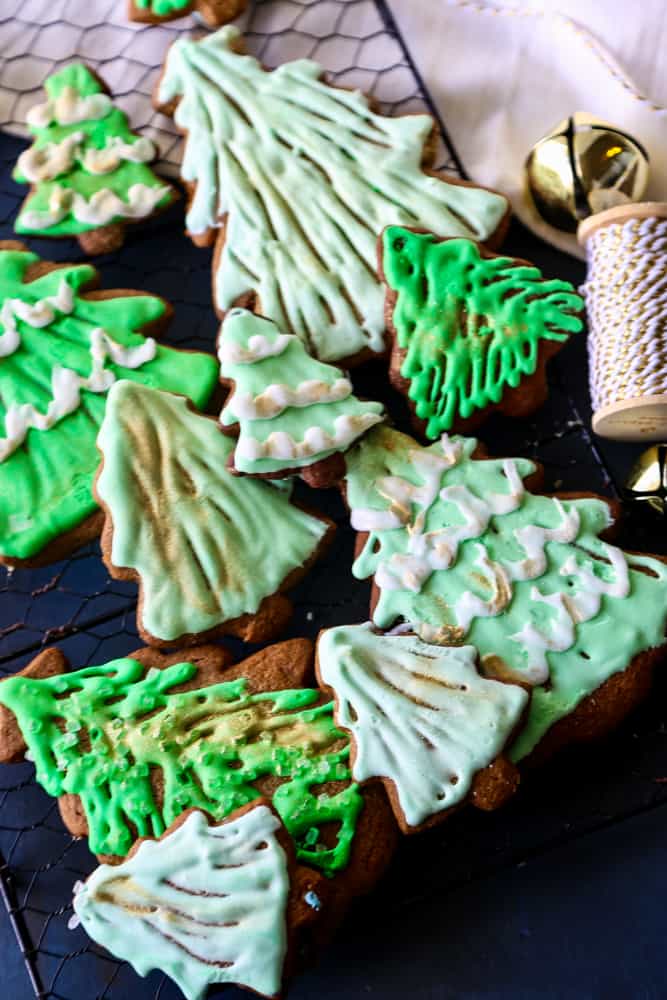 It gets even better. The coconut cake is frosted with a coconut  (very light) frosting and coated in dried coconut. The cookies (including some of my Gingerbread Ombre Christmas Tree Cookies) and the gingerbread house are, of course, frosted with plenty of icing and decorated with festive sprinkles.
This gingerbread house cake is the kind of cake you take to parties to seriously impress other partygoers. Someone else might show up with some gingerbread cookies or maybe even a gingerbread cake, but you? You brought the cookies, the cake, and the house. (A gingerbread trifecta!)
The best part is this gingerbread house cake has something for everyone (everyone who loves gingerbread, that is – but I like to think that's most people). Whether they're in the mood for some delicious cake full of coconut, or iced gingerbread cookies, or the roof of a gingerbread house, they'll be satisfied with this cake.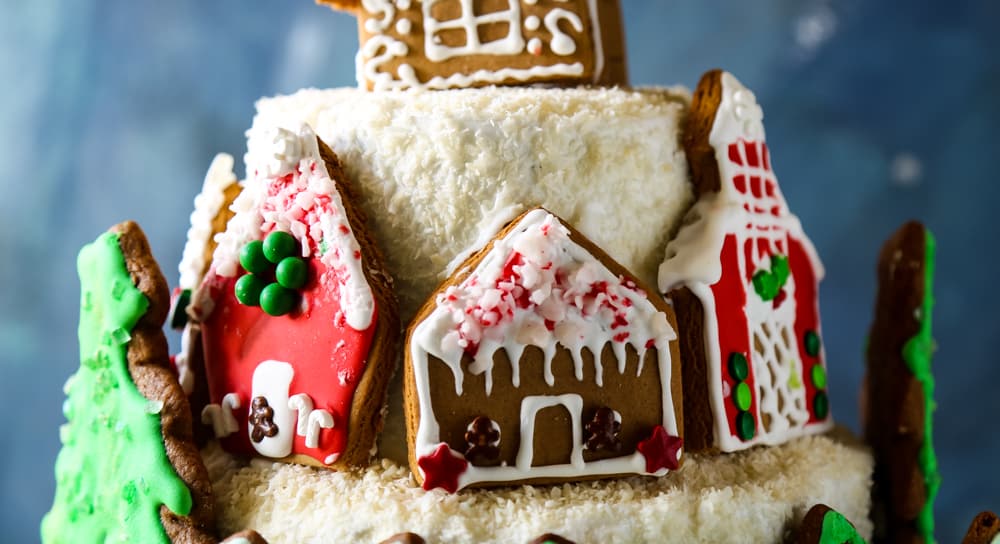 It probably goes without saying that this is a great cake to assemble with kids. I had a Gingerbread House Decorating Party last year, and all the kids loved decorating gingerbread houses at the decorating station I set up. The small gingerbread house at the top of this cake, or the iced gingerbread cookies, make a great kitchen task for kids who want to be a part of this pretty cake.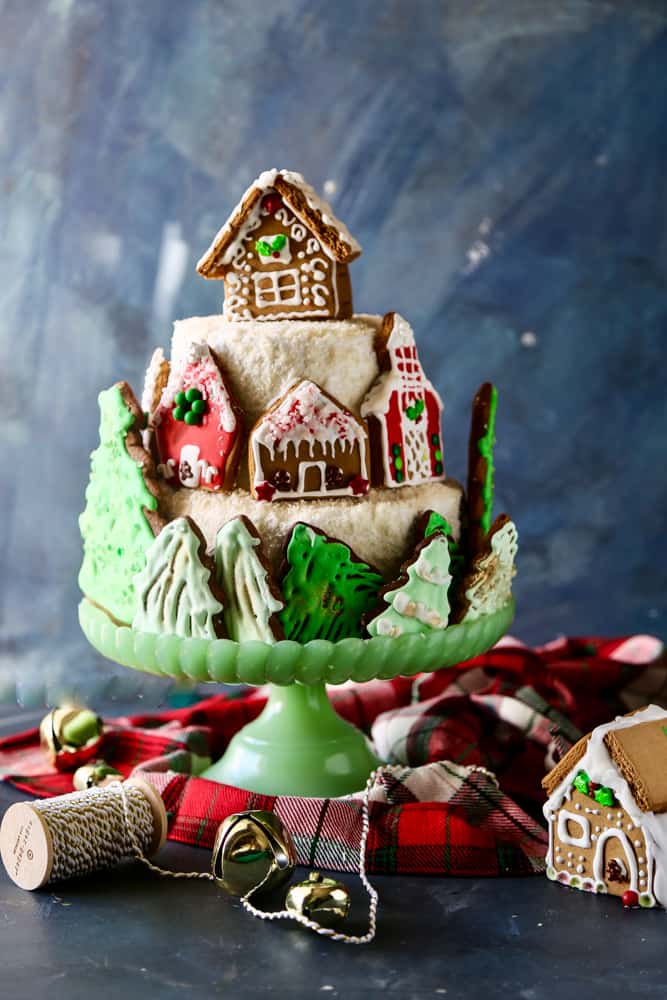 I'd love to hear how this gingerbread house cake goes for you. I hope you enjoy making it as much as I did! To make the Gingerbread Tree recipe click here. Don't forget to serve a slice of cake with a delicious cup of homemade hot cocoa.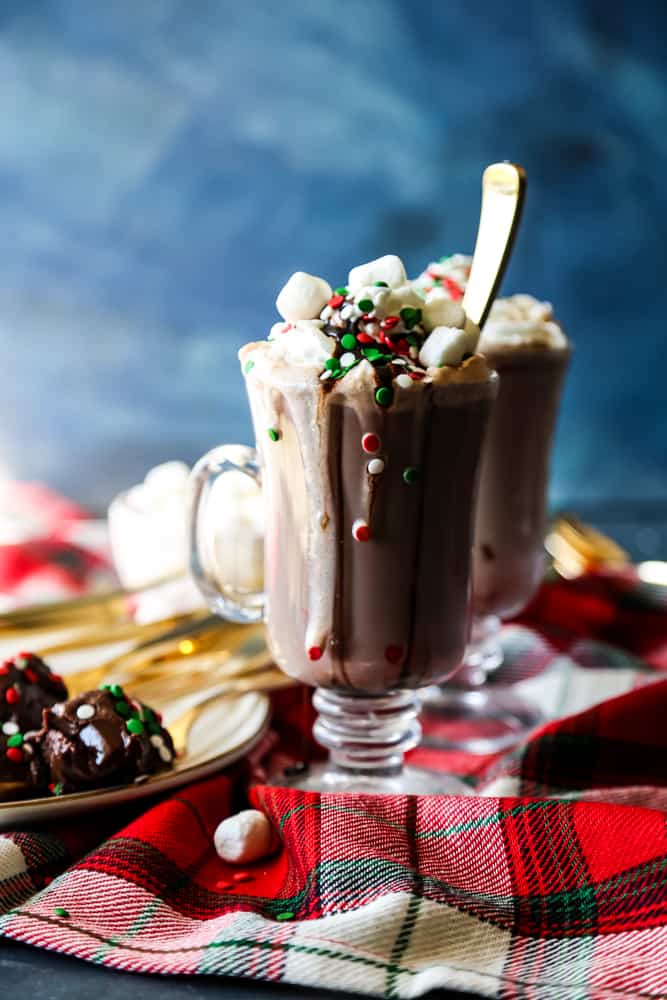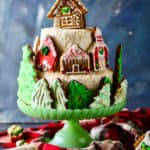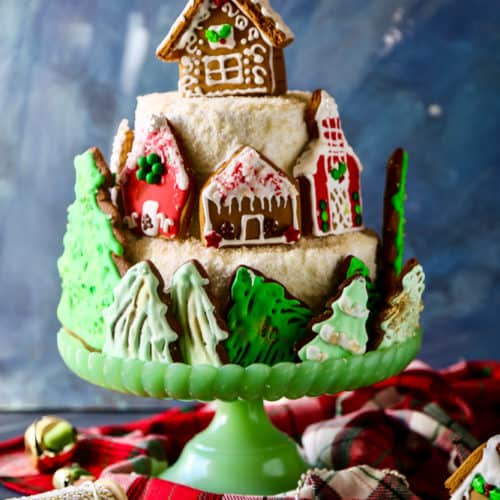 Coconut Gingerbread House Cake
This show stopping cake will be the piece de resistance on your dessert table!
Keyword:
Christmas Cake, coconut cake
Ingredients
Cakes-
3

cups

cake flour

1 ½

cups

all-purpose flour

2

cups

granulated sugar

2

teaspoons

baking powder

1 ½

teaspoons

baking soda

1 ½

teaspoons

salt

1 ½

cups

3 sticks unsalted butter, softened

4

large eggs

1 ⅓

cup

sour cream

1

cup

coconut milk

canned

2

teaspoons

vanilla extract

2

teaspoons

coconut extract
Coconut Buttercream-
2

cups

4 sticks unsalted butter, softened*

1

teaspoon

vanilla extract

1

teaspoon

coconut extract

¼

teaspoon

salt

8

cups

powdered sugar

4-5

tablespoons

heavy cream

or half-and-half

3-4

cups

grated coconut

1

mini gingerbread house kit

contains 4-6 house kits

Gingerbread cookies or trees

One 6-inch cake board

One 9-12 inch cake board
Instructions
Preheat oven to 325 degrees. Butter and flour three 6-inch cake pans and two 9-inch cake pans.

In a large bowl, or the bowl of your mixer, combine flours, sugar, baking powder and soda, and salt.

Add butter and beat on low until mixture is sandy.

Create a well in the center and add eggs, sour cream, coconut milk, and extracts.

Mix on low speed for 2-3 minutes. Fold batter with a spatula to combine remaining ingredients if necessary.

Evenly pour batter into cake pans and bake for 30-35 minutes or until a toothpick is inserted and comes out with a few moist crumbs.

Cool cakes in pans for 10-15 minutes, then invert to remove cakes on a wire rack to cool completely.
For the Frosting-
In the bowl of your mixer, cream the butter, extracts, and salt until smooth.

Add the powdered sugar, 1 cup at a time. After each cup is incorporated, increase mixer speed for 15 seconds. Reduce the speed and continue adding the remaining powdered sugar. This will result in a lighter, fluffier frosting.

Add the heavy cream until the frosting has reached the preferred consistency.
Assembly-
Frost and layer the 6-inch and 9-inch cake on their cake boards. Sprinkle entire cake with grated coconut. Refrigerate cakes for 1 hour.

Cut dowel rods to height of the 9-inch layer cake. Insert dowel rods into cake, about 1-½ in. from cake edge.* (For better instructions, please see the notes below.)

Place the 6-inch cake in the center of the 9-inch layer cake.

Garnish with decorated Gingerbread House cookies and trees.