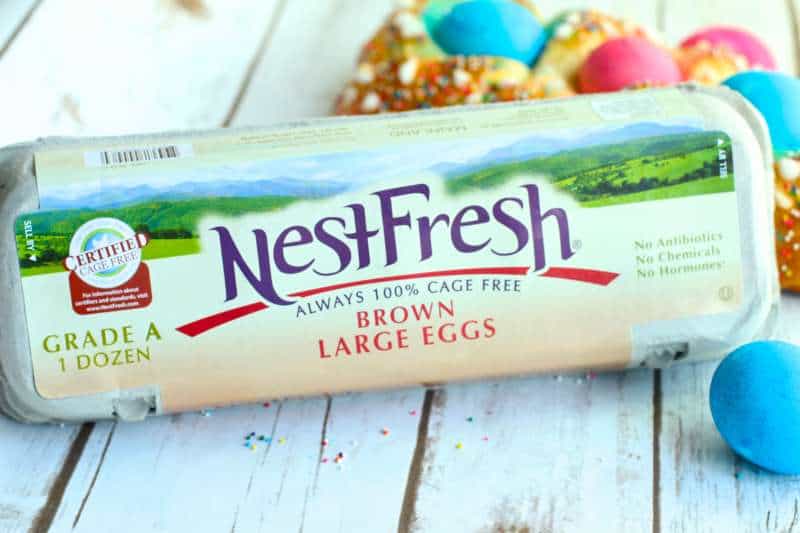 Growing up, my grandfather would always make this beautiful braided bread for Easter, just has his mother had done throughout his childhood. I was always fascinated with the colorful eggs tucked so delicately in between the braids.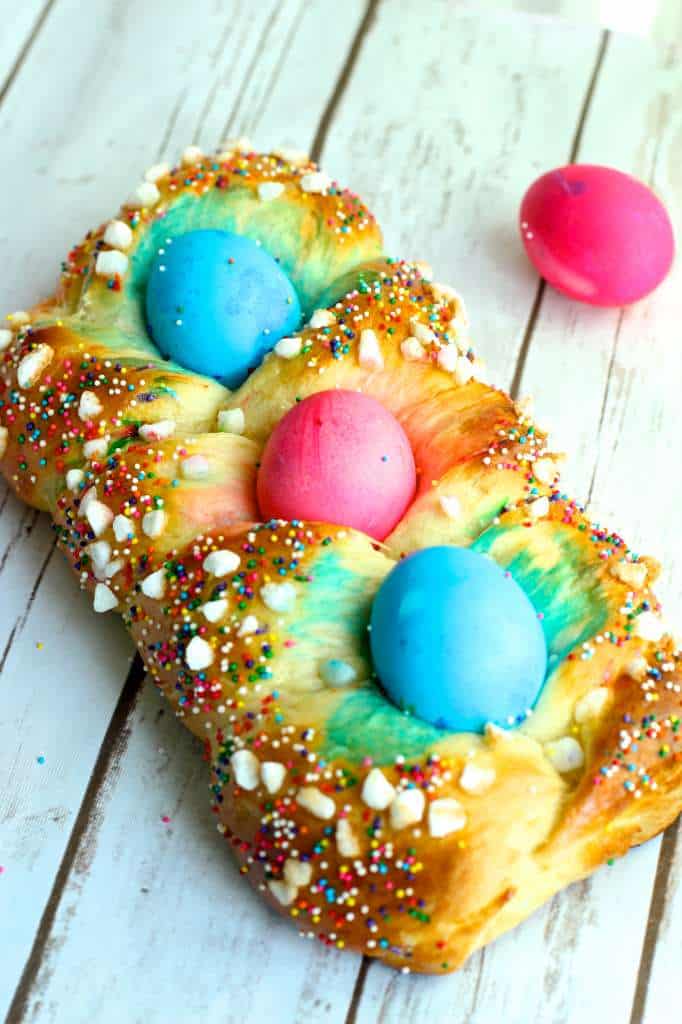 My grandmother recently sold her home, which meant we had to pack everything up. While doing so I came across my grandfather's Brioche recipe, which was the recipe he used to make these egg baskets.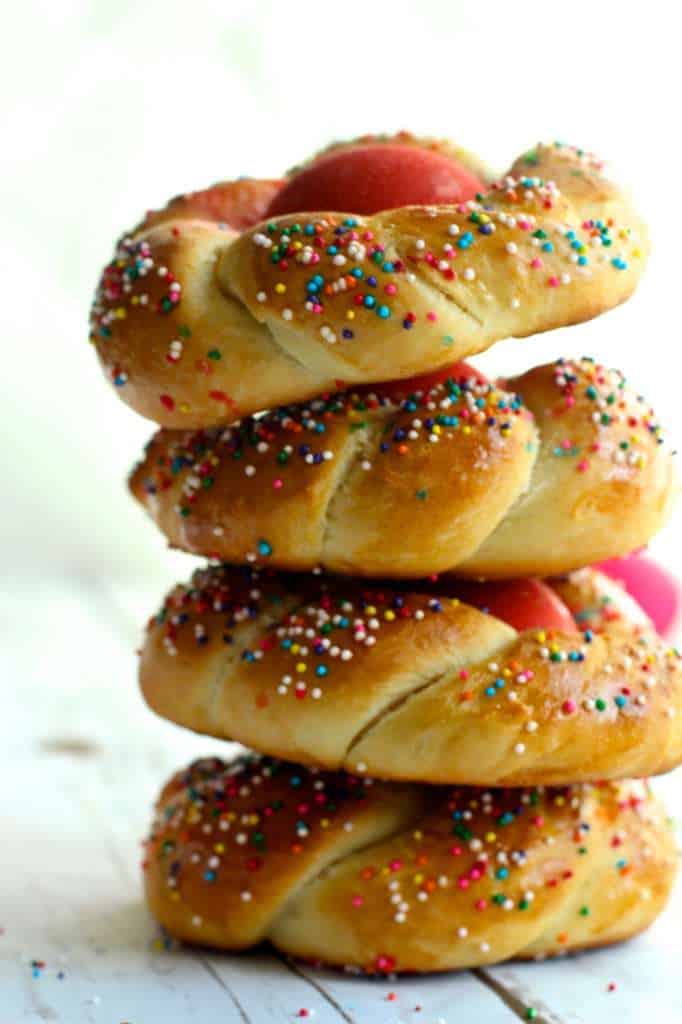 No one in our family has made this brioche since my grandfather's passing…almost 10 years ago. Then, after having found the recipe, I was contacted by Nest Fresh Eggs to create a recipe. Coincidence…nah I think it was more like fate.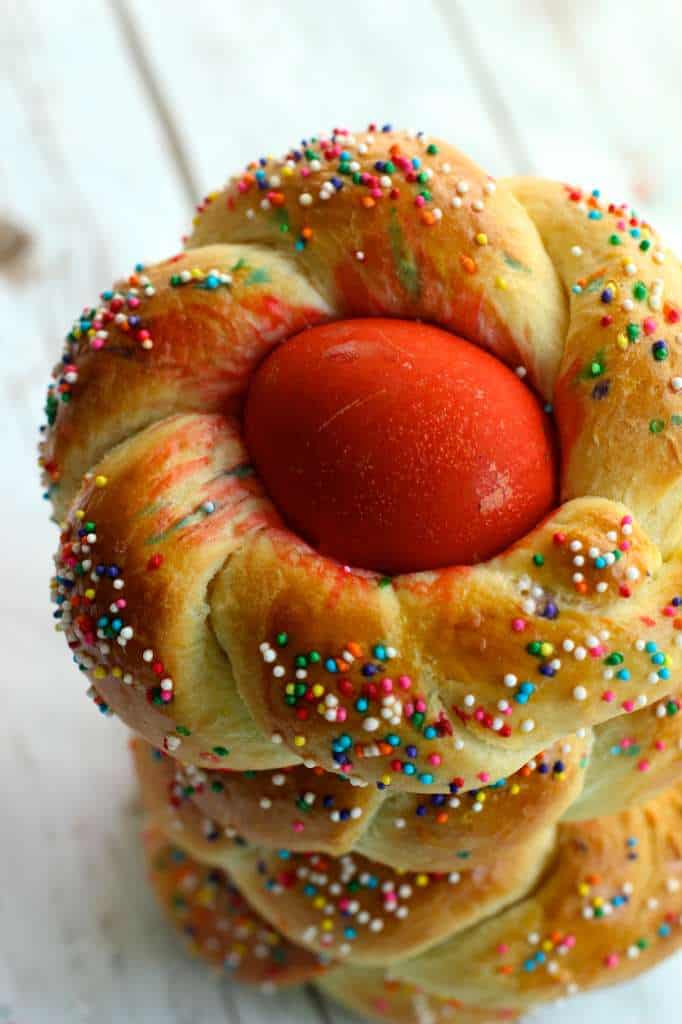 I had met with NestFresh Eggs at the Natural Products Expo and was instantly impressed. Their eggs are 100% cage free, pasture raised, and non GMO. What this means is that these hens are roaming the farms and grazing for their food in the grass. The hens can enjoy the sunlight and the fresh air! Their diets are supplemented with feed that is free from pesticides, GMO contamination, and harmful chemicals. NestFresh Eggs not only cares about the well being of their hens, but they also care about the environment!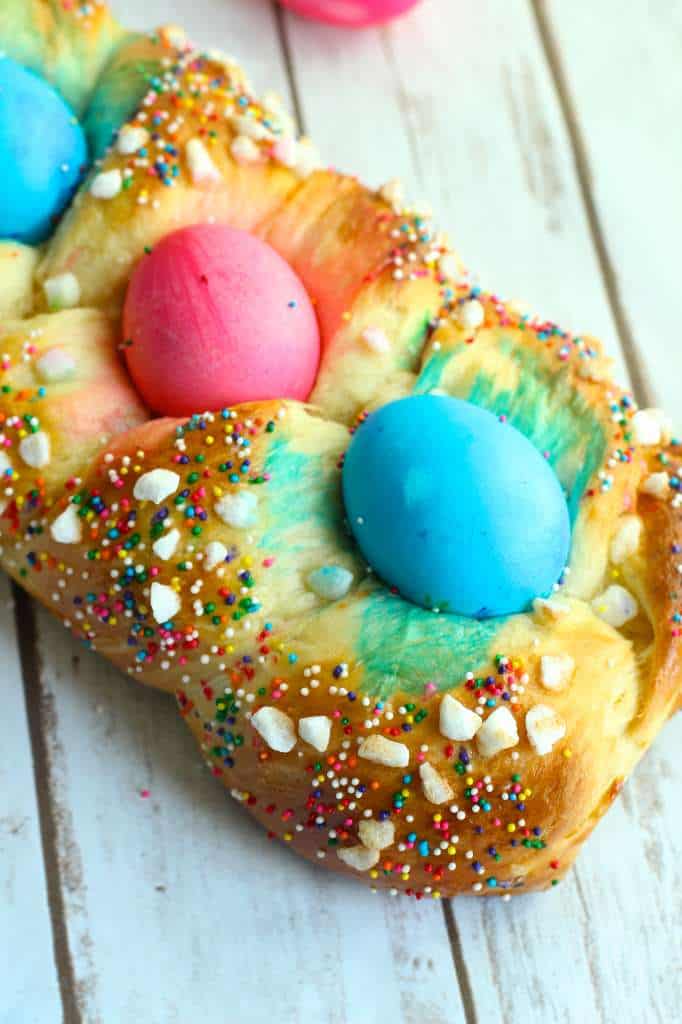 What I love even more about this company is that the eggs come from small family owned farms. As I am sure you have read…I am all about family companies!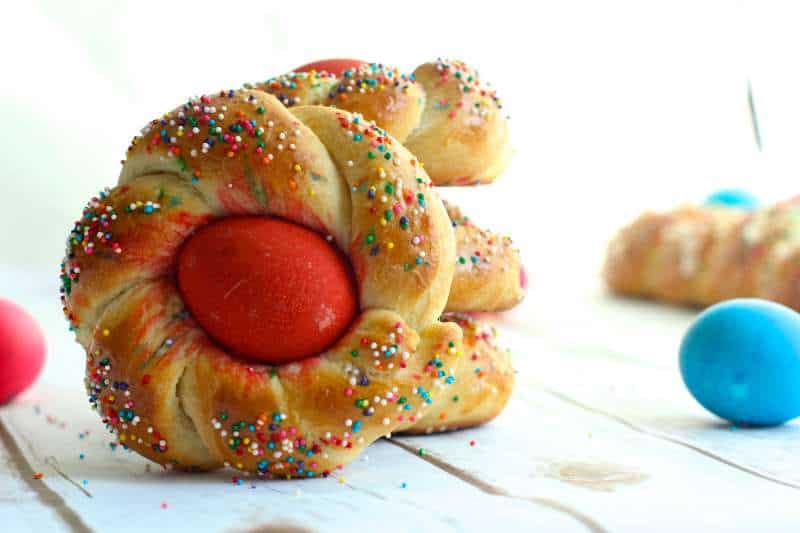 NestFresh Eggs is a great company providing us with a natural wholesome eggs that are as delicious as the ones that we get from my uncle's backyard hens. I love knowing that I can get these quality eggs on a regular basis at my local grocery store.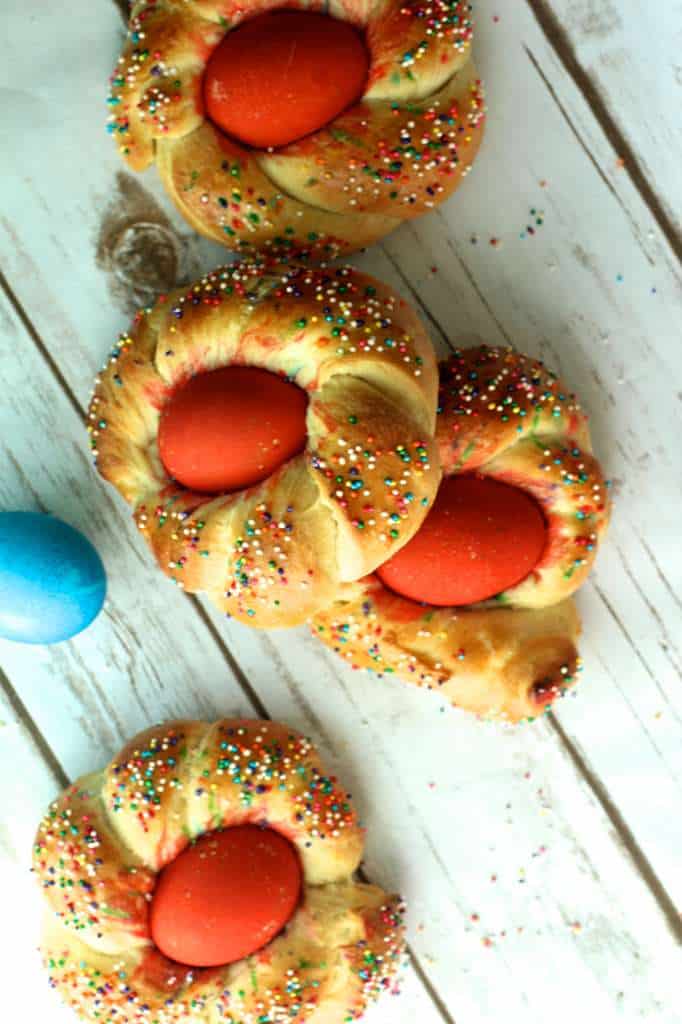 Would you like to try NestFresh Eggs? Well, they are offering two month's worth or NestFresh Cage Free Eggs and an Egg-cellent prize pack!!!! That's 8 coupons for a free dozen eggs, and a few goodies like  a tumbler, water bottle, pan scraper, spatula and egg poacher!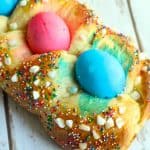 Easter Brioche
Servings
:
8
small rounds or 2 large braids
Ingredients
1/3

cup

warm whole milk

(100- 110 degrees F)

2 1/4

teaspoons

active dry yeast

1

large egg

2

cups

unbleached all-purpose flour

, separated

1/3

cup

sugar

1

teaspoon

kosher salt

4

large eggs

, lightly beaten, room temp

1 1/2

cups

unbleached all-purpose flour

1

and 1/2 sticks of butter 12 tablespoons)unsalted butter

, room temperature

1

egg slightly beaten for basting

About 8 colored eggs

(they do not need to be hard boiled as they will cook in the oven.)

Multi colored nonpareils
Instructions
In the bowl of your electric mixer, or a large bowl, combine warm milk and yeast and let sit for 5 minutes.

Add egg, sugar, salt and ONE cup of flour to the yeast mixture and stir with a wooden spoon until combined.

Sprinkle the remaining one cup of flour over the yeast mixture. Cove with a cloth and allow to rest in a dark corner of your kitchen for 40 minutes.

When done, flour on the dough will looked crackled.

Return your bowl to the mixer and fix with the dough hook (unless kneading by hand).

Begin by kneading in one egg at a time, until you have added all four.

Add the 1 and 1/2 cups of flour and knead on medium high speed until dough no longer sticks to the sides (this could be up to 15 minutes).

Add butter and knead on medium high speed for another 5-10 minutes on or until smooth again.

Place in a well greased bowl, cover and place in a dark spot in your kitchen for 1 hour or until it has doubled in size.

Once doubled, punch down, and refrigerate covered, for 6 hours-overnight.

Once chilled, begin to form the dough.

For the small baskets, roll out a long (about 18 inches) rope of dough about 2 inches thick.

Fold dough in half and twist.

Circle together so that both ends meet and form a round and pinch together.

Place on no more than 6 on a parchment paper lined baking sheet and space them out.

For the large braid, roll out 3 18in long ropes of dough, place on parchment lined baking sheet.

Pinch the three ropes together at the end, then braid the dough gently.

Cover the small rounds or large braid and allow to rise for 45 minutes.

Preheat oven to 375 degrees.

Baste dough with beaten egg and sprinkle with nonpareils. Place colored raw eggs gently in braid or in the middle of round baskets.

Bake small baskets for about 25 minutes or until golden brown.

Bake large braid for 35 minutes or until golden brown.
I was compensated to create this post however all opinions are my own.