This Easter Brioche will be a recipe the kids remember and will want to pass down to their children. With vibrant, boiled, Easter eggs, buried in a delicately braided dough, this bread will be the talk of Easter dinner.
This post was originally posted on April 11th, 2014th, but has been updated.
Growing up, my grandfather would always make this beautiful braided bread for Easter (also known as Pane di Pasqua or Brioche di Pasqua). His mother had made the same bread when he was growing up. So, it became like a tradition handed down through the generations. I was always fascinated with the colorful eggs tucked so delicately in between the braids. As a child, I didn't understand how easy the concept was to make Easter egg bread. It just seemed like magic and that feeling still carries over every time I see it.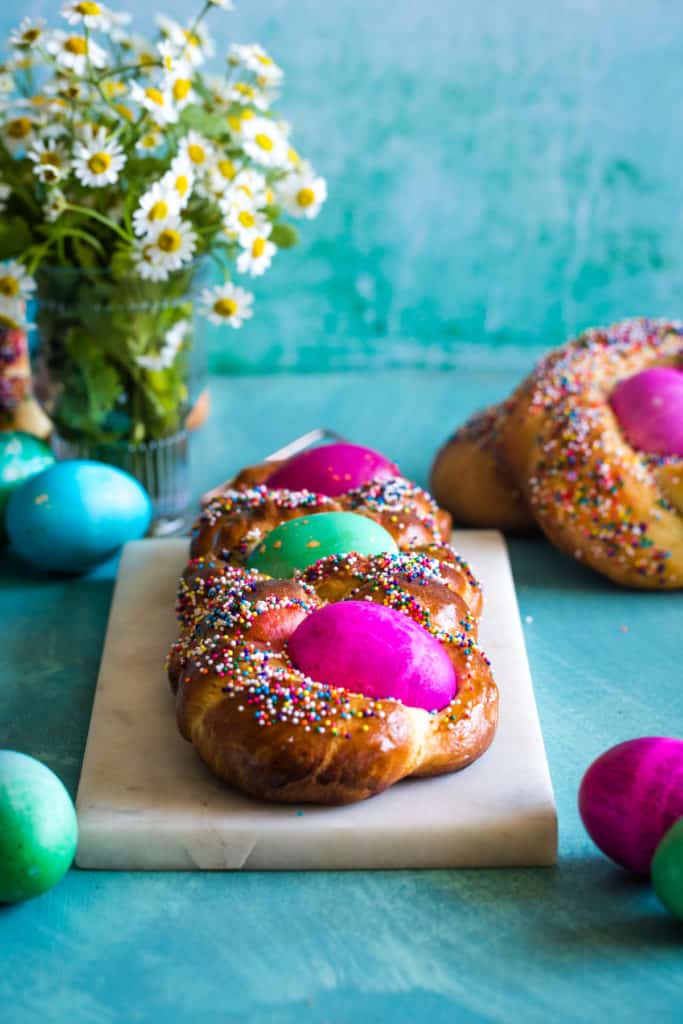 No one in our family had made this brioche since my grandfather's passing. That is, until I came across that old recipe tucked away in some things at my grandmother's home. Memories came flooding back and I got antsy to share that same fond memory with my children. That Easter, we started making Italian Easter bread, just as I had with my grandfather, and now we make it every year to carry on the tradition.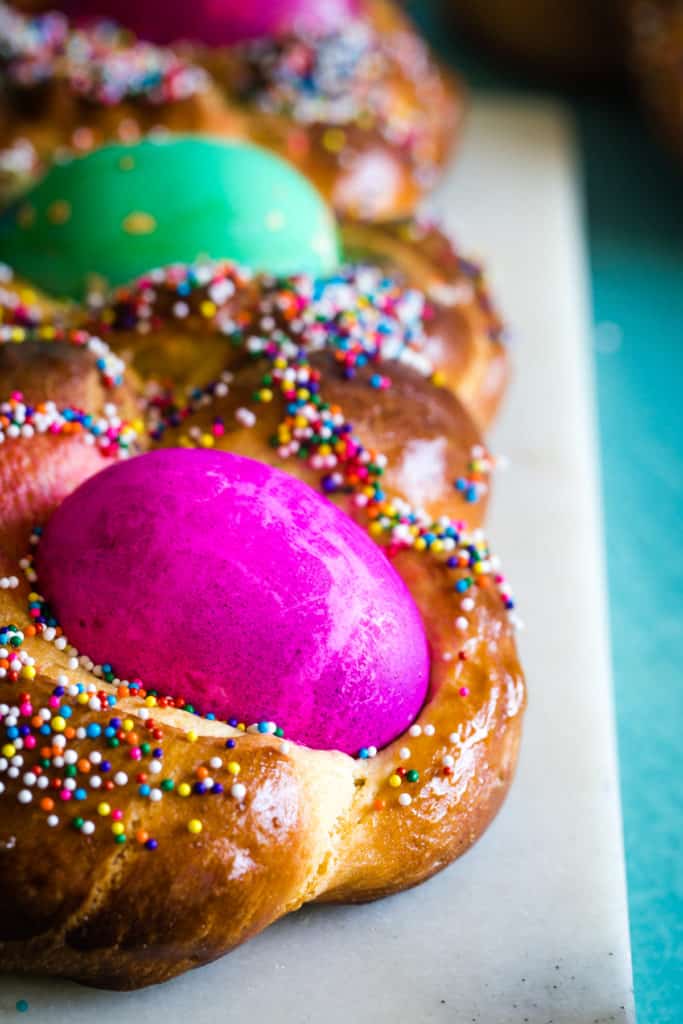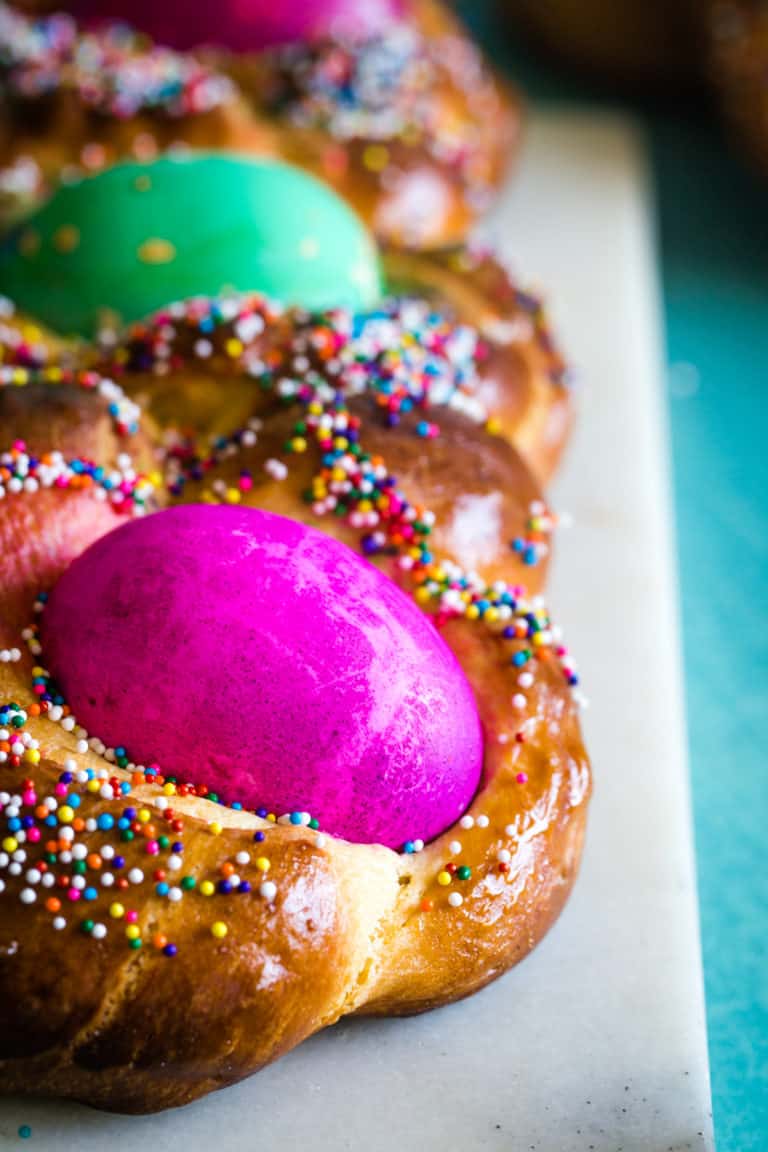 How to Make Italian Brioche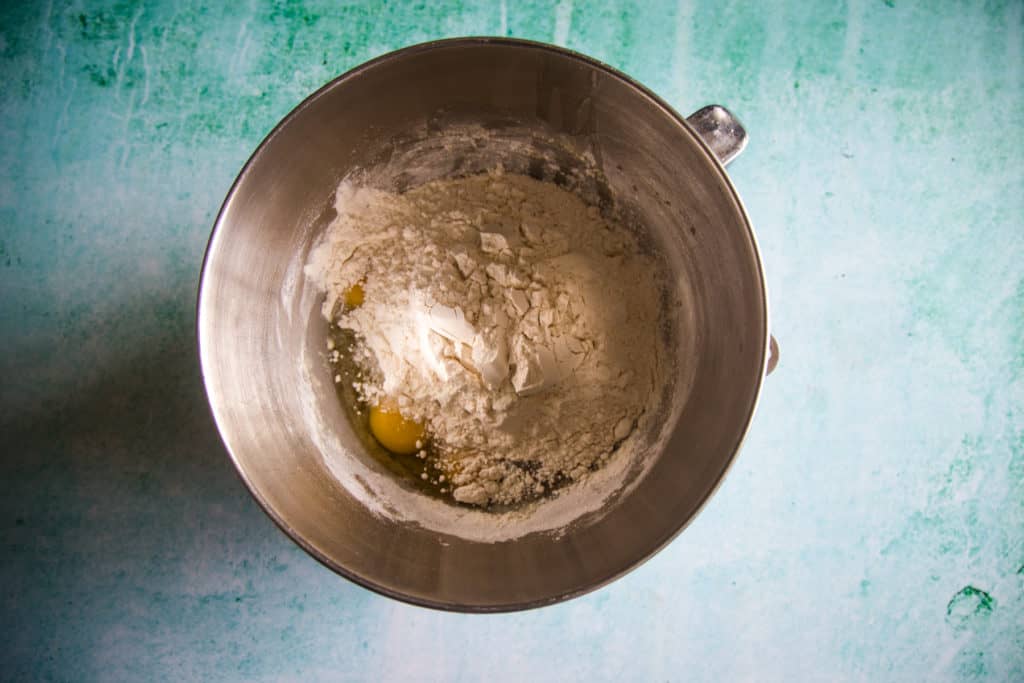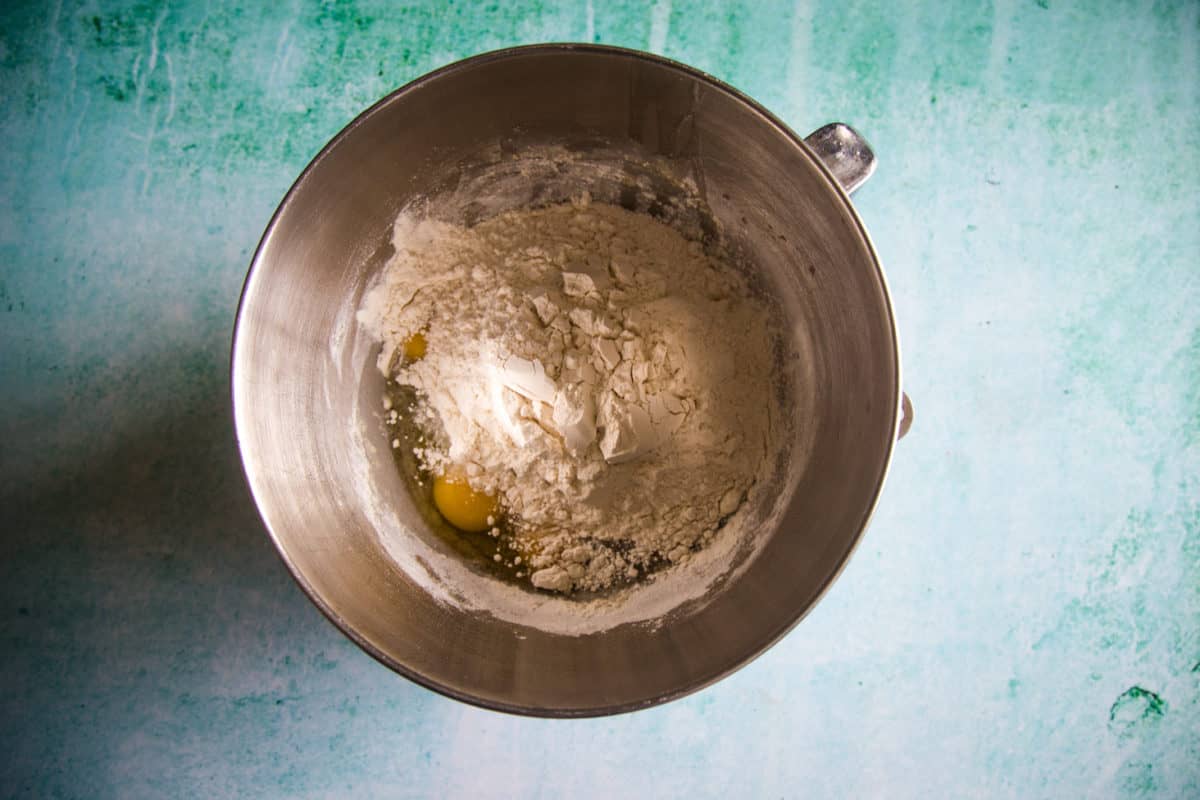 Prep the sponge - In a mixer bowl or just a basic large bowl, stir together the flour, yeast and warm milk. This will create the sponge. Allow it to sit covered for about 45 minutes.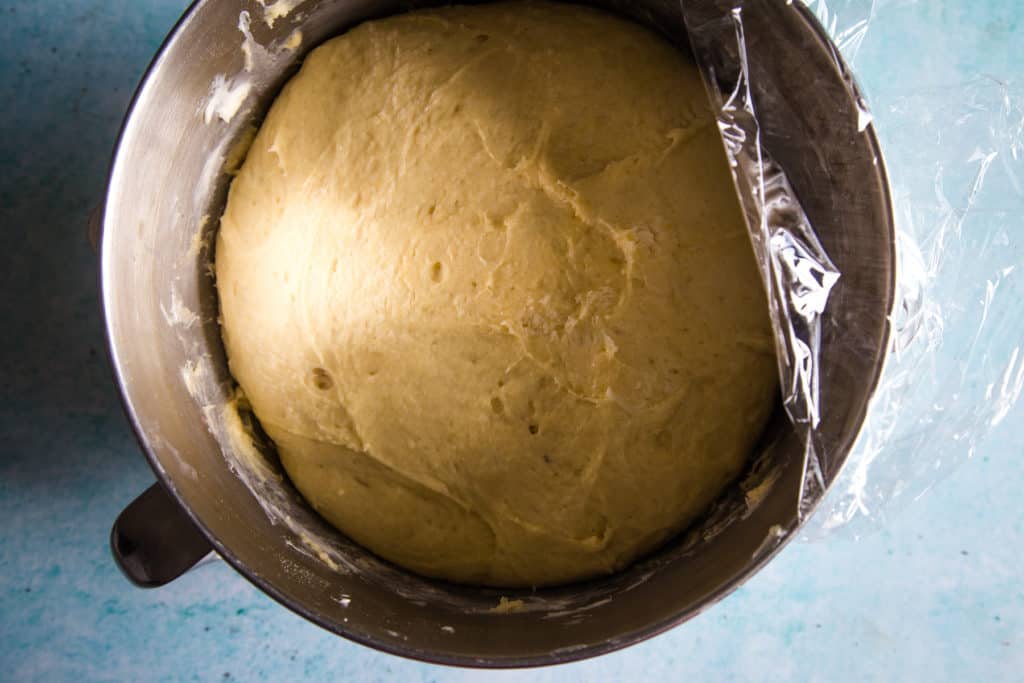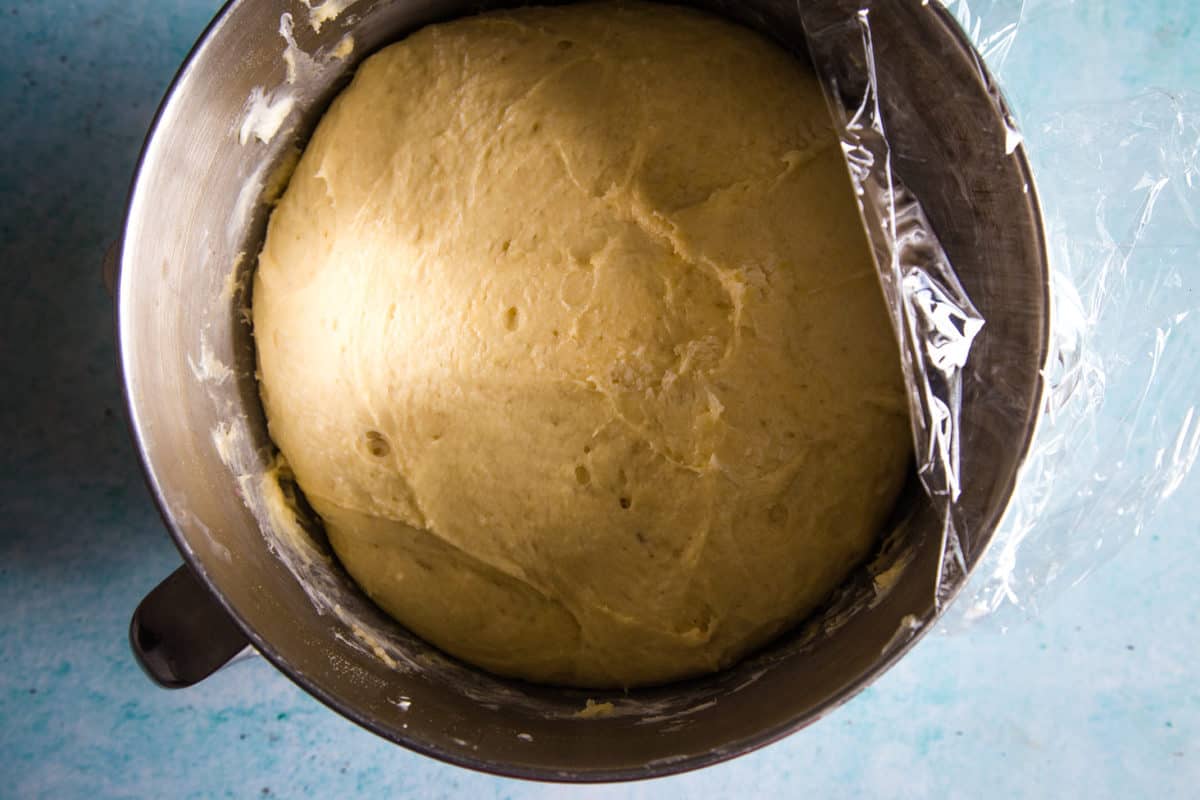 Finishing the dough - After 4r minutes, knead in the additional flour, eggs, sugar, and salt. Continue kneading until a ball forms, but note that the dough will still be slightly sticky. Once the dough ball has formed, begin adding the softened butter, about 2 tablespoons at a time until fully incorporated. Cover and place in the dark for about an hour or until the dough has doubled in size. Cover and chill for 8 hours, minimum but overnight is ideal.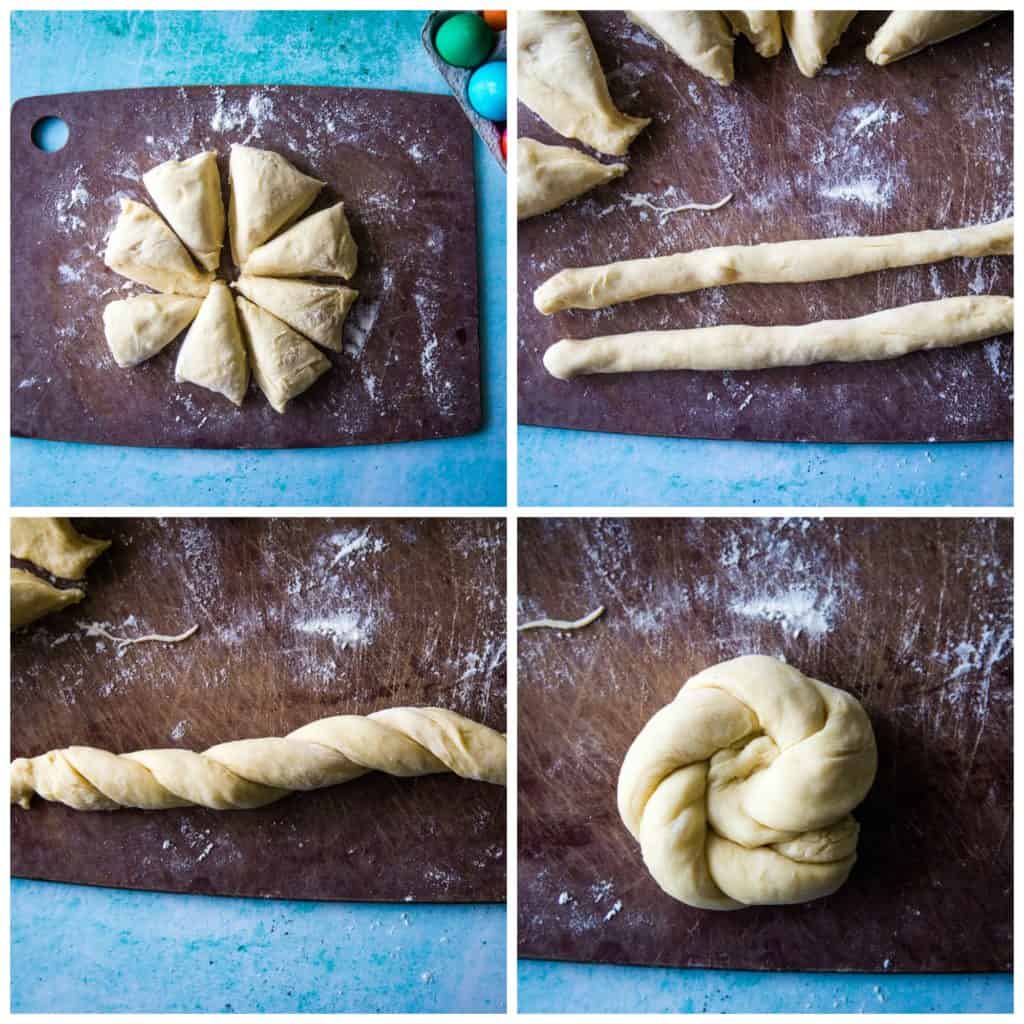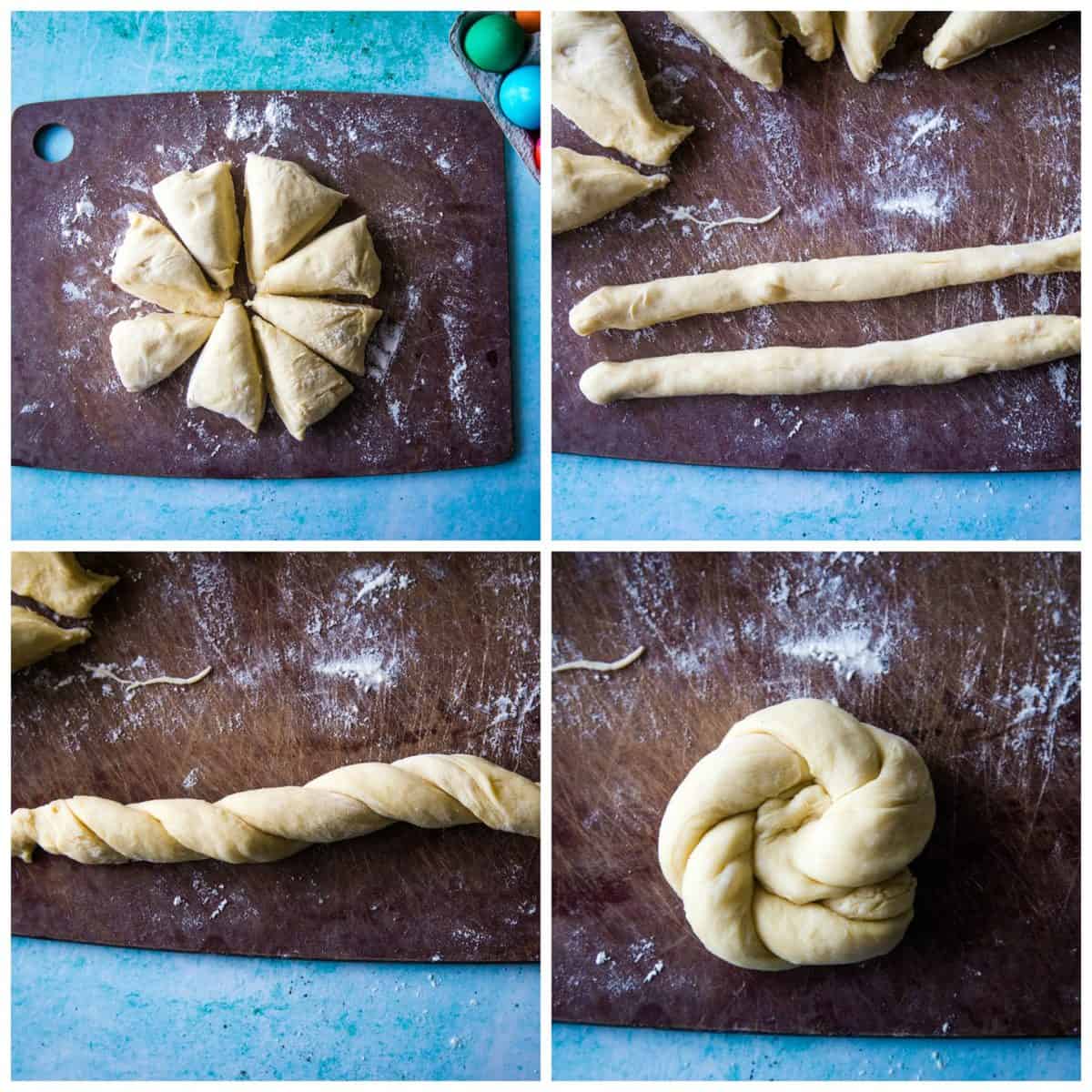 Making the braids - You can do small nests by twisting together two pieces of rolled dough (one per nest) then rolling them into a circle. For the large nests, use 2 larger ropes pieces of dough and pull the ropes as you see below. You can also simply braid the dough.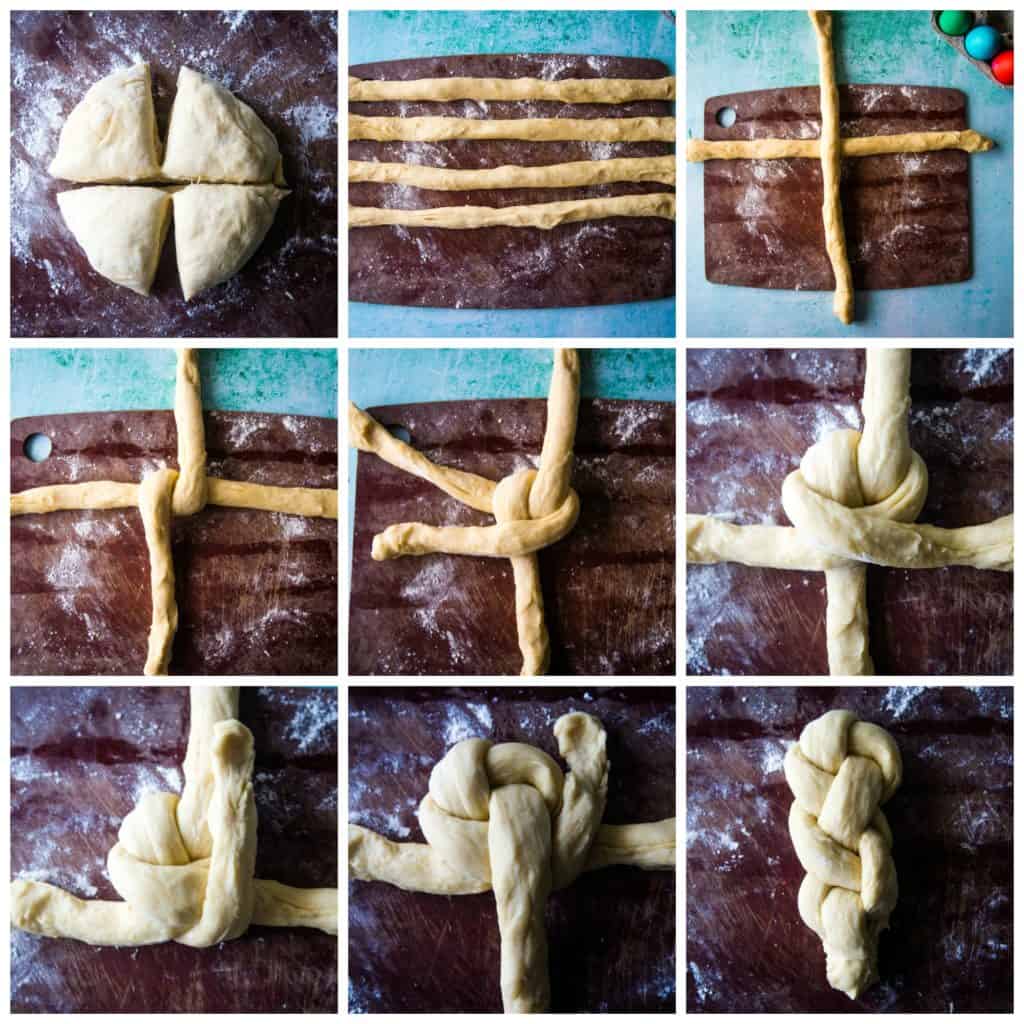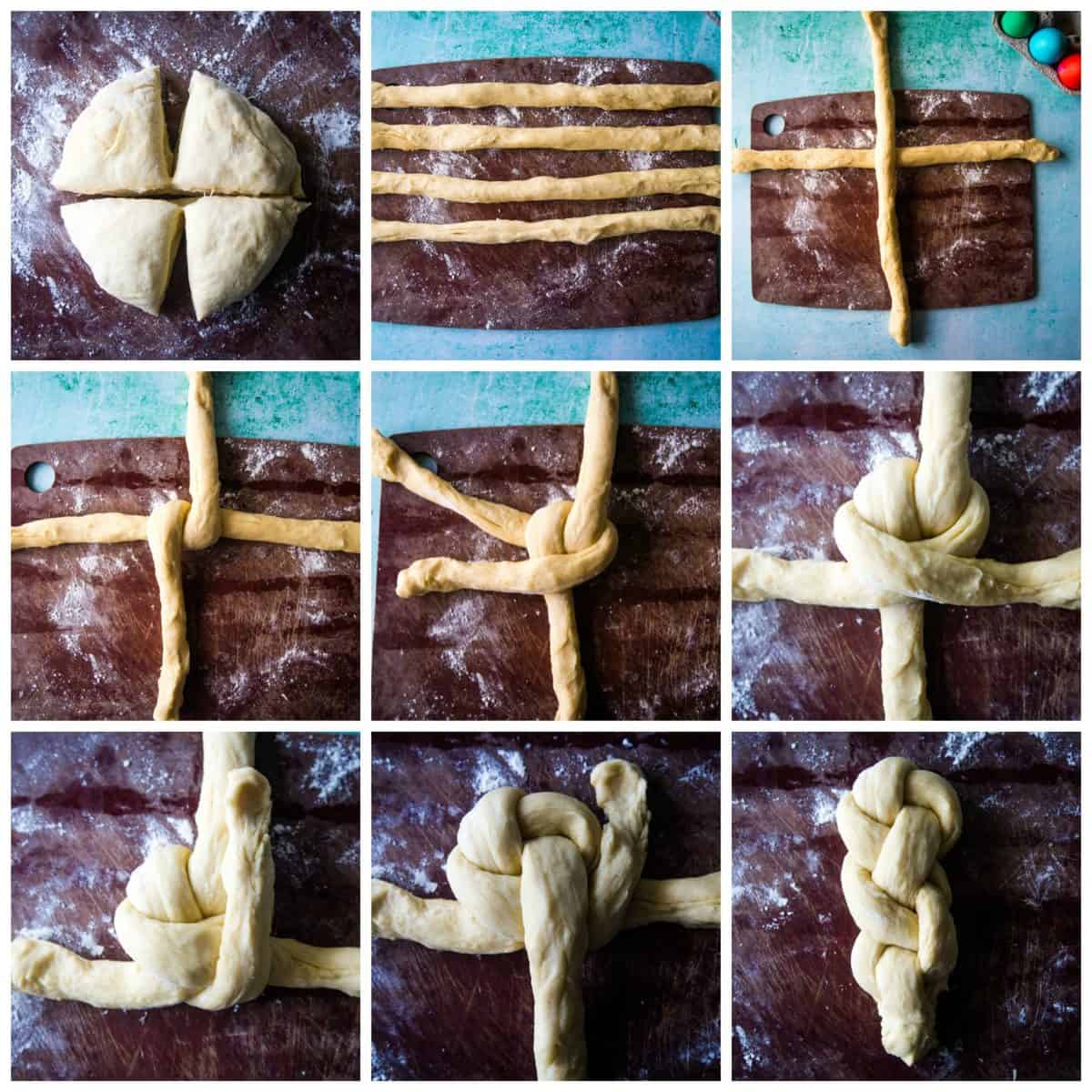 Bake - Coat the nests and braids in lightly beaten egg. sprinkle with nonpareils. Don't forget to carefully tuck the Easter eggs into the nest and braids. Transfer to a parchment-lined cookie sheet and allow the dough to come to room temperature on last time for about an hour. Then, bake at 350 degrees for 22-45 minutes, depending on size.
Serve - Allow to the Italian Easter Brioche to cool then serve and enjoy!
Variations and Tips
No color bleed - If you want to try and limit the bleed of color from the Easter eggs while attempting this brioches recipe, you can wash and the dyed eggs in cold water before use, but make sure they are dry before putting them on the dough. This should limit any of the excess color from bleeding into the bread. You can also dye your eggs with more natural means in order to get a color that doesn't bleed like the store-bought color tabs.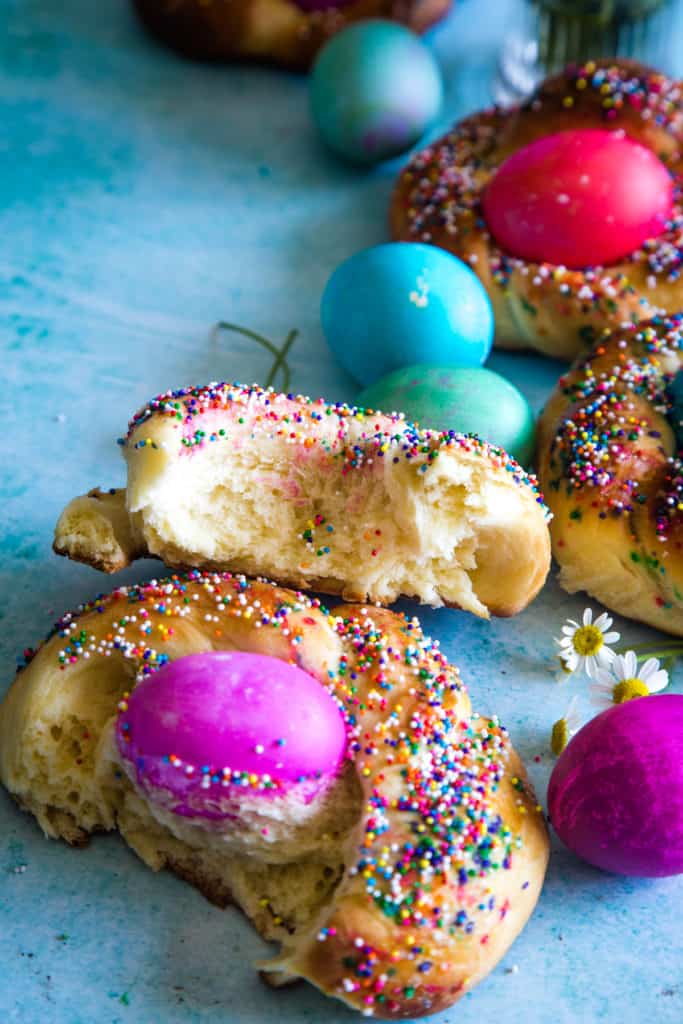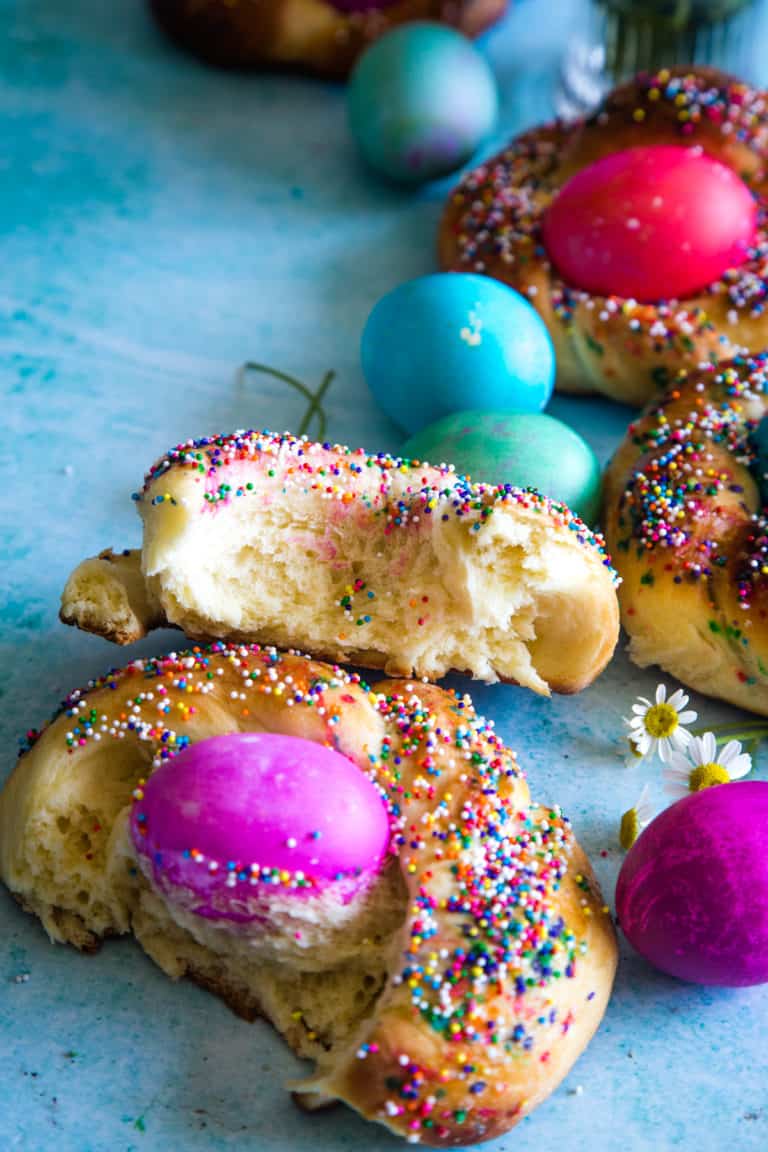 The eggs will "hard boil" in the oven while the bread is cooking. I have found that they actually come out perfect this way!
Storage - This bread can be stored in a cool, dry area inside an airtight container, as long as the egg is removed. However, to leave the egg in, you can simply store the entire thing in an airtight container in the fridge. I do recommend enjoying this bread the same day though.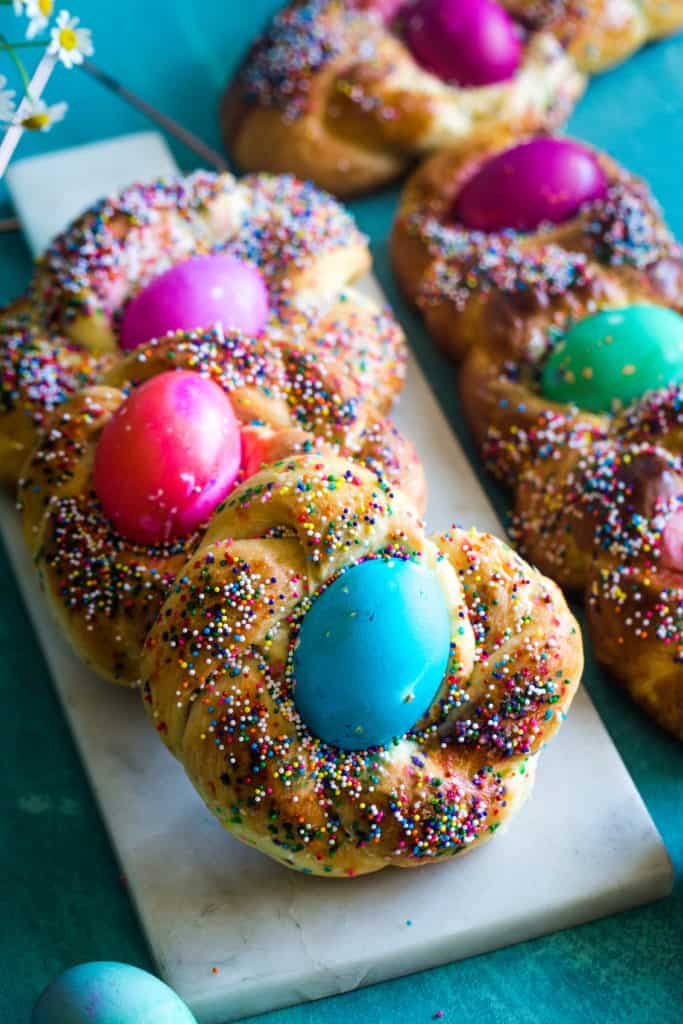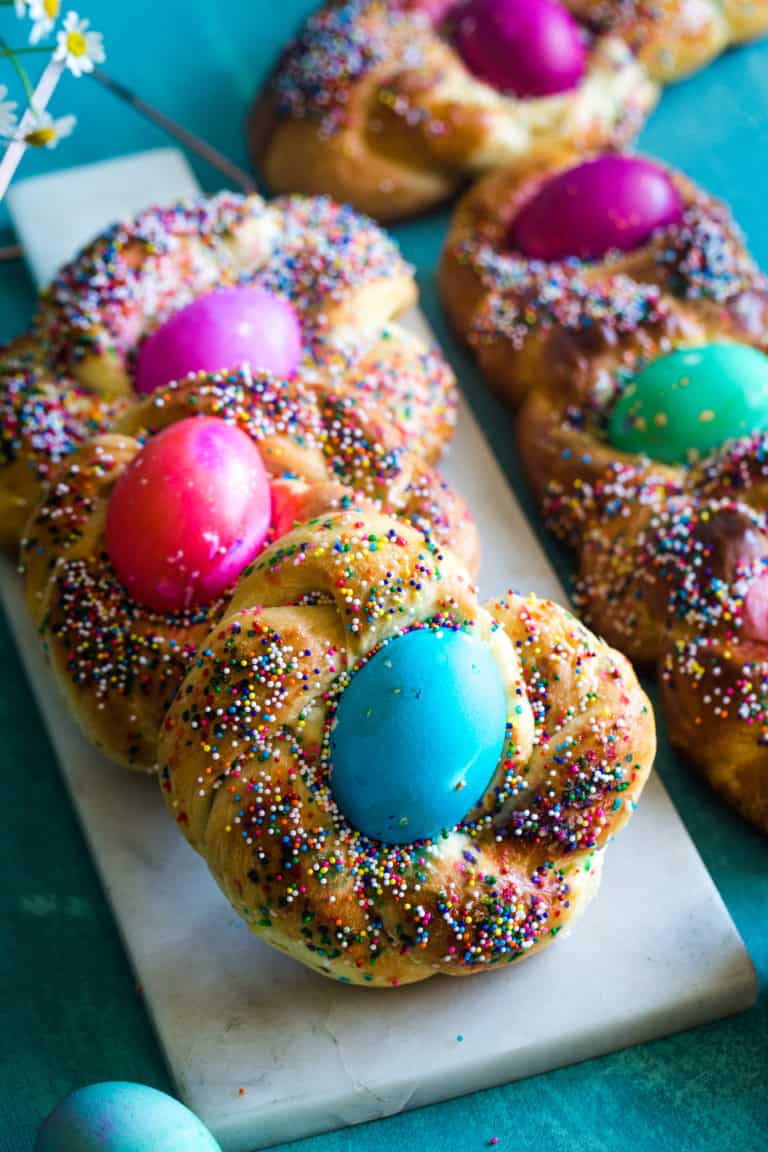 What Makes a Brioche Different to Most Breads?
Brioche is made just like a lot of bread. However, it's approached as having a mix between normal bread and a pastry. This gives it a richer flavor that your average bread doesn't contain. This usually means it will be sweeter. How it gets this additional richness is by the added eggs, milk, and butter that most basic bread recipes don't have.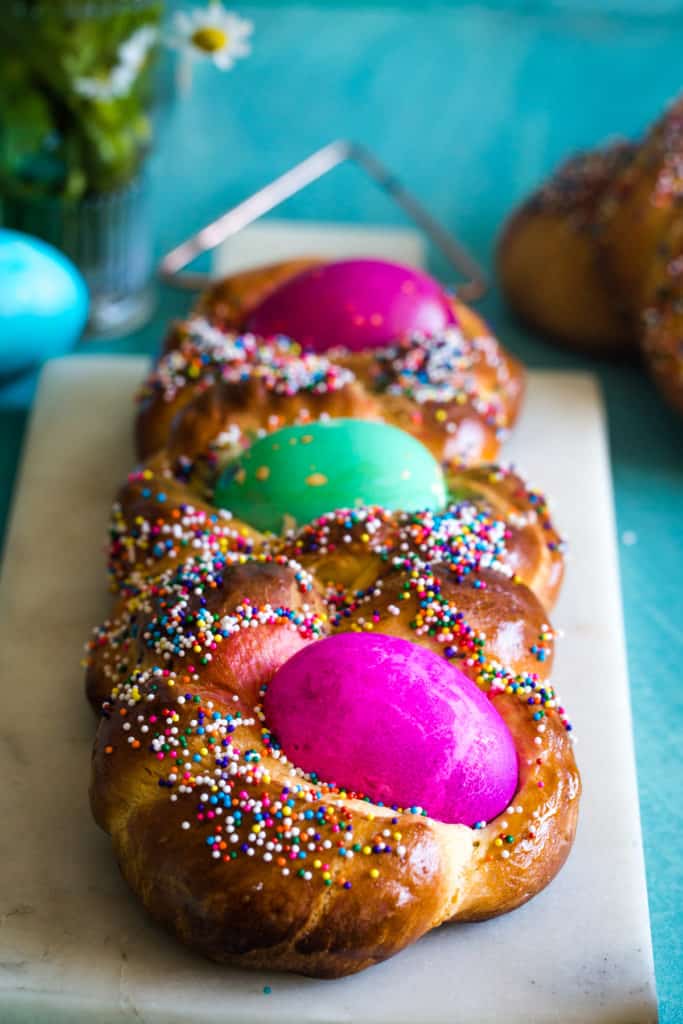 If you fell in love with this Italian Easter Brioche as much as I did, do let me know in the comments below!
More Easter Recipes You'll Love: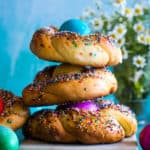 Italian Easter Brioche
As a child, my grandfather always made this beautiful braided bread for Easter, just as his mother did throughout his childhood. I was always fascinated with the colorful eggs tucked so delicately in between the braids.
Keyword:
Brioche di Pasqua, italian easter egg bread
Servings
:
8
small rounds or 2 large braids
Ingredients
Sponge
1

cup

all-purpose flour

2¼

teaspoons

yeast

½

cup

milk

warm
Brioche Dough
6

large eggs

½

cup

sugar

1

tsp.

salt

3

cups

all-purpose flour

1

cup

butter

softened
8-10 RAW colored eggs (dye eggs as you would normally)
Egg Wash
1

large egg

1

tsp.

water

Nonpareils

colored sprinkles
Instructions
In electric mixer or large bowl, mix "sponge" ingredients: flour, yeast and warm milk. Cover with a cloth or plastic wrap and let sit for 45 minutes.

Once the sponge has rested, add eggs, sugar, salt, and remaining flour. Fit mixer with hook attachment (unless kneading by hand) and knead until dough pulls away from the sides of the bowl and becomes shiny and elastic.

Add butter and knead on medium speed for another 5-10 minutes on or until smooth again.

Transfer dough to a well-greased bowl, cover and place in a dark spot in your kitchen for one hour or until it doubles in size.

Once doubled, punch down, then chill for 8 hours.

Line baking sheets with parchment paper or foil.

Once chilled, begin to form the dough.

For the small rounds, roll out a long rope of dough (about 18" long and 2" thick).

Pinch one side of the edges together then twist and roll the dough into a coil. Place on the prepared baking sheet and tuck the end of the twist under the coil.

Place no more than 4-6 on a parchment-lined baking sheet and space them 2 inches apart. Place one raw, colored egg carefully in the center of each coiled round.

For the large braid, roll out two 18" long ropes of dough, place on parchment lined baking sheet in a cross position with the vertical rope underneath the horizontal rope. Lift the lower side of vertical rope up and over the horizontal rope. Lift the left side of the horizontal rope up and over to the right, followed by the right horizontal rope up and over to the left. Repeat steps again until the end of the braid. Pinch together the ends to secure. Gently push raw colored eggs into the braid.

Cover the rounds and/or braid, allow dough to come to room temperature and rise for one hour.

Preheat oven to 350 degrees.

Whisk together egg and water. Brush the breads with egg wash, then sprinkle with colored nonpareils.

Bake bread until golden brown, about 22–25 minutes for the small rounds and 40–45 minutes for the large braid. Cool to room temperature and enjoy!
Recipe Video