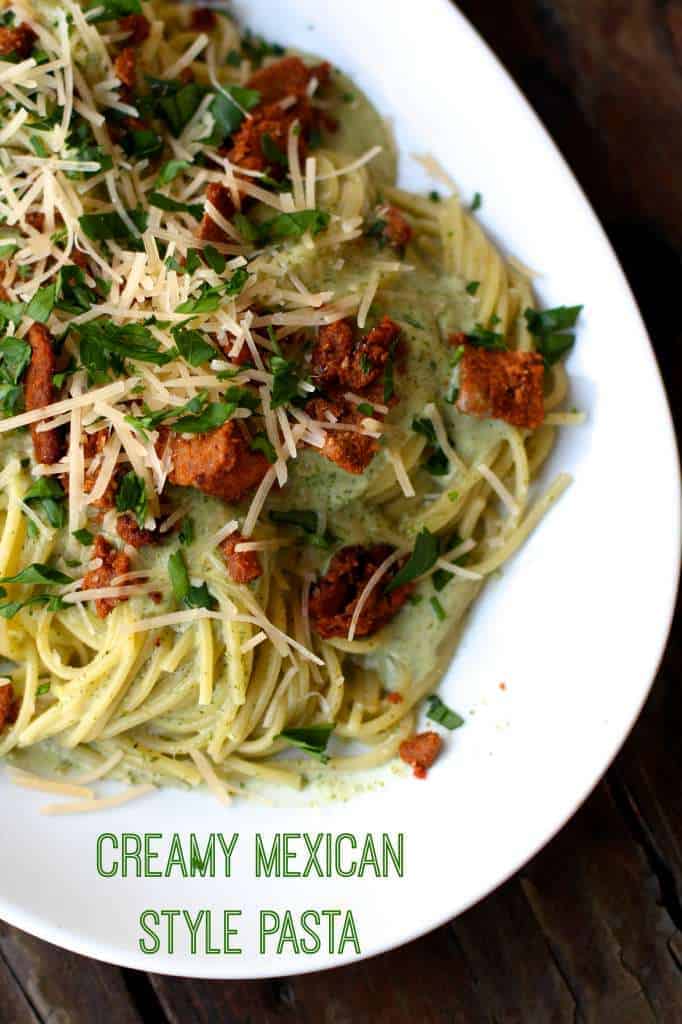 For the first time in a few years, I was prepared for St. Patty's Day. I actually bought my corned beef a week ahead of time because I knew that it wasn't going to happen over the weekend. Well, we had a few crazy days last week and in desperation I threw the corned beef into the crock pot on Thursday. While corned beef is great for St. Patrick's Day (or in our case a few days before), it is not very well liked the next day. It's something about those spices, I just can't do them less than a year apart.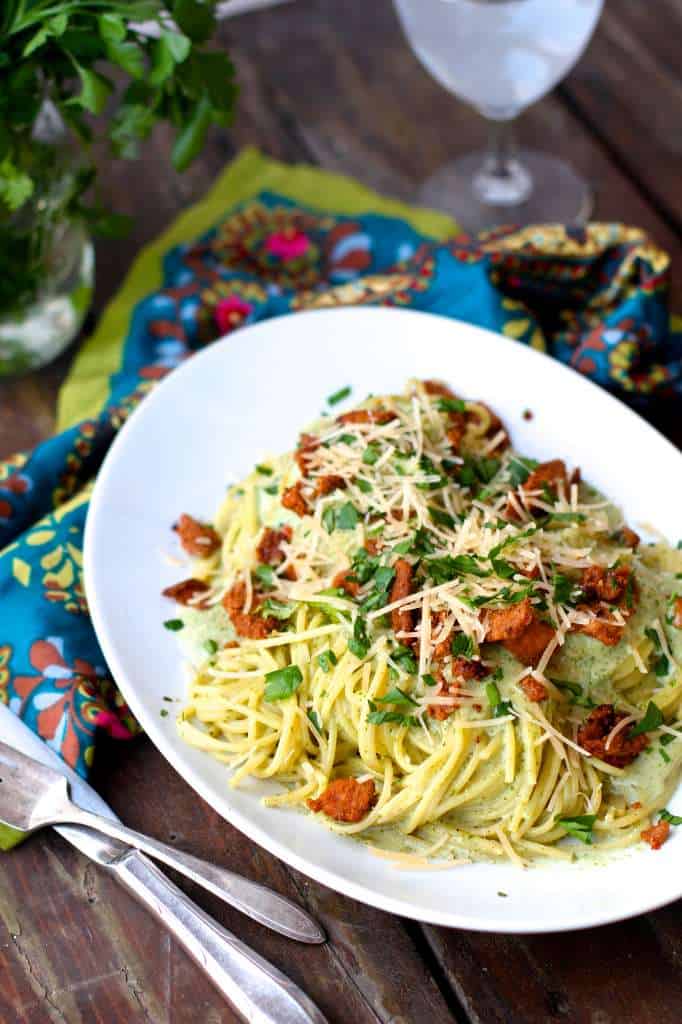 So instead of cooking a traditional Irish meal today, I went with a Mexican theme today. After all...I do live in San Diego! After slow roasting the carnitas for a few hours, my husband informs me that he is not really hungry for tortillas and rice. Ummm ok. He clearly does not understand the cooking and preparation process. He then informed me that he was hungry for some pasta, and that's how this deliciously creamy cilantro came about.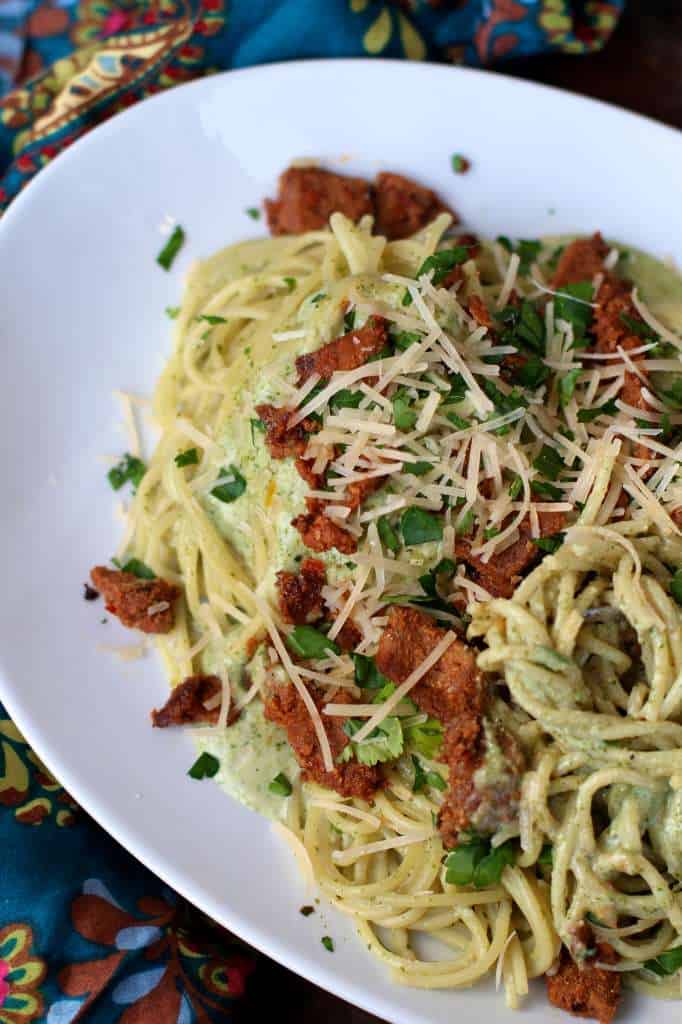 Although this sauce is creamy, it is extremely fresh tasting. The cilantro totally lightens the sauce up while the jalapeño gives it a slight kick. The best thing about this sauce is that it takes less than 20 minutes to make and have on the table! Perfect meal for busy nights! However, if you would like to add the carnitas as I did, there is a little more time involved, but so worth it too! I have a wonderful recipe here.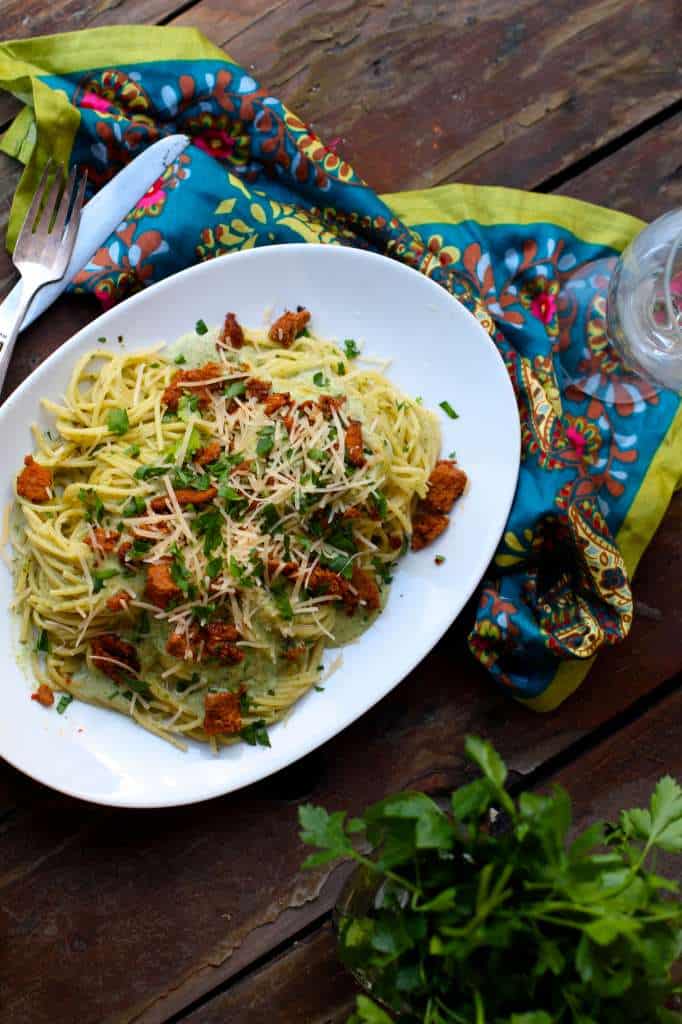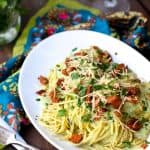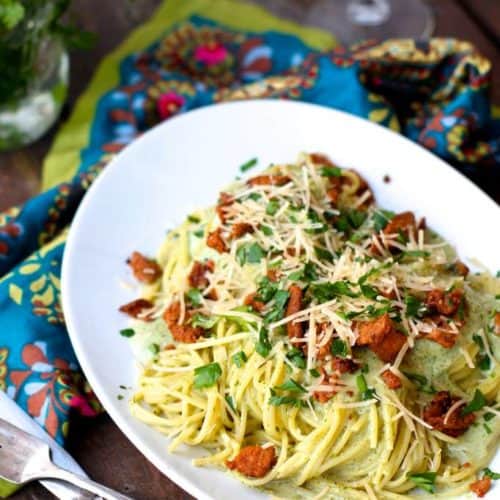 Quick Pasta with Cilantro Cream Sauce
Ingredients
4

tablespoons

butter

1

shallot or ½ medium onion

, diced

2

cloves

of garlic

, minced

½

jalapeño

, seeded and diced

1 ½

cups

chopped cilantro

¾

cup

cream

¾

cup

milk

1

teaspoon

salt

1

teaspoon

ground pepper

½

teaspoon

ancho chili pepper

1

teaspoon

corn starch

1

pound

thin spaghetti

Shredded Parmesan Cheese for garnish
Instructions
Cook spaghetti according to the directions on the package.

While cooking pasta, make sauce.

Melt butter, on medium heat, in a sauce pan with chopped shallots or onions and garlic, cook until onions are translucent.

Add cilantro and cook for 4 minutes, stirring occasionally.

Add cream, milk, and spices and cook on medium heat for 10 minutes.

Add corn starch and whisk until smooth. Stir constantly and once sauce has begun to thicken, remove from heat.

Pour sauce into drained cooked pasta, and mix to coat pasta.

Garnish with chopped cilantro and shredded parmesan cheese.