Get your fill of chocolate and cherries with this decadent Black Forest Cake. A homemade chocolate cake that's perfectly moist and rich with the added flavor of dark cherries. Layered between a cherry flavored whipped topping to satisfy every one of your sugar cravings.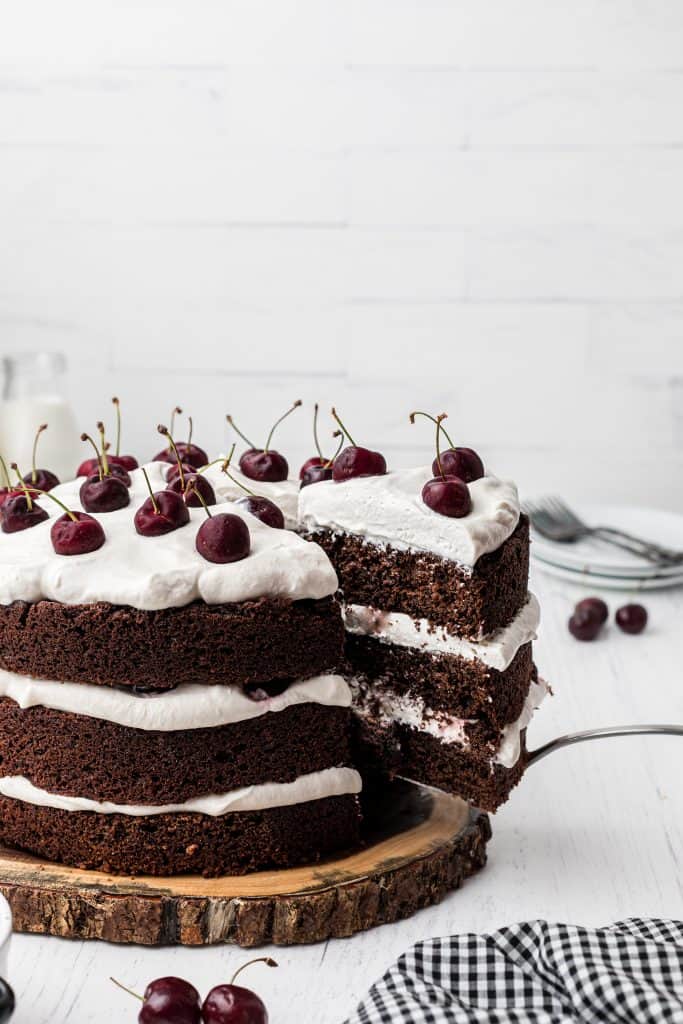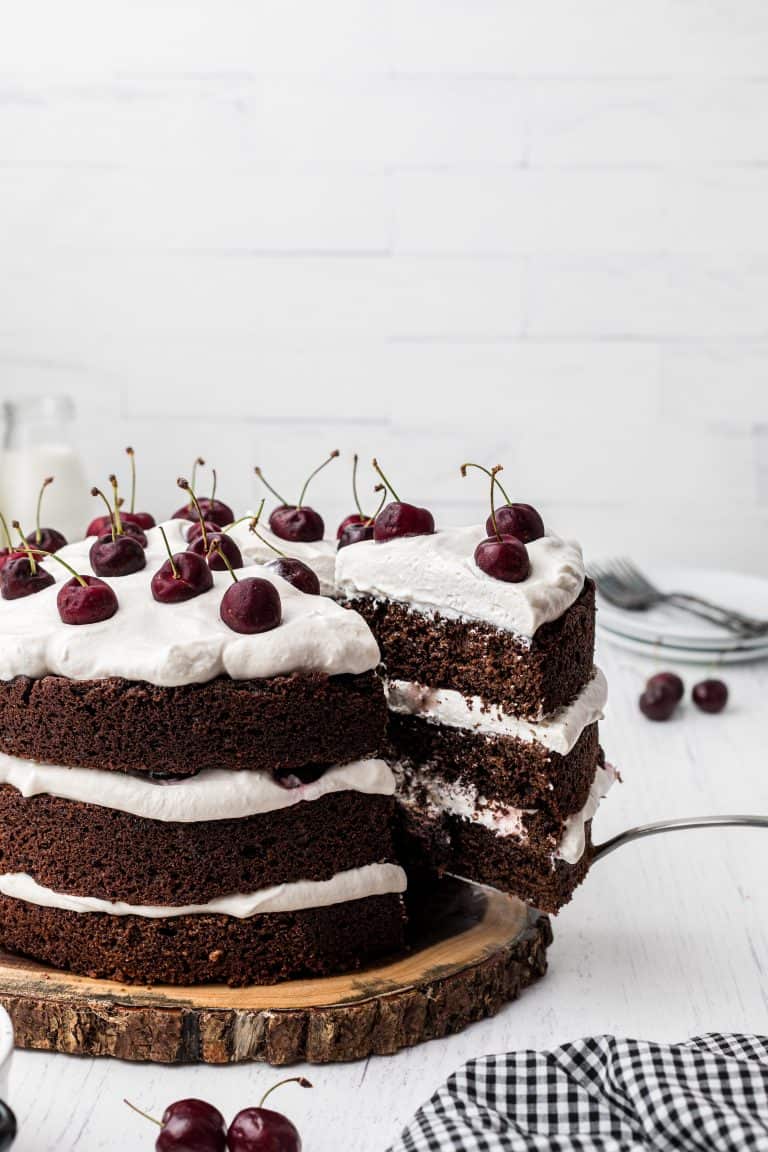 Don't even get me started on cake. Especially chocolate cake. I'll never shut up about it. It's the best thing this world has ever created and you'll never convince me otherwise. If you think I'm being dramatic, I am, but chocolate cake is worth it. Cake, in general, is worth it. Like, s'mores cake, strawberry rhubarb cake, or pumpkin spice coffee cake. Don't all those just make you drool?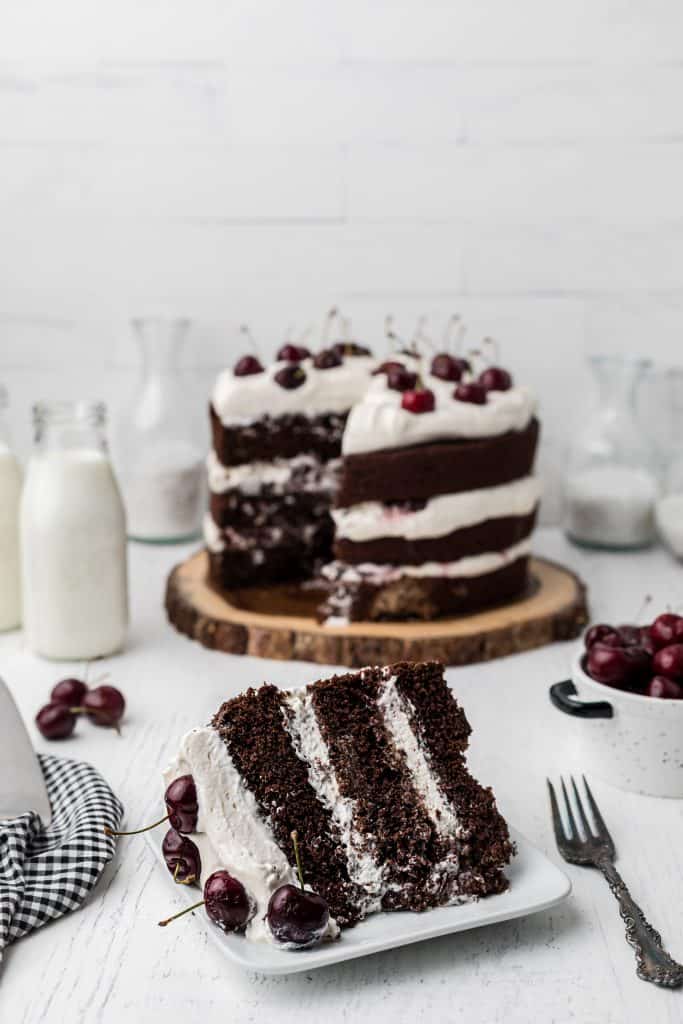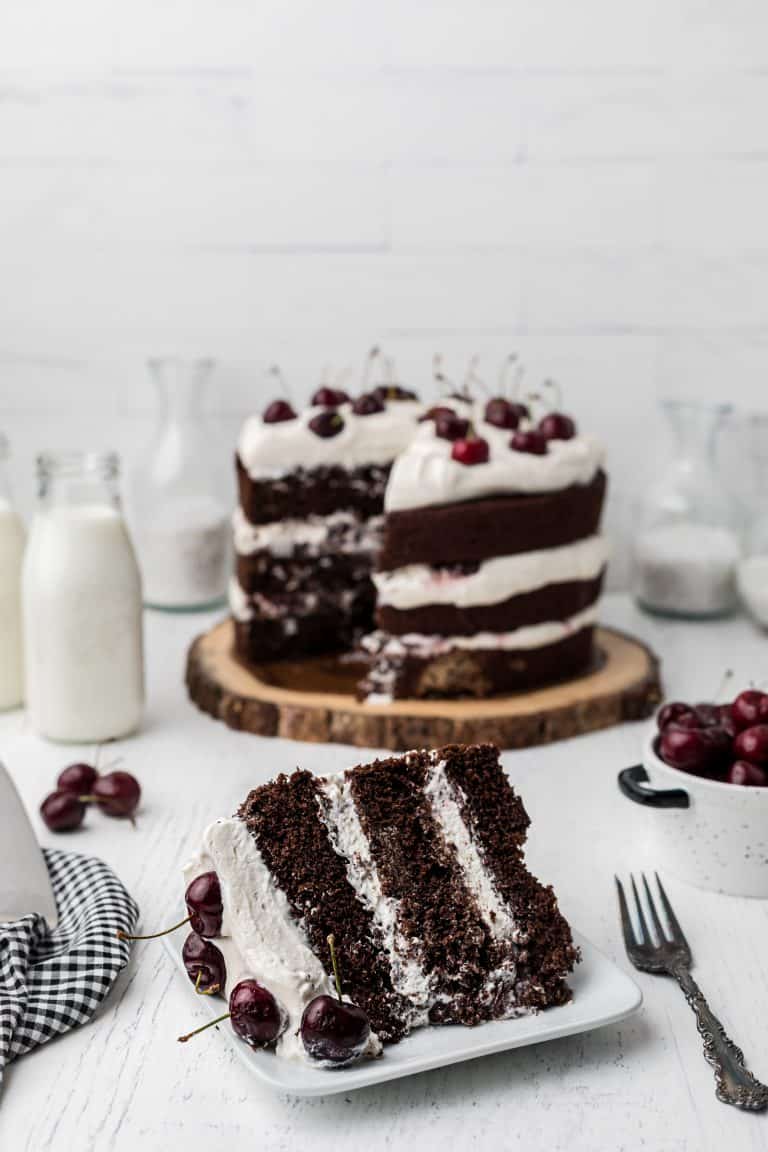 If they don't, I request you get to the doctor immediately as you may have something wrong with you. I kid, but seriously, cakes like this Black Forest Cake just get me pumped and I love sharing that joy with you. Yes, joy...from a cake...don't judge me, ha! Make it for yourself and see what I mean.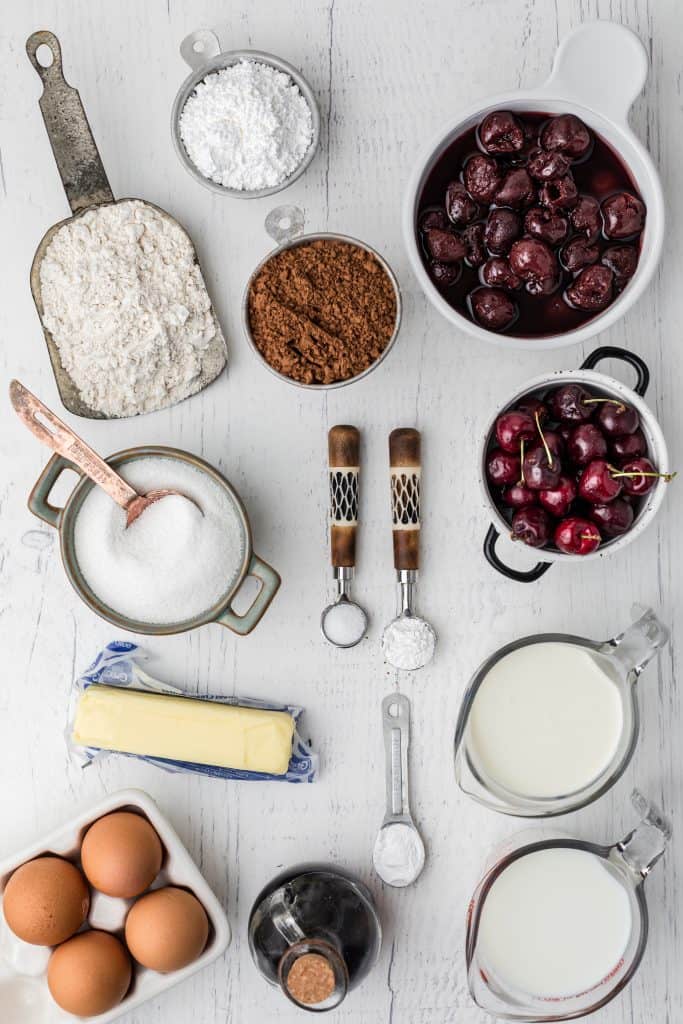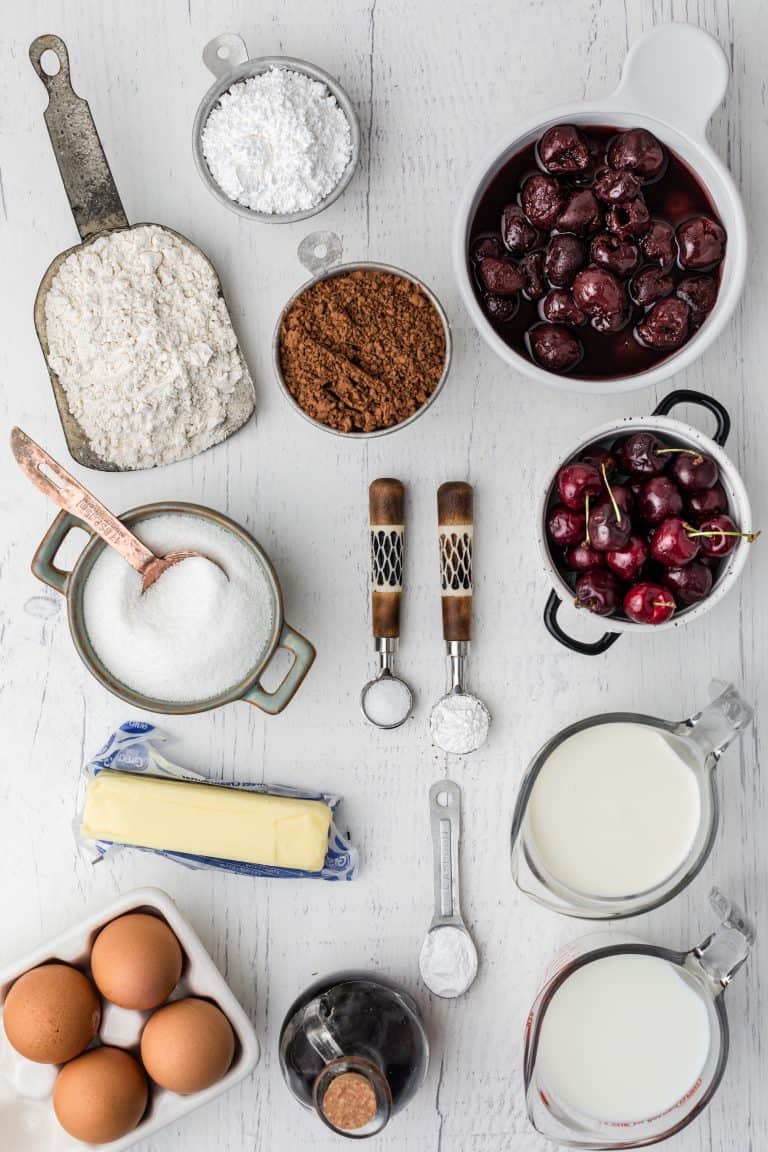 How Do You Make Black Forest Cake?
Prep - Preheat your oven. Mix the dry baking ingredients, except the sugar in a bowl. In a separate bowl, combine half the vanilla and milk and mix. Set both aside.
Beat - Cream the butter and sugar together. Add eggs one at a time until combined. Alternate the flour and milk mixture, beating in between.
Bake - Grease your pans and divide batter evenly. Bake for 25 minutes. Allow to cool completely.
Make the filling - Beat the cream, some cherry syrup, and the rest of the vanilla until stiff peaks form.
Assemble - Lay out the first layer of cake and brush with cherry syrup. Place a layer of the filling on top along with half of the canned cherries. Repeat with the second and third layer, except for the last layer, use the fresh cherries. Enjoy!
Tips and Variations
Can I use fresh cherries? - If you want to replace the canned cherries with fresh cherries, that's fine, but you'll still need cherry syrup for the cherry flavor to really settle into the cake. If not, the cherry flavor will be drowned out pretty easily.
Use store bought whipped cream - If you want to skip making your own filling, simply buy whipped cream already made and fold the cherry syrup into it.

Let the cakes cool - If the cakes are warm, they can melt the whipped cream, which will make a mess of the entire cake. So, really allow it to cool all the way through for the best results.

Storage - If you plan on storing this cake over a couple of days, it will keep best before being assembled. If it's already assembled, simply store it in the fridge, covered for up to 3 days. Freeze in an airtight container for up to 2 months.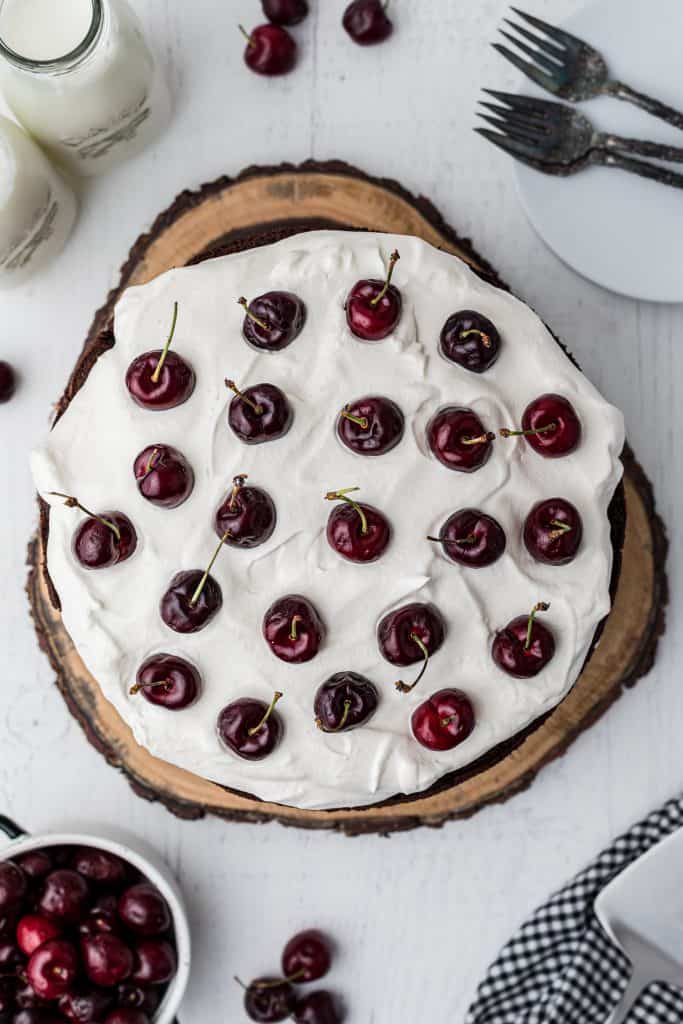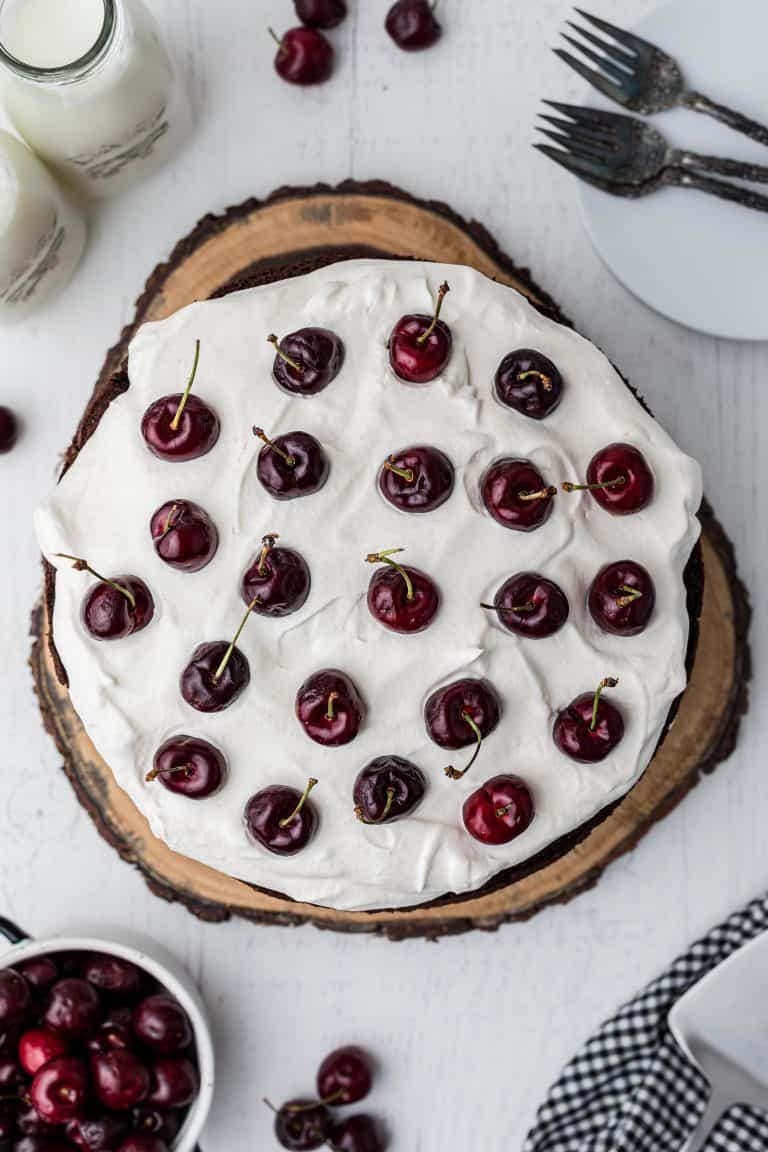 Common Questions About Black Forest Cake
What's the Difference Between Chocolate Cake and Black Forest Cake?
Chocolate cake is not usually coupled with alcohol or cherry flavoring. Black forest cake recipes are known for their addition of cherry flavoring. Some more traditional versions are known for their cherry liquor as well. So, although black forest cake has chocolate flavoring as the main flavor, think of it as a souped up chocolate cherry cake.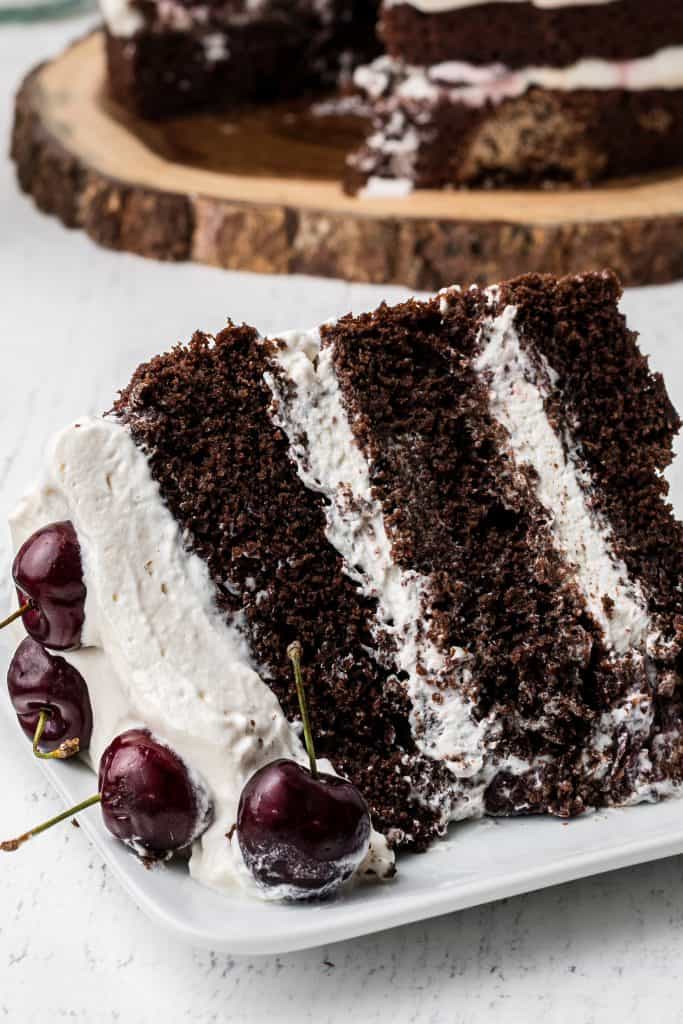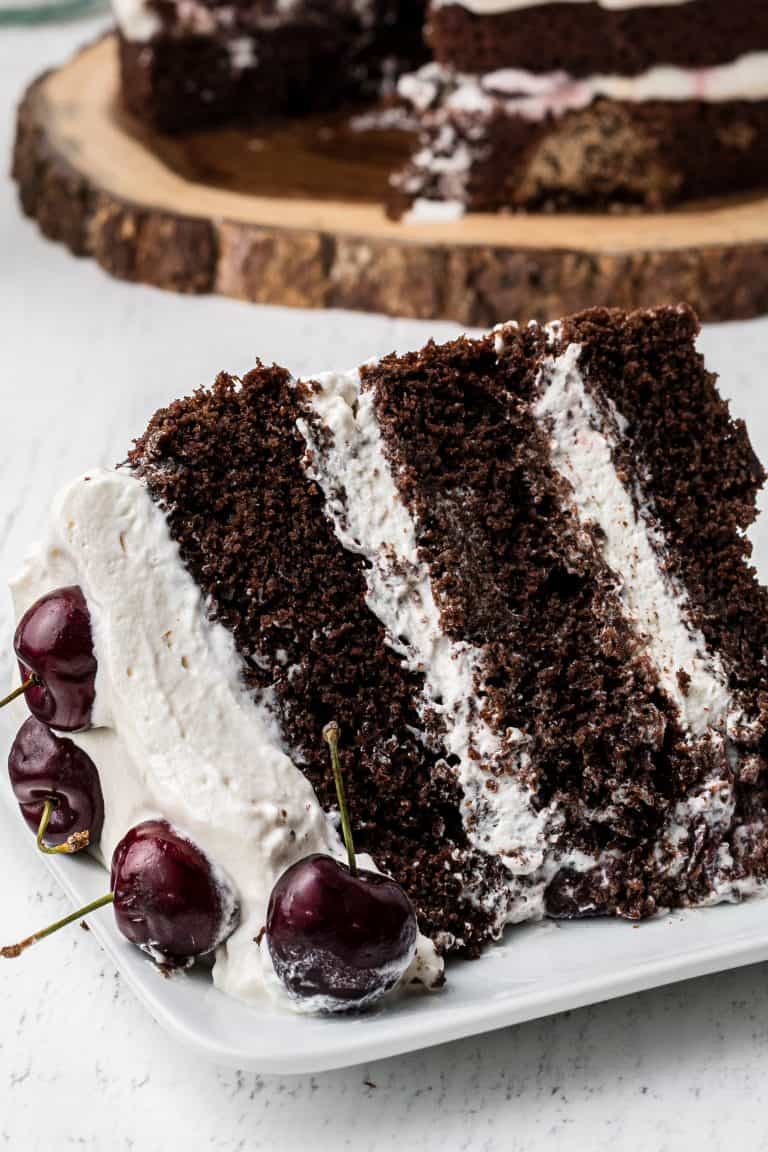 Does Black Forest Cake Have Alcohol in It?
Traditional forms of black forest cake that originated from Germany call for a special kind of cherry liquor called Kirsch. It is a colorless brandy that is distilled from morello cherries. However, more modern forms of the cake do not always call for liquor, like this recipe, and just use cherry flavoring instead. If you want to go authentic, you can always add in the liquor. It is traditionally brushed on the cake layers.
Please feel free to share your experience with making this Black Forest Cake in the comments below or on social media!
More Cake Recipes You're Sure to Love: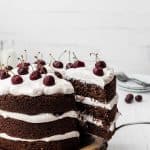 Black Forest Cake
Decadent chocolate cake layers layered with fresh whipped cream and cherries.
Keyword:
black forest cake recipe, chocolate cake with whipped cream
Ingredients
2

cups

All Purpose Flour

1

cup

Unsweetened Cocoa

2

teaspoons

Baking Powder

1

teaspoon

Baking Soda

½

teaspoon

Salt

1-½

cups

Whole Milk

4

teaspoons

Vanilla Extract

separated

1

cup

Unsalted Butter

softened (2 sticks)

2

cups

Granulated Sugar

4

large Eggs

2

cans

16oz pitted dark cherries in heavy syrup

3

cups

Heavy whipping cream

1

cup

Powdered Sugar

1

cup

Fresh Cherries

garnish

Bakers spray
Instructions
Preheat oven to 350°F.

In a medium bowl add the flour, cocoa, baking powder, baking soda and salt and whisk together, then set aside.

In another medium bowl mix the milk and 2 teaspoons of vanilla with a fork, then set aside.

In a large bowl with your mixer at low speed beat the butter and granulated sugar until well blended. Increase the speed to high and beat until creamy – about 2 minutes.

Reduce speed to medium and add eggs, one at a time, beating well between each addition.

Reduce to low speed and add some of the flour mixture and when well mixed add some of the milk mixture. Keep alternating until ending with a scoop of the flour mixture.

Beat until the mixture is smooth, occasionally scraping down the side with a rubber spatula.

Spray (3) 9" cake pans with baking spray (it's a flour oil mix) and immediately divide the cake mix between all three, evenly.

Bake in the oven, placing one pan on the lower rack but between the two on the top rack, which should be spaced to allow air flow to the bottom pan. Bake for 25 mins or until a toothpick comes out clean.

Remove pans from the oven and allow to cool on a rack for 10 minutes.

After this remove the cake from the pans onto a cooling rack to cool completely. If you need to use a knife to scrape the outsides of the pan this is ok. The bakers spray should help with this though.

While the cake layers are cooling make the filling. Drain the canned cherries and keep the syrup.

In a large mixing bowl beat the heavy whipping cream with the powdered sugar, 4 tablespoons of the cherry syrup and remaining 2 teaspoons of vanilla extract. Beat until stiff peaks form.

Assemble the cake once the cake layers have cooled completely. Place on cake layer on a cake stand, or plate then brush the top of the cake layer liberally with the cherry syrup that is remaining.

Scoop ⅓ of the cream filling on top of this cake layer then spread evenly ½ of the canned cherries over the cream.

Put another layer of the cake on top of this and repeat.

With the last layer instead of using the canned cherries you'll use the fresh cherries to decorate.

Cover and refrigerate the cake overnight before serving.