Chocolate lovers, this is the recipe for you! This Dark Chocolate Cake with Chocolate Ganache Frosting is so rich and so decadent it will satisfy even the most die hard chocoholics.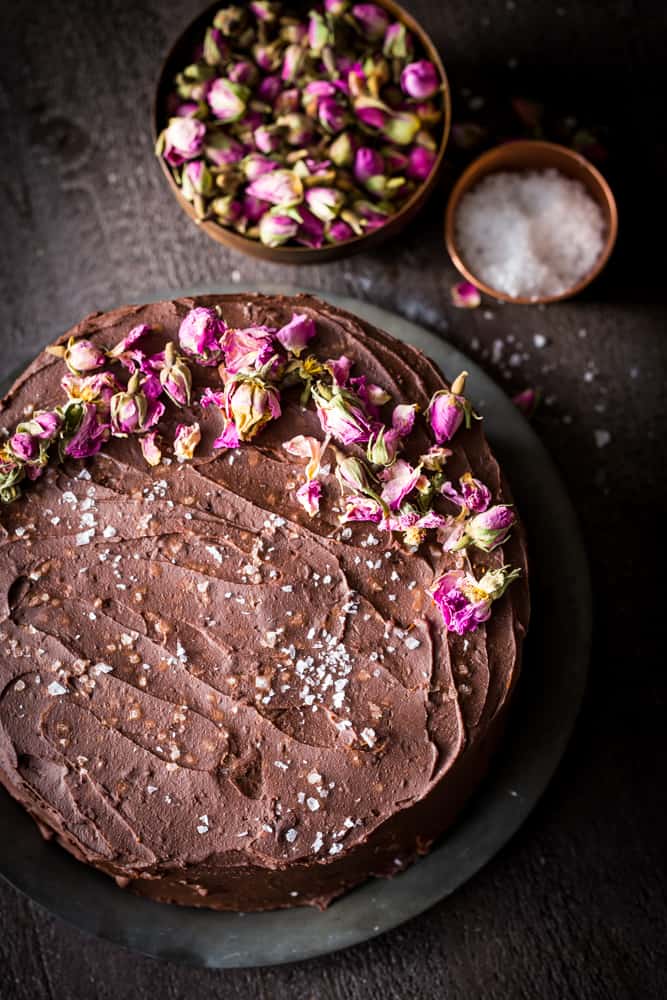 I think we can all agree that it's not really a celebration unless there is cake. And in my house, chocolate cake is what we serve for the most special of occasions. Of course we have chocolate cake on Valentine's Day and Christmas. But we also serve it up for anniversaries, birthdays and graduations too. In fact, I was inspired to develop this very recipe because it is the exact cake I would choose for my 'ultimate' birthday cake. (how's that as a not so subtle hint to any family members that may be reading this?)
This cake has a deep and complex chocolate flavor, thanks to the combination of the dark cocoa powder and freshly brewed coffee. And the addition of the buttermilk (or sour cream) makes it so amazingly moist, you can almost serve it without any frosting at all. But topping this delectable cake with rich, creamy chocolate ganache frosting makes it that much better.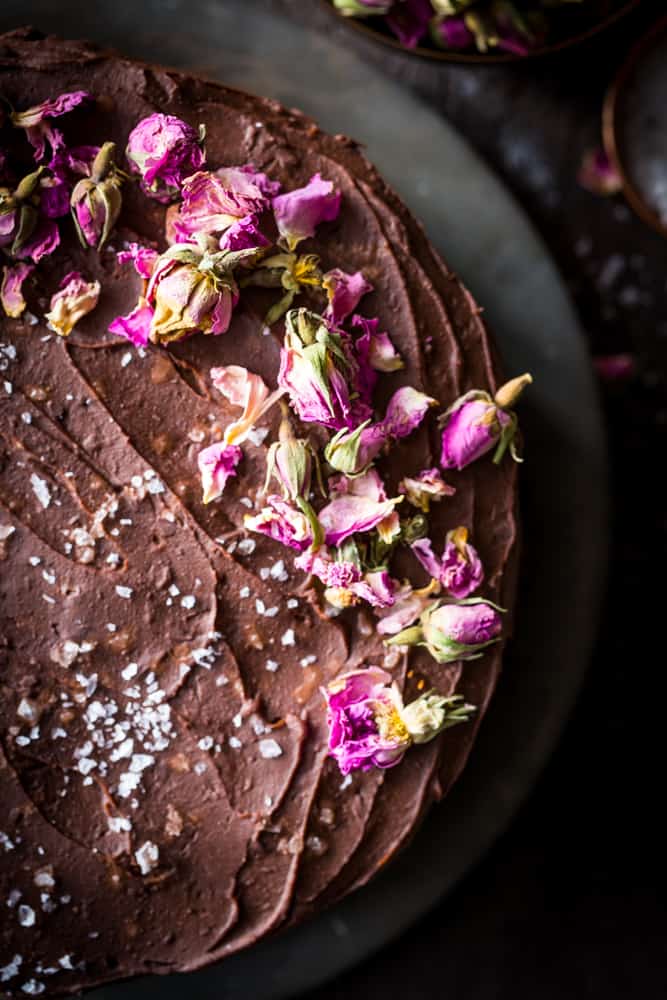 How To Make Chocolate Ganache
While it sounds intimidating, making chocolate ganache is actually quite simple. Traditionally, ganache is made with just 2 ingredients:  cream and chocolate. Butter is also sometimes added to make ganache that is very shiny and smooth. There are just a few easy steps involved in  making ganache:
Heat cream so it is hot but not boiling.
Place chopped chocolate into a heat-proof bowl, and pour the cream onto the chocolate. Let sit for a few minutes while the chocolate melts.
Whisk until smooth and allow to cool.
Why Is It Called Ganache?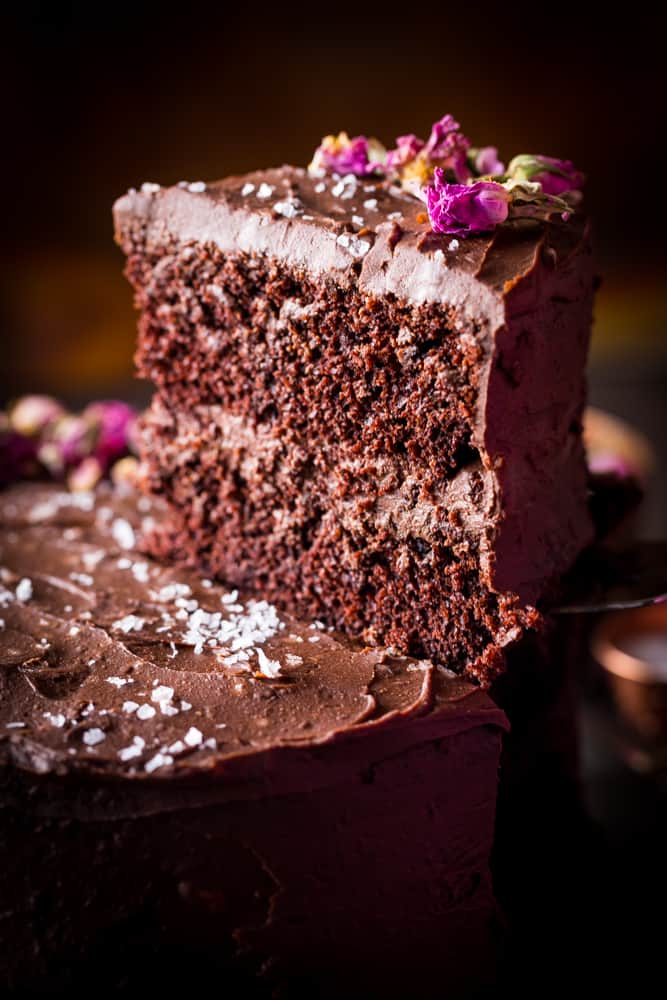 The story goes that it comes from a young pastry assistant making the error of pouring hot cream onto chocolate bits. The master chef called him a "ganache" which was an insult at the time (possibly stemming from the French word ganacher, which means to slog). But once the master chef tasted the mistake, he decided to use it to fill and top his cakes. They became wildly popular, and so the chef continued to use the term to describe his delectable chocolate goods.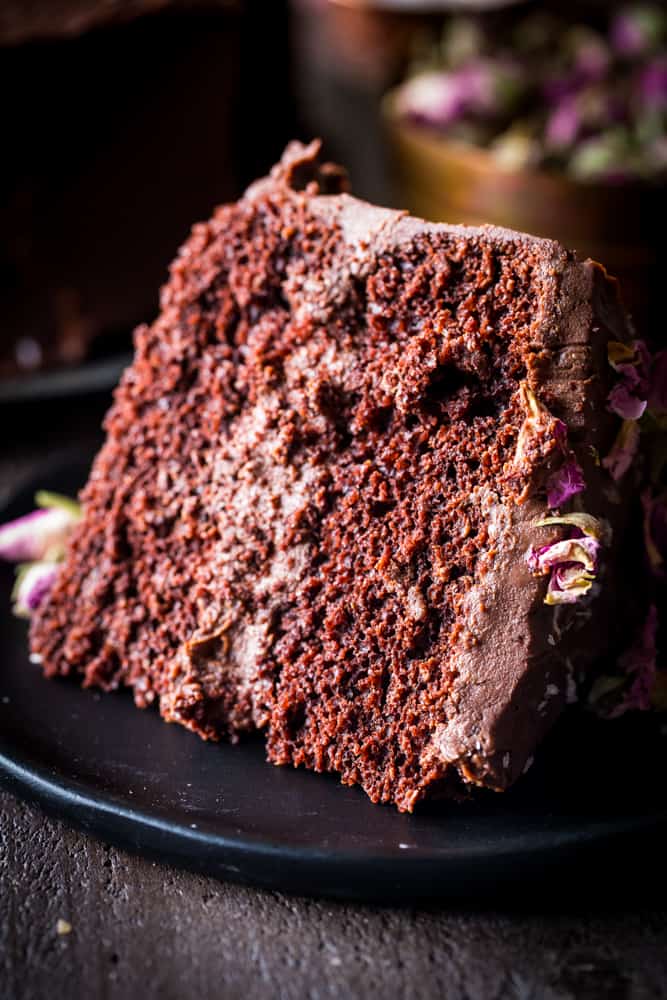 More Celebratory Cake Recipes
If you're looking for a non-chocolatey to celebrate with, then try my Vanilla Funfetti Cake, this Elegant Orange Champagne Cake, and this recipe for Strawberry Angel Food Cake.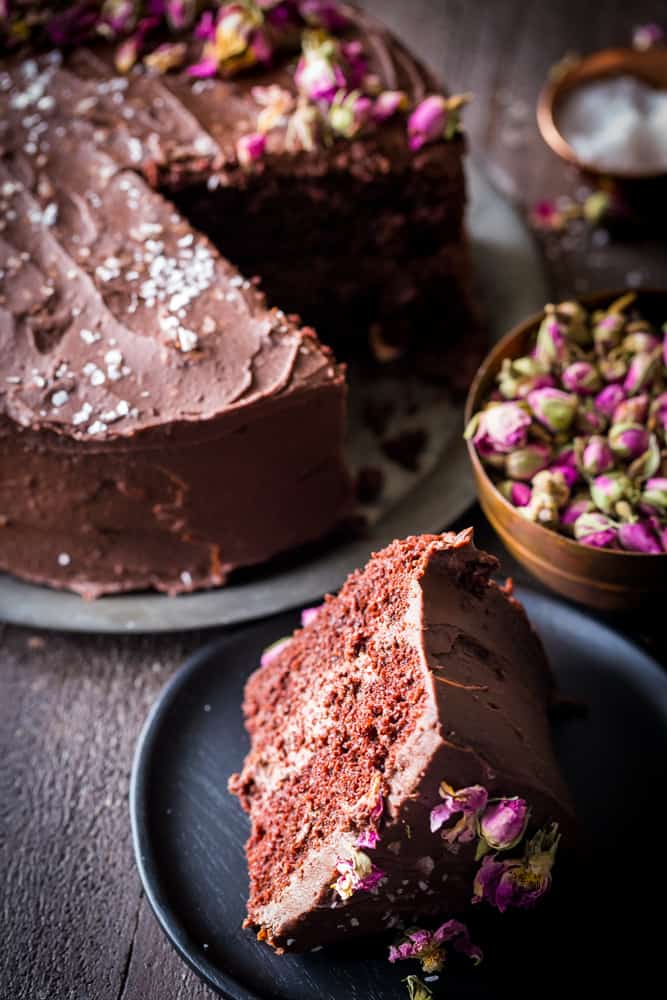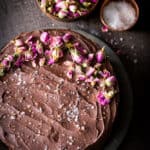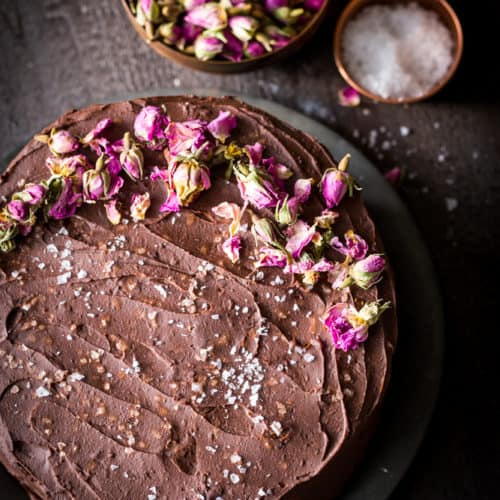 Dark Chocolate Cake with Chocolate Ganache Frosting
Ingredients
Chocolate Cake
1 ¾

cups

all purpose flour

2

cups

granulated white sugar

1 ½

teaspoon

baking soda

¾

teaspoon

salt

2

large eggs

1

cup

buttermilk

or sour cream

½

cup

oil

1

tablespoon

vanilla extract

1

cup

freshly brewed hot coffee

or hot water
Chocolate Ganache Frosting
2

cups

heavy cream

1

pound

dark chocolate

sliced into small chunks

Sea salt

for garnish

Dried or fresh roses

for garnish
Instructions
Chocolate Cake
Heat oven to 350°F. Grease and flour two 8-inch round baking pans.

Stir together sugar, flour, cocoa, baking soda and salt in large bowl.

Add eggs, milk, oil and vanilla; beat on medium speed of mixer 2 minutes.

Stir in hot coffee. Batter will be runny.

Pour batter into prepared pans.

Bake 30 to 35 minutes or until wooden pick inserted in center comes out clean.

Cool 10 minutes; remove from pans and transfer to wire racks. Cool completely.
Chocolate Ganache Frosting
In a small pot set over medium high heat, cook heavy cream until hot, but not boiling.

Add chocolate to a large heat proof bowl.

Pour hot cream over chocolate and let sit for 5 minutes then whisk until smooth.

Cover ganache with plastic wrap and let sit for about an hour or until it has set up and is spreadable.

To assemble the cake, place one layer on a cake plate and frost it well with the ganache frosting. Add the second layer and cover the entire cake in frosting.

Sprinkle with sea salt right before serving and garnish with fresh or dried roses, if desired.