Ombre White Chocolate Covered Strawberries are elegant, delicious and surprisingly easy to make. I love how using white chocolate to create a lovely pink ombre effect puts a unique and modern twist on a classic Valentine's Day dessert. This is actually one of the recipes that I made for my new cookbook, Decadent Fruit Desserts, but it ended up being cut. Check out my book for more delicious fruit centric desserts!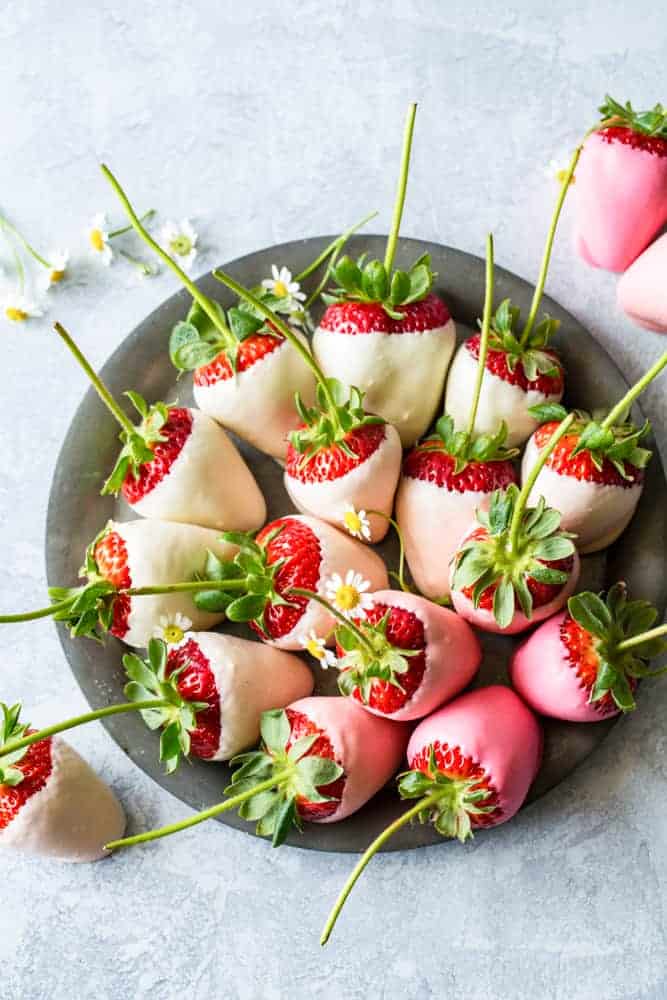 The combination of ripe, luscious strawberries and the striking ombre coating really does make a truly show-stopping presentation. These gorgeous creations are ideal for entertaining and are a perfect homemade edible gift.
Chocolate-dipped strawberries really are one of my favorite sweet treats. One of the best things about them (other than the fact that juicy delectable strawberries and sweet, rich chocolate are a match made in heaven) is that they look incredibly impressive but are actually quite simple to make.
And since these Ombre White Chocolate Strawberries didn't quite make it into my cookbook, Decadent Fruit Desserts, which is now available for pre-order and publishing on March 12th, I am so pleased to be able to share this recipe here.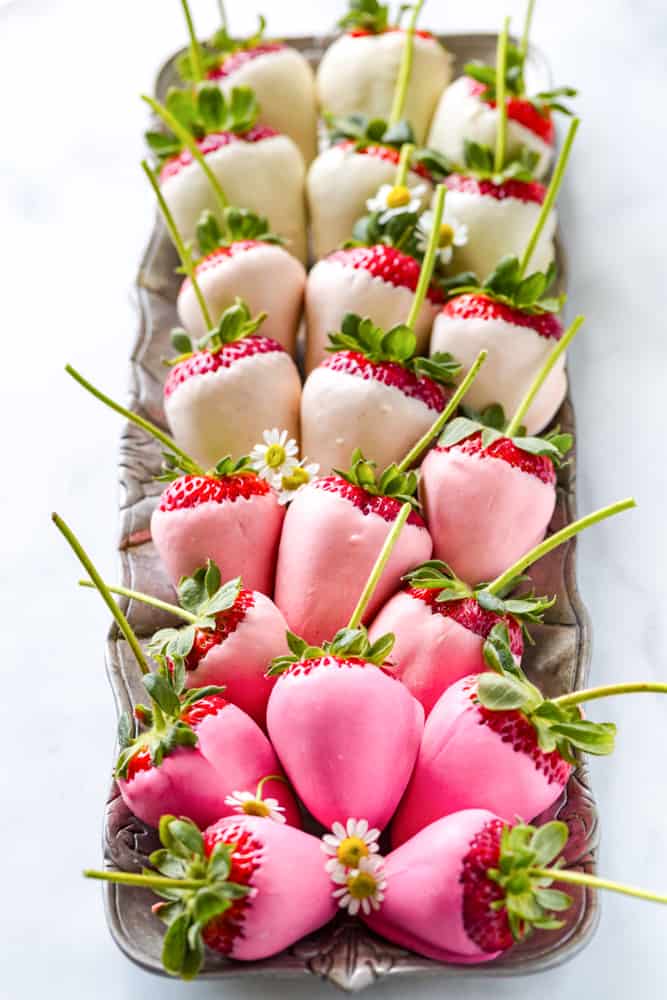 Tips for Making Ombre White Chocolate Covered Strawberries
Use room-temperature strawberries to get the best adhesion when covering the berries with melted white chocolate.
Make sure your strawberries are thoroughly dry before dipping. Otherwise the chocolate may seize up and leave you a lumpy, grainy texture.
To get the smoother more dip-friendly consistency, always add oil or butter to your chocolate when melting.

How To Store Ombre White Chocolate Covered Strawberries
It is best to enjoy these berries within 24-48 hours of making them. During that time you can keep them refrigerated, stored inside an air-tight container lined with wax paper. Just follow these steps:
Place a sheet of wax paper at the bottom of the container.
Add strawberries in a single layer on top of the wax paper.
Put another sheet of wax paper on top of the strawberries.
Continue to layer strawberries and wax paper until you have added them all to the container.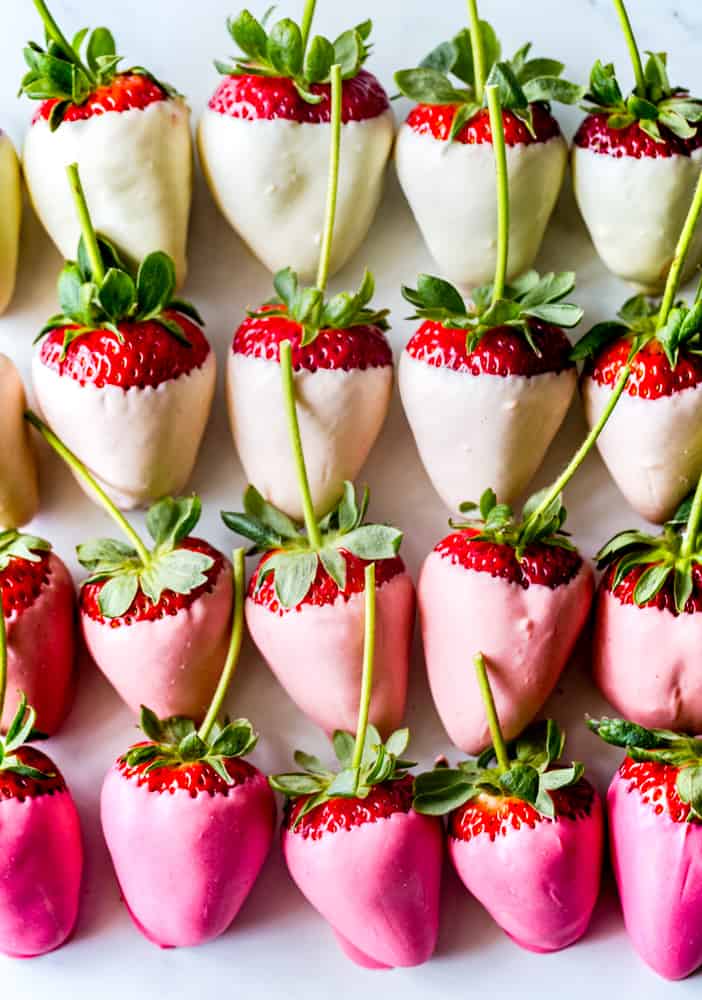 More Delectable Strawberry Dessert Recipes
If you love this recipe for Ombre White Chocolate Covered Strawberries, then you have got to try my adorable and tasty Strawberry Mini Bundt Cakes with White Chocolate Ganache. You will also love this recipe for The Best Strawberry Coconut Cupcakes, and these Chocolate Chip Strawberry Cookies are a real crowd-pleaser.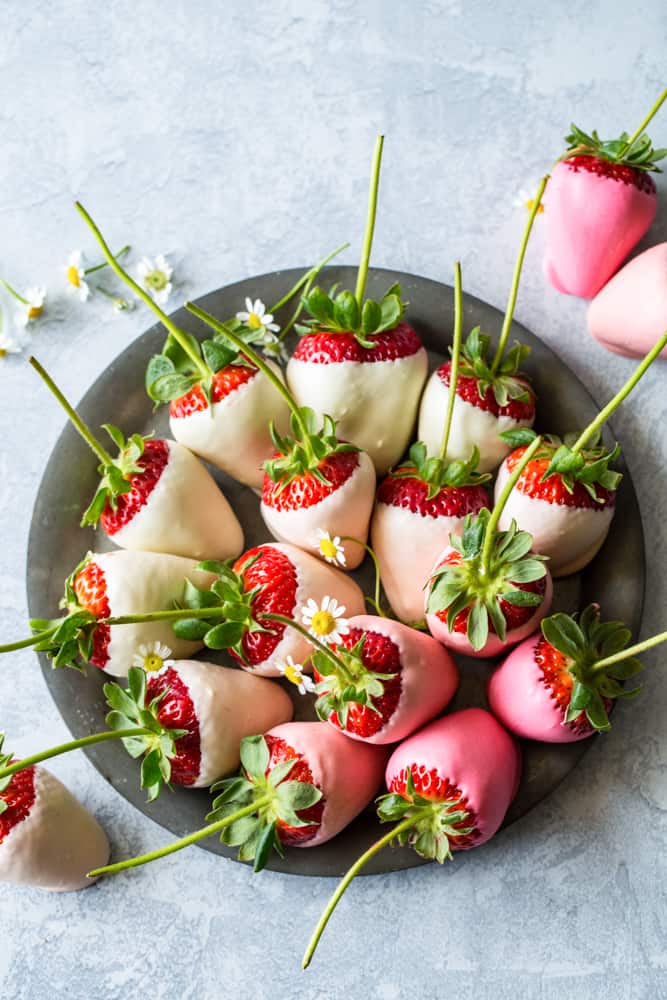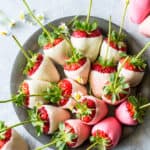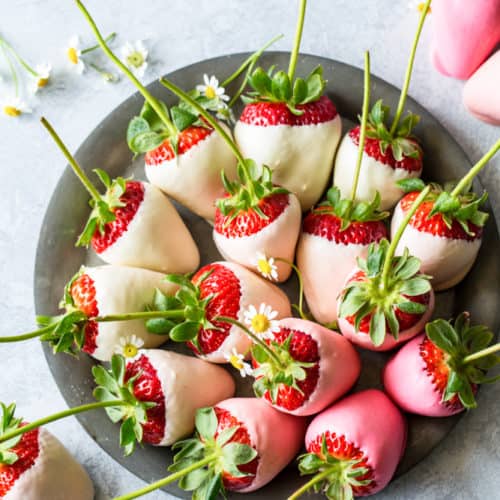 Ombré White Chocolate Covered Strawberries
A simple delicious dessert that add a pop of color to your dessert table.
Keyword:
chocolate dipped strawberries, Easter no-bake desserts
Ingredients
1

pound

ripe strawberries

rinsed and dried

12

ounces

(1 bag) quality white chocolate chips

4

tablespoons

vegetable shortening or coconut oil

pink food coloring
Instructions
Line a cookie sheet with aluminum foil or parchment paper.

In small saucepan, melt white chocolate and shortening (or coconut oil) over low heat, stirring frequently. Remove from heat and divide chocolate into four narrow, deep dishes or glasses.

Reserve one dish of the white chocolate. In the second dish, add one drop of pink food coloring. In the third dish add 2-3 drops of the food coloring, and in the fourth dish add 4-5 drops of food coloring. Stir each dish of chocolate until color is completely blended.

Carefully dip 4-5 strawberries into each melted chocolate color, ensuring that all sides are coated with chocolate. Place on prepared cookie sheet.

Once all strawberries have been dipped in the colors, place the cookie sheet in the refrigerator to cool and chocolate to set, at least 30 minutes.

Once chocolate has hardened, serve immediately or store in airtight container in the fridge for up to 3 days.
Recipe Notes
If looking to make the traditional chocolate dipped strawberries, simply replace the white chocolate with dark chocolate chips.