THE BEST Flaky RUGELACH Cookie (With Filling Ideas!)
Rugelach - golden and sweet, this pastry-like cookie is buttery and flakey in texture and made from scratch with just a few simple pantry ingredients. Smooth cream cheese and tangy sour cream elevate the dough and help give this rugelach its signature taste. Filled with chocolatey hazelnut spread, you can't go wrong!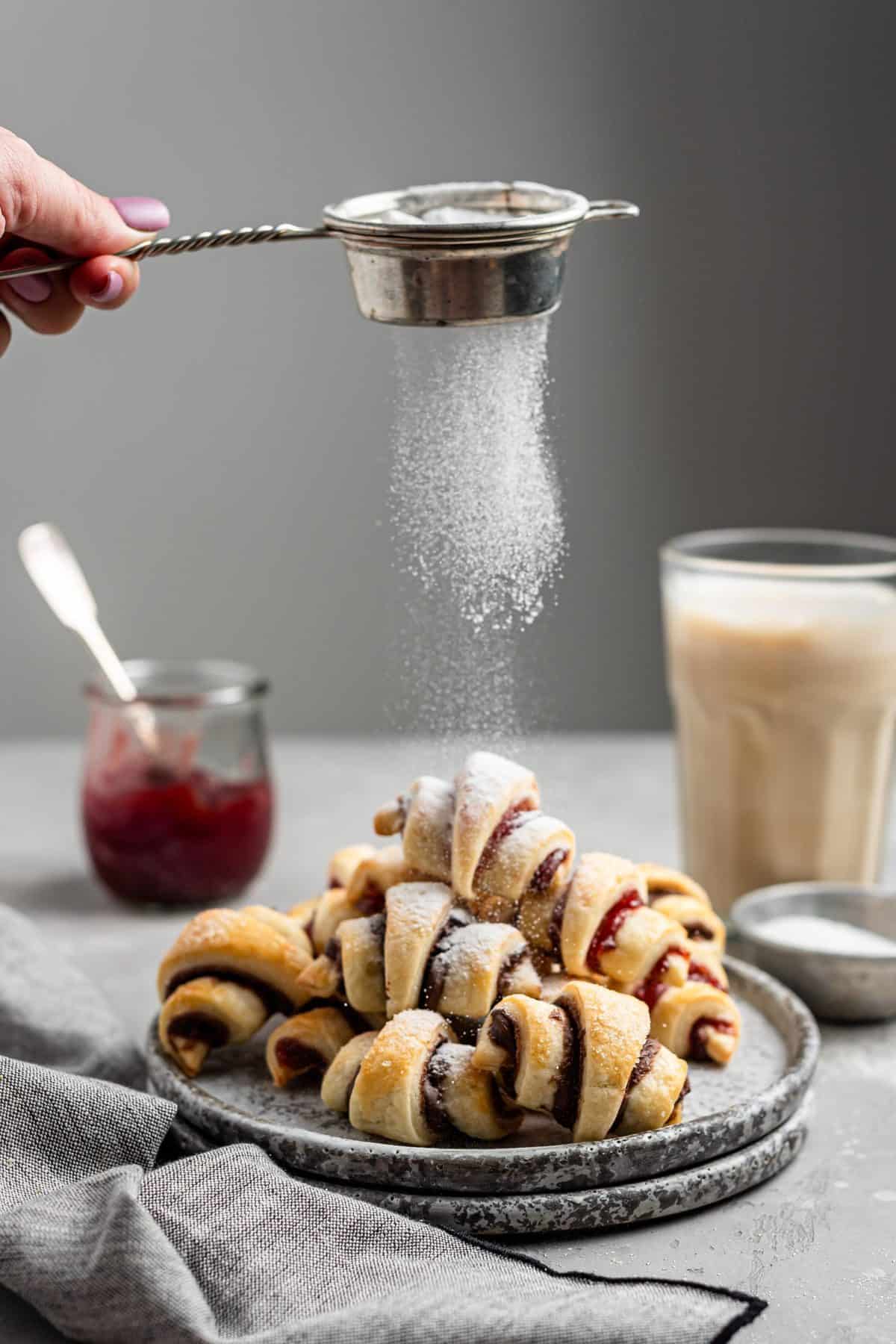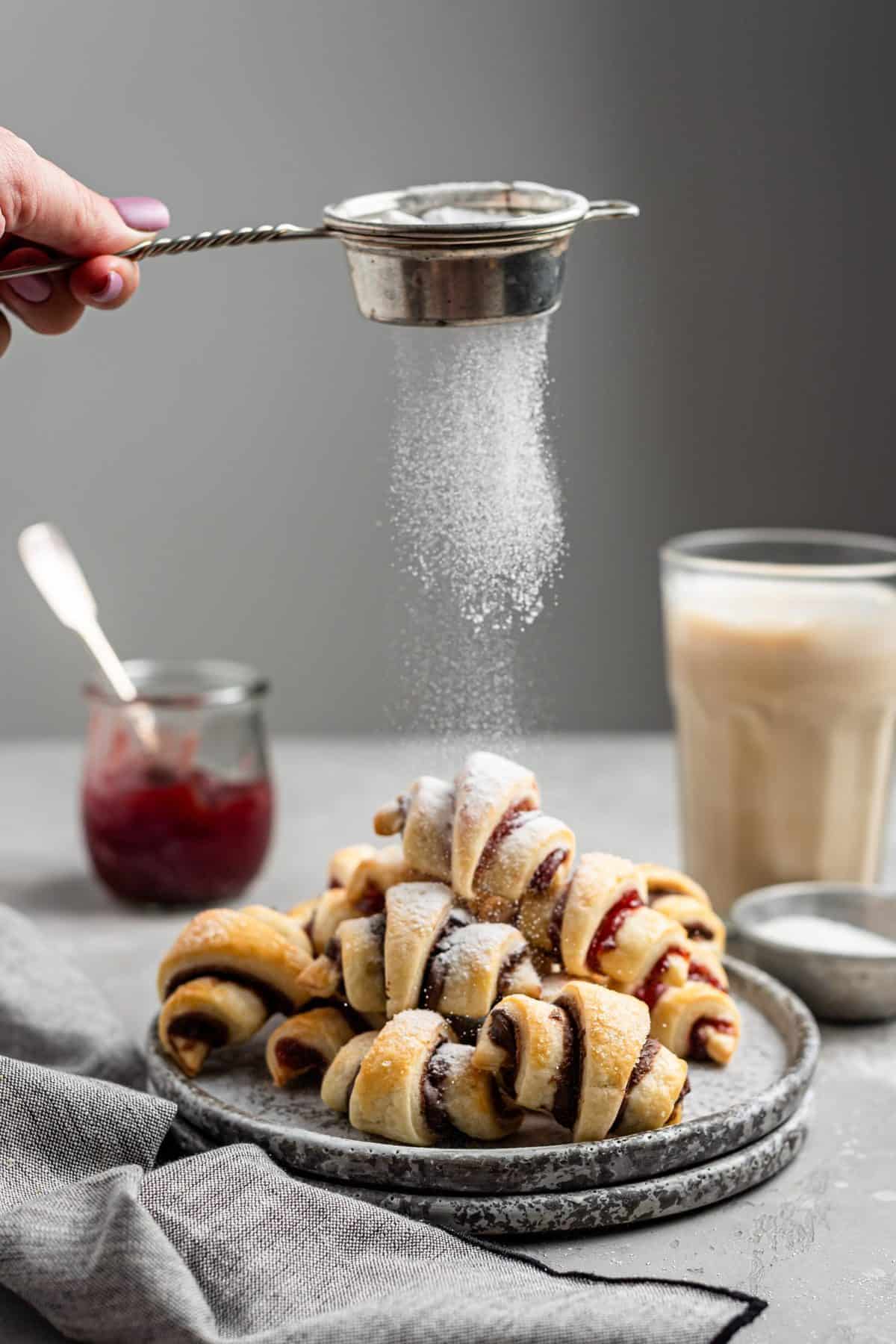 This pie-like cookie is the perfect balance of butter, flour, and cream cheese! While the addition of cream cheese and sour cream to a dough may sound a little odd, you won't be thinking that one you bite into these cookies. Not to mention the sweet creaminess the chocolate hazelnut filling brings.
The light fluffiness of the dough makes it an exceptional, go-to decadent dough recipe to use with sweet or savory fillings.
One thing my guests can count on when visiting my house during the holidays is an array of yummy Christmas cookies. All of which proudly reflect my Californian/Hawaiian upbringing. Meaning, they're sure to find a melting pot of culture via my cookies, all of which have come from people of meaning in my life and places I have lived.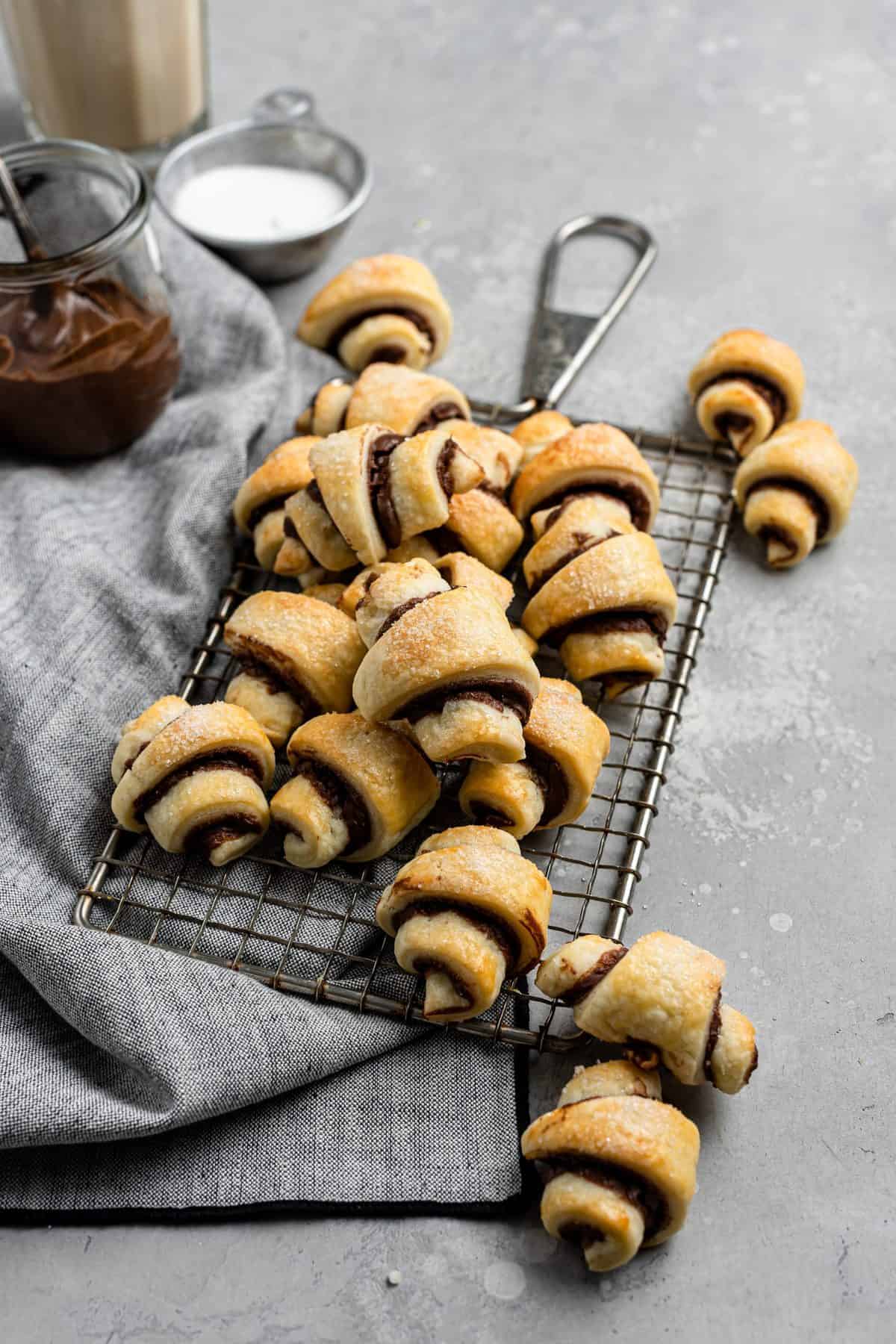 One thing that is pretty consistent about people who love to cook (and most currently those of us that write about it), is that we love learning about different cuisines as well. This fact couldn't ring truer for me, especially during the holidays. I absolutely love learning about new holiday traditions and Christmas specialties from all around the world, and this rugelach happens to be one of my favorites!
What is Rugelach?
Rugelach is a Jewish pastry, usually made with a sweet filling. For comparison's sake, I'd say It's similar to a croissant, but it has a key difference, cream cheese! According to Wikipedia, rugelach is said to have originated in Poland, but is most prevalent in Isreal today and is a staple in bakeries. (Fun fact: In Yiddish, rugelach means"little twists"!)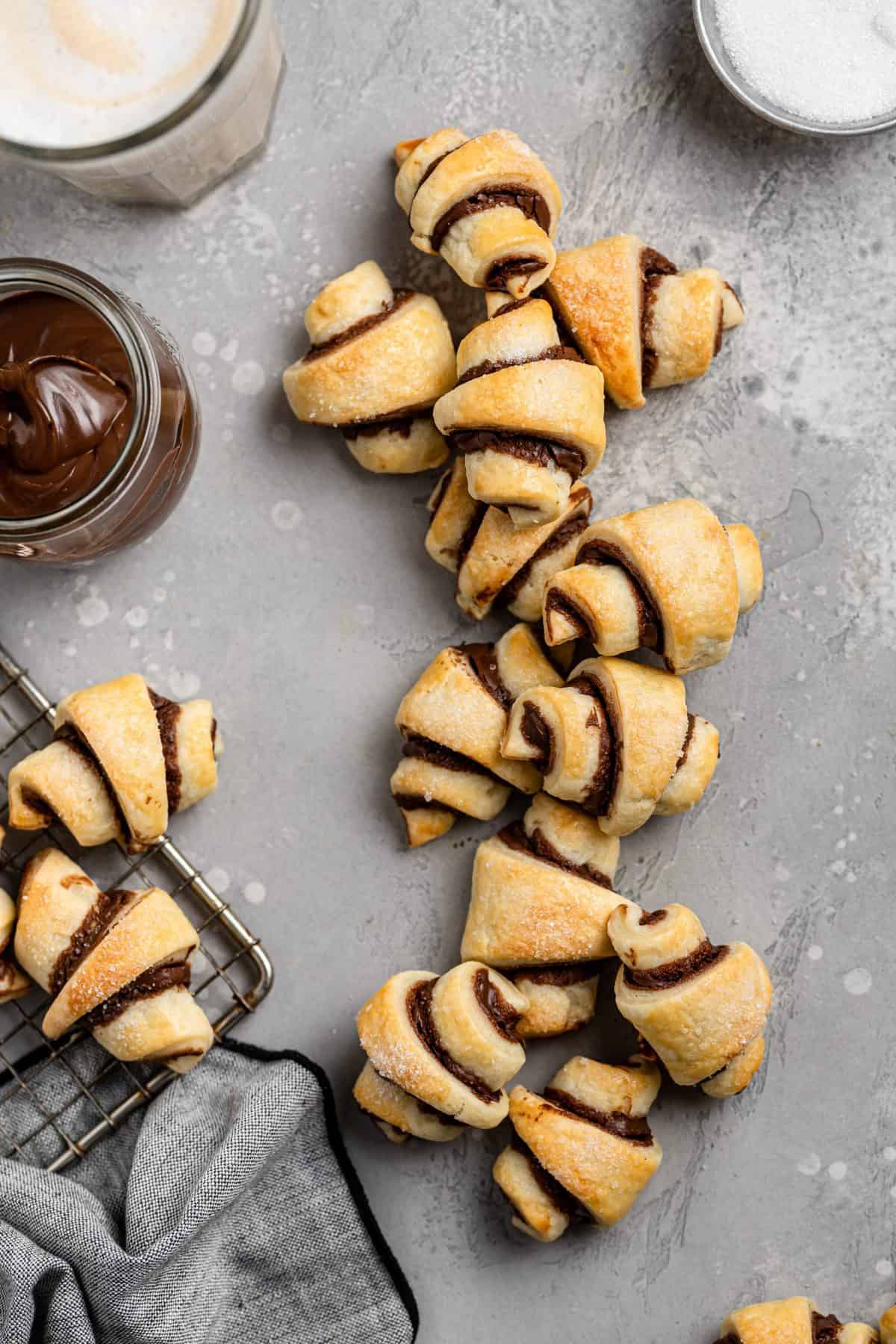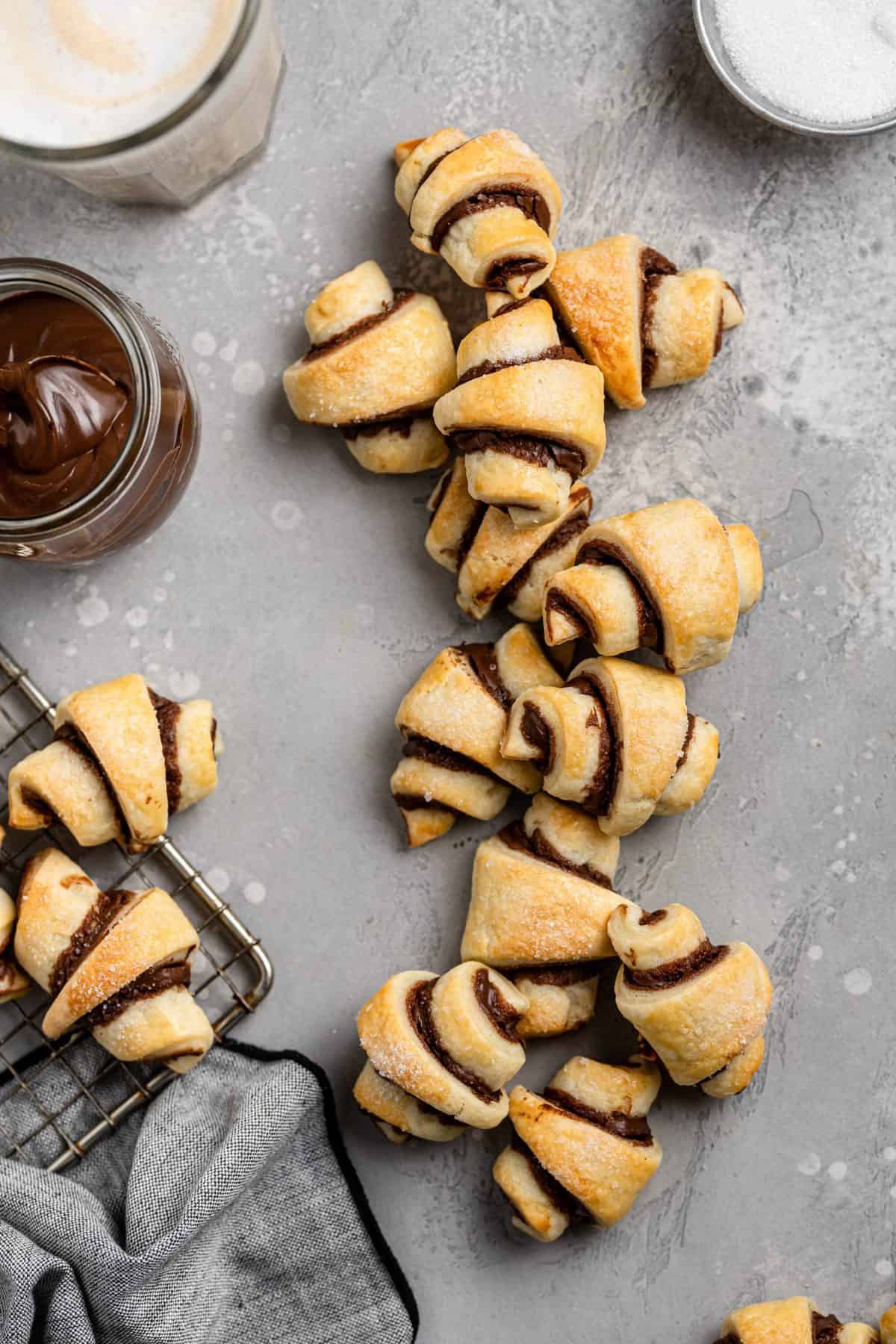 Although I was not raised Jewish, I absolutely love the food and warmth these bring to the holidays. These cookies are buttery, flaky, and have just the right amount of sweetness. The added cream cheese yields a super tender dough that pairs perfectly with just about any filling. Traditionally, they are filled with a soaked raisin/walnut filling.
They can be filled with all different kinds of things from nuts, to jams, as well as simple cinnamon, and sugar spreads. I like to fill them with chocolate hazelnut spread and raspberry jam. Really, the filling possibilities are endless, and you could even make them savory.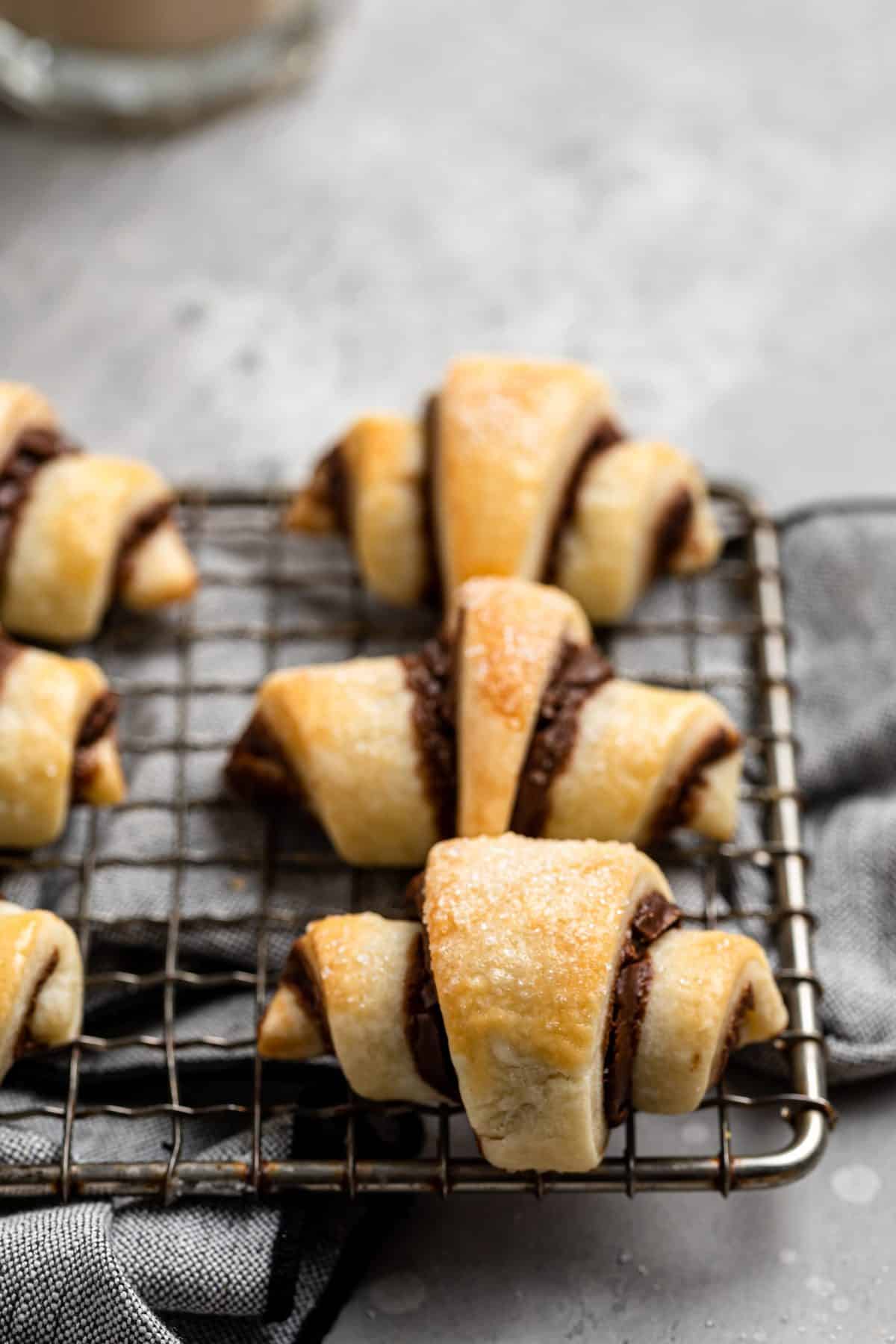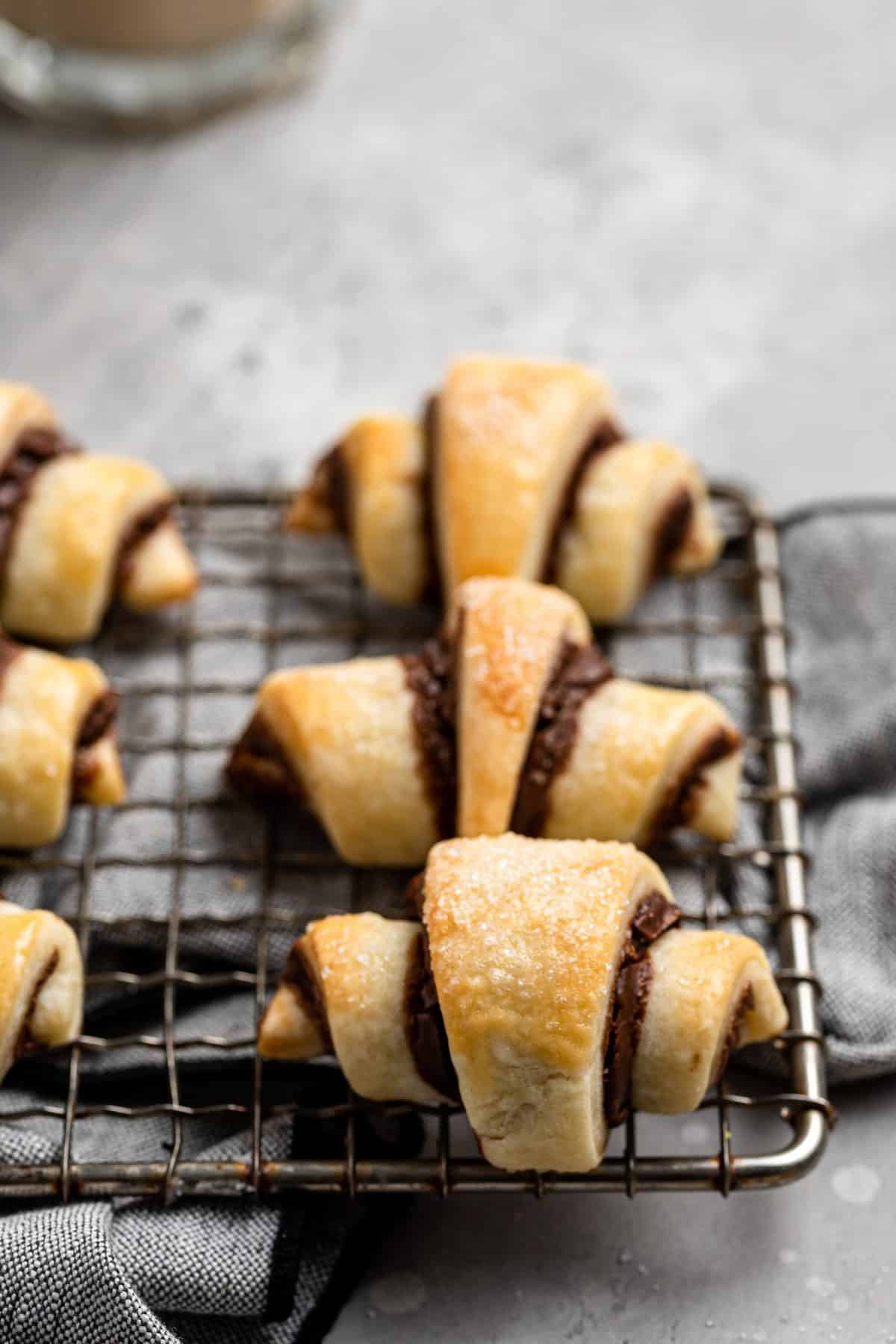 Why You'll Love
This
Flaky Rugelach Recipe
This recipe allows for a lot of creativity! While I prefer it with chocolate hazelnut spread and raspberry jam, you can try out all kinds of options. I love having a recipe that I can make my own!
Trying recipes from other cultures is always exciting, and you can make it a learning experience if you have kids! You can even make it a weekly occasion to try new food from another culture. If you have kids talk about how their cultures may differ from your own. If you don't have kids, just enjoy branching out and maybe make it a girls night type of thing! I have lots of options on here that will keep you cooking and tasting for weeks! !

These are fabulous cookies to gift! Most people get typical sugar cookies or snickerdoodles around the holidays. This alternative will have your cookies sticking out in the crowd and give people something different to enjoy.





Equipment Needed To Make the Best Rugelach Recipe

Food processor

Plastic Wrap

Parchment Paper

Pizza cutter

Baking Sheet

Airtight Containers for storage



Ingredients For Your Flaky Rugelach Cookie

All-purpose flour

Kosher salt

Unsalted butter

Cream cheese

Sour cream

Egg

Chocolate hazelnut spread and Jam for filling

Powdered sugar for sprinkling


How To Make A
Flaky Rugelach Cookie
First, you'll want to pull out your food processor and pulse together your flour and salt.

After a few go-arounds, you'll then add

butter, cream cheese, and sour cream to the flour and pulse.

Because this dough is similar to a pie crust dough, I like to use a food processor to ensure that there are little beads of butter and cream cheese to create the flakiness.
After I make the dough, which only takes a couple of minutes, I wrap it in plastic wrap and refrigerate it for at least an hour but usually overnight.
When it is nice and cold, I roll out the dough to a 10-inch disk and then spread my favorite filling over the circle.
I then cut the circle into 16 even triangles, using a pizza cutter.

Finally, I roll up the triangles, baste with egg wash, sprinkle with sugar, and finally bake until golden brown,

which is about 15-20 minutes.
The results- a perfect little cookie. For the love of all things, please make sure you test a warm cookie. It. Is. Heavenly!

What to Serve/Pair with Your Pie Crust Cookies

These cookies pair well with a nice hot coffee. Other light pastries, such as scones or danishes, would go well with rugelach if you want to have an assortment.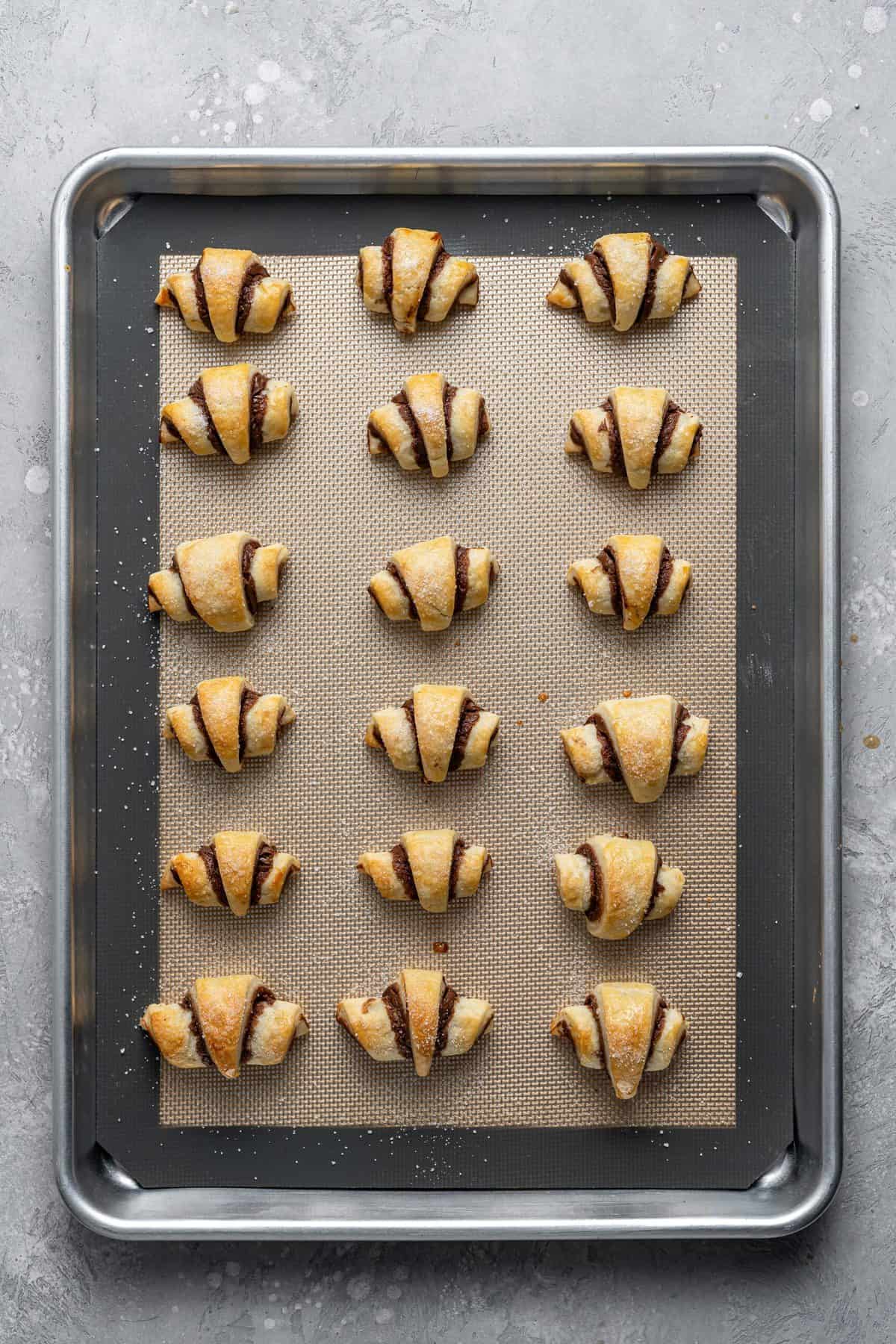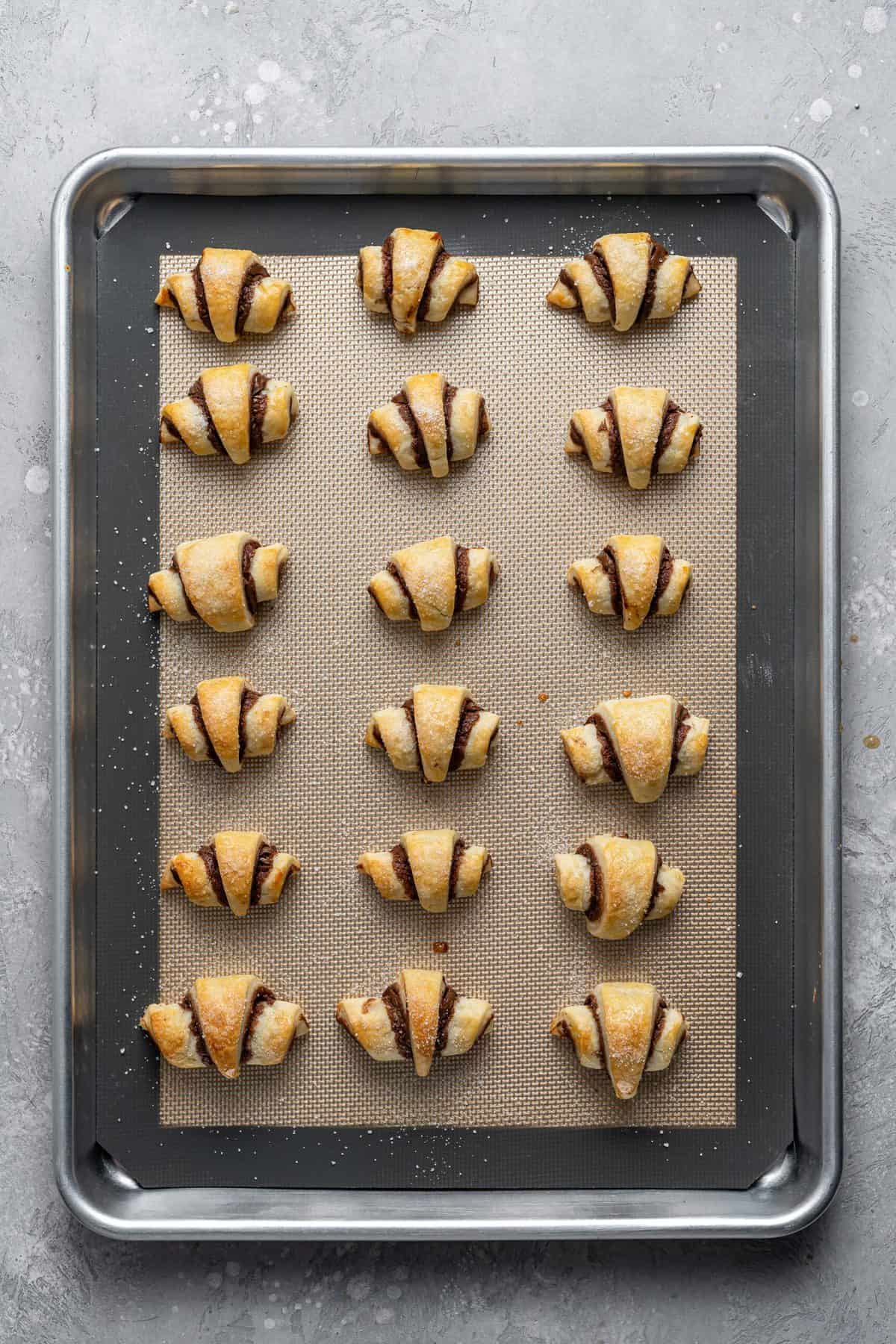 Popular Substitutions & Additions
I would recommend making the cookie without any substitutes, so you can have the full experience of the flaky rugelach, but get inventive with your fillings! Here are some scrumptious filling ideas: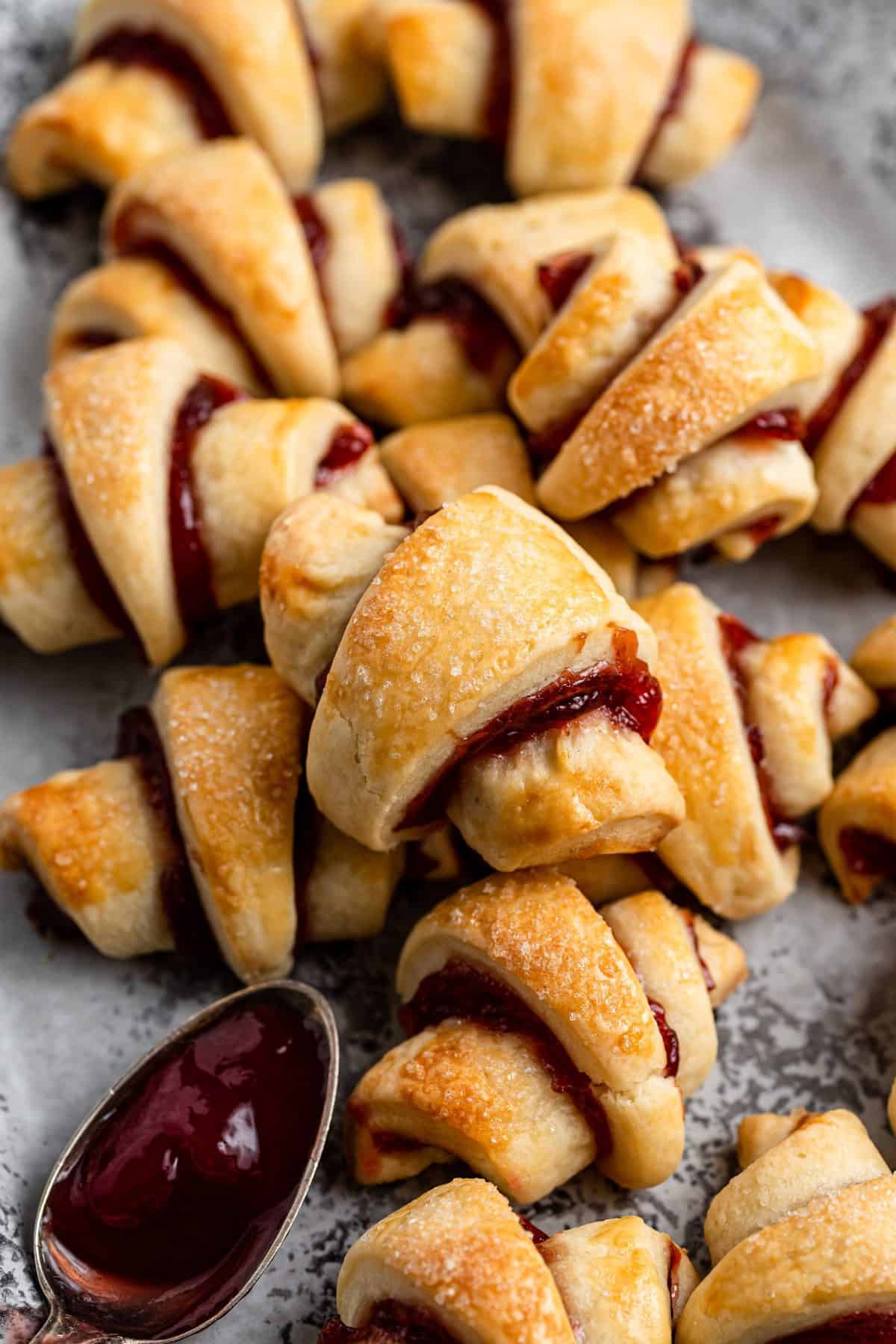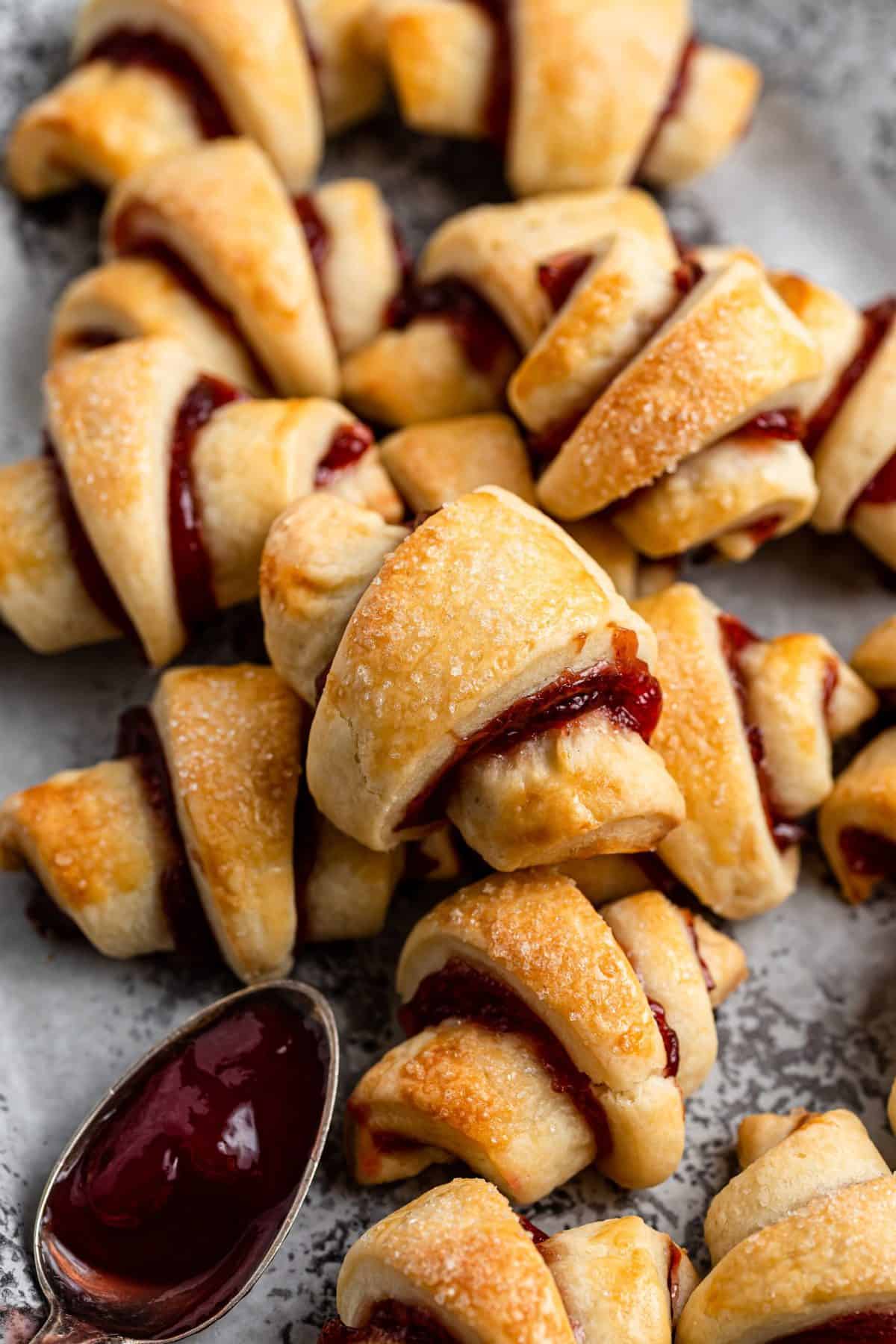 Sweet Rugelach Filling Ideas:
Cinnamon bun filling

Apricot and nuts

Pumpkin pie filling with cream cheese icing!

Pistachio Cranberry Rugelach with a white chocolate drizzle

Fruit or pie filling (Note: You don't want to use uncooked fruit such as blueberries as it will bleed too much moisture in the dough. Make sure to cook the fruit down first.)

Sweetened Cream Cheese aka Cheesecake Rugelach
Savory Rugelach Filling Ideas:
Walnuts, Kale and blue cheese

Spinach and artichoke

Sundried Tomato and Mozzarella

Goat Cheese and Figs with balsamic glaze

Pesto with parmesan cheese
How To Store and Gift The Best Flaky Rugelach Cookie
These rugelach cookies should last a good 4 or 5 days. Since the dough does take on moisture quite easily, it is best to store them in a dry area away from heat exposure.
Refrigeration will vary depending on the filling you use. If you follow my recipe below and go with the chocolate hazelnut spread, they are perfectly fine to keep at room temp.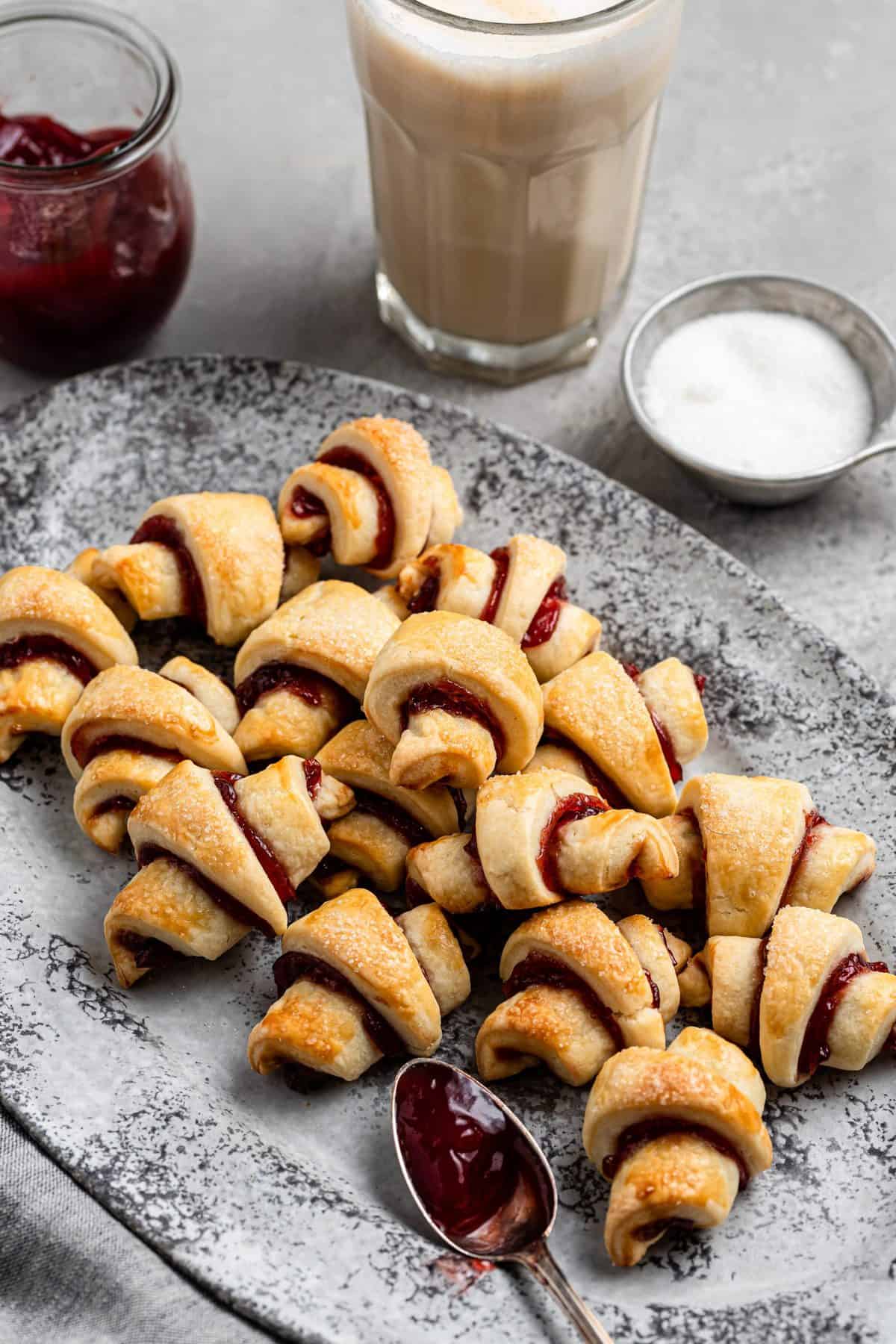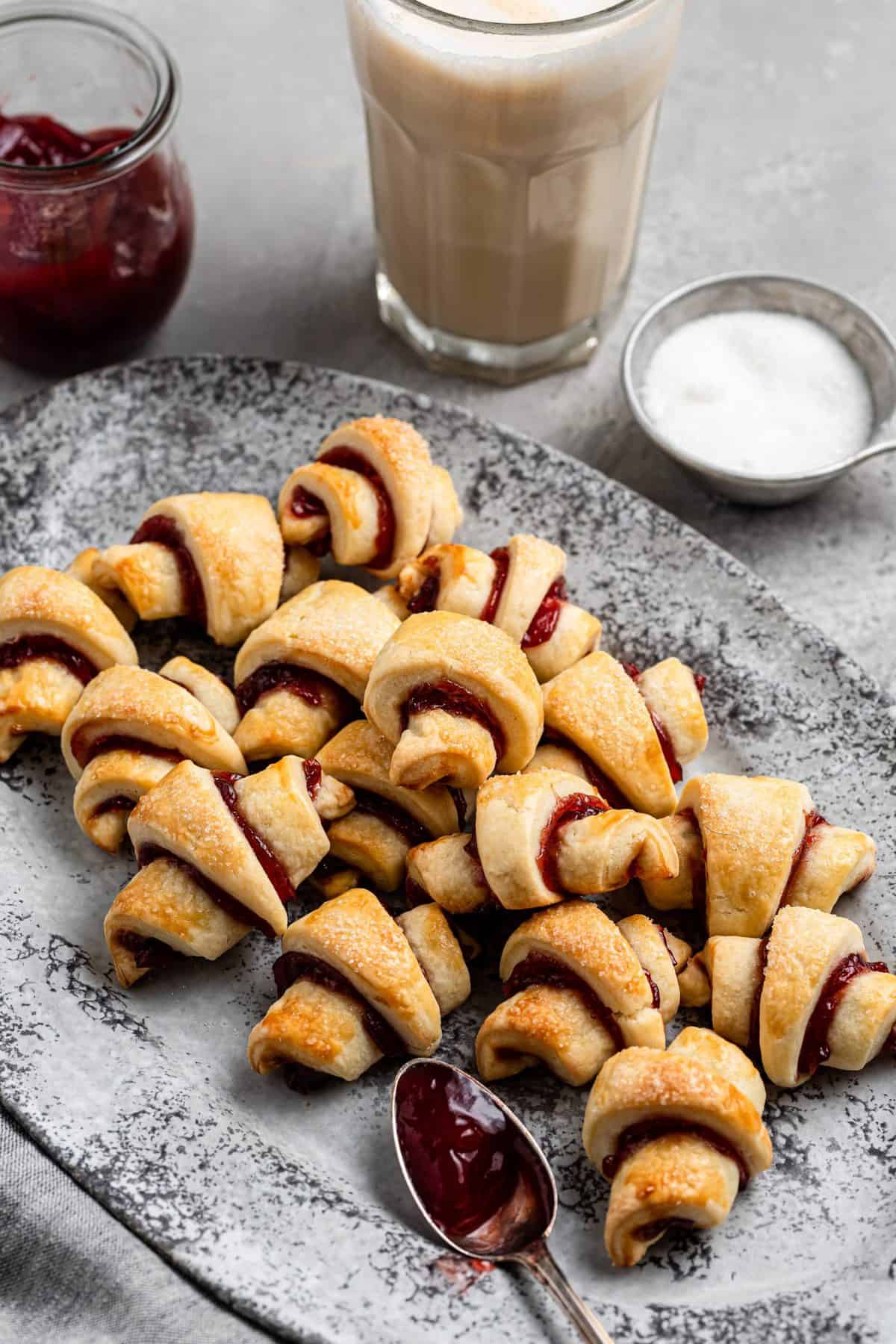 Best Containers To Gift Cookies In That Actually Keeps Them Fresh!

For years I would struggle with what to gift my cookies in. I knew it had to be something inexpensive and easy to give away, because the probability that I would be getting it back was very slim. A few years ago, I came across the limited edition red, green, and holiday printed Rubbermaid TakeAlongs at Walmart. Filled with delicious cookies and wrapped in a festive bow, they make the perfect gift.

Rubbermaid TakeAlongs feature a Quik Clik Seal™ that keeps food secure and helps prevent spills. No need to worry about your cookies or dessert flying off of the plate in the trunk when you make that turn!

The soft lid grips the container tightly for a great seal, yet with a large tab opening is easy. The best part is that they are microwavable, top rack dishwasher and freezer safe. It's a gift that keeps on giving!


Flaky Rugelach Recipe
FAQs
Can I make my rugelach dough ahead of time?

Yes, you can! I would recommend using refrigerated dough within three days, or you can keep it in the freezer for up to a month. Just be sure that the dough is securely sealed in plastic wrap so no additional air is allowed to permeate the dough.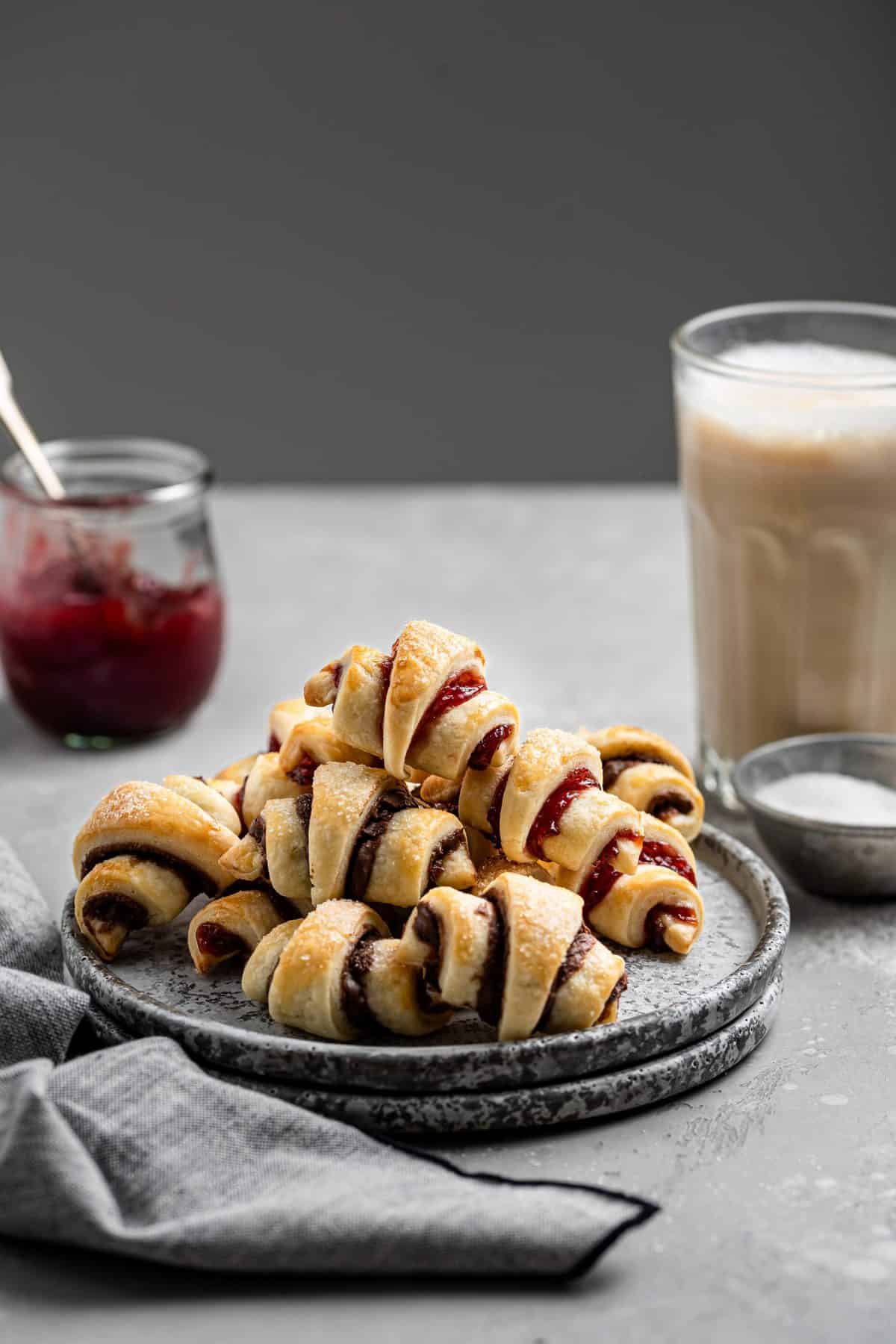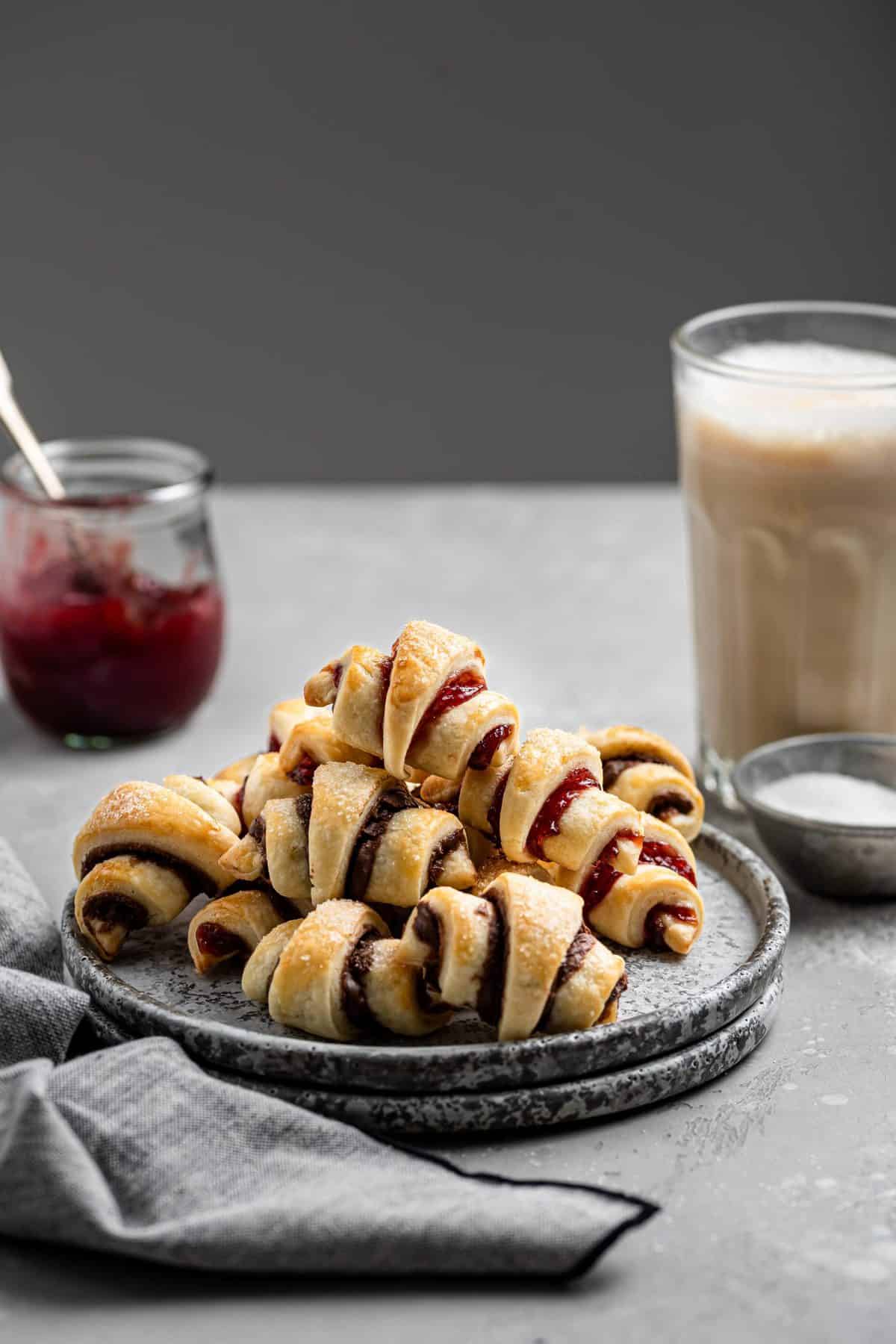 Why is my rugelach dough sticky and hard to roll?

It's important to make sure your dough is cold and set before attempting to cut and roll it. You'll need to work quickly when rolling the dough out, so it doesn't start to reach room temp too fast. If it warms up, the dough gets sticky and will make it hard to roll up correctly. If your kitchen tends to get too hot from the oven being on, you'll want to wait until the very last minute to start preheating it to avoid the excess heat.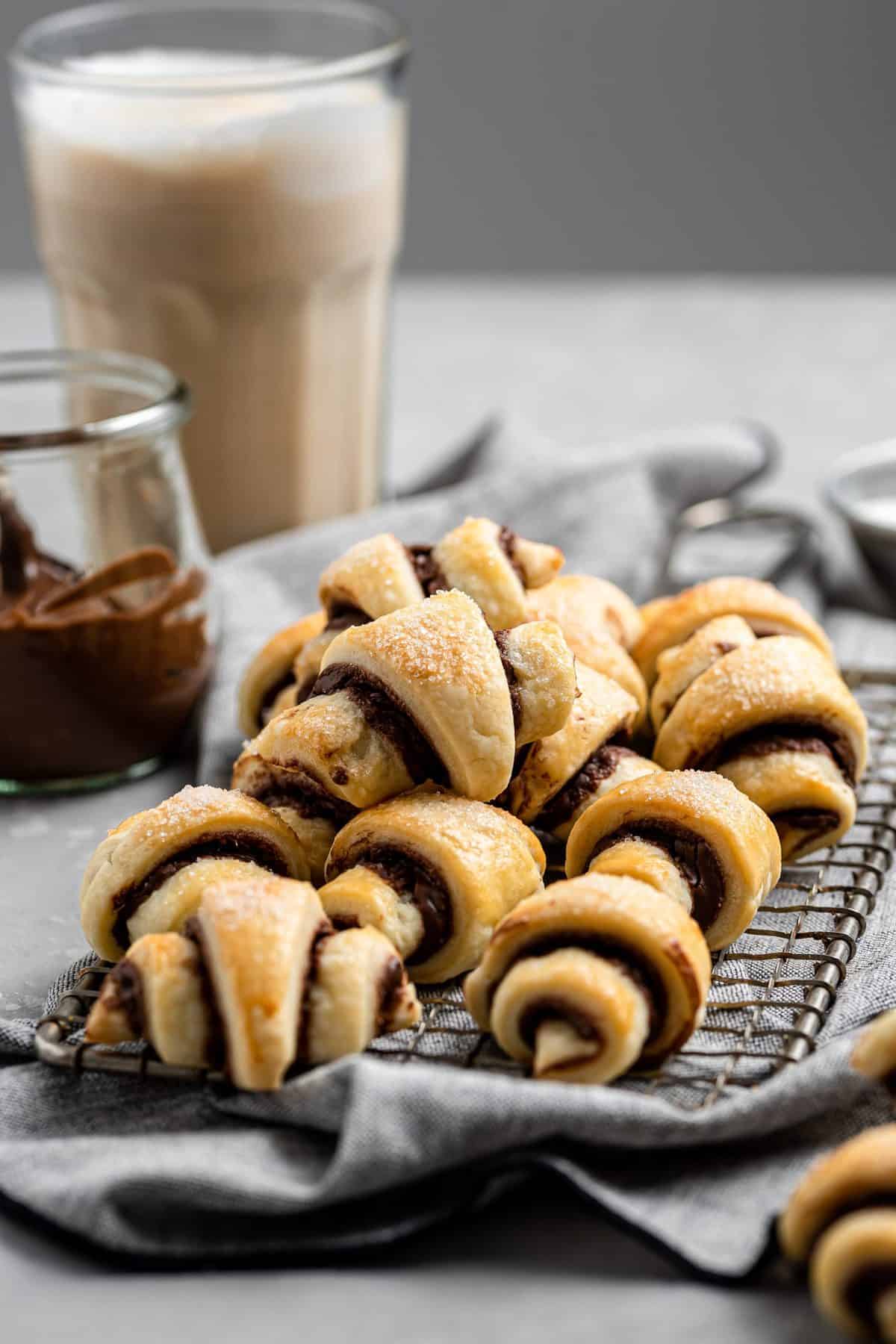 I don't have a food processor. Can I use a stand mixer or hand mixer instead?

Yes, you can. The key is to make sure that your dough is mixed together well and it is clumped together like pictured. A food processor is going to work best - but it's a matter of not making these cooks because of not having one. I say go for the stand or hand mixer (or even a blender!)

Other Cultural Recipes You'll Love

Pavolva with Pomegranate Pears,
Mexican Shrimp Ceviche,
Kalua Pork Sliders,
Beer Crepes with Marscapone and Cherry Compote
Other Holiday Cookies You'll Love
Don't Forget To Come Back And Let Me Know How Your Flaky Rugelach Cookies Turned Out!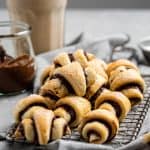 The Best Rugelach
The best Rugelach (pie/pastry crust cookie)! Buttery flaky outside full of delightful fillings makes for the perfect indulgent cookie!
Keyword:
hanukkah cookies, nutella cookies
Ingredients
4

cups

all-purpose flour

1

tablespoon

kosher salt

2

cups

(4 sticks) unsalted butter, cold and cubed

16

ounces

cream cheese

(2 blocks), cold and cubed

¼

cup

sour cream

1

egg

, lightly beaten

Chocolate hazelnut spread and Jam for filling

¼

cup

sugar for sprinkling
Instructions
Using a food processor, pulse flour and salt together a few times.

Add butter, cream cheese, and sour cream to the flour, and pulse until small pea-sized clumps form.

Divide dough into three small disks and wrap in plastic wrap.

Refrigerate dough for at least an hour, but preferably longer.

Once dough is cold, preheat your oven to 350 degrees, and line a few baking sheets with parchment paper.

Removing one disk from the fridge at a time, roll out dough on a lightly floured surface.

Roll dough into approximately a 10-inch circle about ¼ inch thick.

Spread chocolate hazelnut spread or jam all over circle.

Preferably using a pizza cutter, cut circle into 16 even sized wedges.

Roll each wedge up, beginning with the wide end and ending with the narrow end. Place the rolls point-side down onto the baking sheets, about 2 inches apart.

Brush with egg and sprinkle with sugar.

Repeat with remaining dough.

Bake cookies for 15-20 minutes or until they are golden brown.

Store in an airtight container for up to 1 week.