These Strawberry Shortcake Pudding Cups are reminiscent of the bars that you would get in the summer from the ice cream man! With layers of Oreo's and strawberry, cheesecake pudding folded with fresh strawberries, and whipped cream, it's the perfect quick dessert!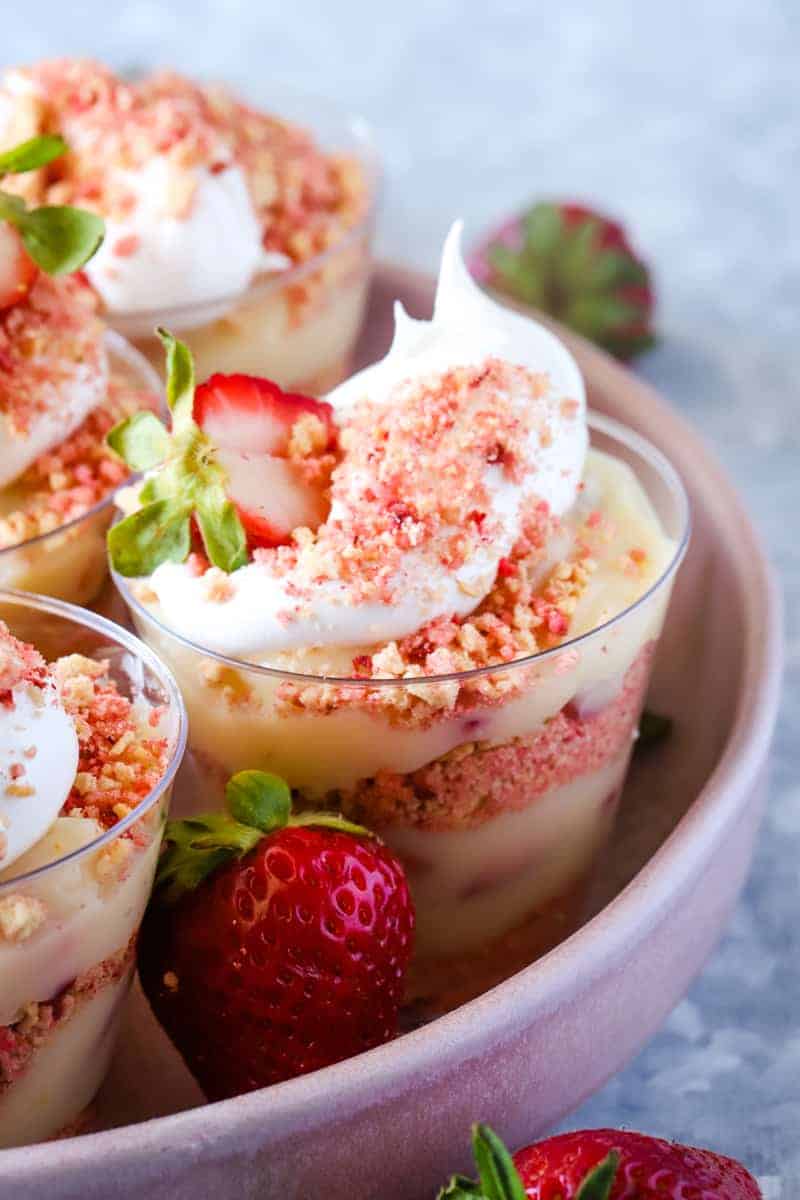 Sometimes you just want something that sweet that's going to hit the spot. Do you know what I mean? Something tantalizing, tasty, and easy to prepare and on hand for when you are craving something sweet. These strawberry shortcake pudding cups are the answer to your prayers. Delectable and light, crunchy and smooth, with just enough sweetness to satisfy that sweet tooth craving, these really are a delicious dessert.
They are the perfect option for children too. Especially if you want to pull out something that has the wow factor but has taken no time at all to make. These strawberry shortcake pudding cups will have you earning serious mom brownie points.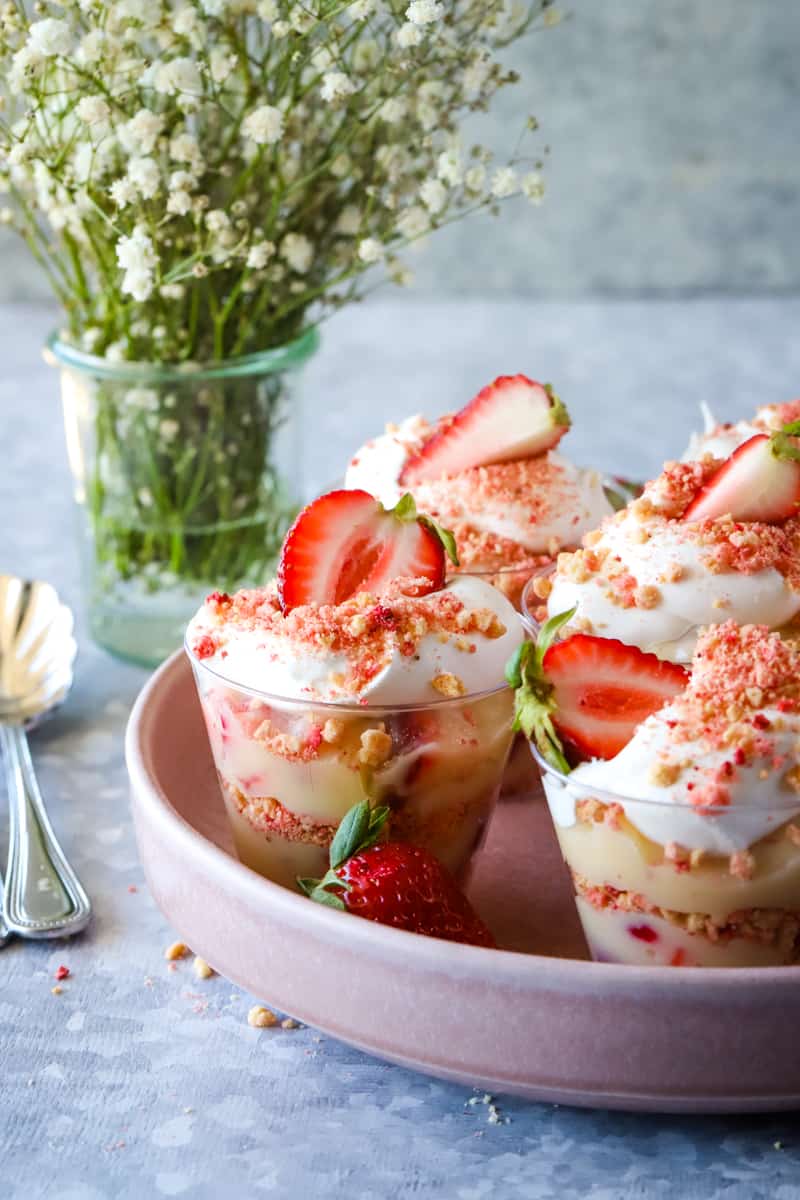 Making homemade pudding can be a bit of a beast, so I like to use store bought instant pudding for a quick fix. You can also skip that part altogether and just use the vanilla snack pack pudding cups.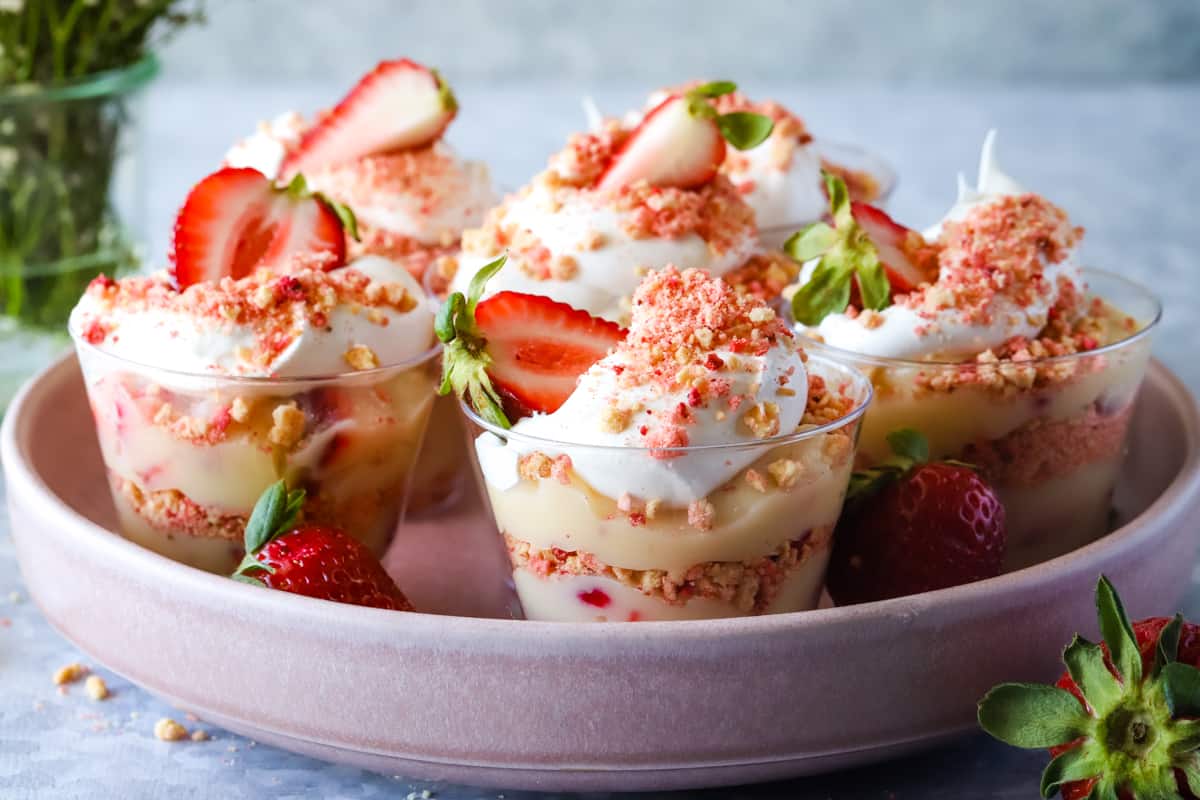 WHY WE LOVE THESE STRAWBERRY SHORTCAKE PUDDING CUPS
This is a shortcut recipe- meaning no fuss and ready to enjoy in less than 10 minutes.
Even though it's a simple recipe, these mini strawberry trifles look elegant and would be perfect on your dessert table.
Kids and adults love this easy dessert and it's perfect for a family gathering, baby shower, Mother's Day, etc.
All of our favorite things combined in one delicious bite!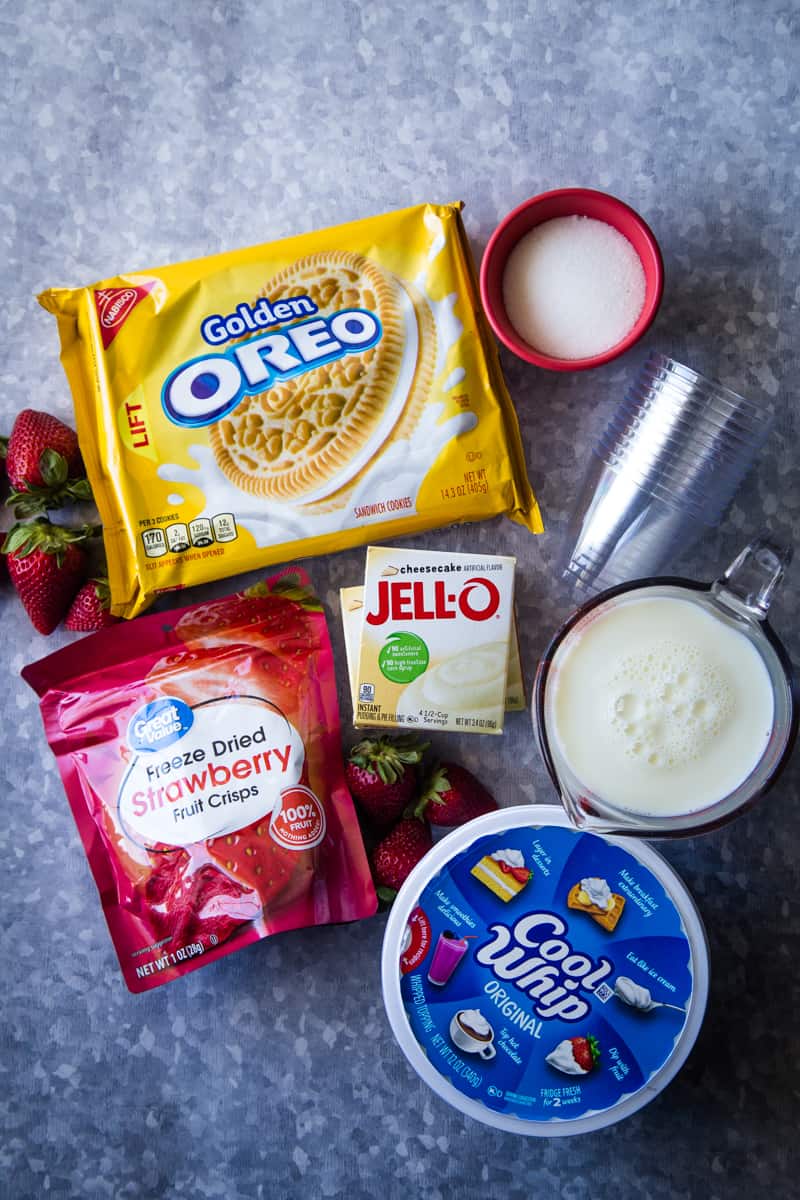 INGREDIENTS TO MAKE THIS STRAWBERRY SHORTCAKE RECIPE
Here is everything that you need to create the delicious strawberry shortcake pudding cups-
Ingredients:
Vanilla Oreos- you can also use shortbread cookies
Freeze-dried strawberries
2 packages Instant Jell-o Cheesecake Pudding
Whole cold milk
Fresh juicy strawberries
Whipped cream- I used cool whip, but you can make your own using heavy whipping cream and a bit of sugar.
8-10 4 ounce plastic cups or jars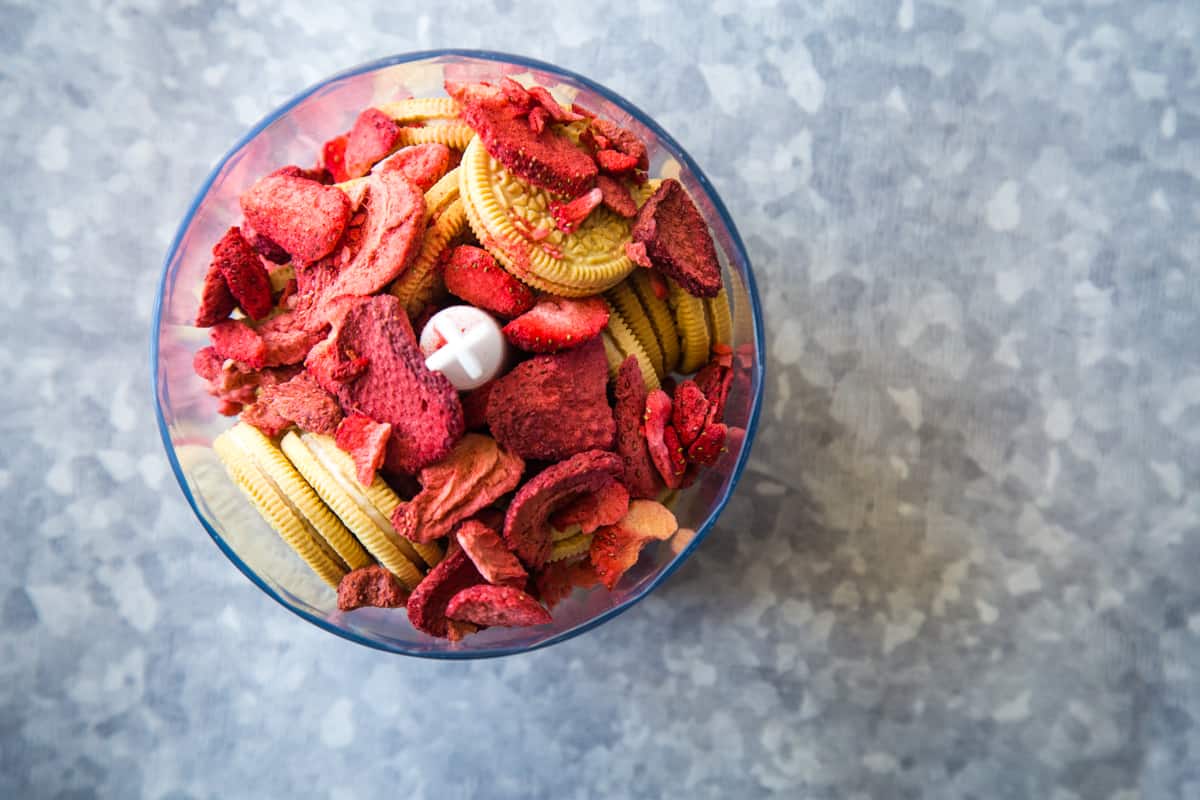 HOW TO MAKE THE INDIVIDUAL CUPS
Makes 8- ½ cup (4oz) mini dessert cups.
Prep Time- 10 min.
SUBSTITUTIONS AND ADDITIONS
Like with many recipes there will always be variations to try. Here are a few suggestions-
Make a chocolate version- Use regular oreos for a chocolate strawberry trifle flavor. You can also use different pudding flavors. I always love a good instant vanilla pudding mix. Pro tip- add some vanilla bean paste to get extra flavor!
Use your favorite fruit to make different flavors- I have found that dehydrated blueberries and raspberries work deliciously as well, or make it a banana pudding cup!
Add a layer of diced pound cake or angel food cake to make these mini strawberry shortcake trifle cups.
Use mini jars to make strawberry shortcake cups.
Make it into a large trifle bowl!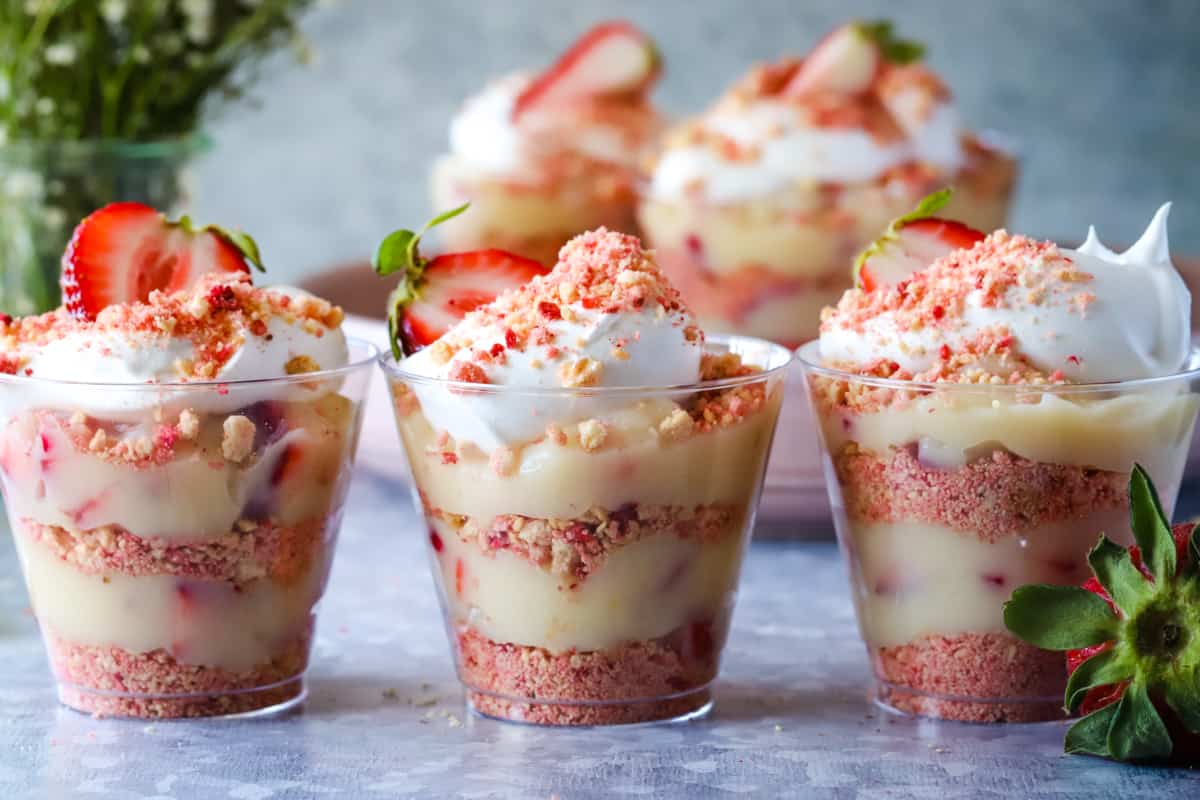 FREQUENTLY ASKED QUESTIONS
Can these be made ahead of time?
The pudding cake make the strawberry Oreo crumbs a bit soft, which isn't bad. However, if you would like it to have a bit of a crunch, I recommend making them at most 3 hours before serving. Make sure to refrigerate until ready to serve.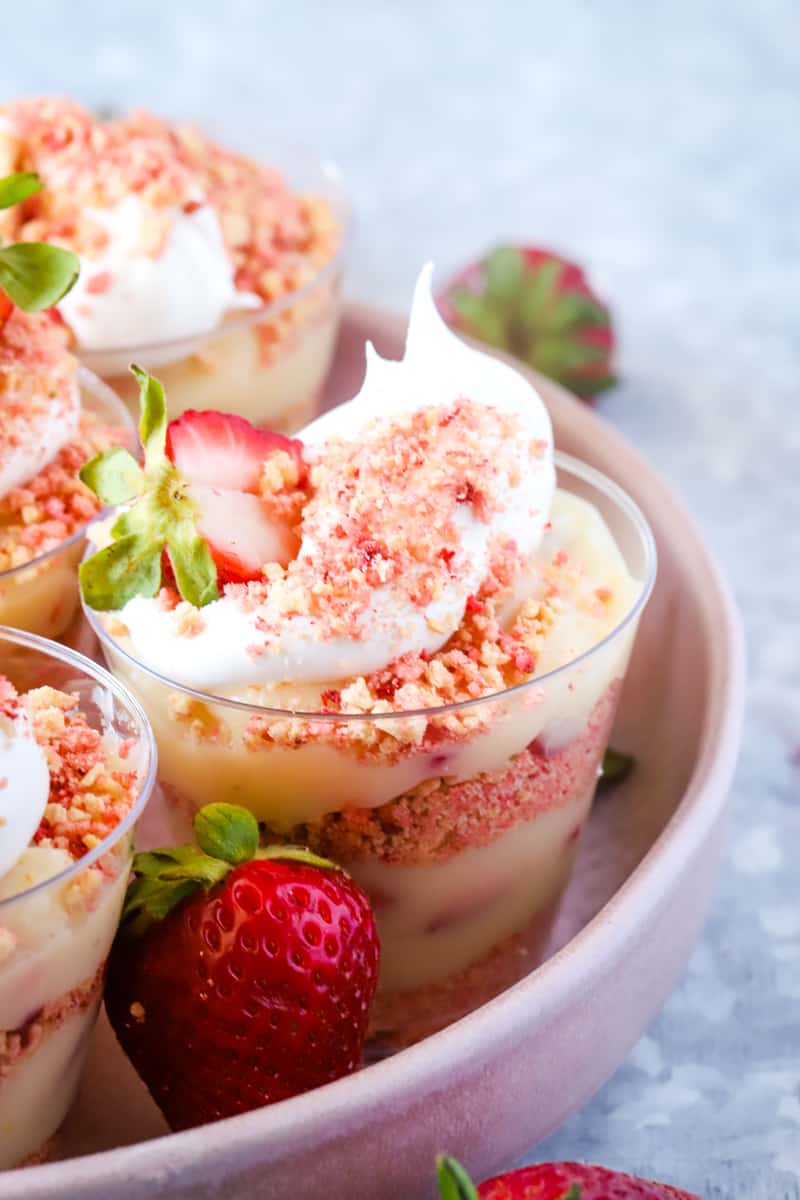 How should I store the Strawberry Shortcake Pudding Cups?
The best way is in the fridge. Make sure they have space, and it would be advisable not to add the whipped cream until you are ready to serve them. Allow for space in your fridge so that they don't get knocked over.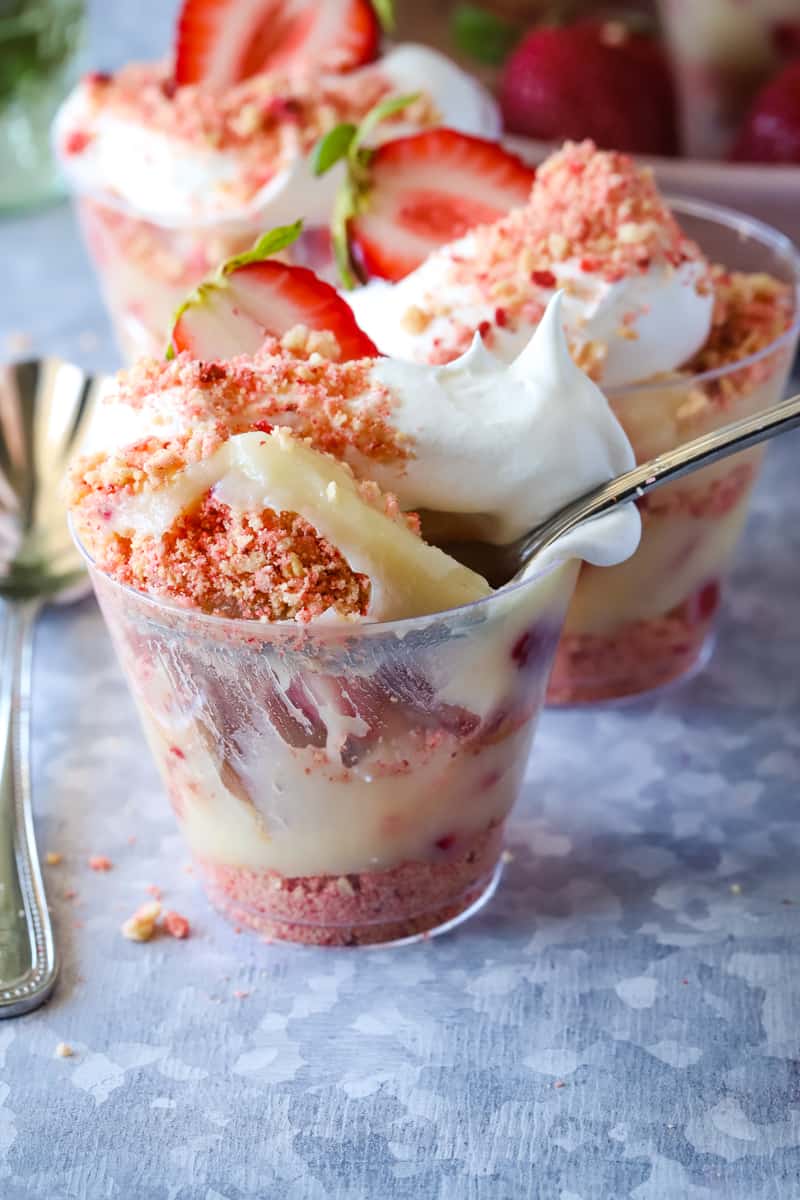 Can I freeze the Strawberry Shortcake Pudding Cups after they are made?
Unfortunately, these won't freeze too well because of the fresh strawberries. However, if you plan on varying the recipe then as long as there is no fresh fruit you could freeze them to the point of adding whipped cream. I recommend adding the finishing touches right before serving.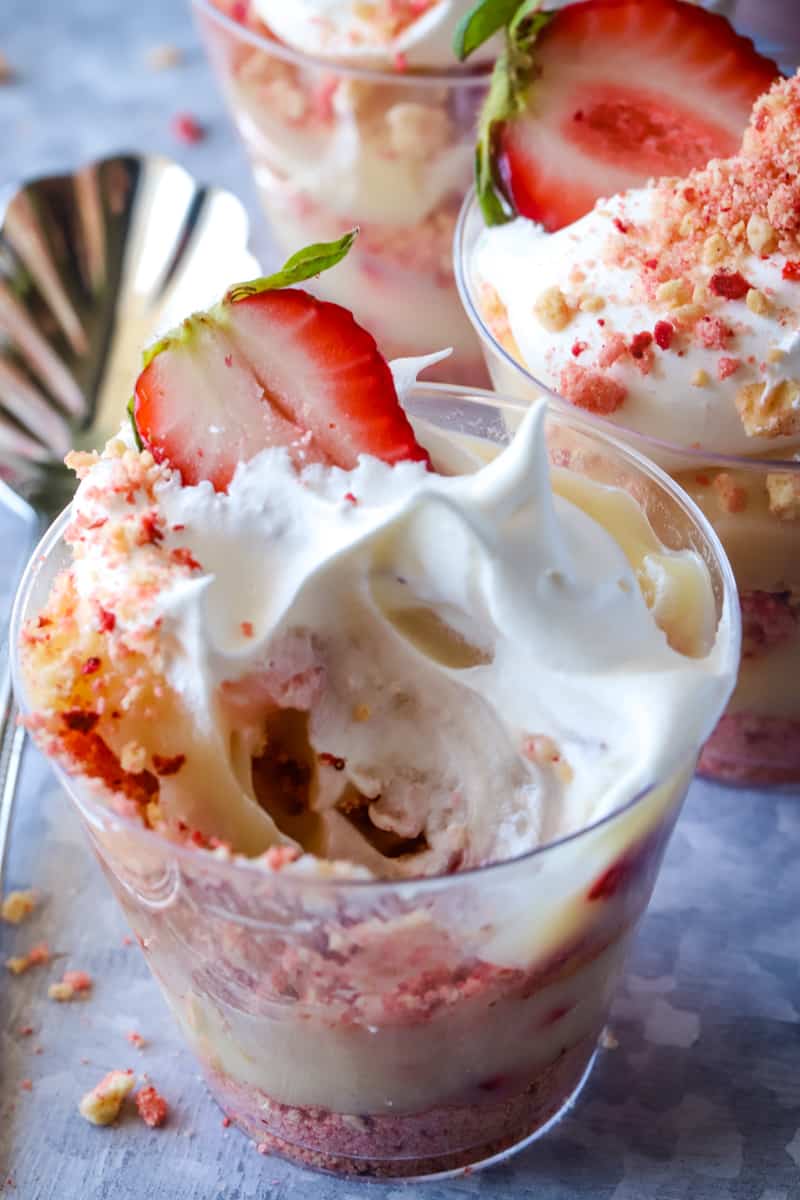 OTHER SHORTCAKE RECIPES YOU MAY ENJOY-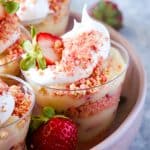 Strawberry Shortcake Pudding Cups
These Strawberry Shortcake Pudding Cups are reminiscent of the bars that you would get in the summer from the ice cream man!
Keyword:
baby shower recipes, pudding cups, strawberry pudding trifles
Ingredients
20

Golden Vanilla Oreos

½

cup

freeze-dried strawberries

2

3.4 oz packages Instant Jell-o Cheesecake Pudding

4

cups

whole milk

cold

1 ½

cups

strawberries

diced

1

cup

whipped cream

8-10 4

ounce

plastic cups or jars
Instructions
Pulse Oreos and dehydrated strawberries in a food processor until finely crushed. Alternatively, place in a large ziplock bag and crush with a rolling pin until fine crumbs.

In a large bowl, whisk together cheesecake pudding and milk. Whisk until smooth. Fold in diced strawberries. Set aside to set for 5 minutes.

Place a spoonful of oreo strawberry crumbs at the bottom of each cup. Add a layer of pudding, then top with more crumbs followed by another layer of pudding. Chill until ready to serve.

Right before serving, top with a tablespoon of softened cool whip. Garnish with oreo strawberry crumbs and top with a strawberry slice, if desired.