The perfect dessert for a crowd, these Sugar Cookie Bars with Fresh Strawberry Frosting are sure to give everyone a smile.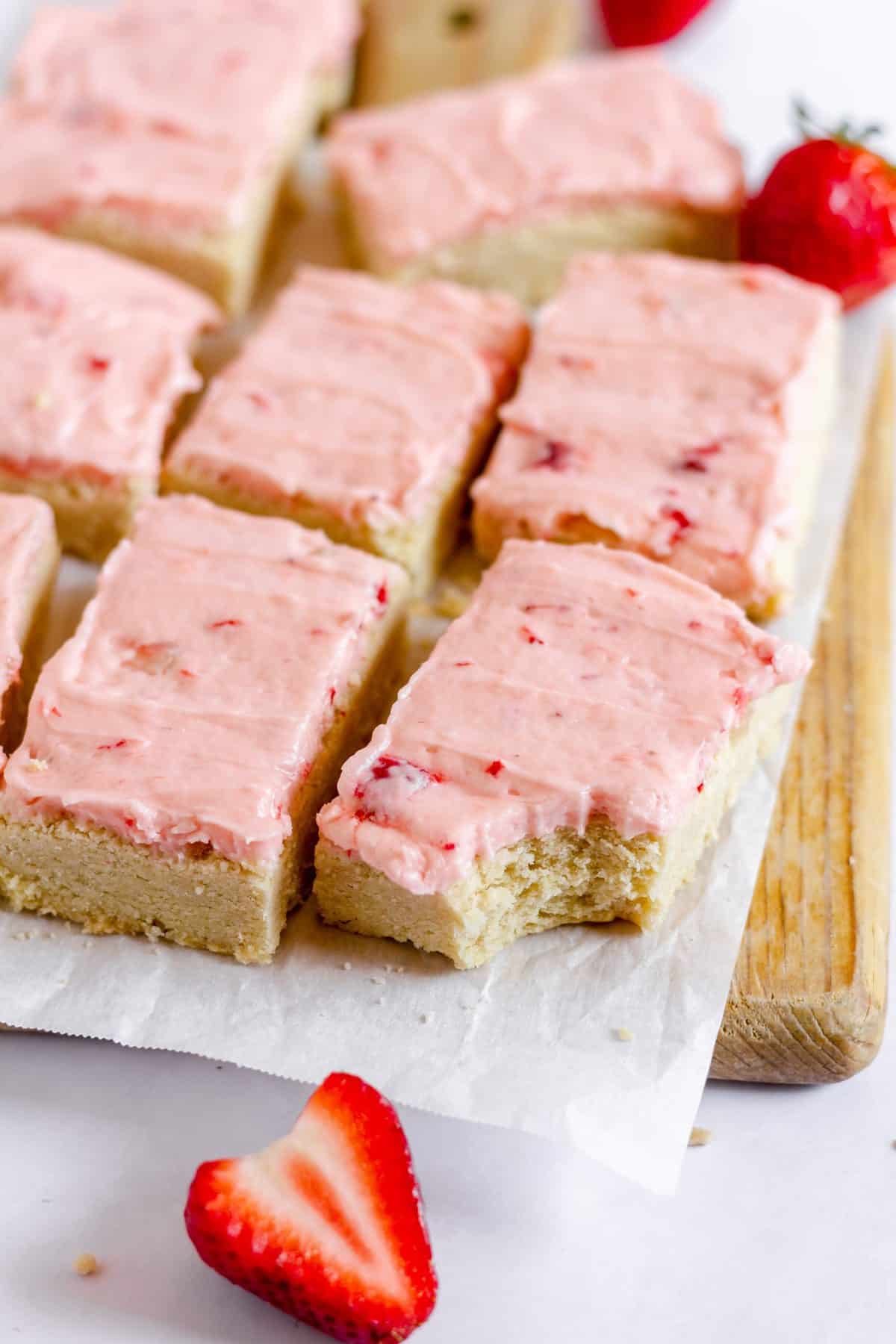 Soft, moist sugar cookie bars are topped with a deliciously creamy strawberry frosting. If you like sugar cookies, you're going to love these sugar cookie bars topped with this delectable homemade strawberry frosting. Made with fresh strawberries, the icing is the key to these delicious treats.
These sugar cookie bars with strawberry frosting are perfect for a baby shower, bridal showers, spring or summer potlucks, or just a quick and easy dessert with the fam and sure to become on of your favorite recipes. If you're making them for a party, dress them up with slices of strawberries or sprinkles. Sugar cookies are already a popular treat, but slapping them with fresh strawberry frosting makes them even better.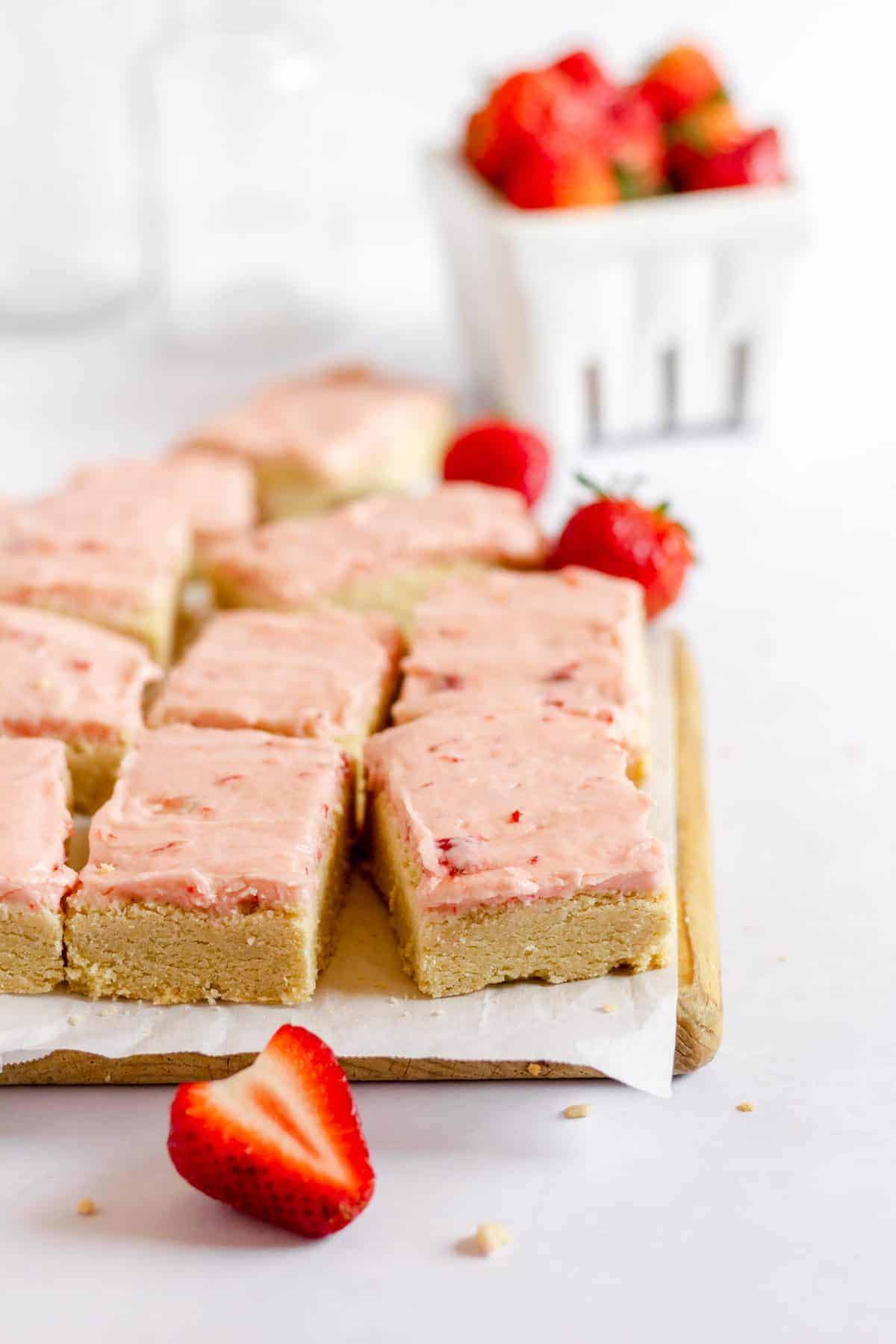 WHY WE LOVE STRAWBERRY SUGAR COOKIE BARS
I love good soft sugar cookies, and these strawberry sugar cookies are some of my favorites! Here's why we love them so much:
Real fresh fruit frosting- The natural strawberry frosting is made with fresh strawberries for a crisp fresh taste that's absolutely irresistible.
Super easy- Regular Sugar cookies can be a hassle with rolling cutting and baking, but sugar cookie bars are so easy because there's none of that stuff to do. It's all the deliciousness of a sugar cookie recipe- in bar form!
Perfect for summer- These sugar cookie bars are sweet, light, and refreshing. They make the perfect dessert for summer.

INGREDIENTS/SHOPPING LIST
Granulated sugar
Unsalted Butter
Egg
Real vanilla extract
All-purpose flour
Baking powder
Salt
Powdered sugar
Strawberries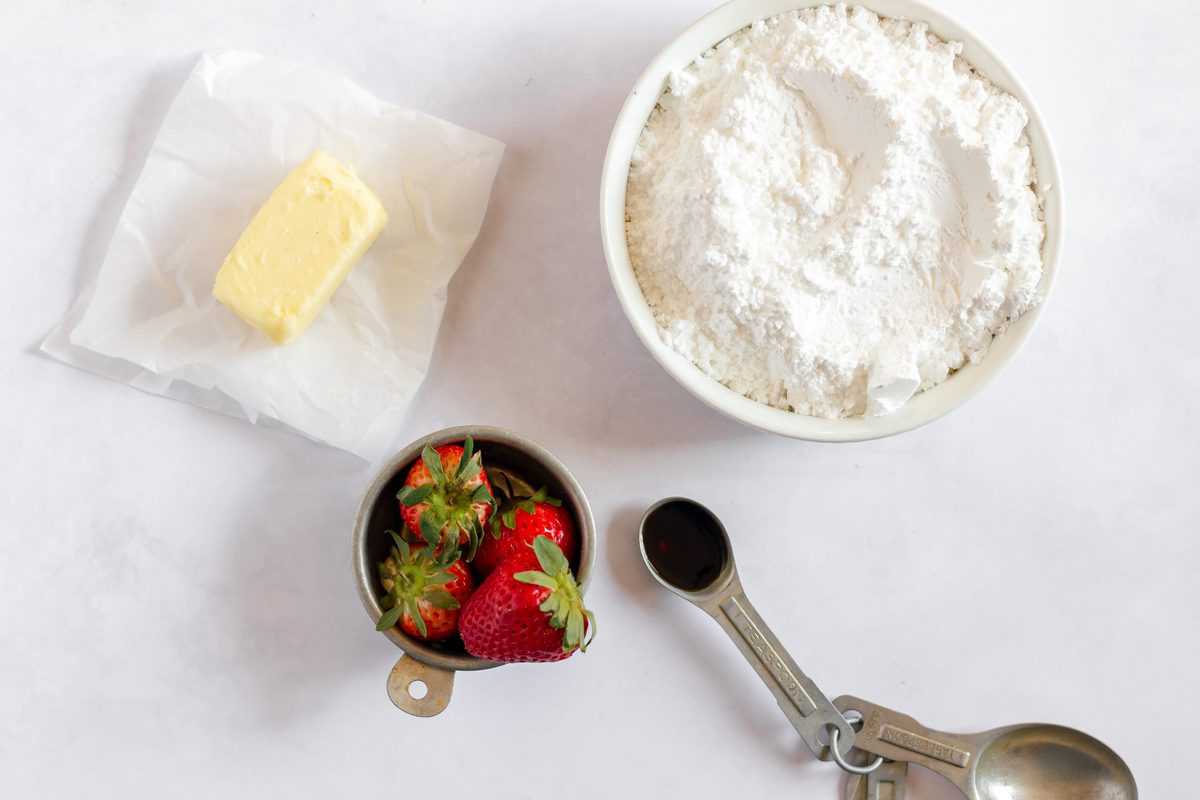 SUBSTITUTIONS AND ADDITIONS
Berries: I used fresh strawberries for the frosting, but you could also use blueberries, raspberries, or any berry that you prefer. It's the secret ingredient to make these the perfect cookie bars.
Sugar cookie mix: If you have a box or bag of sugar cookie mix, you can use that instead of making homemade sugar cookie dough. However, I think homemade is better.
Vanilla extract: I use real vanilla extract for a better flavor, but you could use flavoring as well. A touch of almond extract works well too!
Lemon Zest: Make a batch of strawberry lemon sugar cookie bars by adding a tablespoon of lemon zest to the cookie base and frosting. It's a perfect way to make a delicious strawberry lemon buttercream frosting.
Extra Strawberry Flavor- to get an even more delicious strawberry frosting, add a tablespoon of dehydrated strawberry powder.
HOW TO MAKE SUGAR COOKIE BARS WITH STRAWBERRY FROSTING
Since there's no rolling, or cutting involved, these sugar cookie bars are a breeze to whip up. Get on your baker's hat for a deliciously sweet treat.
First, preheat your oven to 350℉. Then, line a 8x8 baking dish with parchment paper.
Next, in a large mixing bowl cream together the butter and sugar. Add in the egg and vanilla. Mix until combined.
Add your dry ingredients- flour, baking powder, and salt to the egg mixture. Mix well.
Pour the dough into your prepared baking dish and press it into the bottom.
Bake your sugar cookie bars for 20-25 minutes.
Let the cookie bars cool completely.
To make the frosting, first mash the strawberries with a potato masher or blend them in a blender or food processor.
Next, add the softened butter to the strawberries to a large bowl or the bowl of a stand mixer and mix . Then, add the powdered sugar while continuing to mix.
Spread the icing evenly over the top of the sugar cookie bar using an offset spatula.
Cut the sugar cookie into bars. Enjoy!
TIPS
Don't overmix the batter. You only want to mix your ingredients until everything is incorporated.
Don't over bake the cookie bars. Cookies continue to firm as they cool. The bar should be a golden brown when you remove them from the oven.
Blending the strawberries into a strawberry puree results in a creamier frosting while mashing them will result in a chunkier icing. Do whichever you prefer.
These bars taste best when refrigerated and eaten cold.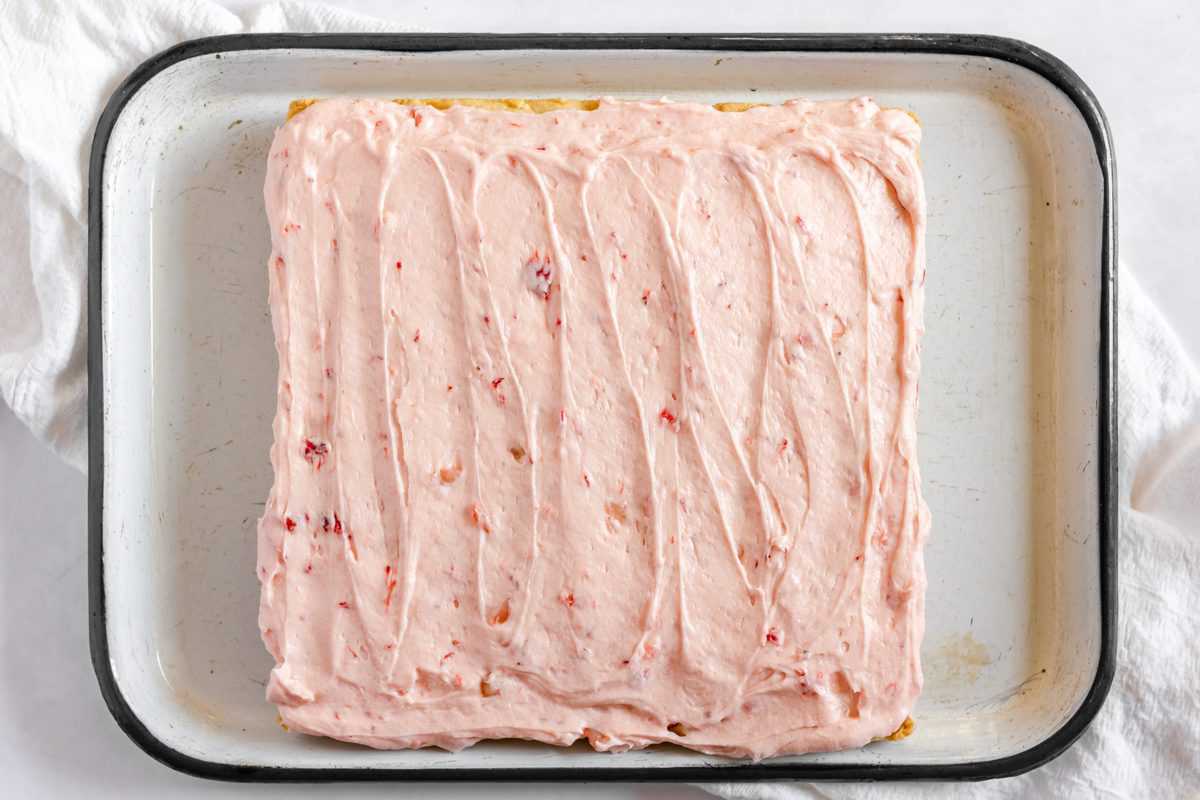 STORAGE TIPS
Store sugar cookie bars in an airtight container at room temperature.
Or, store them in the refrigerator.
Strawberry sugar cookie bars are good for 3-5 days.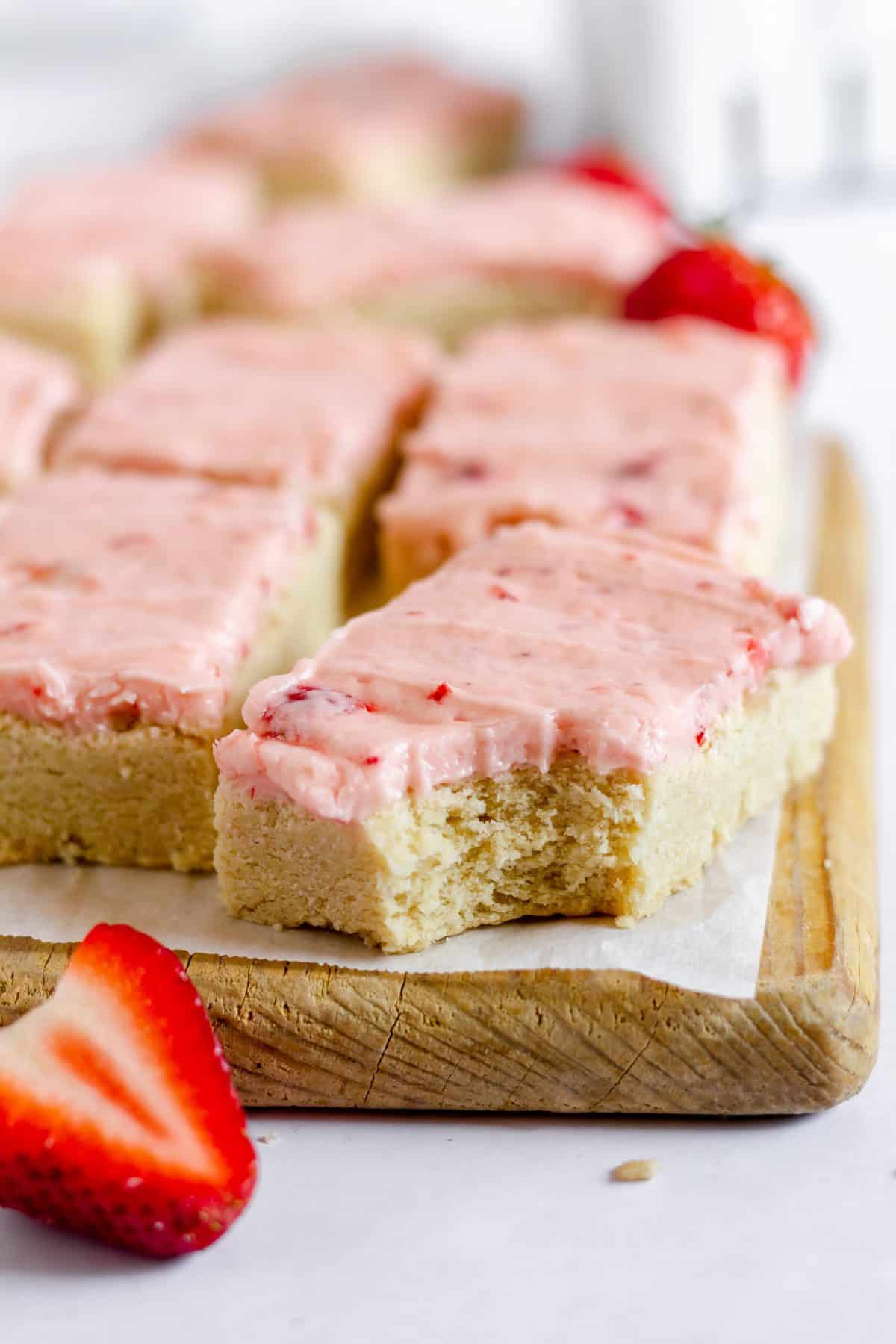 FREQUENTLY ASKED QUESTIONS
Can I Freeze sugar cookie bars?
Absolutely! Allow the bars to cool completely. Then, place the bars in an airtight container, separated by waxed paper in between layers. Cookies can be stored in the freezer for up to 6-months.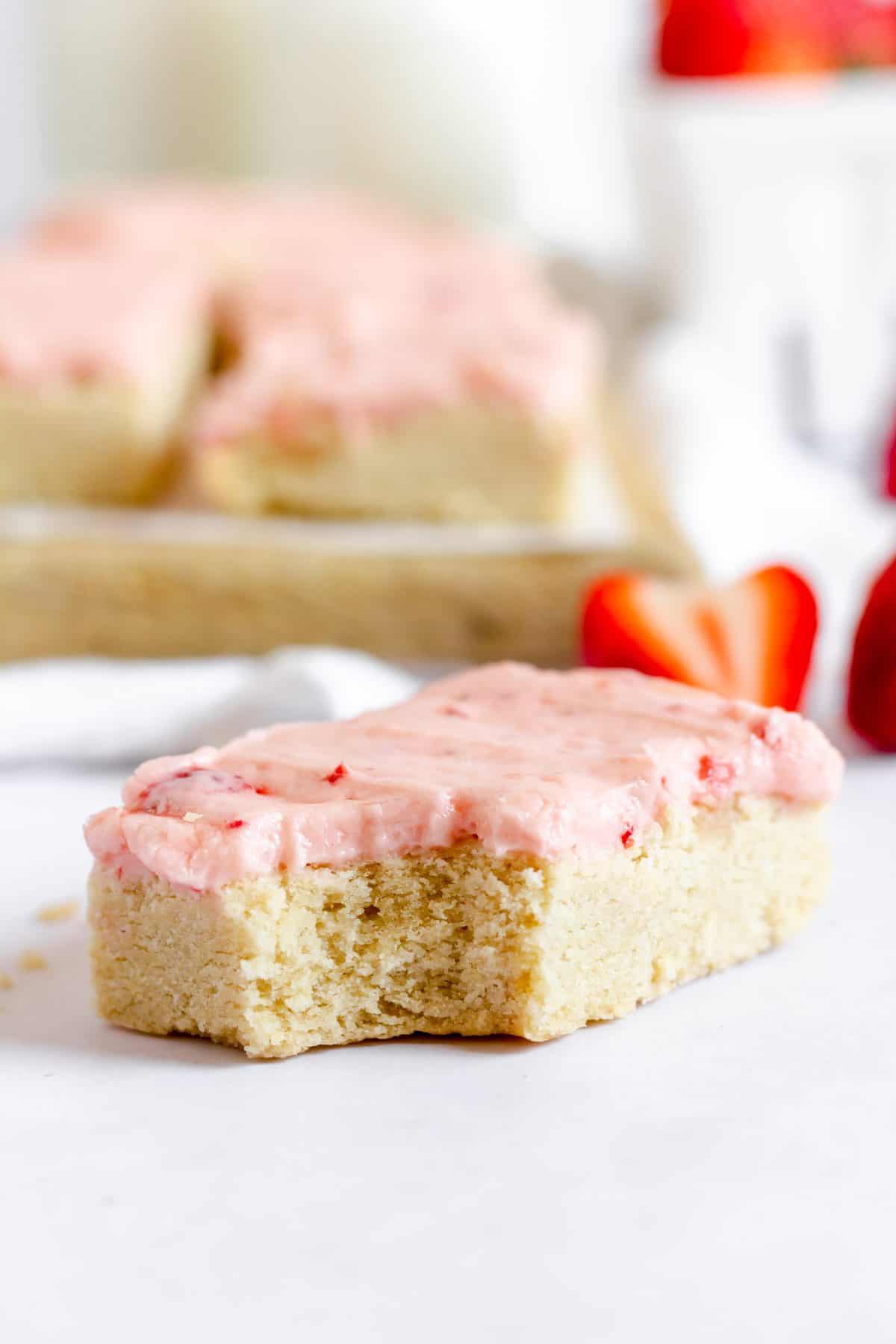 Do frosted sugar cookies need to be refrigerated?
Since we did not use cream cheese, the sugar cookies do not need to be refrigerated. However, many say they are better when they are cold.
How do I know when sugar cookie bars are done?
For cake-like bars, you can test them with a toothpick inserted into the center of the pan. If it comes out with a few moist crumbs, the cookie bar is done.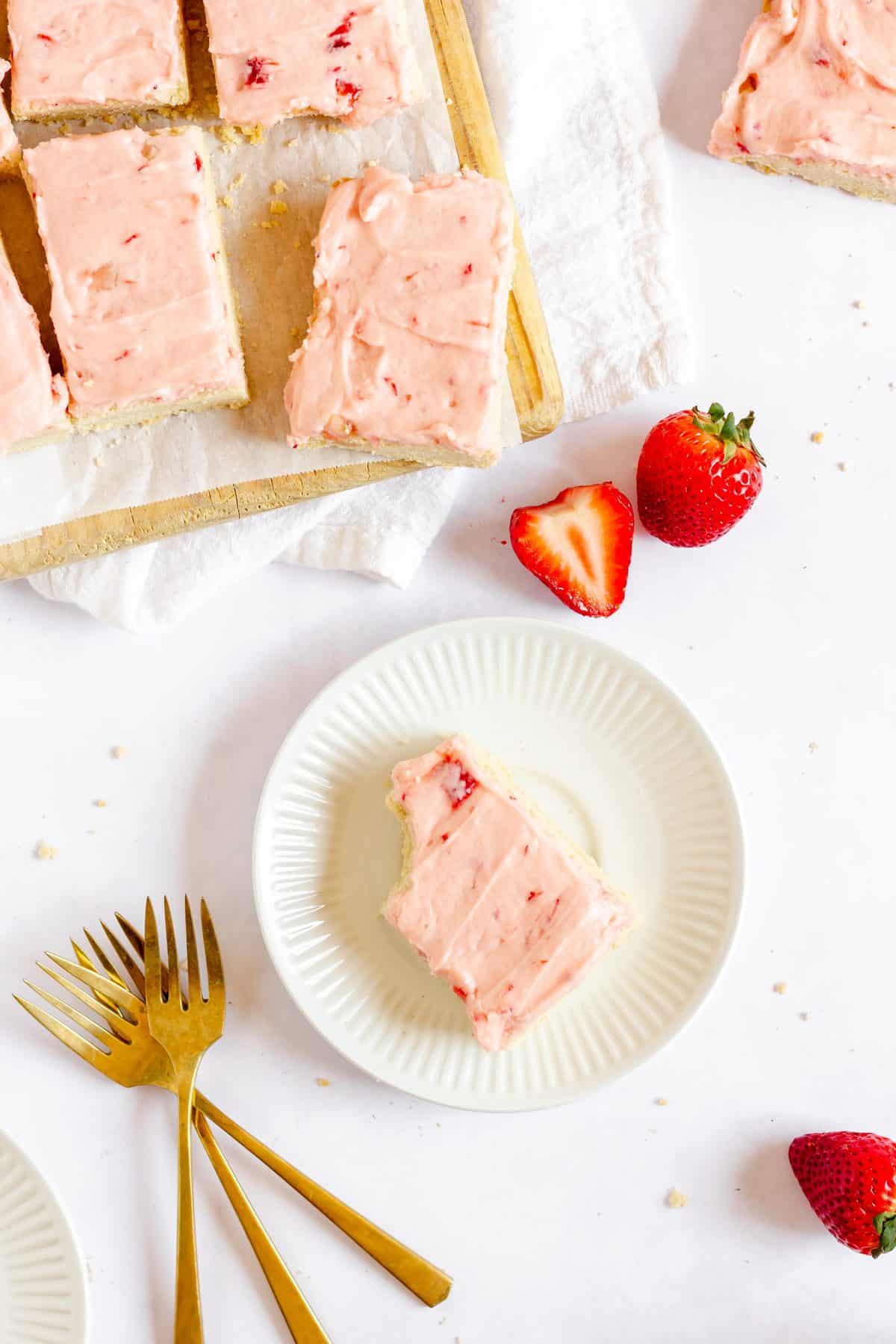 OTHER EASY RECIPES YOU MAY ENJOY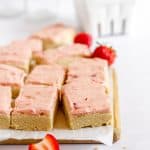 Sugar Cookie Bars with Fresh Strawberry Icing
Keyword:
strawberry sugar cookies, sugar cookie bars recipe
Ingredients
Cookie Bars
1

cup

granulated sugar

½

cup

butter softened

1

large egg

1 ½

teaspoons

real vanilla extract

2

cups

all purpose flour

1

teaspoon

baking powder

½

teaspoon

salt
Icing
¼

cup

unsalted butter

softened

2

cups

powdered sugar

sifted

⅓

cup

diced strawberries

2-3 berries
Instructions
Cream together butter and sugar. Add in egg and vanilla and mix until well combined.

Preheat oven to 350 degrees F. Line an 8x8 inch baking dish with parchment paper.

Add flour, baking powder, and salt. mix well.

Press dough into the bottom of prepared baking dish.

Bake for 20 to 25 minutes, until just done. Remove from oven and allow to cool completely before icing.

To make the icing, mash strawberries with a potato masher, or blend to your preference of chunky or smoothness.

Add butter and mix. Add powdered sugar while continuing to mix until smooth and creamy.

Spread icing evenly over the top of the sugar cookie, and cut into bars.