Step out of your barbecue box by making these tender Pork Ribs with Pineapple BBQ Sauce! It's easy to make your own Hawaiian BBQ sauce, and this version is the perfect combination of sweet and sour with a nice little kick. Just the thing for all your backyard summer barbecues!
Now that summer has officially hit, we are grilling our dinner almost nightly. What is so nice about cooking outdoors is that it is almost mandatory that you station yourself next to the grill and relax while watching the meat cook.
Yep, sitting back with a cold drink, watching the sunset, and inhaling the delicious aromas coming from the grill makes for pretty much the best summer evening ever.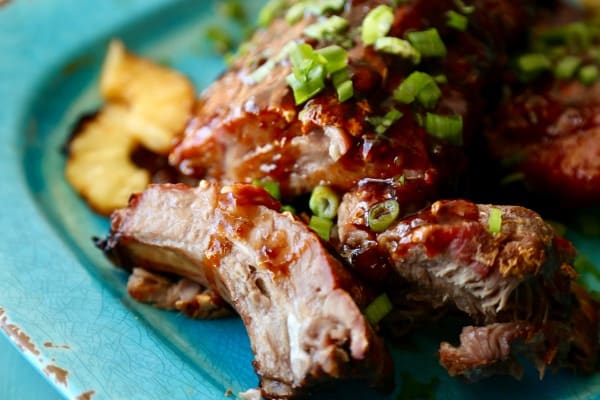 We crave the simple luxury of these nights all year long. So when it is finally time, believe me...we take full advantage. My husband and I have been grilling almost every meal for the last month. And despite eating ribs multiple times already, we keep going back to them again and again. They are just so delicious and make a perfect canvas for all sorts of different barbecue sauce flavors.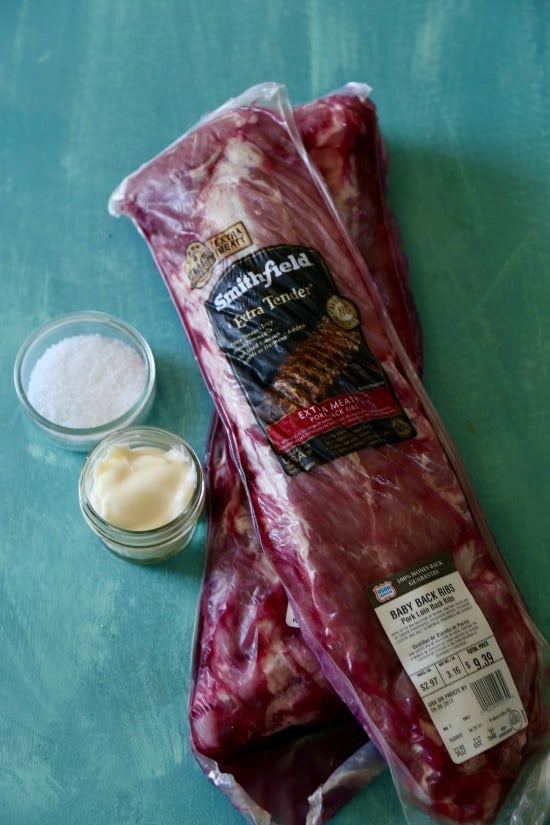 While pork ribs are the foundation for great barbecue, I do have a few extra secrets for making them even more perfect!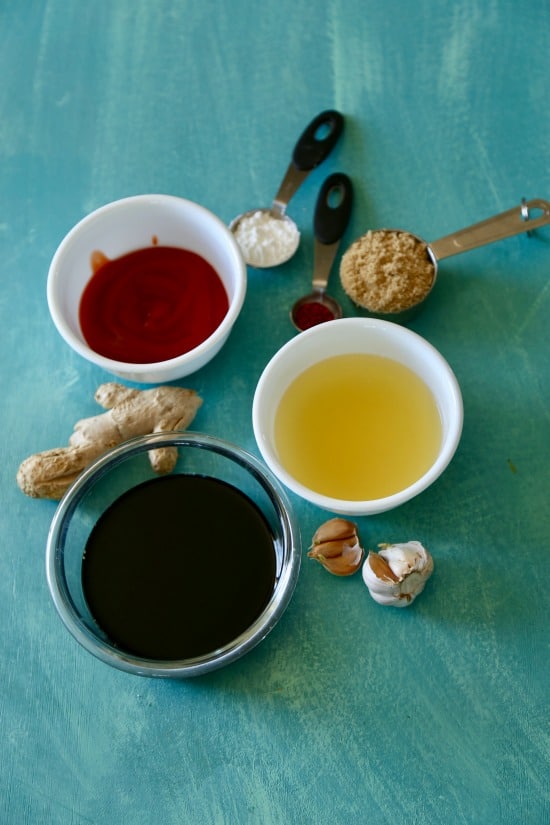 Growing up, my dad didn't cook very often but he had a few signature meals. One of his specialties is grilled steak rubbed in mayonnaise and Hawaiian Sea Salt. It sounds crazy, but it is utterly delicious!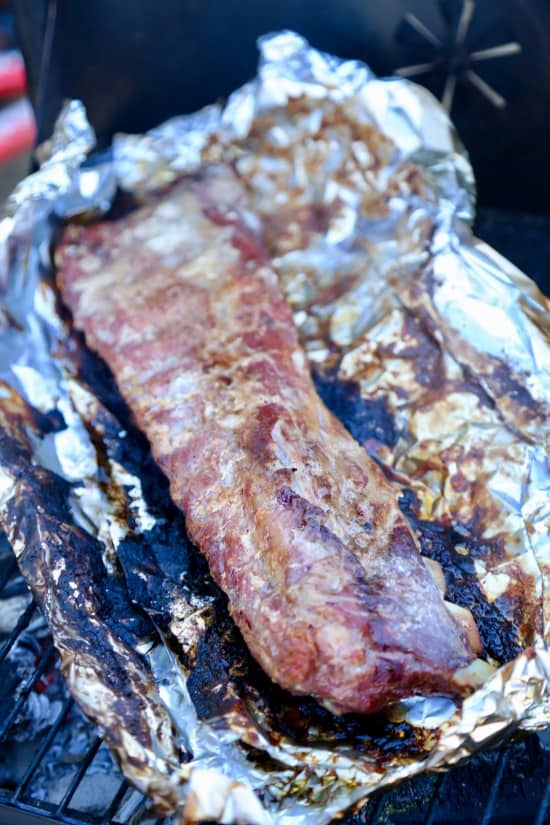 Grilling with Mayonnaise
You see, mayonnaise helps foods retain moisture as they cook on the grill, so foods — particularly meats — don't dry out.
Unlike oil and oil-based marinades, the fact that mayo is an emulsion means that the mayonnaise sticks to the food, and does not just slide or burn off. It slowly evaporates while protecting the meat so the heat doesn't evaporate the meat juices.
It also helps release the meat from the hot grill surface and turns a beautiful golden color that gives your grilled meat a perfect finish. And not to worry, the mayonnaise flavor cooks off, leaving you one spectacular dish with no residual mayo flavor.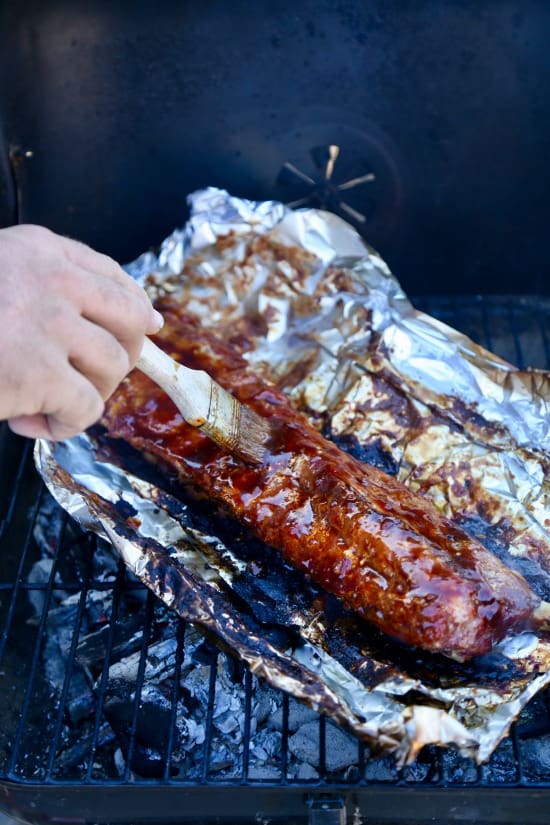 Because this method worked so well on other types of meat, I thought I would try it on these pork ribs. Although they are naturally extra-tender and juicy, the mayonnaise/salt marinade made them mouthwateringly delicious. So much so that they have been requested again tonight!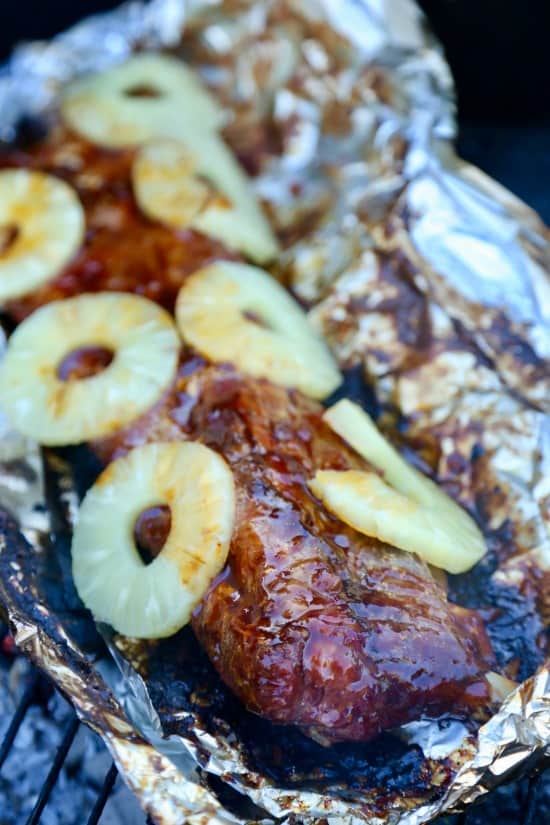 Hawaiian BBQ Sauce
Since it is summer, and I love coming up with new and different BBQ sauce recipes, I decided to make a Hawaiian BBQ sauce. This version hits all of our taste sensors. It is a bit a sweet, a little sour, and has a slight kick thanks to these ingredients:
fresh pineapple juice
low sodium teriyaki sauce
brown sugar
fresh garlic
fresh grated ginger
red chili flakes
This Pineapple Hawaiian BBQ Sauce is absolutely perfect on the pork ribs! In fact, you'll love this sauce so much you'll want to put it on top of everything. And by all means, go ahead! Use it to transform your basic hamburgers into totally delectable Hawaiian burgers. For a low-fuss midweek meal, quickly slather some chicken breasts with it using this handy basting brush, then just throw them on the grill. Yum!
3 Tips for Grating Fresh Ginger
I have 3 awesome tips for grating fresh ginger that will make this task so easy, you'll be adding fresh ginger to all sorts of dishes!
Store your ginger root in the freezer. This will make it easier to grate, without falling apart and getting too stringy.
When it's time to grate the ginger, remove it from the freezer and peel off the skin with a vegetable peeler. I know many people swear by the spoon method, but I find using a veggie peeler to be more effective.
Use a grater/zester tool like this one to easily grate the frozen ginger and get a nice, uniform pile of fresh ginger.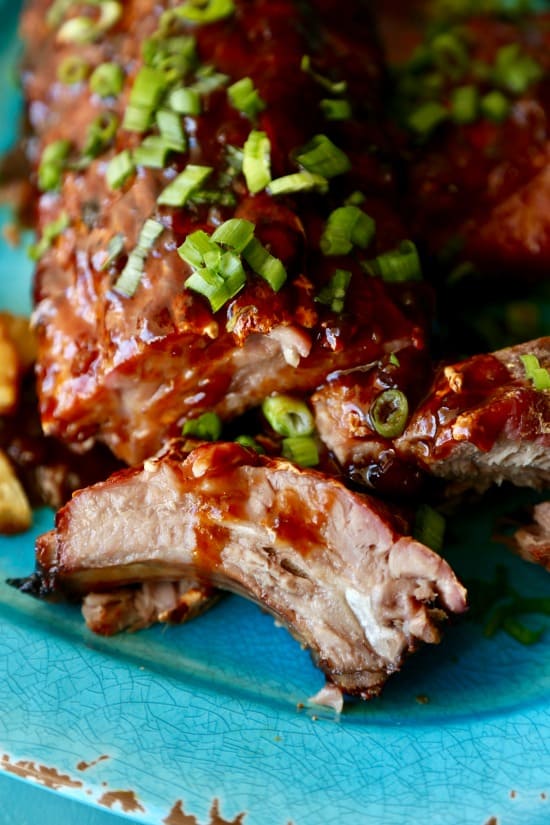 More Recipes Like Pork Ribs with Pineapple BBQ Sauce
Love to grill and barbecue as much as I do? Then you'll want to check out my recipe for tasty Teriyaki Grilled Burgers, and a fabulous Cherry Plum Barbecue Sauce. And for even more delicious Hawaiian flavors, try this recipe for Kalua Pork Sliders.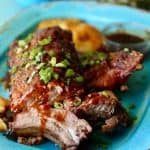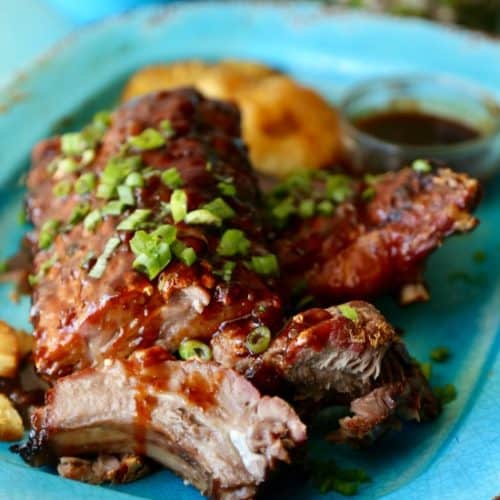 Pork Ribs with Pineapple BBQ Sauce
Switch it up with these delicious grilled pork ribs basted with a Hawaiian Style BBQ sauce
Keyword:
bbq sauce recipe, hawaiian ribs
Ingredients
Pineapple BBQ Sauce
2

teaspoon

olive oil

3

garlic cloves

minced

⅔

cup

pineapple juice

½

cup

ketchup

2

tablespoon

brown sugar

1

teaspoon

dried chili flakes

optional for a kick

2

tablespoon

fresh ginger

minced

1

teaspoon

corn starch

1

tablespoon

water

Pineapple Slices and Green Onion

for garnish
Instructions
Pineapple BBQ Sauce
In a medium sized sauce pan, heat oil on medium heat. Once hot, sauté garlic until fragrant, about 2 minutes.

Add pineapple juice, teriyaki sauce, ketchup, brown sugar, chili flakes, and ginger to sauce pan and bring to a simmer. Reduce heat to medium low heat, and allow to simmer for 25 minutes.

Combine water and cornstarch. Add paste to pan and stir until sauce has thickened. Remove from heat.

Use immediately or store in air tight container in the refrigerator for up to 1 week.
For the ribs-
Baste the rib racks with mayonnaise on both sides.

Sprinkle with sea salt then wrap racks individually in foil.

Prepare charcoal grill. Once hot, place ribs over grill and smoke the ribs for 1 hour.

When the ribs have cooked for an hour, uncover the grill and carefully remove the foil. Brush both sides generously with BBQ sauce.

Re-cover the grill and continue cooking the ribs until tender and almost done, ¼ to ½ hour longer for baby back ribs, ½ to 1 hour longer for spareribs.

The ribs are done when the meat is very tender and has shrunk back from the ends of the bones.

Brush one more time with bbq sauce, slice and serve. 

This post contains affiliate links.