With coconut extract in the dough, and toasted shredded coconut in the filling and icing, they are a coconut lover's dream! These Coconut Sweet Rolls are easy to make and perfect for breakfast, brunch, or dessert!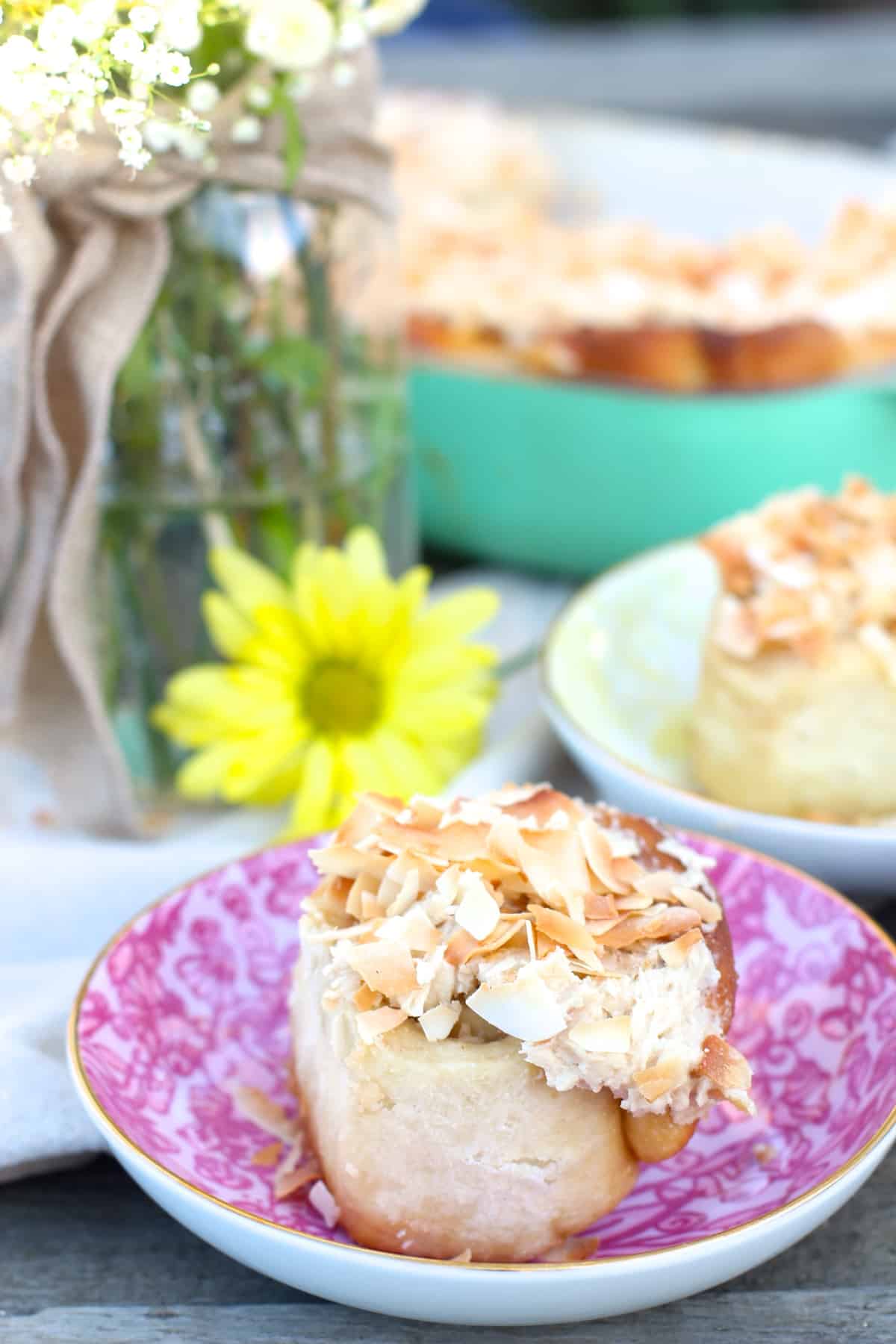 The other day I was browsing the magazine section at Costco. I never buy magazines, especially at the prices they are now, but I was really intrigued by Bake From Scratch. If you haven't seen it, be on the lookout. It has some amazing recipes. Anyway, I held onto it the entire shopping trip trying to justify spending $12. When I finally arrived at check out and realized that my bill was shockingly less than I normally spend, I decided to treat myself, and I'm so glad I did.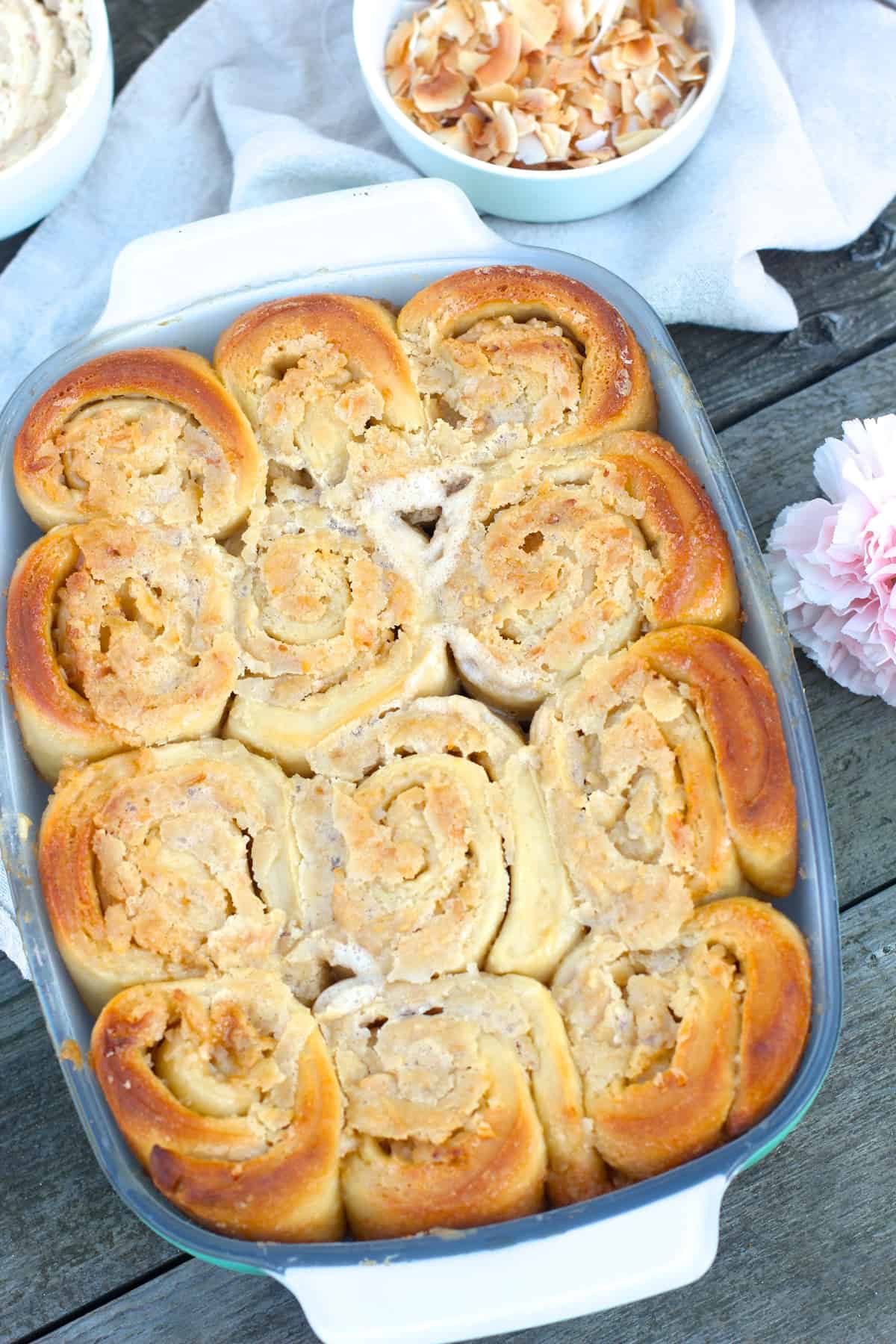 One of the recipes that I loved was their Coconut Buns. I wanted to make it, but decided to use my quick, easy, and foolproof 1-hour cinnamon dough recipe instead of their bread dough recipe. I have used this dough for so many recipes including Lemon Sweet Rolls, Strawberry Buttermilk Rolls, and in the very near future, Triple Berry Sweet Rolls. The recipe is just so quick and easy that there is really no other way. While the traditional recipe calls for buttermilk, I swapped it out for some coconut milk, which resulted in the same dough. I did use Bake From Scratch's coconut filling/icing recipe and it was fantastic.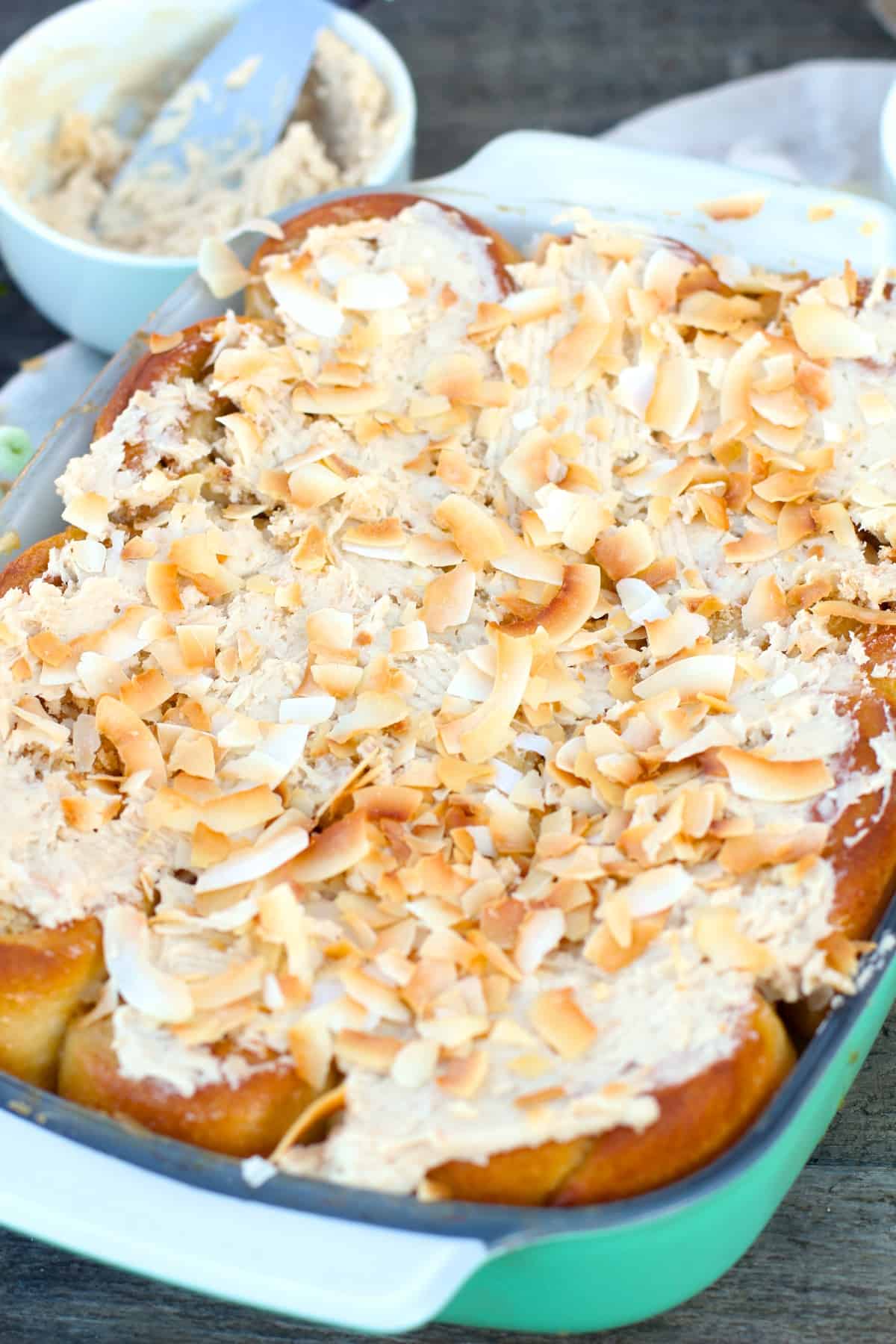 I am not sure why, but coconut screams Easter to me. Perhaps it's the fact that everyone uses green shredded coconut as fake grass for cakes or cupcakes or that it is used as white fur for the bunny cakes. Not that I am complaining of course, as coconut is one of my favorite flavors ever!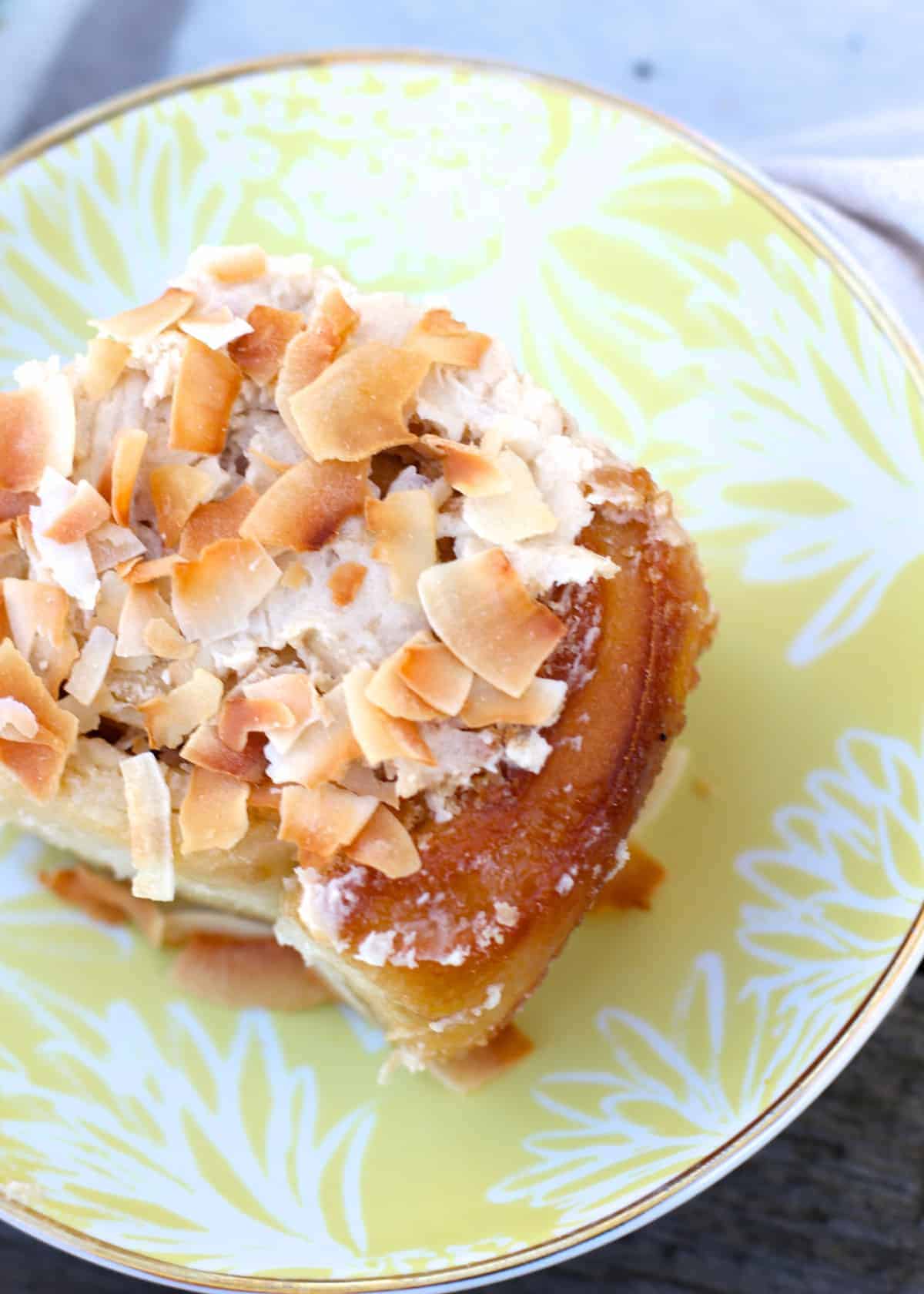 The rolls turned out to be everything I hoped for. Warm, gooey rolls with chewy sweet coconut. They will be perfect for Easter or Mother's Day Brunch or for a special Sunday morning breakfast. Enjoy!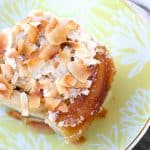 1 hour Coconut Sweet Rolls
With coconut extract in the dough, and toasted shredded coconut in the filling and icing, they are a coconut lover's dream! Perfect for breakfast, brunch, or dessert! Filling and frosting recipe from Feb/March edition of Bake From Scratch
Ingredients
1

cup

coconut milk

¼

cup

oil

3 ½

cups

all-purpose flour plus more for rolling

¼

cup

granulated sugar

½

teaspoon

salt

1

teaspoon

coconut extract

2 ¼

teaspoon

Rapid Rise yeast

1

egg

Filling-

1

cup

finely shredded dried coconut

1

cup

butter

, unsalted and softened

½

light brown sugar

, firmly packed

3

cups

powdered sugar

1

teaspoon

coconut extract

1

teaspoon

vanilla extract

½

teaspoon

kosher salt

Toasted coconut flakes for garnish.
Instructions
To make the filling-

Preheat oven to 350 degrees. Spread coconut on a baking sheet, and bake, stirring halfway through, until light golden brown. Cool completely.

In the bowl of your mixer, beat butter and brown sugar at medium speed, until smooth.

Add powdered sugar, extracts and salt and beat until smooth.

Reserve ½ cup of filling for icing.

With remaining mixture, stir in cooled shredded coconut.

Cover with plastic wrap until ready to use.

In a microwave safe dish, heat coconut for 30 seconds. You want it to be warm, but not hot.

Once coconut milk is warm, add oil and stir to combine.

In a separate bowl combine 3 cups of flour, ¼ cup sugar, and ½ teaspoon salt.

In a large bowl, mix together coconut milk, oil, extract, and yeast with a spoon. Allow to rest for 5 minutes. Add 3 and cups of flour mixture and egg to the yeast liquid and knead manually or using dough hook until combined. If dough is still sticky after all the flour has been kneaded in, add remaining ½ cup of flour and knead until the dough it soft and no longer sticking to the sides.

Lightly grease a 9x13in pan with non-stick cooking spray or butter.

On a lightly floured surface, roll dough out into a large rectangle approximately ½ inch thick.

Spread coconut filling over dough.

Starting with the long side, tightly roll dough into a log.

Trim off ends and slice 12 equal rounds.

Transfer rounds to greased pan.

Cover pan with a warm damp cloth and allow rise for about 25 minutes in a dark warm place.

Once rolls have risen, bake at 400 degrees for 15 minutes, or until slightly browned.

When rolls are done, cool for 5 minutes, the smoother with reserved coconut frosting and sprinkle with additional toasted coconut.

Makes 12 large buns.