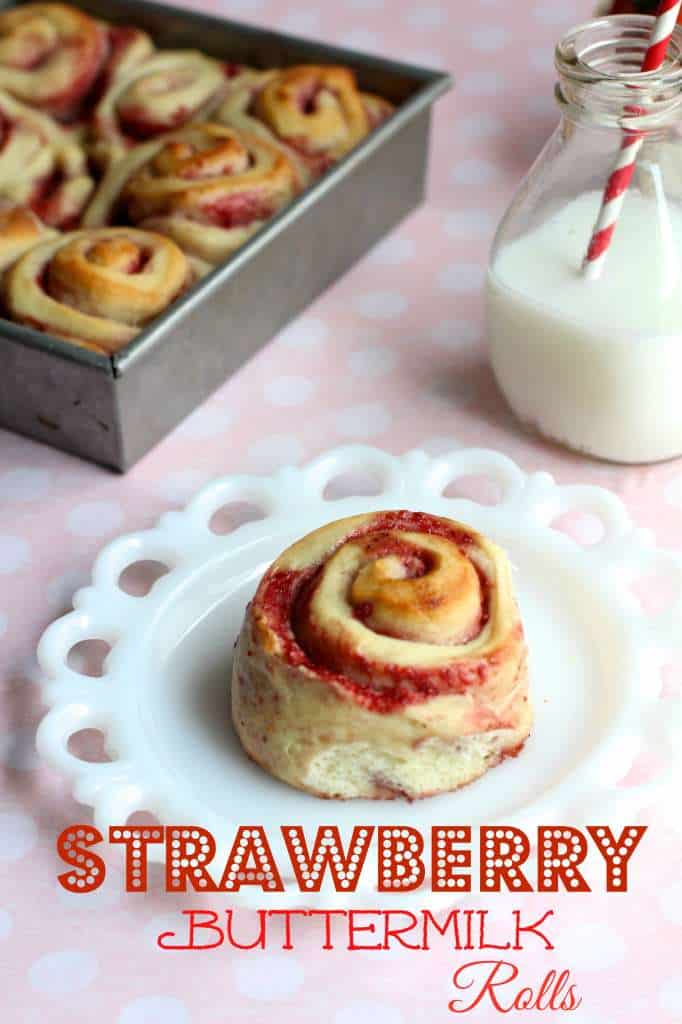 Last week we were running our normal errands. We made a quick stop to the 99cent store where I scored 10 gorgeous mum plants. I absolutely love the 99cent store…you never know what gem you will find.  I really don't understand people who put their nose up to that store. I think it is awesome!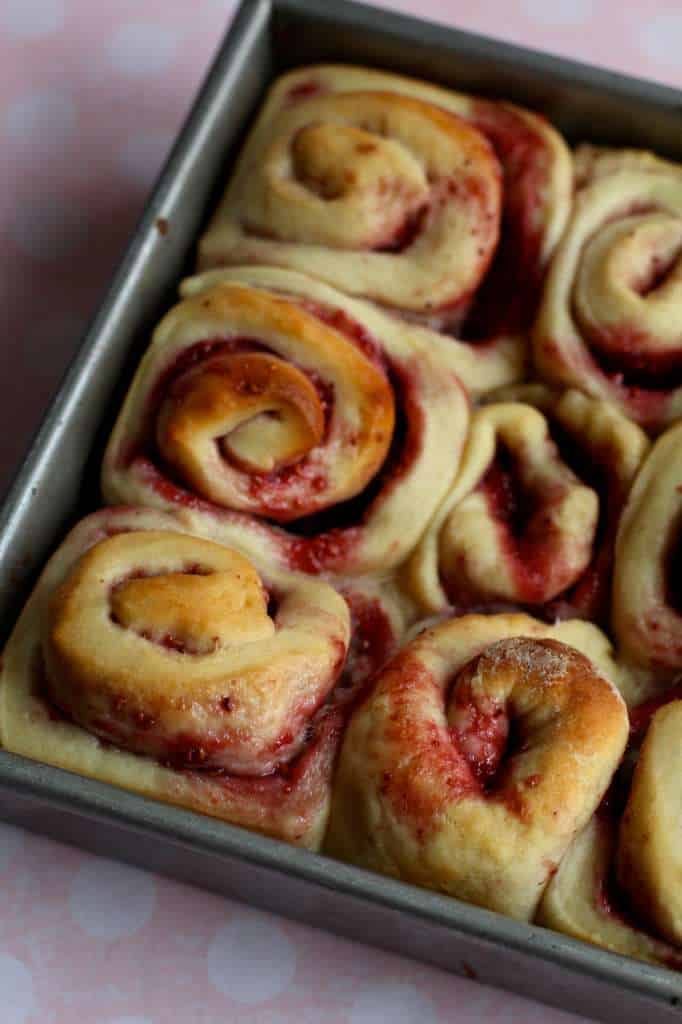 Anyway on the way home, I saw that our favorite strawberry stand was open. I bought a 1/2 flat of huge juicy strawberries perfect for dipping. Fresh (cheap) flowers, delicious strawberries and the sun shinning bright, Spring was in the air.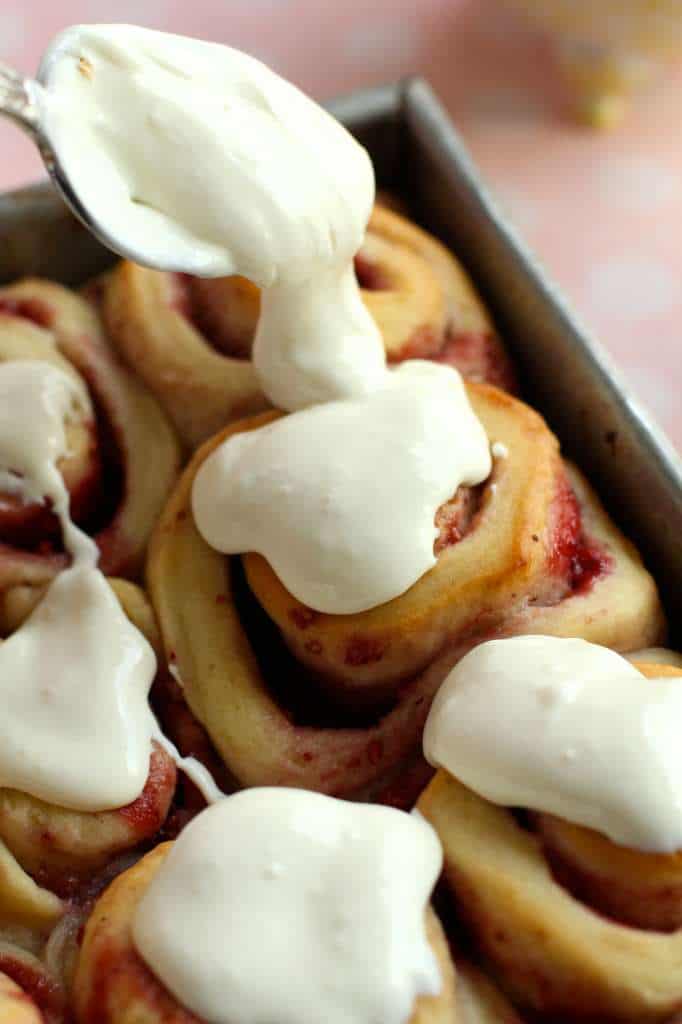 So, to welcome spring I made these rolls. They would be perfect for an afternoon snack or Sunday morning brunch. The rolls are light, fluffy and fruity, and taste great with the cream cheese frosting.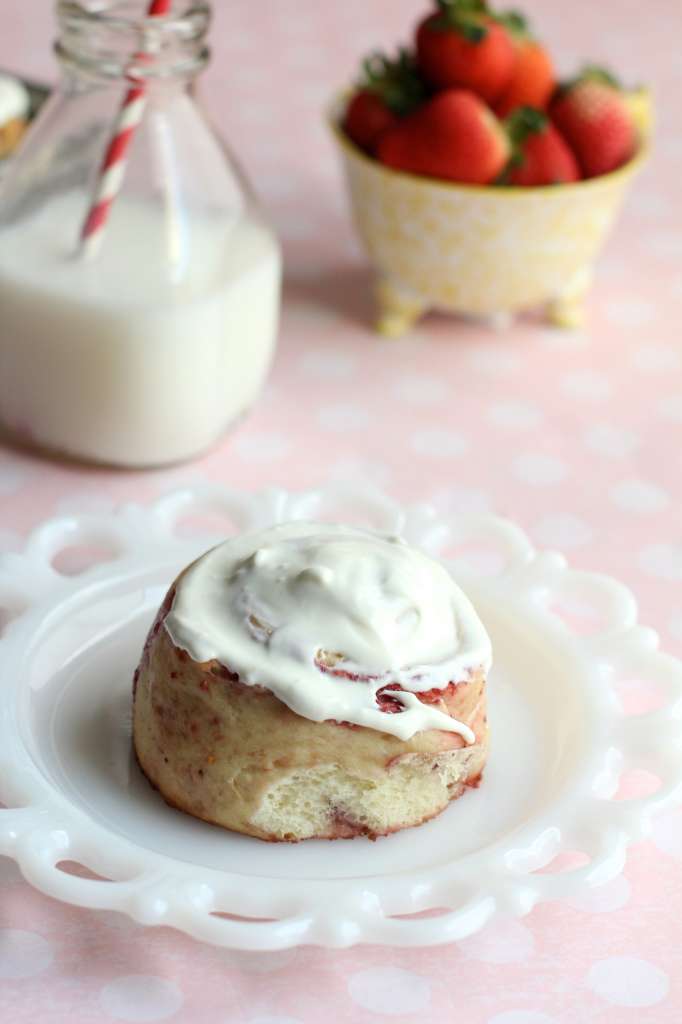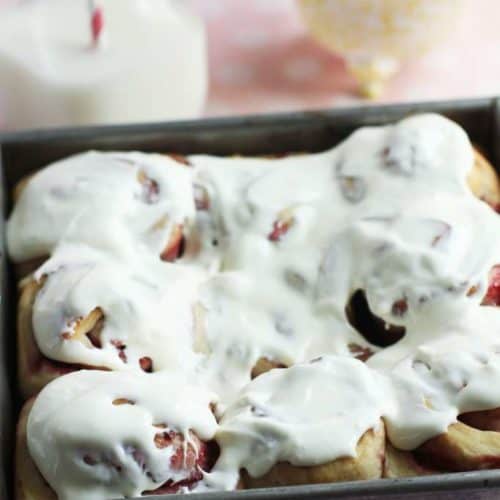 Strawberry Buttermilk Rolls
Ingredients
1

cup

buttermilk

1/4

cup

oil

3- 3 1/2

cups

all-purpose flour plus more for rolling

1/4

cup

granulated sugar

1/2

teaspoon

salt

2 1/4

teaspoon

instant yeast

1

egg

3/4

strawberry jam

1/3

cup

fresh chopped strawberries

(optional)

1/3

cup

cream cheese

, room temperature

2

tablespoons

milk

2

cups

powdered sugar
Instructions
In a microwave safe dish, heat buttermilk for 30 seconds. You want it to be warm, but not hot.

Once buttermilk is warm, add oil and stir to combine.

In a separate bowl combine flour, sugar, and salt.

In a large bowl, mix together buttermilk and oil and yeast with a spoon. Allow to rest for 5 minutes. Add 3 cups of flour and egg to the bowl and knead manually or using dough hook until combined. If dough is still sticky after all the flour has been kneaded in, add remaining 1/2 cup of flour and knead until the dough it soft and no longer sticking to the sides.

On a lightly floured surface, roll dough out into a large rectangle approximately 1/2inch thick.

Spread softened butter evenly over the surface of the dough.

Spread strawberry jam and chopped strawberries over the surface of the dough.

Beginning with the horizontal side closest to you, tightly roll dough to opposite side, pinching the seam together at the end.

Cut rolls into 12 even pieces and place in a greased 9x13 pan.

Cover pan with a warm damp cloth and allow rise for about 25 minutes in a dark warm place.

Once rolls have risen, bake at 400 degrees for 15 minutes, or until slightly browned.
Glaze
Whisk cream cheese, milk and powdered sugar until smooth.

Pour over warm rolls.