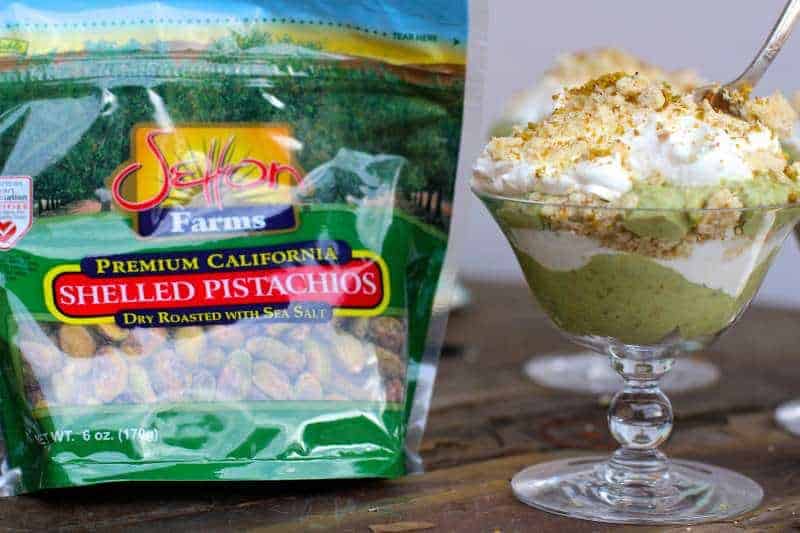 Happy National Pistachio Day! Did you know that pistachio trees take 7-10 years to mature? California comprises 98.5% of the total with over 250,000 acres planted throughout 22 counties. Pistachios actually contribute 1.16 Billion dollars to our economy every year!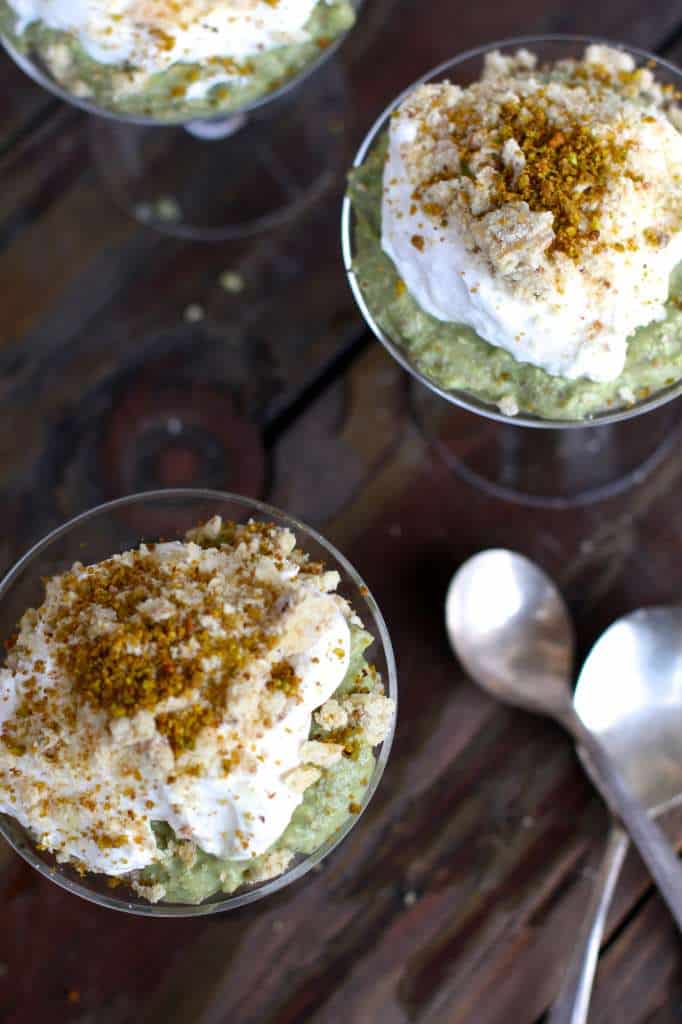 My family has been making this pistachio dessert for as long as I can remember, with the recipe coming down from my great aunt. It is the kind of dessert that reminds me of a vintage 1950's kitchen. Perhaps it is because the recipe always calls for Boxed Pistachio Pudding. I feel like it needs to be served next to a Pineapple Fluff Dessert Salad! 
Anyway, when California Farm Water Coalition and Setton Farms asked me to develop a recipe using pistachios, I knew that a homemade version of this HAD to be made!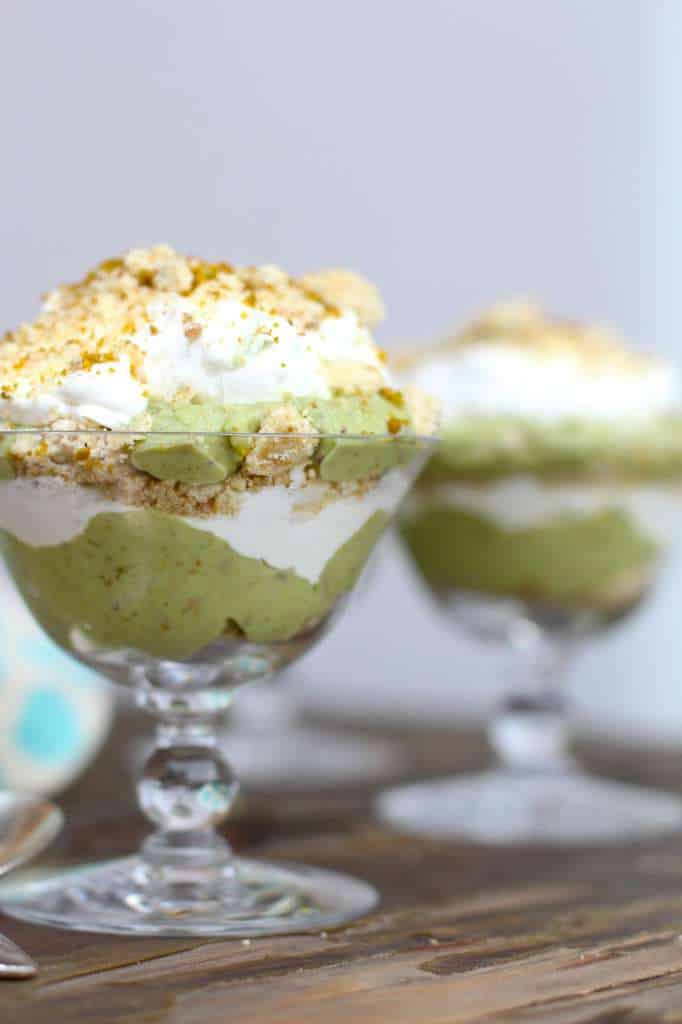 These Setton's pistachios are simply in a class by themselves and widely regarded as "America's Best Tasting Pistachios" because of their great taste and superior quality. After being carefully roasted these pistachios are then sprinkled with sea salt, making them irresistibly delicious.
For more information and pistachio recipes please visit California Farm Water Coalition or follow them on Facebook, Instagram, or Twitter. For more information about Setton Farms, please visit their Facebook page.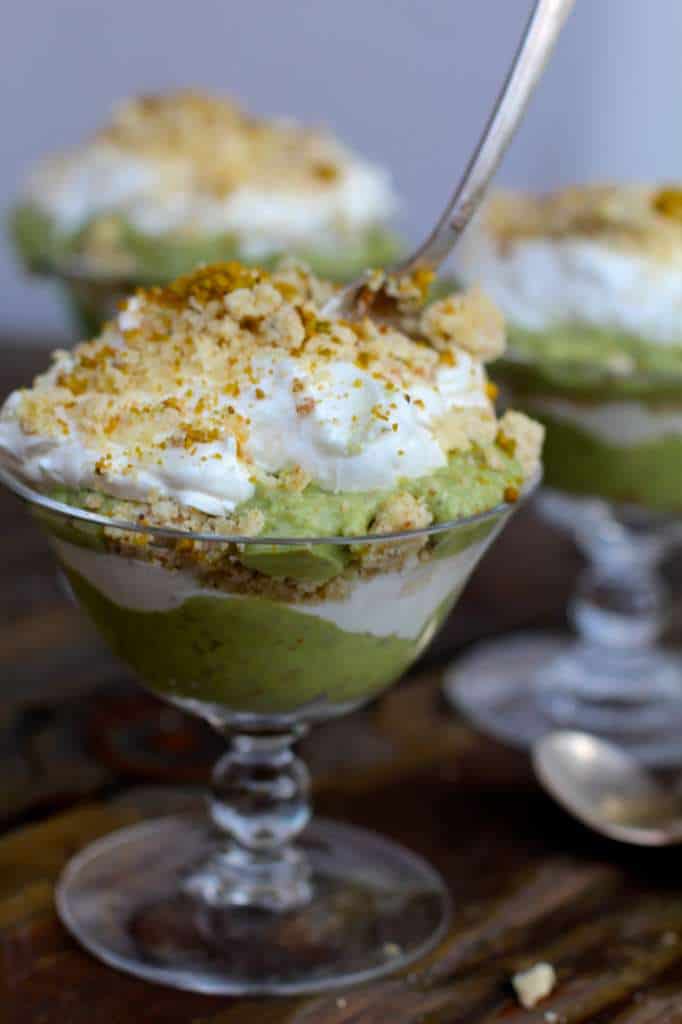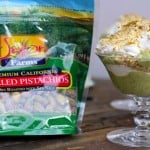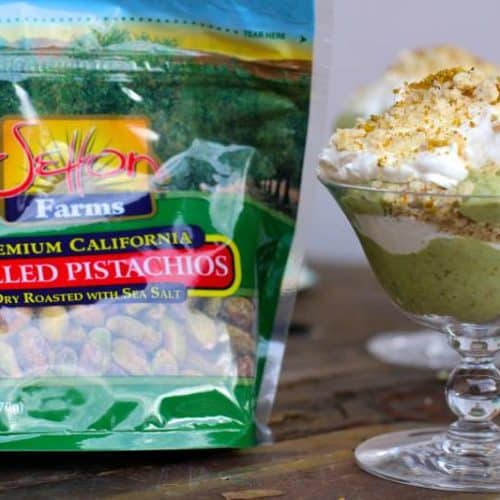 Homemade Pistachio Pudding Parfaits
Ingredients
1

cup

pistachios

, ground

½

cup

powdered sugar

¼

cup

water

2 ½

cups

milk

3

egg yolks

¼

cup

cornstarch

2

tablespoons

water

2

teaspoons

almond extract

a few drops green food coloring

1

package

(8 ounces) cream cheese, softened

1

cup

powdered sugar

1 ½

cups

whipped topping

12

pecan shortbread cookies

, coarsely crushed
Instructions
For the pudding
Using a food processor, grind pistachios as fine as you can get them. Then add powdered sugar and process a few times to combine.

Add water to pistachios to create a paste.

In a heavy bottomed sauce pan, combine milk and pistachio paste and heat on medium low until it begins to simmer (do not let it boil), stirring occasionally.

In a separate bowl, slightly beat egg yolks.

In a small cup or bowl, combine cornstarch and 2 tablespoons of water to create a paste.

Once milk mixture begins to simmer, remove from heat and cool for 5-10 minutes.

Once cooled slightly, add 1 tablespoon at a time of milk to egg yolks while whisking to avoid cooking eggs.

Repeat this process two more times.

Next, return milk mixture to medium low heat.

Add egg yolks and cornstarch to the milk mixture and stir constantly.

Once milk mixture thickens and coats the back of your spoon, remove from heat and stir in almond extract and green food coloring.

If you want your pudding smooth, pour the entire content through a strainer/sieve into a big bowl or individual serving bowls.

Once pudding has cooled slightly (about 15 minutes) cover with plastic wrap (placing wrap directly on pudding to avoid pudding skin) and chill for 4+ hours.
To Make the Parfaits
Beat together cream cheese and powdered sugar.

Fold in whipped topping.

Add about a tablespoon of crushed shortbread cookies to the parfait cup.

Next, add a layer of pistachio pudding followed by a layer of whipped cream cheese topping.

Continue until cup is filled.

Serve immediately, or refrigerate for up to 5 hours before serving.