This Fresh Raspberry Cream Cake will have your tastebuds go wild. A buttery white cake studded with fresh raspberries wrapped up in a sweet raspberry frosting.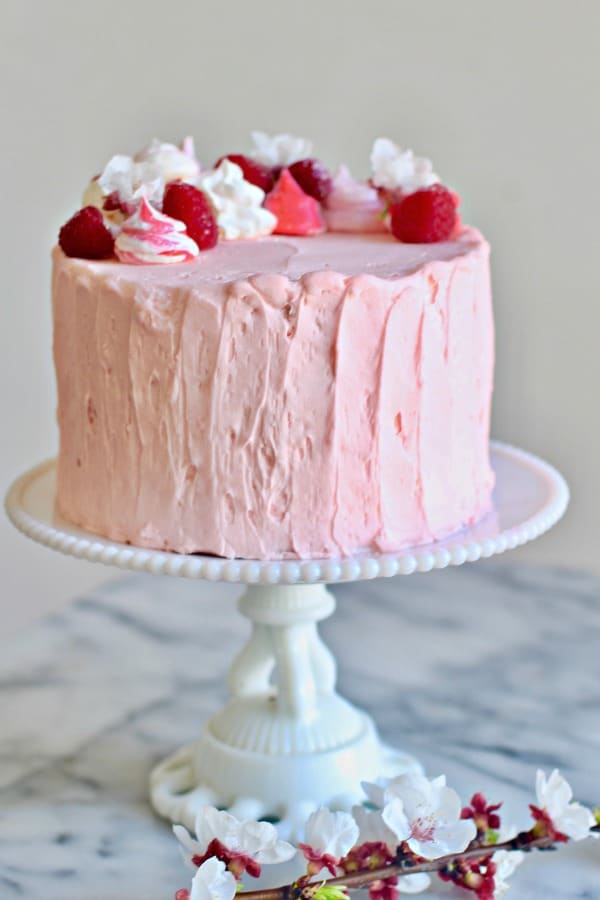 If you are looking for the perfect Mother's Day cake or Birthday cake, this is it! Fresh raspberries are mixed into my favorite white cake recipe. Honestly, just the cake is delicious on its own, but is taken up a notch with the sweet cream cheese filling and raspberry jam buttercream frosting.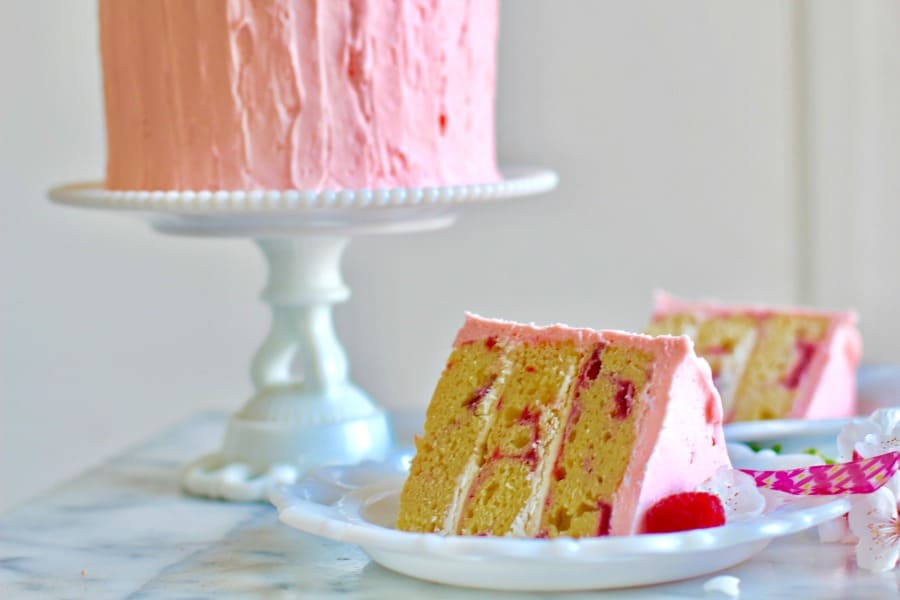 This is a great celebration cake. While it may be naturally pink, I'm pretty sure that any man would appreciate and devour a slice (or three). There's just something about fresh berries in a cake. This is why I absolutely love cooking with the seasons. Using fresh ingredients to add flavor and textures almost always results in something spectacular.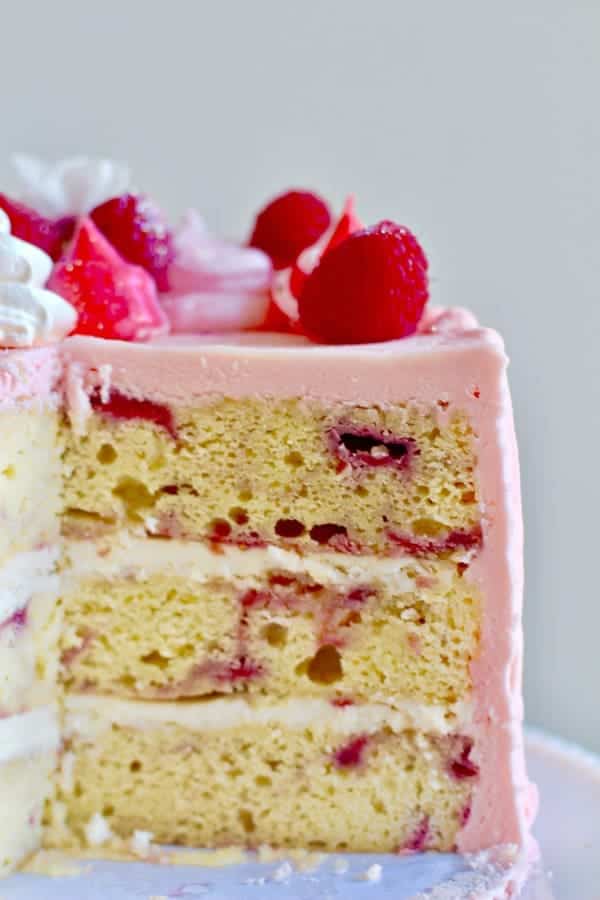 Thankfully I live in California, where farm fresh produce is available year around. This year is going to be an epic year for berries and stone fruit as we have had more rain than we have had in the past decade. I'm currently planning my berry/stone fruit u-pick road trip and plan to be making a vast amount of new recipes and enough jam to last us another decade! Make sure to sign up for our newsletter at the top of the page so you can receive fresh sweet recipes straight in your inbox!
If you're looking for more fresh, seasonal cakes check out my Strawberry Shortcake Cake, Lemon Curd Cake, and Blackberry Lime Cupcakes.
Raspberry Cream Cake
This Raspberry Cream Cake will have your tastebuds go wild. A buttery white cake studded with fresh raspberries wrapped up in a sweet raspberry frosting.
1 cup butter, softened
1 1/2 cup sugar
1 teaspoon vanilla extract
2 whole eggs, room temperature
3 egg yolks, room temperature
2 1/2 cups cake flour
1/2 tsp baking powder
1/2 tsp baking soda
1 tsp salt
1 cup buttermilk, room temperature
1 cup fresh raspberries
1/2 tablespoon corn starch
Filling-
1 package cream cheese (8oz block), softened
1/2 cup powdered sugar
1/4 cup milk
Raspberry Frosting-
1/2 cup unsalted butter, softened to room temperature
1/4 cup cream cheese, softened to room temperature
3 1/2 cups powdered sugar sugar
3 Tablespoons milk
2 teaspoons vanilla extract
1/2 cup raspberry preserves or jam
For the cake-
Preheat oven to 350 degrees.
Grease 3 6- inch or 2 8-inch round pans.
Make sure all your ingredients are room temperature.
In a separate bowl, combine flour, salt, baking powder and soda and mix.
Combine raspberries and cornstarch, set aside.
In your mixer fitted with the paddle attachment, blend butter, sugar and vanilla at medium speed until pale and fluffy.
Add eggs, one at a time, scraping the bowl after each addition.
Reduce speed to low and add a cup of flour followed by 1/3 of the buttermilk.
Repeat this 3 times, until you have incorporated all the flour and buttermilk.
Gently fold in raspberries.
Pour into pans evenly and bake about 20 minutes or until a knife is inserted and when remove is clean.
Cool completely.
To make the filling beat cream cheese until soft.
Add powdered sugar and milk and beat until smooth.
To make the frosting, beat butter and cream cheese until light and fluffy.
Add jam, powdered sugar, vanilla, and milk and beat until smooth.
To assemble arrange 1 cake layer, flat side up, on a cake stand. Using a spatula, spread a thin layer of cream cheese filling on top leaving a 1/2-inch border.
Repeat with next layer.
Using a spatula, frost the top and sides of the cake.
Decorate with fresh raspberries, flowers, meringues, etc.
Cut the cake into wedges with a slightly wet knife and serve.
Serves 10.