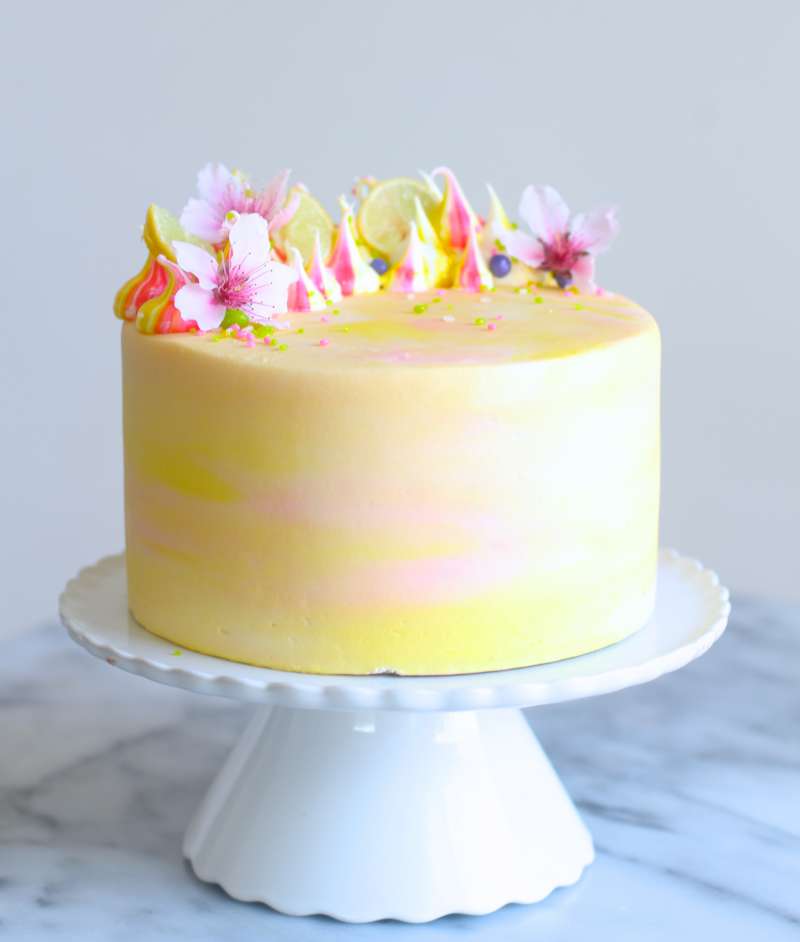 Since Mother's Day is only less than two weeks away, I think it is my due diligence to talk about cake. While Moms love the homemade gifts, flowers, and perfume, we also love cake. What better way to finish off the day then with a glorious slice of this Lemon Curd Cake.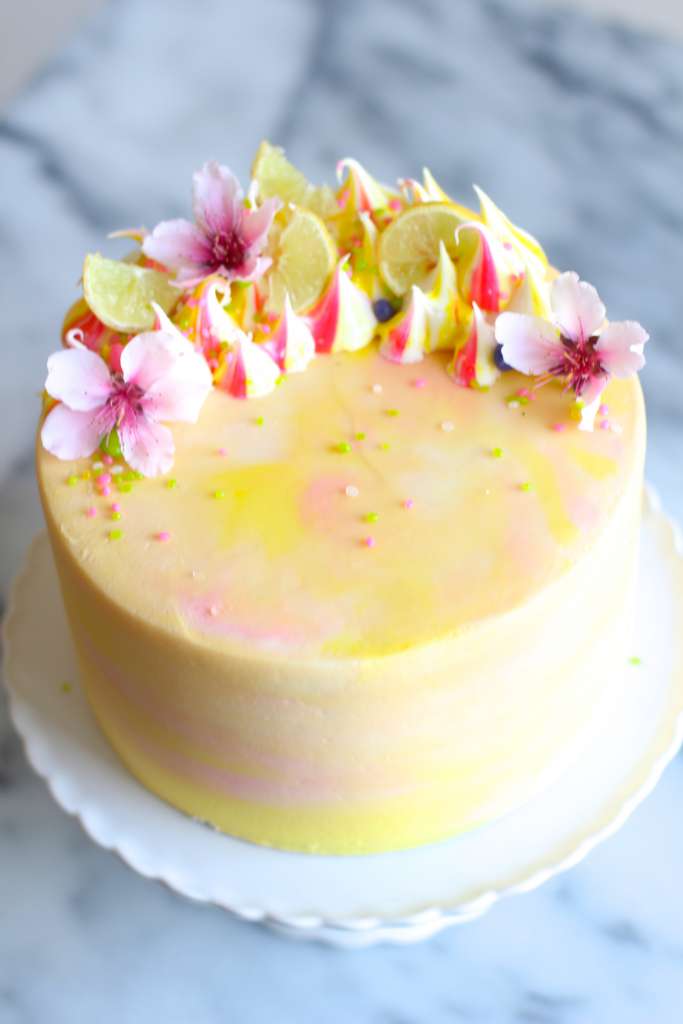 You see, when you make a cake, especially one like this, you prove that you have been planning ahead. Like most layered cakes, it is a labor of love. Each pillowy lemon kissed cake layers is topped with a gloriously smooth lemon curd then frosted with a beautiful buttercream.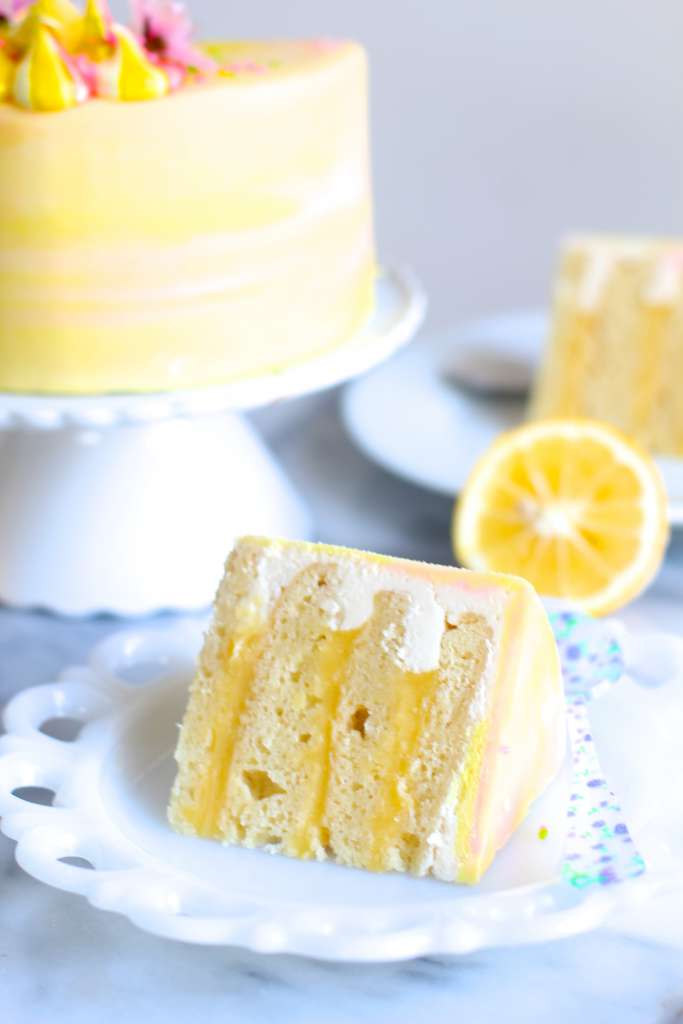 I generally make the lemon curd the two days before, but store bought lemon curd would work just as well. The day before serving is when I bake and assemble. That way, the finished cake has time to chill overnight before slicing. This makes for perfectly cut slices.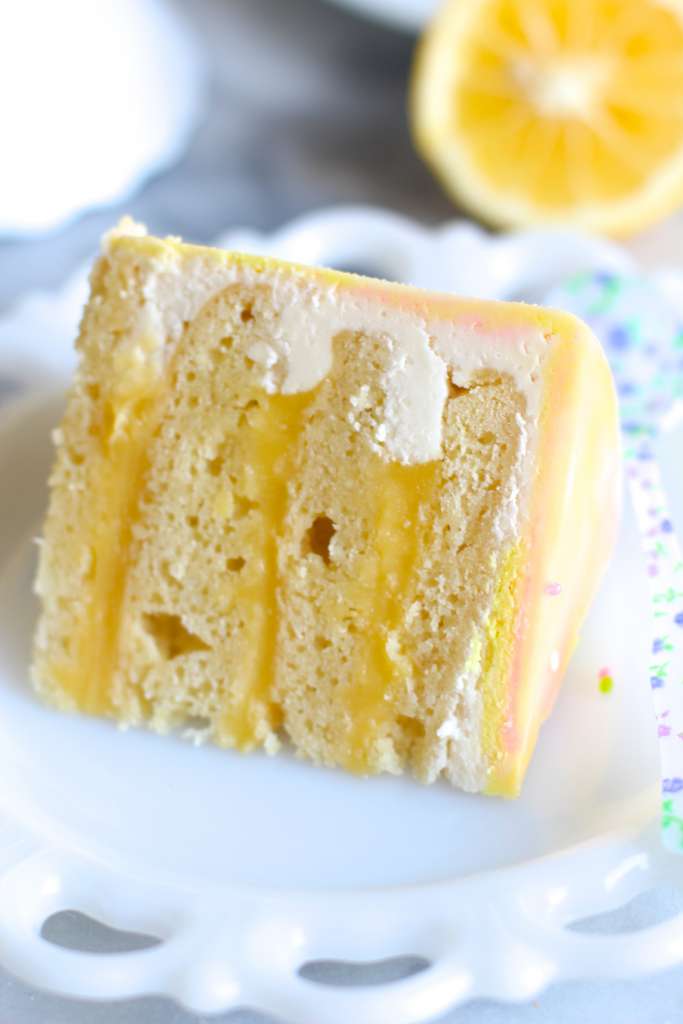 If you follow me on social media, you may have noticed my new obsession with watercolor cakes. Since I am short on time, I will direct you to an eBay guide that I created last month. It will show you step by step instructions on how to create this cake. Enjoy!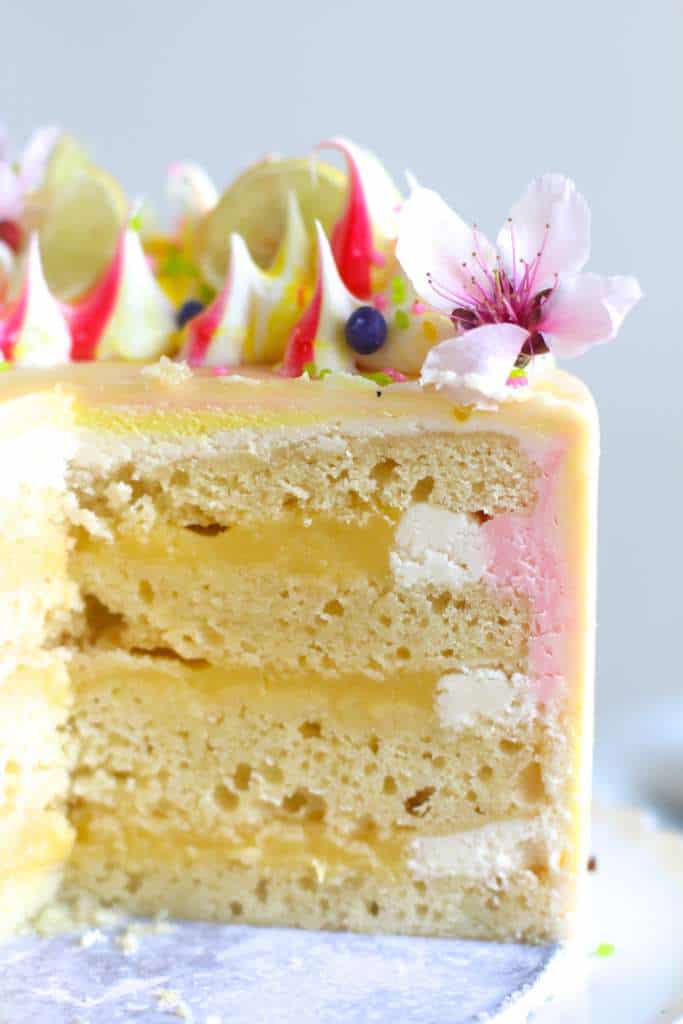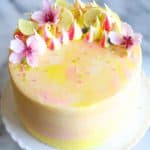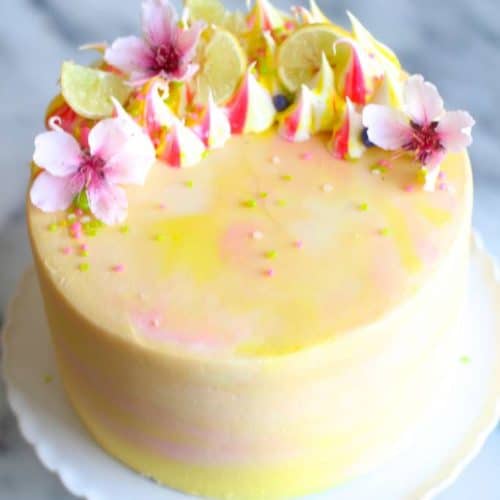 Lemon Curd Cake
Ingredients
To Make The Lemon Curd:

3

lemons

1 ½

cups

sugar

¼

pound

unsalted butter

, room temperature

4

extra-large eggs

½

cup

lemon juice

(3 to 4 lemons)

⅛

teaspoon

salt

For The Cake:

1

cup

butter

, softened

1 ½

cup

sugar

1

teaspoon

vanilla extract

2

whole eggs

, room temperature

3

egg yolks

, room temperature

2

tablespoons

lemon juice

2

tablespoons

grated lemon peel

2 ½

cups

cake flour

½

teaspoon

baking powder

½

teaspoon

baking soda

1

teaspoon

salt

1

cup

buttermilk

, room temperature
Vanilla Buttercream
1

cup

butter

, softened

6-7

cups

powdered sugar

1

tablespoons

vanilla extract

(clear if possible)

6

tablespoons

milk

pinch of salt
Instructions
For the Lemon Curd- Make at least one day ahead of time.

Using a carrot peeler, remove the zest of 3 lemons, being careful to avoid the white pith.

Put the zest in a food processor fitted with the steel blade.

Add the sugar and pulse until the zest is very finely minced into the sugar.

Cream the butter and beat in the sugar and lemon mixture. Add the eggs, 1 at a time, and then add the lemon juice and salt. Mix until combined.

Pour the mixture into a 2 quart saucepan and cook over low heat until thickened (about 10 minutes), stirring constantly.

The lemon curd will thicken at about 170 degrees F, or just below simmer.

Remove from the heat and cool or refrigerate until cold.

To Make The Cake:Preheat oven to 350 degrees.

Grease 3 6- inch or 2 8-inch round pans.

Make sure all your ingredients are room temperature.

In a separate bowl, combine flour, salt, baking powder and soda and mix.

In your mixer fitted with the paddle attachment, blend butter, sugar and vanilla lemon juice and lemon peel at medium speed until pale and fluffy.

Add eggs, one at a time, scraping the bowl after each addition.

Reduce speed to low and add a cup of flour followed by ⅓ of the buttermilk.

Repeat this 3 times, until you have incorporated all the flour and buttermilk.

Pour into pans evenly and bake about 20 minutes or until a knife is inserted and when remove is clean.

Cool completely.

To make the buttercream-

Cream room temperature butter in a large bowl.

Mix in vanilla and salt.

Add in powdered sugar one cup at a time. Keep on mixing until sugar is dissolved. Add a tablespoon of milk whenever mixture becomes hard to mix. Add about 6 cups of powdered sugar, then test to see if it is your desired sweetness, if not, add one more cup of powdered sugar.

Mix until smooth.

To assemble the cake, place cooled cake layer on cake plate.

Pipe a thick ring along the edge of the cake, then fill with about ½ cup of lemon curd.

Top with next layer and repeat. Once middle layers have curd, place cake in fridge for 1 hour.

Once set, frost the outside of the cake. To make the watercolor effect, please refer to my ebay guide for directions.