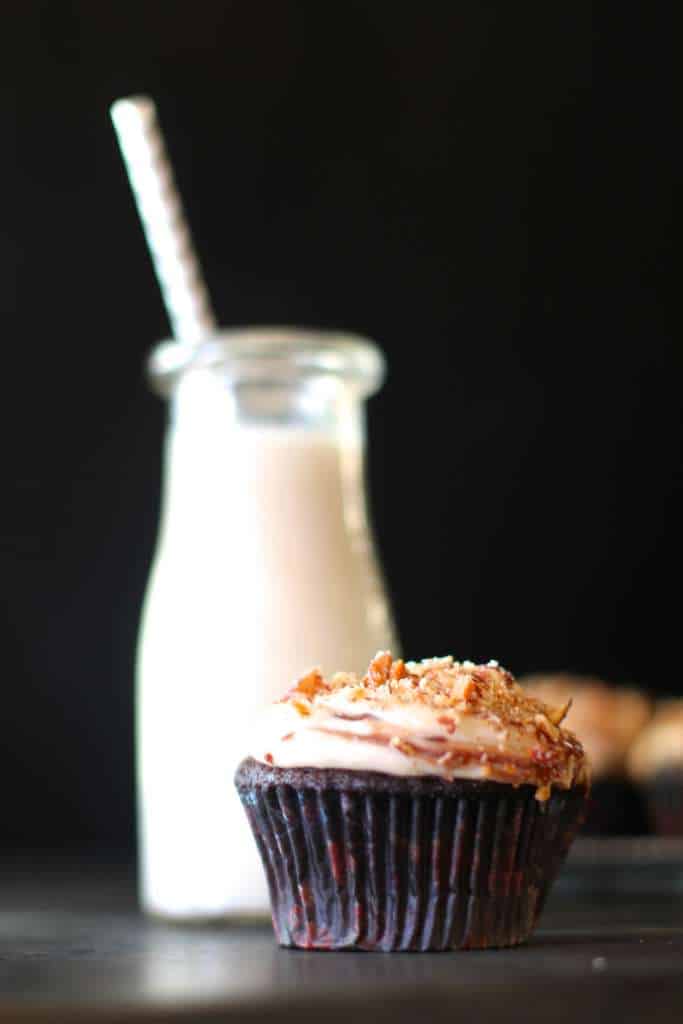 Holiday baking does not have to be all red and green. Just making a delicious cupcake garnished with ganache swirled buttercream (vegan)  and sprinkled with honey roasted almonds would be perfect for any celebration! Not only are these cupcakes perfect for any celebration, but they are also perfect for everyone!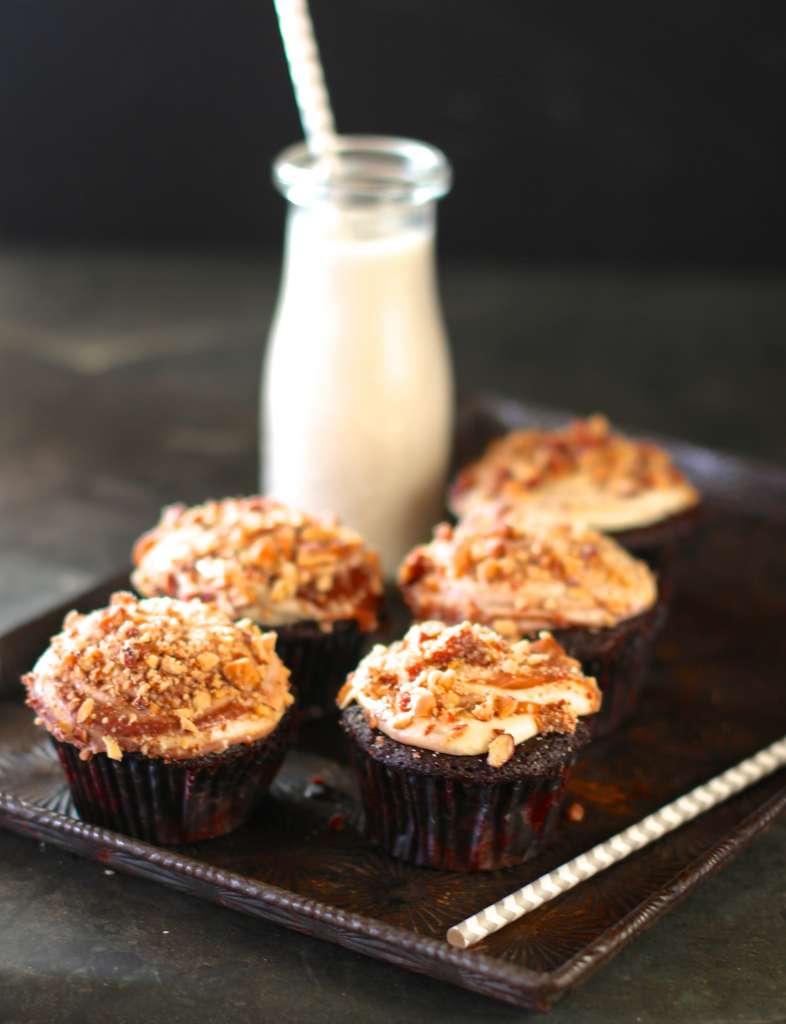 These vegan chocolate cupcakes came out absolutely perfect and dare I say better than the lactose and egg version! I was so excited to share these with my vegan and non vegan friends! Everyone loved them! Since this cake is so simple to make and only takes one bowl, I think that this will be my new go to chocolate cake recipe!
The cupcakes are made with the brand new Almond Breeze Almondmilk Cashewmilk Blend. The blend combines the goodness of almonds with the creaminess of cashews. Almond Breeze Original Almondmilk Cashewmilk is lactose free, soy free, and calcium enriched, perfect for drinking and baking with!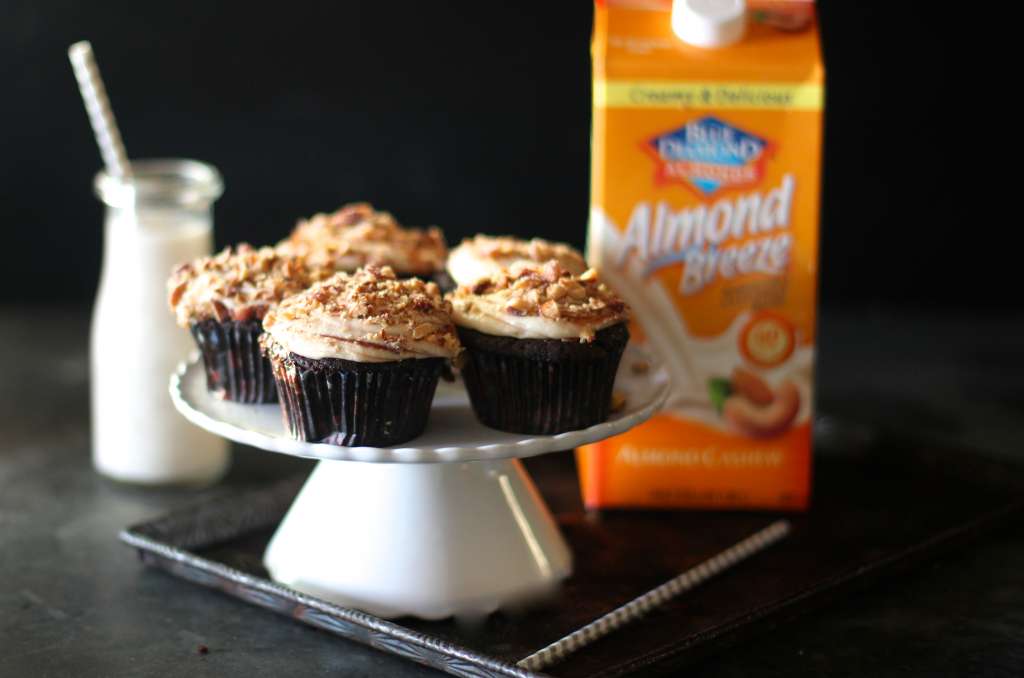 Since we have been trying a new diet with my daughter and limiting her dairy consumption, we have been going through this Almondmilk Cashewmilk like crazy! I would love to know what other recipes you have tried using Almond Breeze Almondmilk. You can also enter your ideas to the Almond Breeze's Imagine the Blendabilities site for a chance to win a Kitchen Prize Pack!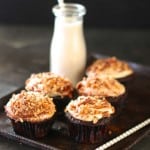 Vegan Chocolate Cupcakes
Ingredients
4

ounces

chocolate chips

2

cups

plain unsweetened Almond Breeze Almondmilk Cashewmilk Blend

2

teaspoons

apple cider vinegar

1

and ½ cup granulated sugar

⅔

cup

canola oil

2

teaspoons

pure vanilla extract

2

cups

all-purpose flour

⅔

cup

Dutch process cocoa powder

1

and ½ teaspoon baking soda

1

teaspoon

baking powder

½

teaspoon

fine sea salt
Ganache
½

cup

Almond Breeze Almondmilk

½

cup

good quality chocolate.
Frosting
½

cup

SOLID coconut oil

4-5

cups

powdered sugar

½

teaspoon

vanilla extract

1

cup

Honey Roasted Almonds

, chopped
Instructions
To make the cupcakes begin by preheating your oven to 350 degrees and line 2 muffin tins with cupcake liners.

In a microwave safe bowl, melt chocolate for 1 minutes. Stir until smooth.

Once smooth, and Almondmilk, apple cider vinegar, oil, and vanilla and whisk together.

In a large bowl, combine sugar, flour, cocoa powder, baking soda and powder, and salt. Whisk to combine.

Add wet mixture to flour mixture and mix until all ingredients have been incorporated. Batter will be runny.

Pour batter into cupcake liner ⅔ of the way full.

Bake 18 to 20 minutes, until a toothpick inserted into the center comes out clean.

Transfer to a cooling rack and let cool completely.

To make the frosting:

In a microwave safe bowl, heat Almond Breeze Almondmilk Cashewmilk Blend for 1 minute.

Add chocolate chips to hot almond milk and stir until smooth. Set aside until it thickens, about 1 hour.

For the frosting, beat coconut oil, powdered sugar, vanilla, until smooth.

Use a pastry bag to frost cupcakes. Place your preferred piping tip inside the bag with the end snipped off so that the tip fits through the hole.

Place the bag inside a tall cup or glass and fold the excess bag over the edges.

Spoon the frosting inside one side of the bag and fill the other side with the ganache, leaving a little space so that the frosting doesn't fill the entire bag.

Twist the bag and pipe frosting onto the cupcakes.

Sprinkle with chopped roasted almonds.
This post is sponsored by Almond Breeze Almondmilk. Enter for a chance to win the Ultimate Kitchen Prize Pack, get great savings and ideas for delicious Blendabilities at AlmondBreezeBlendabilities.com