Tres Leches Cake is light sponge cake that soaks up a combination or evaporated milk, condensed milk, a cream and topped with a whipped cream topping and fresh strawberries that creates pure bliss!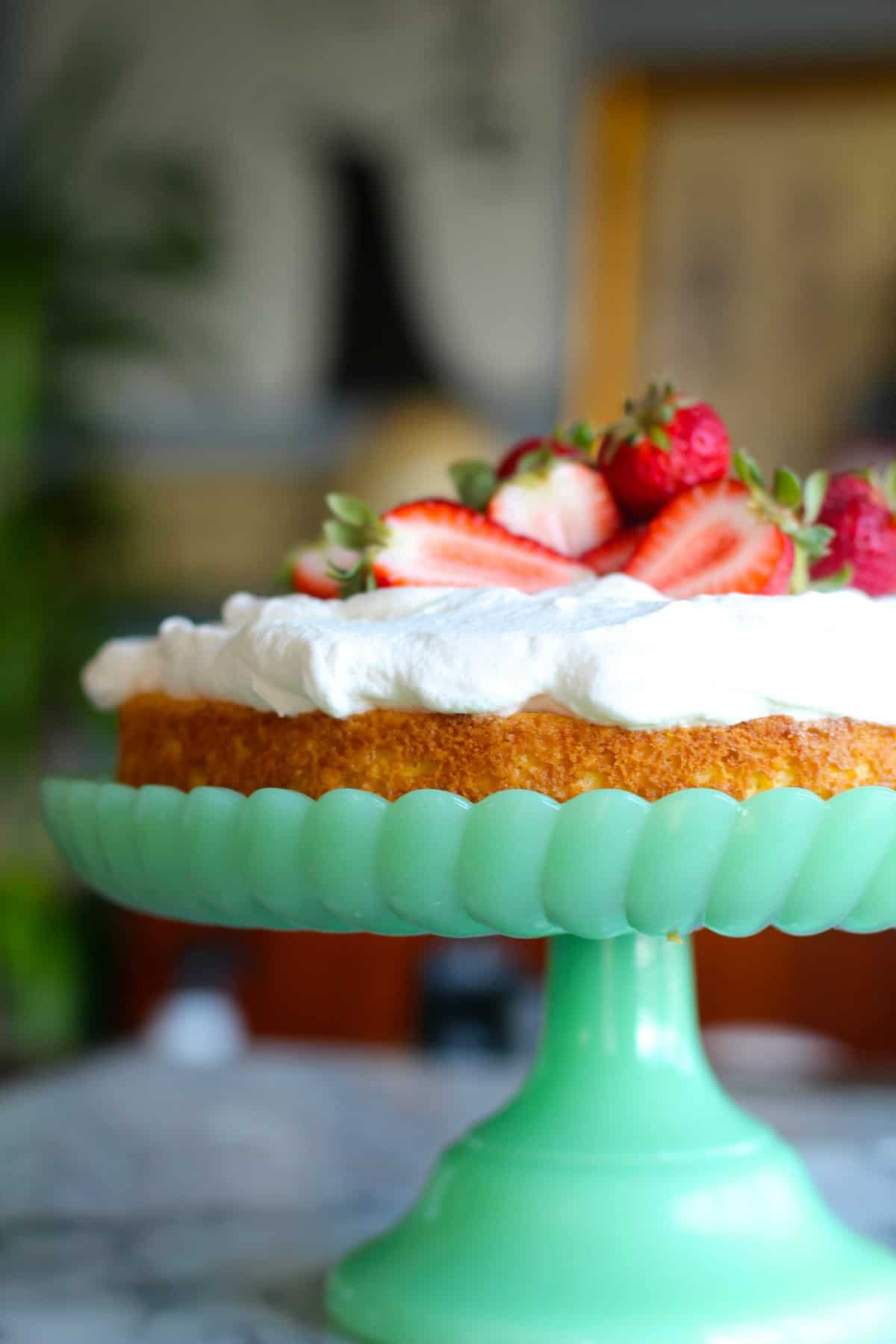 The last time I made this Tres Leche Cake was before my blogging days. After enjoying a delicious bite, I almost had a breakdown. I miss the days of baking just to bake. No messing up my kitchen spending countless hours trying to perfect a recipe, stressing over getting the perfect picture, and not having to deal with the dreaded SEO process.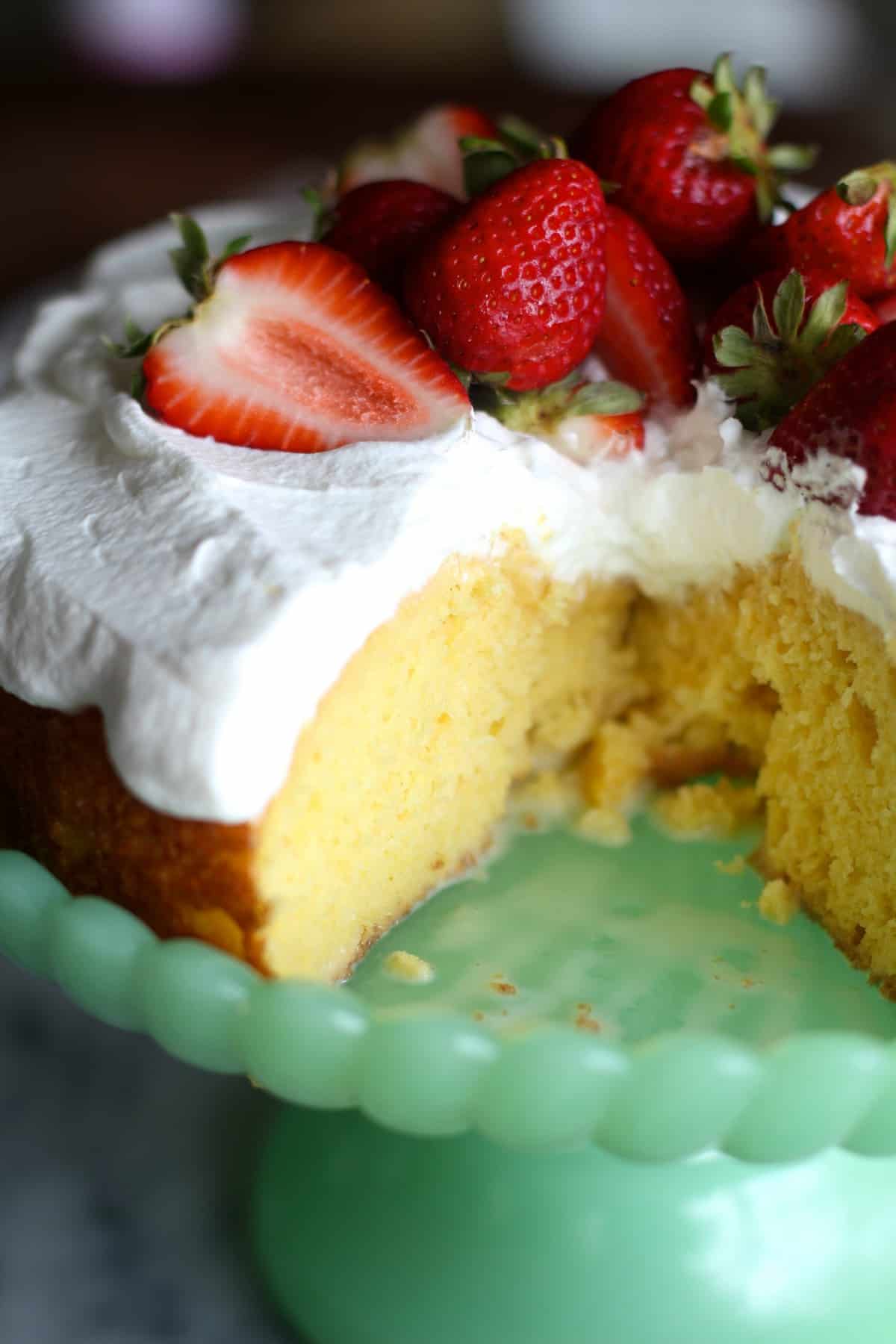 Not that I don't love blogging, I really do. It's is just so much work and it doesn't seem to be going in the direction that I want it to be. So, I have given myself a deadline. If I have not reached my goal by September, I will go back to simply baking and cooking for my family and friends and leave the blog behind. So, cross your fingers for me please. It would be a shame to leave behind 5 years of hard work and investment!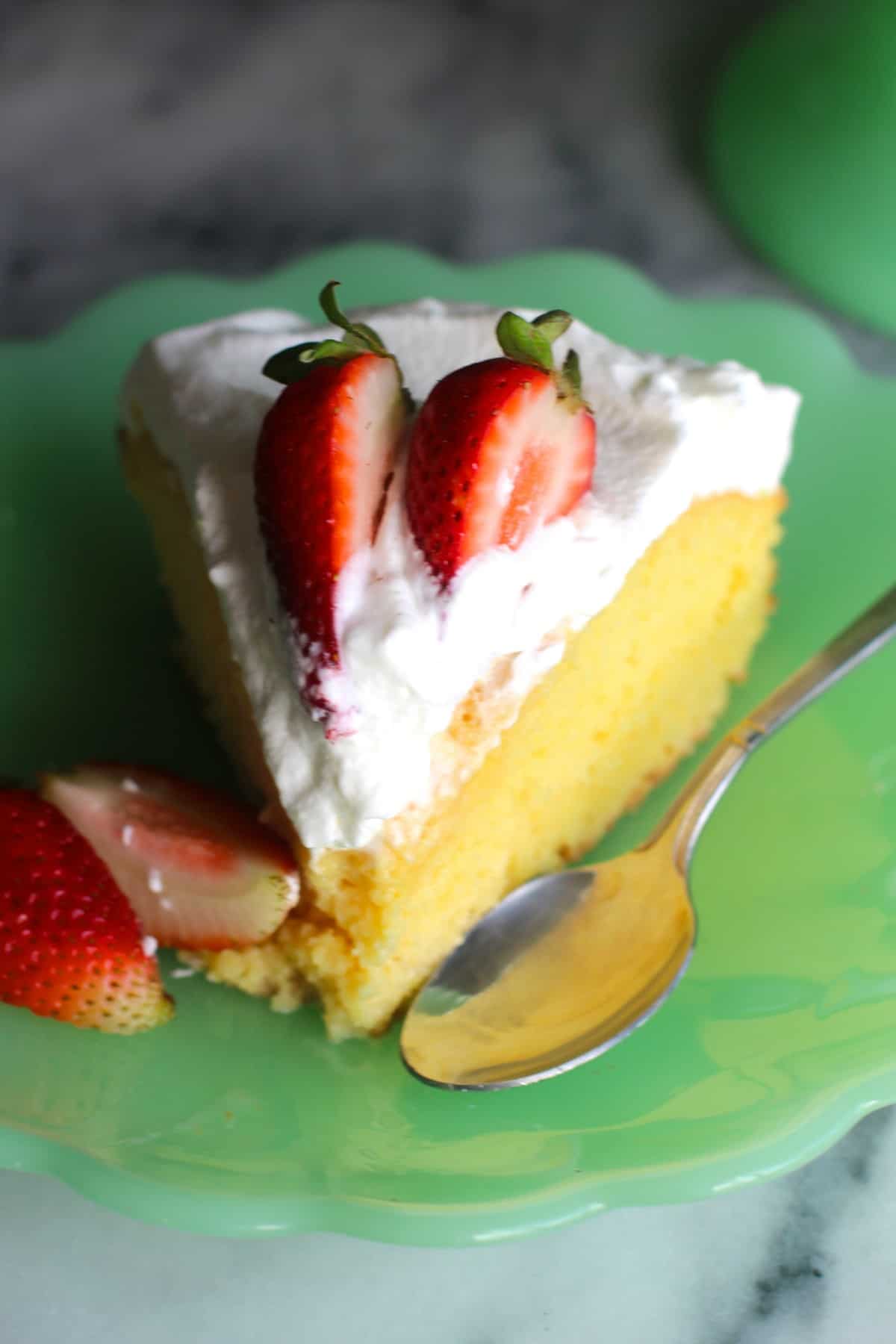 Ok, rant over and more about this spectacular Tres Leches Cake. Whether you are looking for a recipe for Cinco de Mayo or just a mouthwateringly, not too difficult, cake recipe this is it. Each bite is a sweet combination of airy sponge cake that has absorbed the sweet milks. Topped with fresh whipped cream and sliced strawberries, it really is perfection.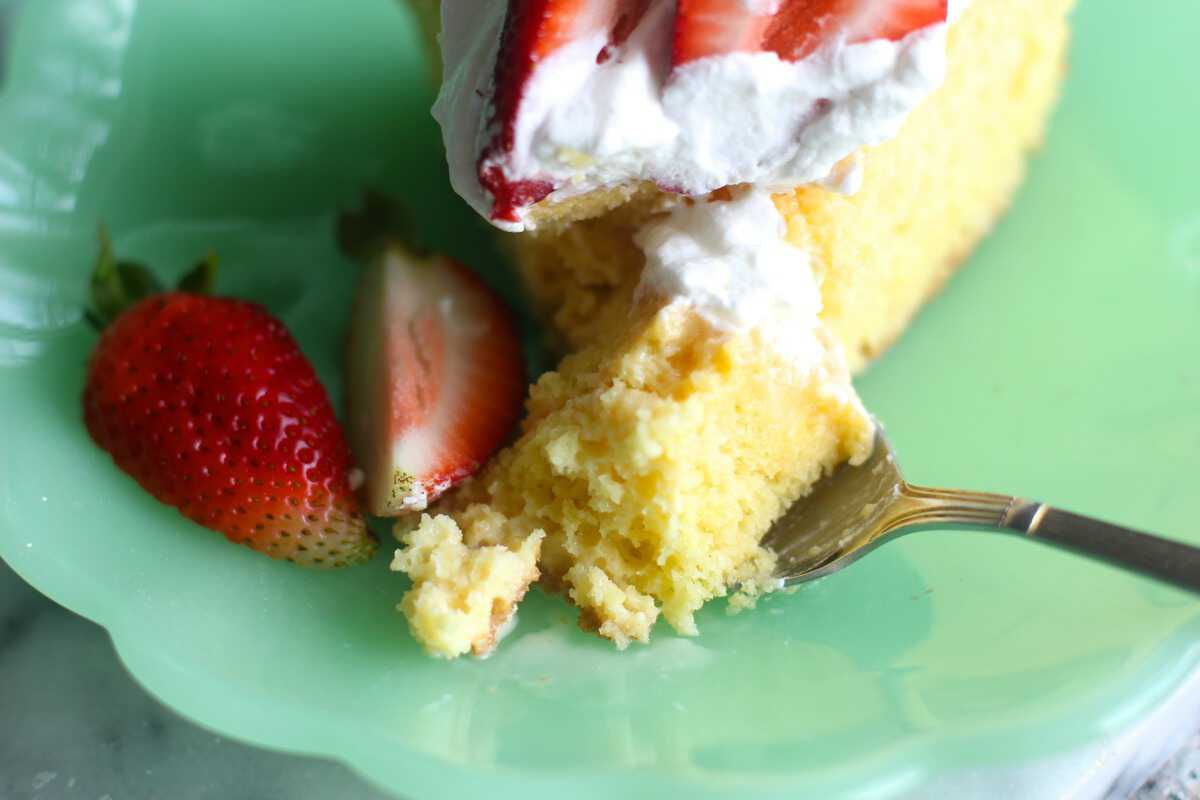 I urge you to make it. If not for a crowd but for the simplicity of enjoying a homemade slice of cake with your family. Enjoy!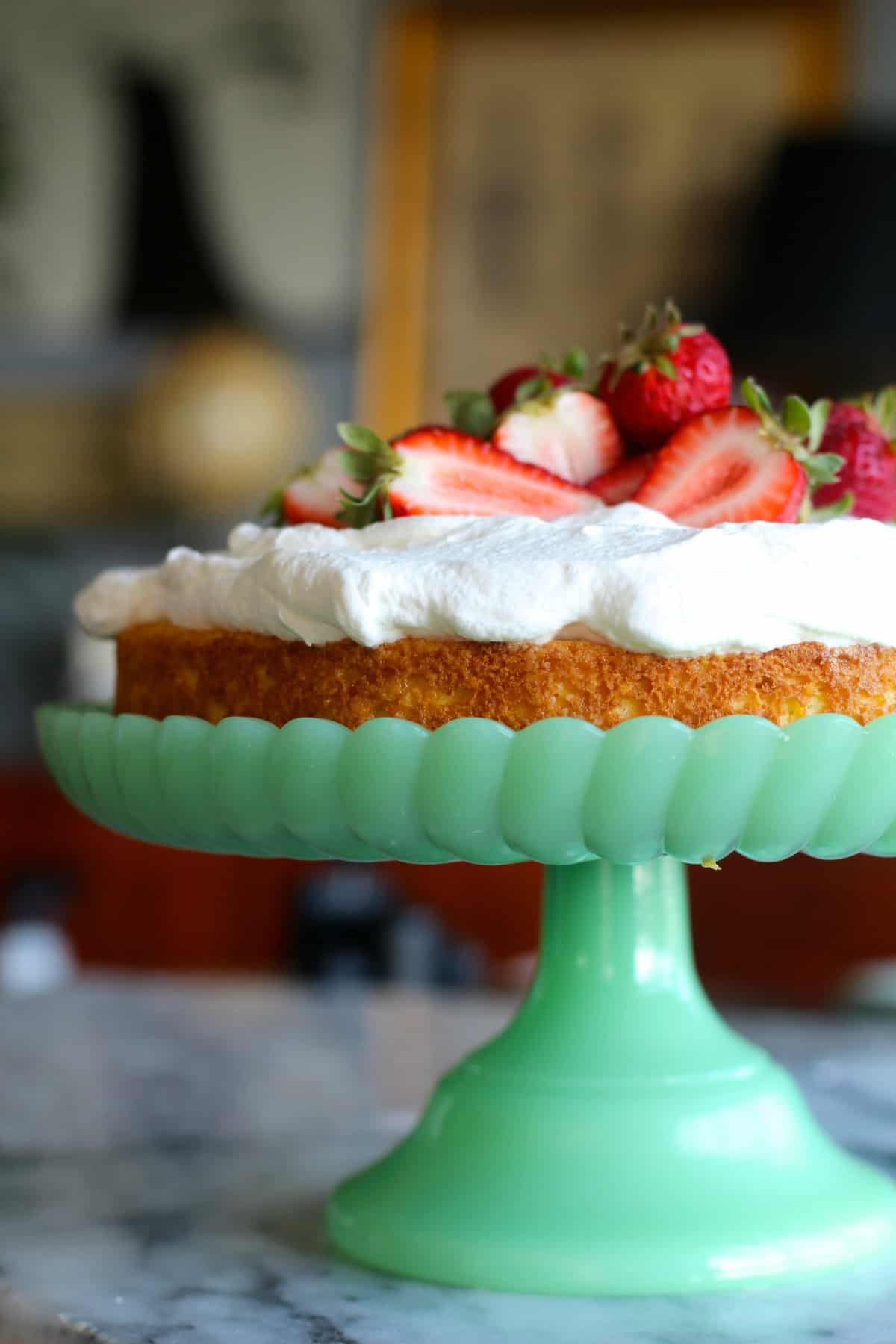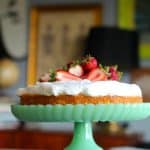 Tres Leches Cake
Ingredients
Cake-

1

cup

all-purpose flour

6

large eggs

1

cup

granulated sugar

1

can evaporated milk

1

can sweetened condensed milk

1/4

cup

heavy cream

Topping-

1

pint

Heavy Cream

, For Whipping

2

Tablespoons

Sugar

Strawberries for garnish
Instructions
To make the cake-

Prheat the oven to 325°F.

Spray a 9x13 inch glass baking dish or two 8 inch round baking pans with nonstick cooking spray.

Sift flour and set aside.

Separate the eggs. Beat egg yolks and sugar on medium high until pale yellow.

In a clean bowl, beat egg white until stiff peaks form.

Stir about a third of the egg whites into the yolk mixture to lighten it.

Gently fold in the remaining whites.

Sprinkle the flour over the egg mixture and gently fold it in, until just combined. Do not over mix.

Pour the batter into the prepared baking dish or pans and bake until the cake is puffed and golden and the edges pull away from the sides of the pan, about 20 to 25 minutes.

Cool completely.

Place cake on a rimmed platter or cake plate.

Pierce with a fork several times.

Combine evaporated milk, sweetened condensed milk, and heavy cream into a small pitcher.

Slowly drizzle about 1 cup of the milk mixture over cake(s) and around edges and allow the cake to absorb the milk for at least 30 minutes or up to 24 hours.

When ready to serve, beat whipping cream and sugar on high until stiff peaks form.

Top the cake(s) with an even layer of whipped cream and garnish with fresh strawberries if desired.

Serves 12