In my house, this time of year means weekends spent with friends and family—gathering around to watch the big game. And while watching football is cool, I think the best part of watching the game is all the delicious food!!!
This post has been sponsored by Tyson Foods, Inc. However, all thoughts and opinions are my own.
With the ultimate game day fast approaching, I am having lot of fun planning and preparing the menu for our viewing party. And for our upcoming game-of-all-games Sunday afternoon event, I am putting together an epic game day appetizer board that includes the very best of the best game watching fare.
WHAT MAKES THIS THE BEST APPETIZER BOARD?
For me, game day is all about fantastic, flavorful and fun finger foods (try and say that 3 times fast!). So, putting together the best appetizer board means piling it high with all sorts of tasty fares. I chose some of my favorites, which include Aidells® Teriyaki and Pineapple Meatballs, State Fair® Corn Dogs, Tyson® Any'Tizers® Boneless Chicken Bites, Tyson® Crispy Chicken Strips, and Hillshire Farm® Lit'l Smokies®​ Beef Smoked Sausages. From there, add celery sticks, sweet peppers, and some pickles. Serve it up with my delectable homemade ranch dip and a nice stone-ground mustard, and watch as your guests devour every last bite.
Since I wanted to give this epic appetizer board a test run before the big day arrives, I headed over to my local Kroger store for my supplies. I know I can count on Kroger to have everything on my list, which saves me a ton of time. (Who doesn't love one-stop shopping?!) And since Kroger makes it so easy to find what I need, I was able to quickly pick up the Aidells Meatballs and Hillshire Farm​ ​Litl' Smokies Cocktail Links in the refrigerated section; hit the frozen aisle to grab the State Fair​ Corn Dogs, ​Tyson​ ​Any'Tizers​ Snacks, ​Tyson​ Crispy Chicken Strips; and then swing by the produce department for the rest. So quick, easy and stress-free. Make your life easier and purchase these items (and more) today at your local Kroger or Kroger family store. ​You can also save now with this Shopkick offer!
WHY YOU'LL LOVE THIS GAME DAY APPETIZER BOARD
It has something for everyone!
The key to making the very best appetizer board is variety. Including lots of different options means all of your guests can find something to munch on. And this board really does have it all. Super crave-worthy Buffalo style ​Tyson​ ​Any'Tizers Boneless Chicken Bites are a tried-and-true game day snack. The Aidells Meatballs add the tangy and unexpected flavor combination of teriyaki and pineapple to the mix. And Hillshire Farm​ ​Litl' Smokies Cocktail Links have a crowd-pleasing, robust smokiness. For those who are looking for a healthier bite, Tyson Crispy Chicken Strips are made with all-natural white meat chicken, are minimally processed, and have no artificial ingredients.
Food on a stick is fun!
Corn dogs are loved by kids and grown ups alike, so these State Fair Corn Dogs are the perfect sweet and savory addition to this game day appetizer board. They are perfectly portable, so your guests can grab one (or two) and head back to watch the game. And they are super easy to make. All that's needed is to heat them up, and they are ready to serve. Here I show the original flavor, but don't miss out on the 100% beef variety, too! Don't forget to use Shopkick when buying for an additional savings.
Homemade Ranch Dip is Delicious (and Easy)!
While prepackaged ranch dip is readily available, you can easily make your own with almost no effort at all. Simply add all the ingredients to a bowl and stir until smooth. And believe me, you will be so amazed at the much flavor this homemade ranch dip has; you will never want to go back to the pre-made stuff again!
MORE GREAT GAME DAY RECIPES
For even more great game day foods, check out my recipe for these totally delicious Buffalo Twice Baked Potatoes. And these Antipasto Skewers with Pesto look impressive, but are easy to assemble and ready to serve in just minutes.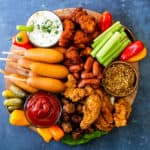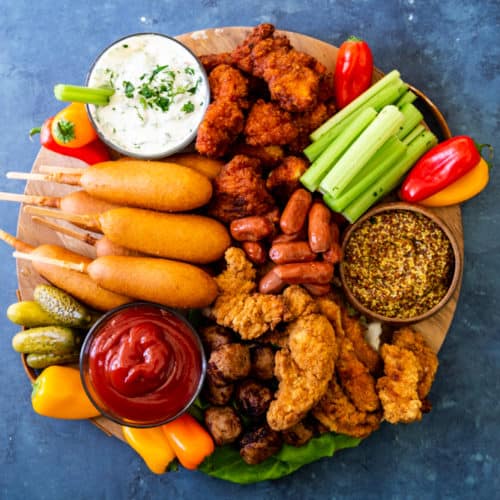 Homemade Ranch Dip
Ingredients
1

cup

mayonnaise

½

cup

sour cream

1

tablespoon

chives

finely sliced

1

tablespoon

flat leaf parsley

finely chopped

1

tablespoon

dill

finely chopped

¼

teaspoon

garlic powder

¼

teaspoon

onion powder

⅛

teaspoon

salt

⅛

teaspoon

ground black pepper
Instructions
Combine all ingredients in a bowl and stir until smooth.

Store in an airtight container in the refrigerator for up to 1 week.
Recipe Notes
To make using dried herbs, reduce the tablespoon to 1 teaspoon.