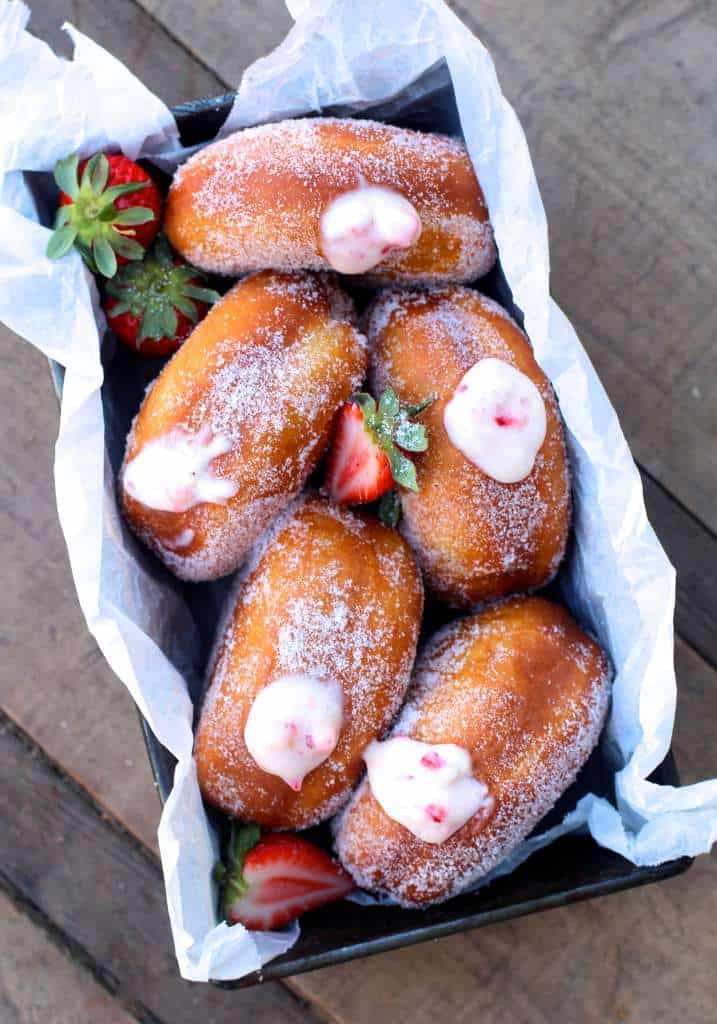 So last week was National Donut Day and while I was well prepared with a mouthwateringly delicious recipe, life got in the way of actually posting it! Story of my life! So here it is a few days later…
In January my family and I made a list of things that we wanted to accomplish this year. While traveling and losing weight were on the top of the list, making perfect yeast donuts and authentic Indian food made its way onto the list too. Surprisingly our list of about 30 goals is already halfway completed, and I successfully checked off my desire to create perfect donuts. Although I think I may have created a homemade donut monster in my husband as he now requests them weekly!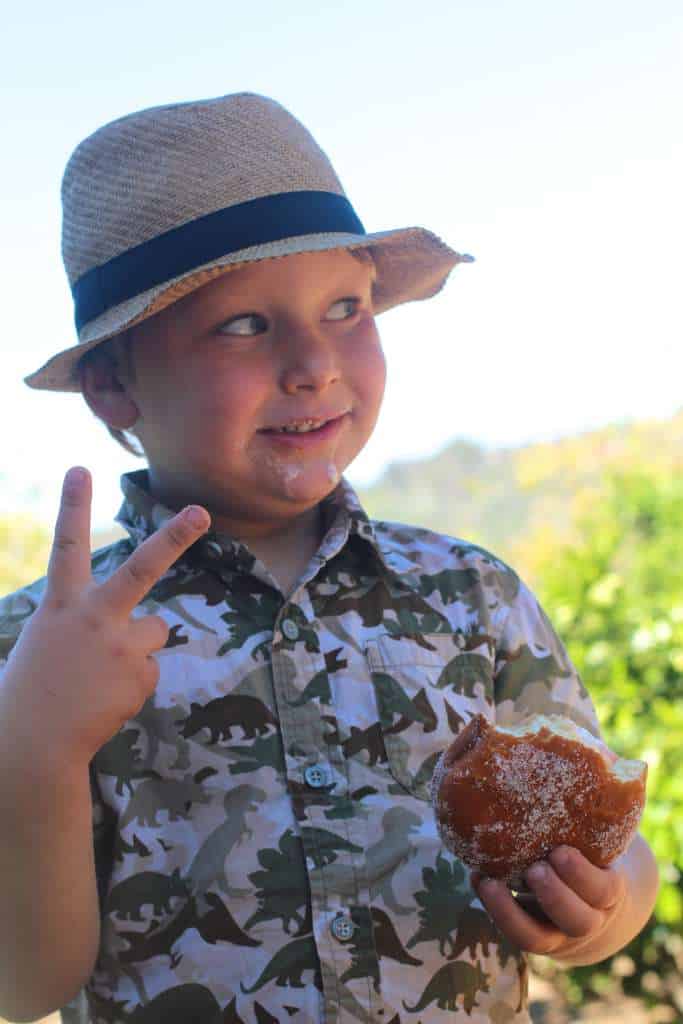 These donuts are the perfect combination of sweet and fruity custardiness (not sure if that is an actual word). The fried dough is light and airy and basically turns into a sugary crust once filled. The custard is swirled with fresh, sun kissed strawberries, that is good enough to eat with a spoon.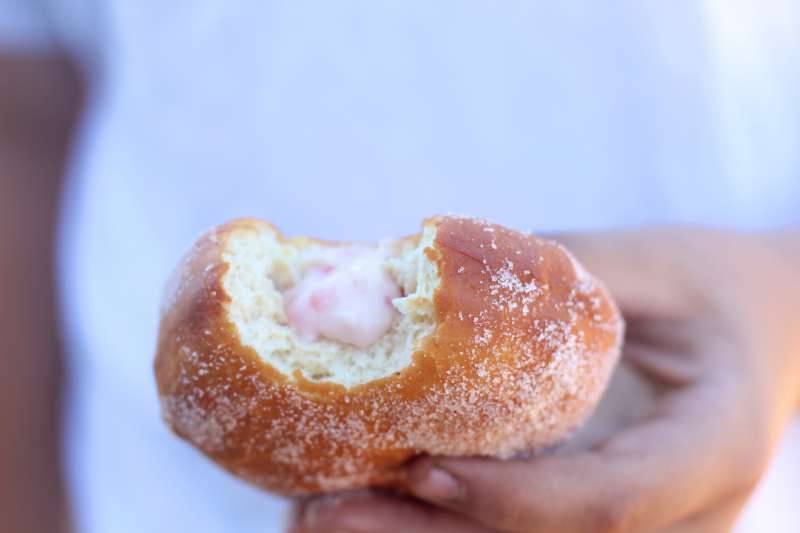 This recipe is definitely time consuming, but like most recipes that require a lot of steps, it is sooooo worth it! Since summer is upon us and I am sure, like me, you have kids that proclaim their "boredness" (again probably not a real word) within 5 minutes of waking up, take a day and make these donuts with them. Kids love kneading the dough, cutting the strawberries, mixing the custard, and finally eating the delicious donuts that they created! Enjoy and Happy Belated National Donut Day!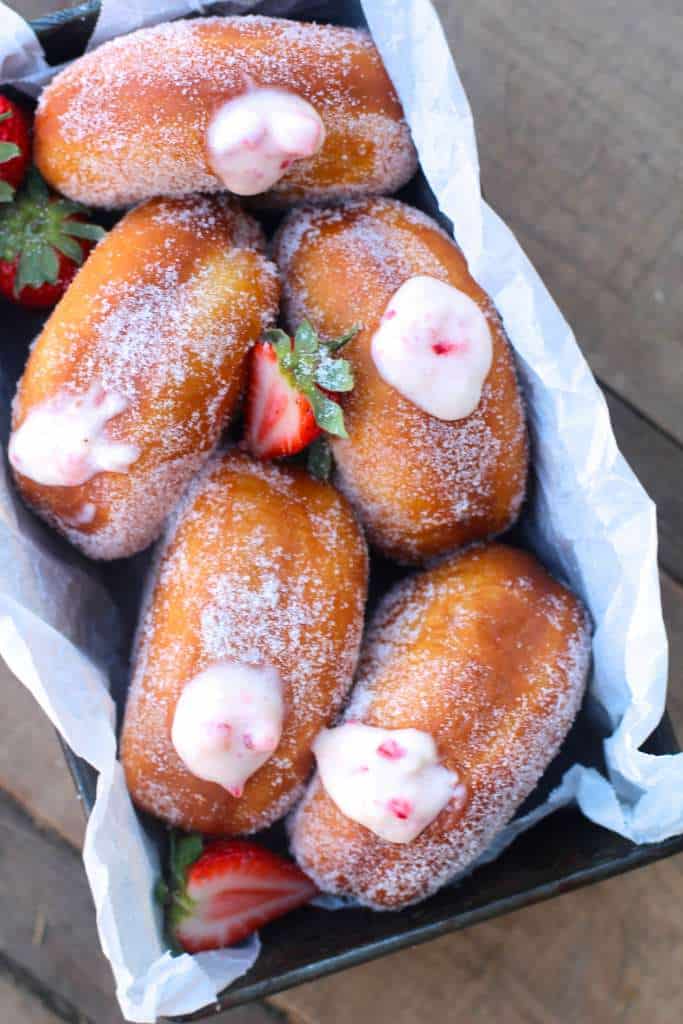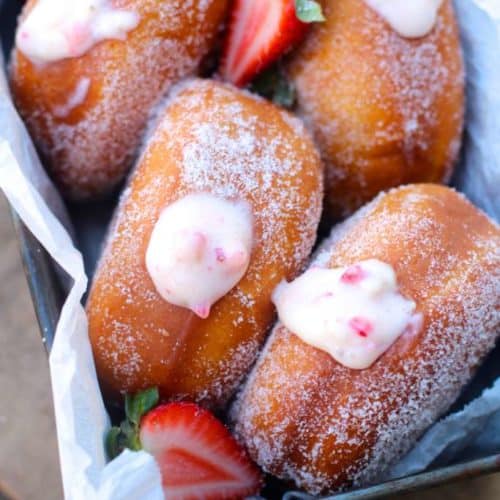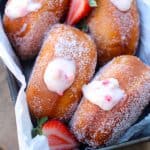 Strawberry Custard Filled Donuts
Ingredients
Strawberry Custard Filling
1

cup

finely diced strawberries

1

teaspoon

sugar

1/2

cup

heavy cream

1/2

cup

whole milk

1/4

cup

granulated sugar

Pinch of fine sea salt

3

large egg yolks

1 1/2

tablespoons

cornstarch

, mixed with 2 tablespoons water

1

teaspoon

pure vanilla extract

2

tablespoons

cold unsalted butter

, cut into pieces
Donuts
1/2

cup

warm water

4

and 1/2 teaspoons active dry yeast

1

tablespoon

granulated sugar

1/3

cup

vegetable shortening

3/4

cup

milk

1/4

cup

granulated sugar

1

teaspoon

salt

4

cups

all-purpose flour

2

eggs

Vegetable Oil for Frying

Sugar for coating
Strawberry Custard Filling
Instructions
To make the custard, finely dice strawberries and mix with 1 teaspoon of sugar, set aside.

In a small heavy bottomed pot, add heavy cream, milk, sugar, and salt and cook on medium heat until it begins to gently simmer, at this point turn off the heat.

In a separate bowl, beat egg yolks until they are pale.

Add cornstarch mixture to egg yolks and whisk to combine.

Very slowly pour warm milk into the egg yolk mixture, mixing constantly, until all of the milk has been added.

Return the custard to the saucepan and cook over medium low heat, stirring constantly, until the custard is thickened and glossy, about 3 minutes

Remove from heat and add butter and vanilla, and stir until smooth.

Stir in diced strawberries and refrigerate custard until cold and ready to use. This can be made up to 2 days in advance.

To make the donuts:

In a small bowl, combine warm water, yeast, and sugar. Allow to sit until yeast begins to "bloom".

While yeast is blooming, melt shortening and milk in a small saucepan over low heat until bubbles appear on the surface.

Remove from heat and transfer into a large bowl.

Add salt and sugar and mix until sugar has dissolved.

Add 1 cup of flour and eggs to the milk mixture and beat until combined.

Beat in yeast mixture and remaining 3 cups of flour until combined.

Replace your whisk attachment with the kneading hook, or place dough on a well-floured surface, and knead until smooth and no longer sticking to bowl or hands.

Once dough is smooth, place in a large greased bowl, cover and let rest until dough has doubled in size.

Once dough has risen, place on a well floured surface and roll a flat disk, about 1/2 thick.

Cut out donuts with a 3 inch biscuit cutter.

Place on a wax paper lined cookie sheet and cover lightly. Allow to rest until donuts have once again doubled in size.

In a heavy bottomed skillet or pot (or a deep fryer) pour oil to a depth of 2 inches deep.

Heat oil to 375 degrees.

Working in batches of 2-3 at a time, carefully drop donuts into hot oil and fry until golden brown, about 1 minute on each side.

Remove with a slotted spoon and place on a paper towel lined plate to drain.

Once donuts have cooled slightly, coat in sugar.

Fill a piping bag fitted with a small tip or a plastic bag with a small corner cut out with the chilled pastry cream. Pipe a few tablespoons into each donut round.