These Strawberry Custard Filled Doughnuts will have you coming back for seconds and thirds. Classic homemade doughnut flavors combine with fresh strawberries and a sweet custard to make a delightful and addicting sweet treat. Make breakfast a special one or wow the family for dessert with this soft and satisfying recipe.
This post was originally posted in June 2016, but has since had the photography and recipe updated.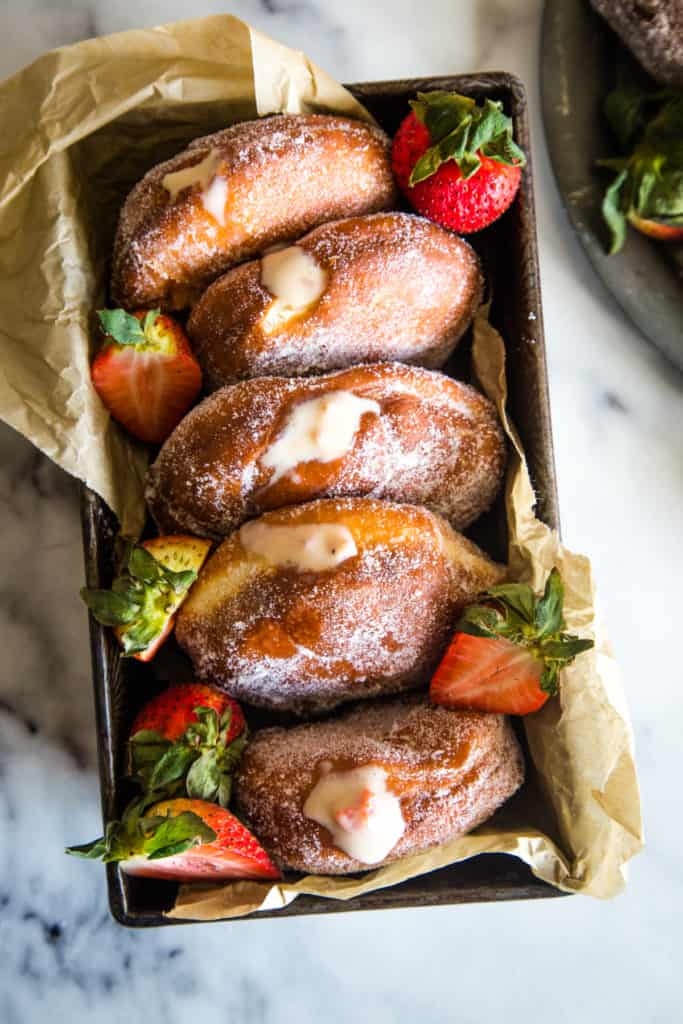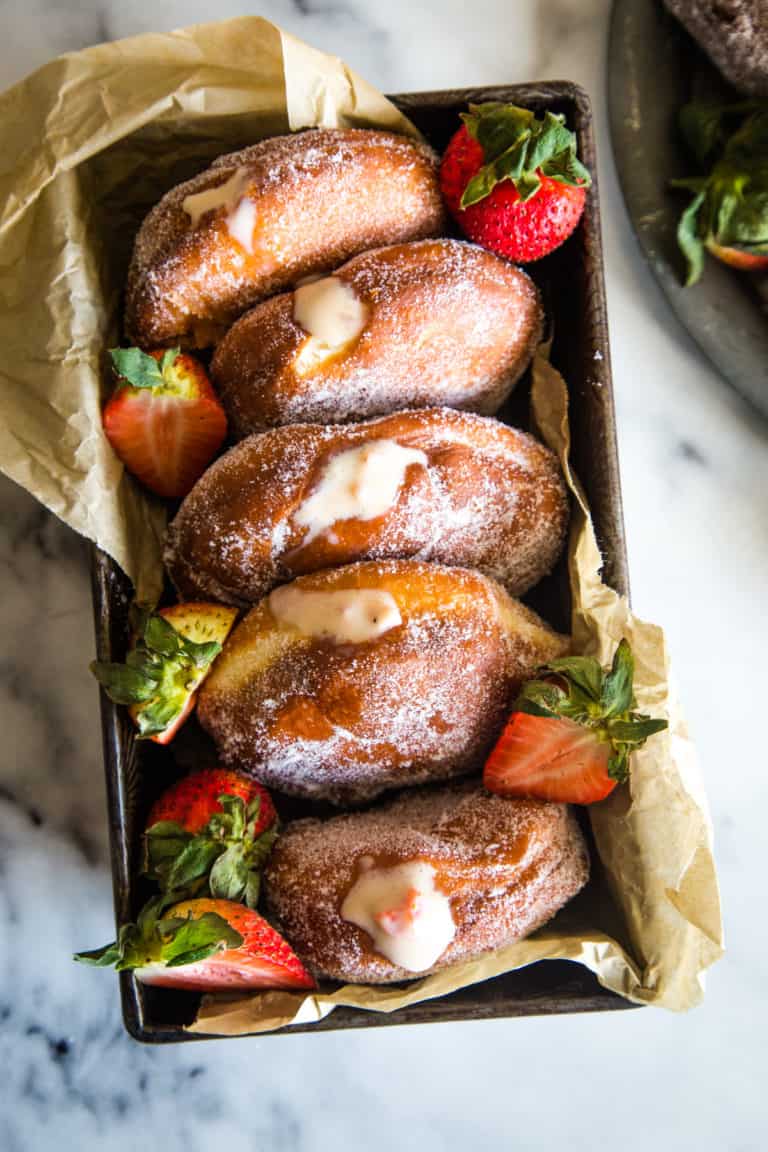 I absolutely love celebrating all those little holidays like sister day, pie day, etc. One of our favorites around this time is Doughnut Day. I often come up with my own donut recipe every year around this holiday just to mark the occasion. This time around, I whipped up these strawberry custard doughnuts and they were a hit. Of course, I just had to share them with you because I knew a good doughnut recipe couldn't be kept a secret. By the way- do you say donut or doughnut?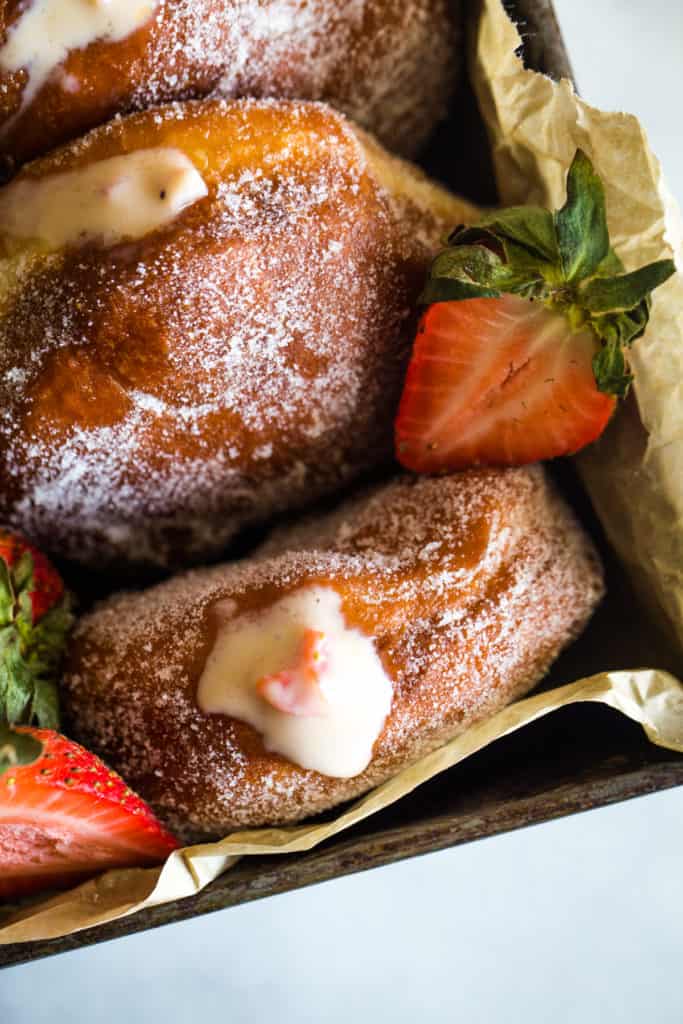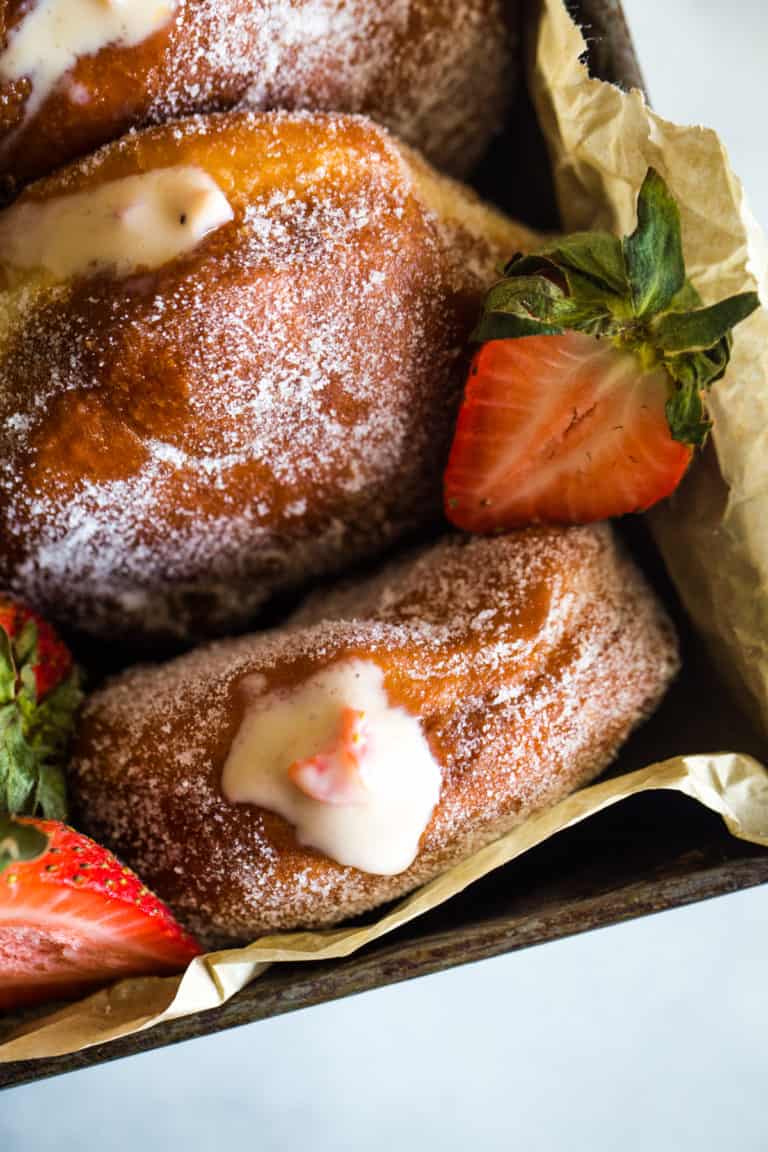 Did you know that National Doughnut Day started in 1938 as a fundraiser for the Salvation Army? Many of us celebrate these holidays without even knowing the real meaning behind them. Of course, I'm all for celebrating a holiday around sweets, but I'm all for the fact that it also celebrates such a good cause. Especially because the Salvation Army still exists to this day and does so much for those in need. So, when you're eating your custard-filled donut, think about "doughnating" as well (see what I did there?).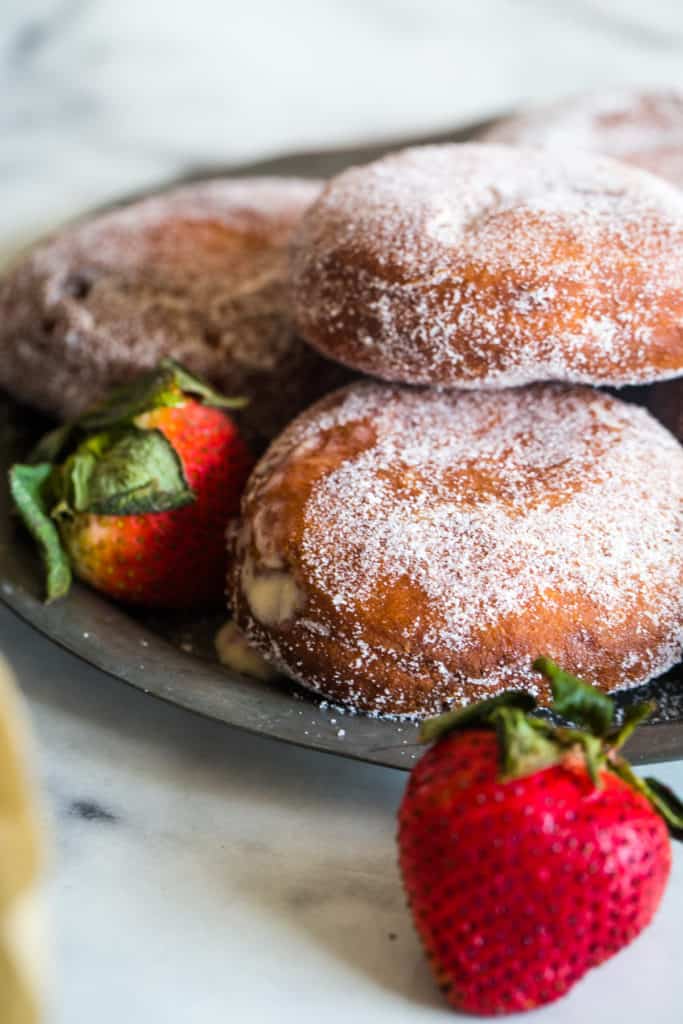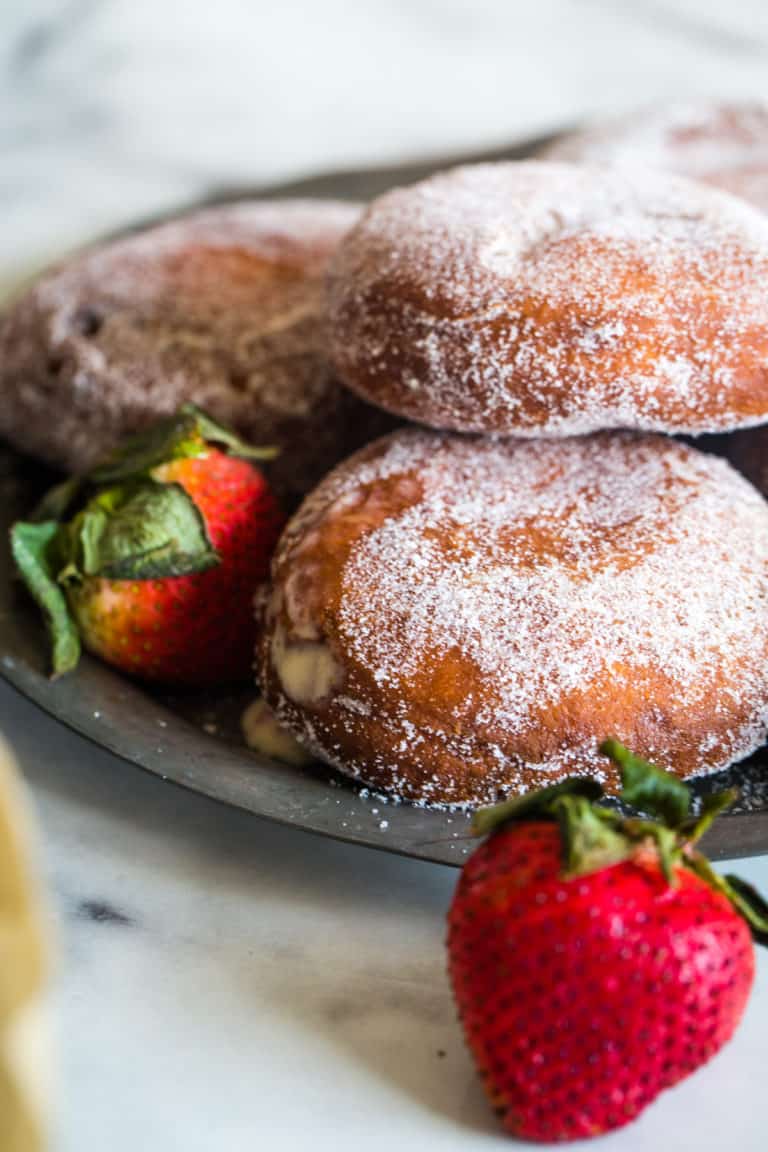 How to Make Strawberry Custard Filled Doughnuts
Prepare the strawberries - In a bowl, mix together the diced strawberries and a tablespoon of sugar. Set them aside for later use.
Get the custard simmering - In a small heavy-bottomed pot, combine the heavy cream, milk, and salt. Mix and bring to a simmer before removing from heat.
Make the egg mixture - In a bowl, mix eggs and sugar until they're pale yellow. Slowly add the milk mixture to the egg mixture, consistently stirring until it's all incorporated, then add in the cornstarch mixture and mix well.
Return to the heat - Place the egg and milk mixture back over the heat for about three minutes or until it's thickened and glossy. Remove it from the heat and mix in the butter and vanilla.
Add strawberries and chill - Add the strawberries to the custard, stir, then chill until it's ready to be used.
Prepare donuts - In a small bowl, combine yeast and warm milk and wait until it "blooms" or looks foamy. Stir in melted butter, sugar, and eggs. Then add the flour and salt. Knead dough until smooth.
Let dough rise and cut - Place dough in a bowl, cover, and allow to rise. Once risen, roll out to about ½-inch thick and cut out doughnuts with a 3-inch biscuit cutter. Cover doughnuts and allow them to rise again until double their size.
Fry donuts - Fill a fryer with about 2 inches of oil, heat to 375 degrees, then fry each doughnuts, about 1 minute on each side. Remove from the fryer, place on a paper towel to drain, then toss in cinnamon and sugar.
Fill donuts - Place custard in a piping bag and fill each doughnut, serve, and enjoy!
Tips and Variations
Make custard ahead - The strawberry custard can be made up to 2 days ahead of time, if desired. This will save some time in the process.
Don't rush the yeast - Make sure the yeast has time to do its thing. If not, your doughnuts won't rise right, if at all, and you'll have to start over and nobody wants that.
Make it quicker - To make the process quicker, use a mixer fitted with the hook attachment to knead the dough quickly. I love using my KitchenAid for this as it cuts the kneading time in half! As mentioned, you can also make the custard ahead of time.
Flour your surfaces - When you're kneading or rolling out your dough on a counter, make sure whatever surface you're using is floured so the dough doesn't stick to everything, making a mess.
Cut out the doughnut rounds- Use a simple round cookie cutter or a water glass. Then, let the rest and rise again.
Fry them- You want your oil to be approximately 375 degrees. While a thermometer is your best bet to get the optimal temperature, you can also test a small amount of dough. You want it to be a nice golden brown after about 1 minute.
Roll in sugar- Let the doughnuts cool on a paper towel for a few minutes, then roll them in sugar, and allow to cool completely.
Fill with custard- fill the cooled doughnuts by making a hole down the center and inserting the pastry bag filled with the custard.
Enjoy immediately- You'll want to eat these fresh and the same day for optimal flavor.
Common Questions About Strawberry Custard Filled Doughnuts
What Are Custard Filled Donuts Called?
Each type of custard-filled donut can have various names. However, custard-filled doughnuts are popularly referred to as Bavarian cream donuts or Boston cream doughnuts. This is because the custard in doughnuts is largely similar to a Boston cream pie. However, everyone has their own nickname for these types of donuts, especially since the flavors can largely vary between custards and styles.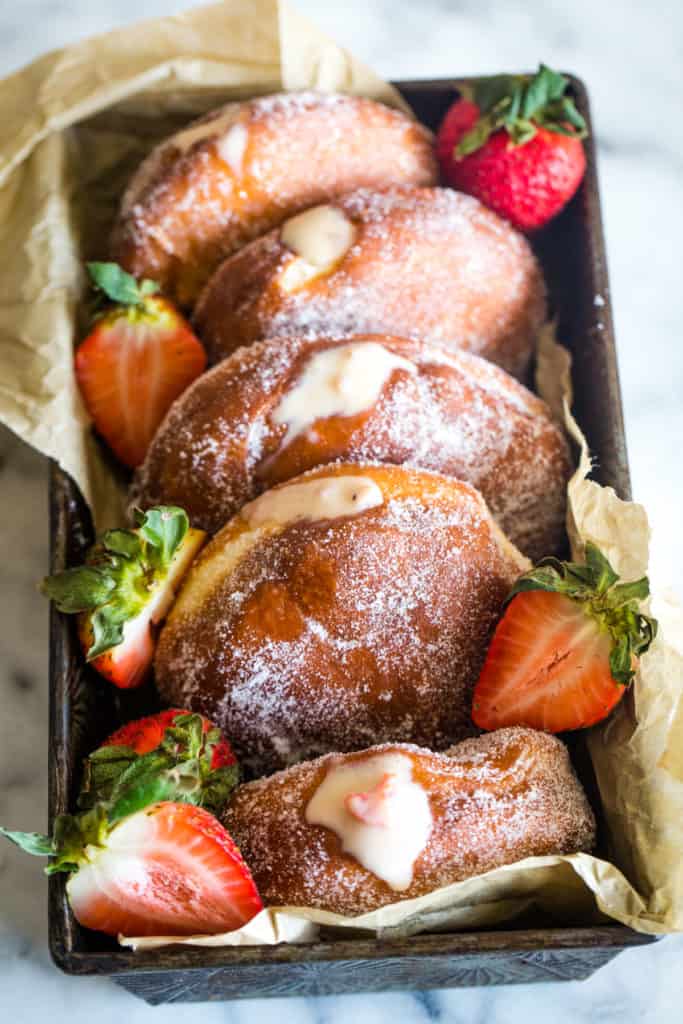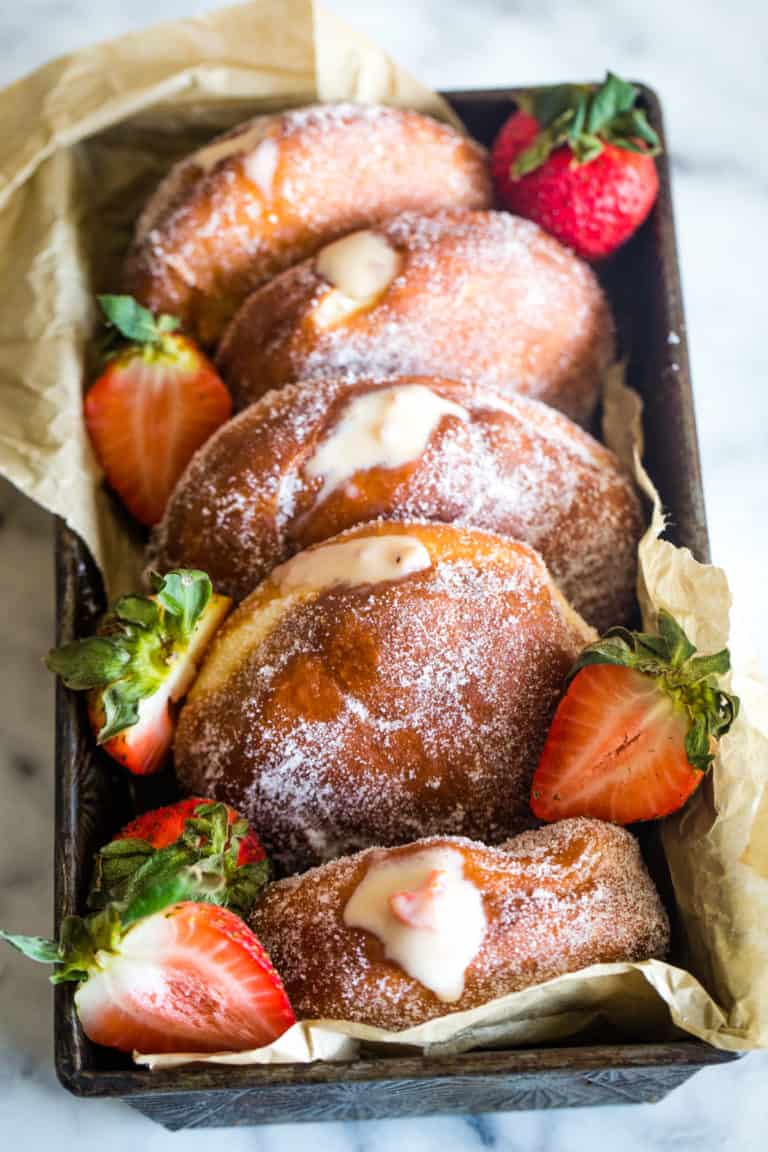 What Can I make with Leftover Egg Whites?
Keep those egg whites to make a delicious Swiss Meringue Buttercream, Angel Food Cake, Pavlova, or just a simple egg white omelet. Egg whites can also easily be frozen for future use.
If you decide to whip up these Strawberry Custard Filled Doughnuts, do let me know in the comments below!
More Strawberry Desserts You'll Love: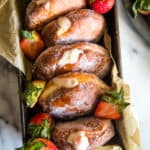 Strawberry Custard Filled Donuts
Keyword:
strawberry custard, strawberry doughnuts
Ingredients
Strawberry Custard Filling
1

cup

finely diced strawberries

1

teaspoon

sugar

½

cup

heavy cream

½

cup

whole milk

Pinch of fine sea salt

3

large egg yolks

¼

cup

granulated sugar

1 ½

tablespoons

cornstarch

1

teaspoon

water

1

teaspoon

pure vanilla extract

2

tablespoons

cold unsalted butter
Donuts
¾

cup

warm milk

2 ¼

teaspoons

active dry yeast

⅓

cup

butter

melted

¼

cup

granulated sugar

2

eggs

1

teaspoon

salt

3 ½-4

cups

all-purpose flour

Vegetable Oil for Frying

Sugar for coating
Strawberry Custard Filling
Instructions
To make the strawberry custard
Finely dice strawberries and mix with 1 teaspoon of sugar, set aside.

In a small heavy bottomed pot, add heavy cream, milk, and salt and cook on medium heat until it begins to gently simmer, at this point turn off the heat.

In a separate bowl, beat egg yolks and sugar until they are pale.

Very slowly pour warm milk into the egg yolk mixture, mixing constantly, until all of the milk has been added.

In a small bowl, whisk together corn starch and water. Pour cornstarch paste into the custard mixture.

Return the custard to the saucepan and cook over medium low heat, stirring constantly, until the custard is thickened and glossy, about 3-5 minutes.

Remove from heat and add butter and vanilla; stir until smooth.

Stir in diced strawberries, transfer to a bowl and cover with plastic wrap and refrigerate custard until cold and ready to use. This can be made up to 2 days in advance.
To make the doughnuts
In a small bowl, combine warm milk and yeast. Allow to sit until yeast begins to "bloom".

Once yeast mixture is foamy, stir in melted butter and sugar.

Begin with adding 3 ½ cups of flour and the salt. Knead mixture until dough forms and ball and no longer sticks to the sides of the bowl. If needed, add more flour in 1 tablespoon increments at a time.

Once dough is smooth, place in a large greased bowl, cover and let rest until dough has doubled in size, at least 2 hours.

Once dough has risen, place on a well floured surface and roll a flat disk, about 1-2 inches thick.

Cut out donuts with a 3 inch biscuit cutter.

Place on a wax paper lined cookie sheet and cover lightly. Allow dough to rest for 30-45 minutes.

In a heavy bottomed skillet or pot (or a deep fryer) pour oil to a depth of 2 inches deep.

Heat oil to 375 degrees.

Working in batches of 2-3 at a time, carefully drop donuts into hot oil and fry until golden brown, about 1 minute on each side.

Remove with a slotted spoon and place on a paper towel lined plate to drain.

Once donuts have cooled slightly, coat in sugar. Set aside to cool completely.

Fill a piping bag fitted with a small tip or a plastic bag with a small corner cut out with the chilled pastry cream. Pipe a few tablespoons into each donut round.
Recipe Video
Recipe Notes
Depending on the altitude and/or humidity levels, you may need more flour. 
Doughnuts are best enjoyed the same day. 
This post contains affiliate links.