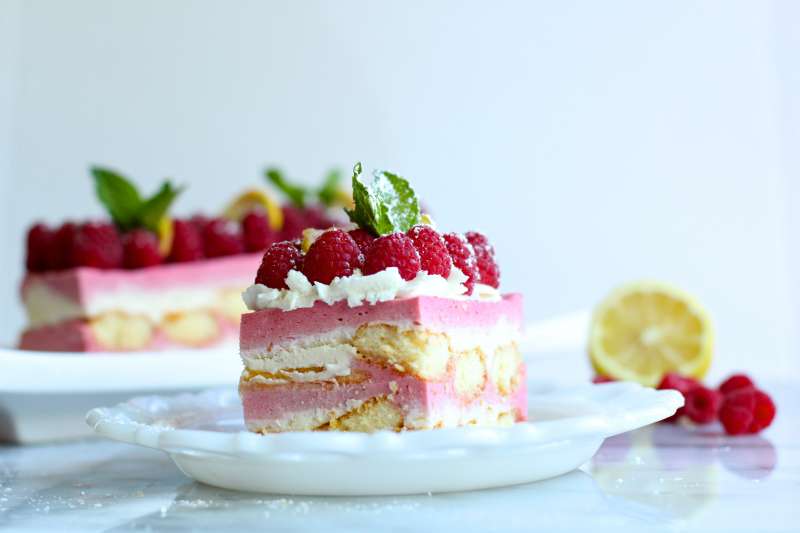 I must have done something pretty bad to be getting this karma that I have been getting lately. I just can't seem to catch a break. I know that my problems are far smaller than some people's but when they happen one after another, it gets pretty annoying. The straw that broke the camel's back was last night when I realized I had accidentally thrown away my SD card. Not any SD card. This card had all of the photographs that I had taken for my Ebook. Soooo much work (and money) thrown away. I know that things happen for a reason and my only hope is that this happened because somehow the universe felt it was not my best work. To be quite honest I didn't think it was my best work at the end. Oh well, thanks for listening to my rant.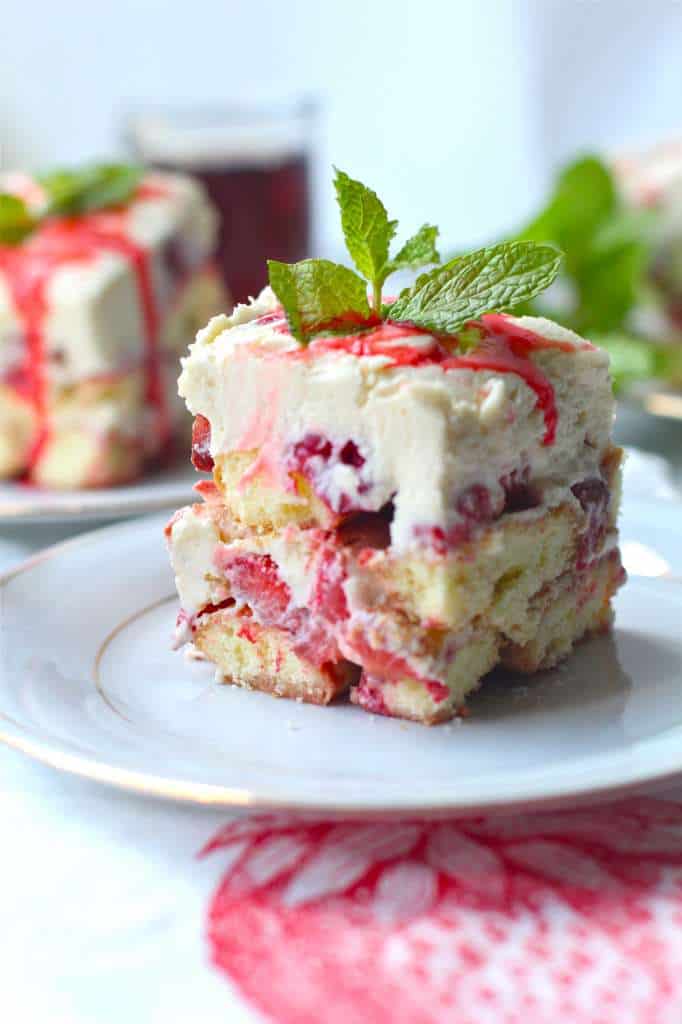 Anyway, I had quite a few posts photographed in advance on that card as well, this recipe being one of them. The Raspberry Lemoncello Tiramisu was too good to not share, even if it meant only sharing one photo (I had uploaded this one to check exposure). This is a great no bake dessert that is perfect on a hot summer's day. If you want a completely no cook dessert, try out this Balsamic Strawberry Tiramisu that I made last year!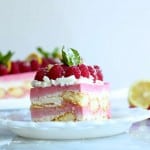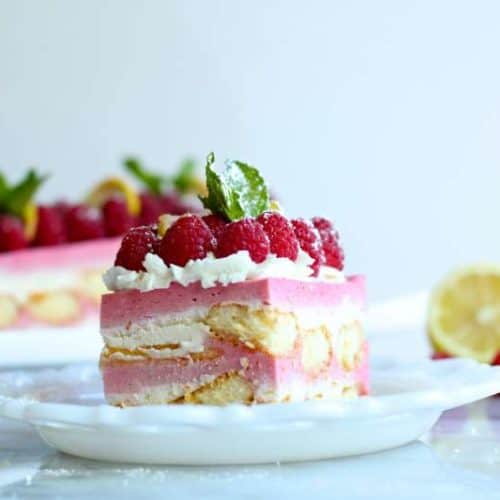 Raspberry Lemoncello Tiramisu
Ingredients
Raspberry Mousse
3

tablespoons

water

2 ¼

teaspoons

powdered gelatin

2

cups

fresh raspberries

½

cup

sugar

2

cups

heavy cream

, very cold
Lemoncello Syrup
1 ½

cups

water

1 ½

cups

lemoncello
Filling
12

ounces

mascarpone cheese

½

cup

heavy whipping cream

¼

cup

powdered sugar

1

teaspoon

vanilla extract
Topping
1

cup

heavy whipping cream

2

tablespoons

sugar

2

cups

raspberries

powdered sugar

mint

lemon
Instructions
To make the raspberry mousse, puree berries in a blender until smooth.

In a small bowl combine water and gelatin, set aside.

Once smooth, pass through a fine mesh sieve to remove pulp. You should be left with around 1 cup of puree.

In a medium sized pot, heat sugar and raspberry puree on medium heat.

Once bubbled begin to form around the edge, add in gelatin mixture and stir until it has melted.

Remove from heat and allow to cool until you can touch it, about 20 minutes.

Once puree is at room temperature, beat heavy cream on high until stiff peaks form.

Fold in whipped cream with raspberry puree.

Begin assembly for Tiramisu.

Combine water and Lemoncello in a sauce pan and bring to a boil (this will significantly reduce the alcohol content.)

Remove from heat and allow to cool for a few minutes.

Line a 8x8 in pan with foil or saran wrap.

When lemoncello syrup is cool enough to touch, quickly dredge lady fingers in syrup and place in pan creating 1 layer.

Spread ½ of the mascarpone mixture over the lady fingers followed by 1-1 ½ cup of the raspberry mousse.

Repeat layers.

To finish, whip whipping cream and sugar on high until stiff peaks form.

Spread whipping cream on last layer.

Garnish with raspberries, mint, and lemon peel.

Refrigerate tiramisu until mousse has set, about 2 hours.

Sprinkle with powdered sugar before serving.