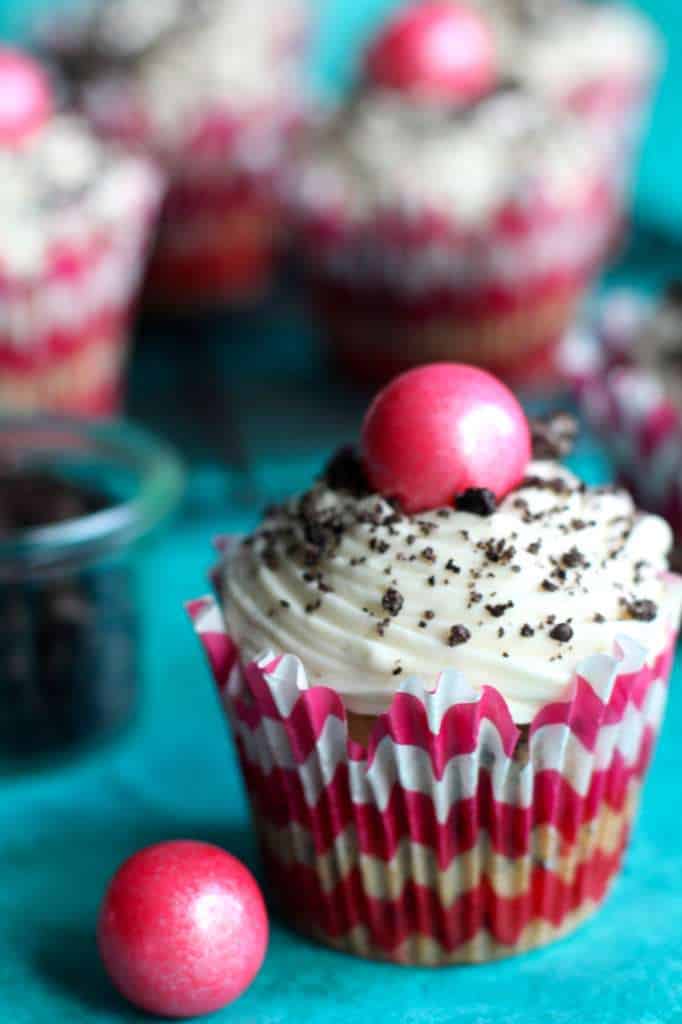 Ok, so I have been having this debate with my husband. Do you serve food  at a birthday party or are just a bowl or two of snacks acceptable? If they are...I go WAY overboard! I think that the host should provide something like small sandwiches, pizza or hot dogs to the kids at a kid's party. My husband on the other hand thinks that that is overkill, especially if the party is at 2 pm. What do you think? Please weigh in. I need to know if I have been working myself to death preparing an elaborate themed meal for my kid's party.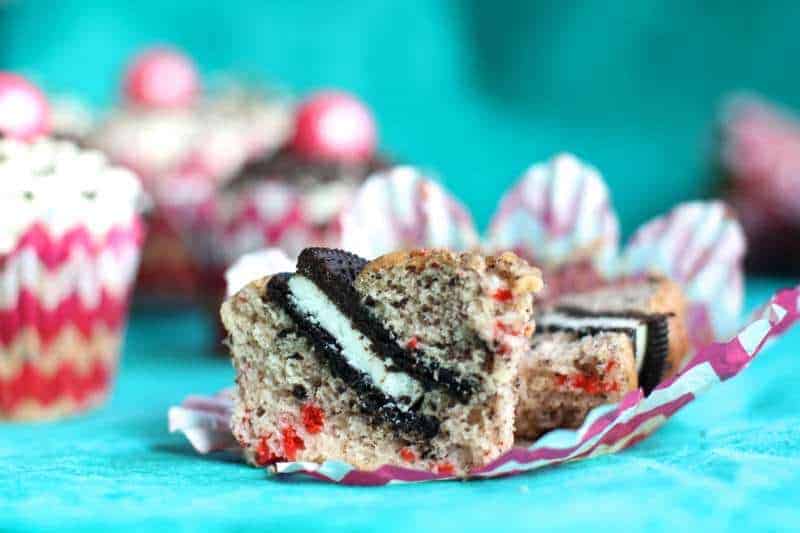 Here's another question for you. How do you feel about bringing in a treat to class on your kids birthday? In my son's school, his teacher has only allowed one day a month for the kid's to celebrate birthdays and if they want to bring something in, it has to be watermelon or cheese. Now, I totally understand that kids have allergies, but no cake on your birthday? How in the world is my son supposed to brag about how good of a baker his mom is? I'm kidding...if any of you know my oldest he is anything but a bragger!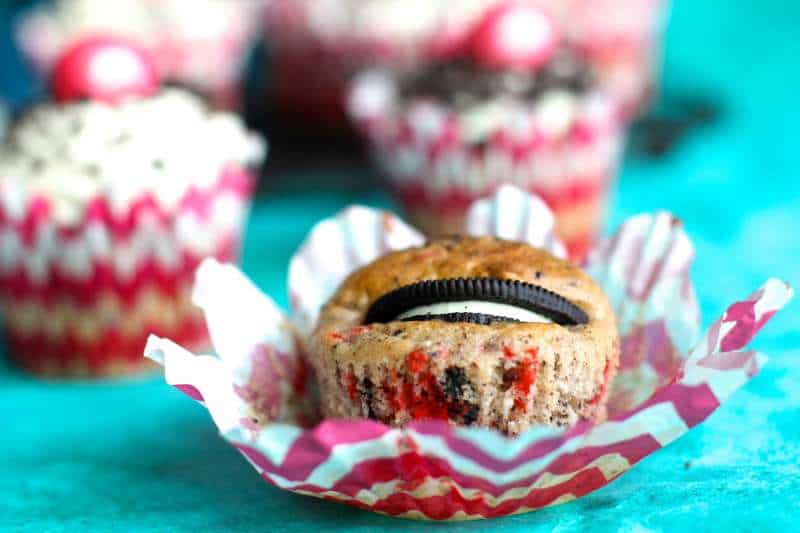 Luckily my daughter's teacher allows cupcakes! I made these for her class on her birthday and the kids went wild! Sprinkles, Oreos and gum balls all in one?!? Needless to say, they were a hit!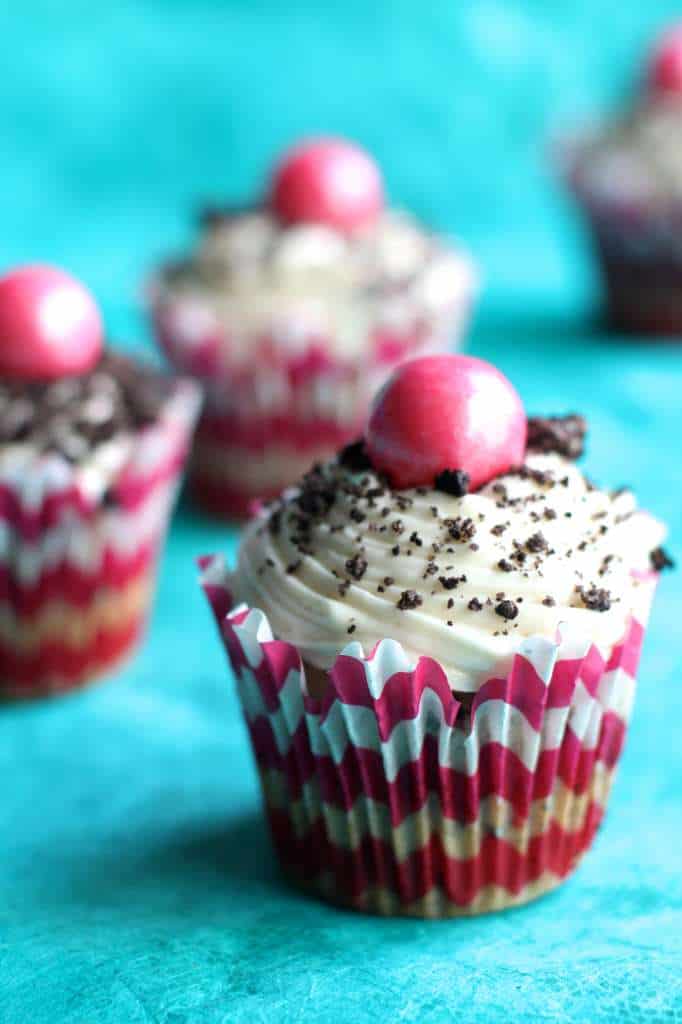 Anyway, thanks for listening to me and if you commented thank you for your insight. I pretty much only have toddler discussions during the day and once my husband gets home and I can have an actual adult discussion I am pooped and can't remember what I wanted to talk about.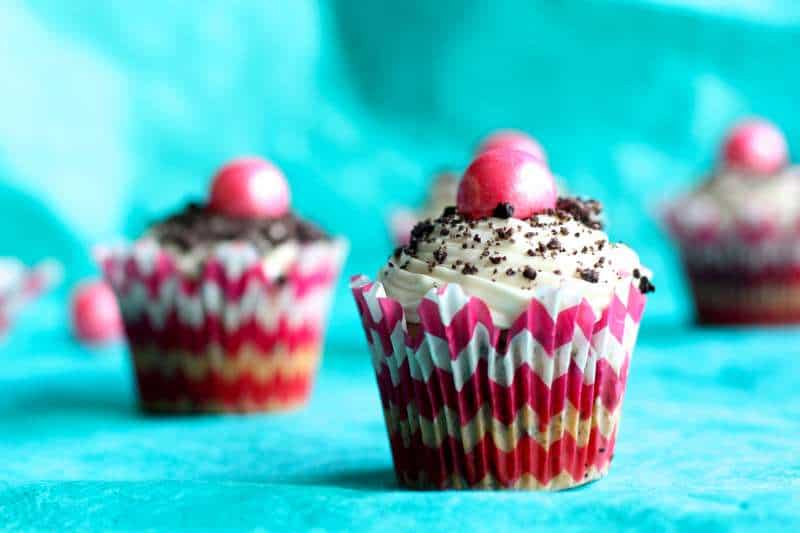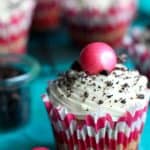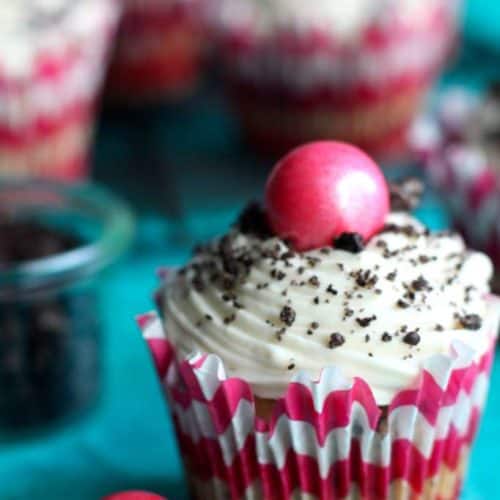 Oreo Stuffed Funfetti Cupcakes
Ingredients
2

sticks butter

(softened)

1 ½

cups

sugar

2

teaspoon

vanilla bean paste or regular vanilla

2

whole eggs

3

egg yolks

2 ½

cups

flour

½

teaspoon

baking powder

½

teaspoon

baking soda

1

teaspoon

salt

1

cup

buttermilk

(or 1 cup milk with a splash of white vinegar)

12

oreos

⅓

cup

sprinkles

(plus more for frosting)
Vanilla Bean Frosting
2

sticks unsalted butter

, softened

5-6

cups

powdered sugar

1

pinch of salt

2

tablespoons

vanilla bean paste

4

tablespoons

milk or heavy cream

Pink food coloring

(optional)

Sprinkles and Oreo cookie crumbs for cupcake tops
Instructions
Preheat oven to 350 degrees. Make sure all your ingredients are room temperature.

In a separate bowl, combine flour, salt, baking powder and soda and mix.

In your mixer fitted with the paddle attachment, blend butter, sugar and vanilla at medium speed until pale and fluffy.

Add eggs, one at a time, scraping the bowl after each addition.

Reduce speed to low and add a cup of flour followed by ⅓ of the buttermilk.

Repeat this 3 times, until you have incorporated all the flour and buttermilk.

Stir in sprinkles.

Put baking cups in pan and place an Oreo at the bottom of each cup.

Fill cups with funfetti batter ⅔ full and gently tap on counter to remove air bubbles.

Bake cupcakes for 15-17 minutes or until toothpick is inserted and comes out clean.

Allow to cool completely before frosting.
Frosting
Beat butter and extract for 2 minutes.

Add powdered sugar and milk or cream.

If the frosting still looks to wet, add more powdered sugar in ½ cup increments.

Beat with whisk attachment for 3 minutes on high.

Add food coloring if desired.

Pipe frosting onto cupcakes and top with ground up Oreos and sprinkles.