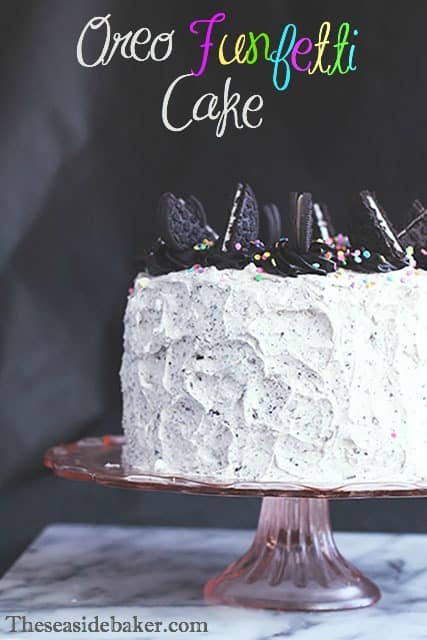 Even as I am approaching my 30's, I still love sprinkles, and I'll be damned if a cake covered in sprinkles doesn't taste better than a cake without. Add Oreos to the mix and you have a 29 year old smiling from ear to ear.
Fun fact about me...I don't like Oreos plain. The whole splitting open and dunking in milk thing does not impress me at all. But Oreos in cookies, cupcakes, and ice cream....now you're talking.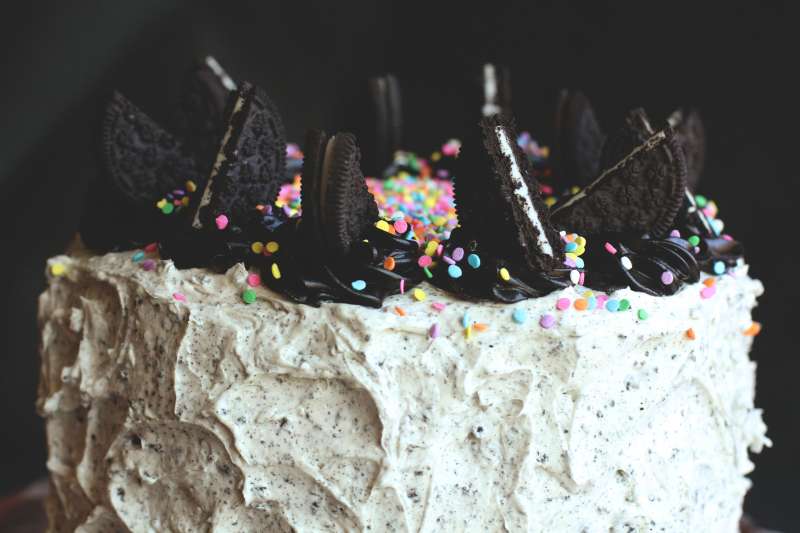 So let me tell you a little about this cake. My son had recently bought a package of Oreos for movie night which ended up remaining untouched. The next day I had to make a dessert for a school function. I wasn't planning on blogging about the cake, but after testing the frosting I knew I had to. I have made Italian Meringue before but never with Plugrà Salted Butter. That was a game changer for this normally boring frosting. The saltiness of the butter combined with the sweet creamy flavor of the whipped frosting mixed with crushed Oreos. Bliss I tell you, pure bliss. Hands down the best frosting I have ever made.
Even my husband was eating the leftovers by the spoonful! At this point I knew I had to blog about this cake, so I photographed it. Then I made a HUGE mistake. The instructions to the Dessert Night were to have everything pre-cut, so I sliced the cake right before leaving.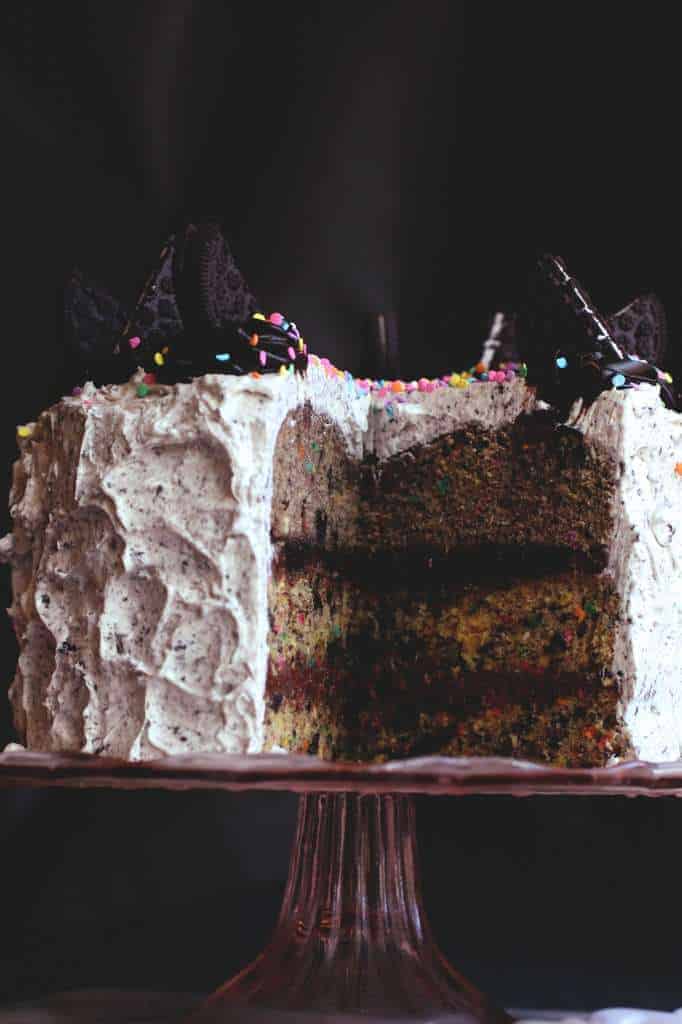 In the 5 minutes it took us to get to the school the cake now looked like a huge pile of sh*t. It reminded of a rose that was about to die and the petals were wilting and falling off.  I am pretty well known for my baked goods at this school. Needless to say I was mortified, so I made my husband carry the cake.
When people started asking where the item I made was I pointed to the cake, then wanted to stick my head in the sand.  Well, about 10 minutes later I looked over and to my surprise people were actually eating it! There were 2 men standing next to the cake taking spoonful after spoonful, telling everyone who walked by to try it. I think I should hire these men to be my sales reps!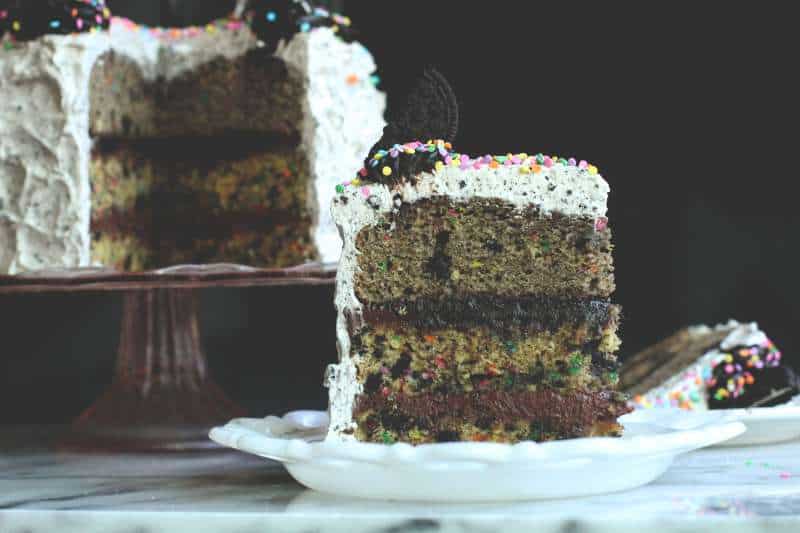 Anyway at the end of the evening I walked home with a clean cake plate and it was the best feeling in the world!!!!
For all my Gluten Free friends-I have made this Oreo Funfetti Cake VERY successfully using Cup4Cup GF flour and GF Oreos. The base cake is quite versatile and can be used as a good standard cake, just omit the Oreos and sprinkles.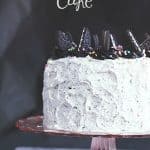 Oreo Funfetti Birthday Cake
Ingredients
3

cups

all-purpose flour or gluten free flour

1

tablespoon

baking powder

1

teaspoon

baking soda

½

teaspoon

salt

2

cups

granulated sugar

1

cup

Plugrà unsalted butter

, room temperature

4

large eggs

1 ¼

cups

sour cream

1 ½

teaspoons

vanilla extract

10

crushed oreos

¼

cup

funfetti sprinkles
Italian Meringue Cookies and Cream Frosting
1¼

cups

sugar

, divided into 1 cup and ¼ cup

⅓

cup

water

6

large egg whites

, room temperature

¾

teaspoon

cream of tartar

1

cup

Plugrà European salted butter

, very soft cut into pieces

1¼

cup

Plugrà unsalted butter

, very soft, cut into pieces

8

finely crushed oreos
Ganache for filling and Top
1

cup

heavy whipping cream

½

pound

milk chocolate chips
Instructions
Preheat oven to 350 degrees. Line 2- 8 inch cake pans and spray with non-stick cooking spray.

Combine flour, baking powder and soda, and salt in bowl. Set aside.

On medium speed beat butter and sugar together until light and fluffy.

Add eggs, one at a time, and mix until completely combined.

Stir in sour cream and vanilla.

Slowly add flour mixture and beat on low until just combined.

Stir in crushed Oreos and sprinkles.

Pour into pans and bake for about 20-25 minutes or until a knife is inserted and comes out clean.

Cool completely.

While cake is baking, make the ganache.

In a small sauce pan, heat cream until simmering (do not boil).

Remove from heat and add chocolate chips and let sit for about 5 minutes.

Whisk the chocolate and cream together until smooth.

Cool for about an hour before filling and assembling the cake. Set some aside for piping the top of the cake.

To make the Italian Meringue combine 1 cup of sugar and water in a small sauce pan.

Heat sugar and water on medium until boiling (you want large bubbles).

In the bowl of your electric mixer, beat egg whites and sugar until frothy.

Increase your mixer speed to high and beat egg whites until hard peaks form.

Reduce mixer speed to low and slowly and carefully pour into egg whites.

Slowly increase the mixer speed again and beat until the mixture is no longer hot or warm and is fluffy. (mixture needs to be as close to room temperature as possible before adding butter).

With the mixer set at medium speed, slowly add butter pieces. Mix until smooth.

Once smooth, add crushed stir to combine.

Frost assembled cake. Pipe remaining ganache and garnish with more funfetti sprinkles and Oreos cut in half.