This shop has been compensated by Collective Bias, Inc. and its advertiser. All opinions are mine alone. #GameTimeMVP #CollectiveBias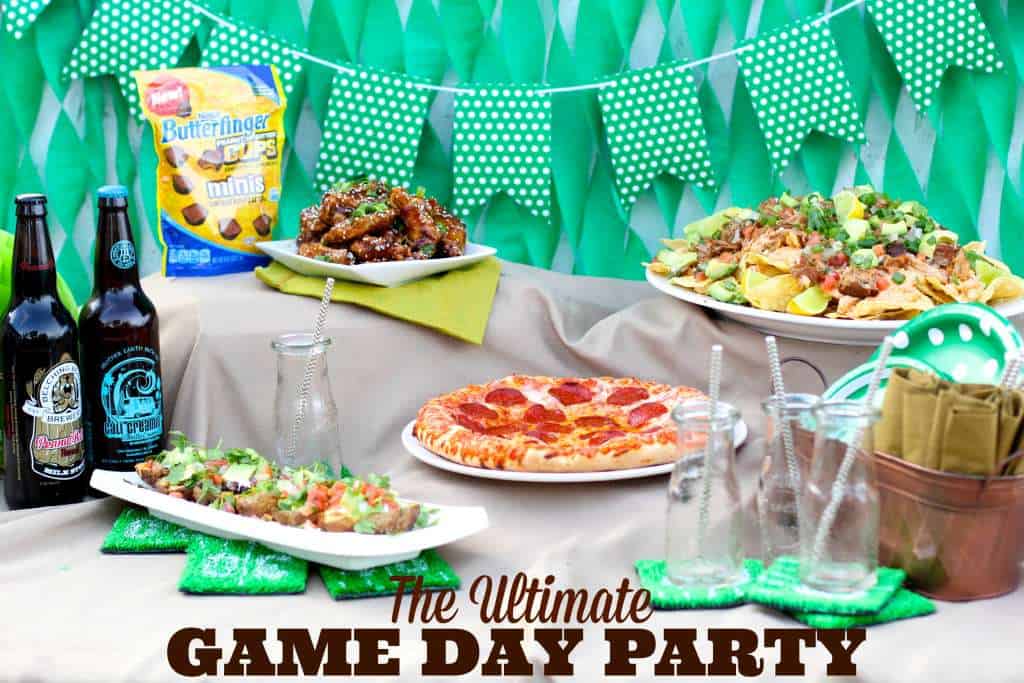 The big game is in a few short days and the only thing more exciting than the half time show and awesome commercials is the food! Because let's face it...football is so much better with some game time grub!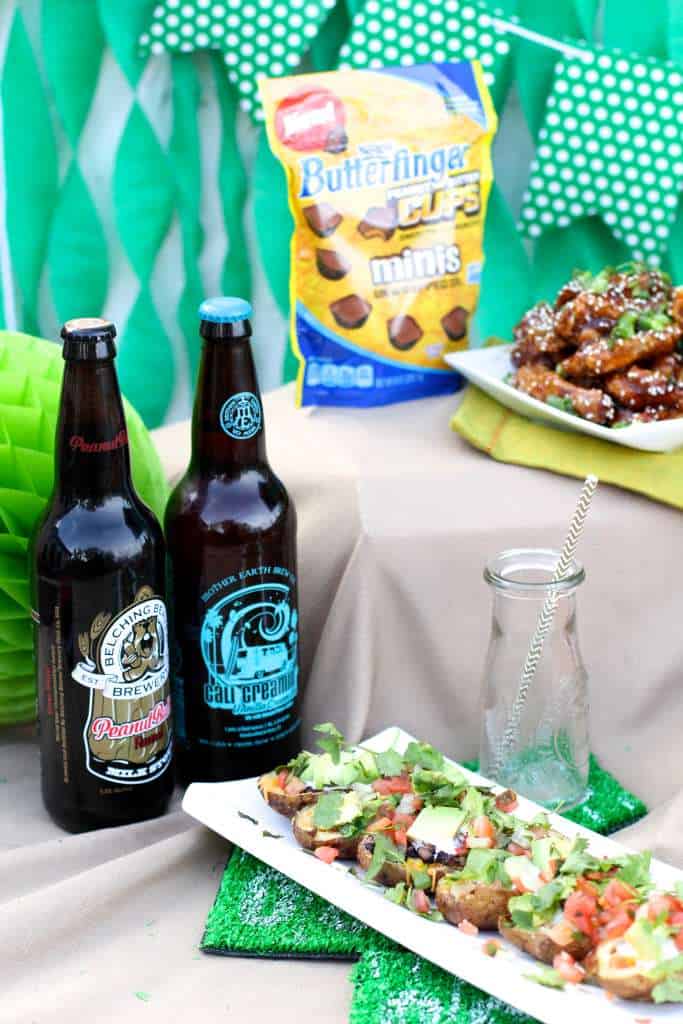 During football season, Sundays become fun days with my husband's buddies and their families. It's a great excuse to decorate and throw a mini party. With a few simple decorations from Walmart, and of course good food and beer, you will be forever be known as the hostess with the mostess!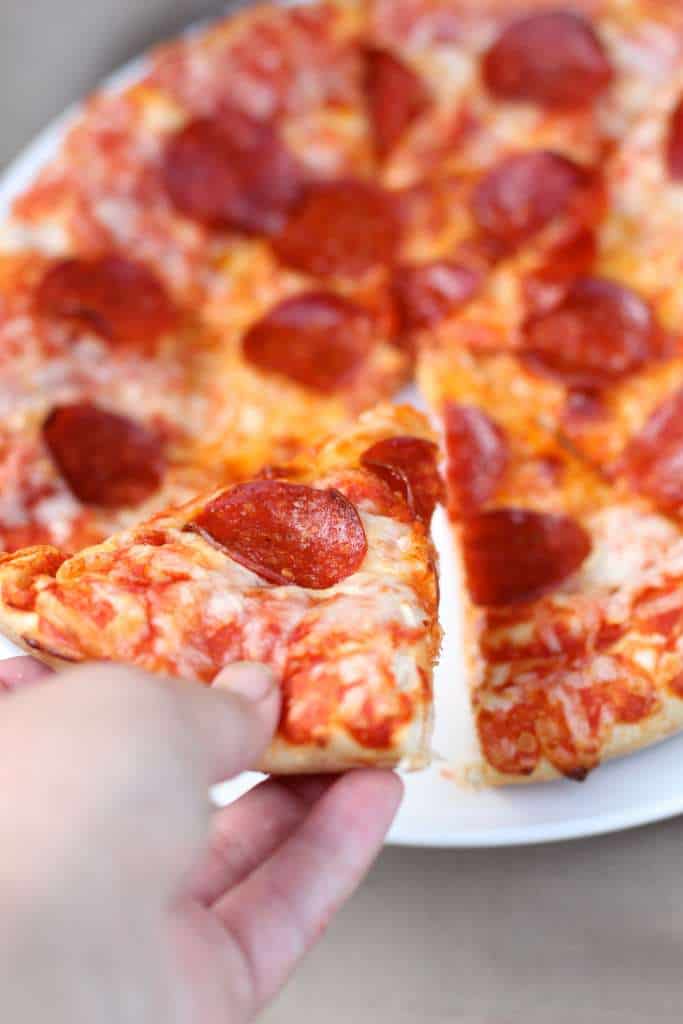 During these spontaneous get-togethers, the oven and my crock pot are my best friends. By purchasing DiGiorno® Cheese Stuffed Crust Pepperoni Pizza, I know that my main dish will be simple and delicious. Not to mention the fact that it is currently on Rollback at Walmart for $5.95 and there is also a coupon inside select boxes for $1 off, making it much cheaper than ordering out yet providing great quality. Freeing up cooking time, allowed me to take a few extra minutes with decorations!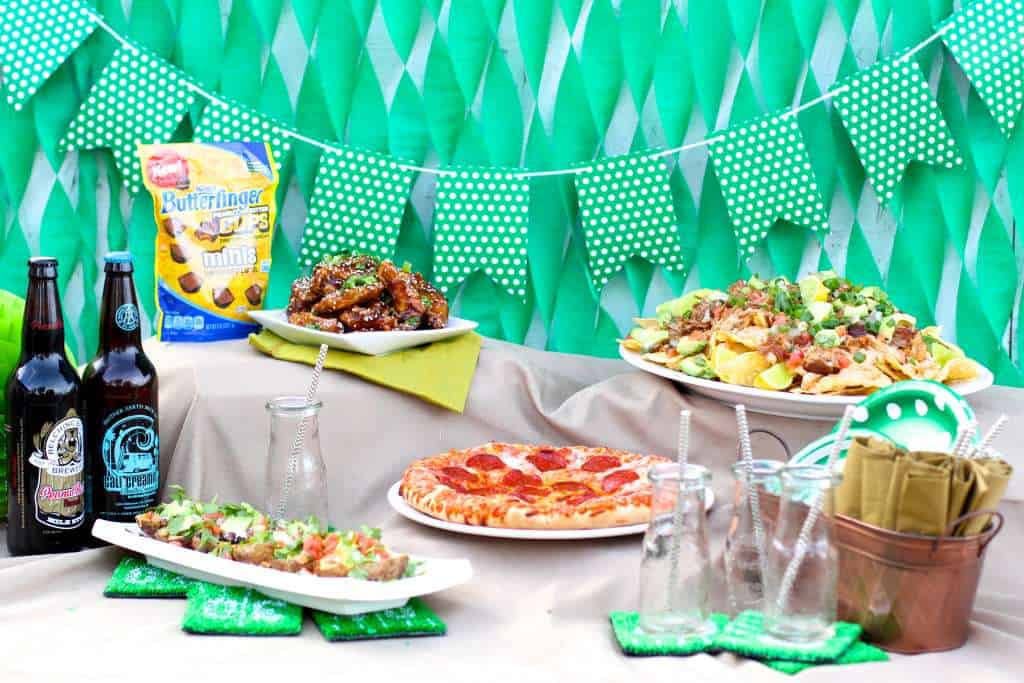 From the umpteen classroom parties that I have helped put together through the years, I have quite a collection of crepe paper. I simply pinned the tops to the wall and gently twisted them and pinned again at the bottom. It was a simple and cheap backdrop that added tons of color and texture!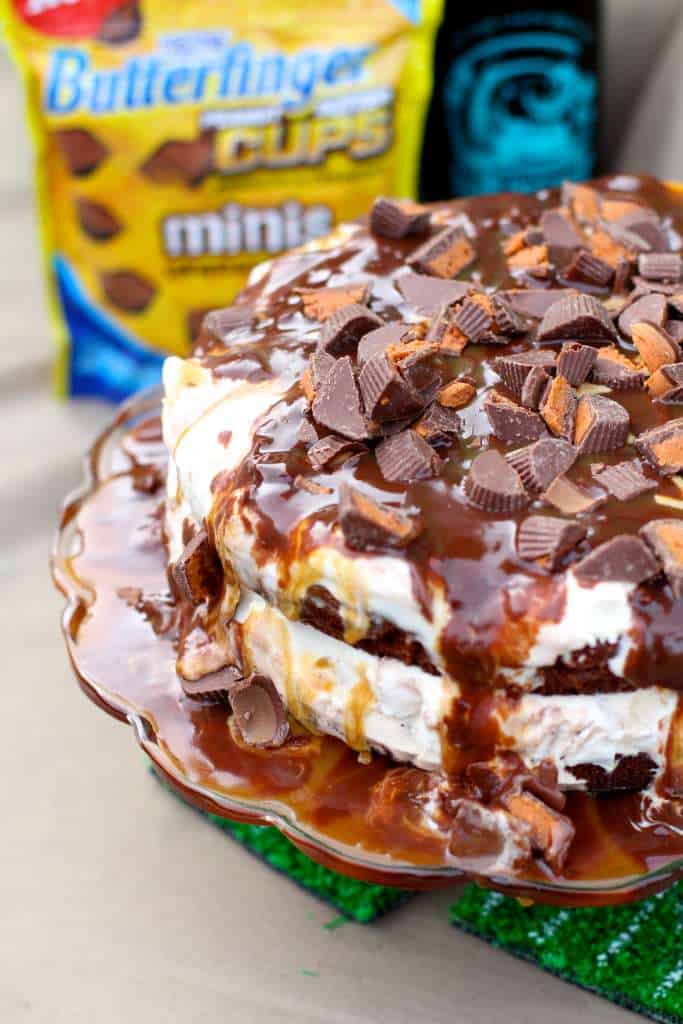 One thing that has been on my list of things to make for over a year now has been an ice cream cake. When I saw Dreyer's Grand Ice Cream touchdown sundae, I knew the day had come! As soon as I got home, I threw together my favorite brownie recipe. This recipe makes the perfect dense chocolaty brownies and only requires one bowl (plus the baking pans of course). After the brownies had cooled and were chilled for a bit, I added a layer of softened ice cream. To add an extra crunch I sprinkled a layer of Butterfinger® Peanut Butter Cups Minis, then placed it in the freezer until it was ready to serve.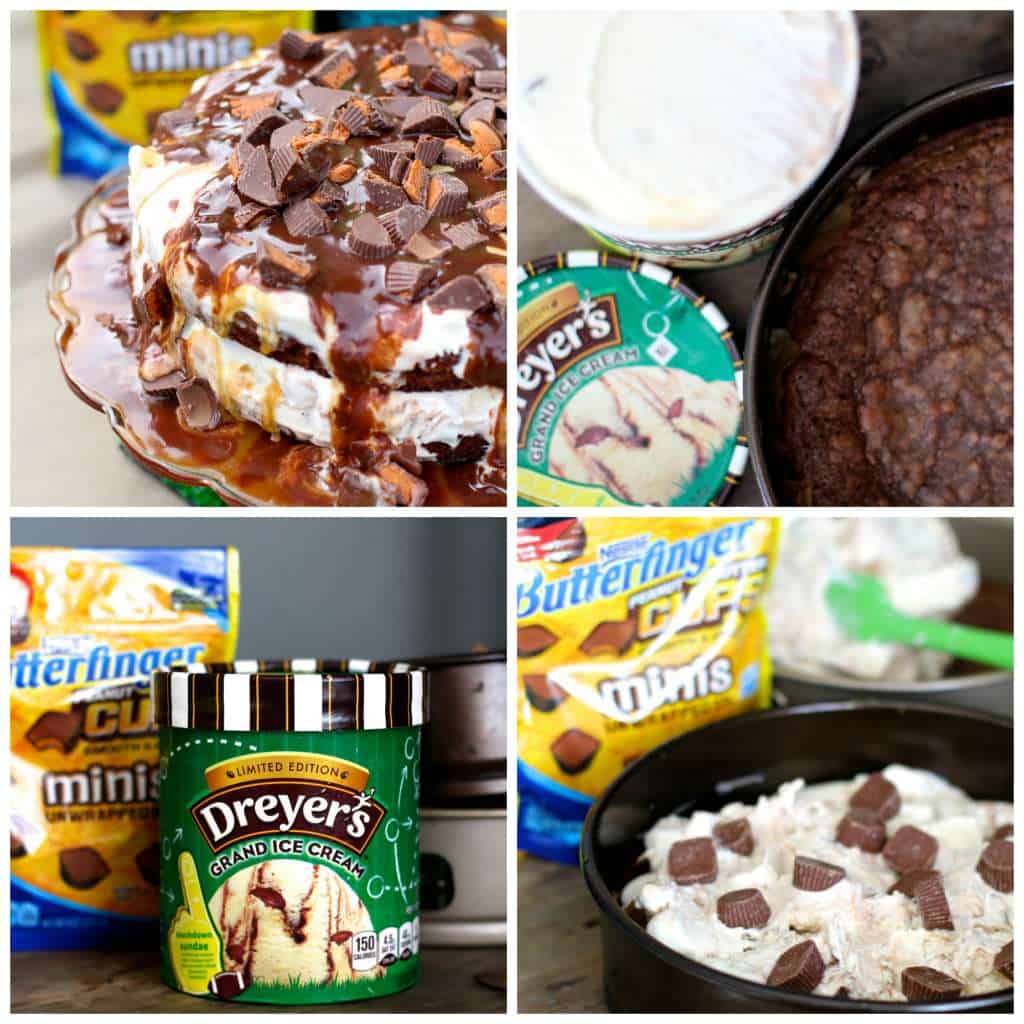 Once dessert time came around, I drizzled (okay poured) caramel sauce and hot fudge over the ice cream cake and sprinkled more. Butterfinger® Peanut Butter Cups Minis. Let me just say that this ice cream cake was the hit of the party. From grown men, to little toddlers, they just couldn't get enough! Even after devouring the ice cream cake, everyone kept going back for "one last handful" of the Butterfinger® Peanut Butter Cups Minis! Seriously though guys, the added Butterfinger® crunch is a total game changer to peanut butter cups and might possibly be our new favorite chocolate!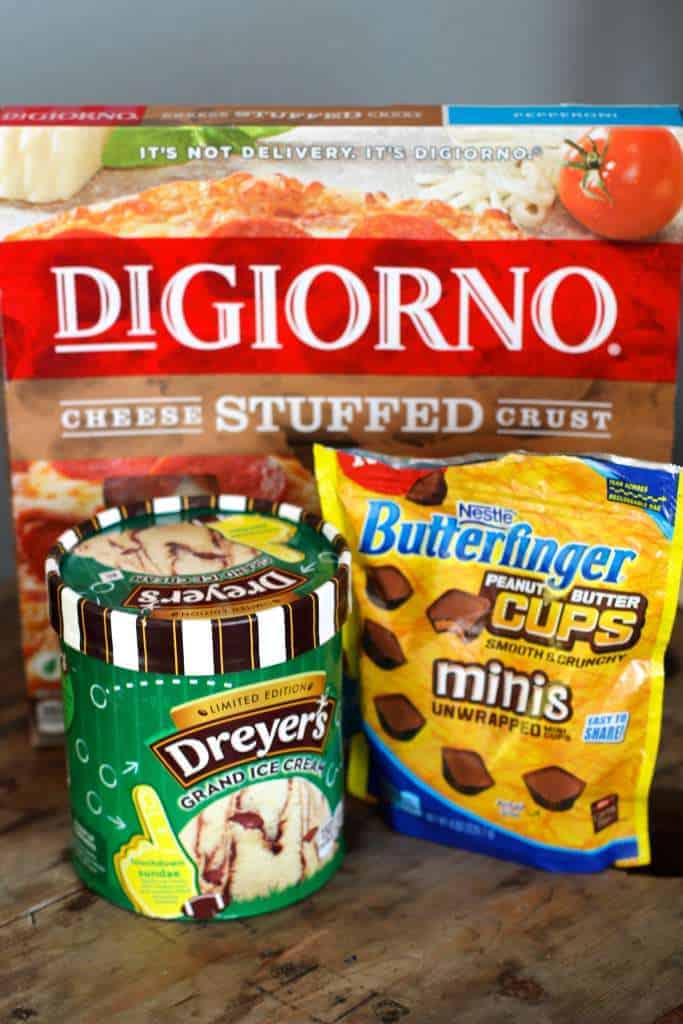 So, in conclusion, parties don't have to be difficult and perfectly planned. Spontaneous parties can be just as fun, but minus the stress!!! With ingredients like DiGiorno® Cheese Stuffed Crust Pepperoni Pizza, New Butterfinger® Peanut Butter Cups Minis, and Limited Edition Dreyer's Grand Ice Cream Touchdown Sundae  your game day party will be a total winner!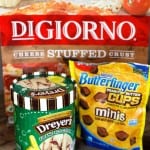 Delectable Ice Cream Cake
Ingredients
2

cups

semisweet chocolate chips

16

tablespoons

unsalted butter

(2 sticks)

2

cups

sugar

4

large eggs

1

and ½ cup flour

½

cup

unsweetened cocoa powder

½

teaspoon

salt

4

tablespoons

milk or cream

1

gallon

of ice cream

, softened on the counter for about 10 minutes.

2

cups

Butterfinger® Peanut Butter Cups Minis

Caramel and Hot Fudge sauce to drizzle
Instructions
Preheat your oven to 350 degrees, grease a 2 8 in cake pans with non stick cooking spray.

Melt butter and chocolate chips in the microwave on high for 1 minute.

Remove from microwave and stir together.

If the choc/butter mixture is not completely melted, put back in microwave for 30 sec.

Let mixture sit for about 5 minutes to cool slightly.

Add eggs and sugar and whisk together rapidly.

Add the flour salt and milk, and whisk together to mix. Pour into baking dish.

Bake for 30 min.

Cool completely then chill for about 20 minutes before adding ice cream.

Layer half a gallon of ice cream onto a brownie layer.

Top with ½ cup Butterfinger® Peanut Butter Cups Minis.

Place second brownie layer onto of ice cream.

Add the remaining ½ gallon of ice cream and top with ½ cup Butterfinger® Peanut Butter Cups

Minis

Freeze cake for at least 1 hour.

When ready to serve, drizzle with caramel and hot fudge sauce and top with remaining chocolate candies.

Slice, serve, and enjoy!