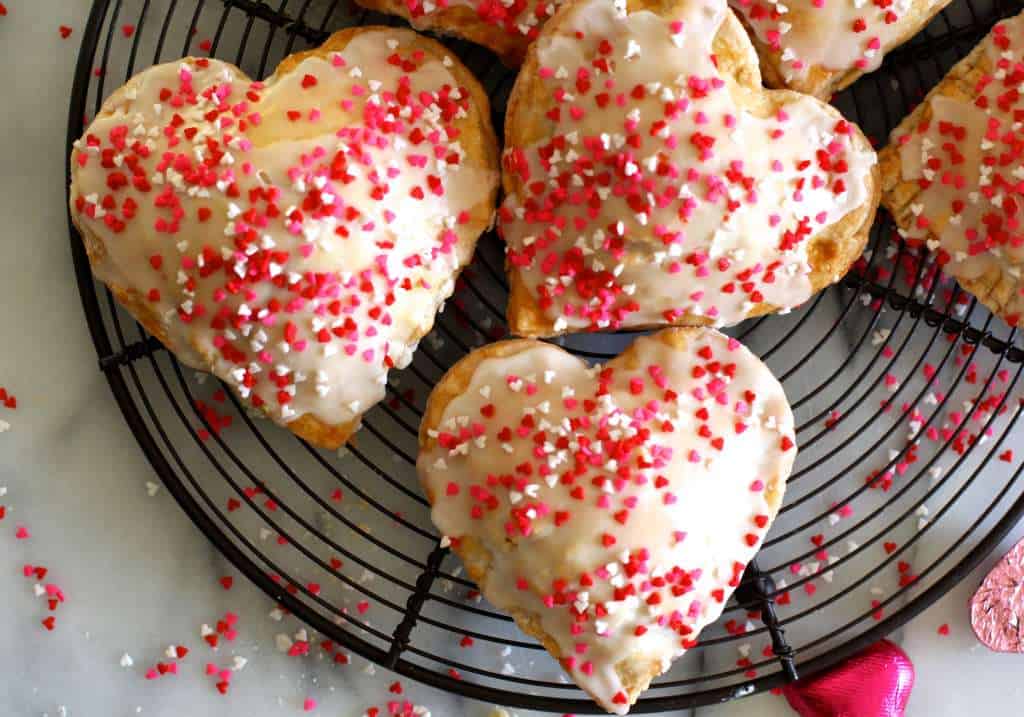 It has become quite the tradition in our home that my daughter and I make something special for Valentine's Day to pass out to her friends. My older son was never really into it, and also opted to hand out a piece of candy and store-bought card. My daughter however is 100% me. She absolutely loves to bake and loves to give gifts even more.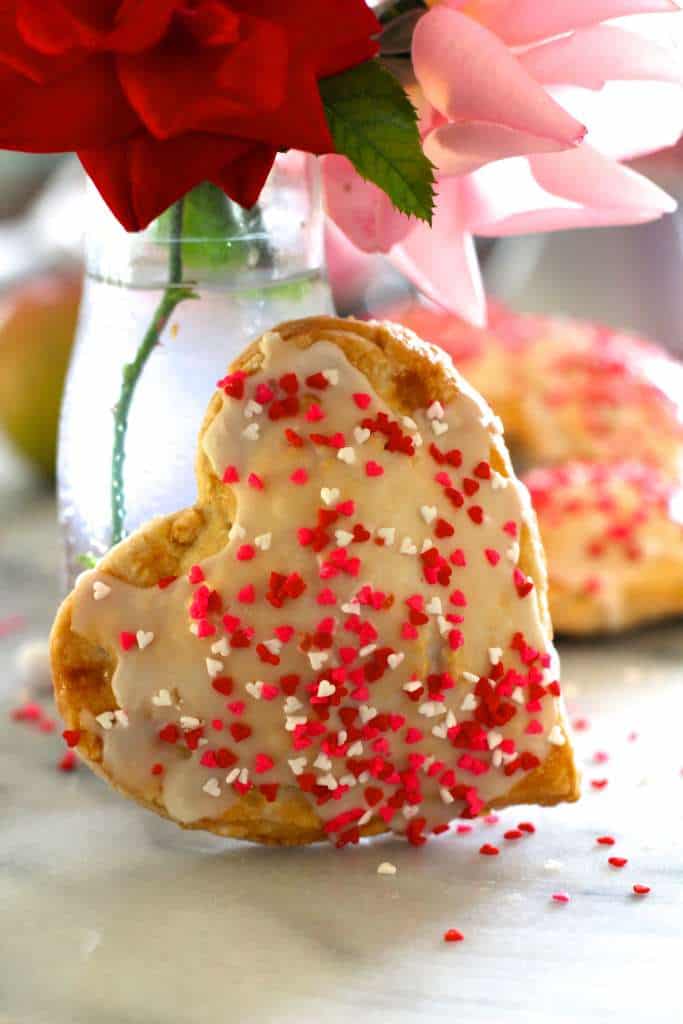 This year we had to get a bit creative as there is a little boy in her class that is extremely allergic to eggs. After a few failed attempts at cookies, we opted for these mini apple pies.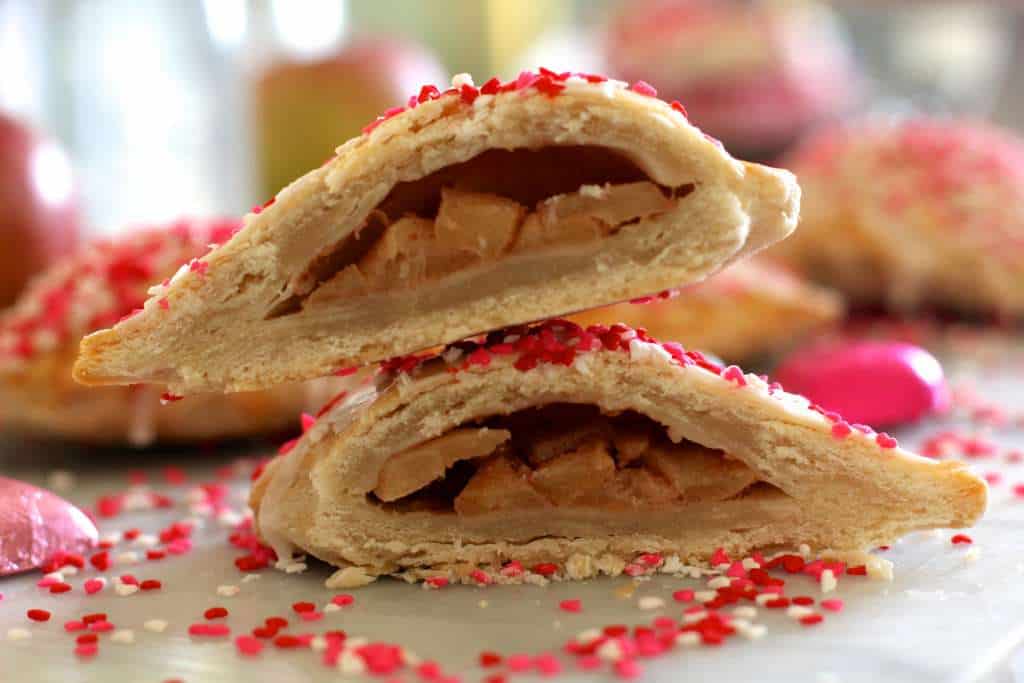 I am so glad they worked out because they are adorable. Delicately filled with fresh apple pie filling, glazed with an almond glaze, and adorned with cute heart sprinkles, they will be the perfect little valentine. Although the base recipe is eggless, we did baste all pies but one with eggs and set his aside. That way, he doesn't feel excluded when she passes them out.

February is American Heart Month and we have partnered with USApple Association to spread the word. We will be celebrating by eating an apple a day for the #28daysofapples. Unless of course you are Baby Ben in which you will be eating like 10 apples a day. Seriously this kid can survive on just fruit alone.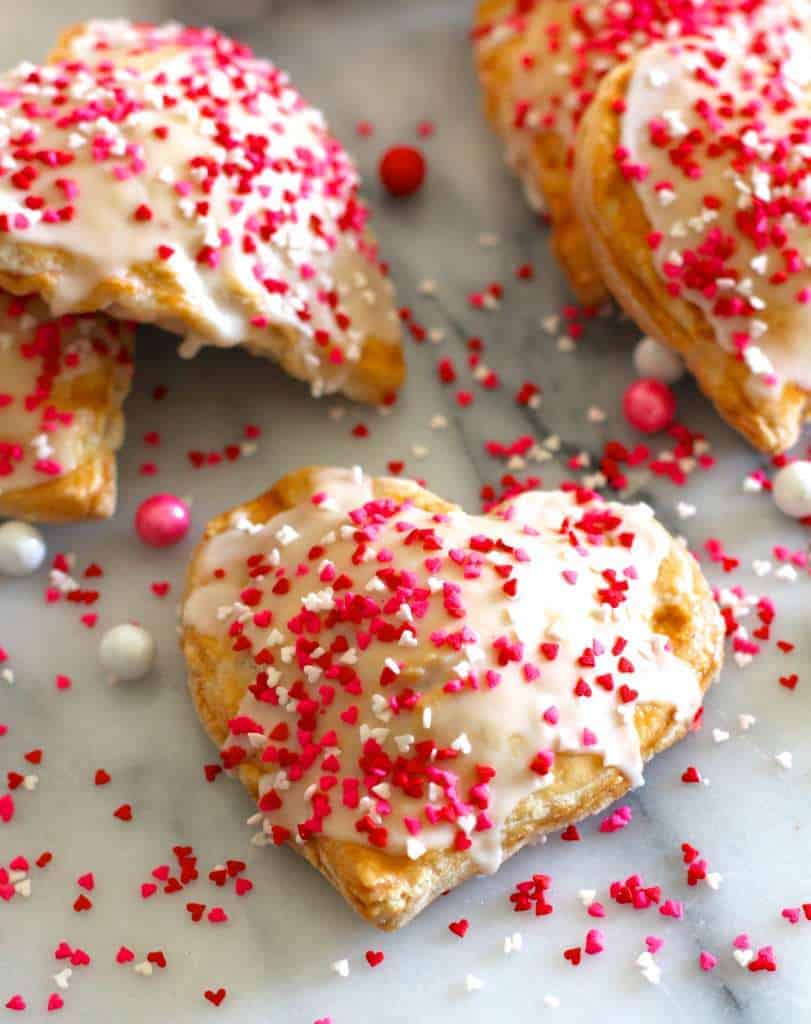 So tell me, what will you be making this Valentine's day?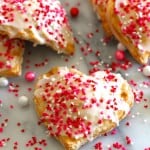 Heart Apple Pies
Ingredients
2

and ½ cups of all-purpose flour plus more for rolling

½

teaspoon

of salt

1

cup

butter

, cold and cut into 16 slices

⅔

cup

ice water

4

apples

, peeled, cored and diced into small pieces

¼

cup

butter

½

cup

sugar

½

cup

apple juice or water

½

teaspoon

cinnamon

1

tablespoon

corn starch

2

tablespoons

apple juice or water.

1

egg slightly beaten

1

and ½ cups powered sugar

⅓

cup

of milk

½

teaspoon

almond flavoring

Sprinkles for garnish
Instructions
Combine flour and salt in a large bowl or your food processor.

Add butter slices and either cut into flour or pulse until it forms small pea like clumps.

Add ice water and mix until dough forms a large ball (do not over mix). This is best done manually that way the dough is not overworked and will be flaky after baking.

Separate dough into two balls and gently flatten. Wrap disks in plastic wrap and refrigerate for at least an hour.

While your dough is chilling, make the filling.

On medium heat, melt your butter.

Add apples and sauté for about 3 minutes while stirring.

Pour in sugar, apple juice and cinnamon and allow to simmer until apples are soft on medium low heat, about 10 minutes.

Combine 2 tablespoons apple juice or water with corn starch to for a paste.

Add paste to apple mixture and stir until thick.

Once the filling is nice and thick, remove from heat and bring to room temperature.

Preheat oven to 350 degrees and line 2 baking sheets with parchment paper.

On a clean, floured surface roll out your dough to ¼ inch thick.

Cut out hearts.

Lightly beat one egg.

Place 1 tablespoon of filling into the middle of the heart.

Baste the egg wash around the heart. (If you are making these egg free omit this step)

Place another dough heart on top of the filling and pinch the edges of the heart together.

Continue with the rest of the dough.

Place hearts on baking sheet and baste with remaining egg wash. (Again if these are being made egg free, omit this step. Also, if you make both egg and egg free, I suggest making the egg free version first, and bake it on its own that way there is no cross contamination.

Bake at 350 degrees for 15 minutes or until the tops and edges are golden brown.

Place baked pies on a cooling rack and cool thoroughly.

To make the glaze combine powdered sugar, milk, and extract in a small bowl until smooth.

Pour a spoonful of the glaze onto each pie and spread it slightly.

Garnish with pretty sprinkles.

Store in airtight container until ready to serve or give. Can be made one day ahead of time.