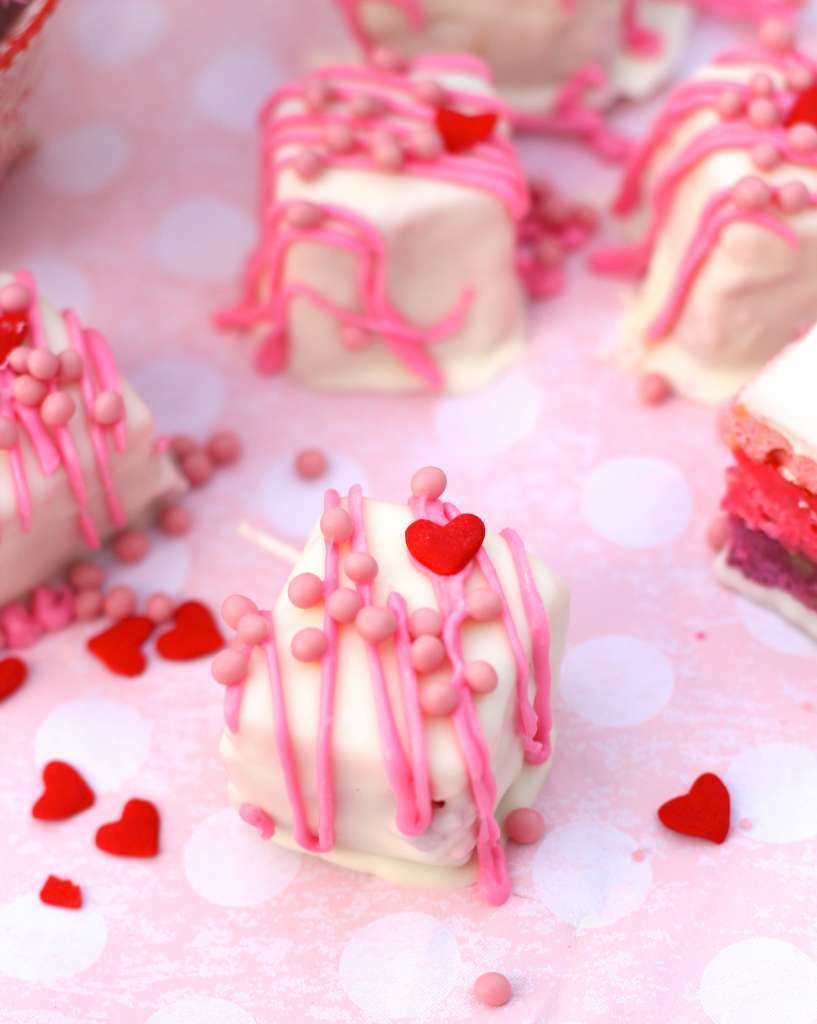 Valentine's Day is in 11 days. Normally I don't really care about the whole romantic part of this holiday, and I usually focus on the kid part. This year however, I am counting down the days. You see, this will be the first year that I have actually procured a babysitter and my husband and I will actually be going out. Now that is something to be excited about in my home because date night is a rare thing.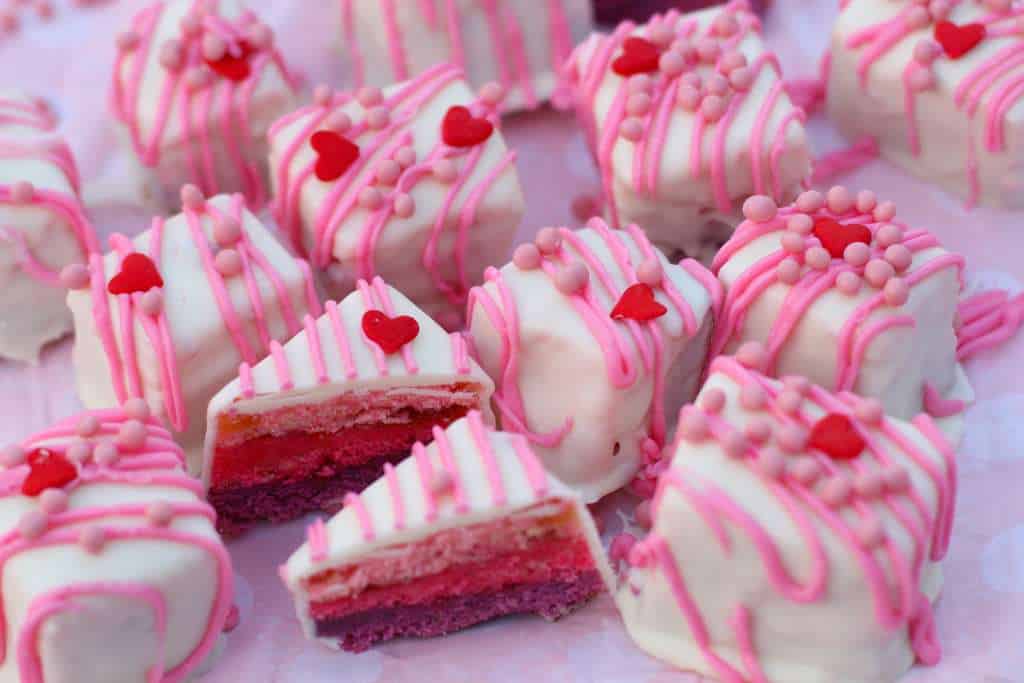 I am looking forward to a nice dinner with my husband, but what I am most excited for is the movie after! I CAN. NOT. WAIT. to see 50 Shades of Grey! A few years ago I started the series of books and literally could not sleep or do anything else for about 5 days. All I did was read. I can't wait to see if the movie is as good as the books!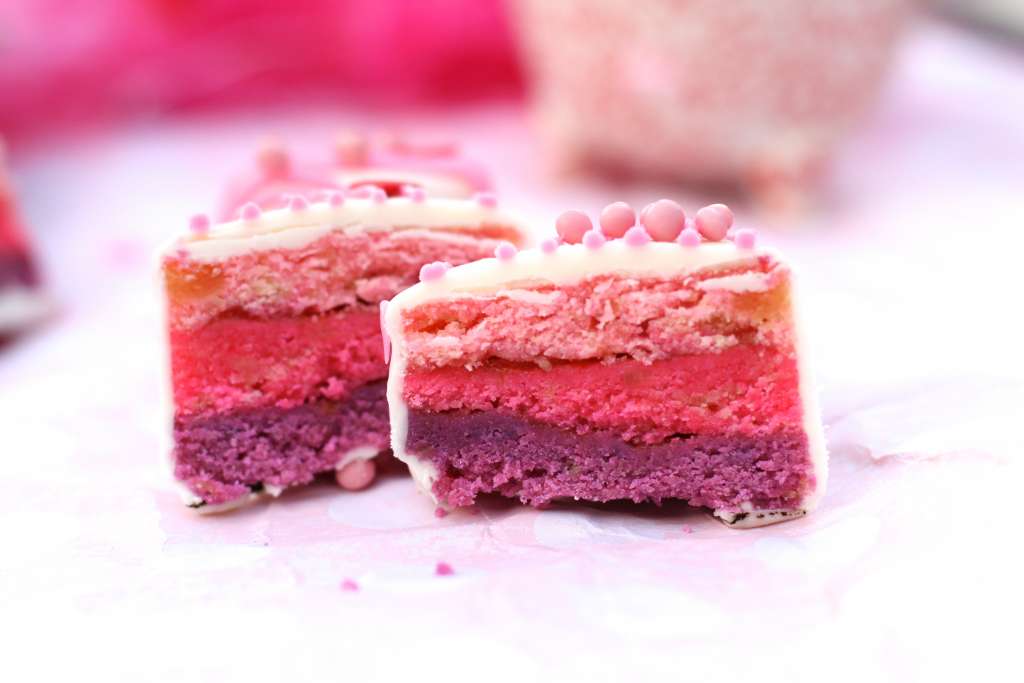 So in celebration of my impeding date night, I bring you one of my family's favorite treats Valentine's Day 7 Layer Italian Bars. Now, like many recipes, it looks long, but it is not. It is originally from Gourmet Magazine, 2005. The batter is a cinch to put together. If you have an extra 5 minutes, I urge you to make the almond paste from scratch. It is easy and cheaper (you get a lot more for your money). Here is the recipe.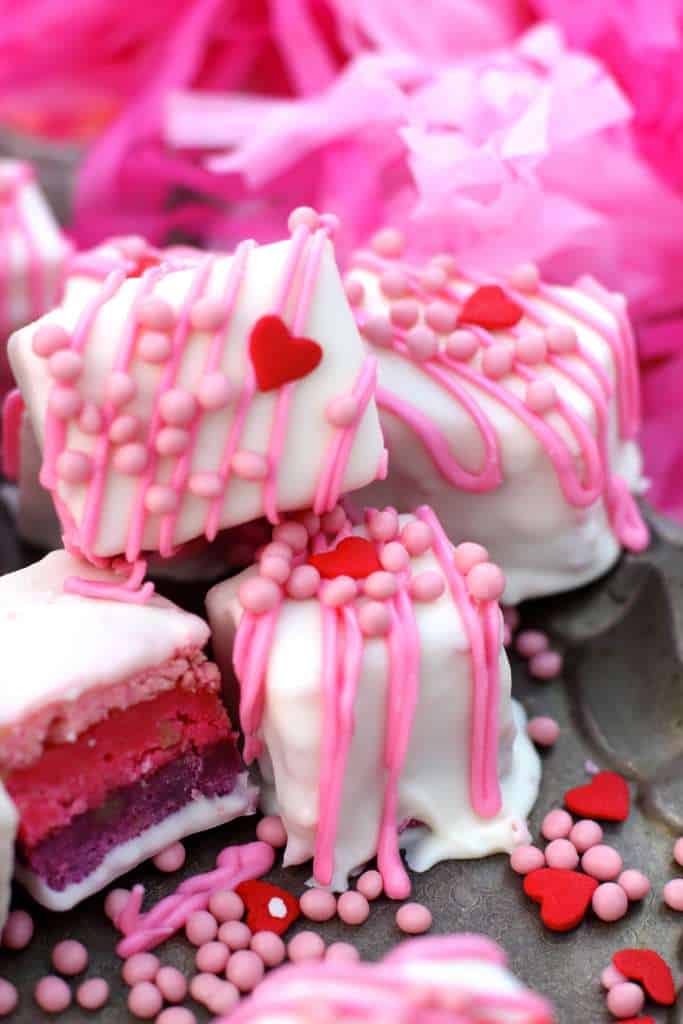 Instead of just putting the chocolate on the top and bottom, I actually dipped the whole square into white chocolate to make it look more like a petit four. I think they came out pretty cute!
So tell me, do you do anything special for Valentine's Day?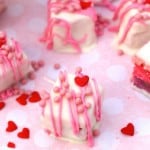 Valentine's Day Italian 7 layer Cookies
Ingredients
4

large eggs

, separated

1

cup

sugar

8-

oz

can almond paste or homemade

2 ½

sticks

(1 ¼ cups) unsalted butter, softened

1

teaspoon

almond extract

2

cups

all-purpose flour

½

teaspoon

salt

3

different gel food coloring

(measure with the tip of a knife)

1

(12-oz) jar raspberry preserves, heated and strained

White chocolate coating

(I use candiquik)

1

tablespoon

shortening or coconut oil

Pink food coloring

Sprinkles
Instructions
Put oven rack in middle position and preheat oven to 350°F.

Spray a 13- by 9-inch baking pan with nonstick cooking spray and line bottom with parchment paper, leaving a 2-inch overhang on 2 ends, then spray the paper.

Beat whites in mixer fitted with whisk attachment at medium-high speed until they just hold stiff peaks. Add ¼ cup sugar a little at a time, beating at high speed until whites hold stiff, slightly glossy peaks. Transfer to another bowl.

Switch to paddle attachment, then beat together almond paste and remaining ¾ cup sugar until well blended, about 3 minutes.

Add butter and beat until pale and fluffy, about 3 minutes.

Add yolks and almond extract and beat until combined well, about 2 minutes.

Reduce speed to low, then add flour and salt and mix until just combined.

Fold half of egg white mixture into almond mixture to lighten, then fold in remaining whites gently but thoroughly.

Divide batter among 3 bowls. Stir food coloring into each bowl.

Pour 1st colored batter into prepared pan and spread evenly with offset spatula (layer will be about ¼ inch thick).

Bake each layer 8 to 10 minutes, until just set. (It is important to undercook.)

Transfer to a rack to cool.

When all layers are cool, invert 1 layer onto a wax-paper-lined large baking sheet. Discard paper from layer and spread with half of preserves.

Invert next on top of 1st layer, discarding paper. Spread with remaining preserves.

Invert final layer on top of previous layer and discard wax paper.

Cover with plastic wrap and weight with a large baking pan. Chill at least 8 hours.

Remove weight and plastic wrap.

Bring layers to room temperature.

Melt chocolate and shortening in the microwave for 1 minute. Stir until smooth. If chocolate needs to be melted more, place in microwave and heat for increments of 10 seconds until it is smooth.

Trim edges of assembled layers with a long serrated knife.

Cut into 2 inch squares then carefully dip into chocolate to coat.

Once all of the squares have been coated, melt about ⅓ cup of white chocolate coating with shortening and pink food gel.

When melted and smooth, place in a ziplock bag and snip the corner.

Drizzle pink chocolate onto the squares and top with you favorite sprinkles.