This coconut balls recipe is easy, quick and guaranteed to please all palates. Using just a handful of ingredients and no baking required, they are the perfect sweet treat for the holiday season but so irresistible you'll want to make them all year round.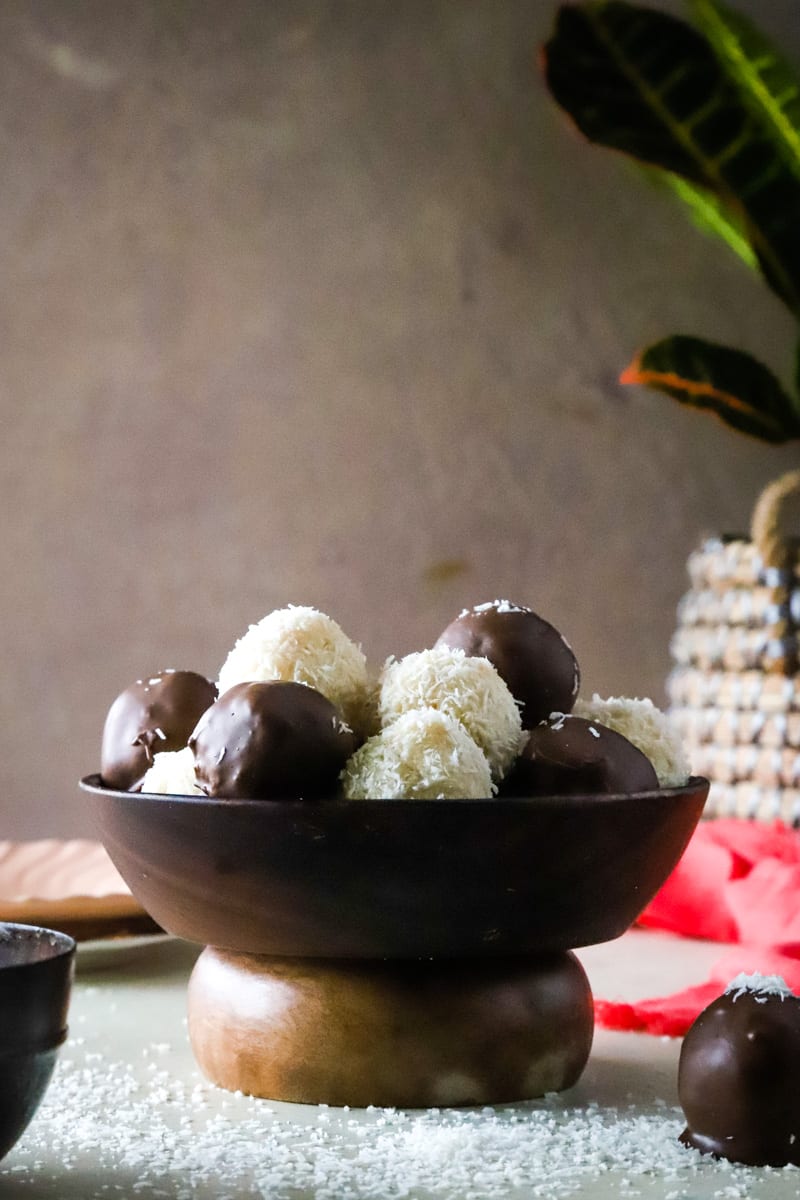 Coconut is one of those flavors that go with everything. From curry to cakes, it's an ingredient I'll never get bored of using and I sneak it in whenever I can. Whether it's enjoyed at breakfast on my Coconut sweet rolls, or for birthdays in my coconut cake with mango curd filling, I simply cannot imagine life without it!
Although sometimes, it deserves to be the star of the show, which is why this coconut chocolate balls recipe deserves to be next on your baking bucket list. Best of all, there isn't even any baking required! Sweetened condensed milk is mixed with dried coconut to form bite-sized coconut truffles. Followed by a coating of coconut's sweet sidekick - Chocolate of course! Although optional, dipping these coconut balls in chocolate adds flavor and finesse making them even more divine, especially if you're a coconut lover like me.
If, like me, you've had coconut balls in the past where the texture has been dry or the flavor a little lackluster, you need to try this coconut balls recipe instead. Thanks to sweetened condensed milk the centers are moist and melt in your mouth. This creates the perfect contrast for the chocolate coating as it provides a delicate crunch and extra sweetness.
Be warned, it is far too easy to devour these one by one, but if you can resist, they also make the perfect gift. Pair them with my equally delicious chocolate rum balls for a little parcel of perfection. They make a brilliant host gift to go with the after dinner coffee.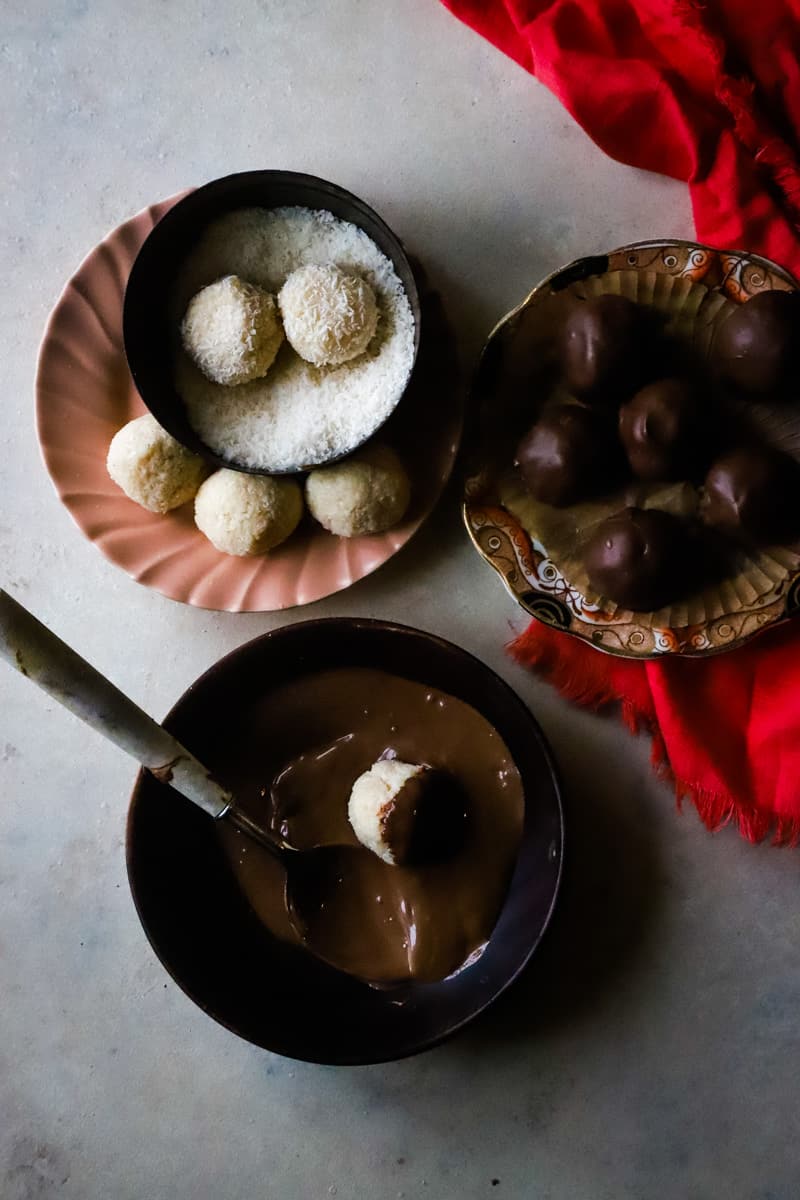 WHY WE LOVE THIS COCONUT BALLS RECIPE
No bake – two words that are music to my ears during the holidays. No bake desserts and easy recipes means no stressing over temperatures or timings and also means your little ones can even get involved.
Mounds Bar- These delicious coconut balls taste just like the candy aisle treats, but better!
Minimal Simple Ingredients – It's frustrating when you find a no bake recipe that will save you time sweating over the stove, only to find you'll be sweating round the store hunting down a huge list of ingredients. Not here! I've kept the basic ingredients list short for minimum fuss but maximum flavor making this a great recipe for last minute needs.
Easy to customize – While I've kept it simple to focus on flavor and ease, you can go wild with coconut center add ins or color. This coconut balls recipe is so easy to customize whether you add in seeds, nuts, sprinkles, opt for a white chocolate coating or simply more shredded coconut. You could even switch up the color scheme or flavors depending on the occasion.
Perfect gift – Talking of occasions, these sweet treats make the perfect gift. Fill a mason jar or a treat bag for a thoughtful thank you. Share with family over the festivities or gift on Valentines, Mother's day and more.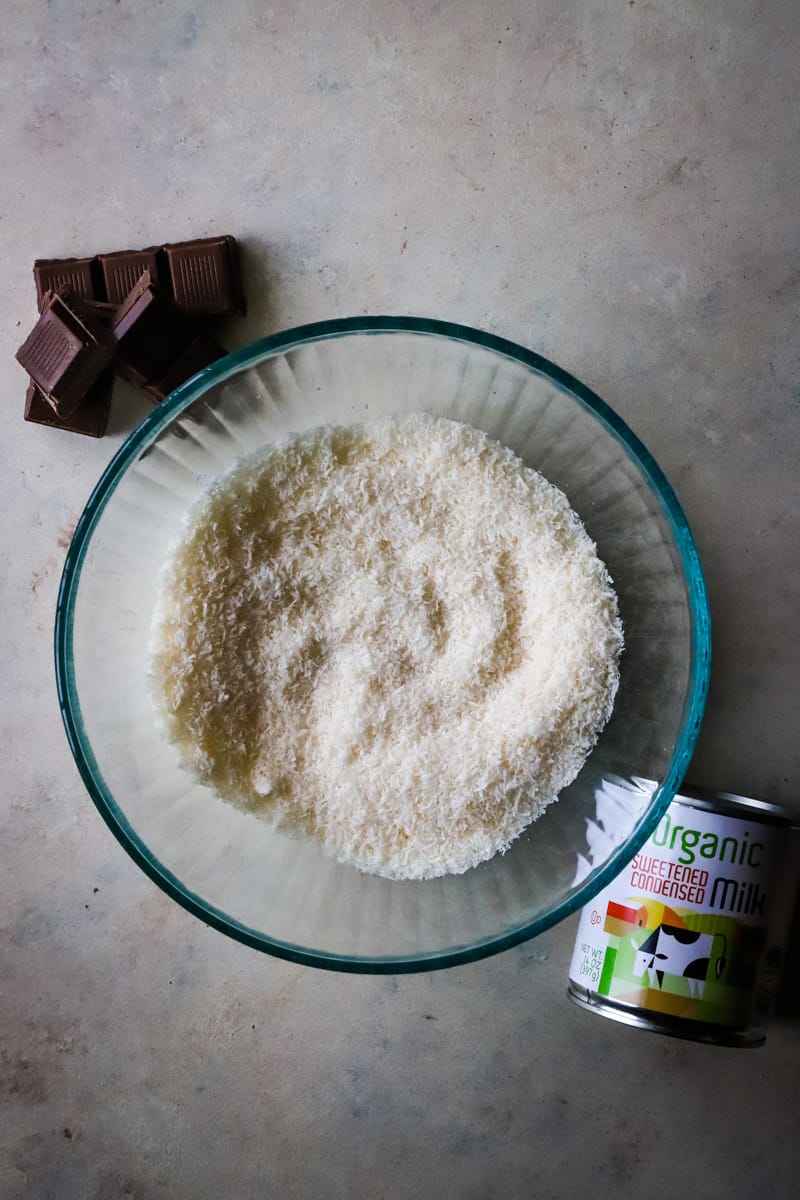 INGREDIENTS/SHOPPING LIST
Desiccated unsweetened coconut
Chocolate Dipped Coconut Balls
Dark or Milk Chocolate chips
Tablespoon vegetable oil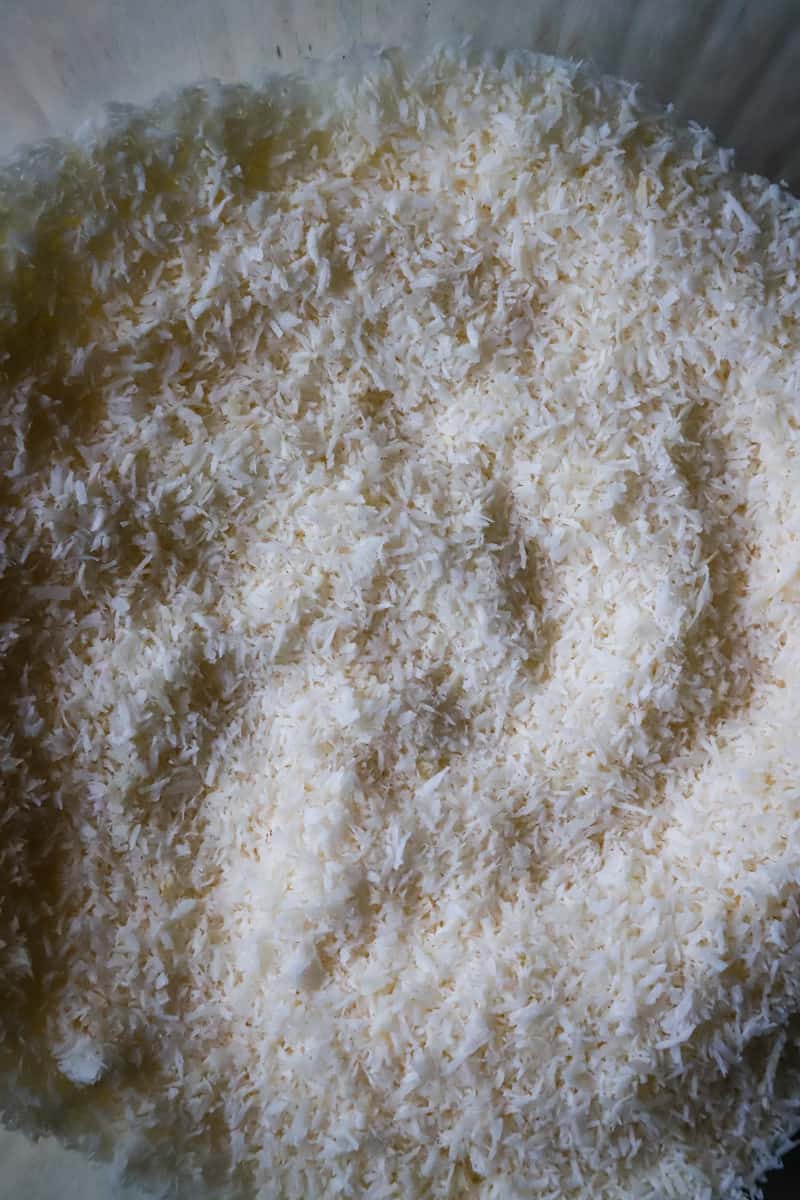 SUBSTITUTIONS AND ADDITIONS
Coconut – Ideally use unsweetened desiccated coconut for this coconut balls recipe as the condensed milk provides the sweetness. You can also use shredded coconut but I often find the strands can be quite long so maybe pulse in your food processor a few times for a softer texture. If neither of these are available, you can pulse dried coconut flakes in the food processor until fine.
Boozy twist – For a fun adult-only addition why not give this coconut balls recipe a little boozy twist? Inspired by my chocolate rum balls spiced rum is a great addition but you could also use triple sec or Irish cream.
Healthy – Alternatively, instead of a boozy kick you can give these coconut balls a health kick. While condensed milk is oh-so delicious, it's no secret it's oh-so calorific. Skip the sweetness in favor of ricotta or coconut milk. Additions such as fruit, peanut butter, quick oats, honey or almond flour are also a great way to turn them into irresistible energy bites.
Seeds – On the subject of healthy, you could also add hemp seeds, chia seeds or sunflower seeds to pack in a little more protein.
Almond – For Almond Joy vibes you can add a whole almond on top of the coconut balls before coating them in chocolate.
Chocolate coating – It is totally your preference whether you go for semi-sweet, dark, white chocolate chips or no chocolate coating at all. To give your coating a smoother finish, I recommend adding oil. Unrefined coconut oil is a great choice as it has a stronger coconut flavor, but you can use whatever oil you prefer.
Choice of Toppings – once you have coated your coconut balls you can then add a light dusting of cocoa powder, sprinkle with sea salt, roll in chocolate sprinkles or simply a sprinkle of more desiccated coconut.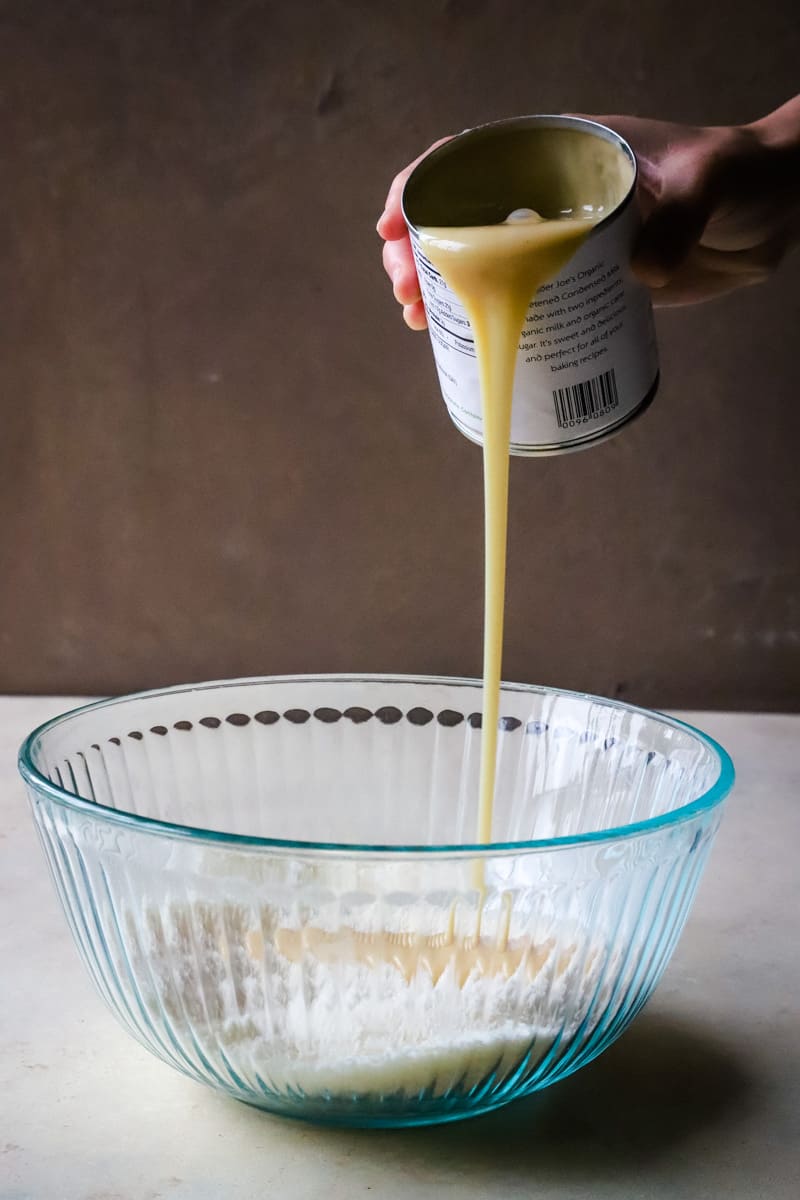 RECOMMENDED TOOLS TO MAKE THIS COCONUT BALLS RECIPE
Measuring cups & spoons
Medium Bowl
Spatula
Small Cookie Scoop
Forks
Microwave safe bowl
Wax paper
Baking sheet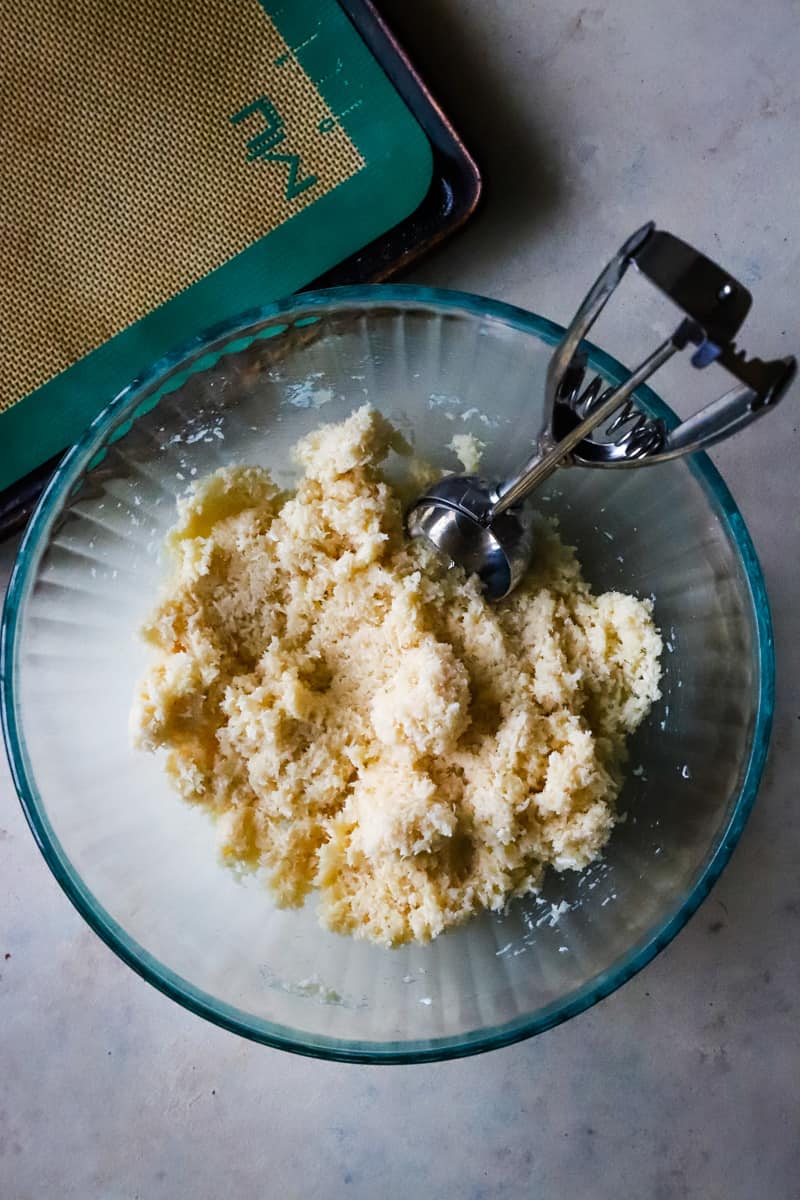 HOW TO MAKE THIS COCONUT BALLS RECIPE
When searching for a no bake dessert, it doesn't get much easier than this coconut balls recipe. Add your coconut and condensed milk to a bowl, stir and scoop into balls. Coat in chocolate or devour as is!
Place the desiccated coconut in a medium bowl and pour the sweetened condensed milk over the coconuts. Using a spatula, mix everything together until all the coconut is coated in sweetened condensed milk. PRO TIP: instead of using a spatula, to be super speedy you can also mix the coconut balls recipe up in a food processor.
Roll a tablespoon worth of the coconut mixture into balls, then roll each ball in the remaining shredded coconut. If dipping in chocolate do not roll in extra coconut. PRO TIP: You could also use a cookie scoop for this step to create 1-inch balls.
Chill in the fridge for 30-60 minutes before serving. PRO TIP: Do not skip the chilling as this helps the coconut balls stay together.
If desired, melt chocolate in a microwave-safe bowl with 1 tablespoon of oil for 30 second increments until smooth.
Dip chilled balls in chocolate, then place on a wax paper lined tray to dry.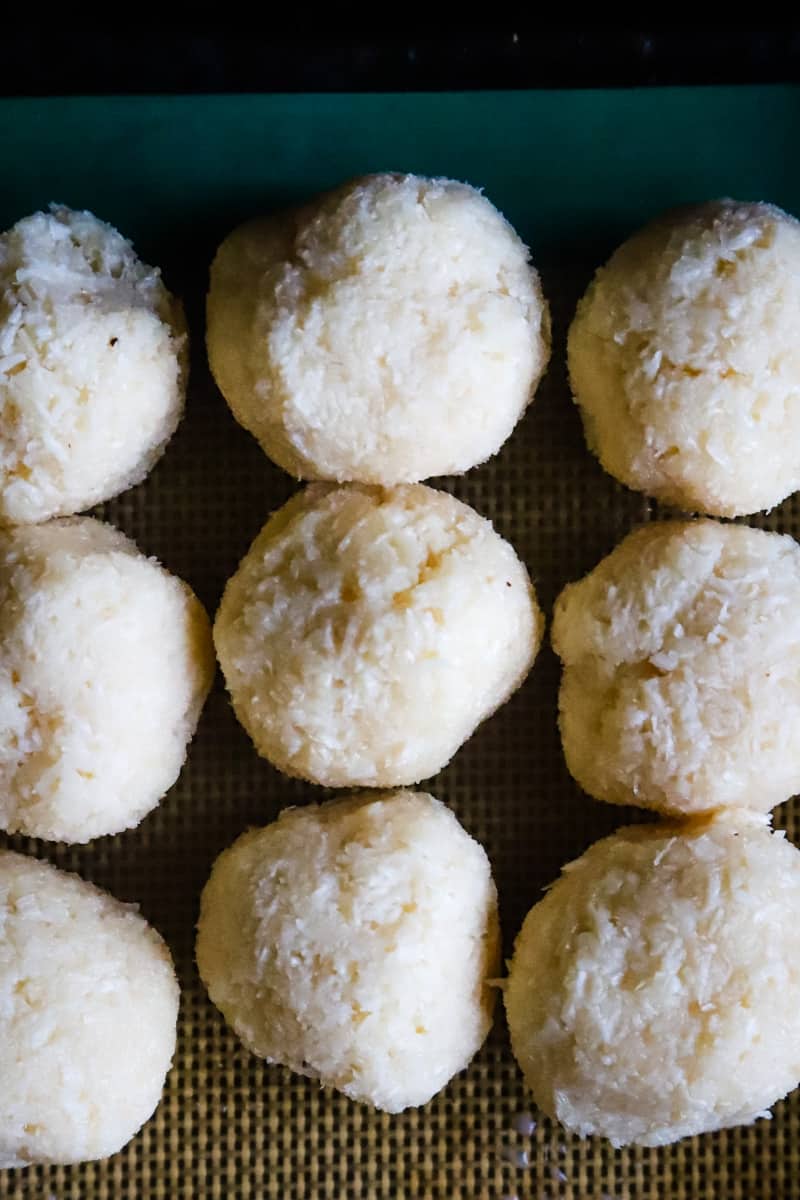 TIPS
Even coconut balls – To keep everyone happy, it's best you make sure the coconut balls are uniform. You can use a cookie scoop to ensure even coconut balls.
Stay together – Once you have scooped the coconut balls using the cookie scoop, squeeze it in your hands then roll it in your palms to make it smooth. Once you have rolled them all, don't skip the chill time. These extra steps will help your coconut balls stay together.
Avoid burning the chocolate coating – Although using the microwave is super convenient, it can scorch your chocolate if you're not careful. If preferred, you can also use a double boiler. Add a few inches of water to a pan with a glass bowl on top, and add chocolate chips to the bowl. Boil the water, making sure the water doesn't touch the bottom of the bowl. Stir the dark chocolate to melt, dip the coconut balls as per directions.
Toast the coconut – Yes, it's an extra step but it takes the coconut flavor to a whole new level. The easiest way to toast desiccated coconut is in a large skillet. Toast it in batches over medium-low heat until golden. Use the toasted coconut either as a coating or for the center.
Skip the coating – if you're short on time, these coconut balls are delicious as is! No need to add the coating simply mix the ingredients,
Vegan Option- Use coconut condensed milk in lieu of milk for this recipe.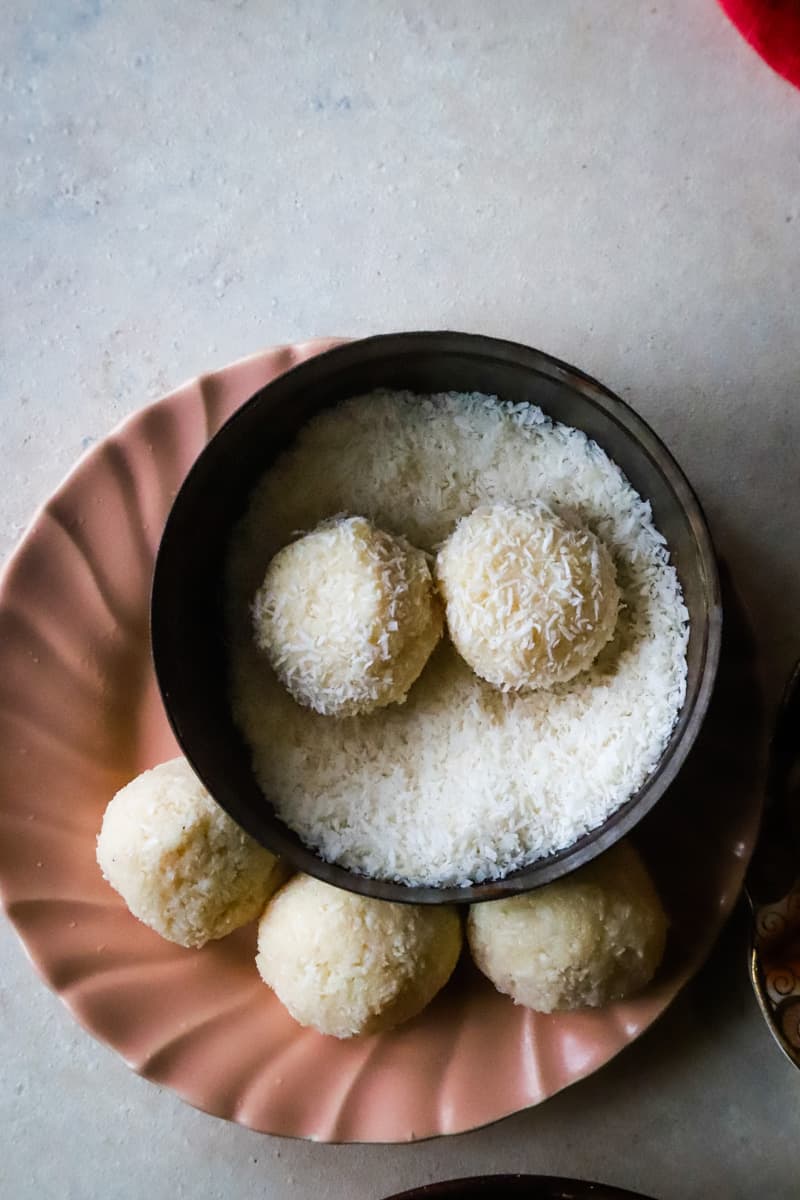 STORAGE TIPS
Pop the coconut balls in an airtight container using parchment paper to separate the layers. You can keep them in the refrigerator for up to 2 weeks. They will also keep on the counter (if it's in a cool, dry place) for up to 5 days.
To freeze the coconut balls, store them in a zip-loc freezer bag or airtight container. They can be stored in the freezer for up to 3 months. Thaw on the counter or in the refrigerator then enjoy!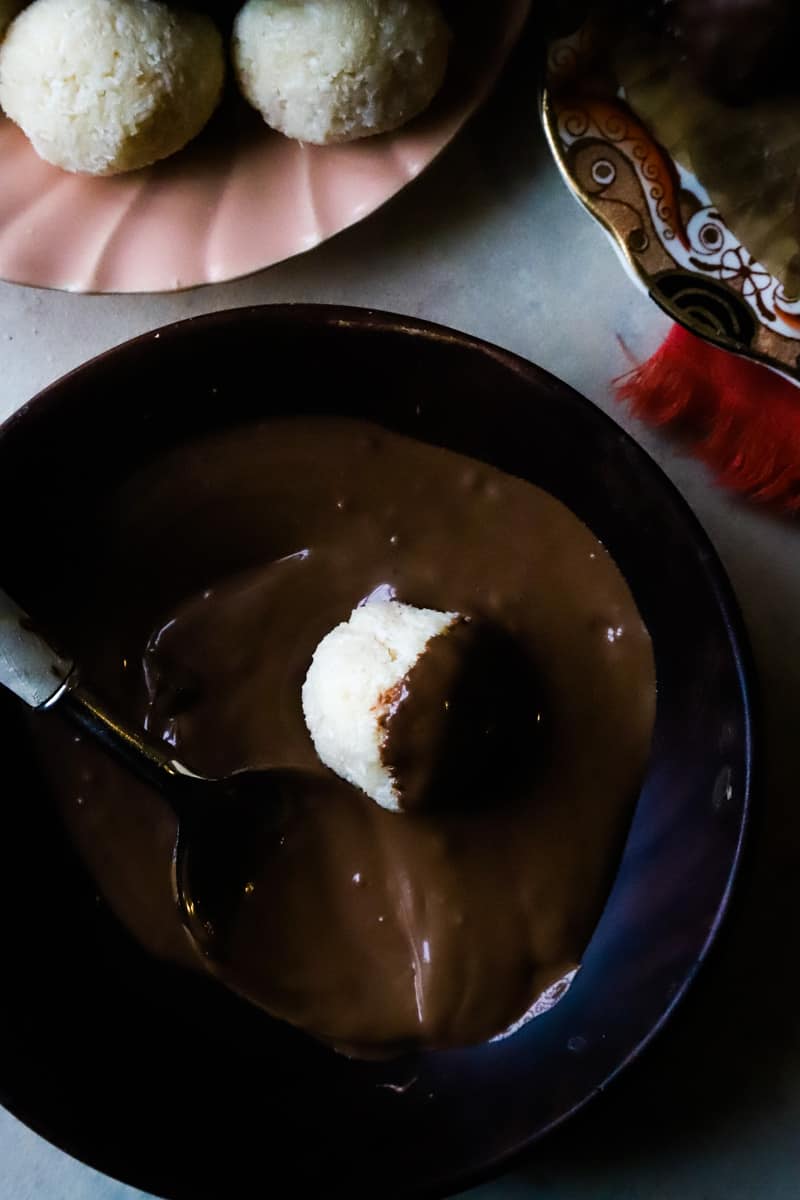 COCONUT BALLS RECIPE FAQs
Is shredded coconut the same as desiccated coconut?
No, there are a few differences between shredded coconut and desiccated coconut. The word "desiccated" actually means "to dry out and remove all moisture." As well as a drier texture, it is also smaller and ground more finely. This means it is better for coconut balls as it helps them hold together and will make a slightly denser ball.
Shredded, on the other hand, is also dried out, but will retain more moisture. The coconut pieces are slightly larger. If you only have shredded to hand, you can pulse them in a food processor to make them more fine. Some brands of desiccated coconut are also sweetened, so make sure to choose the unsweetened variety.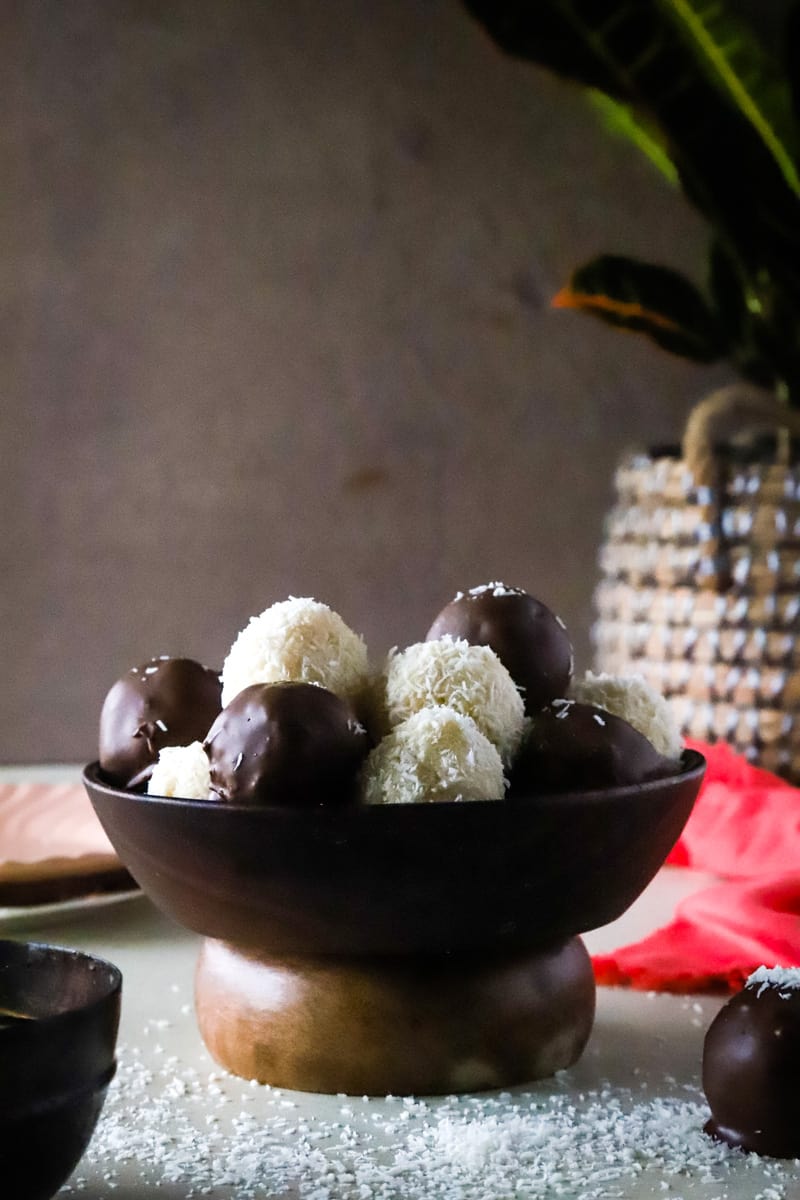 What is the easiest way to coat coconut balls in chocolate?
Although the chocolate coating is not essential for this coconut balls recipe, I highly recommend this extra step.
Start by placing a coconut ball on a fork over the bowl of melted chocolate. As a tip, you could tip the coconut balls which makes the dipping easier and chocolate set faster.
Then, spoon the melted chocolate over the coconut ball until it is fully covered.
To remove any excess chocolate, tap the fork on the side of the bowl
Use a fork or spoon to roll the ball off the fork onto a prepared baking sheet.
Repeat with all coconut balls, making sure to stir your chocolate between each one so it doesn't set.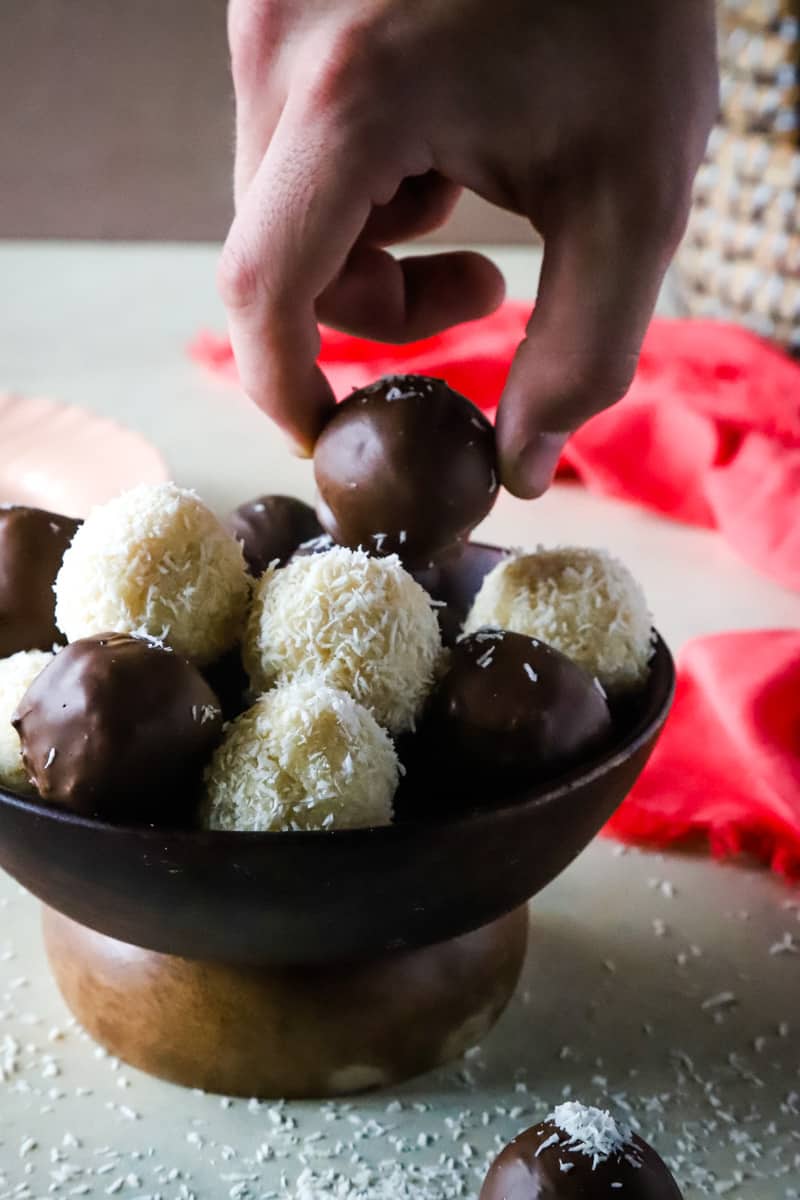 What else can I roll coconut balls in?
There are so many ways you can customize these coconut balls. You can roll them in so many different toppings or coatings including:
Shredded/toasted coconut
Melted dark, white or semi-sweet chocolate
Chopped nuts
Powdered sugar
Cocoa powder
Cinnamon
Cookie crumbs
OTHER COCONUT RECIPES YOU MAY ENJOY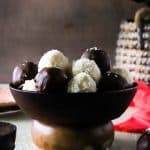 Coconut Balls Recipe
This coconut balls recipe is easy, quick and guaranteed to please all palates. Using just a handful of ingredients and no baking required, they are the perfect sweet treat for the holiday season.
Keyword:
chocolate coconut balls, coconut balls recipe
Servings
:
24
coconut balls
Ingredients
2

cups

desiccated coconut

plus more for rolling

1 14

oz

can sweetened condensed milk
Chocolate Dipped
1

cup

Chocolate chips

1-2

tablespoons

oil
Instructions
In a medium sized bow, combine the desiccated coconut and the can of sweetened condensed milk. Mix together until all coconut is coated in the milk.

Roll out tablespoon sized balls of the coconut mixture, then roll each ball in remaining shredded coconut. If dipping in chocolate, skip this step.

Refrigerate balls for at least 30 minutes.

If dipping, melt chocolate in a microwave safe bowl with 1 tablespoon of oil for 30 second increments and stir until smooth.

Dip cold coconut balls in chocolate until fully coated then place on a lined tray to set.