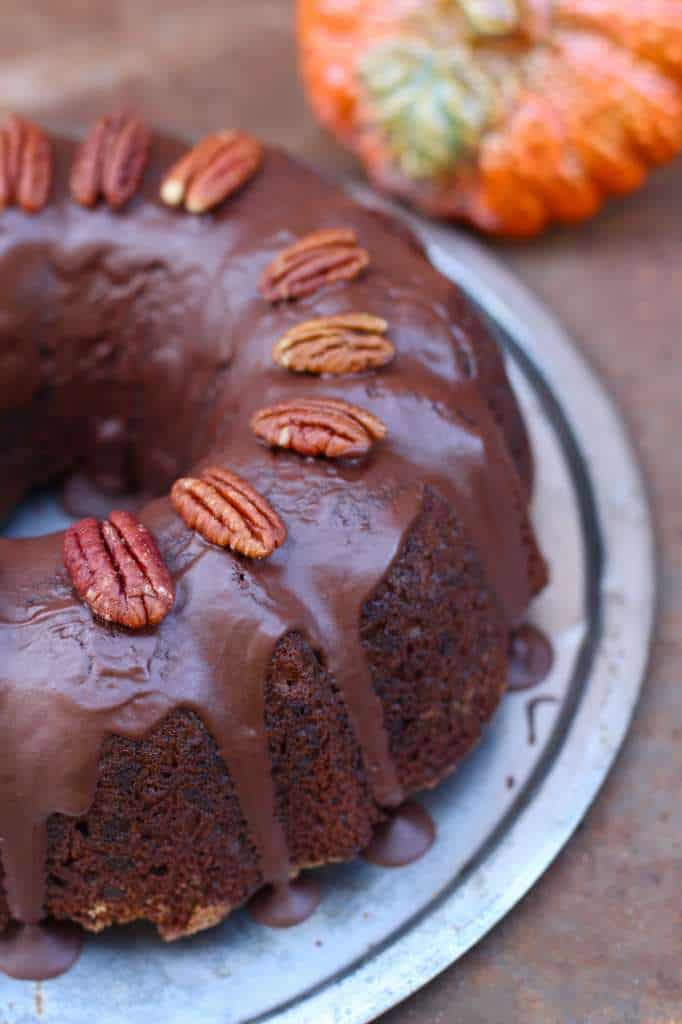 This week I was so excited to learn that I landed a new social media consultant job. Unfortunately, that excitement was immediately  replaced with stress when I got into my car and  it wouldn't start. Car troubles suck! Let's hope that my husband can fix the car and my salary from the new job will not go straight to a new car payment! We have been car payment free for about 4 years and I love it!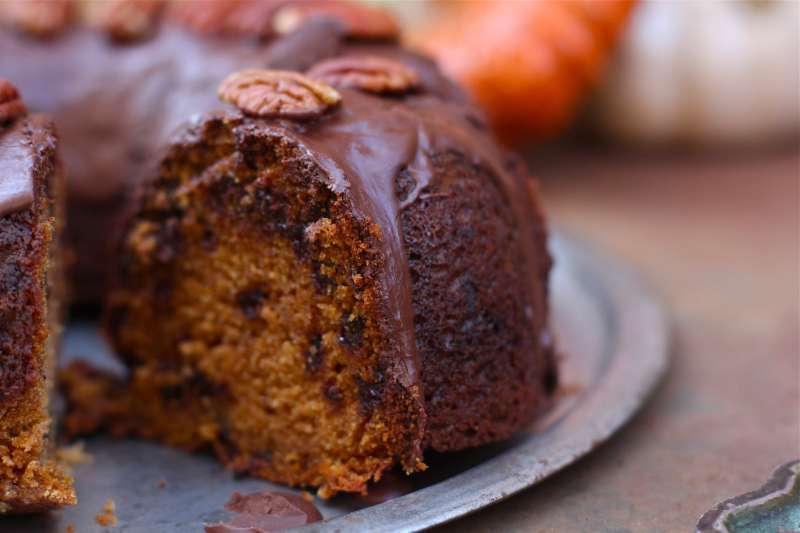 When I am stressed out I turn to baking. I find that late night baking or candy making is incredibly therapeutic. I also find that Christmas music is very uplifting too. Yes, I am one of those people that light Christmas scented candles and turn on xmas music beginning in August. I blame my mother.
So anyway, on this particular stressful night, this Pumpkin Bundt Cake happened. The smells of pumpkin, chocolate and cinnamon baking magically calmed me. It was delicious too! The Plugrá European-Style Butter browned beautifully creating a nuttiness in the cake. Topped with ganache and studded with chocolate chips, the cake was perfect and just what I needed.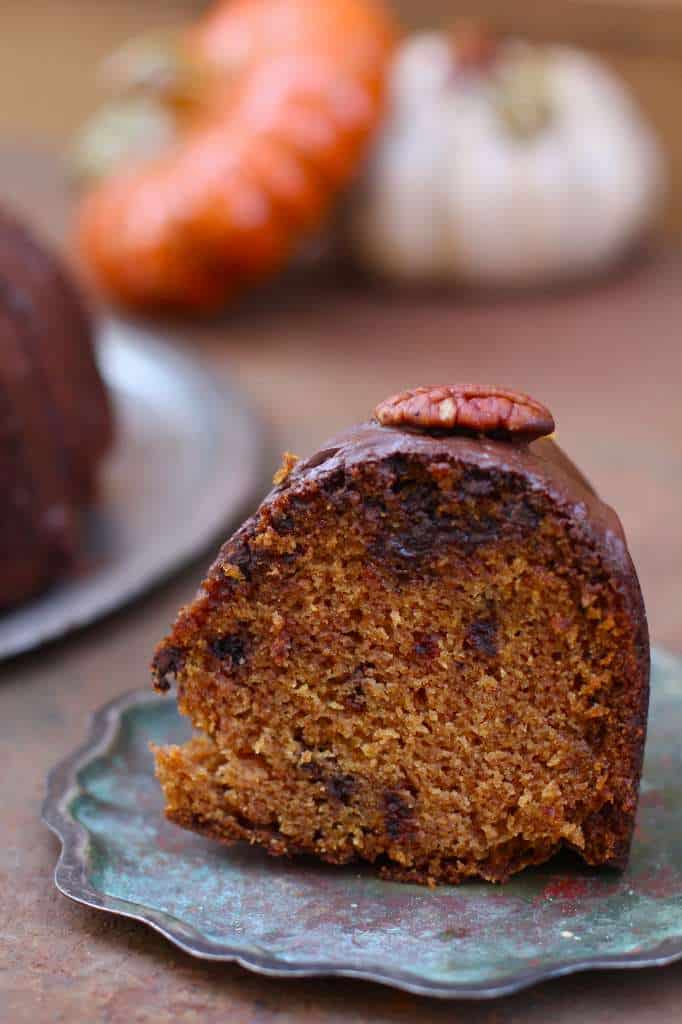 If you are feeling overwhelmed or stressed you should try putting on some good music and baking (this time with no kids around). It really helps!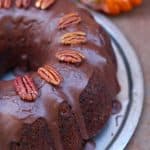 Chocolate Pumpkin Bunt Cake
Ingredients
1 ¾

cups

white sugar

2

sticks

(1 cup) Plugrá European-Style Butter

1

teaspoon

vanilla extract

4

eggs

2

cups

canned pumpkin

2

cups

all-purpose flour

3

teaspoons

baking powder

2

teaspoons

baking soda

¼

teaspoon

salt

2

teaspoons

ground cinnamon

2

cups

chocolate chips

1

tablespoon

flour

4

ounces

chocolate chips

½

tablespoon

Plugrá European-Style Butter

¼

cups

cream
Instructions
In a heavy sauce pan, heat your butter on medium heat.

Watch your butter carefully as it begins to brown (about 5 minutes).

Once you begin to smell a nutty scent, remove butter from heat and allow to cool for 5 minutes.

Preheat your oven to 350 degrees.

In your mixer fitted with the paddle attachment, combine browned butter and sugar until creamy.

Add eggs, one at a time, until mixed.

Add vanilla and pumpkin and mix to combine.

In a separate bowl combine flour, baking powder, baking soda, salt and cinnamon.

Gradually mix flour mixture with butter mixture until fully incorporated.

In a small bowl mix 1 tablespoon flour with chocolate chips.

Fold chocolate chips into the pumpkin batter.

Generously spray a bundt pan or two 9 inch baking pans with nonstick cooking spray.

Pour batter into pan(s) and bake.

For the bundt pan, bake for 45-50 minutes and for the 9in baking pans bake for 22-25 minutes, or until a toothpick is inserted and when removed is clean.

When you remove from the oven, allow cake to cool in pan for 10 minutes.

Then, loosen the edges of the cake with a knife and turn over on a baking sheet to cool completely.

Once cooled, make the ganache.

In a small saucepan, melt the chocolate, butter and cream on low until smooth.

Allow to cool for about 4 minutes before pouring it over the cooled cake.