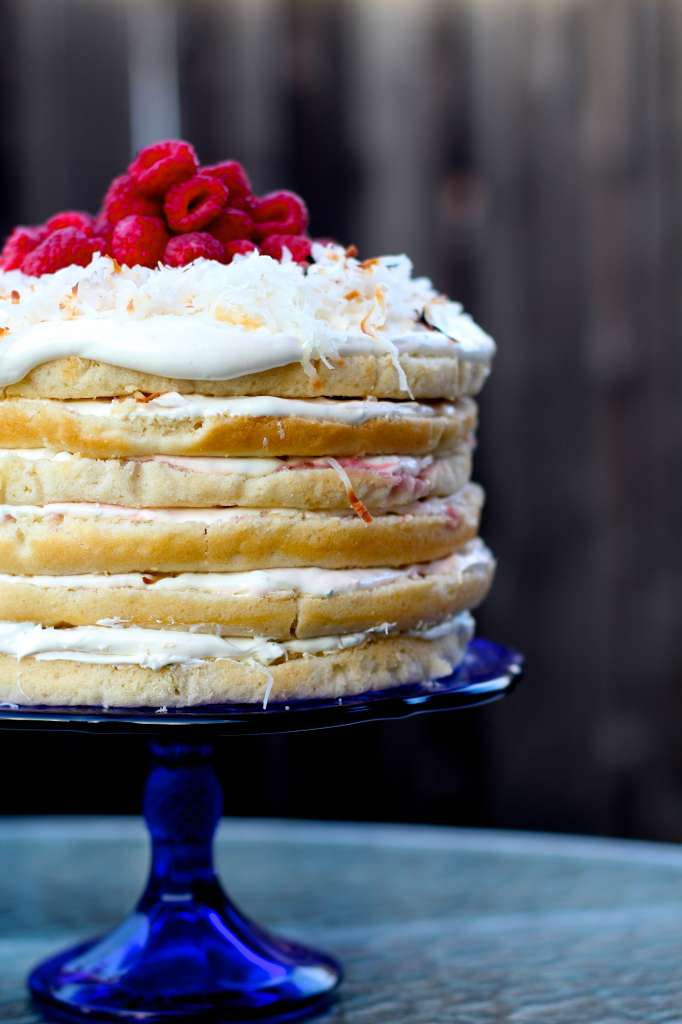 This post is part two of the Plugrà dinner party. One of the main reasons I picked the surf and turf meal was because of this cake. I mean who can resist a good coconut cake?!?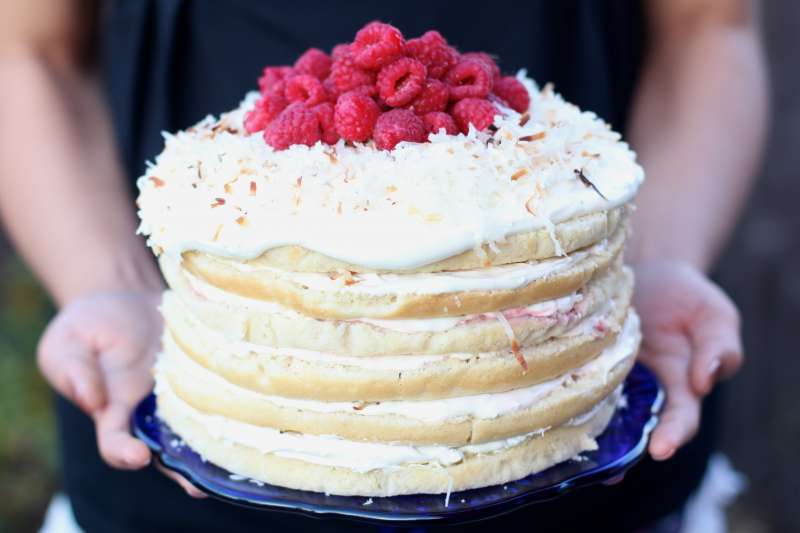 I love all the components that go into this cake. There is the actual cake that calls for coconut milk, the simple syrup that calls for coconut rum, and finally the filling that calls for coconut cream. Chef Alexandra Barletta from Smith & Wollensky did a wonderful job combining the nuttiness of the coconut with the creaminess of Plugrà European Style Butter!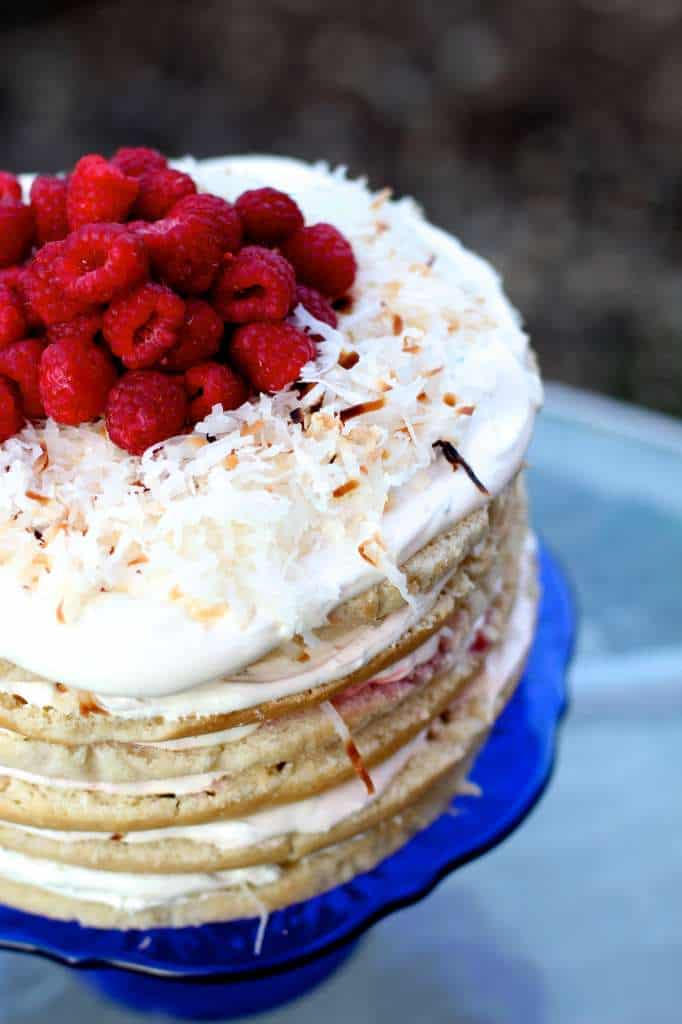 This cake was a huge hit. Because the cake was so high, I served small pieces with fresh raspberries and whipped cream. It was light and refreshing…a perfect way to finish the meal! Check out my first post about the meal and some great tips for planning a dinner party!
Ingredients
Coconut Cake Layers

2 cups cake flour
2 cups all-purpose flour
1½ tbsp. baking powder
1 tsp. salt
2½ cups unsweetened coconut milk
1½ tbsp. vanilla extract
1 cup sweetened shredded coconut
8 oz. Plugrá® European-Style Butter, unsalted
1½ cups granulated white sugar
2 eggs, extra-large
1 cup egg whites (about 7 to 8 extra-large eggs)
½ tsp. cream of tarter
1½ cups granulated white sugar

Coconut Simple Syrup

2 tbsp. unsweetened coconut milk
2 tbsp. cream of coconut
½ cup Bacardi® Rock Coconut™ Rum
1 cup simple syrup

Coconut Cake Filling

2 ½ cups heavy whipping cream
¼ cup cream of coconut
1½ cup confectioner's sugar
1 cup sweetened shredded coconut
1 tsp. vanilla extract
Instructions
Coconut Cake Layers
Preheat oven to 325°F.
Butter three 9-inch by 2-inch round cake pans. Line with round parchment paper; butter parchment, dust lightly with flour and shake off excess.
Sift together cake flour, all-purpose flour, baking powder and salt.
In a separate bowl, combine unsweetened coconut milk and vanilla; whisk to blend, add coconut and stir to blend.
In a bowl of a stand mixer fitted with a paddle attachment, beat Plugrá Butter and 1½ cups sugar for 3 minutes, or until light and fluffy. Add eggs, one at a time, and mix until incorporated; transfer batter to a large bowl.
Alternately add flour mixture and coconut mixture to batter in 3 batches, until blended.
In the bowl of a stand mixer fitted with a wire whip, beat egg whites with cream of tartar and 1½ cups sugar to form medium stiff peaks; add to batter, stirring slowly with a balloon whisk until incorporated.
Spread batter evenly in pans; tap pans on counter to eliminate air bubbles.
Bake for 35 minutes, or until a toothpick inserted in center comes out clean; cool on cooling racks for 5 minutes. Run a knife around outer edges of pans and invert cakes onto racks

Coconut Simple Syrup

Combine unsweetened coconut milk, cream of coconut, coconut rum and simple syrup and whisk to blend. Reserve.

Coconut Cake Filling

In bowl of stand mixer filled with a wire whip, combine heavy cream, cream of coconut, confectioner's sugar, shredded coconut and vanilla extract.
Whip until stiff peaks form.

Assemble Cake

Arrange 1 cake layer on a cake stand or large plate. Brush the top of cake generously with reserved coconut simple syrup. Using an offset spatula, spread evenly with coconut cake filling. Repeat with 2nd and 3rd cake layer.
Chill cake for 3 hours before serving.
Preparing the Coconut Cake
• This cake is best served very cold, so be sure to wait until the last minute to pull it out of the refrigerator.
• To add a bit of color and extra flavor to the dessert course, add a handful of fruit on the side of each slice. Look for berries that are in season. Blueberries, strawberries and blackberries would all be delicious.
- See more at: http://plugra.com/recipes/coconut-cake#sthash.atlVWy5o.dpuf
Notes
Recipe from Plugrà|http://wwwhttp://plugra.com/recipes/coconut-cake.com
http://theseasidebaker.com/coconut-cake-2/
I have been compensated for this post however all opinions are my own-and this cake was great!