Sweet sugar cookies filled with heart-shaped jam, these Valentine's Cookies are the perfect way to say I love you this Valentine's day.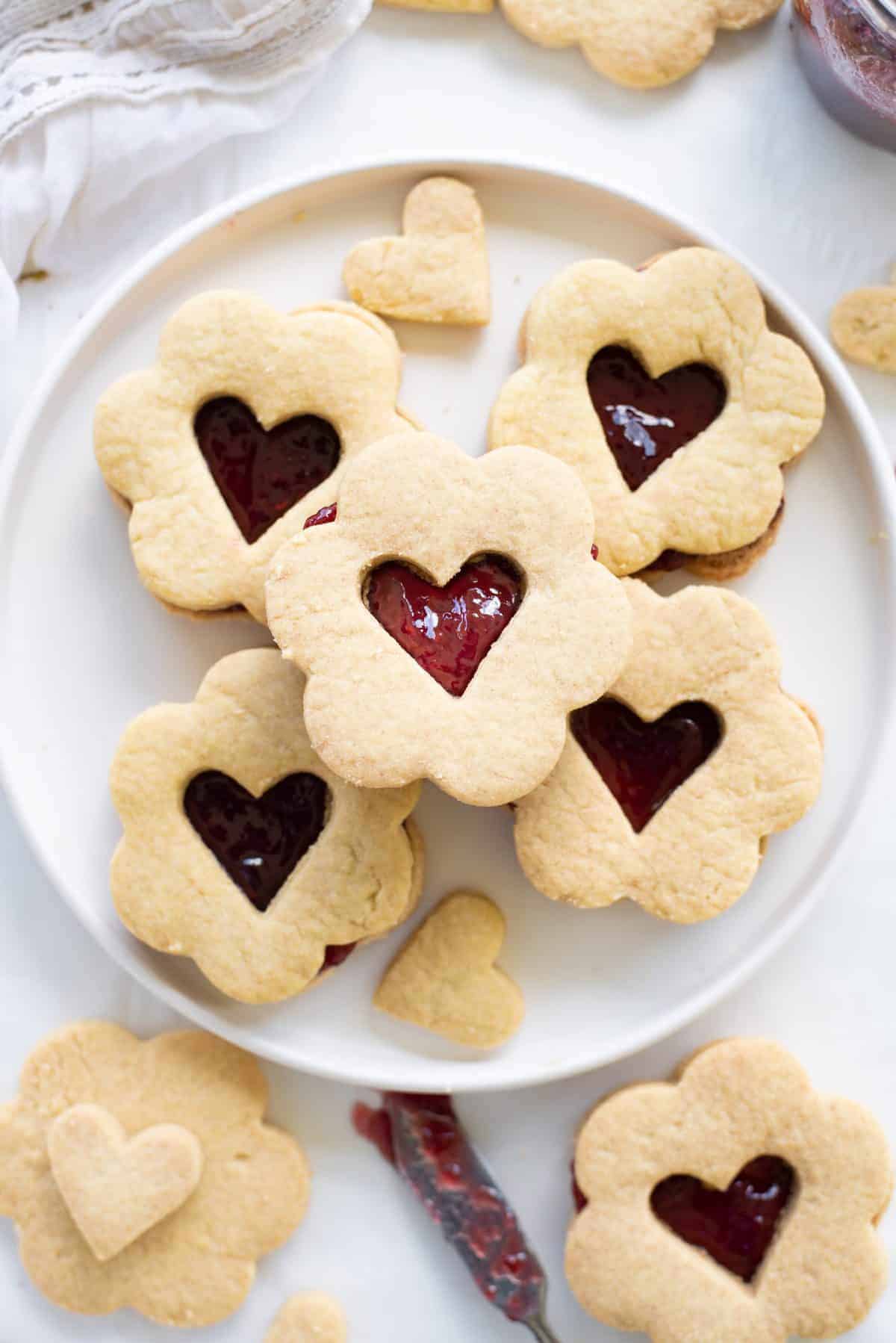 Looking for a sweet treat to give your loved one for Valentine's Day on February 14th? These Valentine Cookies are simple, sweet, and come from the heart. They're the perfect way to say I love you!
Love is in the air and nothing says I love you more than homemade cookies shaped like flowers with a heart center. Fill the heart center with your favorite red-colored jam to add the perfect touch. Share them with that special someone, your friends, or even your neighbors.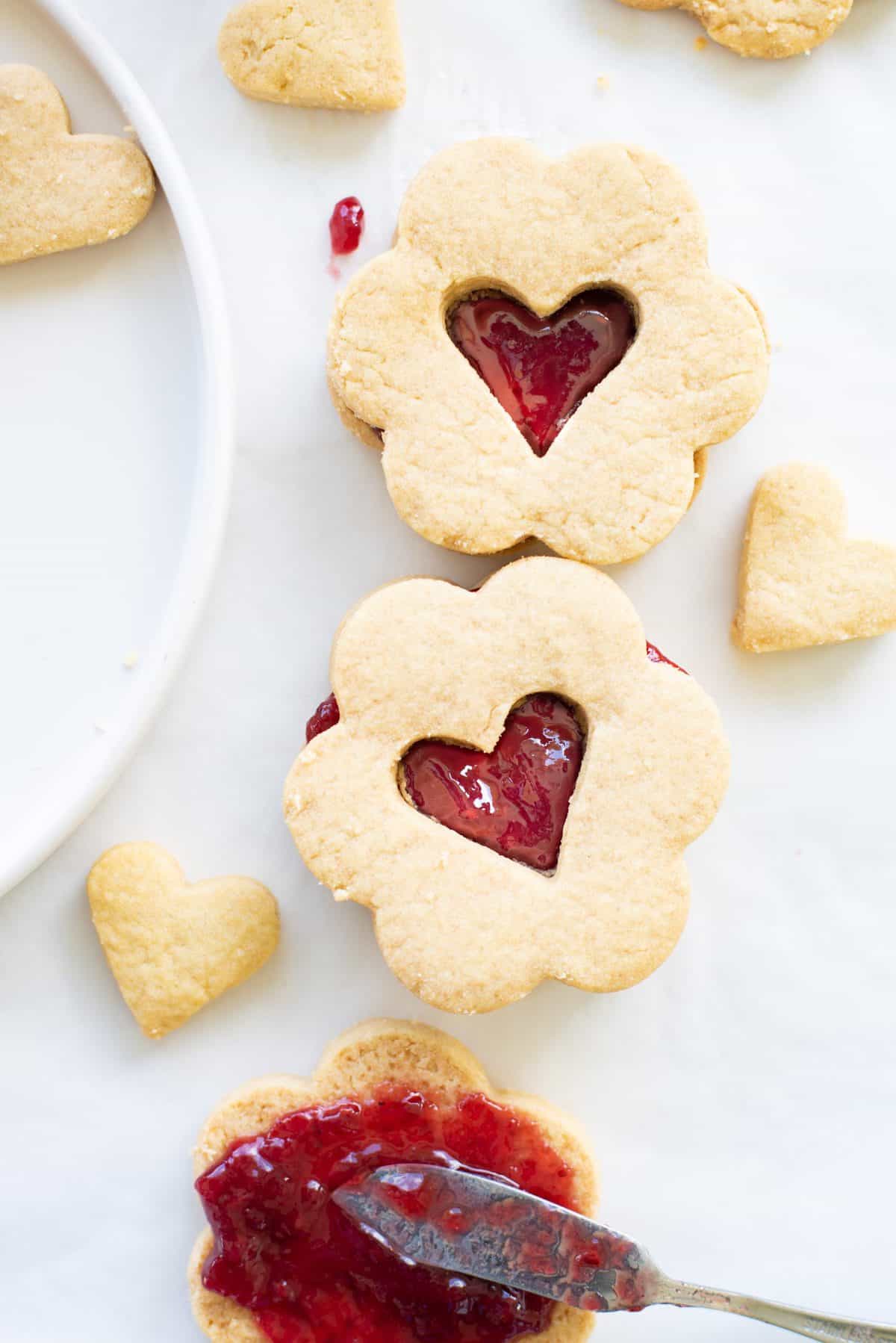 Homemade gifts are always a great way to show someone you care. It means you took time out of your day to make their day special. If you aren't sure what to do for that special someone in your life, baking Valentine's cookies is always one of the best gifts you can give.
WHY WE LOVE THIS VALENTINE'S COOKIE RECIPE
I love making my friends and family feel special with a sweet treat. These Valentine's cookies are the perfect way to make Valentine's Day sweeter. Here's why we love them!
Sweet and Simple- These cookies are just simple sugar cookies, but the end result makes it seem like they took hours to make.
Hearts and flowers- The outer cookie shape is a flower with a heart-shaped cutout in the center of the cookie. So, these cookies combine the best of Valentine's Day with hearts and flowers. These cookies are better than a box of chocolates!
Quick to make- You can have these homemade classic sugar cookies ready to put in a special box in just 27-minutes for a quick and easy gift idea.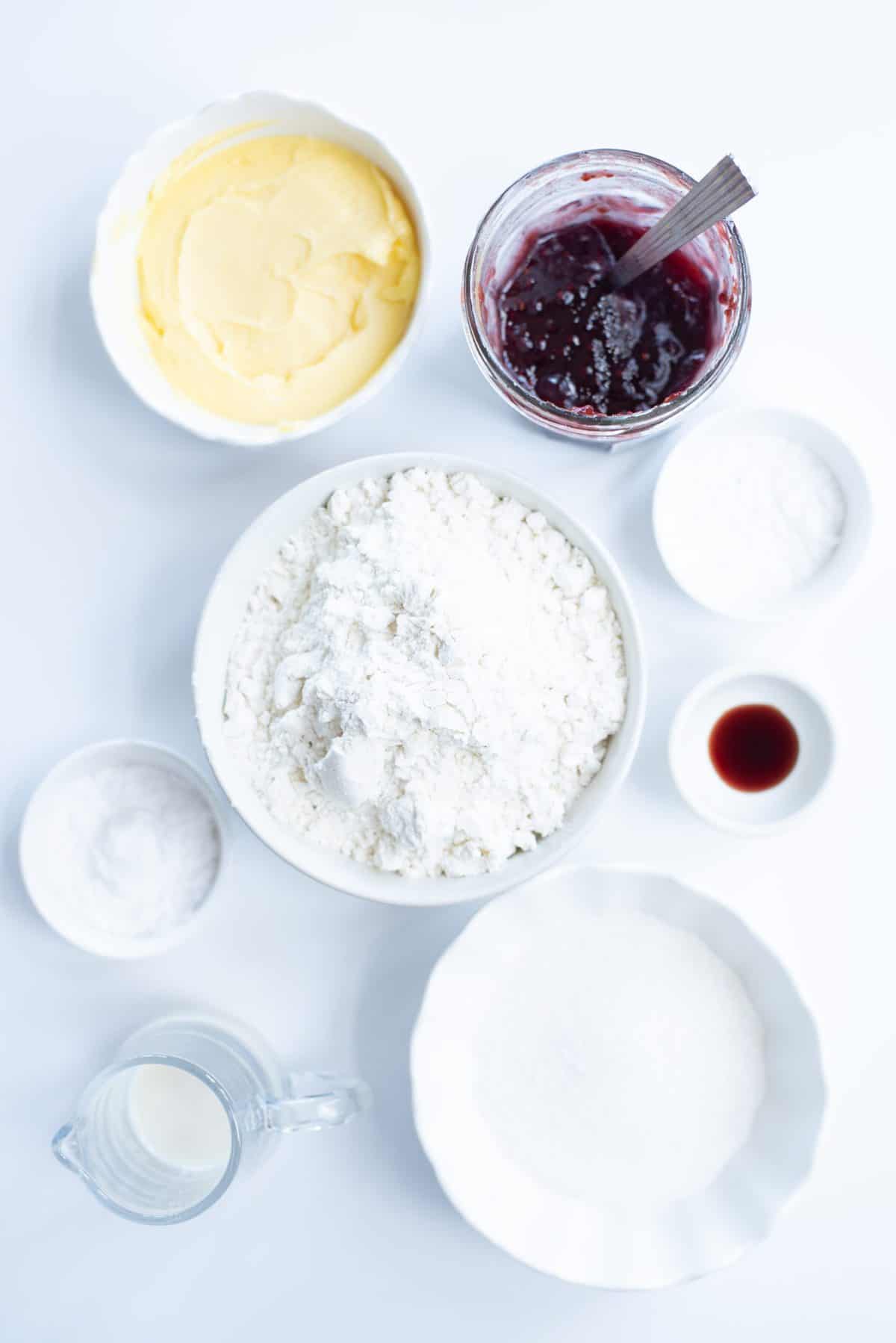 INGREDIENTS/SHOPPING LIST
Flour
Baking soda
Salt
Sugar
Unsalted Butter
Vanilla extract
Whole milk
Berry jam
SUBSTITUTIONS AND ADDITIONS
Flour: We used all-purpose flour, but if you need to make this recipe gluten free, you could use almond or coconut flour as well. Or, try Bob's Red Mill Gluten free flour.
Try different Jams: We used a berry and raspberry jam for this recipe, but you could use any jam that you prefer. Or, use one jam for half the cookies and another jam for the other half to give a little variety.
Use nutella instead: If you aren't a fan of jam cookies, you could use Nutella in the heart-center instead. It gives the cookies more of a chocolatey flavor.
Vegan milk: For a vegan friendly cookie, use Soy Milk or Almond Milk instead of whole milk.
Vegan butter: To make these cookies vegan friendly, you'll also have to use vegan butter such as Earth Balance or Miyoko's.
Dip in chocolate- Dip the sides or tops of the hearts in dark chocolate for heart chocolate cookies.
Decorate the tops- To make a more festive treat (if time permits) decorate the tops with white icing or royal icing and conversation hearts sprinkles.
RECOMMENDED TOOLS TO MAKE THIS RECIPE
Measuring cups and spoons
Mixing bowl
Baking sheet aka cookie sheet
Wire Rack
Parchment paper
HOW TO MAKE THESE VALENTINE'S DAY COOKIES
If you have little ones, you can get them involved in baking these sweet Valentine's Cookies. They are so easy to make and kids will love helping, too!
First to make the sugar cookie recipe, combine the flour, baking soda, and salt in a large bowl.
Add the softened butter, sugar, vanilla extract, and milk to the dry ingredients.
Mix all the wet ingredients ingredients together with the dry flour mixture with your hands until the dough is formed. You can also do this step with your high speed electric mixer fitted with the paddle attachment.
Roll the cookie dough ball into a round shape and wrap it in plastic wrap or wax paper. Place the dough in the refrigerator for 30-minutes.
Next, preheat your oven to 350℉. Then, line your baking sheets with parchment paper and set to the side.
Sprinkle a little bit if flour on a flat surface where you can roll the dough. Then, divide the dough into 4 dough balls.
Roll out each piece of dough to ½ inch thickness. You will need 2 pieces to cut without holes and 2 pieces that will have heart-shaped holes.
Use your flower-shaped cookie cutter to cut out all the cookies you can from the dough.
Then, with remaining dough use the heart-shaped cookie cutter to cut the middle of half of the flower cookies.
Bake all the cookies for 12-minutes.
Allow the cookies to completely cool.
Finally, spread jam on a flower cookie, and then top it with the heart-shaped center cookie. Push the cookies down to seal them together.
TIPS
Use different sized cookie cutters. The heart-shaped cookie cutter should be smaller than the flower-shaped cookie cutter.
Bake trays one at a time. It's best to cook each tray of cookies separately to ensure the cookies cook evenly.
Flour the rolling pin. Dust your rolling pin with flour to prevent the dough from sticking to it. Additionally, you can put flour on the cookie cutters as well.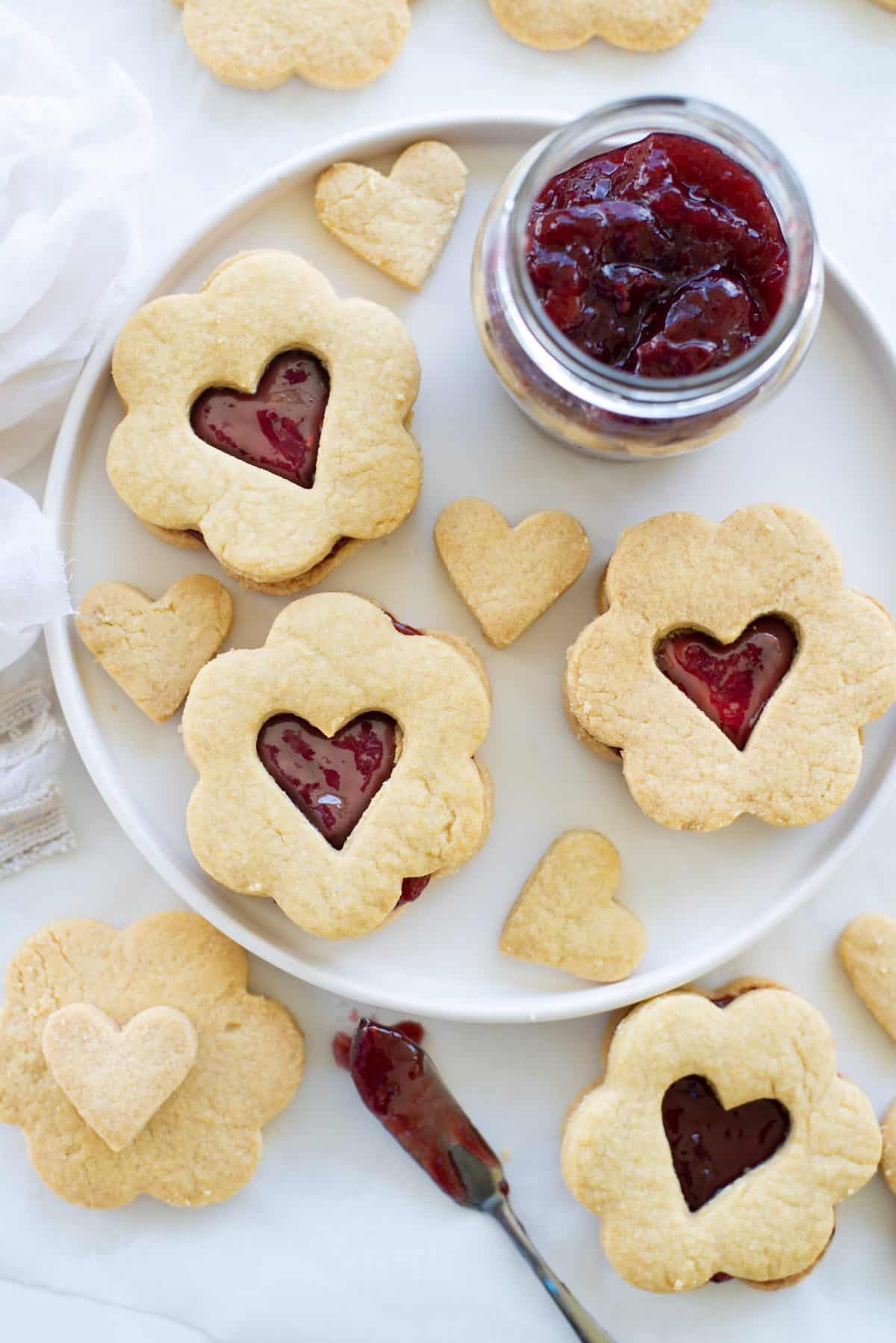 STORAGE TIPS
Cookies can be stored at room temperature.
Place in an airtight container or a Valentine's cookie tin.
Store on the counter for up to a week.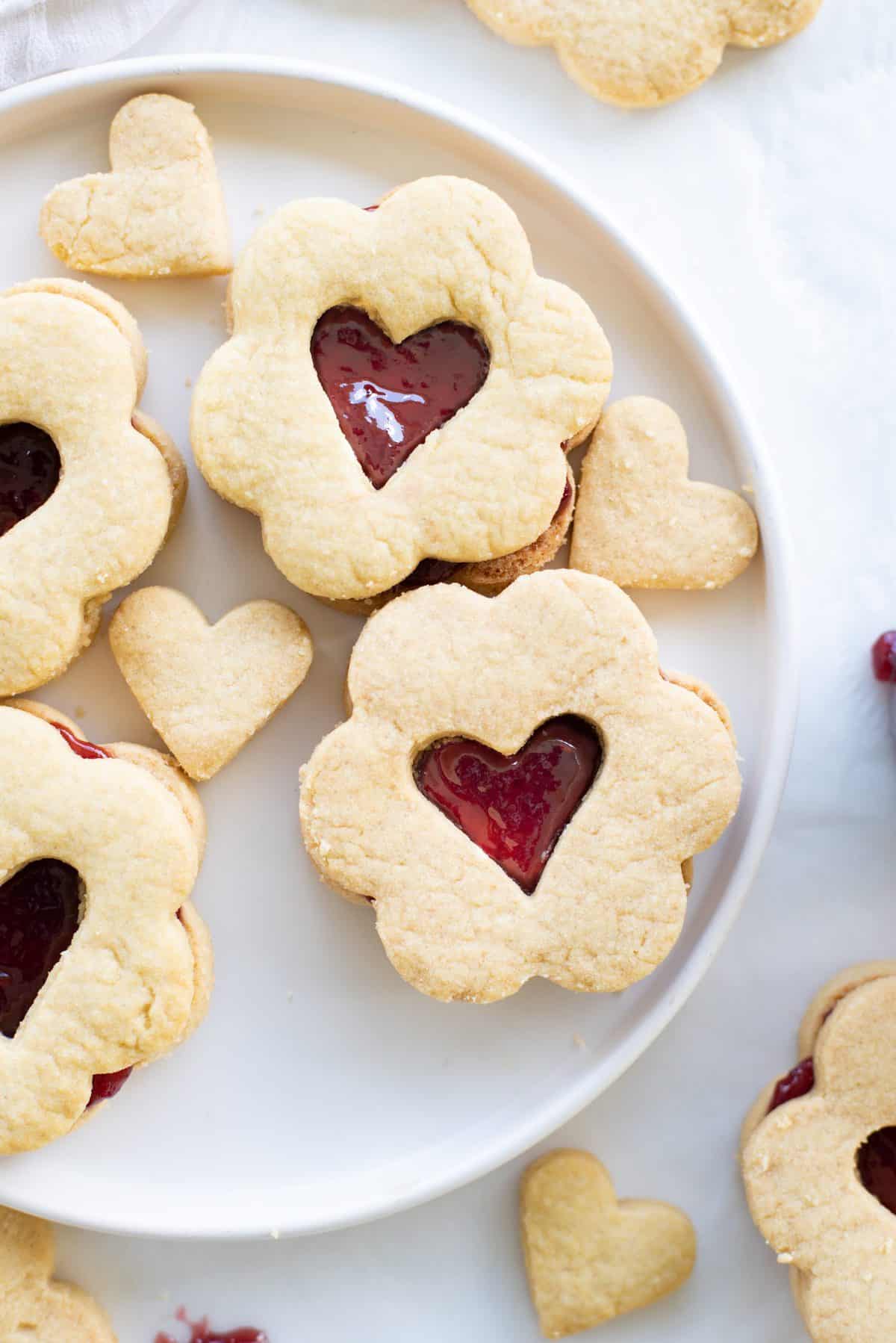 FREQUENTLY ASKED QUESTIONS
How many cookies does this recipe make?
Depending on the size of your heart cookie cutter, you should get about 12 sandwich cookies from the homemade dough.
Why did my Valentine's cookies flatten?
Sugar cookies flatten when there's too much butter compared to the amount of flour. You need to make sure to measure your flour accurately. To do so, spoon the flour into the measuring cup until it overflows a bit, and then level it off with a butter knife.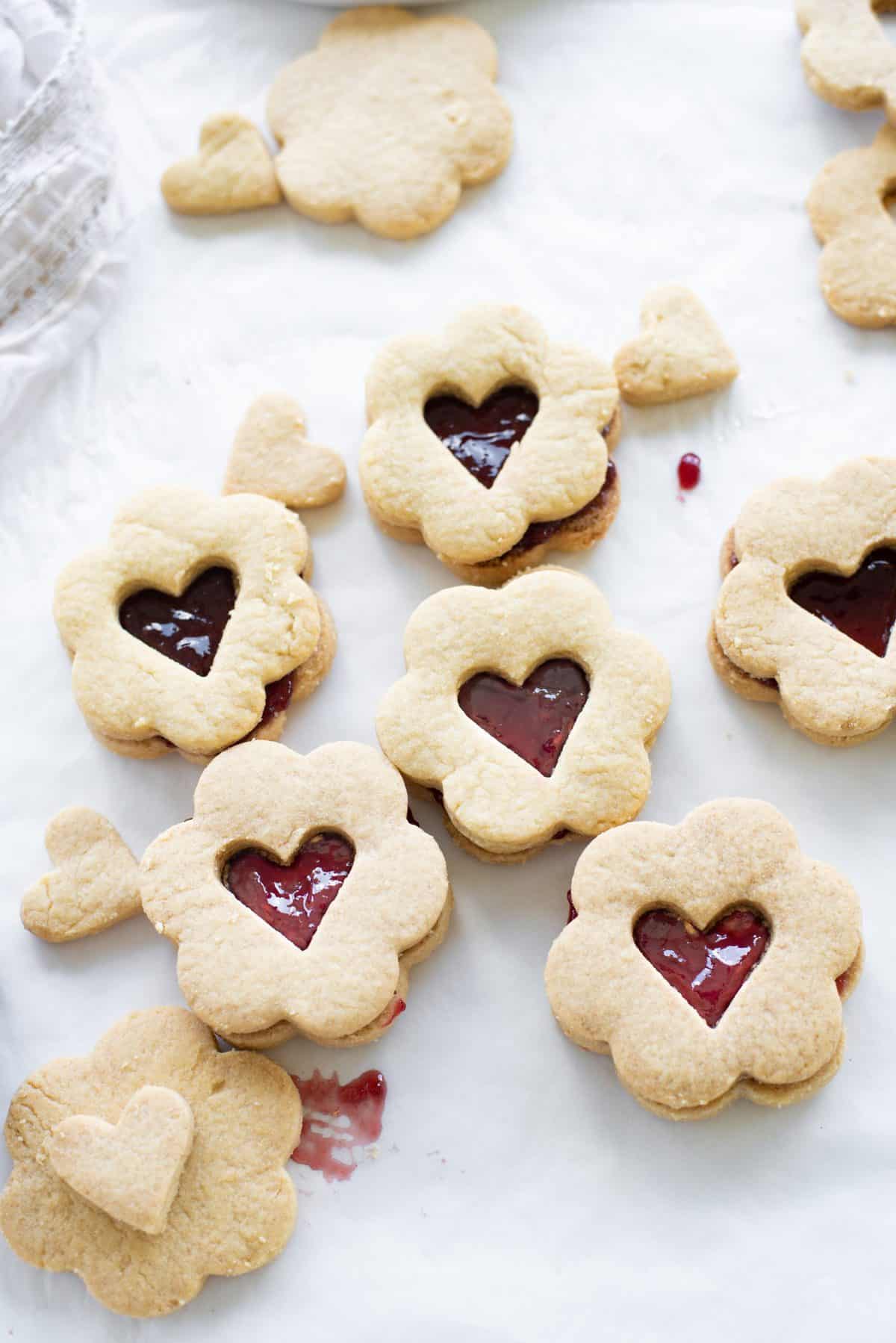 Do I have to chill the dough?
Yes! Chilling the dough is the key to making sugar cookies. It is especially important for the cutouts because chilled dough holds the shape better in the oven.
How do you know when the cookies are done?
The cookies should be done in 12-minute bake time. However, ovens do tend to vary in cooking time. Check your cookies after 10-minutes, but wait to pull them out until you see fine cracks in the center. You want the edges of the cookies to change color to a golden brown.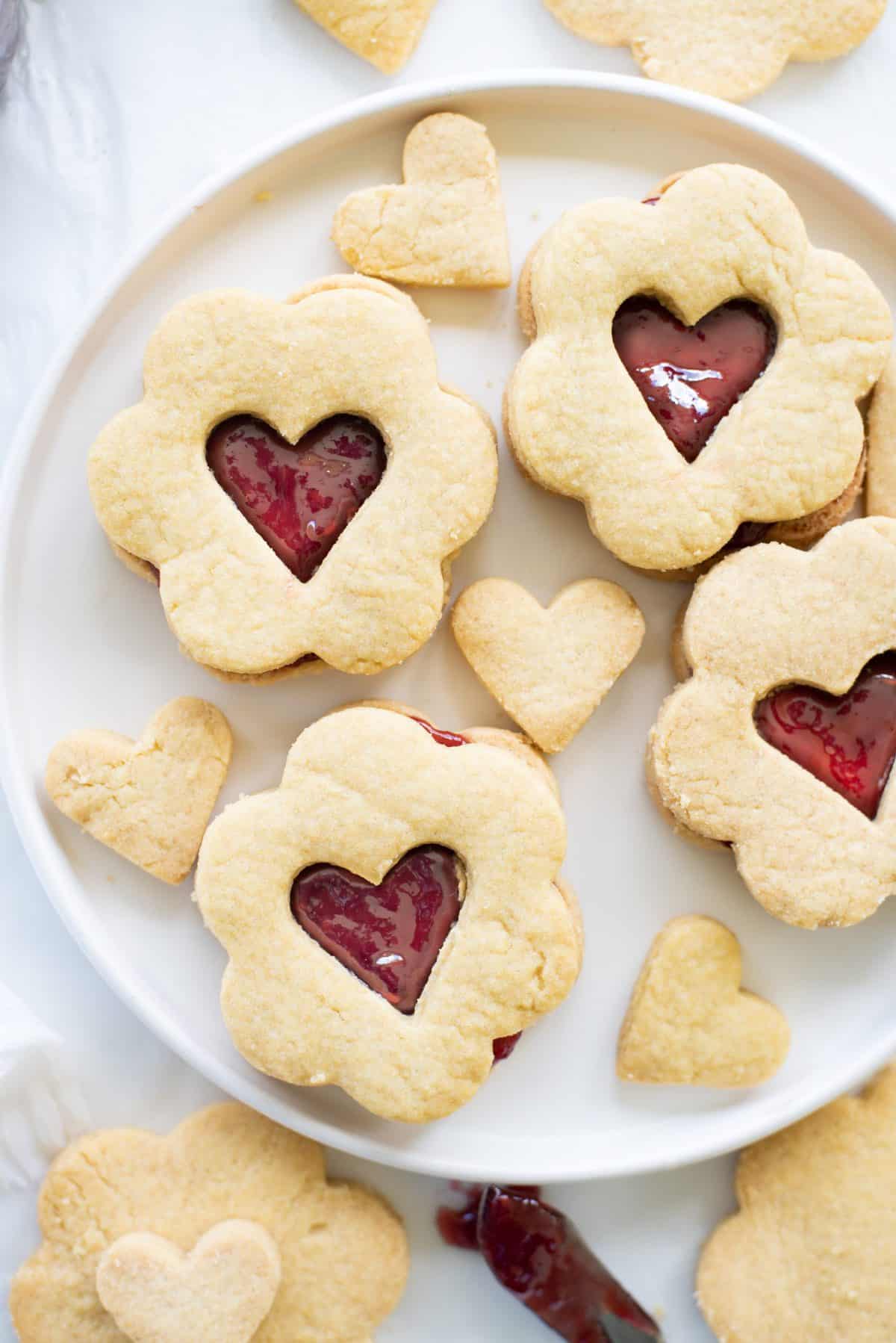 BEST VALENTINE'S DAY COOKIES YOU MAY ENJOY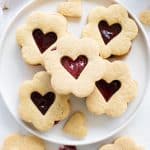 Valentine's Cookies
Sweet sugar cookies filled with heart-shaped jam, these Valentine's Cookies are the perfect way to say I love you this Valentine's day.
Keyword:
heart sugar cookies, valentines day cookies
Servings
:
12
sandwich cookies
Ingredients
2

cups

all-purpose

1

teaspoon

baking soda

½

teaspoon

kosher salt

½

cup

granulated white sugar

½

cup

unsalted butter

room temperature

½

teaspoon

vanilla extract

2

tablespoons

whole milk

Berry jam
Instructions
In a large bowl, combine flour, baking soda and salt.

Add sugar, butter, vanilla extract and milk to the flour. Mix with your hand until a dough is formed. Roll in a round shape and wrap in plastic. Place in the refrigerator for 30 minutes to chill.

Preheat the oven to 350 F| 175 C. Prepare 2 baking trays with parchment paper.

Prepare your working surface with flour. Divide dough into 4 pieces. Roll out dough to ½ inch thickness. Please note that you will need 2 pieces to cut without holes and 2 pieces with heart-shaped holes.

Use flower-shaped cookie cutters to cut out cookies. Gently place the cookies on the baking sheets. Then use the heart-shape cookie cutter to cut the middle.

Bake for 12 minutes. Allow to cool down completely on the baking tray before spreading with jam.