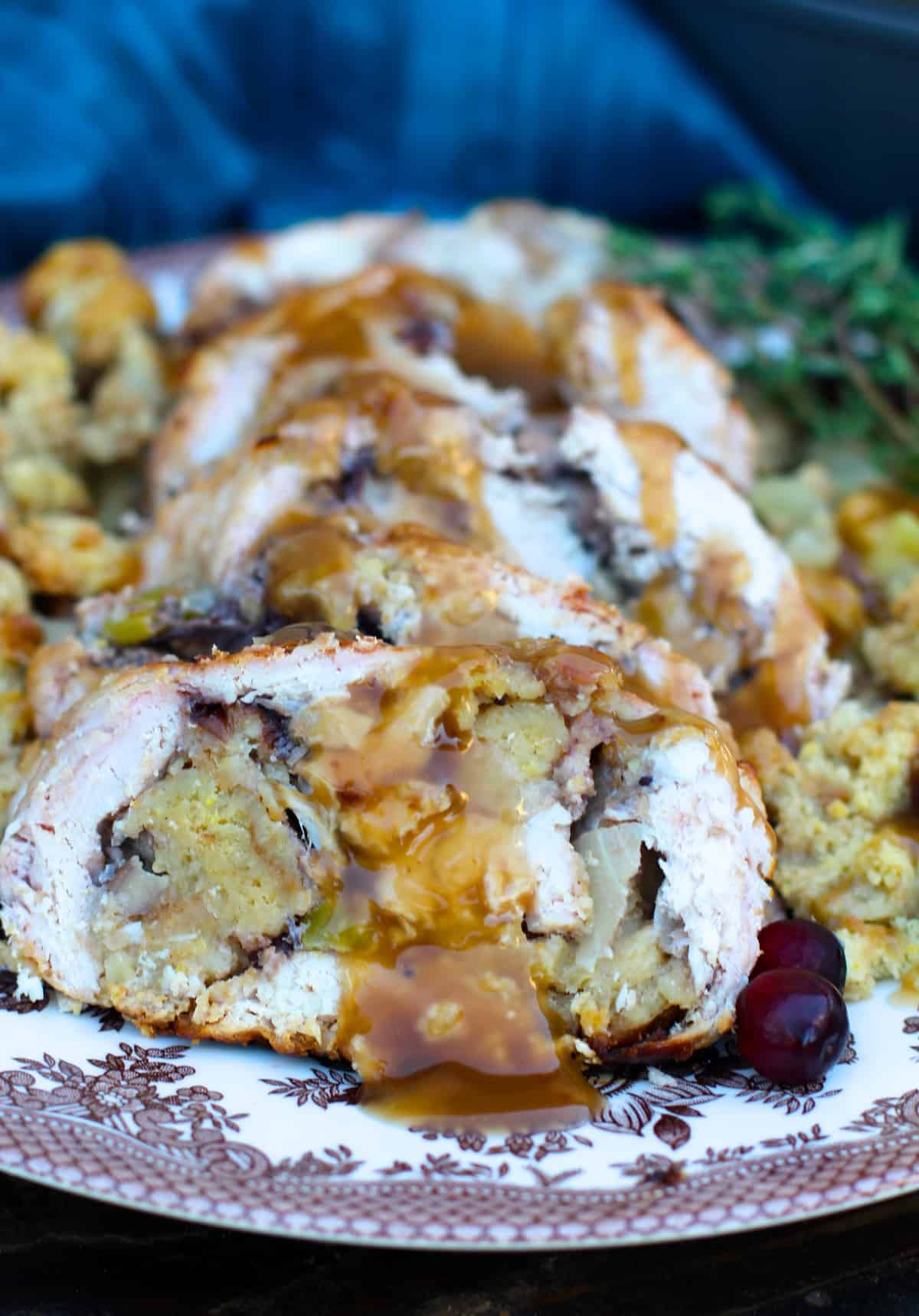 A few weeks ago I received an email asking me if I would like to try out a new pan from Swiss Diamond. Now I may be a bit bias, but I happen to love all things Swiss. I did, after all, marry a Swiss man and reproduce 3 Swiss offspring!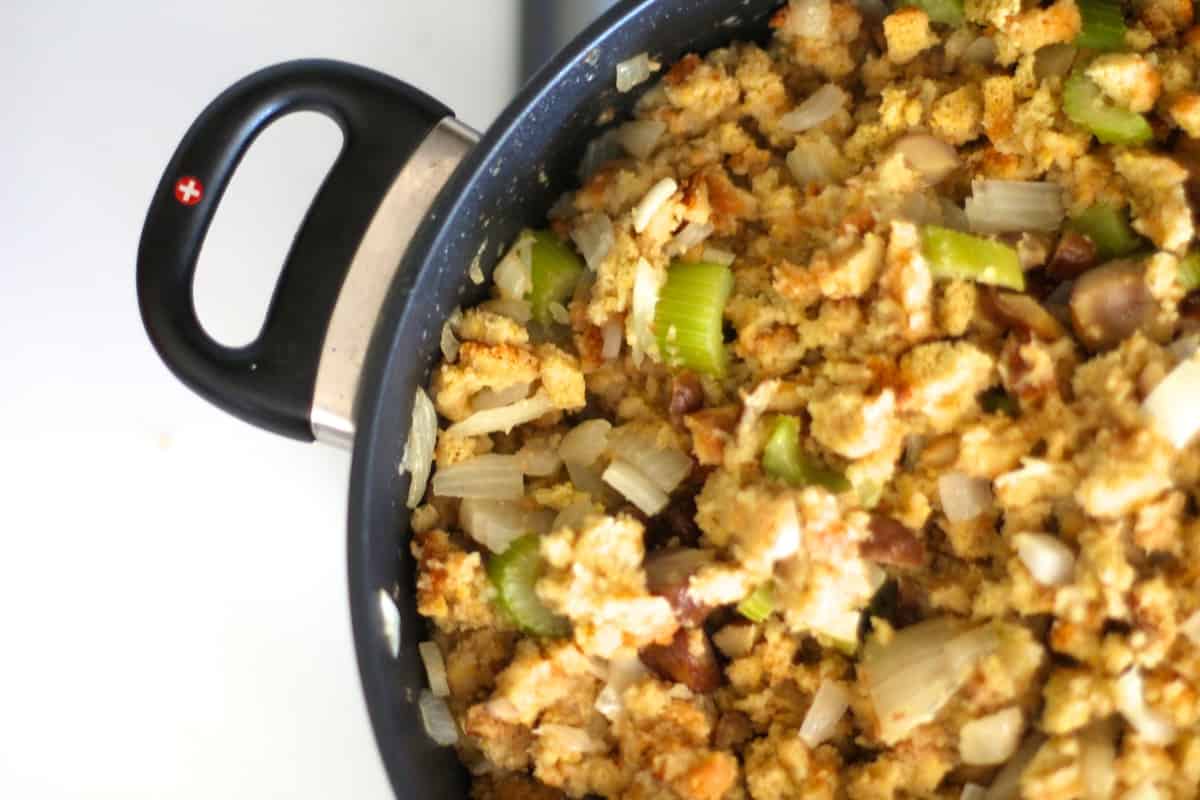 The Swiss really know how to make pans. Everyone in my husband's family uses the same set of pots and pans that they received when they got married including his grandparents that are 94 years old. Like the pans that they use, Swiss Diamond is made to last. The coating of each Swiss Diamond pan contains up to 200,000 real diamond crystals for a long-lasting non stick surface. Why diamonds you ask? Diamonds are naturally nonstick and durable. Diamonds are a better heat conductor than metal - Four times more conductive than copper, diamonds help distribute heat evenly across the surface of the pan. Diamonds also allow the pan to brown food like stainless steel, creating a "fond" that can be used for gravy - or easily washed away with warm soapy water.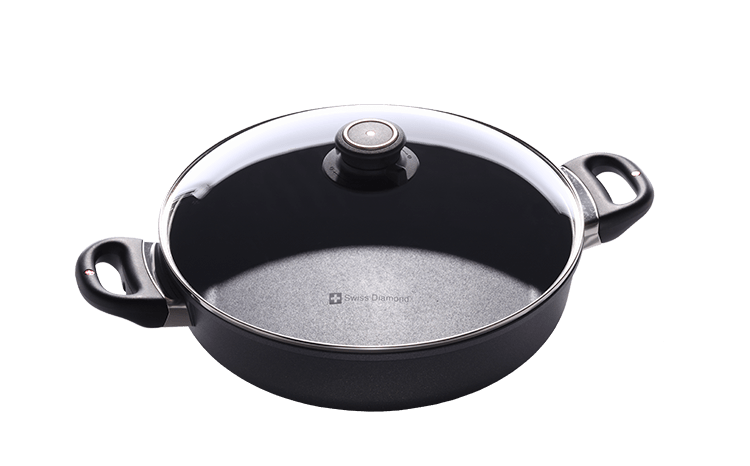 I received the 3.7 quart Nonstick Sauteuse with lid pan. It is a wonderful "one pot" sort of pan. It will cook on any stove and can be used in the oven up to 500 degrees! Because of the nonstick diamond coating, it is extremely easy to clean.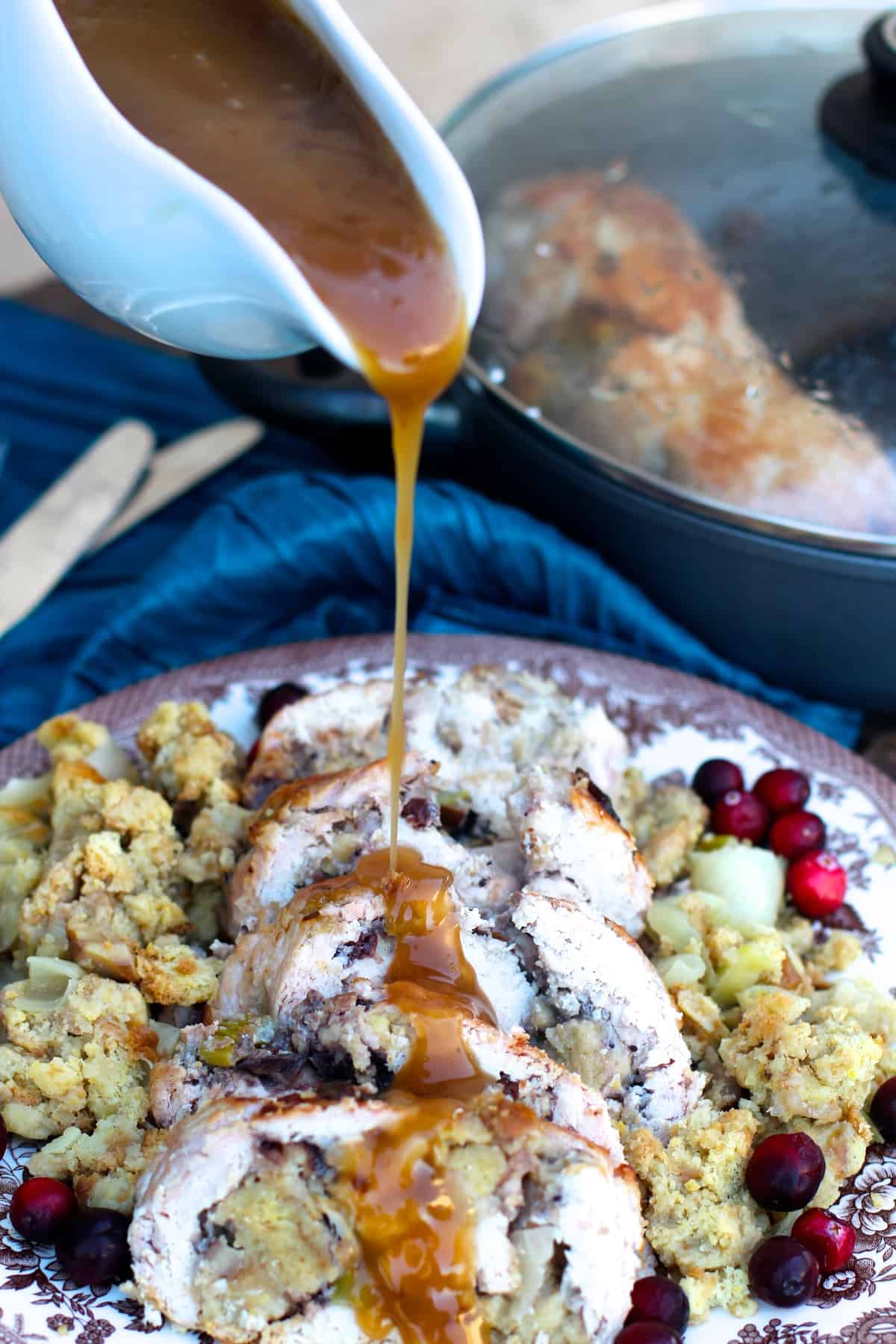 Since receiving this pan I have used it countless times. It is rather large and came in handy while prepping for our "Friendsgiving" dinner last weekend. It was extremely convenient because I could make something on the stove then put it in the oven to finish cooking without having to worry about transferring the ingredients to a new pan and adding yet another dish to my every growing mountain.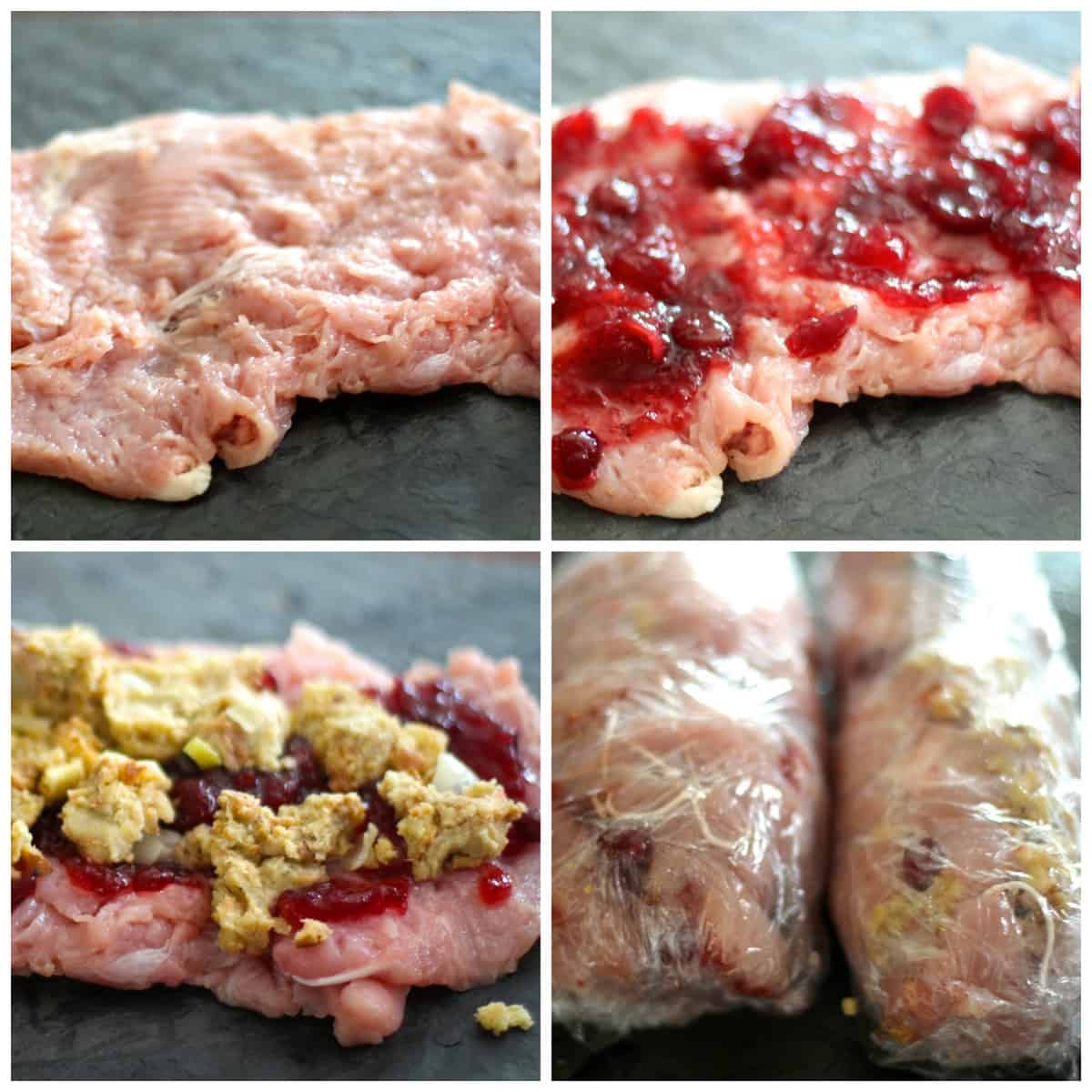 Because I went all out on Friendsgiving, we will be keeping it simple this Thanksgiving! This Turkey Roulade has all of the components of the traditional meal all wrapped up in a little turkey breast package. It was easy to make and will be perfect for my family of 5 on Turkey Day!
I actually made everything in this one Swiss Diamond Sauteuse pan. From baking the cornbread and making the stuffing, to  searing and baking the roulade, I used one pan! How cool is that!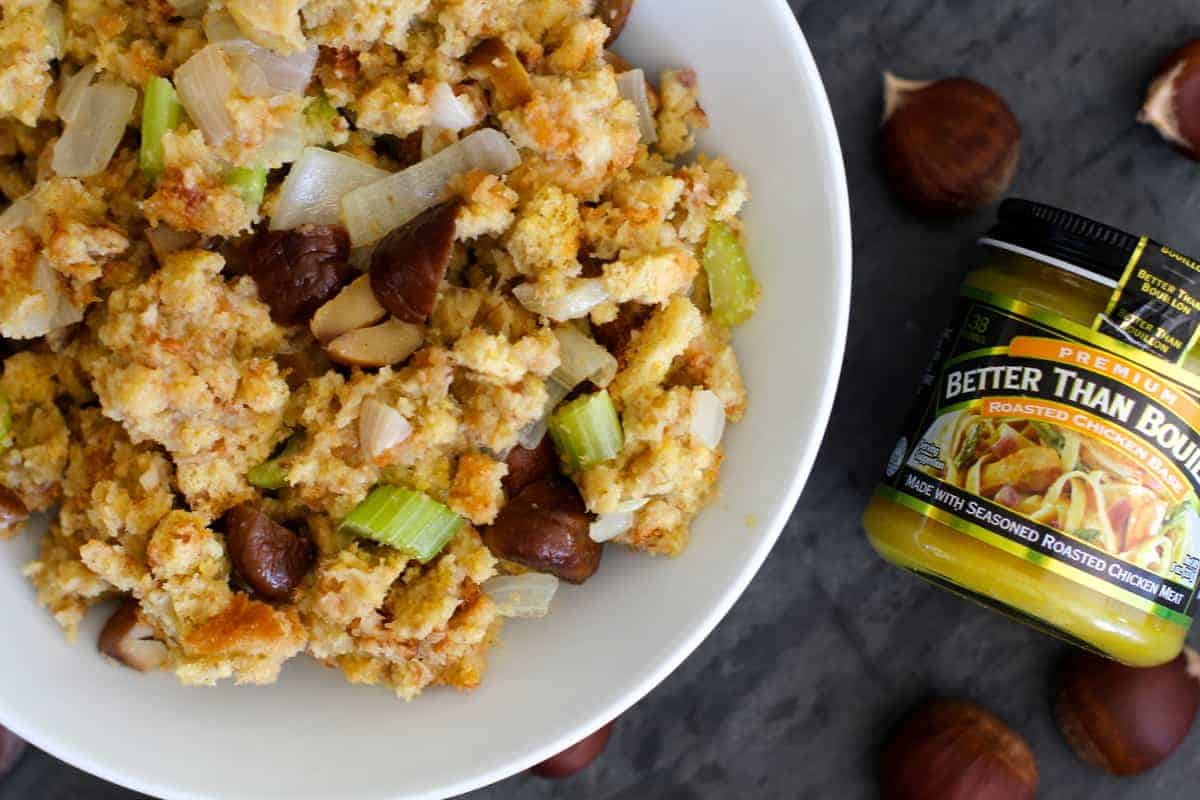 Another thing I discovered while prepping this post was Better Than Bouillon® blendable bases. Better Than Bouillon® blendable bases are made from meat (or vegetables). This gives them a richer, more robust flavor than ordinary bouillons or soup bases. It is a great to have on hand stocks for stuffing and gravy! A flavorful stock and a "one pot" type pan is a must have for holiday cooking.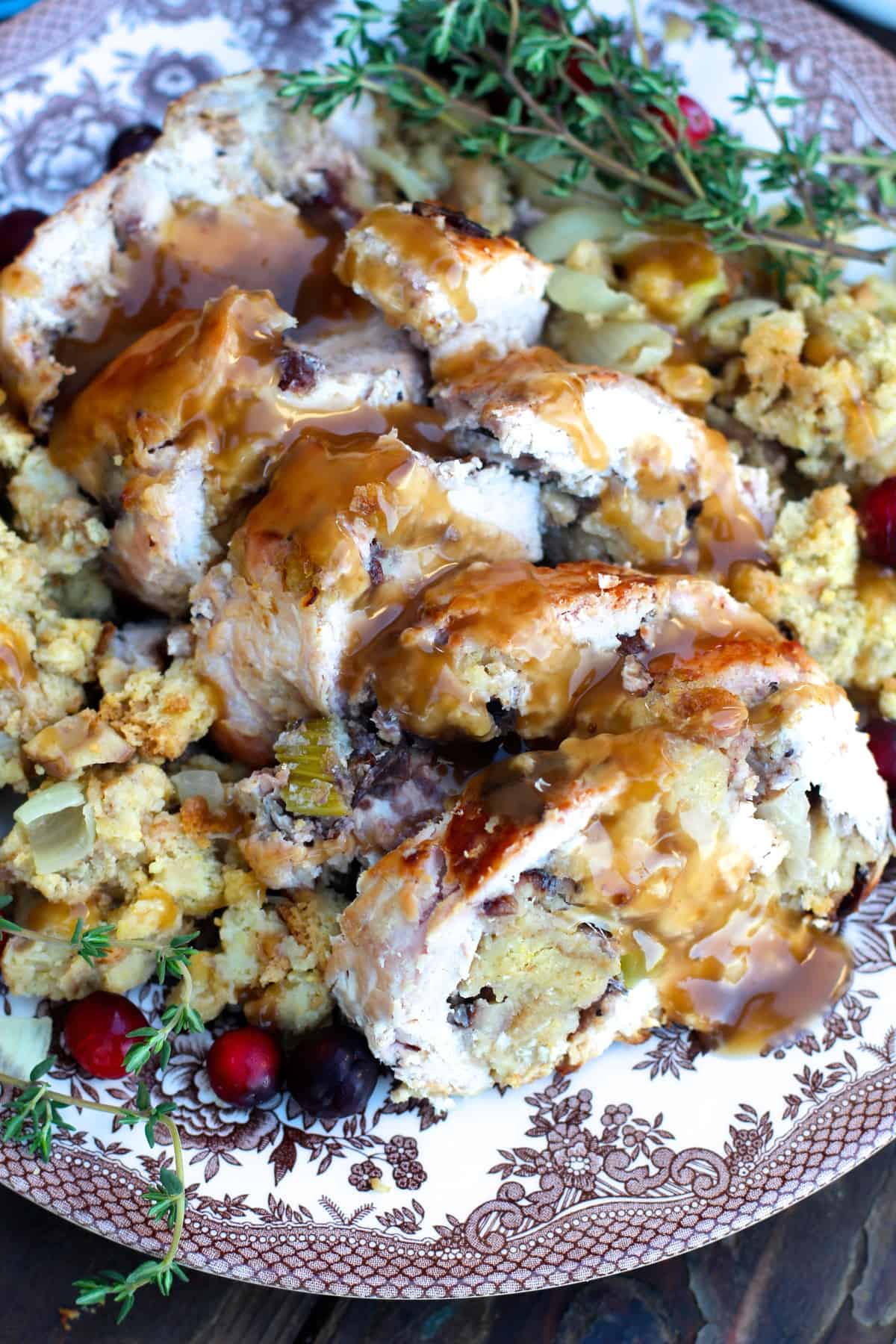 Make sure to check out the Swiss Diamond collection and add one to your Christmas list. Why ask for one diamond when you can get over 2,000! Enjoy!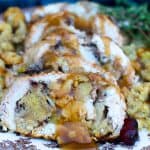 Homemade Cornbread Stuffing
Ingredients
1

cup

yellow cornmeal

½

cup

all purpose flour

¾

teaspoon

salt

1

tablespoon

baking powder

½

teaspoon

baking soda

2

eggs

1

and ½ cups milk

1

tablespoon

honey

3

tablespoons

unsalted butter

, melted

For the Stuffing-

2

tablespoons

unsalted butter

8

ounces

ground pork sausage

½

large onion

, finely chopped

2

stalks celery

, cut in small dice

2

garlic cloves

, minced

1

teaspoons

rubbed sage

½

teaspoon

ground pepper

¾

cup

chopped chestnuts

1

batch of cornbread

, crumbled

1

cup

hot water mixed with 2 tablespoons [Better Than Bouillon® Roasted Chicken Base]

(https://betterthanbouillon.com/products/product-detail.aspx?productid=10), dissolved
Instructions
Preheat the oven to 400 degrees.

Spray a 9 inch square baking pan with nonstick cooking spray.

Place the cornmeal in a bowl, and sift in the flour, salt, baking powder and baking soda.

In a separate bowl, beat together the eggs, milk and honey.

Whisk the cornmeal mixture into the liquid mixture.

Stir in melted butter.

Pour batter into pan and bake until a knife is inserted and comes out clean, about 40 minutes.

Allow to cool completely. *This can be made up to two days ahead of time and stored in an air tight container.

To make the stuffing, heat the olive oil (or oil and butter) over medium heat in a large pan.

Add the onions, celery, and garlic and cook for 2-3 minutes.

Add the sausage to the pan and using a spoon, break into small pieces. Cook for 4-5 minutes.

Sprinkle in the sage and pepper to the pan and stir to combine.

Transfer to a large bowl, add cornbread and chestnuts. Moisten as desired with Better Than Bouillon® Roasted Chicken Base stock.

Stuff into turkey roulade or serve as a side. *If wanting to stuff into a whole turkey, double the cornbread and stuffing recipes.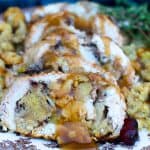 Thanksgiving Turkey Stuffed Roulade
Ingredients
3

lb

turkey breast

, deboned, butterflied, and tenderized

½

recipe of Cornbread Stuffing

1

cup

whole cranberry sauce

½

teaspoon

salt

½

teaspoon

pepper

Gravy
Instructions
Lay out your butterflied turkey breast on a large piece of plastic wrap.

Sprinkle with salt and pepper.

Spread the cranberry sauce in a ½'' thick layer, evenly over the turkey leaving a ¾-1'' boarder on all sides.

Repeat with stuffing mixture.

Starting with the long side closest to you, begin tightly rolling up the turkey breast.

Wrap and tie turkey roulade with baker's twine, then wrap tightly in plastic wrap. Refrigerate for at least one hour.

Preheat oven to 325 degrees.

Heat Swiss Diamond Nonstick Sauteuse pan and oil over medium high heat.

Once pan is hot, add turkey roulade and sear all sides.

Place lid over pan and place in oven.

Cook for 30 minutes, then remove lid. Continue cooking until thermometer reads 160 degrees, about an additional hour.

Once done, remove roulade from pan to rest and use the drippings to make gravy.

Allow turkey roulade to rest for 20 minutes before slicing.