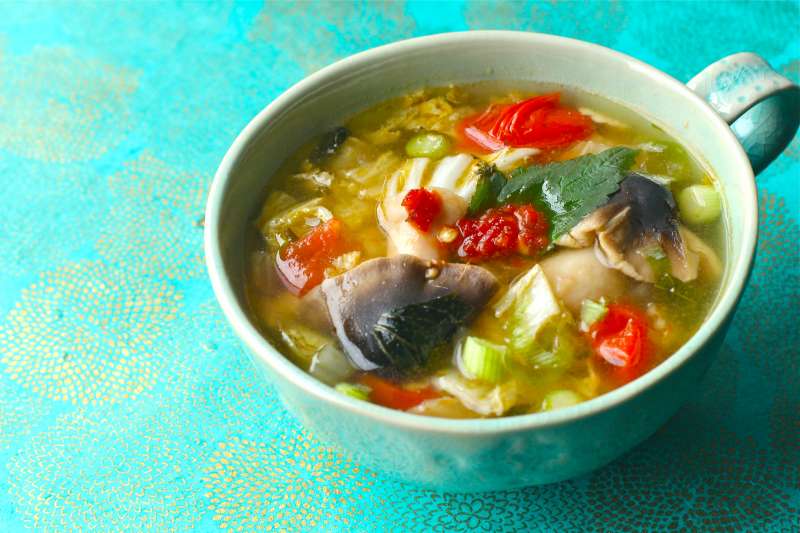 I have found that the best soups are those that are thrown together with random things in my refrigerator. Soup is a great end of the week meal, as you likely have a bunch of extra vegetables and protein. My Zuppa di Orzo was another one of these throw everything in kind of soups that turned out to be a family favorite.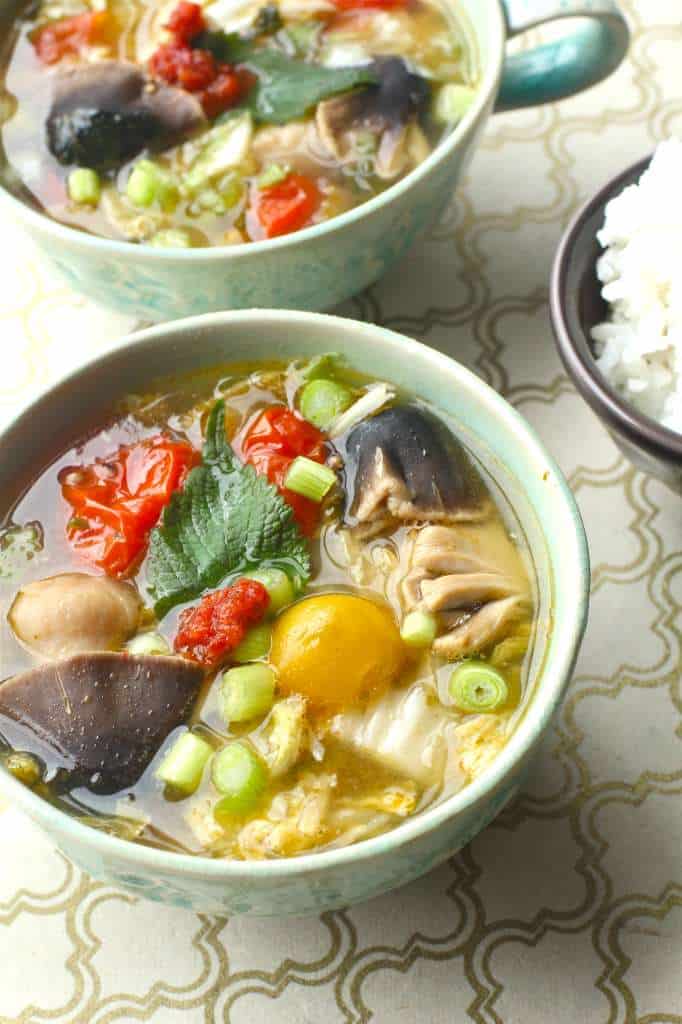 There are certain things that I keep in my fridge and freezer for ease. These Dorot herbs are one of them. Meal preparation is half of the battle, but when you have crushed garlic, crushed ginger, and various frozen herbs, your prep time is cut in half which leaves you more time to get creative!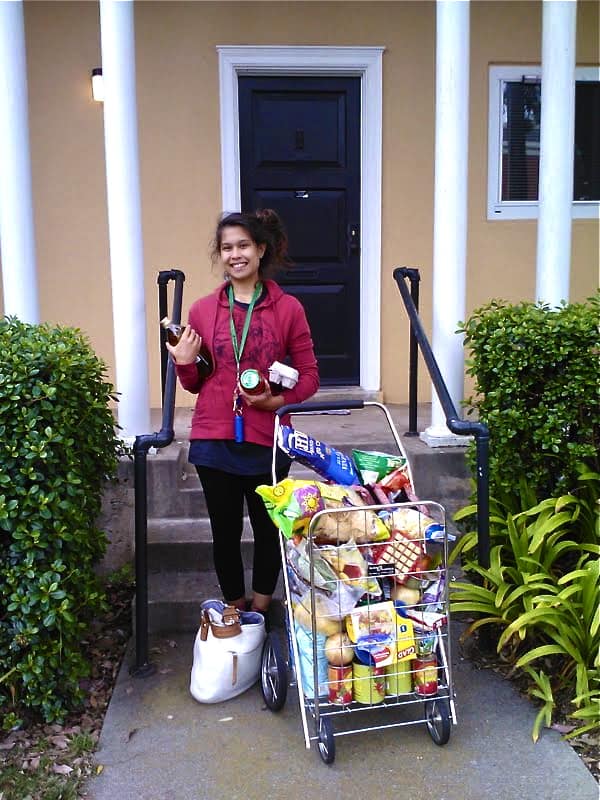 I recently took my little sister back to San Francisco for school. Since this is her second year she got to move into an apartment. She opted out of a meal plan this semester which means she has to cook her own food. While she enjoys eating and good food, making it is another story. I tried to stock her up with items that she could easily cook. Can you see the little Dorot cube tray of crushed garlic. She was so excited about it! Fresh crushed garlic without having to chop it yourself. Considering the fact that she does not even own a cutting board yet, we also stocked her up with Dorot's chopped herbs.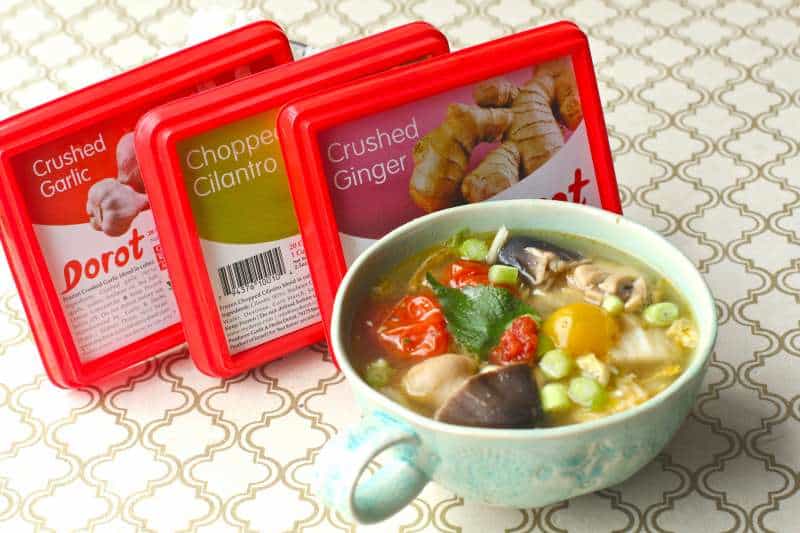 This soup has all of the flavors of a traditional Thai soup. It very easy to make, and tastes even better the nest day. I used canned straw mushrooms, but regular raw mushrooms will work perfectly too! Enjoy the soup with a side of rice and a bit of Sriracha for a perfectly light, but flavorful meal!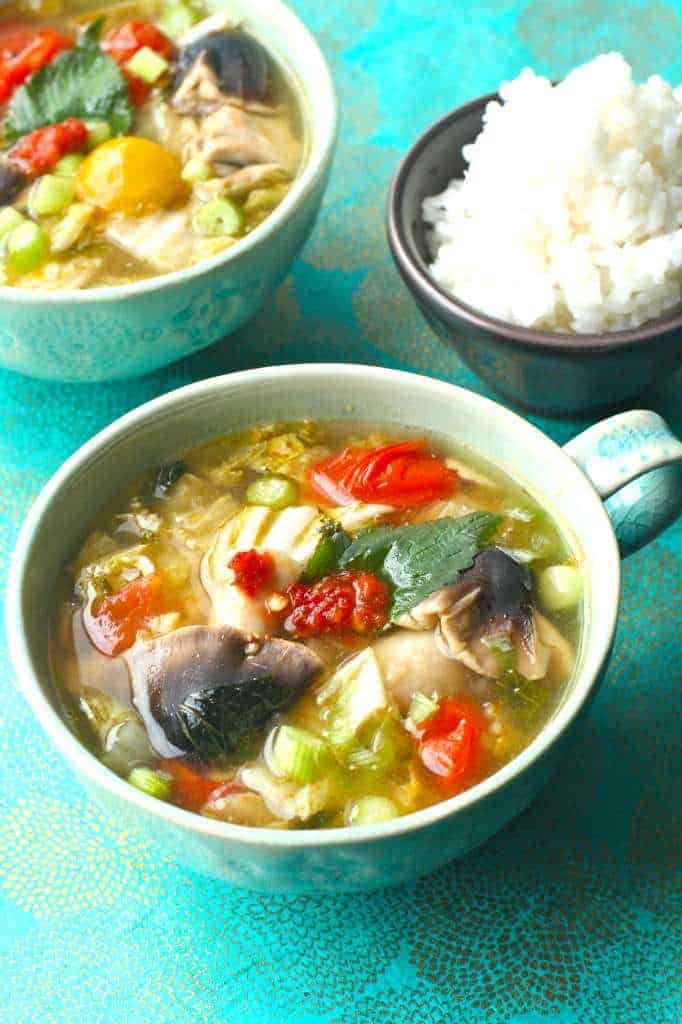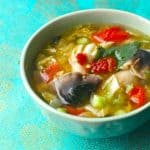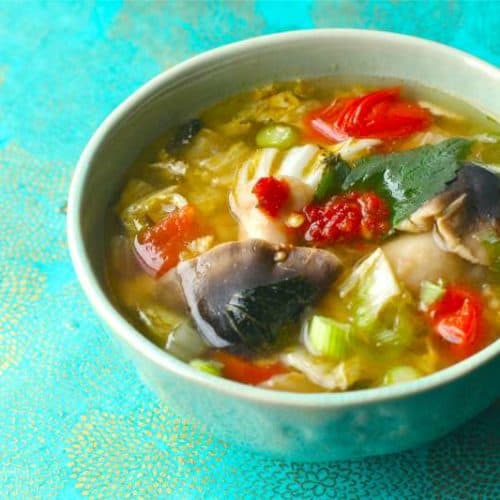 Thai Style Soup
Ingredients
½

pound

of boneless

, skinless chicken breasts diced into 2 inch cubes

1

onion

, chopped in large chunks

4

cubes Dorot Crushed Garlic

(or 4 teaspoon crushed garlic)

2

tablespoon

oil

3

cubes Dorot crushed Ginger

(or 3 teaspoon crushed ginger)

3 ½

cups

chicken broth

(2 cans)

2

medium sized tomatos

, chopped coarsely

2

teaspoon

crushed lemon grass or 5-3in stalks

2

cups

mushrooms

(raw or canned)

4

cubes Dorot Cilantro

(or 4 teaspoon chopped cilantro)

Steamed rice and Sriracha
Instructions
In a large pot heat oil.

Add chicken and cook for 10 minutes on medium high heat, stirring occasionally.

Add garlic and onions and cook for an additional 4 minutes.

If you are using raw mushrooms add them now and cook for 4 minutes.

Add chicken broth, ginger, lemon grass and tomatoes.

Simmer the soup for 25-30 minutes.

If using canned mushrooms, add them about 10 minutes before it is done simmering.

Add cilantro.

Serve with a side of rice and a touch of Sriracha.